We all know that going on a journey in the wild has to be well-planned. Generally speaking, to go into the wilderness, you must always have the proper equipment and be prepared for the unexpected. At this point, you are probably thinking of some kind of heavy, hard-to-carry gear that you always bring on trips, but today we are going to prove to you that it is possible to go out and safely explore the great outdoors with a light-weighted backpack stocked with the exact tools and best survival gadgets you will need.
Survival Bracelet – Atomic Bear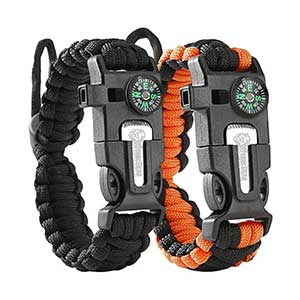 Thanks to the adjustable straps, the "Atomic Bear" bracelets (black and orange) are suitable for any wrist size and come with an affordable price tag. You will surely want an accessory like this one during your adventure because of its easy-to-handle fire starter. If needed, you can untie the bracelet and get to the 12 feet of military-grade paracord. Then, in case of an emergency, use the flint steel to start a fire and secure a shelter using the paracord to fight hypothermia.
The gadget also has a loud whistle and an emergency knife that make it perfect for hiking, camping, fishing, hunting, and emergencies. In addition, finding your way will no longer be an issue since you can count on a reliable compass. The Cobra survival bracelet is the perfect outdoor enthusiast's gift, so make sure you add the accessory to your tactical gear or wear it while you are in the wilderness as a survival item.
Emergency tent – Go Time Gear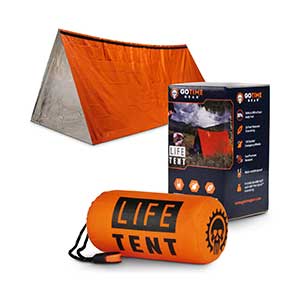 Keeping you dry, warm, and alive in extreme conditions…is not this all we want from a survival tent? This waterproof 2-person tube tent is constructed from extra-thick tear and puncture-resistant polyethylene material that locks out rain, wind, and snow. Made to be your layer of protection against harsh weather, the interior reflects up to 90% of your body heat and keeps you warm, dry, and protected.
Engineered for emergencies, this windproof shelter is equipped with a 120-decibel survival whistle to cut through wind and trees and alert rescuers up to 1 mile away.
The 550lb nylon core Para-synch technology drawstring can be used to tie down or repair gear. In an extreme situation, your survival gear decides between life and death. The ultimate perk of owning this type of tarp is the fast and easy way you set it up. You simply run the 20ft rope of nylon core paracord through both ends of the tube tent and then tie it between two trees or sturdy objects (3-4ft off the ground). Remember that rocks can be used to anchor the corners.
If there is no place to tie the paracord, a tube tent can also be used as an emergency sleeping bag. Doubtless, the "Go Time Gear Life Tent" provides you with the needed protection and security.
Portable Water Filter – Sawyer Mini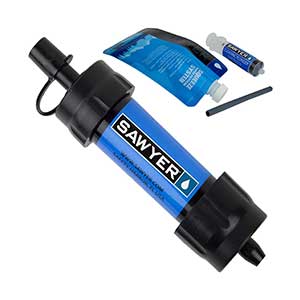 The Sawyer Mini is the perfect solution for clean water while backpacking, hiking, hunting, scouting, international traveling, etc. The 2 ounces filter fits in the palm of your hand and filters up to 100,000 gallons of water from many freshwater lakes, rivers, and streams. In addition, this Sawyer product has a high-performance 0. 1 micron absolute inline (one of the best models).
The Sawyer filters water and removes harmful bacteria like Giardia and Cryptosporidium. Still, it does not remove chemicals or viruses (the good thing is that viruses are rarely found in the water in North America).
The Sawyer Mini can be used in the following ways: attach it to a Sawyer squeeze pouch and drink directly from the filter; use it as a personal drinking straw to drink from the source or scoop up a bottle of water and drink instantly. The invention screws directly onto most standard water bottles.
Cleaning the water filter is really simple. You only take the included cleaning plunger, fill it with filtered water, then take the mini and insert the tip of the plunger into the end of the filter, opposite of the flow arrow, and repeatedly push the water back through the mini until the water comes through clear and easy. By using this item, drinking water becomes easy and safe!
Survival Knife – Gerber Ultimate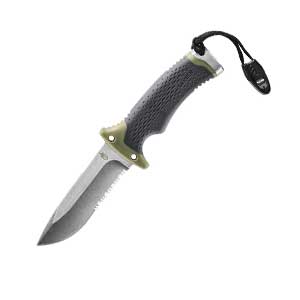 The Gerber Ultimate Fixed Blade knife features a 4.75″ partially serrated drop point blade, which is perfect for edge retention and cutting ropes or other items. The rubber material on the handle provides a non-slippery grip for comfortable and precise usage. The stainless steel hilt at the base of the handle can also serve as a hammer, making it a useful survival tool.
The survival knife is equipped with a fire starter that locks into the case, and a striker notch is included in the back of the blade for emergency needs. The click-retention nylon cover introduces an integrated sharpener for needed edge adjustments during your trip. Also, the gadget's green color allows for easy camouflage and has a hidden whistle for fast reach to help.
Multitool – Leatherman 300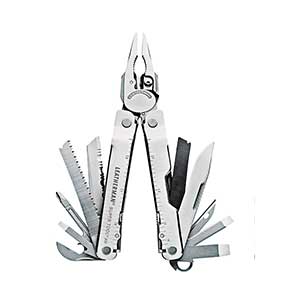 This clever invention may be the most multifunctional one on our list. With its 19 tools, the Leatherman 300 multitool can get so much work done you will be sorry you have not bought it earlier! The Leatherman features two pliers (one needlenose and one regular), two-wire cutters (a regular and a hardwire), wire strippers, stranded wire cutters, an electrical crimper, knives (a straight blade one and a serrated knife blade), a wood/ metal file, saw, screwdrivers (large, medium, and small flat), an awl, a ruler and a bottle opener.
All-locking features mean that every tool and knife (except the pliers head) will lock when fully opened, keeping you safe and the tools securely in place. This incredible survival multitool is available in two colors which are white or black. It comes with a 25-year warranty, so you can be confident your "Leatherman" will last a lifetime.
Folding Shovel – FiveJoy Military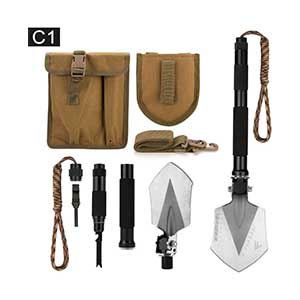 Nowadays, modern gadgets make our lives so much easier by putting all essentials into one item instead of carrying everything separately. This piece saves up a lot of space by fitting many of the "must-haves" for a journey in one place. Need a shovel? "Five Joy" has it. Need a saw? "Five Joy" has it. Need a sharp axe? "Five Joy" has it! I can continue going on because these are a tiny bit of "Five Joy's" features.
The remarkable survival shovel allows you to cut food, sharpen items, and chop trees. Unlike other shovels, you can adjust the angle with its special screw locking device, making it simple to alternate functions and positions (the spade can be used at 30°, 85°, or 180° angle as a hook, hoe, or shovel).
Preparing food will not be an issue since Five Joy has a special fish scaler and a bottle opener. To finish your delicious meal, use the fire starter instrument. If you get tired of hiking, you can use your folding shovel as a walking stick, and do not forget to use the emergency whistle if you are in danger.
Tread Metric Bracelet By Leatherman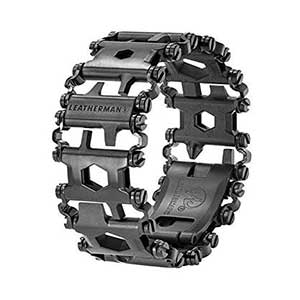 The Leatherman Tread Metric is unexpectedly comfortable. It does not pinch, pull out hair, scratch you, or leave marks on your skin. Except for the added heaviness, you would not notice it much. The Tread's modular design is fully customizable to fit your needs and your wrist. Its tools include box wrenches, hex drives, flat and Phillips screwdrivers, oxygen tank wrenches, and more.
The bracelet can be handy during your daily routine as well by using its sim card pick or bottle opener. With the Tread's quality, you can be confident your Leatherman will last a lifetime. You can wear it everywhere, so you are always prepared. The bracelet is TSA-compliant, so you can even travel with your new favorite multitool.
Off-Grid Multitool Axe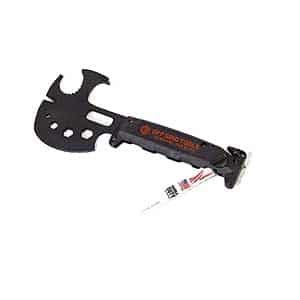 Although it is called a survival axe, this "Off-Grid Tool" has far more features than only chopping trees and branches. It has an included hammerhead, claws, nail pullers, and even a pry bar. There are various hex wrenches (3/8, 7/16, 1/2, 9/16, 1/2, 3/8, 10mm, 11mm, 13mm, 15mm), a bottle/can opener, and a resharpenable hatchet.
All of these instruments are on one side of the gadget, while on the other lie a 6-inch fold-out saws, a glass breaker, and a strap cutter. This piece of survival gear comes in two beautiful colors, neutral black and green, that will suit most survival experts' equipment.
Lantern – Streamlight 44931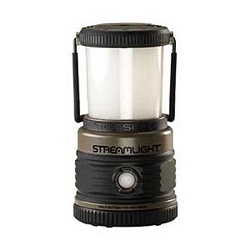 The Streamlight's durable camping lantern design is constructed of polycarbonate with an elastomer over mold. The idea is to protect the product when falling and increase its durability. The Streamlight has met its goal in testing for a two-meter (6.56) impact resistance.
The gadget is waterproof, and it floats if necessary, making sure not to go off in case of an emergency. It offers five lighting modes where Streamlight's high (340), medium (175), and low (33) lumens. Holding the on/ off button for a while will take you to read mode, which is good for your eyes. If you are working in a dark environment (for example, a tent), remove the light, and your eyes will adjust more easily. If you hit the button twice, you will enter an SOS mood with a flashing red light.
The on/off button will also alert you how much battery you have. As you would suppose, green means full battery, yellow is a warning that it is depleting, and red is when the battery is nearly dead. The product has an easy-to-use handle and two attached D-rings on both the bottom and top. You can remove the cap and use the bottom D-ring to hang it upside down and use it as a regular lamp
NOCO Jump Starter Power Pack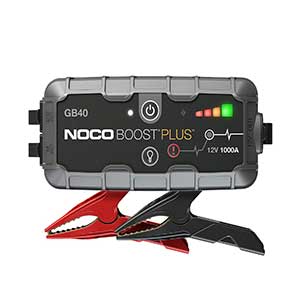 Imagine if there was electricity in the wild … it would be amazing! You will be able to charge your phone, tablet, or laptop … well, dreams do come true, and this next product has those abilities. NOCO Boost is an ultra-portable, lightweight, and compact lithium car battery boost starter for 12-volt batteries.
Thanks to it, you can safely jump-start a dead battery in seconds! And even better, you can do so up to 20 times on a single charge. It is a mistake-proof compact car battery pack, making it safe for anyone to use, and it features spark-proof technology and reverses polarity protection.
The GB40 battery booster jump starter unites with a high-output 100-lumen LED flashlight with seven light modes, including low, medium, high, blinking, strobe, and emergency SOS. It can hold its charge for up to one whole year without being recharged. The internal battery could be used to energize any personal USB device, plus it's rechargeable from any powered USB port.
It is rated at 1000-amps and suitable for use on petrol engines up to 6 liters and diesel engines up to 3 liters (car, boat, leisure, caravan, etc.). This useful and essential survival gear includes heavy-duty battery clamps, a USB charging cable, a 12-volt USB car charger, a microfiber storage bag, a 1-year limited guarantee, and lifetime customer support.
Survival Flashlight – Nitecore P12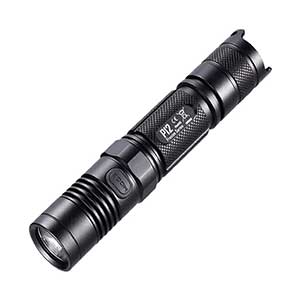 Next, we have the latest CREE XM-L2 U2 LED. Nitecore proudly produces an incredible high-intensity beam with a throw of 253 yards, perfect for tactical applications, hunting, outdoor sports, and professional work. This flashlight is very compact and easy to use.
At only 5.47 inches in length and weighing 3.1 ounces, the P12 is highly portable and can easily be stored in pockets, bags, backpacks, and any other survival pack. Its side button can quickly change output levels and functions. All the settings are memorized, allowing you to set in advance your favorable mode while easily changing to the function you need.
There are three ways you can carry the waterproof flashlight: by a quality holster, a clip, and a tactical ring, that allows you to carry it on your belt, in your pocket, or in hand. Nitecore provides four brightness levels that will enable you to select from an ultra-bright turbo mode to a long-lasting lower mode, making it the ideal survival flashlight.
Mylar Blanket – Swiss Safe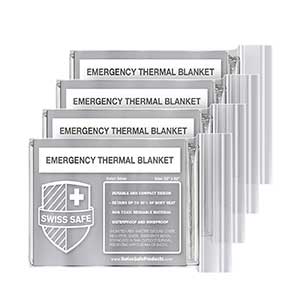 Swiss Safe is a trusted leader in providing high-quality army supplies and survival equipment, as well as emergency first aid supplies for all your outside needs. The advanced aluminized dual-sided thermal blankets are designed to retain up to 90% of the body heat and are perfect for emergency survival situations.
They are waterproof, windproof, and moisture-proof, helping to keep you dry in damp, wet, rainy, and downright cold climates. The Swiss blankets are excellent for outdoors, hiking, camping, backpacking, and climbing. In addition, they can be used as a ground cover, a sleeping bag liner, or to prevent hypothermia and shock in extreme weather conditions.
Zippo Brass Lighter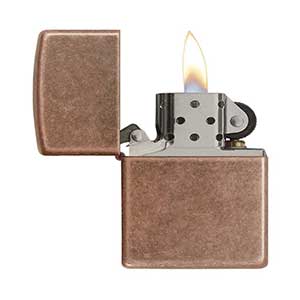 A windproof lighter like the Zippo should be one of your must-have items when planning a trip. The engraving is very detailed, classic, and elegant, and at the same time keeps its old-school look. The Zippo lighter has the standard inserts. It is constructed from durable synthetic metal, and its great value design is made to be windproof and to work virtually anywhere.
The Zippo lighter is polished to the sides, and there are two dots/ dark spots on the sides, which connect the hinge and the base. There is just something reassuring about the characteristic sound of a Zippo click and the plain simple engineering that goes with it. This lighter's quality is guaranteed for years to come!
Sling Shot – Pocket Shot Kit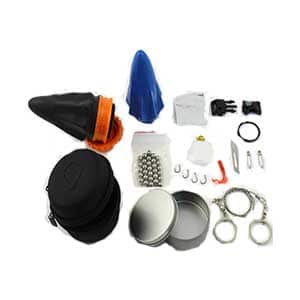 Sling Shot's kit is perfect for camping, fishing, hiking, and hunting and normally becomes the favorite product of all of its buyers. What makes it stand out is the portable and compact type of slingshot. You receive an extra stronger pouch, ideal for getting just a little more power. Besides the pocket shot, the survival kit is extensive enough to feel comfortable walking that extra mile away from camp.
The razor is, in fact, razor-sharp with a hole, perfect for attaching to a stick. If something is too big to cut with the razor, you can always use the wire saw, which will definitely get the job done. The foil is heavy-duty and should be able to be used more than once. The fishing line and hooks will work well, especially if you dig up some live bait.
The wire is excellent for setting snares, and this kit gives you three ways to acquire food in a survival situation. Hopefully, you have a water bottle with you for drinking, but if not, the actual can the survival kit comes in can be used to boil water and make it safe to drink.
It can also be used to make a simple fire-starting aid called a char cloth. You will get some steel ammo in the box, which is also a plus. There are enough shots to be comfortable in attaining your hunting goal, but if you become desperate enough, anything can become ammo for the pocket shot. Just make sure you use smooth rocks so you do not tare the pouch! Finally, everything zips up into a nice compact hard case with a smooth zipper.
BioLite Portable Camp Stove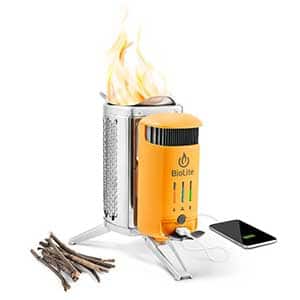 Meet the next generation of fire! This portable wood-burning stove creates smokeless flames while generating usable electricity so you can cook your meals and charge your devices all at the same time. With updated thermoelectrics, the camp stove incorporates an on-board to store your electricity whenever you need it.
The Led interface provides real-time feedback on what is going on inside and features four fan speeds to control the size of your fire. Integrate with BioLite accessories for a perfect camp kitchen that you can bring anywhere. Anytime you go out there with BioLite, you are helping and bringing safe, reliable energy to households around the world. In addition, you will discover a smarter, cleaner campfire with the CampStove 2.
BioLite Headlamp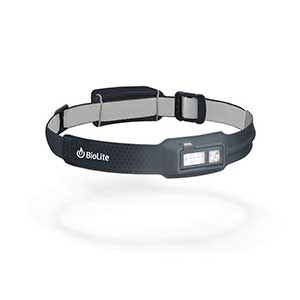 The ultra-thin, 330 Lumen, USB rechargeable BioLight headlamp features a 3D slim fit construction. It allows your hands to be free, making it so comfortable that you forget you are wearing it. The 3D slim fit construction is based on three dimensions of a perfect fit: a flush front, better balance, and smart fabric. Seamlessly integrated housing merges the electronics directly into the band, creating an ultrathin front that sits flush on your forehead with no bouncing.
By reorienting the battery to the back, you keep the weight off the front of your face, which reduces slippage and creates a more natural fit. The entire headlamp features moisture-wicking fabric that keeps you cool and dry during activity. Clocking in at only 69 grams, the headlamp features four modes and the ability to control your light through easy dimmability.
One hand at articulation enables your light to move with you without any disruption. With easy recharging via micro USB and a run time of up to 40hrs, you can ditch the battery swaps and power up with the BioLight energy ecosystem, meaning this is a product that should be on everyone's survival gear list.
Noopel Emergency Whistle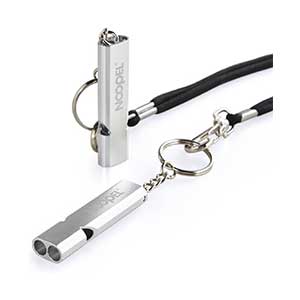 The super loud survival whistle features a double emergency tube whistle that can provide up to 120 decibels, enough to be heard at long distances. The signal is made of strong and extremely durable quality Aluminum Alloy material. It's only 12g, making it very lightweight and easy to carry around.
The Noopel whistle is water-resistant. It can be used in an all-environment of all-weather, rainy days, and humid weather with excellent airflow design. However, keep in mind that this isn't a toy but a whistle for emergency hiking camping survival.
The loud safety whistle for camping, hiking, hunting, fishing, boating, or any kind of outdoor activities, can also be used for dog training. The pets can easily tell apart the signal and learn commands much faster while listening to one. Finally, Noopel offers one year, in which any quality defects caused by non-artificial reasons will be issued a refund or free replacement.
Eyeskey Military Compass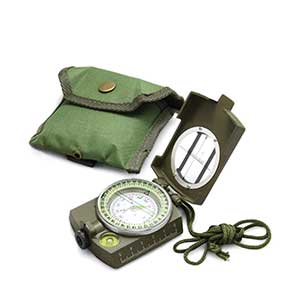 A good compass for hiking, motoring, boating, camping, mountaineering, exploring, hunting, and other outdoor activities must be highly durable. There is a high possibility it will get bumped into your backpack or maybe fall on the ground at some point. To receive durability, the EK-01 compass has an anodized Zinc Alloy metal housing and is proven to resist adverse conditions, such as sand bits or being emerged in water
The needle should point to the north immediately and with ease, even if you are hiking leisurely. However, bad weather can come on fast, and you will want a needle that settles quickly. EK-01 compass is liquid-filled and has a sapphire jewel bearing that permits the needle to move smoothly and prevents it from twitching when needed.
If you are hiking in low temperatures, such as cold winter, or hot temperatures, like the desert, you would want to make sure your compass can keep up. This gadget has a wide temperature range, so that is not a concern. The working temperature of the EK-01 shockproof compass is -22° F to +140° F. The manufacturer guarantees that the liquid does not freeze or produce bubbles inside.
Sony Pocket Radio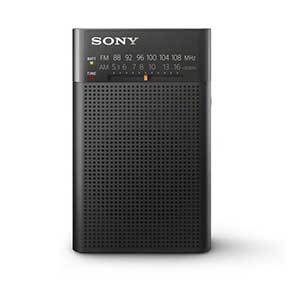 The Sony pocket radio comes with a built-in speaker and headphone jack and has one telescoping antenna. This portable radio is lightweight and easy to carry with its 6.70 oz ballast. In addition, the compact, vertical AM/FM radio tuner is the perfect fit for rooms where space is at a premium.
It features a new LED battery status indicator and runs on two AA batteries. That way, whether you are listening through the built-in speaker or via the dedicated headphone socket, you will always be able to enjoy music with a great sound.
We understand that radios might not be first on your gear list, but they are awesome survival gadgets that can improve your experience in the wilderness and at home. Last but surely not least, this Sony radio also comes with an affordable price tag and over 6 000 five-star ratings on Amazon.
Überleben Zünden Ferro Rod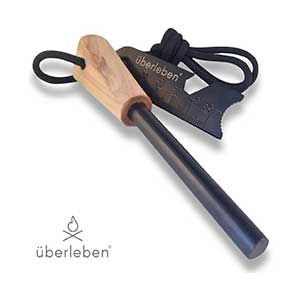 Überleben's Sånft-korr ferrocerium is the perfect balance between softness and durability at the same time. The design consistently outperforms the leading fire starters. The Ferro Rod tool is waterproof, meaning it can easily throw a 5,500ºF shower of molten sparks in any weather, at any altitude.
Ferro Rod is equipped with multiple size options. At nearly 5-inches in total length, the Zünden is available in three thickness variations, including Trad 5/16" (8mm): 12,000+ strikes, Pro 3/8" (10mm): 15,000+ strikes, and Fatty 1/2" (12.5mm): 20,000+ strikes.
It is designed for neck carry, which would not be a problem since even the Zünden Fatty weighs in at less than 3 oz. It includes Mil-spec 550 paracord lanyard and multitools like a straight-edge spine, a concave tinder scraper, a map scale, a ruler, and a hex wrench. Most importantly, though, it has a bottle opener (probably the most used tool).
Final Words
It has been said many times that the zombie apocalypse is not plausible. However, in the spirit of prevention and preparation, one is never overprepared. It wasn't easy ranking all of this equipment objectively because every last one of these items an a crucial part of your camping gear.
In today's article, we have picked the best survival gadgets we can find on the market, and now it's up to you to decide on all the necessary equipment in your survival backpack and begin your journey! If you have any questions left unanswered regarding the subject, or you simply want to share some info on the matter, feel free to drop us a comment below.