Deciding on the best tent can be essential for your survival one day, and that's why you should think about what you expect and what your specific needs are. The main goal is to have a shelter that can keep you safe and dry in any situation.
Do you need your shelter to be lightweight and easy to carry? Or do you want it to be able to withstand extreme weather conditions? The aim is to find the one that's receptive to your needs, such as budget, internal space, and extra elements.
Choosing the right tent as a part of your survival equipment is a complex decision that can save your life.
The finest survival tents can come in a variety of sizes, shapes, and forms, but all of them are ultimately created to carry out the same function, and that's to protect you from the weather by keeping you safe, warm, and dry while making you feel comfortable. In this article, we'll show you the 10 best survival shelters you can find this year.
1. The North Face Wawona 6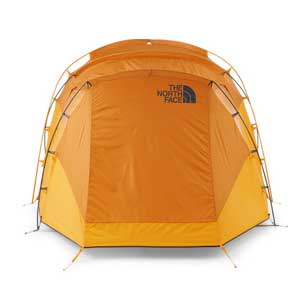 The Wawona 6 features an incredibly spacious interior with enough room for you to fully stand up, fitting six people comfortably. This monster wigwam is considered the ultimate car-camping option, with large mesh windows for venting and an easy-to-pitch design.
Large top vents help prevent condensation and keep the air flowing. The high-quality material is fully waterproof, making it a great option in extreme circumstances. Inside you'll find a tablet pocket and mesh pockets for smaller items to store. The heavy-duty, pre-bent poles maintain a stronghold creating a stable environment and more interior space.
This durable, single-wall awning packs into a duffel bag-style stuff sack for easy transport and mobility. Being on the affordable side, this survival product is super light, which makes it a good option for hiking, trekking, camping, climbing, and other outdoor activities.
Features:
Spacious, six-person, good for car-camping
Waterproof
Massive front vestibule
Two large windows
Duffel-bag-style stuff sack
Tablet pocket plus mesh pockets
Internal dry lines, hang loops
Velcro lantern loop
Large top vents
Rear door and vestibule
Heavy-duty poles
2. Yescom Off Ground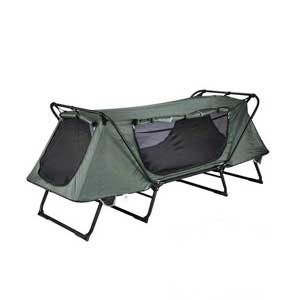 If you're looking for a single-person tent, the Yescom is an outstanding option made out of PU-coated oxford material that is 100% waterproof. This foldable product comes with an elevated sleeping platform that keeps you high and dry while it protects you from dampness. The polyester mesh lining prevents insects from flying in.
This high-end item comes with a portable bag making it easy for storage and transportation. The metal frame is durable and sturdy, allowing it to be used as a bench or a flat cot. Easier than most, this survival awning takes no time to set up and collapse, making it perfect for all sorts of outdoor activities. The non-slip plastic feet provide stability, while the two large D-shaped doors contribute to your privacy.
Inside you'll find straps that can be used for hanging clothes and other necessities, as well as interior pockets for placing smaller items. This pop-up shelter has an innovative design and usability.
Features:
Oxford flysheet and 300D oxford floor with PU coating
100% waterproof
Elevated sleeping platform
Four stands with non-slip plastic feet
2 large D-shape zippered doors
Polyester mesh lining
Interior storage pockets
Foldable, quick, and easy to set up and collapse
3. USMC Combat Eureka OP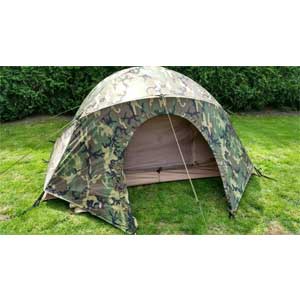 Eureka is the manufacturer of US Marine Combat tents designed for one person and plenty of room for gear. This three-season shelter has a double wall design to keep the weather out and allow the air to flow inside. The rain fly is reversible, flame retardant, and has full coverage, created for superior protection in extreme conditions. This upscale survival item reversible fly can be used independently, utilizing the aircraft's aluminum shock-corded poles and provided stakes.
USMC Combat has a vapor-permeable body that's 100% waterproof and fly vestibules where you can hold extra gear. It's made of a durable material that's way better than commercial ones on the market today. This exceptional tent should have many years of usage, with a GI waterproof carry bag.
It includes a body, aircraft aluminum shock-corded poles, an original fly, stakes, and a storage bag. Eureka is a 3-pole dome with a denier nylon bathtub floor that locks out water. With the No-See-Um mesh, the shelter lets the breeze in while keeping the bugs out, and if you need space for your personal belongings, it has two inside pockets within easy reach.
Features:
Freestanding 3-pole dome
2 vestibules & 2 doors
Reversible, flame retardant, full coverage blackout fly
Aircraft aluminum shock-corded poles
Denier nylon oxford floor with thick waterproof coating
Denier rip-stop polyester taffeta rainfly
Adjustable sliders
No-see-um mesh
4. HILLMAN 3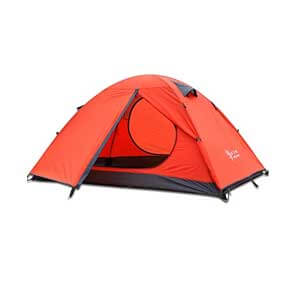 The HILLMAN 4-season tents are easy to set up and take down while providing a stable and safe environment for you. Made of high-quality waterproof polyester, this item is durable and convenient. It's lightweight and easy to fit into a bag, so you can take it anywhere, making it a great option for camping, backpacking, hiking, or other outdoor activities. This is a 2-person hiking product that's ultra-light and suitable for someone on a budget. It has two doors, and the seams are double stitched along with the sealed taps, ensuring waterproofing and UV protection.
The 3-season is excellent for all sorts of activities during summer, spring and autumn. You need less than ten minutes to set it up and take it down. It can resist most weather conditions such as wind, rain, and dirt, but winters are cold, and if you want to hike in the snow, you should consider the 4-season one instead.
Made out of breathable polyester and high-density nylon mesh, this product comes with a flysheet, 8 aluminum pegs, 2 folding poles, 2 reflective ropes, and a large carry for all. You also get a two-year warranty from the date of purchase.
Features:
High-quality waterproof coating
Quick and easy setup
Double stitched seams
Flysheet
8 Aluminum pegs
2 Folding aluminum poles
2 Windproof ropes
Large carry bag
5. FLYTOP 3 – 4 Season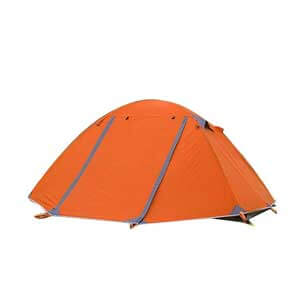 This portable backpacking tent is easy to set up with its simple dome structure and two-sided zippers that allow you to open the doors from either side. The 4-season option has a snow skirt for winter use while the mesh enchases the thermal performance.
Made of high-quality materials, this product has double stitching with tape-sealed seams making it waterproof and UV protected. Suitable for hiking, trekking, climbing, and camping FLYTOP 3 is very stable and wind resistant season after season.
The two entrances provide convenience as well as ventilation for warm summers, the two pop-up windows allow airflow in rainy autumns, and the No-See-Um mesh panels enhance the thermal performance making it ideal for winter. This survival alternative comes with built-in light hook and storage pockets for your items.
FLYTOP's freestanding design lets the triangle aluminum pegs hold the construction stable and firm. A smart extra is the reflective windproof ropes that save you from tripping over at night. Choosing this option means you get a nylon body, 13 aluminum tent pegs, 2 folding poles, 4 reflective ropes, and a large bag to carry everything in. FLYTOP 3 is one to consider on your next trip because it's light and easy to set up but will also keep you safe and dry through different weather circumstances.
Features:
Freestanding & two-sided zipper design
Double stitching
2 Folding aluminum poles
4 Windproof reflective ropes
No-See-Um mesh wall panels
Built-in light hook and storage pockets.
Triangle aluminum pegs
Large carry bag
6. Forceatt Camping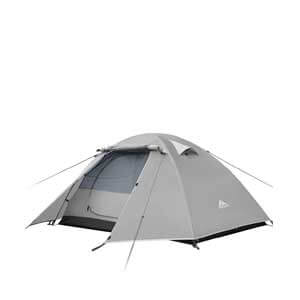 When going on a backpacking trip, the Forceatt Camping tent is a warm shelter no matter where you go and what environment you come across. This survival item is our personal favorite with the sense of security and comfort it gives.
Forceatt Camping is made out of high-quality polyester fiber and a windproof aluminum rod that's also waterproof. Coming with four ropes that can be added, you ensure a powerful grip that will withstand the wind. This incredible option has a waterproof coating on the tent stitching that prevents water from seeping in from the seams passing a professional water test. The welded floor design improves the bottom of the tent, making it stronger and more reliable.
Combining lightweight and durable materials, this spacious piece of survival equipment can accommodate two people. It has a compact package that saves space and is super easy to carry. The upper part has a large window with mesh that keeps the insects out and two ceiling vents that maintain the airflow. There are two D-shaped doors and a mesh pocket set on the wall for convenience, where you can store your personal belongings.
Forceatt Camping can be assembled and disassembled quickly, taking less than three minutes, eliminating your troubles and saving you time and effort. The integrated aluminum rod allows easy installation, as well as the buckles and straps quickly assemble rain flies onto the body of the tent. But that's not all, the brand added two crossbars to consolidate the shape and give you space.
Features:
High-quality polyester fiber
Windproof aluminum rod
Waterproof seal
Two D-shaped doors
Two vestibules
Large mesh window
Two ceiling vents
7. Coleman Cabin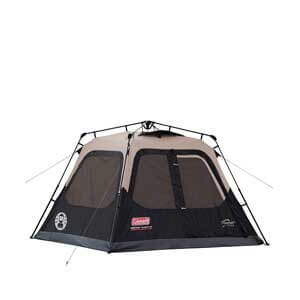 This Coleman Cabin tent makes setting up quicker and easier than ever with its pre-attached poles that make setting up as simple as unfolding, extending, and securing, taking only a minute out of your time for adventures. Designed with the WeatherTec system, this camping item features welded floors and inverted seams that help ensure your dryness when a storm comes. On rainy days, stay dry due to the tub-like floors with covered seams and corner welds that keep the water out.
The Coleman Cabin has an integrated vented rainfly that improves the airflow inside without the need for extra assembly. Made out of rugged Polyguard double-thick fabric, it stands up to extreme outdoor conditions, making it a reliable option season after season.
That product offers enough room for 6 people and comes with integrated storage pockets that help you organize your smaller items. This roomy survival awning has a one-year warranty. An innovative extra is the Dark Room technology that blocks 90% of the sunlight that comes inside so you can get some rest with the sun still up while it reduces temperature building.
Features:
Instant opening with pre-attached poles
Polyester taped seams
Waterproof
WeatherTec system
Integrated vented rainfly
Darkroom technology
Expandable carry bag
8. Coleman Sundome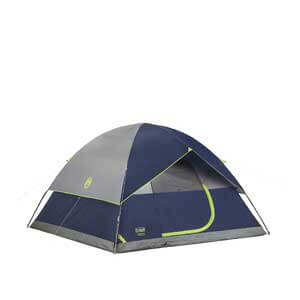 The Coleman Sundome is made out of polyester taffeta denier flysheet, making it entirely waterproof with its WeatherTec System that has welded corners and covered seams which keep water out, so the people and their gear stay dry and warm no matter what. This product is wind and rain-tested, letting its strong frame withstand 35+ mph winds while still providing safety.
It comes with large windows and a ground vent for enhanced airflow that maintains a cool and comfortable environment with its great ventilation. Something that can come in handy is the E-Port the survival tent is equipped with that lets you stay connected. All you have to do is bring an extension cord through the port so you can have easy access to electrical power inside your temporary home.
Coleman Sundome can fit up to 6 people and has a super easy setup and removal that takes less than ten minutes. Its interior is quite roomy, making this experience fine and comfortable. If you need a place to store your small essentials, the Sundome tent has mesh pockets on the walls within easy reach.
This affordable alternative comes with a yearlong warranty, neatly packed in a carry bag, poles, ground stakes, and even a door mat, so your shoes don't stay dirty, and your shelter is neat and clean.
Features:
Polyester taffeta denier flysheet
Waterproof
Wind resistant
WeatherTec system
Ground stakes & doormat
Large windows & ground vent
E-Port for electrical power
Mesh pockets inside
Carry bag included
9. River Country Trekker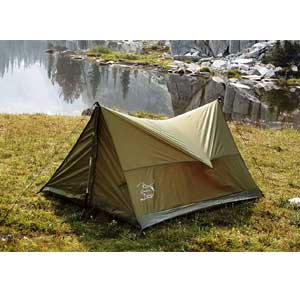 The River Country Trekker is one of the lightest backpacking tents on the market while having more room than any other one in the ultra-light category, making it a perfect option on a budget. This is a 3-season survival item that comfortably fits two people. It comes with ultra-light aluminum stakes and a carry bag keeping everything compact and easily fitted into a backpack.
Something you have to consider is the fact that the shelter doesn't include poles; however, it works completely fine with sticks longer than 42", or it can simply be tied between two trees. It's a fast and easy setup with no poles to string through the awning, all you have to do is stake down the corners, and you'll be set up in a minute.
This Trekker product is great for camping, hiking, or simply adding to your survival bag because it will fit into your backpack without filling it up, taking as much space as a football, and making it lighter than most rain-fly and hammock combos.
It has lots of room inside amongst added features like loops for hanging flashlights or lanterns and a personal-items pouch. If you're looking for a compact and affordable item, this is the ideal option.
Features:
Compact & lightweight
Fast & easy setup
Ultra-light aluminum stakes
Personal item pouch
Loops for personal items
Carry bag
10. Ayamaya Pop Up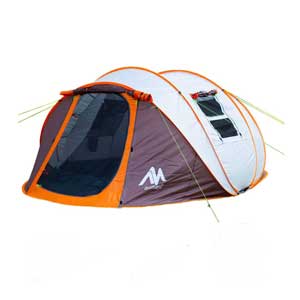 Ayamaya Pop Up has a spacious interior that sleeps up to 6 adults (5 if they come with a lot of gear). Its unique design offers a separate room for gear, shoes, or a dog while having an electrical cord access port that enables you to run power into your tent. With this survival beauty, the set-up is quick and easy with the pre-assembled pole sets. All you have to do is open the bag, let go and give it a few seconds making the assembling process enjoyable and easy.
Ayamaya is specifically designed with a double layer where the inner and outer layers connect by hooks preventing condensation. There's a gap in-between the two that becomes a ground vent offering additional ventilation for each season.
Ayamaya Pop Up is made of PU-Coated oxford polyester fabric, making it 100% waterproof while heat-sealed seams in the connecting area prevent water leakage and the integrated vented rainfly keeps you nice and dry.
This item has two large doors, rear hooded vents, and four zipper-designed mesh windows with double panels, allowing easy and complete access on both sides. When closed with the mesh, it keeps insects out and allows the hot air to escape, but if you need total privacy use the sealed nylon door.
Features:
Offers separate rooms
Electrical Cord Access Port
Pre-assembled poles
Large front door & hooded vents
Windows & doors with double panel
PU-Coated oxford groundsheet
waterproof PU-Coated polyester fabric roof
Portable carrying bag
How To Choose A Survival Tent?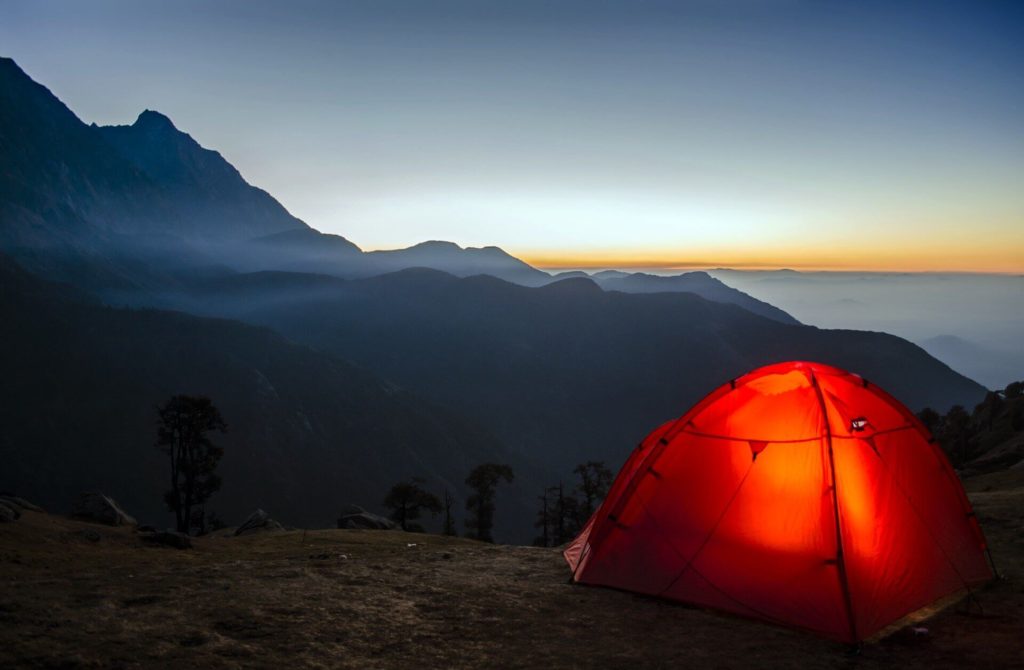 When you're picking out your survival shelter, you have to find out what are the important features you need to look for when choosing one and how to figure out what best suits your demands.
How Many People Can Get In The Tent?
One of the most important questions you should answer yourself is how many people will stay inside because if you are using it with your family or friends, you have to be prepared. If you're camping or hiking with inexperienced people, they'll need all the help they can get.
What Is The Set Up Time?
The time you use to set up can be essential for your survival since taking a long time for deployment in extreme conditions can be the difference between a nice and warm shelter and hypothermia. That's why it's not a bad idea to choose one that's foldable and easy to set up or pick one with pre-attached poles.
Does Durability Mean Everything?
Something that shouldn't be far behind on your checklist is the quality and durability of a survival tent. You have to pick a tough one made out of strong and lasting materials so you know that it can survive extreme conditions.
What Size And Weight To Choose?
If you're traveling with a vehicle, the weight and size of your wigwam don't matter, but if you aren't, this aspect is something you must be careful about. That's why it's vital to pick a lightweight tent if you are hiking or trekking, so it's easy for you to carry around. For example, single-person tents shouldn't weigh more than three pounds allowing them to be easy to transport.
How Important Is Waterproofing?
Always pick a waterproof one when it comes to outdoor equipment because you don't want to be soaking wet inside your temporary home. Take a look at the materials and fabrics that are being used because not only do you want them to be water-resistant but breathable as well.
Most people don't think about flooring that much, but actually it's what can make or break your survival awning because it's the thing that will keep you nice and dry when you're in nature, and some extra lining won't hurt anybody.
What Extra Features To Look For When Choosing A Tent?
Even if the extra features are not essential for your survival, they can still be useful without adding too much weight. Additional storage is always welcome, as much as an E-Port, so you can have electricity if needed. Something else to consider is a vestibule that will protect your gear from snow and rain.
These are our suggestions you should consider so you can find exactly what you're looking for.
Frequently Asked Questions
How To Select The Best Tent Location?
When choosing the location for your camp, you have to consider a few things. Pick a location that's close to a clean source of water, and try to choose a place that's sheltered from the wind. We strongly advise selecting a place that isn't near animal trails or traffic because you don't want a surprise guest.
Depending on the season, you have to think about the weather. If it's sunny, you should consider the exposure to UV rays and heat, if it's cold and snowing, avoid laying your shelter near trees and branches.
Last but not least, don't forget to clean up after yourself. Be respectful of other humans, animals, and nature itself.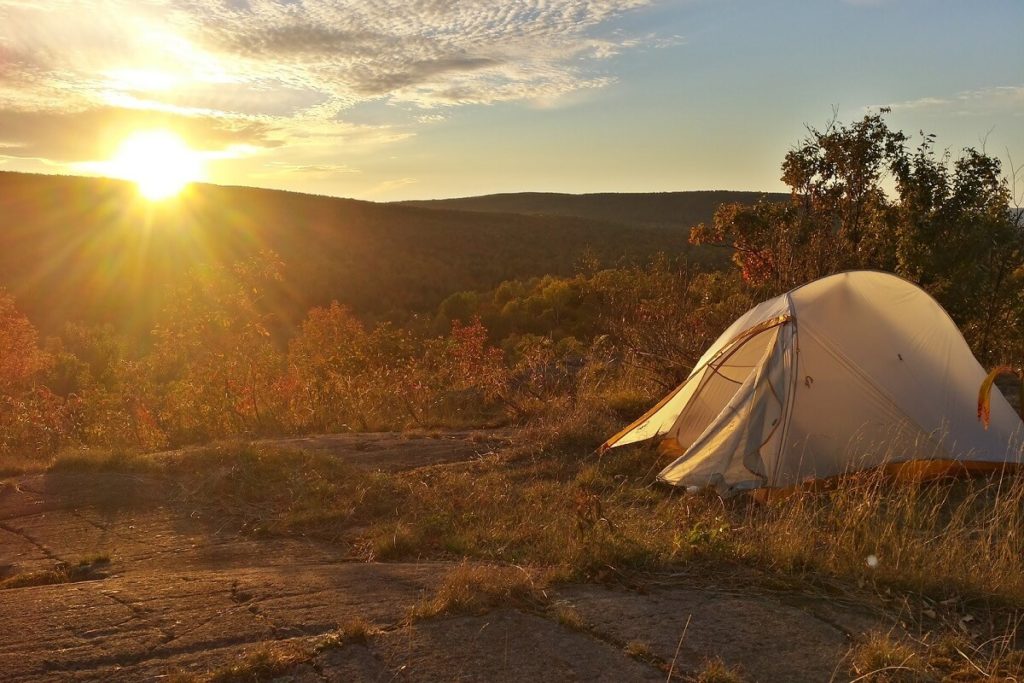 What Тypes Of Tents Are There?
There are tents for each person and every situation. We are going to tell you a little about the most popular ones.
The first option is the '4 Season ', which can be used year-round because it has the necessary waterproofing and cooling capabilities to get you through any season. Next is the 'Cold Weather ' that was created for extreme weather, packing the heat in without letting it escape. 'Backpacking Tents,' as the name explains, are compact and lightweight, so they can be used while backpacking through nature with an easy setup and breakdown.
Another option is the so-called 'Dome' designed for big groups of people and expeditions so they can fit as many human beings and gear as possible. Next is the 'Tactical Bivvy' known as tent-coffins because of their size, making it the ultimate compact shelter. 'Teepees' have been a trend for many years coming from the Indians showcasing a tent with the shape of a teepee. The 'Yurts' are popular in mountain regions with their concrete foundation, creating a stable life.
All these types have their pros and cons, all you have to do is choose the one that's just right for you!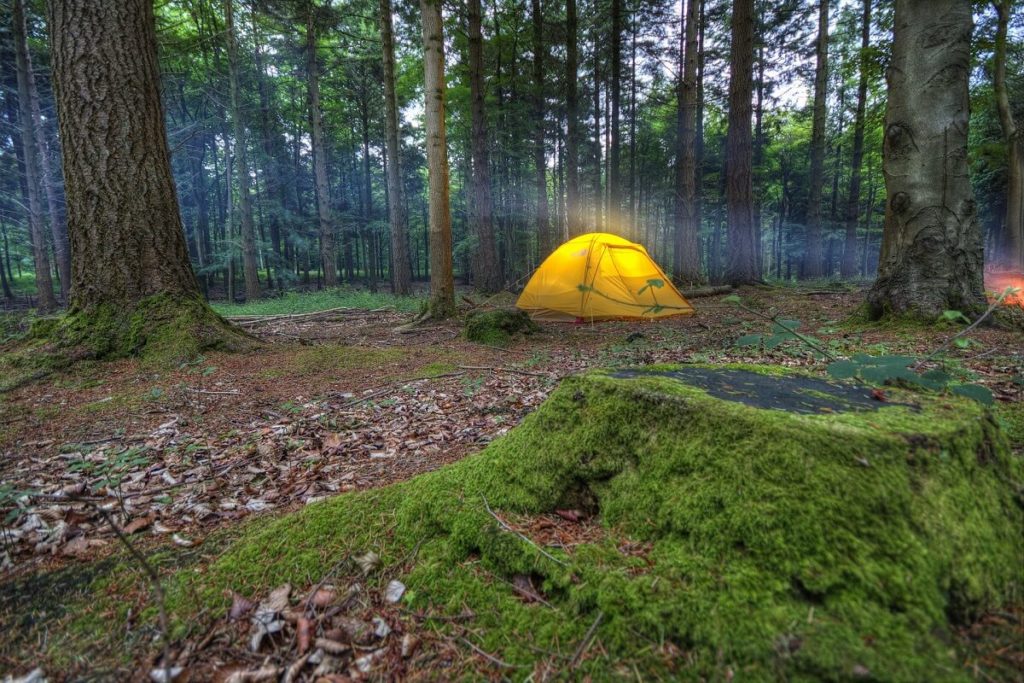 How Can I Take Care Of My Tent?
You should take care of your tent as the result of the effort will make it last longer. When cleaning it, you should consider using a non-abrasive sponge and non-detergent soap, so you don't damage it. While cleaning, you shouldn't forget about seams and zippers as well. We strongly advise you to avoid machine washing seeing that you can permanently damage it.
Letting your shelter air-dry after you've washed it is a great idea since the UV light kills germs that can remain from your previous adventures. Leaving it wet, the fabric can grow mildew and mold, so you have to make sure it's not while folding it think about the creases because they can create a weak point in the structure.
Using a protective layer underneath can increase its survival by years. Being careful with your equipment is important, so read the instructions every time you buy a new one because all products are different.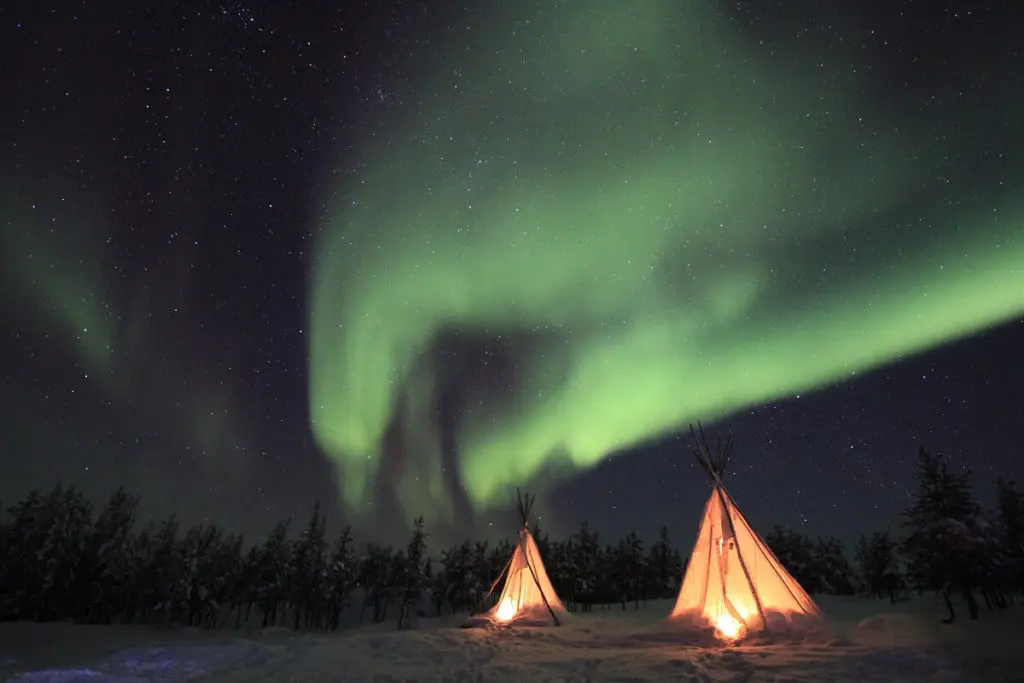 Where Can I Buy The Best Survival Tent?
Deciding on the correct tent is crucial for survival, so you shouldn't make that decision lightly. Our advice to you is to always buy from a trusted place or a dependable source because one day, your life might depend on it. Picking such a product should be done in a specialized store that offers different possibilities and has a variety for every need.
Final Words
Going through all the options for survival tents on the market today can take too long, and that's why we hope we've made that easier for you. However, you shouldn't forget that there isn't a one-fit solution, and everyone seeks something different.
Even though every situation depends on various factors, in our eyes, there's a clear winner, and that is the 'Forceatt Camping Tent.' It's made of high-quality, tough, and durable materials, making it water-resistant and secure. It can comfortably fit two people and their gear, and it has a super easy setup and removal, all you need is three minutes.
There are countless survival tents on the market nowadays, but sadly not all are equipped to handle extreme conditions. That's why when you're outdoors, shelter is of the utmost importance because of weather conditions and temperature. The survival shelter can help protect you from insects and the elements since it is designed to get you through an emergency situation while keeping you nice and warm.
It should go without saying that when you're out in the wild, you must have an appropriate shelter making your chances of surviving significantly better. If you have any questions or suggestions, we would love to hear them in the comments below.