Today we'll talk about survival flashlights and how essential they can be for you because emergencies happen, and that's why it's better to be prepared for the unexpected. They are crucial for providing light when it's dark and helping you find what you're looking for when the sun goes down.
It can be difficult to find a good flashlight with the number of options out there, that's we're going to save you some time and present you with our recommendations and, after that, show you what you need to look for in a light to help you choose the best survival flashlight on the market.
1. Roadside Hero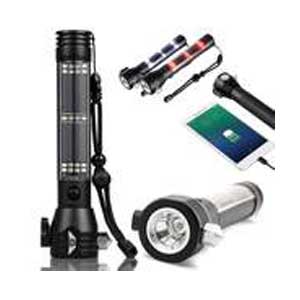 This exclusive survival flashlight will most likely become one of the most useful items you've ever owned, making your collection incomplete without this multifunctional solar-powered light with a hammer, compass, power bank, belt cutter, and magnet.
The Roadside HERO can be used as a regular flashlight, bright white work light, or a red emergency light. This flashlight doubles as a power bank to charge your USB devices, making it perfect for keeping pretty much anywhere, while the solar panel allows endless power to the built-in battery.
Being shockproof while having a unique belt cutter, hammer, and magnet makes this light perfect for any emergency. That's why this upscale flashlight is a great option to consider when choosing a survival flashlight.
Features:
Shockproof
Main Light: 200 Lumen Flashlight (3W LED) (High, Low & Strobe)
Emergency Hammer / Glass Breaker
Belt / Rope Cutter
Magnet for mounting
Dual Charging Modes
Power Bank
Internal Battery
2. Survive + All™ Solar Power Bank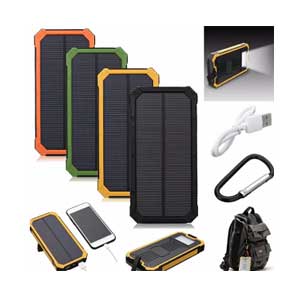 If you don't want to be caught in the great outdoors without an uncharged phone, Survive + All is your best option because, most times, when in nature, your smartphone is the only contact you have with the outside world. That's why it's vital to make sure you are always prepared and never encounter low battery.
This incredible flashlight is waterproof, dustproof, and shockproof, with intelligent Auto Shut-Off protection when detecting high voltage and temperature rise. It comes with two USB quick-charge ports, which doubles the efficiency of the all-in-one solution for your adventures into the wild. The Survive + All is a great option for camping, fishing, hiking, etc. All you have to do is to expose it to direct sunlight and have it charged in no time with its easy-to-use USB plug.
The flashlight comes with lithium-ion polymer batteries that are quickly recharged in daylight, and that's why this light is a must to take with you on your outdoor adventures.
Features
Waterproof
Dustproof
Shockproof
Survival Solar Power Bank
USB Cable
Carabineer
3. BUYSIGHT Bright Searchlight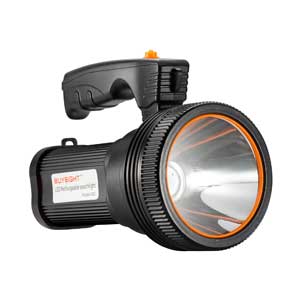 The BUYSIGHT Bright is a highly powerful light where you need it most, with its 2 brightness modes at 6000 lumens, making it a significantly brighter flashlight. It has an ultra-long illumination range of up to 800 meters, perfect for a camping floodlight and warning light.
This light has serious lasting power with its rechargeable lithium-ion batteries, lasting over 20 hours at high brightness. The 1000 rechargeable cycles help for a longer lifetime and a much more stable experience. With such a bright searchlight, you never have to fear darkness again.
Set your hands free with the adjustable shoulder strap that offers your palms a super touch feeling with its ergonomic handle. The light is suitable for night walking, dog walks, camping, hiking, hunting, etc. Its low-light mode is excellent for a dog walk with a softer ray, while the strong-light is bright enough to walk in completely dark, enabling you to see clearly at a distance of 100 meters.
Should you come face to face with a storm while camping, hiking, hunting, or sailing, you don't have to worry because this survival light is made from a tough impact and water-resistant plug, protecting it from drops, splashes, scratches, and bumps making it ideal for any severe weather.
Features
Waterproof
Impact Resistant
3 Rechargeable Spotlight Batteries
Adjustable Shoulder Strap
4. Rechargeable Flashlights (3-Pack)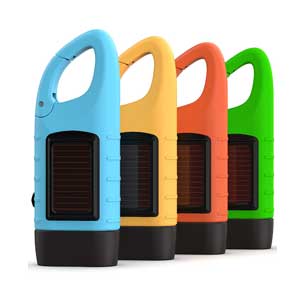 Why buy one when you can get a 3 pack for the same price? These rechargeable flashlights come in three standard colors, and that's not it, you get a Swiss-safe exclusive bonus glow-in-the-dark light as well. The pocket-size solar cell fully charges three LEDs for two hours while it also has a hand crank dynamo that provides instant power on tap, in which one minute of cranking gives you eight minutes of light.
This multi-purpose flashlight is great for emergency supplies, first aid kits, survival gear, and any outdoor activity. You get a convenient carabineer keychain clip that you can attach to a backpack, camping bag, or any other accessories. The LED flashlights are perfect for a group of friends or a family to share when going on an adventure.
Features
3 Solar Charge LED flashlights
Glow in the Dark flashlight
Rechargeable solar LEDs
Hand crank dynamo
Carabineer Clip
5. Streamlight 88065 Pro Tac HL-X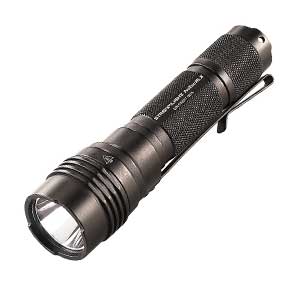 The Streamlight is a tactical handheld flashlight that includes two lithium batteries and a nylon holster, but with its MULTI-FUEL innovation, it allows you to use different batteries, ensuring you'll always have a beam of light when needed.
These extremely durable abrasion-resistant lights have a tactical tail cap switch for constant or momentary operation with three different user-selectable programs and a pocket clip for convenience. Depending on the brightness mode, this Streamlight can run from 1.5 to 20 hours, and the strobe for signaling or disorienting can hold on for 2.5 hours. Built to last, this flashlight's glass lens has an anti-reflective coating while being waterproof and impact resistant.
A great plus for this premium light is the push-button tactical tail switch and the TEN-TAP allowing the user selection of one of three different programs (high, low, and strobe) with a one-handed operation. If you're looking for an upscale survival flashlight, the Streamlight 88065 Pro should be your choice.
Features
1000-lumen tactical flashlight
Multi battery versatility
Removable pocket clip
Durable and abrasion resistant
Operates with remote switches
6. SureFire G2X Series LED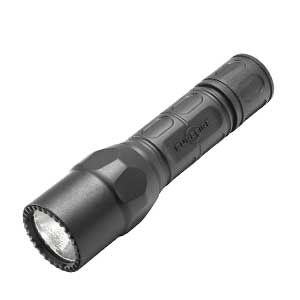 SureFire's G2X illuminations tool are virtually indestructible LED emitters regulated to maximize light output and runtime with its sleek Nitrolon polymer bodies. This flashlight is specifically designed to meet the needs of many low-enforcement professionals by featuring a high-performance LED that generates a maximum output of 400 lumens focused by a parabolic reflector with significant reach for maintaining situational awareness.
It has two output levels, high for maximum light and low for extended runtime, letting you select the ideal light for your needs. A dual output cap click switch controls the light output with its durable body, a Mil-spec hard-anodized aluminum head, O-rings, and gasket seals to keep moisture and dust out.
The SureFire is rugged and functional, making it ideal for someone who wears a badge or for a perfect everyday carry for everyone who requires a professional-grade flashlight suitable for any situation.
Features
Dual-output tail cap click switch
Tough Nitrolon body
Mil-Spec hard-anodized aluminum head
Gasket seals
7. LED Emergency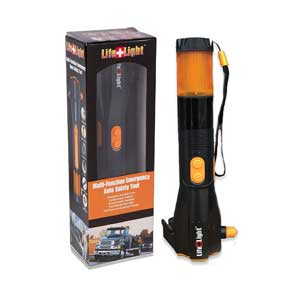 The LED Emergency flashlight has a multi-purpose survival tool kit, rechargeable flashlight lantern, and an ergonomic anti-skid easy grip design in a high-quality plastic body and a lifetime free replacement guarantee.
If you don't want to think about any external adapters or AA replaceable batteries and don't want to depend on the sun, you've come to the right place! This light has an easy hand crank to recharge the built-in lithium-ion battery making it ideal for trekking, hiking, camping, etc. The Lifelight is water and shock-resistant, letting you work well even in snow and rain.
That's not all, this incredible light comes with a car window breaker and seatbelt cutter, formulating the perfect tool for an emergency. It can also recharge your phone with the hand crank dynamo without depending on sunlight, batteries, cables, or power banks.
We can strongly say that Lifelight being a flashlight, glass breaker and seatbelt cutter all in one, makes it a roadside hero like no other. That's why there's no question if this tool is essential in your car survival kit.
Features
Water and Shock resistant
Car Window Breaker
Seatbelt Cutter
Rechargeable Flashlight Lantern
Hand crank cell phone charger
Compass
LifeTime Free Replacement Guarantee.
8. YIERBLUE Rechargeable Spotlight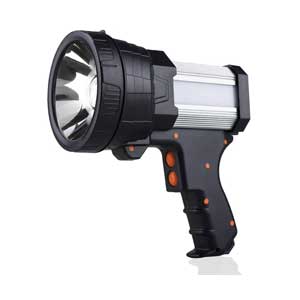 An ultra-bright heavy-duty flashlight with a battery life of over 20 hours that offers 3 adaptable feature settings (high, low, and flash) while still being able to serve as a power bank, bringing convenience to your outdoor activities. The light is portable and super durable, made of tough, impact-resistant military-grade ABS material and aluminum alloy that protects the system from bumps and drops.
This spotlight comes with an adjustable stand for hands-free so it can hold the light in place when you need your hands. It has a red and blue warning light that can come in handy when you're lost in the wild or in fog.
The 24 LED beads are evenly distributed on the side, so if you need to see something close when camping, repairing, or working, this YIERBLUE soft flood flashlight is ideal. Its IPX4 water-resistant rating allows this light to work well in rain and snowy days. Coming with a lifetime warranty, this flashlight is compact yet radiant and suitable for any dark spot, space, or place.
Features
Rechargeable lithium batteries
Double-layer radiator cup
Extra flood side light
Power bank
Water-resistant
Adjustable stand for hands-free
Red & blue warning light
Lifetime warranty
9. NoCry 18W Rechargeable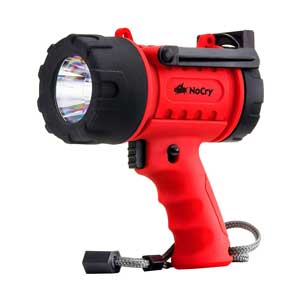 The NoCry is a powerful light when you need it the most with its super bright 18 Watt LED light and three brightness settings (high, medium, and low) while having a removable filter that enables white and red settings. This rechargeable spotlight comes with some serious lasting power, with lithium-ion batteries getting up to 20 hours of runtime.
You don't have to worry about dropping your spotlight in the water ever again because not only is it waterproof, but it also floats to the surface, making it a lot easier to find and retrieve. Made from tough, impact-resistant ABS and polystyrene to defend the system from bumps and drops while still being lightweight and compact so you can take it anywhere.
Not only is this tool a powerhouse in your hand but out of it as well because it comes with an adjustable sturdy stand for hands-free use. The detachable red light filter the flashlight uses gives it three additional light options while keeping your eyes adjusted to the dark without disturbing any beings.
This flashlight can be used in any situation thanks to its lightweight and compact size accomplishing all your needs like walking, hiking, camping, fishing, etc.
Features
Rechargeable, long-lasting lithium battery
Impact resistant
Waterproof
Detachable red light filter
Adjustable stand
Wall & automobile charging
10. LETION Led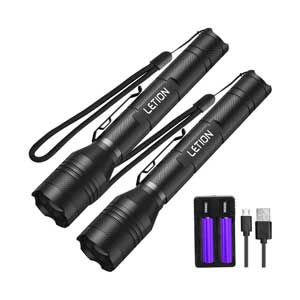 The LETION illuminating flashlight is made of high-quality aluminum alloy and advanced chip, making it durable and long-lasting, while its pocket size enables you to carry it easily, making it perfect for any occasion. This light has a zoom design and five modes (high, medium, low, strobe, and SOS) that you can adjust to create a suitable flashlight for extreme conditions with its waterproof, high-strength body.
This light is made with an advanced high-tech chip with a service life of up to 100,000 hours, making it 10 times brighter than a traditional flashlight while preventing the battery from overheating when recharging. The LED survival flashlight's precision machined body casing is constructed to endure scratches, abrasions, and corrosion making it a great option in severe weather conditions. The package contains two emergency flashlights that you can give to someone else in case of an emergency or if you need to separate them.
LETION flashlights are waterproof, anti-wear, non-slip, and compact, making them a must-have in your survival kit for outdoor activities, hiking, fishing, camping, etc.
Features
Aerospace aluminum body
Waterproof
2 emergency flashlights
4 rechargeable batteries
USB charger & cable
How To Choose A Survival Flashlight?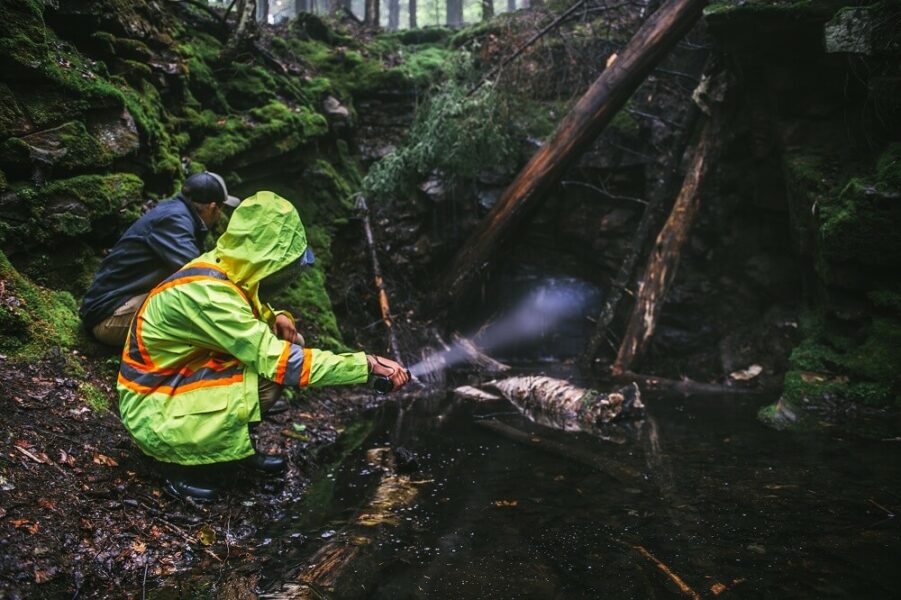 When it comes down to choosing the best survival flashlight, there are a few things you need to consider, such as batteries and if you want rechargeable or primary ones. How bright does the light have to be? What type of light bulb are you searching for? Is durability important? What features and functions can be useful? How important is the material? Is portability something you can sacrifice? And how to pick an affordable one?
We're here to answer all these questions and try and help you on your way to finding the perfect flashlight for you. When choosing a light, batteries are something you should always consider. The most common options are alkaline primary batteries or lithium ones, but the ones you should pick are the lithium batteries because they are the better option for long-term storage and don't leak. Our advice is to make sure that you decide on a flashlight with a minimum of 8 hours of battery life at 50 lumens, making it ideal for general outdoor use. Choose a flashlight that has multiple brightness options, so your battery doesn't drain when not necessary.
Make sure you pick a durable flashlight so that if you are exposed to the worst conditions, you are prepared. Don't forget that for the light to be durable, you must choose one that's impact-resistant and waterproof. When it comes down to choosing the type of light bulb, LEDs are the better option since they last a lot longer than incandescent lights and use less energy while still being significantly brighter. It's curtailing to pick a flashlight that has built-in emergency features because they are designed for survival situations.
Materials are also important, and that's why you should look for a flashlight that is made out of anodized aluminum and intense rubberized plastic. Something to consider is the flashlight's weight because it needs to be light and portable. Last but not least is affordability and finding the balance between features and quality making sure you've picked an amazing flashlight for a reasonable price.
Frequently Asked Questions
Rechargeable Or Primary Batteries?
Batteries have always been one of the biggest debates when deciding on a survival flashlight. People have different opinions everywhere on whether primary batteries are better than rechargeable ones.
One thing's for sure when it comes to alkaline batteries, you should stay away from them because even though they are easy to find, they have a comparatively short shelf life, and they tend to leak, which can be a huge problem in the outdoors. Experienced survivalists would agree with using primary lithium batteries since they have proven to hold their charge for many years, but others would say that the best option is rechargeable ones because of their long shelf life.
Where To Buy Your Survival Flashlight?
Choosing the correct flashlight is crucial for your survival kit, so you shouldn't take that decision lightly. Our advice to you is to always buy from a trusted place or a dependable source because one day, your life might depend on it. That's why picking such a tool should be made in a specialized store that can offer you everything you want out of a survival flashlight.
How Much Lumen Is Good For A Flashlight?
Well, of course, that depends on the purpose of the light, but in urban and suburban use, 100 lumens should be enough, and that's the standard for a day's average flashlight. Most will be able to provide five to ten hours of runtime, but then again, if you're looking for a longer period, you might have to consider rechargeable solar LED batteries or lithium ones instead of AA.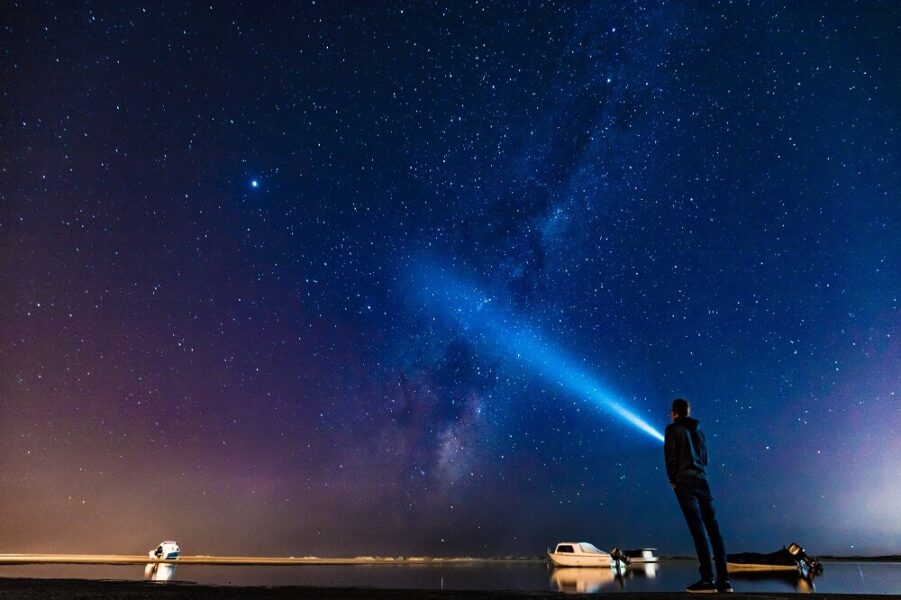 Final Words
When searching for the ultimate survival flashlight, the best option is determined by the absolute purpose and the main application. You must consider the most critical factors in nature while considering durability, quality, brightness, and battery life.
That's why you don't have to worry about picking the right flashlight any longer and choosing the one you need with our help. If you have any questions, statements, or experience in that area, you are welcome to comment below.