Though you may think otherwise, torches can be handy in many different situations, so you shouldn't let yourself be left without one when you most need it. That's where the best EDC flashlight can be very useful because you always carry it with you.
Finding the best option isn't that simple because you should take many different factors into account. Most of them are smaller in size, but they still need to be powerful. Nevertheless, an EDC flashlight can be pretty compelling, so don't underestimate it and get one yourself.
In today's guide, we've set up a list of the top 5 choices on the market right now. First, however, we highly advise you to look at what makes an EDC tactical flashlight suitable for any users out there. There are various items with multiple sizes and shapes, as well as numerous battery suggestions that can be useful for different occasions.
1. SOG Dark Energy DE-01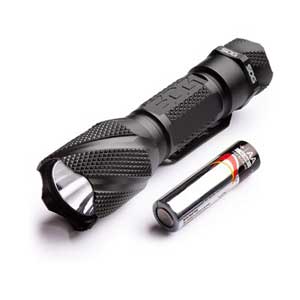 Mostly known for their tactical bladed tools and EDC knives, SOG is well-educated in the heavy-duty equipment field. And the SOG Dark Energy has all its skills put into the perfect package with the EDC-friendly, self-defense-focused flashlight. It weighs just a couple of ounces, so it's easy to use and lightweight enough to attach to your belt due to its removable pocket clip.
Even though it's small enough to fit on your palm, it's still rigid and sufficient enough to survive when used as a self-defense tool. In addition, this tooth–bezel flashlight is built from aerospace-grade aluminum, meaning it's incredibly durable.
This SOG flashlight weighs only three ounces, has IPX7 waterproofing, and with a very high maximum level of lumens, it produces plenty of light so that it can shine bright in even the darkest of places. This SOG product is our worth-it contender for the best flashlight EDC on today's market.
Pros
The flashlight has a well-known brand like SOG behind it, so you know it's of great quality
Its ultra-lightweight, clocking in at only a couple of ounces, so putting it on your keyring or in your pocket won't be a hassle
The whole flashlight is watertight and sealed, so its sturdy and durable even in the most challenging of conditions
The case is constructed from aerospace aluminum, which gives it even better heat distribution and rigidity
Cons
The flashlight is a little bit too pricey
It's too bulky to be comfortably worn in your pocket
After changing batteries, there is a huge chance that you will lose your watertight seal
2. EAGLETAC D25C Clicky flashlight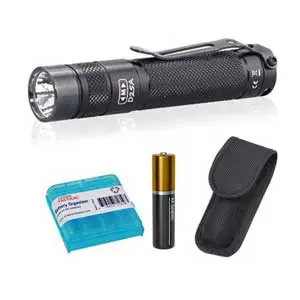 Here we have a flashlight boasting four output settings ranging from one to 405 lumens, with seven different lighting modes (strobe, beacon, SOS, flash, etc.). And what has all this versatility – the EagleTac D25C Clicky flashlight, one of the most useful and high-quality EDC flashlights around with a CREE XM-L2 U2 LED. Its pocket clip is also another great addition to its compact and easy-to-carry design.
This EagleTac product is made from stainless steel bezel coated in durable titanium coating, available in a dark grey color. While it looks a lot bigger than it is, it can fit in your palm comfortably in most cases. However, it still has a runtime that can last up to one hundred and fifty hours (or six days), even in the brightest setting. In our opinion, this may be one of, if not the best, pocket torches on the market right now.
Pros
It is very compact and lightweight, and with a pocket clip, carrying it around will be as easy as pie
The flashlight has 405 lumens so that brightness won't be a problem
it can last 150 running hours or six days, even if you use it at maximum brightness, even with its small size
Cons
The design isn't particularly bright, and it makes it look bigger than it is
The clip is of very poor quality, and with poor customer service, it will cost you more than half the price of the flashlight to replace it
3. Fenix Flashlights FX-PD35TAC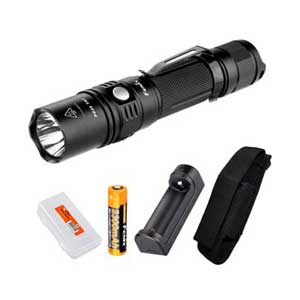 More significant than an EDC keychain, this everyday carry flashlight stands at 5.5 inches in length and weighs around 3 ounces. This EDC must-have has the distinct advantage of fitting nicely in your hand, unlike some smaller options that you'll have to grip with your thumb and forefinger.
It's very comfortable and easy to use. It also has six beam distance setting modes delivering up to 1,000 lumens. The Fenix FX is made of aircraft-grade aluminum for strength and durability, and it's IPX8 rated for water submersion so that it can survive in up to a meter of water for an hour. Though we can't compare this model to the ones above, it's certainly an astonishing middle-of-range competitor.
Pros
While it is a little bigger than most EDC flashlights, it manages to fit nicely in your hand
The flashlight has an industry-leading IPX8 waterproof rating, so even if you drop it in a lake, it won't be a problem
For the price and features that it offers, it manages to be the perfect middle-of-the-road choice
Cons
There seems to be a common problem with the button that regulates the level of brightness
It doesn't have very good heat distribution, so it will get hot very quickly and thus start to lose battery life pretty fast
4. FOURSEVENS Mini Turbo MKIII LED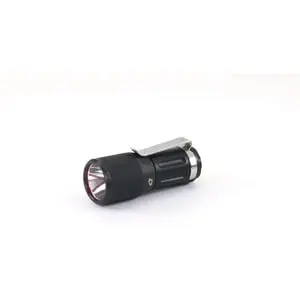 Clocking in at about the size of a thumb, the Foursevens Mini Turbo MKIII LED is the pure embodiment of "size doesn't matter.". Despite its abnormally small size, this portable EDC torch offers up an illumination range of 0.5 lumens to a maximum output of 700 lumens across several settings, making it perfect for almost any situation, as well as those that demand a bit more power. And it still has a very practical pocket clip too.
The Foursevens also has a save function to turn it back onto the last mode used (reliable lights), and its lowest setting has an amazing runtime. Plus, it's also water-resistant, so for an essential ring-sized carry, this flashlight is quite impressive. So if you are one of the users looking for amazing performance in a small package, this torch should be your everyday carry companion.
Pros
It's extremely small and compact. being as big as the size of a thumb while still being pretty powerful
The flashlight has an astonishing brightness level of 700 lumens, which can be brought down to 0.5 if you need
Even with its small size, it still has a pocket clip and a watertight sealed body
Cons
Its small size makes it sometimes hard to operate
The price is 15 dollars more than the preview model, but it doesn't improve anything significant
5. Olight S2R Baton II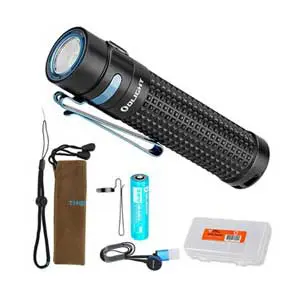 The Olight S2R Baton II uses an upgraded TIR lens with a Luminus SST-40 LED bulb to emit a maximum of 1150 lumens for 2 minutes. Once the 2 minutes with bright light are up, the light will automatically step down to 400 lumens to help preserve battery life and prevent overheating. The maximum setting can throw a perfectly balanced beam for 147 yards. This Olight offers users five brightness levels, plus a strobe mode, so you won't be caught unprepared in an emergency.
The Olight S2R has a better feel in hand, with more grooves giving an excellent grip. The light comes with two pocket clips (blue and black), along with a pouch and lanyard for additional carrying options. Unlike most EDC flashlights, this one uses a single 18650 lithium-ion battery that can charge faster than the OG version.
This model utilizes an MCC II magnetic charging cable that will connect to the magnetic tail cap for charging. The three-color power indicator light located underneath the side switch will alert you when the battery needs to be charged. The USB rechargeable battery has a runtime of up to 60 days when used in its lowest setting and with the brightest level of lumens for up to half an hour. Though it may not be the best in its class, it offers amazing specs for its price.
Pros
This flashlight is an improvement of the already great S2R Baton at almost the same price, making it a hot new product
Its powerful bulb has a maximum brightness of 1150 lumens, which can be used for only 2 minutes, but they are excellent if you are in a pinch
The more grooves on the body, combined with its lighter overall weight, give it an excellent feel in the hand
If you use it in its lowest settings, it can last you up to 60 days
Cons
The flashlight is a little bit overpriced for its brightness and quality
The clips are extremely cheaply made
How to choose the best EDC Flashlight?
For anyone who doesn't know the phrase, EDC stands for Everyday Carry. It's a phrase commonly used by people who have certain items they deem important to carry in their pockets or backpacks. Most equipment is used in survival situations, bushcraft, tactical awareness, camping, and hunting.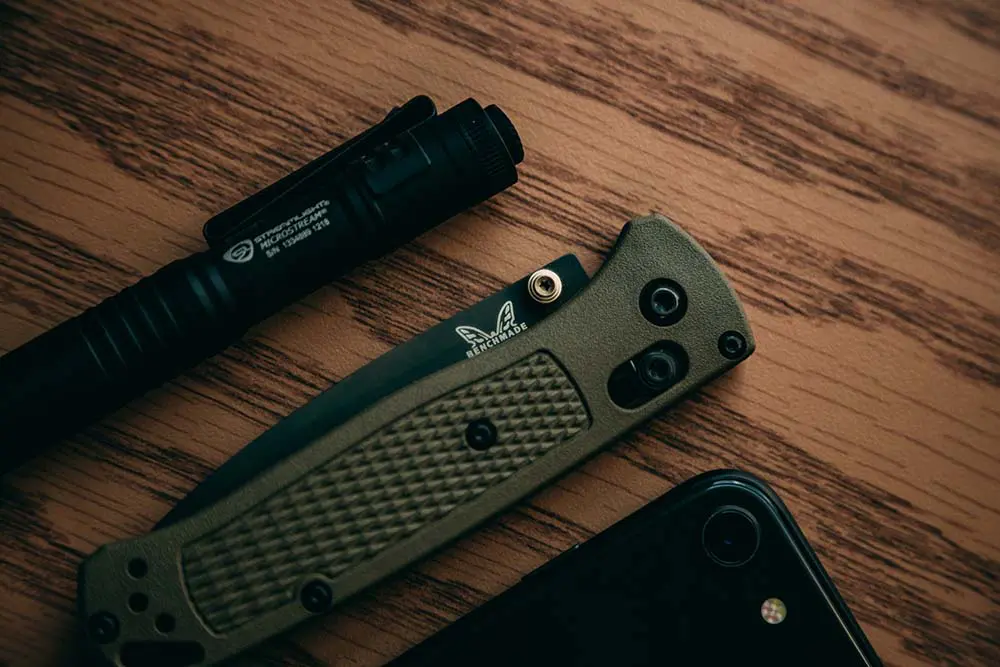 While you may think that an EDC flashlight is just a tool that illuminates your surroundings, you are very, very wrong. A flashlight is a tool made up of many parts, each one significantly changing its purpose. So let's look at what is so special about EDC flashlights and what features you need to search for:
Lumens Level
When it comes to light, the lumens rating is how you will determine how bright a particular everyday carry flashlight is. Lumens are a measure of how much natural light will be able to pass through into your eye, so this type of measurement is as accurate as it gets.
This is a better measure than watts, as different types of bulbs have various wattage requirements. As we've mentioned above, the higher the lumens level of light is, the brighter the light will be. On some products, though, you need to do a little bit more than look at some numbers to know how bright it is genuinely because 400 lumens on one everyday carry flashlight may not light the same as 400 lumens on another model.
This happens because some of these lights will say that they can shine at a maximum of 1,000 lumens, etc., and they do but only for a brief period in this maximum power setting. They quickly become overloaded with heat or power, so the size of the light isn't equal to their real-life capabilities.
The amount of lumens you will need mostly depends on the general use you will have for it. Anything up to 100 lumens is going to give enough light output and beam distance to maybe look under your bed if you have lost something. Anything around 250 lumens will be just enough in almost any case, and anything 500 lumens will give you a very intense and bright beam for situations where you need light.
For an EDC pocket flashlight, anything between 150 lumens – 300 lumens would be more than enough for most situations, with some models having more light than you can imagine. Of course, it's always good to look for different modes that will help you amend to light to save battery while still giving you plenty of illumination, so don't always look for the highest lumens level and then call it a day.
Types of Bulb
When it comes to types of bulbs, the majority that you will now see on the market are LED bulbs, and that isn't without reason – they are very reliable, save you a lot of energy, and are very high quality, even in cheaper models. While incandescent light bulbs are even less expensive, which is why you still commonly see them in households, LED's other advantages make it the bulb of choice for most flashlights.
One of the reasons for that is their low level of energy consumption, making them a useful power source. For example, a LED bulb will shine a lot farther and neither at the same amount of wattage as an incandescent one. So to sum it up, not only are they better performing, but they are also a lot less energy-hungry, which often prevents them from overheating.
LED bulbs are much more durable as they don't contain a filament. That, combined with their much longer lifespan, which is anywhere between 50 and 60 thousand hours, means that a single LED bulb will survive through the whole EDC flashlight's life.
While there are other types of bulbs available, just like the incandescent ones we've mentioned, LED is just the way to go. The slightly higher price tag is only a small sacrifice to overwhelmingly better performance.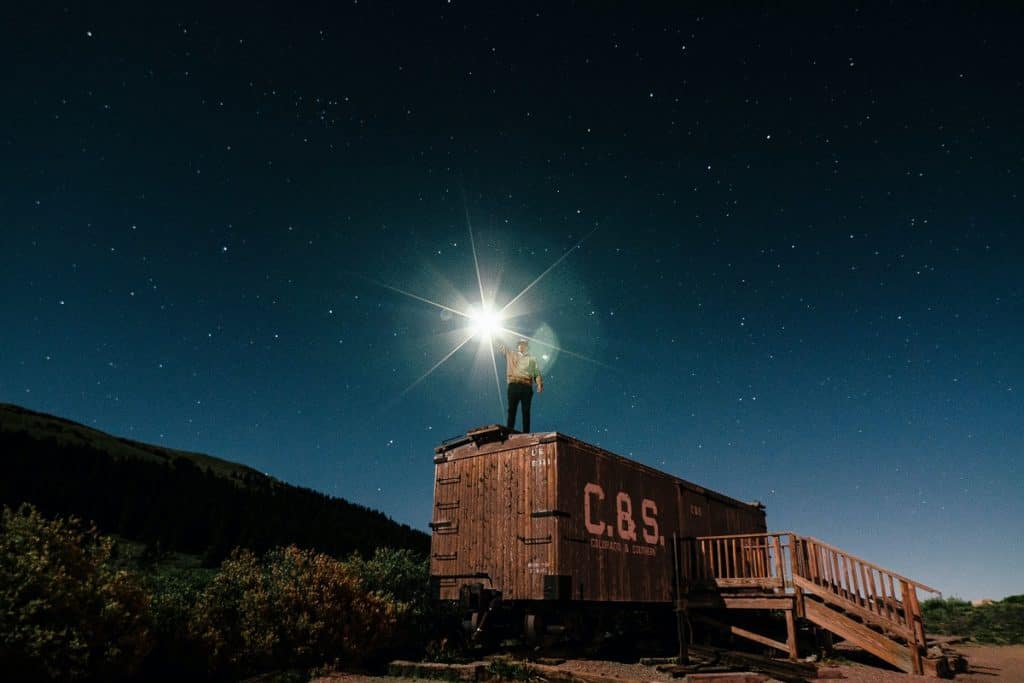 Battery Type
The battery is essentially the engine of your flashlight, so many different options significantly affect the whole EDC tool. Many of them will use the typical AA battery (a.k.a. alkaline batteries), which have both middle-of-the-road life and power outage.
Other types of batteries are available, which deliver a lot more power for a very similar price or size. These batteries are excellent at squeezing out the highest amount of lumens compared to the more traditional batteries.
There are also CR123 batteries available that have a respectable runtime while also providing a fair bit more power than the standard triple or double 'A battery.' But do note that they come at a higher price too. In our opinion, though, this is the best choice when it comes to charging.
However, the manufacturer will also be an essential factor, as there is a big difference between the lifespan of cheap batteries and the higher-end batteries some brands offer. So while you can always shave a little bit of money from the torch itself, never go for cheaper batteries. Finally, we recommend you select a product with a battery indicator so you are never left unprepared. 
Waterproof Features
If you are going to carry a flashlight every day, it will eventually start to rain, or it will encounter some water in one shape or another. Thus waterproofing is a must-have and arguably one of the best features out there because this is one of the things you never know when you may need. And let's be honest, you don't want to fork out a lot of money on an expensive flashlight just for it to stop working after a little bit of moisture or rain.
The most well-recognized way to rate how effective your waterproofing is the 'IPX' rating, a waterproof rating system that goes from zero to nine. An IPX rating of zero will mean that a device is immediately destroyed when it comes into contact with water, while an eight rating will say that it's submersible at depths of over a meter. The nine ratings are reserved for more severe and heavy-duty equipment because the tool can survive high-pressure and high-temperature water jets.
IPX3 will make the item just a tiny bit water-resistant, but when it comes to tactical flashlights, you want to be looking for at least an IPX4 rating. Anything above that will offer increasing levels of resistance until IPX7, which is a fully waterproof rating where it can be submerged for at least 30 minutes at a depth of one meter.
Wherever you are going to be, a waterproof rating will protect your purchase at any time and place. In most instances, an IPX7 is just enough for an EDC flashlight because even if a downpour catches you unprepared, you shouldn't worry about it.
Construction
As you may know, the smaller the product is, the lower its surface area, so that means it snaps in half harder, and it's overall more stiff and durable. This is ideal for an EDC tactical flashlight because, usually, they are pretty small. In addition, these compact and durable items generally have an aluminum body that's incredibly strong and lightweight at the same time.
Aluminum will usually give the device a good level of impact resistance and help it against scratches and abrasion. Another great feature of the flashlight is to have groves in the body to help with grip. The lens also plays a significant role in the construction of the EDC torch, as you want it to let as much light through as possible while being durable and resistant to scratches.
Though they can be made out of either glass or polycarbonate, it doesn't matter as much as the features mentioned above. Overall these devices tend to have a very durable construction with O-rings in place to keep the flashlight watertight.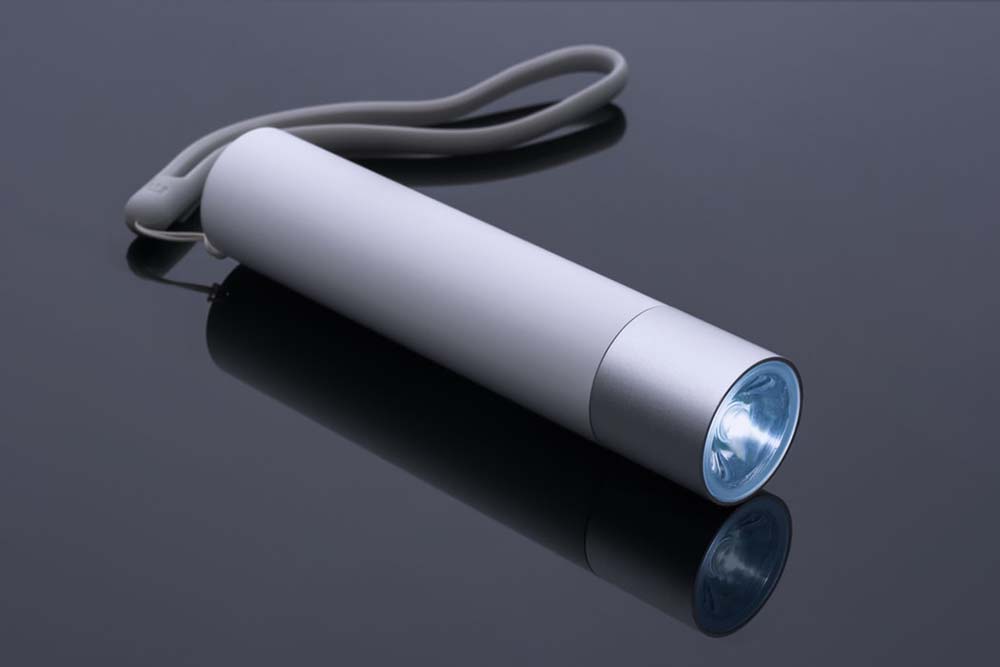 Beam Features
Being able to adjust the beam is an excellent feature to have, but it is usually only found on products with higher maximum levels of lumens. This is because the focus of the flashlight could be changed on a lower lumen one, but it won't have much of an effect.
If you do have this level of adjustability, though, it makes the torch more versatile and gives you a vast area in front of you, which is lit up or can shine something from very far away. So even though you may think otherwise, this is a beneficial thing to have.
Another great thing to adjust is the brightness of the light, meaning that the flashlight has an adjustable beam that can be used to find a path if you are out there hiking at night or even reading a book at night. Having this adjustable beam level is generally only found on slightly larger models.
Signaling or Flashing Capabilities
If you want a flashlight for everyday carry, you probably want it because you know it's a vital piece of equipment in an emergency. Of course, not everyone will buy one for this purpose alone, but you should always carry one.
Many flashlights will come with numerous different hours of runtime, and modes, which may include either strobe or SOS settings. Thus, both of them will be able to attract a sufficient amount of attention. You never know when an emergency will occur, and you should always have something like this as a backup. Don't worry if your purchase doesn't have these features and is just a simple one, though – you could always do it manually.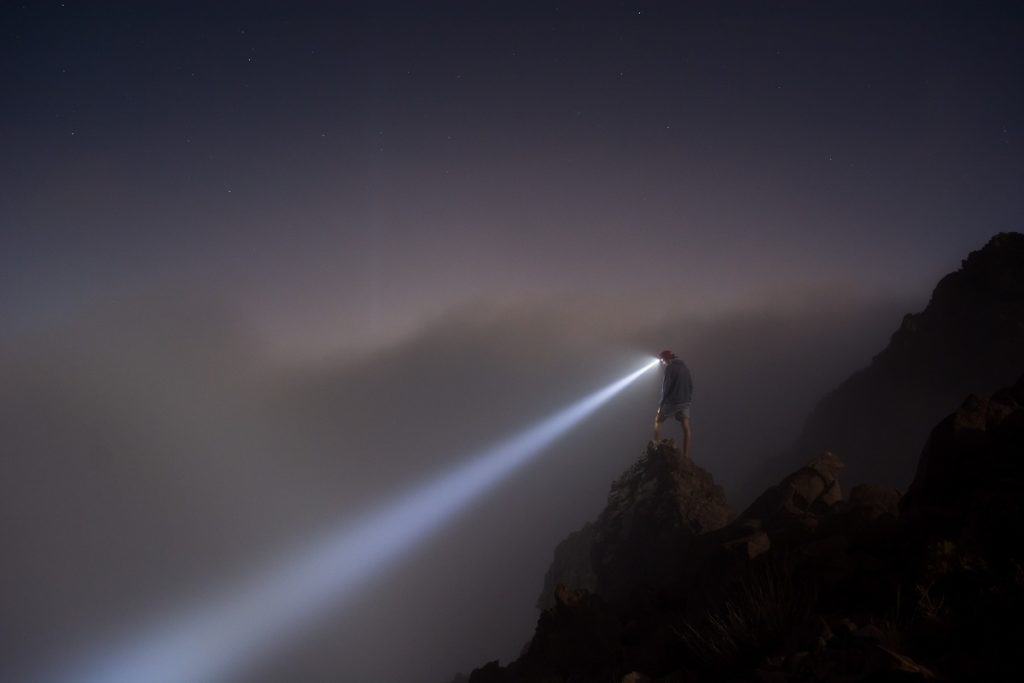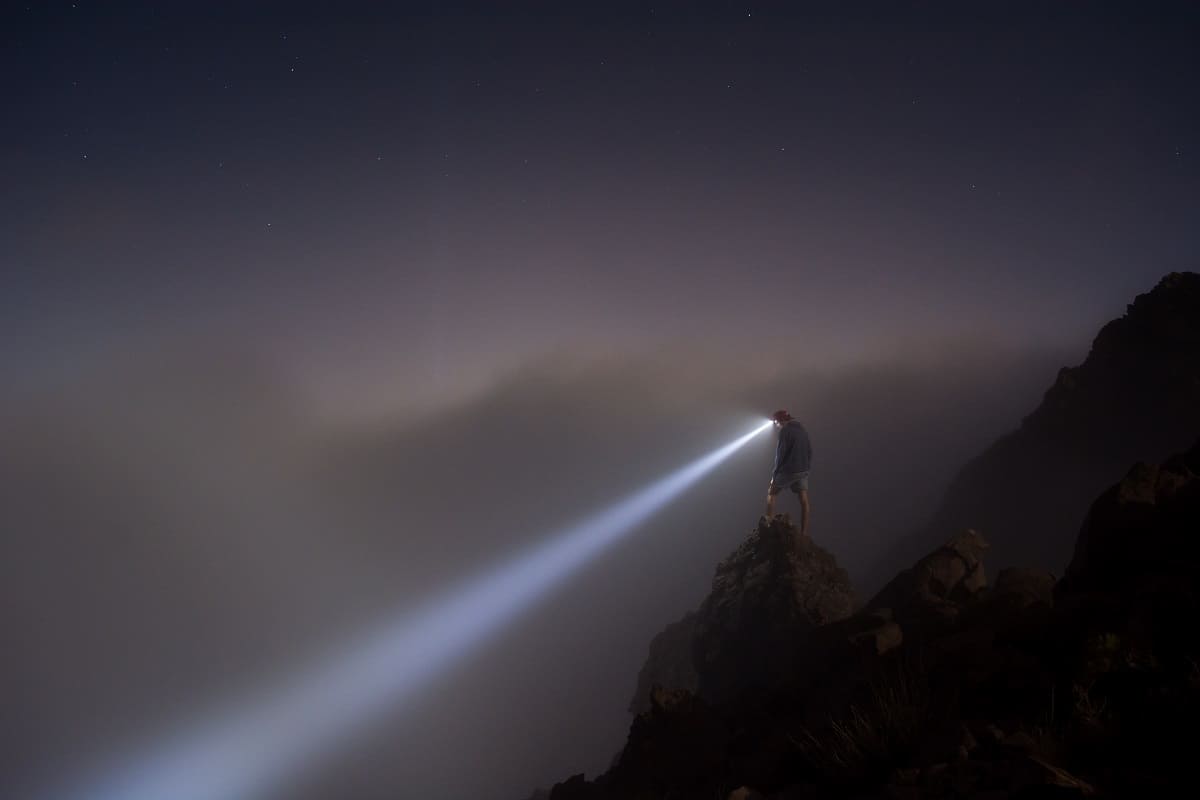 Attachment Features
Everyone will have their preferences when it comes to storing their EDC flashlight because different people have various ideas of easy access. For example, some people want to put them into their pants pocket, while others want them to be on their keys because they always carry them.
If you are going to be looking for a product that will fit on a key ring, you need to look for a torch small enough not to weigh down the whole ring while also having a sufficient way to attach it. Unfortunately, only the smallest devices out there have them because larger ones won't be convenient to have on your keys.
One of the most useful features out there is a spring-loaded attachment. This would mean that the light could be attached to many different accessories, like a zipper or a pocket, but can also be reversed to connect to a cap or a hat giving you hands-free access at all times.
Others don't want any attachment feature at all and might prefer just a simple item to drop into their pockets. For this particular reason, most spring-loaded attachments can be easily removed.
Switch Option
One feature which generally is determined by preference is where the switch is located. In most traditional options, the button will be just under the head, but in smaller or more heavy-duty ones, there are many variations to this.
Another switch type is a button on the tail of the device, which is easy to switch on. It's conveniently placed and can easily be clicked through various modes until you have the one you want.
Another way of switching the lights on is with the head of the product – it's just a simple motion of twisting the head clockwise, and you are ready to go. There are even some rare cases where the whole head slides up and down. This is very subjective on the personal side of the spectrum, so you should choose the switch which is the easiest for you to operate and feels the most comfortable in hand.
What are the benefits of using EDC flashlights?
The prepared individual knows the value of a reliable light mode with the highest quality, durability, and performance standards. In addition, quality light is a good tool for odd tasks, such as looking for a dropped set of keys, and some may even use their daily carry for menial admin or inspection tasks in a professional context.
EDC practitioners use their tools for more security, so they need a light that can do those tasks and more. Yes, situational awareness does increase overall personal safety, but as anyone who has been deployed (and many that haven't) knows, even hypervigilance cannot be a cloak of invisibility. A proper flashlight can provide a secondary level of safety and security by being a less-lethal self-defense tool that allows the user to disappear at a moment's notice.
Final Words
Sometimes a lack of resources can affect our attempts to get our hands on some cool gear, even though we prefer to go the hands-on route. When that happens, we listen to those who have firsthand experience and knowledge on the subject.
We comb through online reviews on Amazon and other websites to bring you the most comprehensive information we can. We sift through it all, keep the top competitors and toss the rest. For this review on the best EDC flashlight, we relied on our hands-on experience with SOG Dark Energy and other excellent flashlights.
You might prefer a bigger, bulkier design with a pocket clip or something smaller in the realm of a keychain flashlight that is charged via USB charging. All the choices we've mentioned above are truly designed to be excellent EDC pieces of gear.
No matter to which group of users you belong, the best EDC flashlight isn't the one with the highest price and the best spec sheet. It's the one that is so comfortable and easy to use that you want to carry it with you every day.