I was curious about the effectiveness of fighting canes as a self-defense tool after hearing them. When I searched Google, I came across many different options. Most of them were of poor quality. A self-defense tool that fails when you need it the most is not a good one. So I spent a few days researching and digging about trying to figure out what is the best walking stick that can be used for self-defense and tactical purposes. I went through:
Over 15 different blogs comparing walking sticks
Most retailers selling them
Read all the product reviews online
Spent quite a bit of time on survival forums and Reddit boards
Spent quite a bit of time on Youtube before deciding what to order and test.
We tested 20 canes, walking sticks, and tactical sticks to figure out what we like we what we don't. It wasn't easy, but I think we've found what we were looking for.
So without further ado, let's see what we think are the best tactical canes and walking sticks on the market today:
1. AiGear Walking & Hiking Stick – Our Pick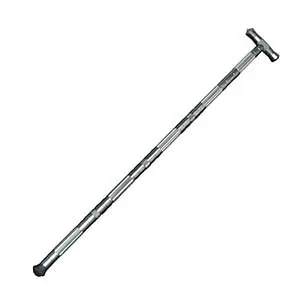 Hands down the best product on the market today, the aiGear walking stick is made out of a premium quality aluminum alloy body. The CNC stick includes three tools, an anti-skid, a magnesium rod, and a glass-breaker, making it perfect for hiking gear and a protective cane.
You get a handle that can be formed straight or as a T-handle, making it ideal for both men and women. The surface is hard anodized and knurled for extended life support and comfortable holding.
The overall length is 43.5 inches, and the outside diameter is 1.1 inches. The surface is hard anodized and knurled, so it maintains its integrity long enough to help you support what you're holding onto while keeping a firm grip.
It has an extensive accessory set sold separately if you're tall enough to require them. Overall the aiGear premium walking and hiking stick comes highly recommended by the PrimeSurvivor team, and it easily wins the Editor's pick award in this category.
Features:
Aluminum CNG alloy
Three outdoor tools
Anti-skid
Magnesium Rod
2. STUN Cane
If you are looking for a protective device to help protect yourself, the STUN cane is the responsible solution. With an excellent stun tool, this cane provides you with an electric current that will temporarily disrupt the messages that the brain sends to the body, which will protect you from animal and human threats.
This adjustable item doesn't require a license, which allows you to bring it anywhere you go. With this electric cane, you don't have to worry about your safety and support.
Features:
Stun device arc
Adjustable
Electric shocking cane
No license required
3. Bubba Stik Walking Cane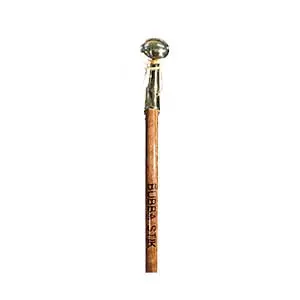 The Bubba stick is proudly made in the USA of Mahogany-stained Tennessee hardwood and topped with a brass Hame handle from a real horse collar harness.
This vintage-looking cane is not only very useful and comfortable but super stylish as well. It's 39″ long and can support a weight of up to 450 lbs, making it fit for large and overweight people.
The rubber tip is about an inch in diameter and can be replaced if needed. The round knob is easier to grab and has a very comfortable feeling.
Features:
Mahogany-stained Tennessee hardwood
Brass Hame handle
Black anti-slip rubber tip
4. Personal Security Products Zap Cane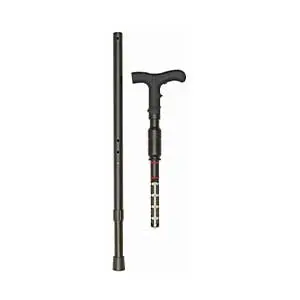 The Personal Security Products brand was started in 1992 in Little Rock, Arkansas. They specialize in designing and manufacturing personal protection items, and the Zap cane is one of their best.
It features a 1 million volts stun gun built-in which is very useful for humans, large dogs, and even small bears if it comes to that. It is expertly built and seems sturdy enough to support even the largest of people. It is rated for 250lbs, but it can probably take a slightly heavier load than that; it's that sturdy.
The Zap cane comes with a USB rechargeable battery and a built-in flashlight. The included wall charger can charge it rather quickly – but we didn't test times as we left it to charge overnight. There is a convenient carrying case as well.
Overall it is a decent product well worth your consideration. The only downside is that there are reports of defective units being received. While annoying, this can easily be rectified by using the warranty or the Amazon protection that comes with most purchases.
Features:
Adjustable length
Removable band
Shocking cane
Extra rubber tip
5. Snake Eye Tactical Walking Cane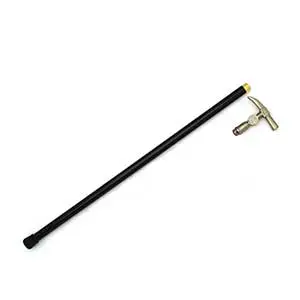 The Snake Eye Tactical has an interesting proposition: their pewter walking cane. It is an interesting design and well built in general, although it seems like some of the handles they offer can be a bit flimsy.
The Snake Eye cane is 34.5 inches tall, and a small storage container is under the handle. The pole is made of steel and can support a weight of up to 250 lbs. The handle has no blade attached, but you can attach one alone.
Overall it is a decent enough cane for most people, but not quite in the league of the AiGear and the Stun cane above. However, it is one of the cheapest sticks on this list, so it is worth considering if you are on a very tight budget.
Features:
Replaceable Pewter Handle
Steel pone with a rubber foot
34.5″ long
How to choose а tactical walking stick?
Today we can find numerous options for canes and sticks, which can be overwhelming and confusing when searching for the right one. That's why we've made this guide, with which we hope we'll narrow it down and make your decision more accessible and successful. Here are the four most important factors you need to be on the lookout for:
Material
One of the essential factors when deciding on a walking stick is the material it's made out of. Usually, the most popular options will be wood and metal, which are also the best alternatives. Both have positives and negatives; depending on your needs, one can be more suitable. Wooden canes are usually lighter than metal ones, making them perfect for self-defence, but they can break easier. However, they won't raise any eyebrows and are generally useful. Metal sticks are typically tougher and more durable but can be slightly more substantial.
Handle
Finding an excellent tactical stick means looking for one with a quality handle. More specifically, a wide hook handle since it's more versatile. We don't recommend the ones with a slight hook. You should check out the options which are normally hooked. Make sure that the handle you pick is sturdy and comfortable simultaneously.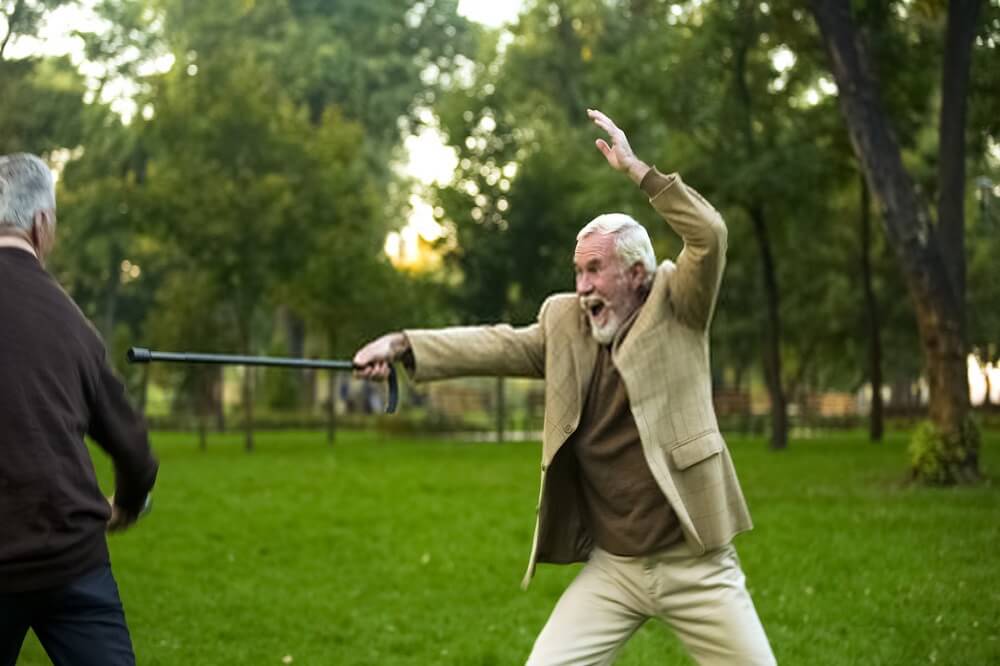 Tip
The tip of your cane or walking stick is a concentrated pressure point. What we mean by that is the end of your stick and how useful it can be. A tactical walking stick can be used for walking, hiking, self-defense, and many other things, but you have to keep in mind the tip's sharpness. Most products have softer tips. However, you want one that's sharper so you can use it for stability in the wilderness and self-defense if necessary.
Shaft
If you end up like a cane or a stick for self-defense purposes, you should look for one that provides notched gripping surfaces on the shaft. You will be able to find notching's on the shaft on both wooden and metal ones.
Frequently Asked Questions
What is the difference between a walking stick and a cane?
There is a fundamental difference between a walking stick and a cane, and that is their function. Canes are used for mobility aids designed to take pressure off a painful joint long-term. In contrast, walking sticks are usually used temporarily for balance and stability in the great outdoors, typically for climbing or walking on rough terrains.
The truth is that despite their differences, they both have various benefits, the most important one being providing independence and mobility for its users. Both can be used for self-defense and the extra boost of confidence you need without having to depend on anyone else.
Can a walking stick be a weapon?
Most walking sticks can be an excellent self-defense weapon, and since they can be carried just about anywhere in the world, they make the perfect aid for anyone that needs it. Sticks are allowed in airports and other places, so you don't have to worry and feel vulnerable to an attack. They are easy to carry and easy to use, and that makes them the perfect self-defense weapon. Next, we'll talk about the different types of self-defense options and how to choose the one that will best suit your needs.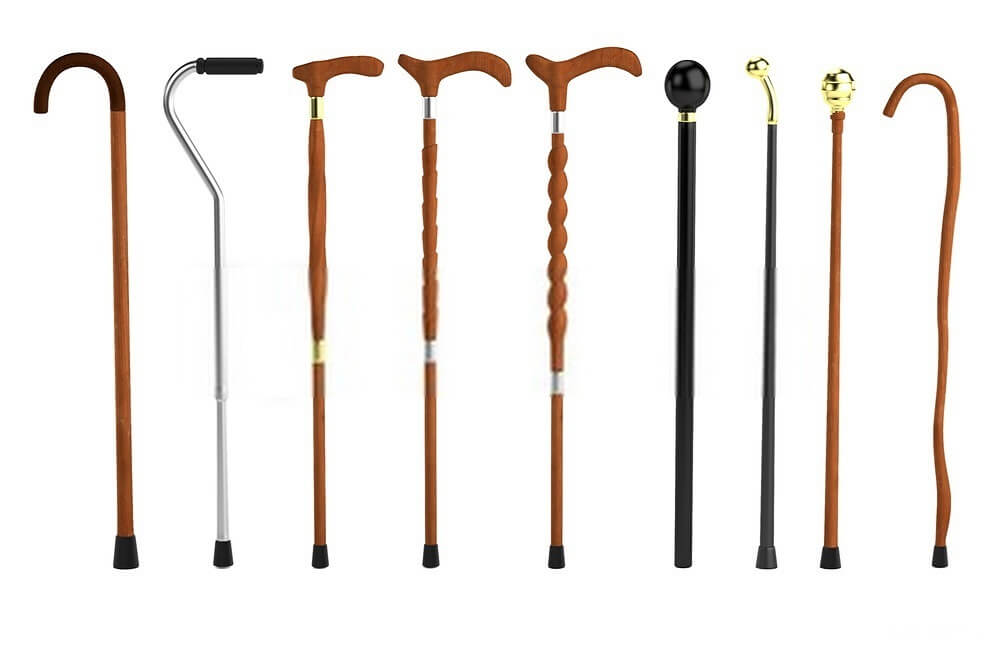 What kind of self-defense canes are there?
As you might have guessed, there is more to the kind of self-defense canes than the hooked martial arts ones. We can separate the canes into four groups, and depending on your situation; one can be better than the other.
Shocking Canes
These types of canes are electric, and they will shock your attacker. They won't necessarily stop him, but he won't be expecting it, and you will most likely scare him off. Another positive is the fact that you don't need any knowledge of martial arts, which makes it the perfect protective cane for beginners.
Sword Canes
As you might have guessed, these canes have a sword inside them. However, since they need to fit, the actual sword is quite thin and frail. That's why this type is one we don't necessarily recommend. If you're someone that wants a knife, just get one separately and pick a cane with another purpose.
Gun Canes
This is exactly what you think it is, a cane with a gun concealed inside. Remember that it is still a lethal weapon, and you will need a permit to carry it. If you end up bringing it with you to an airport, it will be confiscated at a security checkpoint, which makes this option unreliable in some situations.
Tactical Combat Canes
Tactical combat canes are usually used for martial arts, but that doesn't mean they can't benefit everyone. They are the best option for self-defense, and we strongly recommend them. Picking a tactical combat cane means having a hidden weapon that you can carry anywhere as a part of your tactical equipment.
Final Words
Finding the perfect tactical walking stick takes time. Each has different features depending on your physical ability, personal preference, and even the law. Knowing what you want and how to look for it is essential. We hope that with this article you found out everything you need to know so that you can choose the one stick that is right for you.
If there is something we haven't answered regarding the subject, feel free to ask in the comments below.