Have you ever thought about how to prepare yourself for an emergency? In a situation where you might have to leave your home and most of your belongings and survive in nature? Perhaps, you have to go into hiding, which sounds silly. Still, in light of the 2020 Corona Virus Pandemic, you might want to prepare yourself with all of the necessities to help you survive a few days outdoors, whether you are in an emergency or simply exploring hidden natural treasures. What is the first and most important thing you need to survive? You guessed it – FOOD.
Luckily for us, in the 21st century, there are the so-called food rations, which are created and distributed for the sole purpose of surviving when you do not have a fully equipped kitchen in sight or a restaurant to buy from. What you need to remember is that you need food that will keep the engine running or strengthen your system to make you capable of withstanding the forces of nature because, as you know, you won't be sleeping in your comfortable bed.

So, let's take a look at some of the best emergency food rations and MRE packs on the market today:
1. MRE Sure-Pak Self-Heating Full Meal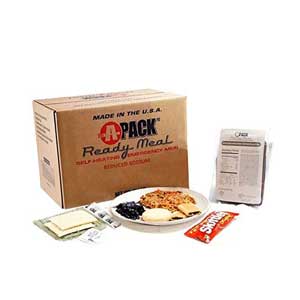 MREs are a top choice of emergency food rations. That's probably because they are made from the same supplier that provides kits to the US Military and FEMA, so from what we know, they are some high-quality products that would keep you as energized as a soldier on duty! Each ready-to-eat meal comes with its heater; therefore, you don't have to worry about how you're going to cook the food. It seems like magic, but it's very simple, you heat the food, and in no time, you have a meal to enjoy while you listen to nature.
The meals come fully sealed, and they are waterproof, so they have thought of every worry you might meet along the way. The MREs consist of an entrée, a side, dessert, food seasoning, and even a beverage mix, and if you forgot your utensils – they have you covered! In case you are wondering how these heaters work – all they need is a tablespoon of water to heat your meal in less than a minute! Can't wait that long? Well, you can also eat them cold! The military sure knows how to take care of their soldiers!
With these meals, you can take care of yourself and your companions should you have any, whenever you take a trip, or prepare an emergency backpack. Not only are they high-quality and easy to carry, but they also tend to be delicious! They come in a pack of 12, so you could easily survive over 72 hours in the wilderness. And their shelf-life is up to 5 years! The total weight of the packs is 11 pounds, and the size is 16 x 11 x 9 inches, which fits greatly into our compact requirements. You could not go wrong with the MREs!
2. The Survival Tabs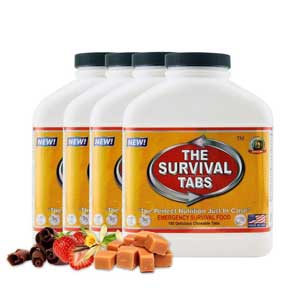 The second proposed choice would indeed be The Survival Tabs. The Survival Tabs were created to serve people in unexpected situations such as natural disasters. That doesn't mean, of course, that you couldn't use them on an outdoor trip; however, they are a 60-day food alternative! There are 720 Tabs, and they are filled with essential vitamins and minerals to hold you strong and healthy for almost two months!
They are divided into four proportions of 180 tablets, each containing 20 calories. Therefore a serving of 12 would be an appropriate portion to constitute a meal, depending on the person's weight. The four packages allow for easy storage, as well as the ability to share with your family if needed. Each bottle weighs 1.8 pounds, and the dimensions are 7.5x5x2.75 inches, which is fantastic when planning an outdoor experience, or in a situation where you need to get up and grab the necessities. The tablets are gluten-free, and they have no GMOs, which proves a high-value product and allows for consumers with gluten intolerance – if this is you, that is your product.
The Survival Tabs contain 15 essential vitamins and minerals, including the very important for the body's survival proteins. 97% of the proteins in the tablets are available for muscle and tissue repair due to the high concentration of the product; thus, they are perfect for survival in rough conditions. They are not affected by freezing conditions, and their estimated shelf-life is 25 years! This 'Just In Case is a great food alternative whenever an emergency might occur.
3. NorthWest Fork Emergency Supply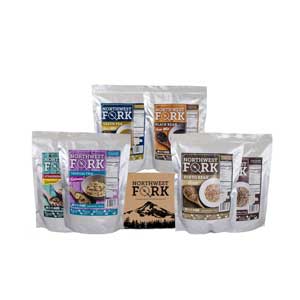 The NorthWest Fork Emergency Food Supply is a 30-day food alternative that provides 90 servings, which include breakfast, lunch, and dinner. Therefore it is fantastic for a self-induced trip in nature or a state of emergency. What is unique about this food ration would be that they do not pack and produce the ration before you have ordered it! Therefore, they care for each buyer, and you receive a freshly produced emergency food ration just in time for your trip! All the food is hand-packed by Oregon locals in a plant certified by the Oregon Department of Agriculture.
The NorthWest Fork Emergency food rations are of the highest quality; therefore, you will be eating some delicious meals even outside of the comfort of your home. The food is packaged inside Mylar Bags with O2 absorbers, which prevent oxidation and the deterioration of the food, hence if you do not open the bag, the food will stay fresh for a long time. If you do open it, however, the food stays fresh for almost two months! The product's shelf-life is ten years, thus if you decide to buy some emergency food supply, you wouldn't be worrying about the next decade.
There is a variety of foods that are included in NorthWest's emergency supply, such as oatmeal, soup, and stew. It tastes like home, even if it doesn't feel like home. The food is gluten, nut, soy, and GMO-free, and it is appropriate for Vegan or Kosher eaters! The product's dimensions are 21 pounds and 16x12x8 inches, and the way of preparation is by adding hot water to the pouch, after which you receive almost a pint of food! NorthWest Emergency Food Supply is a high-quality product, filled with taste and necessary calories of around 2000 a day.
4. XMRE Blue Line MRE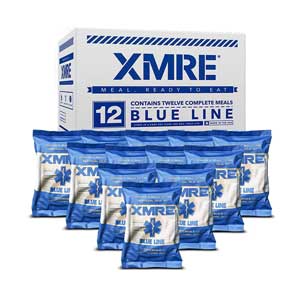 The XMRE emergency food rations are a fantastic food alternative should you have an unexpected power outing or a planned camping trip. The box contains 12 cases of food, as each case contains an entrée, sides, desserts, and beverages, as well as a bag for the beverage and an accessory kit.
Each meal is freshly packed and fully cooked; therefore, it requires no heating, However, they have added a flameless ration heater should you decide to warm up your food. Each case contains 900-1200 balanced nutrition, which you can eat right out of the pouch. The meals do not require refrigeration; thus, they can be stored at room temperature for up to five years! The product weighs around 16 pounds; therefore, it is easy to carry, and you can easily fit it in your backpack.
The XMRE Blue Line meets the essential requirements whether you are going camping, hiking, or are prepared for a sudden emergency. They are lightweight and durable, and the packaging is waterproof. Therefore the food is safe from rain. It is tasty and includes every necessity you may need on your trip, even a chocolate brownie! There are both meat and vegetarian options, which makes it a great choice for an emergency food ration.
5. U.S. Military Surplus Ready To Eat Meals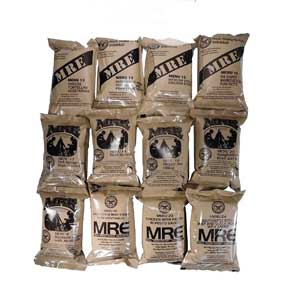 Last but not least on our list would be the U.S Military Surplus MREs. They are without a doubt a top choice when searching for food supply, whether it being for camping, fishing, hiking, or simply preparing an emergency kit. There is a diverse set of menus that you can choose from, and they come in packs of 12 meals, which also include flameless ration heaters (FRHs). The meals include a main course which you heat with water and the FREs, a beverage powder, a snack, dessert, and an accessory pack of the highest quality, as the U.S Military is known for taking good care of its soldiers.
It is tasty and has a shelf life of seven years. They are a fantastic choice for ultimate survivalists and outdoor enthusiasts as the average calories of each meal are 1250. The shelf life depends on the storage as it is preferable to store them in cool places. The MREs also are available as a vegan or kosher version, but should you not request it, you will receive a mixture of menus. A case of 12 meals weighs approximately 20 pounds, making it easy to carry on an outdoor adventure or in case of a natural disaster.
If you'd like to stock your home shelter, these MREs are a great nutritional choice that we would recommend to you. It is a little bit difficult to get your hands on the U.S. Military MREs as it is illegal to sell them directly to the public. However, some MREs are available after the Military decides they do not need them, so keep your eyes open!
How To Choose Survival and Emergency Food Rations?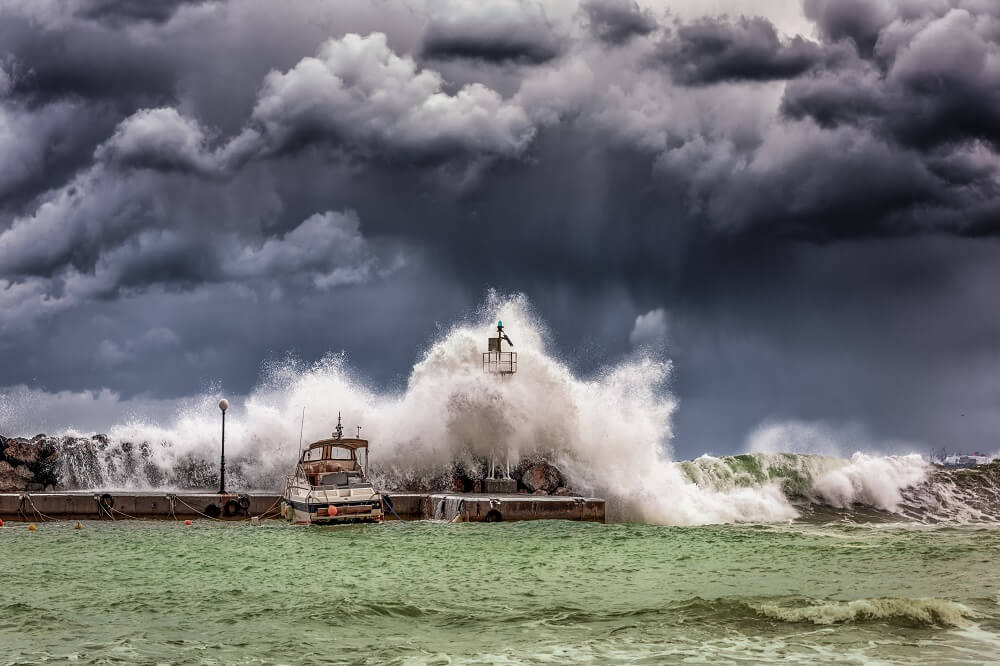 There are a few essential things that you must keep in mind when trying to decide on an emergency food ration. Since you will probably be in wild conditions, the following points are very important.
The size of the packaging
Unless you wish to carry your luggage and fill it with fruits and vegetables, you need something small and compact for easy to carry, quick to eat, and one that leaves a possibility of quantity in a smaller space.
The weight
Because you are most likely to carry a backpack, on your back, through the rough outdoors, you need something that doesn't outweigh you and allows you to walk without getting tired in a quick matter of time.
Shelf life
The food needs to have a long shelf-life so that when you buy it, you don't worry that within the year, you will have to replace it. Most food rations do indeed have a shelf life above 24 months.
To summarize, you need something compact, lightweight, and long-term, just like your girlfriend! Another very important thing is to buy rations that are calorie dense so that it keeps you fed and energized. And don't forget the power of water! Wherever you are going, pack some water and ensure you are headed to where you can find drinking water should you need it.
Frequently Asked Questions
How do I choose emergency food rations and MRE packs?
What you should think about is whether you wish to have a meal variety, or you wouldn't mind a similarity in meals. Some emergency food kits offer compactness; however, they don't offer exquisite taste, unlike others which come as a full meal with everything your heart desires, although it might take a little extra space. When choosing the right emergency food ration, think about your taste.
How much should I order?
This depends on whether you are ordering just for yourself or a group of people. Furthermore, are you thinking of buying food rations to stock up on in case of an emergency or a planned trip? Some food rations offer fewer servings, while others can last you for a couple of months.
Is it difficult to prepare an emergency meal?
Absolutely not! All of the food kits are produced with your ultimate ability to prepare them with ease. Some of them come cooked, others come with their own flameless heaters, while there are some which you need to add hot water to prepare.
Are these kits durable?
When you choose a kit, make sure that the packaging is waterproof, as most MREs (Meals Ready-To-Eat) are created for rough conditions, such as outdoor trips or natural disasters. Therefore most (if not all) kits are extremely durable, as they also have a long shelf life between 1-25 years, depending on the production.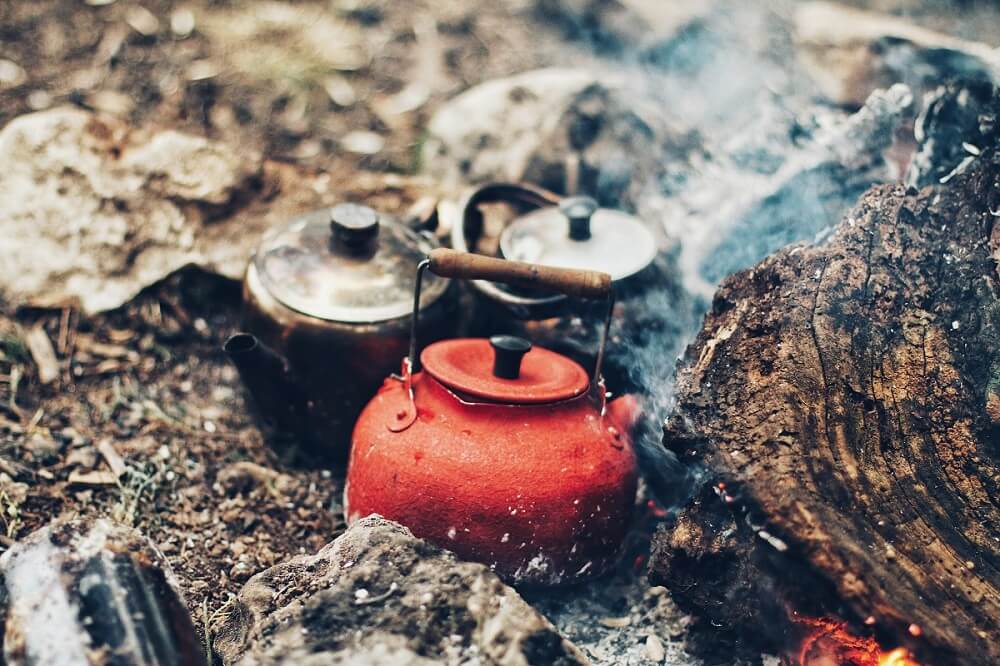 Do they have enough calories to keep me fed? Are they tasty?
A: Emergency Food Rations include between 800-2500 calories per serving, which is enough for the average person. Every manufacturer has different ingredients and recipes; however, most are based on homemade recipes, which would remind you of home, and you won't even realize you are out in the woods.
FINAL WORDS
To conclude our short research on the best emergency food rations, we will share the top choices we recommend to you in case you still can't decide. The Survival Tabs have the longest shelf life, and they are a very high-quality choice. They also don't take any time to prepare and have a variety of tastes. They are lightweight and easily portable, and they can last you for up to two whole months, which is great in an unexpected situation.
The Survival Tabs are a little bit on the pricey side, though, so if you don't have a huge budget at the current time, the second best choice which we would propose to you would indeed be the MRE Sure-Pak Self-Heating Full Meal. They are a smaller pack of meals, as they come in a pack of twelve; therefore, they wouldn't be appropriate for a longer time.
The MREs are a delicious choice filled with variety and equipped with a flameless heater which allows for an easy and quick preparation no matter where you are. They aren't the same as the ones used by the U.S. Military however, the same manufacturer produces them, and they are an affordable choice. Thus, if you wouldn't mind spending and being prepared, The Survival Tabs are an ultimate choice for you, but if you would like to spend a little less and do not necessarily need a bigger quantity, we advise you to consider the MREs.
In this post, we have outlined what Emergency Food Rations are, the review of five high-quality products, and our pick of those products. We have also assembled the most frequently asked question considering Emergency Food Rations and what you should consider when planning a purchase.