We all have some everyday essentials without which we can not go on with our day. Most of you probably instantly thought about your phone, though I am referring to something else- keychains. It may seem odd, but I believe we often underestimate their abilities. Nowadays, keychains are beyond more than a boring ring holding together the keys for the house door. Everyday carry keychains have advanced to a level where all your needed tools can be found on the loop, allowing you to free up space in your bag.
Let's take a look at what we consider are the best keychains on the market that are suitable for everyday carry, what to avoid, and what to get as a gift for a buddying EDC aficionado:
1. Gerber Mullet Keychain Multi-Tool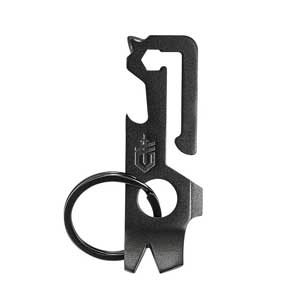 We could say it is travel friendly. It is easy to be carried on a keychain, from a belt loop, or through an airstrip. The mullet is a compact key chain tool that owns 9 tools to handle those unexpected daily tasks, including a pry bar, wire stripper, nail puller, scraper, both a small and large flathead driver, cross driver, 1/4 hex driver, and of course, a bottle opener.
2. Dapper Design KLIP: Titanium Carabiner Knife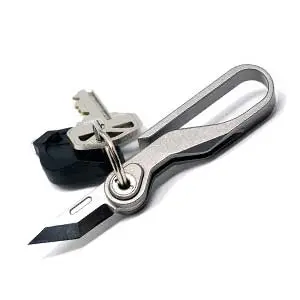 The next model is expertly engineered and also uses grade 5 titanium. It is carefully designed to resist serious abuse, making it a durable companion for the most demanding cutting needs. The Dapper Design possesses an innovative pocket knife, which can be used for almost any type of cutting. The built-in knife can open letters, and packages, remove staples, and most importantly, it can help you defend yourself in case of an emergency.
"KLIP" is a versatile choice, ready for everyday adventures whenever you need it. It is used as a suspension hook with attached keys or as a standalone pocket knife. If you are wondering where the name "KLIP" came from, we can explain. It is very obvious: it represents a clip + a knife…as simple as that. The blade can even be extended while still attached to your keyring. With its adjustable razor-sharp, 27mm blade length, 16 grams weight, 60mm body, and 85mm open length, the dapper design could be a perfect gift for both women and men on several occasions.
3. KeySmart Rugged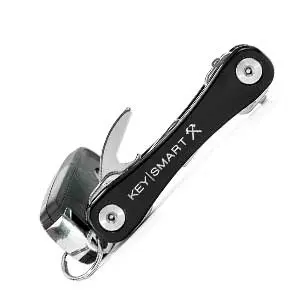 The KeySmart device is surely improved in every aspect- with perfect functionality, strength, and style in mind. The front and back parts are now thicker at 2. 79mm each. Remarkably durable and capable of accommodating 2-14 keys (additional expansion screws to hold up to 100 keys are sold separately).
It is designed with a removable pocket clip as well as a loop piece that is perfect for your car keys or other everyday carry accessories you may have. Lastly, you will always be ready with this useful stainless steel bottle opener. KeySmart is the perfect holiday gift that any key owner will love!
4. The Halifax Keychain Multitool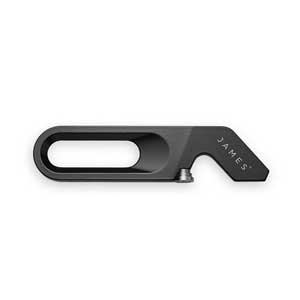 Built from absurdly resolute Cerakote-finished billet titanium, the James Brand's ultra-compact Halifax may just be the best way to ensure that you have a multi-tool on you at all times, even when your pockets are stuffed to the brim.
Measuring up at just under three inches in length, this one-piece pocket accessory features an integrated bottle opener, a combination flathead/Phillips screwdriver, a pry bar, and a scraper – all in one amazingly small package that can fit smoothly on your keychain or be attached to a paracord lanyard for easy and quick access.
Like everything James Brand makes, the minimalist styling is perfectly on point and fits beautifully with any everyday carry loadout.
5. HG TITANIUM CARABINER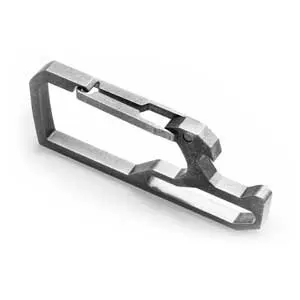 Our first product is classically designed as a counterpoint to the brand's Bauhaus line, the Handgrey line of carabiners, built with pure functionality in mind. The HG tool is a two-piece configuration with an integrated bottle opener in its structure, featuring a separate closed key loop.
The entire carabiner is EDM wire cut. It is expected to outlast any of the keys or other instruments you might hang on it because it is built from stable TI6A-4V grade 5 squared titanium, and it weighs 0.8 ounces.
6. KeyBiner Carabiner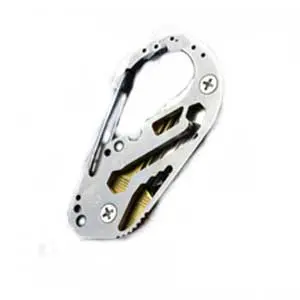 Our ranking continues with the well-known KeyBiner. The favorable miniature tool is a gentler version of the Carabiner, which many have used to carry their essentials every day. The most significant change was the addition of a unique key retention system. It allows you to keep your keys neatly organized and still. The KeyBiner also has numerous attached gadgets to assist you with daily chores. What is interesting about the design is that it does not have any sharp edges.
The idea is to keep your personal belongings safe and not cut you or damage your clothing. You would be surprised how many hidden zones there are! Start off with the provided screws and hardware so you can custom fit the key retention to hold as many keys as you need (up to 14 keys, depending on size, shape, and orientation). Located right next to the typical bottle opener and screwdriver pry bar file, there is enough space to fit your USB drive. There are a few ring wholes just in case the space is still not big enough for you. This is one of the most recommended designs, available in 7 colors.
7. Bauhaus C50 Titanium Carabiner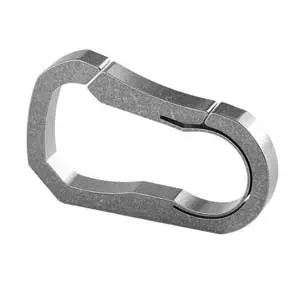 Staatliches Bauhaus was a German school for artists that focused on the belief that objects should serve society and have no distinction in forms and function. The line of Bauhaus carabiners has been created following specifically those principles.
Model C50 is produced to mimic a common carabiner though it emphasizes a durable TI6A-4V squared titanium unibody structure. This way, there are no hinges or sources to break the opening gate. Rather they rely on a curved built-in spring that uses the internal strength of the metal. C50 is now being sold for $39.
8. PARA-BINER PB-4 SAE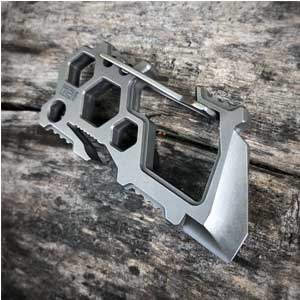 Para-Biner is created with today's "Paracord Generation" in mind; the shape is water-jetted out of 1/4″ thick sheets of grade 5 titanium (6Al4V), CNC milled, chamfered, and tumbled. If you are a builder or engineer, be sure you are looking at the most accurate product for you. The design offers 4 wrench openings (wrench openings 9/16″, 7/16″, 5/16″, 1/4″).
You would also be able to use it to drive flat head screws, pry a staple out, or sever the tape on your latest inbound shipment. There is more to use on this masterpiece construction: Para- cleat, Para-clinch, and you have a bottle opener for lunchtime.
9. TPT Slide: Titanium Pocket Tool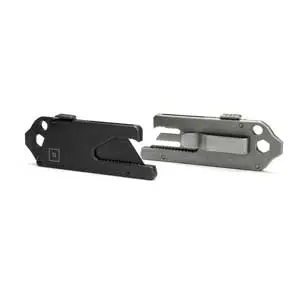 This TSA-friendly tool packs many convenient features in a lightweight and portable package. It has around 15, such as a hex driver, keyrings, wrenches, screwdrivers, a mini pry bar, and many more. Pocket-friendly multi-tools often try to balance function with form, but few manage to do so as well as the TPT Slide.
The titanium pocket tool is an upgraded model with a body 25% thicker for strength and a slide lever at the top for quick and easy access to the insert. Thanks to the removable pocket clip, it is even easier to carry.
10. PMK Paracord Quick Release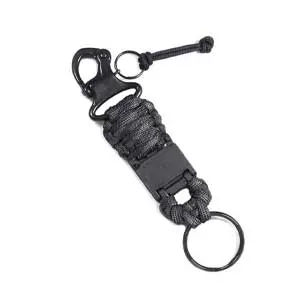 Combining the convenience of a quick release with the security of a carabiner, this keychain offers the best of both worlds with none of the drawbacks. The heavy-duty snap shackle features a paracord pull tab but stays securely clipped on whatever you tie it to.
The sturdy, slim profile neodymium magnetic clasp allows you to remove your keyring without taking off the whole keychain – yet you can rely on it not to come loose by accident. The hand-woven paracord wrapped around it can be unwrapped for use in accidents or survival situations.
What are the most common types of keychains for everyday carry?
There are so many types that no matter your lifestyle, you would find one suitable for you…or, if you think you do not necessarily need any extras, you can add a bit of a twist with a beautifully designed key ring.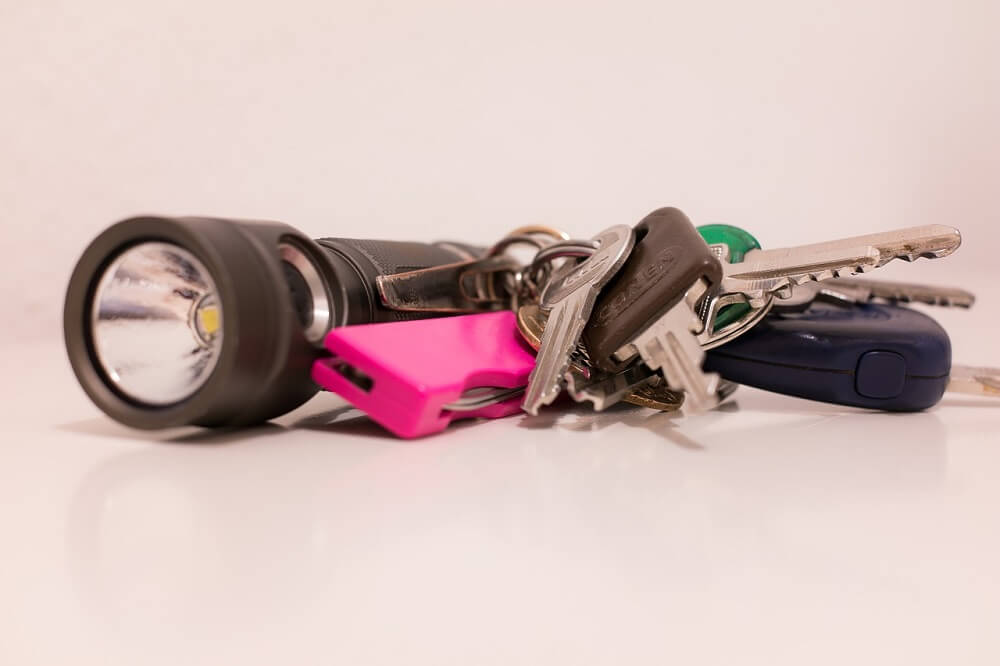 The four most common types of keychains are key organizers, keychain multitools, flashlights, and keychain accessories. Let's take a deeper look into each category:
1. Key organizers
In case it is difficult to keep in order all your everyday routine keys (home, vehicle, work, mail, etc.), this would be the right product for you. The simple action of easily finding the right key or tool needs to be efficient as possible, or you can waste a lot of time throughout the day.
3. Keychain Multitools
Carrying the right multitool for your needs on your keychain gives you much more functionality when needed, instead of carrying larger, heavier tools for tasks you might do only occasionally. Some useful features include a decent backup blade, screwdrivers, and a bottle opener.
You can choose from traditional clamshell folding multitools or the newly popular one-piece multitools, which focus more on prying and driving than cutting or slicing. You never again have to dig through your car in search of a working pen or pop a bottle top with the edge of a counter and splash your shoes in the process.
3. Flashlights
We have all experienced a time when we tried opening a door and did not have enough light. That is why the keychain is the perfect spot to keep a backup flashlight. With today's technology, some keychain lights can even match the performance of full-sized lights.
4. Misc essentials
The market for keychain accessories is huge, and it isn't limited to just urban EDC gear (keychain electronics, phone accessories, and other tools). If your work or university often requires operating with documents or writing many articles, this would be your choice of a keychain. The only difficulty with this design is not making it too heavy.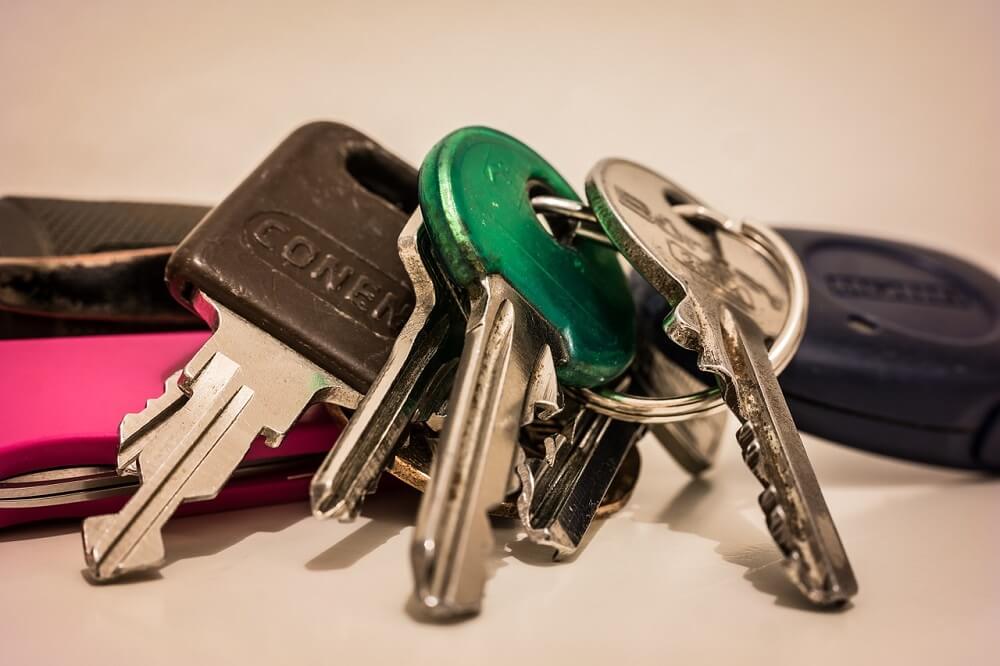 The essential EDC keychain possesses a few good characteristics: it's organized, useful, and with you wherever you go. After you find the right fit, no matter which one you choose, the keychain design should always be compact, lightweight, big enough to handle multiple keys, and yet still fit in a pocket.
Frequently Asked Questions
Let's take a look at the most frequently asked questions about EDC keychains, how to choose one, what should you keep one, and others:
What can you do with an EDC keychain?
A decent keyring will hold your keys together and be safe, making it easier to access your keys while reaching inside your pocket to get them. It is much easier to find them when a convenient key chain or some kind of fob has been attached to them.
What should I keep in my keychain?
There is not a required item that has to be present on your keychain. Everyone chooses what to add. Here are some of the most common ones:
– a USB keychain ( Businessmen use them all the time )
-a bottle opener keychain (College students love this one )
-a carabiner keychain
-a portable charger keychain (This item was sold out within the first few hours when launched for the first time)
-Flashlight keychain
-compass keychain ( If you are an explorer, the last two items may be handy)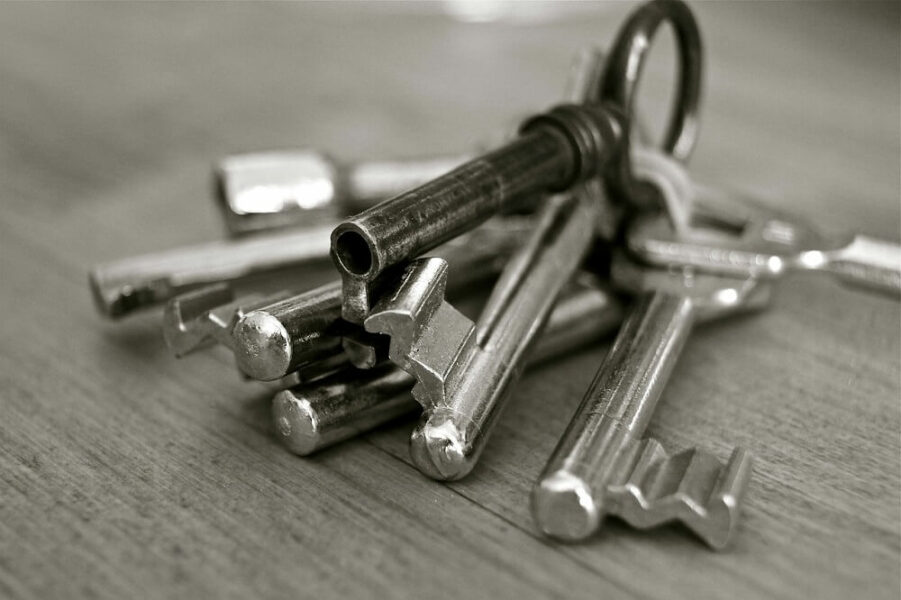 Can I make my own keychain?
Yes, you can!
First, you get a shrinky dink and tape it to the top of a print by your choice. You get some markers (for example, Sharpies) and start tracing away. Once you are done, grab your scissors and start cutting out your images, then grab a hole punch and give it a little push in the corner where you want to put your keychain. Finally, put it in the oven to the temperature and time the package instructions say.
Now you have your own keychain; all you have to do is attach all the parts together.
Is an EDC keychain a good gift?
The answer is yes indeed! Buying a keychain as a gift is a great idea since they are here to stay and are also greatly useful. It is a present your loved one will appreciate and remember the unforgettable times you have spent together when they used their keys. Keychains are small and sweet gestures of affection for another person.