There are some things none of us leave the house without, and there are some things we look for in the middle of the day and think to ourselves, "How did I forget this?" One of these things, and probably the most needed and the most likely to forget, is a pen. As silly as it sounds, can you count the number of times you needed a pen and didn't have one in hand? Yes, we know, we also experienced this issue many times.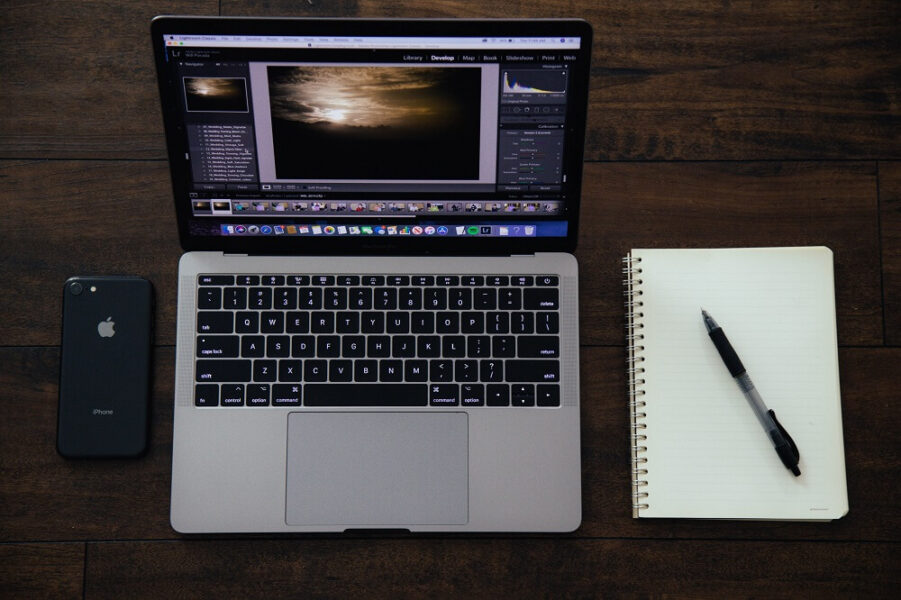 We know you could buy a simple pen a thousand times, however, isn't it so much better to buy one quality, EDC one and carry it everywhere? A good EDC pen could last you a long time, especially if it's made from quality materials. Despite the fact there is a range of techniques you could write on, we have noticed that pens are still used all the time. It's much faster to write a note than all the steps it takes to write it on your phone.
An everyday pen could last much longer than a smartphone if you take proper care of it, of course. Without further ado, let's look at the list we have created after much consideration. (We are obsessed, so it took a while.)
1. Karas Kustoms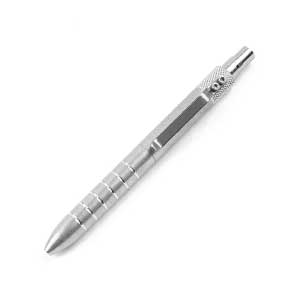 The Karas Kustoms EDK is a fine product with its exceptional design and metal-bodied structure, it's understandable why it's our top product. The Karas Kustoms has a 6061 aluminum construction, and at just over 5", it fits perfectly in our hands. At 28 grams, the EDK is neither heavy nor light, which makes it the perfect middle. The EDK is an incredibly tough and compact machine, a rollerball, clicker-style pen.
Karas Kustoms was manufactured in the U.S., and it has a fancy matte black finish, which is easy on the eye. The EDK has a retractable mechanism that is silent, smooth, and reliable. The Karas Kustoms website warns us that compulsive clicking can damage the inner mechanism. However, we noticed that due to the lack of clicking sounds, you don't feel the need to click it as much as you usually would.
This product comes pre-loaded with the Schmidt P8125 cartridge, and it allows for similar refills or any ballpoint Parker compatible refill. With its all-metal clicker, we believe that Karas Kustoms EDK Pen is the way to go for a long-life, beautiful-looking writing tool.
Pros
All Metal Build
Beautiful Writing
Compact and Lightweight
Silent
Three Colors To Choose From
Cons
Accepts Only Certain Refills
2. Fisher Black Titanium Space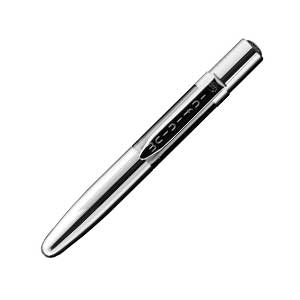 Unlike some, the Fisher Space Pen comes with a cap! Having a cap on is a very important addition for some of us, especially if it's going to be an everyday carry that will be hanging out in our pockets! The original Bullet Space Pen dates back as early as 1948. The Fisher Space is engineered to perform almost anywhere, as it functions in –30F to +250F, underwater, in zero gravity, and at any angle – even upside down.
When closed, the Space Pen measures 3.7 inches, and when open, it's 5.3 inches; therefore, it's compact and easy to carry! It has a chrome finish for a nice, luxurious look. Furthermore, it contains a pressurized PR4 black medium Space refill, and it's delivered in a beautiful gift box, where it can be stored in case you don't want to keep it in your pocket. The Space Pen is suitable even for the hottest days as the ink doesn't spill and make a mess.
The ink of the Fisher product is thixotropic; therefore, it will flow in extreme heat (up to 250F) and cold (-30F). It also writes in water, as well as if it is upside down. We are really fond of the Black Titanium Space Pen!
Pros
Pressurized Ball-Point Cartridge That Will Write Almost Anywhere
Compact Enough To Fit In Pockets
Durable Black Titanium Finish
Cons
The Ballpoint Pen May Feel Heavy For Some
3. Zebra F-701 Ballpoint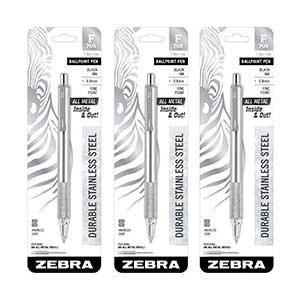 An affordable but quality choice, the Zebra F-701 is known for its knurled grip and stainless-steel barrel. Unlike others, which you can buy from bigger stores, the Zebra F-701 is reliable, durable, and classy. The knurling effect makes it comfortable to hold on to. Despite being metal, it's lightweight and easy to carry in your pocket.
It has a strong clip that will rid you of any worries about losing it or falling off your pocket. The Zebra F-701 comes with a blank ink refill with a 0.7mm size that makes a very fine line. Its dimensions are 5 x 1 x 1 inch, and it weighs 5.6 ounces. The Zebra F-701 is a classic pen, which is very affordable, but the price doesn't take away from the quality of the pen. If you have never tried one before, you should definitely give it a try.
Pros
Inexpensive & Nice Looking All Metal Pen
Lightweight and Compact
Reliable and Durable
Cons
The Internal Part is All Plastic
4. James Brand – The Benton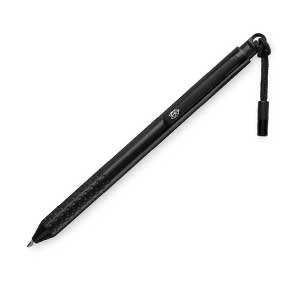 The Benton is a minimalistic ballpoint pen that is small and lightweight, and it's designed to be used every day. Made from 304 stainless steel, the Benton is a reliable and durable option for everyday carry. The design is complete with a laser-etched pattern for an easier and more comfortable grip.
The overall length is 5.5 inches, and it weighs less than an ounce at 0.8oz. The Benton's pocket clip is made from bent steel with the James Brand logo monogrammed onto its tip, and the steel clip is as strong and sturdy as it looks. The Benton Pen comes with a monogrammed lanyard and wool felt sleeve for protection.
To access the ink cartridge, it twists off, and the cartridge is Schmidt 900 M black ink cartridge. Furthermore, the Benton comes with a limited lifetime guarantee should there be any manufacturing issues.
Pros
Excellent Build & Material Quality
Compact Size & Weight
Excellent Grip & Feel
Cons
Only Black & Grey Options
5. CRKT James Williams Tactical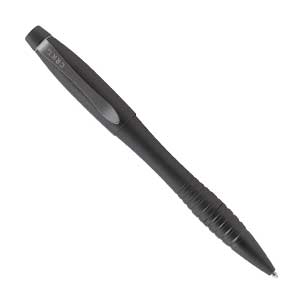 The CRKT James Williams pen is worth considering due to its almost flawless, hourglass-looking aluminum body. With its matte anodizing, it feels extremely smooth when held, and it's not too heavy, either. At 1.2 ounces, it's heavier than some, but let's not forget that it's a tactical pen, after all. The pocket clip is perfectly curved so that your finger can rest comfortably on top while you're writing.
What's great about it is that you can use it not only as a pen but as a self-defense object as well. With its 5 x 5 x 5 dimensions, it's not too small nor too large, and because of its matte finish, it blends in quite well. The tapered body improves one's grip against it, and it adds a contemporary look.
Due to its precise build, it offers durability and toughness. It has a cap, which, when removed, leaves you with a 6-inch aluminum spike to be used in a self-defense situation. The ink cartridge is supplied by Fisher; therefore, you can write under most circumstances – heat, cold, water, upside-down, etc.
Pros
Pen & Self-Defense Tool In One
Nice Writing
Secure Grip Due To Design
Slick Look
Cons
Flimsy Metal Clip
The Cap Can Start Falling Off Easily
6. Smith & Wesson Tactical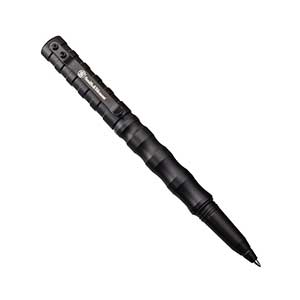 As some people say, tactical pens are badass! Not only can you write with it, but you can also defend yourself and your well-being. The Smith & Wesson is a fantastic piece of reliable T6061 Aircraft Aluminum that screams durability. It's 5.8 inches long, and it weighs 1.4 ounces, so it's neither too big nor too heavy. It's a screw top, and there is a pocket clip attached to the top, making it convenient for everyday carry.
It looks a bit different, but we don't judge by the looks, or at least we wouldn't say it's ugly. When not using it, the Smith&Wesson blends in easily and gives you peace of mind if you're working late and are scared to walk alone at night. The pen is refillable, and it's easy to find refills as it writes with Schmidt P900 M, and the writing is incredibly smooth and in black.
The Smith & Wesson comes with a Limited Lifetime Guarantee in case of a manufacturing issue. What makes it stand out, in our opinion, is the two tiny bolts that attach the pocket clip to the pen itself. It might not be to everyone's taste, but we think it's cool.
Pros
Quality Design
Lid Doesn't Fly Off – It's Tight
Can Be Used For Self Defense
Nice Writing & Easy to Find Refills
Strong Pocket Clip
Cons
A Little Heavy Due to Its Multifunctionality
Design Wouldn't Suit Everyone
Bolts Make It Look Cheap
7. Gerber Impromptu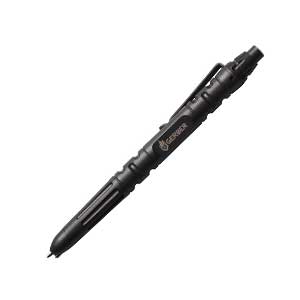 The Gerber Impromptu is a tactical pen made from stainless steel and coated in Cerakote to provide a confident grip in most situations. It's literally designed to look like a tool, and it's as heavy as a tool. At 2.4 oz and with a length of 5.59 inches, the Gerber tactical pen is heavier than most.
However, this weight allows it to break glass with its tempered steel tip, specially designed to get you out of trouble. Furthermore, the ink cartridge wasn't called "Rite in the Rain" for no reason. It's equipped to allow you to take notes even when it's pouring outside. The Gerber pen has a reliable push-button mechanism that deploys a ballpoint pen. The pen's body is rugged, and it was created to last in most conditions.
The Gerber Impromptu is slimmer than most tactical pens; however, that doesn't make it less useful regarding self-defense or glass breaking.
Pros
Multifunctional Tactical Pen
Rubber O-rings Provide Water Proofing
Clever Design
Blends In
Can Write Upside Down
Cons
Pricier Due to Materials Used
Weak Packaging
8. Valtcan Titanium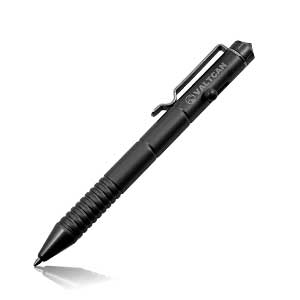 The Valtcan Titanium is an action pen made of 100% titanium – inside and out. It's perfect for everyday carry as it's reliable and beautiful, and you can take it anywhere. The Valtcan features an ergonomic grip with CNC finger groves for easy and reliable grip and comfortable use. There is an added tungsten tip for additional assurance whenever needed.
The Valtcan has a straightforward design, and the bolt action mechanism is smooth and secure due to the titanium construction. The pocket clip of the Valtcan is made of stainless steel and secures it to shirt pockets or other places. The pen itself writes with Schmidt P900, "Rite in Rain," Fisher Space Pen Refill, or Valtcan 2V Refills.
The Valtcan comes with a gift box, a pen, and a black ballpoint refill. If you wish to open the pen up and clean it, Valtcan comes with a one-push bolt action design – push the small bolt and access the inside of the pen. The product dimensions are 5.5 x 0.46 x 0.46 inches, and it weighs 3.2 ounces.
Pros
Elegant & Subtle Design
Not Too Heavy
Thought Out Mechanism
Easy To Use
Cons
Pricey
No Additional Refills Included
Scratches Easily
9. Rite in the Rain All-Weather Pen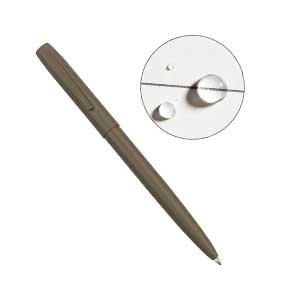 Thinking of traveling and needing a reliable pen that wouldn't fail you no matter where you take it? Rite in the Rain All-Weather Pen might be your choice, as it was created with such situations in mind. The permanent ink in the pen writes through water, grease, and mud without clumping or smearing.
Furthermore, the All-Weather cartridge is pressurized, and it writes in temperatures from –30F to +250F, as well as underwater and at any angle (even upside down). The ink was created to write without skipping in extremely wet conditions, and it's a very good perk to have. There are tiny pockets in the pen's tip that are meant to deliver ink whenever the conditions are bad, and they don't allow water or air to enter the cartridge.
The Rite in the Rain is made of a metal barrel, its size is 3.9 inches, and it weighs 0.8 ounces. The Rite in the Rain pen is durable and solid, and you can choose between more sensible or brighter color options. That way, if you choose bright orange, for example, it will be incredibly easy to find.
Pros
Cheaper Than Most
Writes Under Most Conditions
Sensible Design
Cons
Says It's All Metal, But It's Not.
You Could Get More For The Price
10. Fisher Space Pen X-Mark Bullet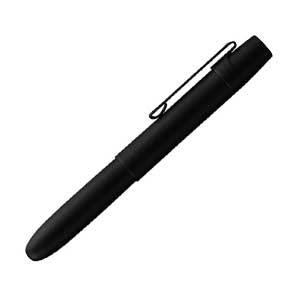 When we saw the Black Matte Fisher X-Mark Bullet, we fell in love. Maybe there is something about the simplicity and the fact that it's smooth and matte. The cap gives it a tech, nerdy look while offering everything a Bullet pen offers. It's compact and has a clip for further everyday comfort, and it's made of brass and steel.
The Fisher Space X-Mark Bullet writes in almost any condition – from extreme cold (-30F) to unbelievable heat (+250F), as well as upside-down. Space Pens are probably the most reliable out there, and they also look fantastic! When closed, it is the perfect EDC size at 3.6 x 0.3 x 0.3 inches, and it isn't heavy at 1.6 ounces. You can write with it anywhere, and you can enjoy the pen for a long time without worrying you won't be able to use it after a while.
A year or two? No problem, Fisher's Bullet was created with durability in mind. If you're a pen lover and tend to buy the most expensive products available, expect this to change once you buy the Fisher Space Bullet.
How To Choose a Pen for Every Day Carry?
When looking for the best solution for you, it's best to consider the following:
Construction – Pens made with an all-metal design are usually more reliable and durable than others. They could cost more, however, the price is worth the quality.
Weight – With metal usually comes weight; however, that isn't necessary. The lighter – the better. After all, you will be carrying it around every day, and you wouldn't want something that will drag you down.
Leakproof – That's a tough task, as whether the product is leakproof depends as much on the pen as it does on the ink and the way you carry & use it. You might think a cap would prevent it from leaking, but that isn't necessarily true. The stronger the casing, the lesser chance of leakages.
Tactics – If you want a multi-tool, without it being a multi-tool, look for a sturdy solution and when life attacks you – defend yourself.
Price – Let's be honest, if you're searching for quality, you will have to pay dearly.
Frequently Asked Questions
What Is An EDC Pen?
An EDC Pen is a pen that is to be carried every day, everywhere. Therefore, it needs to be reliable and durable. A 1$ pen is probably an example of what an EDC one isn't.
How To Carry A Pen in Your Pocket?
Remember that to carry a pen in your pocket, its length should be shorter than the length of your pocket. Also, you can attach the clip of the pen (if there is one) to the outside of your pocket. However, only do that if you're sure the tip won't come off and make your pants colorful. Another thing is the tip of the pen should be directed toward your face so that ink doesn't come out.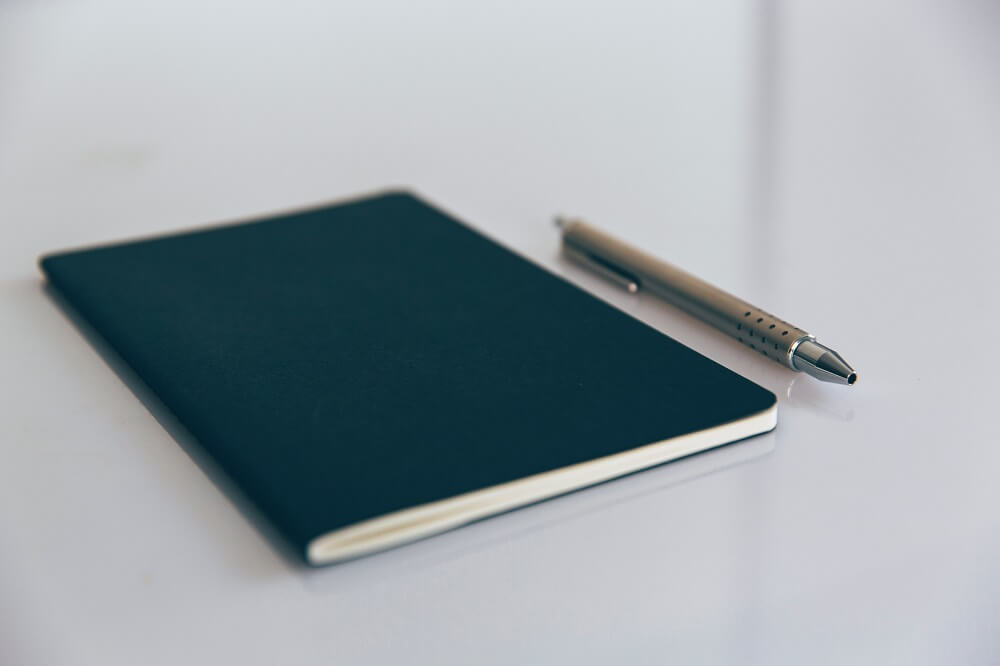 What Is A Machined Pen?
A machined pen is a hand-made one made from some type of metal that either allows a variety of refills or accepts only one type of refill.
What Does Everyday Carry Mean?
Everyday Carry is the collection of things you carry in your pockets or your purse every day of your life. That means it's the things you don't leave the house without. For example, if there is something that you feel naked without, like your wallet, or your pen, that is an everyday carry in your life.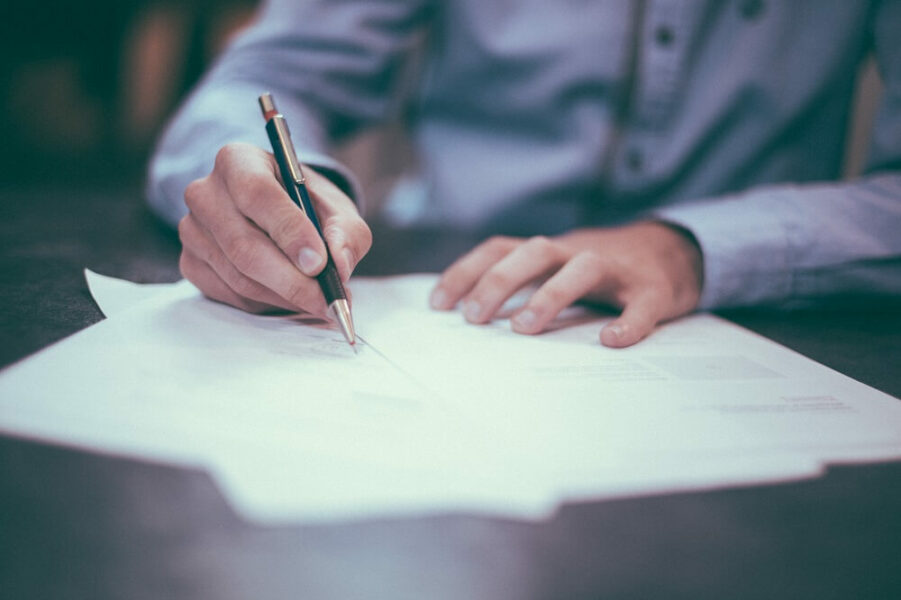 Final Words
In our article, we considered the top ten everyday carry pens that we found to be extremely cool, useful, and overall a great piece of material. After you have seen all of those products, consider your own personal style and consider what you might need to use one for. If you think it wouldn't be a bad idea to buy a pen that would be useful in a self-defense situation, look at the tactical ones, we have reviewed.
If, on the other hand, you just wish to buy a reliable pen that will last you for a long time and will provide you with comfort, we are fans of the Space Pens. Luxurious looks, however, are a different breed. The Karas Kustoms is a great one for people who like fancier pens and don't want to spend a fortune on a reliable writing tool. Hopefully, this article has assisted you in finding your next best pen-friend!
Happy Writing!