Owning an excellent hunting GPS unit can make a difference in ways you can't even imagine. This type of device can make your hunting experience more satisfying and fun. Nowadays, the market is flooded with products, which can be overwhelming when you don't know what to look for. However, having a reliable unit is quite a daunting endeavor. We don't want to make this process more complicated than it already is.
That's why in today's article, we'll try to discover some of the best GPS devices for hunting and how to find one that will be reliable while providing exceptional performance and features.
1. Garmin Foretrex 401 Waterproof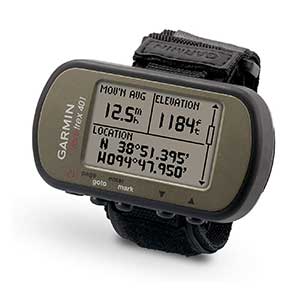 No matter where your adventure takes you, you never have to worry about getting lost in the wilderness with Garmin's Foretrex 401. This fantastic GPS unit combines a high-sensitivity waterproof receiver, a barometric altimeter, and an electronic compass into a lightweight device perfect for hunters, campers, and hikers. Foretrex keeps track of your path while displaying it as a dotted trail on the screen so you can save locations in the memory as waypoints to always find your way back.
What makes this device even better is that it supports dual-position readout so that you can view your current location in multiple formats. If you want to store routes to all of your favorite places, you'll be able to do so with this system, which can even provide you with sunrise/sunset times and hunting and fishing information.
You can simply connect it to your computer to store waypoints, routes, and tracks, but that's not all, you can also share them with another Foretrex unit. This way, your family and loved ones will know where you are at all times, and they will be able to signal the authorities in case of an emergency.
Pros
Up to 17 hours of use
Dual position readout
High-sensitivity Global Positioning System
Multiple formats for current location
Built-in altimeter and electronic compass
Cons
With most features on the battery dies faster
Short warranty
2. Garmin Oregon 650t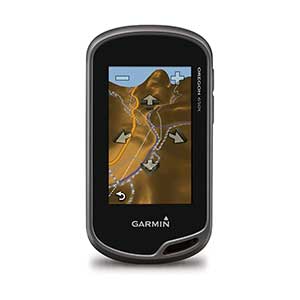 The second you have the handheld 650t GPS, you're ready to enter a brave new world of premium quality mapping and positioning. You can forget about ever losing signal with the Oregon unit because it works with both GPS and GLONASS satellite tracking systems. With more satellites come faster fixes, even in challenging environments and situations. This exceptional device features a state-of-the-art dual battery system that gives you the option of a state-of-the-art dual battery system or traditional A.A. batteries.
Purposely engineered for the great outdoors, the Oregon 650t offers the most brilliant, sunlight-readable touchscreen Garmin has ever put on the market. Forget about dust, scratches, bumps, humidity, dirt, or water because now they are no match for this fantastic mapping-oriented navigator.
The device has built-in U.S. topographic data for the entire U.S. and a worldwide base map with shaded relief that includes national parks and forests, terrain contours, elevation information trails, rivers, lakes, etc. These are all the tools you need to go hunting, hiking, or climbing anywhere.
However, another feature makes this unit even greater. That's its 8-megapixel autofocus digital camera that will take quality photos with the location of where it was taken. It doesn't get any better than that, does it?
Pros
Sunlight-readable touchscreen display
Dual-band satellite positioning
Bluetooth technology
Dual battery system
Easy to add more maps
Cons
It doesn't support an external speed sensor
It needs a lot of batteries
3. Magellan eXplorist 310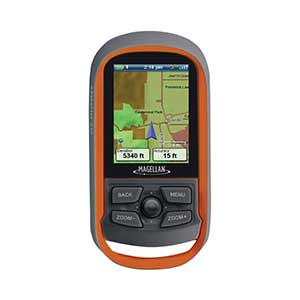 The eXplorist 310 GPS provides essential outdoor navigation with a high-resolution, sunlight-readable color screen, a waterproof design, paperless geocaching, and superior mapping that includes preloaded World Edition maps. They include detailed road networks, water features, urban and rural land use, and a realistic shaded relief background.
You get 500MB of user memory for TOPO maps, tracks, waypoints, and geocaches. By downloading the paperless geocaching, you can access 20 unique characteristics of each cache, including name, location, description, hider, difficulty, terrain size, hint, and recent logs.
Magellan's hunting unit has 18 hours of battery life and an advanced power-saving mode that will turn off everything except for Global Positioning System tracking. Tested to IPX-7 standards, the eXplorist 310 can withstand water for 30 minutes. Its rugged, durable construction will let you rely on it without worrying about adverse weather conditions and tough terrain.
Get yourself a device that has easy-to-navigate menus with vibrant graphics. Starting your journey with this system is as easy as clicking one button and tracking your route.
Pros
Easy-to-navigate menus
Sunlight-readable color screen
Waterproof
Preloaded World Edition map
18 hours of battery life
Cons
Screen is on the smaller side
No backup battery capacity
4. Garmin Montana 680t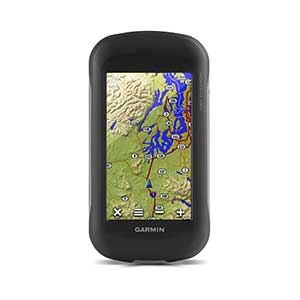 The Montana 680t is here, and it features a dual-orientation color touchscreen that is glove-friendly and comes with already preloaded TOPO U.S. maps and a free year of BirdsEye Satellite Imagery subscription. Garmin's GPS device supports paperless geocaching GPX files for straight-to-device uploading of geocaches, so you don't have to do anything manually any longer. With Montana 680, you can see your location, the terrain, and its difficulties, as well as useful hints and descriptions.
Garmin's free BaseCamp software lets you view and organize maps, waypoints, routes, and tracks so you can navigate anywhere. This Global Positioning System unit will locate your position precisely and maintain it even in deep woods and canyons. You can now capture every view with the 8-megapixel autofocus camera, which will automatically geotag photos with coordinates.
It's time to share your incredible adventures with friends and family so that they know you are safe at all times, and if you ever end up needing help, they can send it in no time to your exact location.
Pros
Dual-orientation reception
Sunlight-readable touchscreen display
Automatically geotags photos
Preloaded TOPO U.S. 100K maps
3-axis compass with barometric altimeter
Cons
Harder to read in bright sunlight
TOPO and street maps are low resolution
5. Garmin eTrex 20x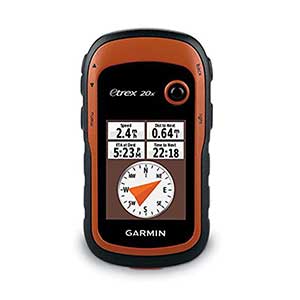 The Garmin eTrex 20x is a popular hunting GPS option at an affordable price with an enhanced screen resolution and expanded memory. This unit is ideal for ATVs, bicycles, boats, cars, or hot air balloons. As the first-ever device that can simultaneously track GPS and GLONASS satellites, the eTrex will lock your position faster than most of its competitors.
Getting a device that's easy to use and will maintain its location even in heavy cover and deep canyons is something you can't beat for the money you're paying.
With an amazing sunlight-readable display and a large internal memory, you can take advantage of the numerous features this Garmin unit offers, such as displaying location, terrain, coordinates, paper printouts, and many more. You get a preloaded worldwide basemap with shaded relief to load a variety of maps so that your journey can start right away.
Pros
This is the best all-around lantern, being perfect for power outages and emergencies
Cons
If its power runs out, that's it because the option to power it with double-A batteries isn't even remotely viable, it's just too dim
What Can You Use A Hunting GPS For?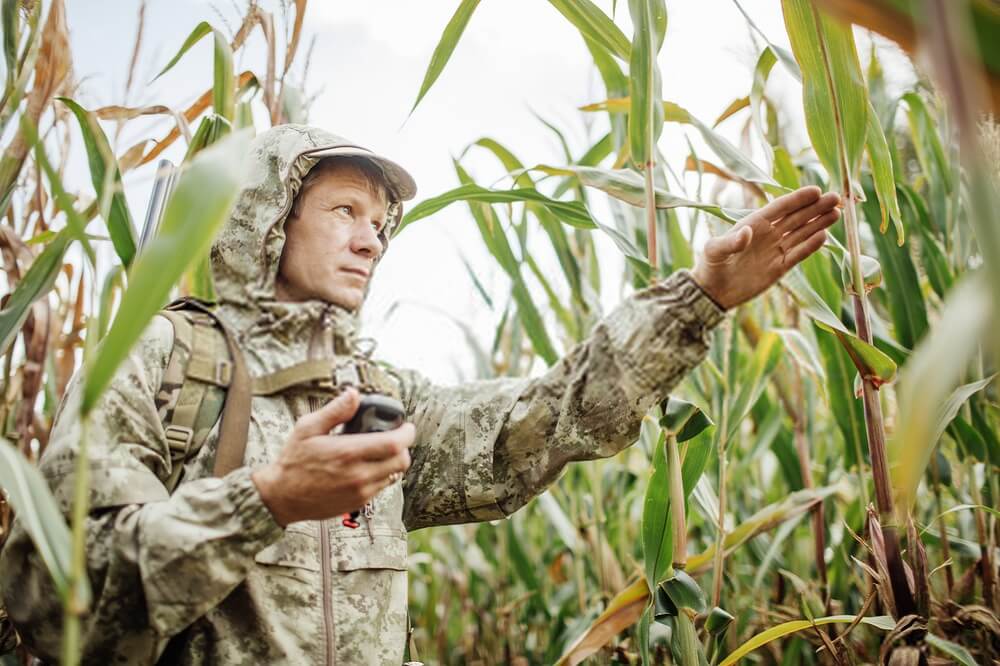 Said simply, a hunting GPS is any handheld Global Positioning System-enabled device that comes equipped with several maps that allow you to locate yourself on the planet in seconds. Its primary use is for plotting a course to your destination, making a route, or for having a record in case you get lost in the great outdoors.
Usually, Global Positioning Systems are as big as a mobile phone and can easily fit into your pocket. If you purchase a good device, you will receive additional data beyond simple coordinates, such as temperature, altitude, and other useful feathers that can come in handy in the wilderness.  
Why Do You Need A GPS For Hunting?
As we said above, a good hunting GPS will help you with coordinates, altitude, temperature, and other beneficial features. The variety of uses is extensive for everyone venturing into the wild with a Positioning System. One of the most useful components is to keep a record of your route as you go on your adventures into the mountains.
Another valuable quality is the option to send information on your trekking route home to your computer so your loved ones know where you are and can signal the authorities if you end up needing help. Last but not least, the most common use is to keep track of where you are driving across the country on your awesome road trip. Having one ensures that you'll never get lost in the middle of nowhere with no help.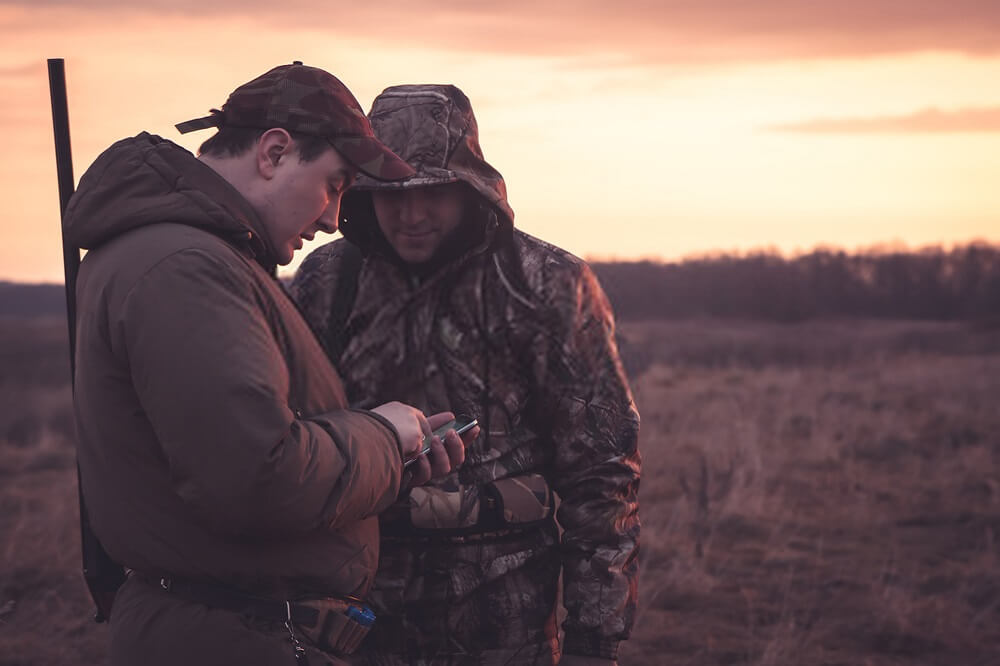 What Should You Consider When Buying One?
With a vast array of options on the market today, you might end up feeling confused and overwhelmed as to which one is the best. That's why we've put together a guide with the features you need to be looking for before deciding on a model. Here are the things you need to keep in mind when hunting for an excellent device:
What Reception Does It Have?
Most models we've come across use the 24 satellites owned by the United States Department of Defense to provide details about the area you're traveling through. Like everything else, some units have better reception than others, and a few can even manage to 3D lock the position of their user. Even though this is an obvious thing, we would like to talk about it as well. The larger the unit's antenna, the faster it will lock your position. At the same time, the accuracy of the displayed image will depend on the satellites in the same area.
Display Quality & Size
Even if you have the fastest GPS on the earth, it won't do you good if you can't see it displayed on your screen. The features you need on a screen are an essential part of picking the right Positioning System. Always select a GPS that's backlit so you can use it during both day and night. We strongly recommend choosing a larger display with a higher resolution, which allows you to view things in either portrait or landscape mode.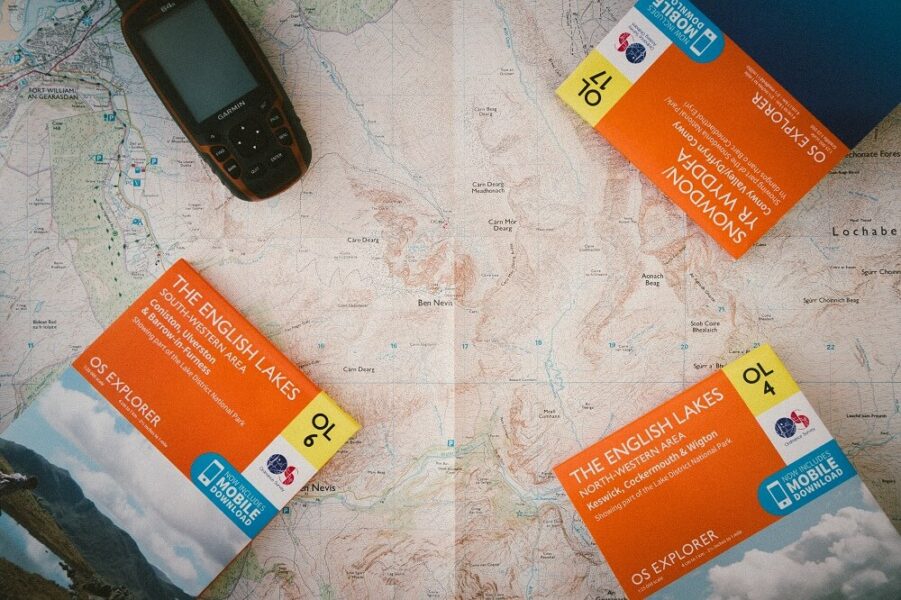 Data Sources
There are two options from which devices gather their data: the US GPS system and the Russian GLONASS (Global Navigation Satellite) system. Usually, a hunting GPS will have one of the two, but others will have a dual option to ensure your system won't go down for some reason. That's the ideal option and what you need to be searching for.
Features
Some devices are easy to use, with understandable buttons on the device's exterior, and others require a series of on-screen menus for most functions. The things you need to be looking for are the screen type and the button configuration. Most users find it easier to operate a handheld unit with a larger screen and a bright display.
Speed
The easiest way to figure out which device works faster is to compare some models and see for yourself. What you can do is place two units together, search for your location and see which one is quicker. Understanding how long a device needs to interpret your location is what should help make your decision easier. Another thing to look at is the startup time of the GPS.
Mapping Software
All handheld GPS come with their own mapping software. The easiest way of figuring out the advantages of mapping software is by checking the specs and capabilities it offers. Will you be able to pinpoint your location on your PC so your family knows you are safe? Will you be able to share the waypoints? Will you receive routes via Google Earth? Those are some of the questions you need to find an answer to. It's also a good idea to check whether the device you intend to purchase is compatible with open-source mapping software and allows you to work with other free platforms.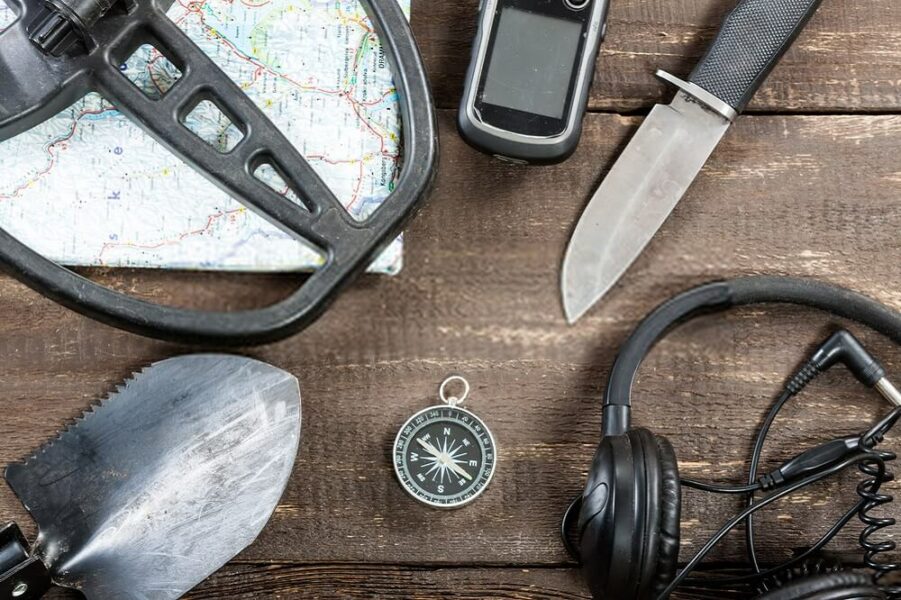 Maps Quality
Depending on where you intend to use your GPS, you will have to do some research because there are maps that are solely used in the United States and Canada. Regardless of the model, it would be best if you had a tool with more maps. You can either purchase a yearly subscription or download some maps and satellite imagery for free. However, the one thing you don't want to forget before starting your adventure is updating your device since you might be in for a nasty surprise if you don't.
Accessories
There are some standard accessories of a handheld GPS that you might find helpful on your journey, such as mounting systems, rechargeable batteries, USB cables, carrying cases, etc. When it comes to using the unit for anything other aside from hunting, a mounting system will do wonders for you. Rechargeable batteries are always a great thing with which you don't have to worry about your device dying. However, the more accessories, the higher the price.
Price And Warranty
We understand you might be on a budget when purchasing a hunting GPS, but if you can invest a few hundred dollars, we strongly recommend you save up first. You don't have to spend five hundred dollars on a Positioning System, but you need a capable and useful device. Be prepared to invest in a functional unit and pick one with a warranty so you don't have to worry about wasting your money.
Frequently Asked Questions
How do I Set It Up?
As you read above, most hunting devices have understandable buttons on the unit's exterior, which are usually self-explanatory. Other Global Positioning Systems have complicated menus that need some research to be used correctly. There isn't a step-by-step guide on how to set up a hunting device, but the advice we can give you is to read the instructions carefully before going on an adventure without the knowledge you need to navigate. The essential things to know are:
How to plan a trip and manage data with the software
Setting up your track log
Navigating an active route
Backtracking
Taking a compass bearing
Do I Need GPS With A Map?
A global positioning device with a map is crucial for most hunters and survivalists. There are numerous activities you won't be able to achieve without having a Positioning unit with a map. Keep in mind that many areas are color-coordinated, and picking a color screen will be your best bet to have more information about your surroundings. As we said in the question above, a hunting unit can come in handy for many things, and the loaded maps can save your life.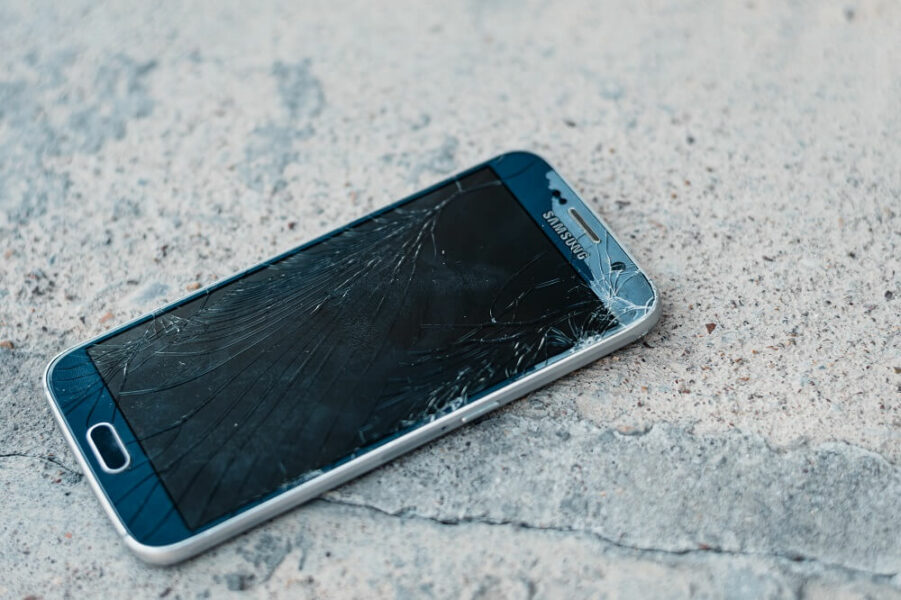 Why Use a GPS Instead Of A Phone App?
Some might think that using your mobile phone as a Global Positioning receiver will get the job done, but they forget that they are not designed for harsh outdoor use. Most smartphones aren't waterproof or durable, so there is a high risk of water damage, cracks, and scratches. Nowadays, a phone can die on you with little to no warning when you need them most. What happens if you don't have batteries for navigation or communication in the wilderness?
Mobile phones can be used as navigation for a road trip, but hunting GPS units are significantly more reliable and durable with better hardware. Handheld systems have countless features that can come in handy when hunting, such as tracking your trails and waypoints without using a paid app.
What Information Does It Give You?
A typical Global Positioning device can provide you with a lot of information such as time, elevation, location in coordinates, heading, waypoints, etc. If you're looking for more sophisticated models, you will find that they might include route recording, retracing, preplanned routes, satellite maps, and topographical maps. That's not all, some systems can feature sensors like a barometric altimeter, a compass, a temperature sensor, a heart rate monitor, and other useful options.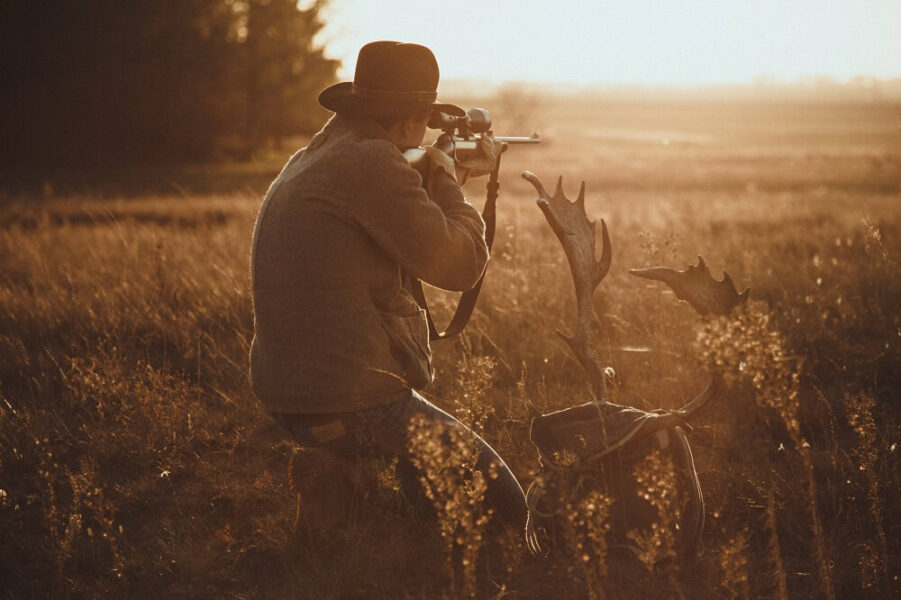 Will My Device Work Everywhere?
A handheld receiver should be able to identify both public and private land, so you know where you're allowed to hunt. Usually, the maps will include certain color-coded boundaries that signify land ownership. It is supposed to work everywhere and help you decide where to place your hunting stands with the wind blowing against your back. You don't have to worry about your hunting receiver since it's not dependent on cellular data and can be used anywhere.
Final Words
A hunting GPS is an invaluable tool for everyone heading out on their next adventure. Today you can't go into the wild without one of these devices to keep you safe and pinpoint your location. Technology grows by the minute, and we should take advantage of it and not deny ourselves the benefits of an excellent device that can save your life if you get lost or injured. We hope you've found the information regarding the subject helpful and informative enough to make your decision. If any questions have been left unanswered, we would gladly help you out in the comments below.