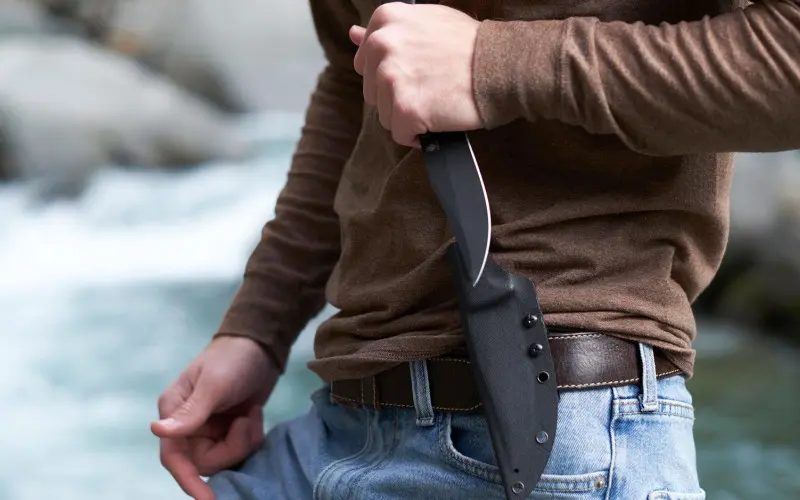 Tactical is often a word that gets thrown around, and knives that get branded with this term can often be useless and overhyped. But unfortunately, this is very much the same in the gun world too, and you can easily end up with a blade or a gun that is a complete waste of time or money. So how to avoid doing that?
Well, look no further – we tested over 50 combat and tactical blades from all the big brands and even some of the small ones. We even tested a few no-name Amazon knives just for the sake of it – to see if there are any good or not. Wondering the same? You'll have to read till the end, I'm afraid.
So without further ado, let's see what we think are some of the best tactical knives on the market today:
1. SOG Seal Strike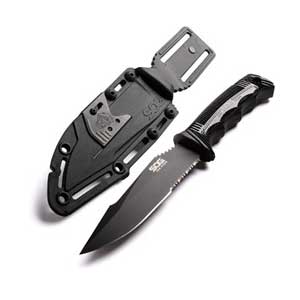 The SOG SEAL Strike is a great all-rounder for survival purposes. SOG has been a huge figure on the market for years, and it feels like the SOG SEAL has taken all of its knowledge and real-world experience and then combined it into one knife-shaped package. This item is both rugged and durable, and we found it to be an ideal choice in terms of accessories for any outdoor adventure.
There are a lot of features packed into the SOG Strike. Coming with a nylon sheath, the blade itself is just as sleek as the carrier it's in, and as a utility steel blade, it surpassed our expectations. The SEAL Strike takes its inspiration from the military, and you can tell it means serious business with the black handle and sharp-looking blade.
The blade of the SEAL Strike is partially serrated and measures 4.9 inches. It's a steel blade made from AUS-8 stainless steel that makes a great companion on outdoor expeditions. This military-style knife also boasts clip point with some pretty aggressive jimping at the top. This helps you to control the blade a lot better so that jobs are easier to carry out.
Pros
Serrated blade made of AUS-8 stainless steel.
Clip point design for better control.
Rugged housing
Cons
The tip can be brittle in certain situations
It might need sharpening from the get-go.
2. Cold Steel Recon 1 Folding Knife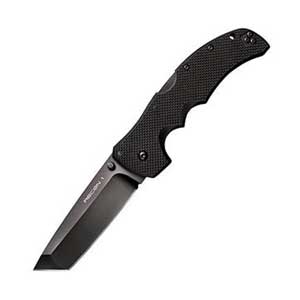 Recon 1 made it onto our list because we love it when companies take their existing designs and refine them to perfection. Of course, we like it when new models come out too, but it gets us very excited when an already good knife becomes even better.
The Recon 1 blade shape was initially introduced in 2001. However, the recently updated version is a lot lighter, has a stronger frame lock, and a much more clever overall blade design. As a result, you get a heavy-duty set of tactical folding knives at an affordable price.
This Cold Steel product is another military-inspired tactical option with many different functions. For a larger-looking military knife, it's very strong too. You can use it out on trails and also as a backup knife. We've seen people also use it to baton wood, an incredible skill for a folding knife.
The length of the Recon 1 is 9.75″, with the blade making up 4″ of that. Overall it weighs 5.3 ounces, which we found quite surprising when holding it in-store before purchase. It's a product that has been geared towards hard usage and self-defense.
Pros
Strong frame and reliability.
Very light for the size.
Upgraded handle that is sturdy and comfy at the same time.
Cons
A bit overpriced.
The pocket clip is uninspiring.
3. Spyderco Paramilitary 2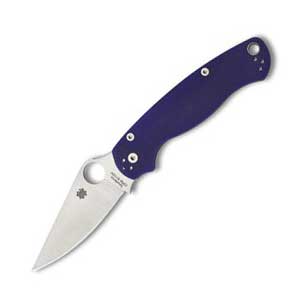 There always comes a time when you need to carry a knife around, whether on the hiking trails, on a survival weekend, or at the campsite. Unfortunately, larger knives are the ones we tend to drop the most, so being able to carry such a small and compact built product like the Spyderco Paramilitary 2 tactical drop point blade is a joy.
This Spyderco option is really small. When the knife is open, it only measures 9 inches and 5 inches when it's closed. It's a tiny tactical item that fits well in your pocket if you want to carry it. Talking of carrying this black and camo print knife, the weight won't be an issue for anyone. Weighing in at only 4 ounces, all of its size and lightweight features make it a true everyday carry.
Although this isn't a highly durable aluminum handle, we couldn't find much to complain about. Its gunmetal grey and green camo colors have been constructed from stainless steel liners with an excellent ergonomic handle design.
The texture makes it enjoyable to grip, and because of the material it's made from, it won't wear away any time soon. The handle is also strong enough to be used as a glass breaker during emergencies without hurting your hand.
Pros
Pocket size when closed.
Nice grip and handle
Compression lock
Cons
You have to watch for counterfeits.
A bit of a high price tag
3. Ka-Bar Full Size Blade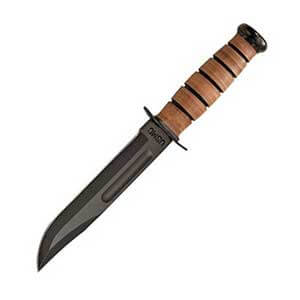 An almost upgraded fighting version of the Colonel Rex Applegate tactical knife, the Ka-Bar is one of the best tactical fighting products on the market. Much better than the Karambit or Emerson versions of the same product, this black-bladed tool also comes with a leather sheath that provides beautiful storage and protection. In addition, the blade has been crafted from CRO-van steel instead of titanium, which is an unusual but strong choice for a tactical knife.
Because we've always been fans of the Karambit and Emerson fighting knives, we found ourselves constantly comparing this one to them. One thing the Emerson products can't say is that the army and the marines use their tactical knives.
The Ka-Bar itself measures just over 11 inches, and the blade's edge is 7 inches alone. Thus, the sharpness of the blade lasted for a long time, and it was sharp as soon as we took it from its sheath.
Pros
A solid choice military knife.
Sharpened well out of the box.
Lightweight considering the size of the blade.
Cons
Not a great handle.
The serrated version is only available online.
5. Kershaw Blur Folding Knife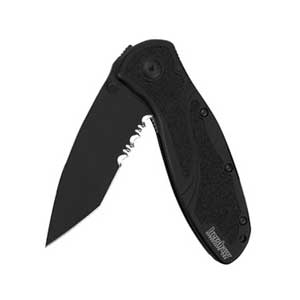 Straying away from the fixed blade and going back to a suitable knife for everyday carry on your pocket clip is what the Kershaw Blur was designed for. Kershaw's brand name should immediately tell you what fine quality this product will be. It's much more than a combat knife or a tool for cutting. Its features and the way it's been designed take it above and beyond what many tactical options have to offer.
The whole point of a knife is to have a sharp blade. The handle must be comfortable to grip and durable for lots of use. So what does the Blur have to offer in these categories?
Straight out of the box, the blade is razor-sharp. The stainless steel blade has been molded into a curved design that gives it a more elegant feel. As well as being made from high-grade steel, it also features an almost diamond-like carbon coating.
This makes it resistant to rust and looks beautiful at the same time. The handle is, of course, anodized aluminum with grip tape inserts, which makes it durable while feeling solid in your hands.
Both the blade and handle put together, despite the materials they are made from, are very lightweight and quite sturdy as well. So we would say that the Kershaw Blur ticks all right boxes in this category.
Pros
Straight out of the box, the blade is razor-sharp.
Excellent carbon coating.
High-grade anodized aluminum handle.
Cons
Sub-par pocket clip.
Blade can get dull quickly.
Do you need a serrated blade?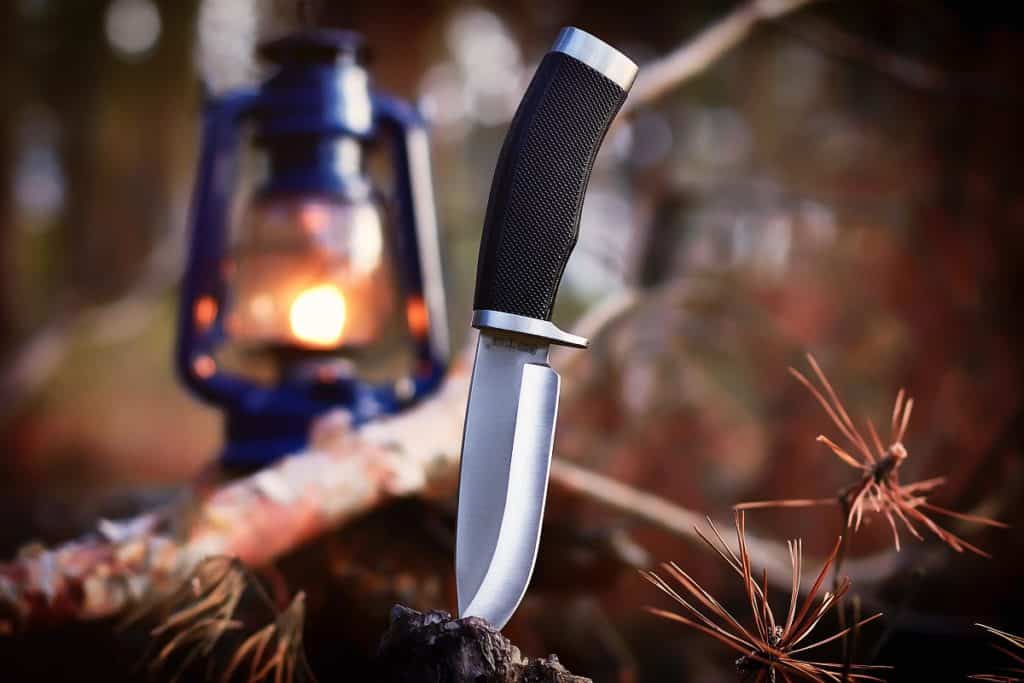 With most other fixed blades, you would go with your preference on if it is serrated or not. With tactical knives, this isn't the case. To get the best option, you have to think about exactly what this tool will be used for.
Most knives used outdoors need to be heavy-duty, easy to carry, made from durable materials, and have either a serrated or partially serrated edge. This makes it easier to cut through tougher materials and is especially handy if you aren't going to be around a sharpener for a while.
A tactical knife that will be best at slicing or self-defense should have a drop point blade with a plain edge. Having the right tool in your hand for the job is half of the battle with finding the best product on the market.
What is the best steel?
Blade steel is incredibly important to survival knives, and the material we would choose above the rest is the 1095 carbon steel. This adds 0.95% carbon to the blade, helping it keep its edge and fight off rest. Carbon options can last a lifetime with the right storage and care, but you want to get a thicker blade made from this steel as thinner ones tend to be brittle and break easily.
The M4 bayonet knife is a standard issue combat knife used by all members of the United States Navy SEALS. It was designed by retired U.S. Army Colonel John T. Metzger and introduced into production in 1971. The M4 features an 8-inch stainless steel blade with a black oxide finish and a drop point tip.
It has been adopted by other military branches, including the Marine Corps and Air Force. In addition to its role in warfare, the M4A1 is often used as a tool for survivalist activities such as hunting and fishing.
How long should a tactical blade be?
In general, a tactical knife should be between 4″ and 6″ in overall length. The handle should be comfortable enough to hold steadily while performing various tasks but not too large that it becomes cumbersome to carry around all day.
What is the most popular combat knife?
The Kershaw Clash has been around since the early 1970s, but it was only recently that it became one of the most popular knives out there. The reason why it is so popular is that it offers excellent performance at a somewhat affordable price point.
What tactical knife does the military use?
The US Army and Marines use the M9 bayonet. The M4/M16 bayonets have replaced it but remain an effective weapon. The M9 bayonet was designed in 1892 and was adopted into service in 1898. It is made of steel and weighs around 2 pounds (0.91 kg).
It is attached to the rifle via a swivel mount which allows it to be quickly removed when not needed. The bayonet is held by two pins that slide up and down inside the gun's barrel. When the bayonet is pulled back, these pins move along the inside of the barrel and lock into position.
Final Words
Having a tactical knife is one of these things you don't know you need until you do. It has much-needed features that even the military uses, so nothing can replace its utility for survival or everyday carry.
Through the article, we've looked at many of the factors needed when searching for the best one, and in our opinion, if you use the information above properly, you can choose the best product in today's market. Just be careful because with all the different types of blades, their materials, whether they can close or not, how long they are, and where the center of gravity is, you can get two on-surface identical-looking options with very different features and uses.
Suffice it to say, it hasn't been an easy mission to choose the best of the best, but after many hours of testing and research, we've managed to find the top 5 competitors. If you read carefully through the article, it will be a 10-minute job to choose one of our five candidates and find your next best survival companion.