Imagine being caught in a sudden downpour on a camping trip, your gear soaked, and the only thing standing between you and a warm fire is your trusty lighter. But not all lighters are created equal. Welcome to our exclusive guide on the best EDC lighters, where reliability meets innovation.
After rigorously testing over 20 top-rated lighters and scouring countless Reddit threads and forums, we've identified the crème de la crème of EDC lighters. Our picks aren't just about igniting a flame; they're engineered for durability, efficiency, and adaptability in any situation. From windproof features to ergonomic designs, these lighters are crafted to cater to every adventurer's needs.
Picture this: You're out in the wild, and your lighter not only effortlessly starts your campfire but also becomes a conversation starter, thanks to its sleek design and innovative features. Our selected EDC lighters are more than just tools; they're a testament to your preparedness and style. Owning one of these is not just about lighting a fire; it's about being ready for any challenge that comes your way.
Don't let a subpar lighter dampen your next adventure. Dive into our comprehensive guide, compare our top picks, and find the perfect EDC lighter that suits your lifestyle. Trust the expertise of seasoned adventurers and gear experts – make your choice today and elevate your outdoor experiences to new heights!
1. BIC Mini Pocket

The BIC Classic Mini Pocket Lighters, presented in an 8-count pack, offer a blend of functionality and style. These lighters, known for their compact size, measure 5.91 inches in length, 3.94 inches in width, and 1.97 inches in thickness, making them highly portable and convenient for a variety of uses. The assortment of colors in each pack adds a unique aesthetic appeal, catering to diverse preferences and styles.
Crafted with durability in mind, these lighters are made from pure isobutane, ensuring a steady and reliable flame. This choice of material underscores BIC's commitment to producing long-lasting, disposable lighters. The ease of carrying these lighters in a pocket highlights their practicality, especially for those who need a reliable source of flame on the go.
Safety is a paramount concern in the design of these lighters. Each one undergoes over 50 automatic quality checks during manufacturing, demonstrating BIC's thorough approach to quality assurance. Furthermore, these lighters meet or exceed the safety standards set by federal organizations. The child-resistant feature of the lighters makes them suitable for use in family settings, such as lighting candles at birthday parties, ensuring a safer environment for children. However, it's important to note that no lighter is completely child-proof and adult supervision is always advised.
The BIC Classic Mini Pocket Lighters stand out not only for their quality and safety but also for their versatility. They are ideal for various scenarios, from casual use to emergency situations, emphasizing their role as a reliable multipurpose tool. For those seeking a touch of personalization, BIC also offers a Special Edition Series, featuring unique designs that cater to different moods and preferences. With their combination of quality, safety, and style, these lighters have become a popular choice, reflected in their strong customer reviews and ranking in the Health & Household category on Amazon.
Pros
Compact and Portable: The BIC Classic Mini Pocket Lighters are designed for ease of carrying, with dimensions that make them perfect for slipping into a pocket or small bag. Their compact size is ideal for everyday carry and use in various settings.
Quality and Safety Assurance: These lighters undergo over 50 automatic quality checks during production, ensuring a high standard of quality. They also meet or exceed federal safety standards, and their child-resistant design adds an extra layer of safety, particularly in family environments.
Durable with Reliable Flame: Made from pure isobutane, the lighters provide a steady and dependable flame, essential for consistent performance. This durability makes them suitable for a range of uses, from lighting candles to emergency preparedness.
Variety and Style: The pack offers an assortment of colors, catering to different tastes and preferences. This variety adds a stylistic element, making each lighter not just a tool but also a personal accessory.
Cons
Disposable Nature: Being disposable, these lighters may not be the most environmentally friendly option. Regular replacement is needed, which could contribute to waste over time.
Limited Child-Resistance: While the lighters are designed to be child-resistant, no lighter is entirely child-proof. This requires constant adult supervision when in use around children, which might be a concern for some users.
2. Zippo Brass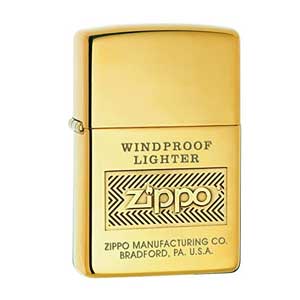 The Zippo Brass Pocket Lighters, available in the Zippo Store on Amazon, are a blend of classic design and modern functionality. Priced well, these lighters have garnered a high customer satisfaction rating of 4.6 out of 5 stars, based on over 12,000 reviews. This product stands out for its variety in style and finish, including options like High Polish Brass Logo, Antique Brass, Brushed Brass, Diagonal Weave Brass, and several more, totaling 18 distinct choices. Additionally, the lighter is available in three styles – Classic, Armor, and Slim, catering to different user preferences.
The construction of the Zippo Brass Pocket Lighters is noteworthy for its all-metal build, ensuring durability and a windproof design that promises functionality in various conditions. The product's dimensions are compact and portable, measuring 1.38″L x 0.39″W x 2.17″Th, and weighing a mere 0.05 kilograms. Notably, these lighters are refillable, advocating for long-term use and sustainability. Zippo recommends using their premium lighter fluid, flints, and wicks for optimal performance.
A unique selling point of the Zippo Brass Pocket Lighters is their rich history and quality assurance. Introduced in 1982 to commemorate Zippo's 50th Anniversary, these lighters are a part of a prestigious collection. Each lighter is marked with a bottom stamp signifying the year it was made, adding a touch of exclusivity and collectability. The lighters are made in the USA, specifically in Zippo's Bradford, PA factory, and come with a lifetime guarantee, a testament to their commitment to quality and customer satisfaction. Each lighter is also packaged in a gift box, enhancing its appeal as a gift item.
In summary, the Zippo Brass Pocket Lighters stand out in the market for their variety in design, durability, functionality, and the brand's commitment to quality and customer satisfaction. Their windproof design, refillable nature, and lifetime guarantee make them a reliable and valuable choice for consumers looking for a high-quality pocket lighter.
Pros
Fuel Sold Separately: The lighter fluid necessary for the Zippo Brass Pocket Lighters is sold separately, which can be an inconvenience for some users. This additional purchase is a consideration to factor in when buying the lighter.
Regular Maintenance Required: To ensure optimal performance, regular maintenance using Zippo's premium lighter fluid, flints, and wicks is recommended. This requirement for specific products and ongoing maintenance might be seen as a hassle for some users.
Cons
Durable and Windproof Design: The all-metal construction of the Zippo Brass Pocket Lighters ensures longevity and robustness. The windproof design is a significant advantage, allowing the lighter to function effectively in various environmental conditions.
Refillable and Sustainable: The lighters are designed to be refillable, promoting long-term use and reducing waste. This feature not only adds to the sustainability aspect of the product but also makes it a cost-effective option in the long run.
Variety and Collectibility: With over 18 different styles and finishes, including High Polish Brass, Antique Brass, and Diagonal Weave Brass, the lighters offer a wide range of options catering to personal preferences. Each lighter has a unique bottom stamp indicating the year of manufacture, adding to its collectible value.
Lifetime Guarantee: Zippo's lifetime guarantee, "it works or we fix it free", is a testament to the brand's confidence in their product's quality and durability. This guarantee provides consumers with a sense of security and trust in their purchase.
3. Ronson Jetlite Butane Torch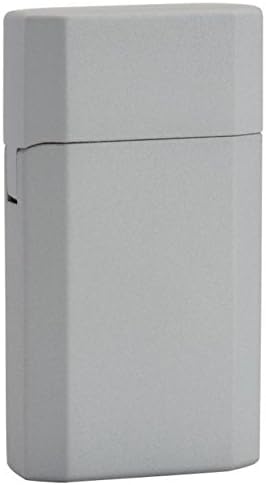 The Ronson Jetlite Butane Torch Lighter, in its sleek silver color, is a product that stands out for its combination of style and functionality. This lighter, weighing 145 grams (5.1 ounces), is a compact and sturdy accessory. A significant feature of this product is its windproof design, making it an excellent choice for outdoor activities. Its robust build and wind resistance make it particularly suitable for scenarios like boating or enjoying cigars outdoors, where traditional lighters might falter.
This torch-style lighter is fueled by liquefied petroleum gas, a common and convenient fuel type. This choice of fuel contributes to the lighter's reliability and efficiency. The Ronson brand is well-recognized, and this product carries the hallmark of quality associated with the name. The Jetlite Butane Lighter's durability and reliability are key aspects of its appeal.
Customer feedback has been generally positive, with the product earning a rating of 3.7 out of 5 stars from 56 ratings on Amazon. This score reflects a level of satisfaction among users, suggesting that the lighter meets expectations in terms of performance and durability. Available since April 26, 2018, and maintaining a steady presence in the market, it is not discontinued by the manufacturer, which adds to its reliability as a product that is supported and likely to be available for a while.
In summary, the Ronson Jetlite Butane Torch Lighter is a well-designed, efficient, and stylish tool. Its windproof capability, combined with the reliability of butane fuel, makes it a suitable choice for both everyday use and specialized activities like boating or enjoying cigars. The positive customer reviews and ongoing availability further solidify its standing as a desirable product in its category.
Pros
Windproof Design: The Ronson Jetlite Butane Torch Lighter is specifically designed to be windproof, making it highly effective for outdoor use, such as during boating or for lighting cigars in windy conditions. This feature enhances its reliability compared to standard lighters.
Compact and Sturdy: With a weight of 145 grams (5.1 ounces), this lighter is both lightweight and compact, making it easy to carry around. Despite its small size, it is robust, suggesting a durable build quality that can withstand regular use.
Reliable Fuel Type: Utilizing liquefied petroleum gas as fuel, the lighter ensures efficient and consistent performance. This type of fuel is widely available and is known for its reliability, contributing to the overall practicality of the lighter.
Positive Customer Feedback: The lighter has received a fair amount of positive reviews, holding a 3.7 out of 5 stars rating on Amazon from 56 reviews. This indicates a general customer satisfaction with its performance and quality.
Cons
Limited Color and Style Options: Currently available only in silver, the Ronson Jetlite Butane Torch Lighter offers limited options in terms of color and style. This could be a drawback for users seeking a more personalized or varied aesthetic choice.
Moderate Customer Ratings: While the overall reviews are positive, the 3.7-star rating out of 5 suggests that there is room for improvement. Some users may not find it completely meets their expectations, possibly in aspects like longevity, ease of use, or other specific features.
4. TG Plasma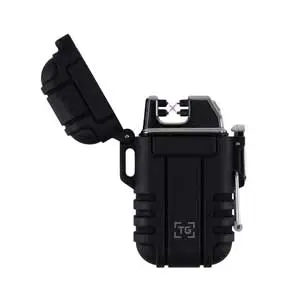 The TG Plasma Lighter is a robust, windproof, and waterproof lighting tool designed for a variety of environments, particularly appealing to those involved in outdoor activities such as camping, survival, and tactical operations. This flameless dual arc lighter is distinct for its durability and functionality, encapsulated in a black silicone rubber casing that enhances its resilience and grip. Its design is not just about ruggedness; it also features a modern, rechargeable style, emphasizing convenience and environmental friendliness.
Key specifications of this product include a lithium polymer battery with a capacity of 220mAh, which can be fully charged in about 2 hours. The power rating of the lighter is 0.81Wh at 3.7V, and it comes with a USB charging cable, making it easily rechargeable from various power sources. Unique to this lighter is its button activation system, push-to-open cover, and a locking mechanism, which add to its safety and ease of use. Additionally, the lighter is equipped with built-in short circuit protection, further ensuring its reliability and longevity.
The TG Plasma Lighter stands out in the market for its combination of advanced technology and rugged design. Its waterproof and windproof capabilities make it highly effective in challenging weather conditions, ensuring consistent performance. The lighter's flameless nature also makes it a safer and more eco-friendly choice compared to traditional lighters. This product, with its impressive rating of 4.6 out of 5 stars from over 8,000 reviews, ranks #106 in the Lighters category on Amazon, indicating its popularity and customer satisfaction.
Pros
Durability and Weather Resistance: The TG Plasma Lighter's silicone rubber casing provides excellent durability, making it suitable for tough outdoor environments. Its windproof and waterproof features ensure reliable performance in various weather conditions, making it ideal for camping, survival, and tactical use.
Rechargeable and Eco-Friendly: Equipped with a lithium polymer battery, the lighter can be easily recharged via USB, offering an eco-friendly alternative to traditional fuel-based lighters. This also adds the convenience of not needing to refill or replace the lighter frequently.
Safety Features: The lighter includes safety-enhancing features such as a button activation system, push-to-open cover, and a locking mechanism, along with built-in short circuit protection. These features minimize the risk of accidental ignition and make the lighter safer to use and carry around.
Cons
Limited Battery Life: With a battery capacity of 220mAh, the lighter may require frequent recharging depending on usage, which could be inconvenient for extended outdoor trips where charging options are limited.
Higher Cost Compared to Traditional Lighters: While it offers advanced features, the TG Plasma Lighter is priced higher than many conventional lighters. This could be a drawback for users looking for a more budget-friendly option.
5. PPFISH Mini Brass Lighter

The PPFISH Mini Brass Lighter is an innovative and durable product designed for a variety of outdoor activities and emergency situations. This keychain lighter, primarily crafted from H62 solid brass, boasts superior durability and craftsmanship. The use of CNC cutting technology not only contributes to its excellent production quality but also enhances its aesthetic appeal. An added benefit of this technology is its satisfactory sealing performance. The lighter features a super precision CNC cutting craft, which, combined with its compact thread and secure screw-on design, effectively prevents fuel evaporation. This ensures that the lighter remains ready for use, offering reliability especially when it's needed the most.
One of the standout features of the PPFISH Mini Brass Lighter is its portability and versatility. Its top keychain design and mini size make it exceptionally convenient to carry. Users can easily attach it to their backpack or slip it into their pocket, making it an ideal accessory for various activities such as hiking, fishing, camping, and hunting. Moreover, it's a valuable item for daily use or as part of an emergency kit. The lighter's ability to operate in extreme weather and temperature conditions highlights its suitability for outdoor adventures and emergency situations. Despite its compact size, the fuel capacity is significant, ensuring long-lasting usability.
It's important to note that the lighter is shipped empty due to postal regulations, requiring users to add fuel before use. This aspect underscores its compliance with safety standards and shipping regulations. Customer reviews further reinforce the product's appeal, with high ratings in durability, giftability, value for money, and sturdiness. These ratings reflect the product's quality and its effectiveness as a reliable fire starter. Launched in 2018 and currently ranking well in the Camping Emergency Fire Starters category on Amazon, the PPFISH Mini Brass Lighter stands out as a practical, durable, and efficient tool for a wide range of applications.
Pros
Durability and Quality: Made of H62 solid brass and utilizing CNC cutting technology, the PPFISH Mini Brass Lighter is built to last, offering a sturdy and reliable option for users seeking a durable fire starter.
Compact and Portable Design: With its keychain feature and mini size, this lighter is highly portable, easily attachable to a backpack or pocketable, making it perfect for outdoor activities like camping, hiking, and emergency use.
Effective Sealing Performance: The precision of the CNC cutting craft and compact threading ensures a tight seal, preventing fuel evaporation and maintaining the lighter's readiness for use.
Versatility in Use: Suitable for various weather and temperature conditions, the lighter is designed for a wide range of applications, from daily use to outdoor adventures and emergency situations.
Cons
Ships Without Fuel: Due to postal regulations, the lighter is shipped empty, requiring users to procure and add fuel themselves before first use, which may be inconvenient for some.
Limited Fuel Capacity: Given its mini size, the lighter might have a limited fuel capacity compared to larger models, potentially requiring more frequent refueling, especially during extended trips or frequent use.
6. Wheel Kerosene Burner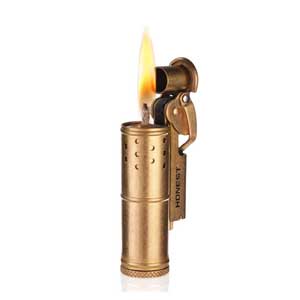 The DEWEL Wheel Kerosene Lighter stands out as a vintage and practical accessory, combining antique aesthetics with modern functionality. This trench lighter, available in brass and various brass and silver combinations, is not only a tool but also a decorative item that appeals to collectors and style enthusiasts alike. Weighing a mere 4.16 ounces and measuring 2.61 inches in length, 1.09 inches in width, and 0.68 inches in thickness, it is conveniently portable, easily fitting into pockets, handbags, or car compartments.
One of the unique features of this lighter is its windproof design, which includes an adjustable wind guard, making it highly reliable in outdoor conditions. Whether it's for hiking, fishing, dog walking, or general household use, this lighter promises to be a versatile companion. Its utility extends to lighting candles, cigarettes, campfires, and cigars in any weather condition, ensuring its indispensability in both emergency situations and everyday life.
The DEWEL lighter is noted for its high-quality construction. It is spring-loaded, ensuring a consistent and reliable spark every time it's used. Moreover, the wick cover not only protects the wick but also aids in preventing fuel evaporation, enhancing the product's longevity and efficiency. Its design allows for easy adjustment of the wick length, contributing to its user-friendly nature.
Not just a practical item, the DEWEL Wheel Kerosene Lighter is also an elegant gift option. Its classic and vintage style makes it a unique present for friends, family, and loved ones, suitable for various occasions such as Christmas, birthdays, Valentine's Day, and other celebrations. With an overall rating of 4.4 out of 5 stars, it scores high in aspects like being giftable, ease of use, and value for money, underscoring its appeal to a wide range of customers. Additionally, DEWEL offers a quality warranty, ensuring customer satisfaction and a risk-free purchase experience.
Pros
Portability and Convenience: The DEWEL Wheel Kerosene Lighter's compact size and lightweight design make it highly portable, easily fitting into pockets, handbags, or vehicle compartments, which is ideal for on-the-go use.
Windproof and Versatile: Equipped with an adjustable wind guard, this lighter is windproof, enhancing its reliability in various outdoor conditions. It's suitable for a range of activities like hiking, fishing, or lighting candles and cigarettes, making it a versatile tool in different scenarios.
High-Quality Design: The lighter is designed with a spring-loaded mechanism for a consistent spark and a wick cover to prevent fuel evaporation, ensuring durability and efficiency. Its vintage aesthetic also adds to its appeal as a decorative item.
Ideal Gift Option: With its unique and classic appearance, the lighter serves as an elegant gift for a variety of occasions, appreciated by friends, family, and collectors alike.
Cons
Fuel Type Limitation: Being a kerosene lighter, it requires regular refilling with kerosene, which might not be as readily available or convenient as other fuel types like butane.
Manual Operation: Unlike automatic or electric lighters, it requires manual operation to produce a spark, which might not be preferable for some users seeking quick, effortless ignition.
7. Cigar Torch Butane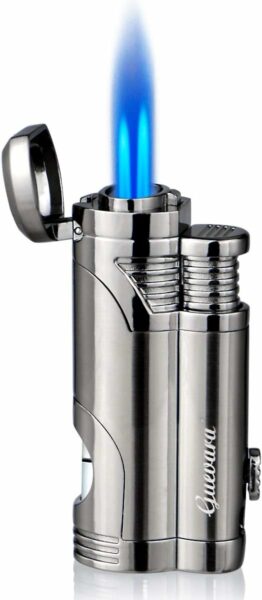 The GUEVARA Cigar Torch Butane Lighters offer a blend of functionality and style, appealing to a wide range of users. This refillable lighter, finished in a sleek gray color, is crafted from durable zinc alloy, ensuring a long-lasting and robust design. Weighing only 0.2 pounds and with dimensions of 5 inches in length, 3 inches in width, and 1.5 inches in thickness, it is conveniently portable, making it suitable for various occasions and uses.
One of the unique features of this product is its double jet flame, which provides a strong and windproof option for lighting cigars, cigarettes, and even for kitchen or outdoor activities like hiking. This feature enhances the lighter's versatility, making it a practical tool in various environments. The lighter also includes a punch cutter, adding to its utility, especially for cigar enthusiasts. Moreover, it is equipped with a refillable butane fuel level window, allowing users to easily monitor and refill the butane as needed. It's important to note that due to USPS safety regulations, the lighter is shipped without butane.
The GUEVARA lighter is not just a functional tool but also an attractive gift choice. It is presented in elegant gift boxes, making it an ideal present for occasions like Christmas, New Year, Father's Day, Thanksgiving, and birthdays. The lighter has garnered positive customer feedback, particularly for its ease of use, making it a practical choice for a wide audience. Additionally, each item comes with a unique code verified by Transparency, ensuring the authenticity and quality of the product. This aspect is crucial in a market where counterfeit products are prevalent. Overall, the GUEVARA Cigar Torch Butane Lighter stands out for its durable construction, multifunctional capabilities, and its position as a thoughtful gift option.
Pros
Versatility and Strong Flame: The double jet flame design of the GUEVARA lighter provides a strong and windproof flame, making it suitable for a variety of uses such as lighting cigars and cigarettes, as well as for kitchen and outdoor activities.
Durable and Portable: Constructed from zinc alloy, the lighter is robust and built to last. Its compact size (5″L x 3″W x 1.5″Th) and light weight (0.2 pounds) make it easily portable and convenient to carry for everyday use or on trips.
Refillable with Fuel Level Window: The lighter features a refillable butane fuel level window, allowing users to easily check and refill the butane, ensuring continuous and uninterrupted usage.
Ideal for Gifting: Packaged in elegant gift boxes, the GUEVARA lighter serves as an attractive gift for various occasions, enhancing its appeal beyond just functionality.
Cons
Shipped Without Butane: Due to USPS safety regulations, the lighter is delivered without butane, requiring an immediate additional purchase and effort for the first use.
Customer Ratings on Specific Features: Some customer reviews indicate lower satisfaction in specific aspects such as value for money and giftable quality, suggesting that the product might not meet expectations in these areas for all users.
8.RONXS Torch Lighter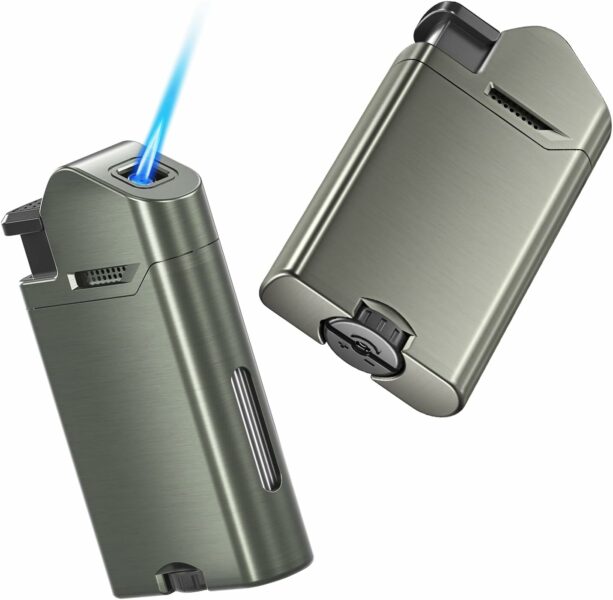 The RONXS Torch Lighter set is a practical and stylish choice for those seeking a reliable lighting solution. This two-pack of lighters is especially suitable for a range of indoor and outdoor activities, such as lighting candles, campfires, or fireworks. Each lighter is compact and portable, measuring 4.92 inches in length, 3.74 inches in width, and 0.67 inches in thickness, with a weight of just 1.95 ounces. This makes them easy to carry and store, ensuring they can be conveniently used whenever needed.
One of the standout features of the RONXS lighters is their adjustable jet flame. Unlike many butane torch lighters that require a screwdriver for flame adjustment, these lighters boast a user-friendly design with a simple knob to control the flame size. This feature enhances their ease of use, making them more accessible for a wider range of users. The lighters are also refillable, featuring a visible gas window that allows users to easily check the fuel level and refill it in time. This design choice ensures that users won't be caught off guard with an empty lighter during outdoor activities, although it's important to note that the lighters are sold without butane gas included.
In terms of aesthetics and gift potential, the RONXS lighters come in an exquisite gift package, making them an ideal gift for various occasions like Mother's Day, Father's Day, housewarmings, or birthdays. Their sleek gray color and stylish design make them appealing as a gift for both men and women. The product's value is further underscored by its strong customer ratings, particularly for ease of use and as a giftable item.
Lastly, the RONXS brand emphasizes customer satisfaction, offering a 100% no-risk purchase. This package includes two small butane lighters, a gift box, and a user manual, with a dedicated customer service team available to respond quickly to any concerns. This commitment to customer service, combined with the product's practicality and aesthetic appeal, positions the RONXS Torch Lighter set as a valuable choice for anyone in need of a reliable lighting tool.
Pros
Compact and Portable: The RONXS lighters are designed for easy transportation and storage, with each lighter measuring 4.92 x 3.74 x 0.67 inches and weighing just 1.95 ounces. This makes them highly convenient for both indoor and outdoor use, such as lighting campfires or candles.
Adjustable Jet Flame: These lighters feature an easily adjustable flame size, controlled by a user-friendly knob. This design is more convenient than the screwdriver-adjustment required by many other butane torch lighters, enhancing the overall user experience.
Refillable with Visible Gas Window: The refillable nature of the lighters, coupled with the visible gas window, allows users to easily monitor and replenish the butane gas, ensuring the lighters are always ready for use. It's a practical feature for those who frequently use lighters outdoors.
Attractive Design and Gift-Ready Packaging: The sleek gray design of the lighters and their exquisite gift packaging make them an appealing gift choice for various occasions. This aesthetic appeal, combined with their functionality, adds to their desirability.
Cons
Butane Gas Not Included: The lighters are sold without butane gas, meaning users will have to purchase the fuel separately before the first use. This could be inconvenient for those who expect a ready-to-use product upon purchase.
Lower Value for Money Rating: Some users have rated the lighters lower in terms of value for money. This suggests that while the lighters are functional and well-designed, some users might not find them as cost-effective compared to other options on the market.
9. Zippo 65827 Butane Lighter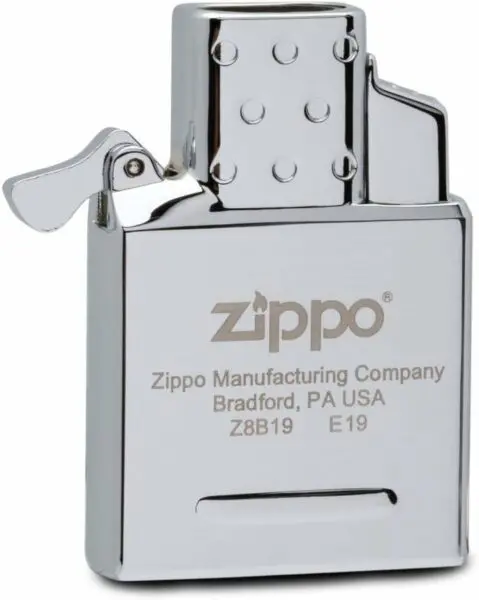 The Zippo 65827 Butane Lighter Insert, a remarkable addition to the Zippo product line, stands out with its Double Torch Butane design, which offers a unique blend of style and functionality. This insert is a testament to Zippo's commitment to quality and innovation, boasting a 4.3 out of 5-star rating from over 24,800 customer reviews. It's a popular choice among consumers, with over 3,000 purchases in the past month alone, and is priced at $16.75 with the added benefit of fast, free shipping through Amazon Prime, along with free returns.
Crafted from zinc, the insert exhibits durability and a sleek finish, coming in at dimensions of 1.4″L x 0.5″W x 2.1″Th and weighing just 1.8 ounces. It's designed to fit all Classic Zippo lighter cases (excluding Slim, Armor, or 1935 Replica cases), ensuring compatibility with a wide range of Zippo products. This model features a push-button piezo ignition and an adjustable blue flame that can heat up to 2,300°F/1,260°C. With a fuel capacity of 0.9g, it's refillable with butane fuel, maintaining the essence of a traditional Zippo lighter while embracing modern technology. Notably, this insert retains the famous Zippo "click" sound, adding to its charm and authenticity.
One of the key selling points of the Zippo 65827 is its versatility and customization options. It's part of a new collection of lighter inserts that include Single Torch Butane, Double Torch Butane, and Rechargeable Arc options, all designed to fit seamlessly into any regular Zippo lighter case. This flexibility allows users to personalize their experience, whether they prefer a single or double butane torch or a rechargeable arc. Additionally, the product is presented in a gift box, making it an ideal gift for Zippo enthusiasts or collectors.
In summary, the Zippo 65827 Butane Lighter Insert is a high-quality, versatile, and stylish product that offers the reliability and innovation expected from the Zippo brand. Its compatibility with regular Zippo lighter cases, along with its unique features like the adjustable blue flame and the iconic Zippo "click", make it a standout product in its category.
Pros
Versatile Compatibility: The Zippo 65827 Butane Lighter Insert is designed to fit all Classic Zippo lighter cases, offering a high level of compatibility and ease of use for Zippo enthusiasts.
Adjustable and Powerful Flame: Featuring an adjustable blue flame that can reach temperatures up to 2,300°F/1,260°C, this insert provides a robust and reliable source of heat, suitable for various uses.
Portable and Durable Design: With its compact dimensions (1.4″L x 0.5″W x 2.1″Th) and lightweight (1.8 ounces), coupled with a sturdy zinc construction, this insert is both portable and durable.
Customization and Ease of Use: The insert's push-button piezo ignition ensures easy operation, and its place in Zippo's wider collection of lighter inserts offers users a range of customization options to suit their preferences.
Cons
Limited Compatibility with Some Zippo Cases: The insert does not fit into certain Zippo cases like Slim, Armor, or 1935 Replica models, which might limit its usability for owners of these specific lighter cases.
Butane Refill Required: Since the lighter insert is shipped unfilled and requires butane for operation, users need to ensure they have access to butane refills, which might be an inconvenience or additional expense.
10. Colibri Enterprise Triple Jet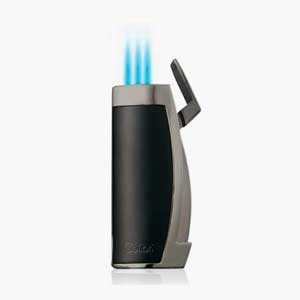 The Colibri Enterprise Triple jet has a slim, classic, and timeless design. This EDC product has a single-action ignition system that eliminates the need to use flints and batteries for lighters. Coming with a stainless steel cutter punch that punches and lights your stick at the same time, this elegant lighter has a triple jet flame.
The Colibri is refillable using the Colibri premium butane, and it's also wind resistant making it suitable for the outdoors. Colibri lighters carry a year manufacturer warranty as well. Check this triple jet model out if you are looking for a classic option for a more formal look for your everyday carry.
Features:
Triple jet flame
Wind resistant
Stainless steel punch
Single-action ignition
Refillable butane
How To Choose A Lighter For Everyday Carry?
When choosing the best EDC lighter, you need to consider several things, such as type, size, power source, and durability. The one you pick should be lightweight and easy to carry.
Deciding on the type can be hard, but each one has its own advantages and disadvantages. What you will use it for is the first question you have to answer since there are all sorts of models like a torch, plasma, electricity, etc. Do you want the flame to be hot or soft? Do you need the light to be windproof?
Lighters can work with fluids, butane, and even batteries letting you choose the one that works for you. Something you should always have in mind is durability and if you're using one that needs wick and flints, carrying extra is a great idea.
From expended gas-release mechanisms to waterproof and wind-resistant capabilities, there's one ideal lighter for every situation and each person.
Frequently Asked Questions
What type of EDC lighters are there?
Nowadays, there are unbelievable amounts of products on the market, but we can systematize them into five distinctive types: Zippo, Butane, Windproof, Plasma, and Electric lighters.
Zippo has been the brand to beat for decades with the high-quality models they create and the reliability they offer with a lifetime guarantee. Butanes are highly flammable, making them suitable for emergencies with their long-lasting flames.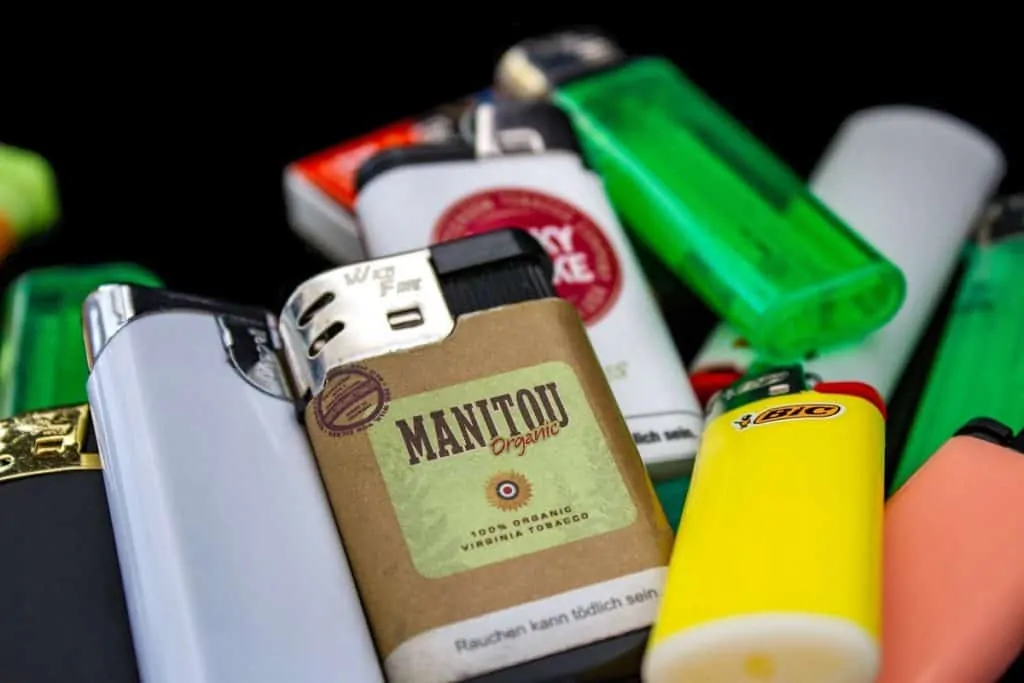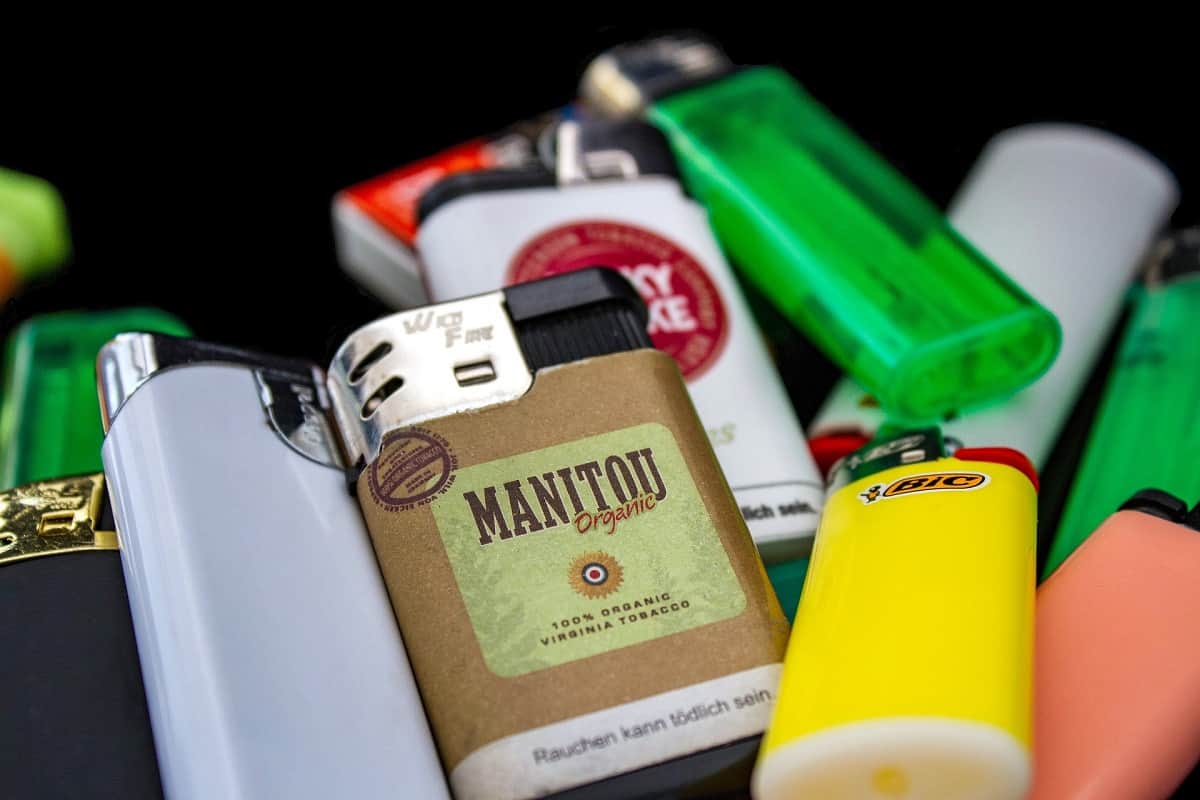 Next on the list are the Windproof models that can withstand wind blows which is ideal for the outdoors. Plasma lighters are the new hit with a battery that produces flames instantly without requiring any fuel. Last but not least are the Electric models that are powered by batteries that are wind and splash-proof. What do you prefer? A lighter that uses batteries or fuel, or maybe plasma's your thing?
Are there any gasless Lighters?
If you dislike gas use, there are a few other options to consider. One of them is Plasma lighters which are a flameless innovation created by science. They are durable and long-lasting, given the battery has been taken care of correctly.
Another option is the Electric models that work on batteries and can be easily recharged or replaced.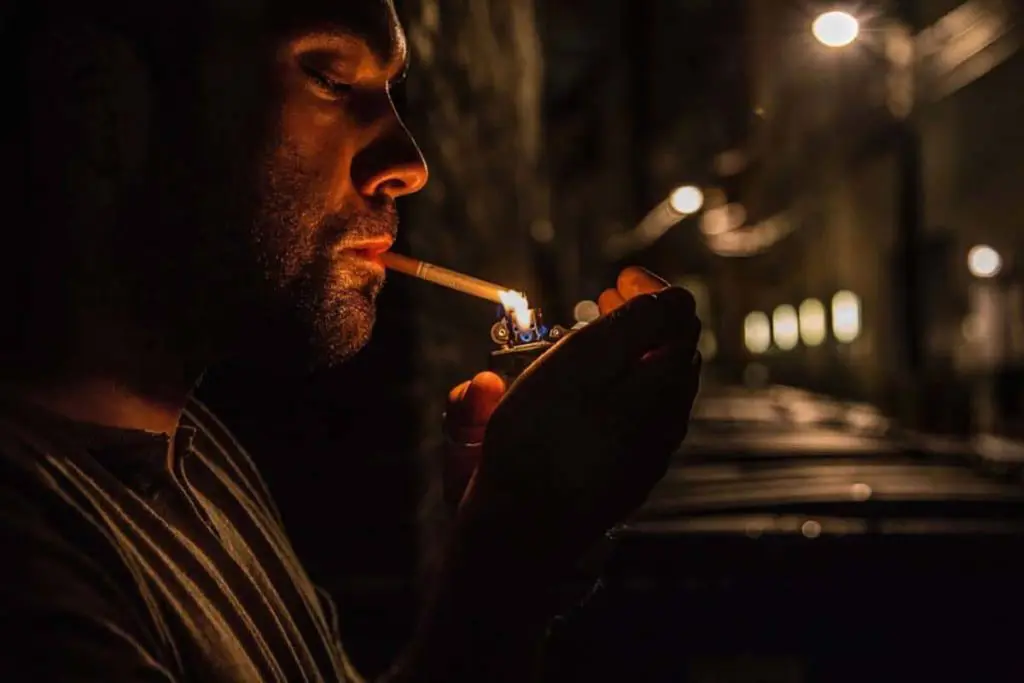 Final Words
Everyday carry lighters are a necessity in our day-to-day routine that can also save our lives in extreme situations. Choosing the appropriate lighter can be crucial to your survival in an emergency situation, and even though people try to trust inexpensive Chinese-built models, brands like Zippo and Ronson will always stay at the top with their high-quality and always reliable products.
We hope this article helped you decide what best suits your needs, but if you have any questions or suggestions, we would love to hear them in the comments below.