Less is more. That's our motto nowadays, with the busy lifestyle and the packed full routine we have. Everyone's looking for that one thing that can fit everything you need but somehow still not take space at all. Well, that's where the EDC wallets come in handy. With its simplicity, minimalism, and individual style, you can find a wallet that suits your needs perfectly. We've selected the 10 best EDC money cases and clips so you can find the one that's just right for you.
1. Magpul DAKA Everyday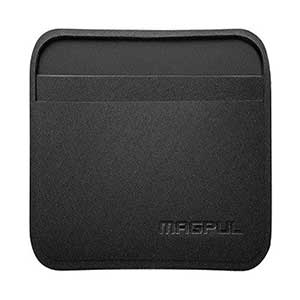 The Magpul DAKA Everyday Wallet has great functionality and extra room for when you need a tad more out of your stuff. DAKA presents a slim, strong, and durable option for the heavy ones filling your pockets.
The Magpul DAKA is made in the USA from a reinforced polymer material that holds 3-7 cards adequately, making it oil, water, and chemical resistant. With its welded construction and anti-slip fabric, the Magpul creates permanent impenetrable seals while having rounded corners with accessible pocket entry and exit. It's extremely durable and completely non-hygroscopic.
This EDC champion offers a windowed ID pocket, slots for your cards, and a center compartment that helps you with keeping cash and everyday fundamentals sleek and within easy reach. With its polished look and usability, the item offers a competitive option on the market. If you're one of those who don't want to carry a lot, the DAKA eliminates printing and is suitable for everyday use and travel.
Key features
Oil, water, and chemical resistant
Designed to hold 3-7 cards comfortably
Reinforced polymer fabric holds up to hard use
2. Gerber GDC Money Clip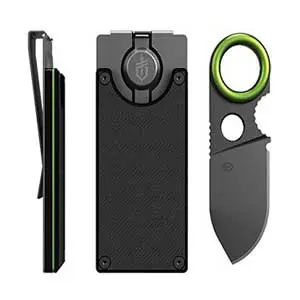 The Gerber GDC Money Clip with Built-in Fixed Blade Knife is adaptable and functional, making it ideal for nature and ultra-practical in your daily routine. This Everyday Carry is easily stored in your pocket and simple to use while smoothly integrated into your accustomed life with a high-tech objective and a need for vital, sturdy steel. Gerber offers a slim portable option that holds up to 5 credit cards in its clip while also containing a tactful fine-edge blade slim money clip that's less than 2".
You have a finger slot with serrated thumb rest for a full grip that satisfies and maintains quality. Obtaining a safe grip while having a solid hold when you use more pressure for a cut without budging is what comes in handy. And when you're done, all you have to do is snap it back into its sturdy clip sheath.
This Money clip knife has an extensive engrave-able exterior, rust-proof materials, titanium-coated steel body, and a G-10 front plate that completes a foolproof daily aide. This EDC's form and function don't disappoint even for a second with its always-ready GDC lifestyle, built for the functional gentlemen that look for a combination of quality, looks, and performance on a daily basis.
Key features
Slim option that holds up to 5 cards
Fine edge blade money clip knife
Serrated thumb rest for a full grip
3. MURADIN Leather Bifold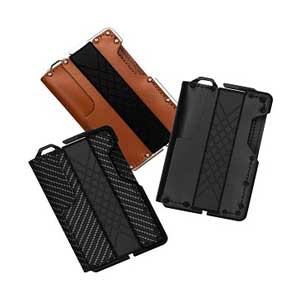 The MURADIN Dapper Leather Bifold is a tactical money and card case with genuine top-grain leather & mil-spec bolts for daily use. MURADIN is a minimalist item that shows that leather use doesn't necessarily mean a bulge in your pocket. With its compact size, the Bifold holds up to 12 cards while continuing to be sleek and classy at the same time.
This EDC product shows the understanding and importance of materials and quality, not only usability, by displaying a finer taste for genuine top-grain leather on an aluminum body with 11 pcs mil-spec bolts. With its unique design, it offers 3 pockets that grant you to organize all your necessities neatly.
A metal slim case like that is a must because it understands the importance of your belongings and the need for privacy while making you feel safe and secure, considering no one can scan your cards or steal any information. If you are a leather lover, MURADIN is the perfect solution for you, your family, friends, and co-workers.
Key features
Genuine top grain leather and mil-spec bolts
Unique multi pockets
RFID protection
4. Pelican Sport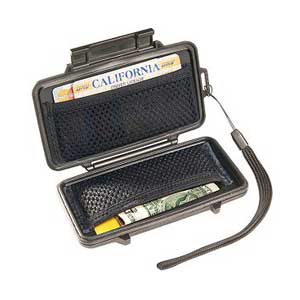 The Pelican Sport is what you need when keeping all your valuables safe while maintaining a casual sporty look. This wallet can hold cards, cash, and even your keys while still being able to uphold a slim and sophisticated presence. With its dual mesh pocket, it allows you to fit up to 14 cards along with other bills, providing two quick-access slots for your valuables alongside an easy-open latch.
It is made out of the same high-grade synthetic that other Pelican cases are made out of, while it's crushproof and water resistant. The EDC item is also effortlessly accessible and sealed strongly with an included lanyard for easier carry.
It's small enough to fit in your pocket and big enough to provide space for all your personal belongings. But that's not even the best part because it comes with a lifetime guarantee. If you value quality build and useful organization, this product is the right pick for you.
Key features
Crushproof and water resistant
Dual Mesh pocket
Designed to fit up to 14 cards
5. TUOPUKE Carbon Fiber Clip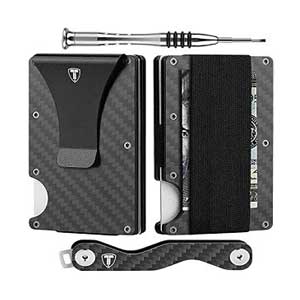 The TUOPUKE Carbon Fiber Clip is compact and slender. This carbon item blocks RFID signal, as well as your credit cards and personal information is protected from unwanted RFID and electronics pickpocketing thieves.
Being sleek and stylish isn't all that this minimalist итем offers, it holds up to 12 cards and bills in its simple version. But this EDC item comes with a lot of extras. You get a carbon fiber card holder with a money clip, an elastic band with cash straps, extra bands and screws, a premium screwdriver, a key organizer, and an extension kit with more screws and 10 spacers.
The best part about it is that you can choose the version you like and you'll always be able to switch it up by making it hold up to 18 cards with the extra strap. Made of high-quality carbon fiber material, anti-corrosion ensures long service life. This ideal holder offers lifetime replacement for this carbon fiber case, and that's why you shouldn't hesitate and purchase it.
Key features
RFID blocking
Extra cash strap + key holder
Comfortably fits up to 18 cards
High-quality carbon fiber material
6. SOG Money Clip Pocket Knife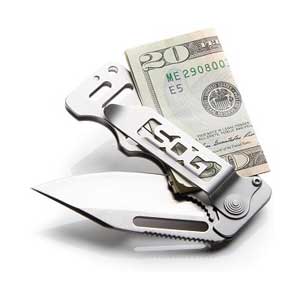 The SOG Money Clip Pocket Knife is a compact mini pocket knife and tactical wallet knife with a clip that secures cash, cards, and more. With its lightweight folding, it offers excellent edge retention and corrosion resistance while letting you loop a chain for easy carry. This utility knife is lighter than standard pocket knives with stainless steel construction and reduced weight without losing its strength.
This money clip is an easy-open lock blade pocket knife with a liner lock that keeps it in place, making it discreet while featuring a satin-polished straight edge with a widened thumb groove for fast and easy one-hand opens.
SOG's pocket knife was created in the USA and named in honor of the Military Assistance command with a razor-sharp blade that always locks firmly but leaves plenty of room for your cards and cash. These EDC money cases have a lifetime warranty and are built to last.
Key features
Money clip pocket knife
SOG stainless steal
Lifetime warranty
7. Minimalist Slim Bifold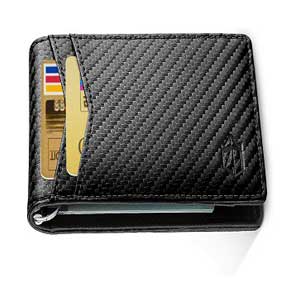 The Minimalist is fashionable and moderate but also practical with its bifold closure and functional design. It's ideal for cards and cash while preserving its slim form. This item is sufficient with its thinner body while ensuring wear resistance, making it hold up to 8 cards and bills by maintaining its slender feel in your pocket. It has a smart pull-strap for quick and easy access to your everyday valuables with a thumb hole makes it effortless to pull out a card or a bill.
This slim Pocket money and card case effectively block RFID signals with its material from three different metal composites, making your personal information efficiently protected. It incorporates lavish style and trends with purpose and endurance, creating the perfect item for traveling and day-to-day basics.
Soft and smooth to the touch, this EDC wallet is created from carefully selected, quality-tested microfiber leather, with each item handcrafted by experts to establish premium traits and durability.
Key features
Stainless steel money clip
Microfiber leather
Best fits up to 8 cards
RFID protection
8. Savage Spartan Tactical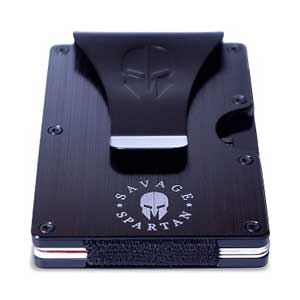 The Savage Spartan Tactical Wallet | Slim Minimalist RFID Blocking Aluminum Metal Credit Card Holder with Money Clip is a compact metal steal card carrier that comfortably holds up to 12 cards and bills. The idea behind this item is to securely carry cash and other valuables with a military-grade RFID advanced technology engineered to block signals while protecting your personal information and scanning devices used by credit card thieves.
Like all other Spartan products, this one is built to last, made of excellent aluminum and strong stainless steel. Built to last war, its durable metal armor body will outlast any typical trifold money and card case.
This EDC product makes you feel stronger on its own with an everlasting slick design combined with safety and usability. If your purpose is finding the one that allows you to carry the whole world along, then you should not choose this one, but if it's time to store and grab cards and cash, this military champ has no competition.
Key features
Money clip and elastic webbing
Advanced RFID protection
Holds up to 12 cards
9. JEXICASE Dapper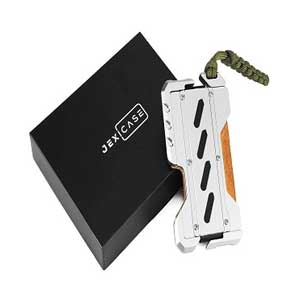 The JEXICASE Dapper EDC Wallet- has a slim and light profile that stays unobtrusive in your pocket. This case holds up to 12 cards and bills inside while keeping them coordinated and organized with the exterior money clip attached to it.
It's made of aerospace-grade aluminum and genuine top-grain leather, making it look high-end, chic, strong, and timeless. Even the most powerful chip readers keep your information secure with RFID blocking by protecting your personal information. This Dapper design makes it easy to access cards from both front and back by lifting and pulling them out from their push slots.
Not only is this item convenient and safe, but it also comes with a free trendy lanyard. For individuals who have the habit of keeping things neat, tidy, and easily accessed, choosing the JEXICASE Dapper would be a perfect choice.
Key features
Genuine top-grain leather
Aerospace grade aluminum
RFID blocking
Securely holds up to 12 cards
10. The Gunmetal Skull Leather Holstex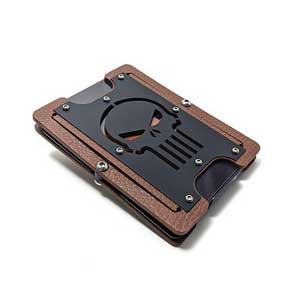 The Gunmetal Skull Leather Holstex Tactical Wallet is designed for the extravagant customer that wants a minimalist multi-case. It has a stylish powder-coated skull plate attached to the front while serving as the perfect RFID shield.
This item holds up to 5 cards, and with the expansion and spare kit, they become 8. Each model is tested to meet all expectations and assembled with stainless steel fasteners. There is a small stainless steel multi-tool included and an ejector plate to assist card extraction while blocking one end.
What wallets try to achieve is the most customizable product on the market by building your own graphics while having a large selection of material colors and patterns. Even though this product might be on the higher price end, if you are looking for something unique but also easily accessible, this should be your first pick.
Key features
Stainless steel multi-tool + an ejector
RFID shield
Multi wallet with expansion and a spare kit
Holds up to 8 cards with an expansion
How to Choose A Wallet For EDC?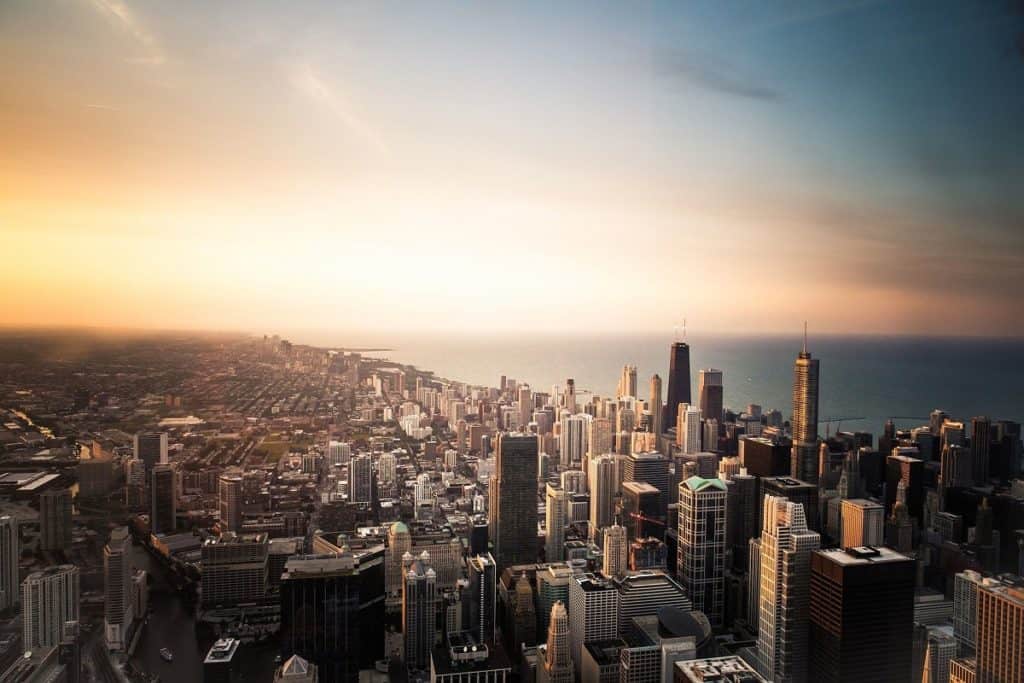 EDC also known as 'Everyday carry,' consists of objects you bring everywhere. Frequently used examples include wallets, keys, mobile phones, cards, and money. The Everyday money case tries to fit some of those necessities in a compact and slim option that will normally have a lighter, knife, etc.
What do you need to look for when searching for the best EDC case? Compatibility, function, and style are the essentials оn finding one, with every inch having a purpose, these tactical items not only hold your cash and cards but also have other functions like bottle openers, blades, etc.
How can you choose the one that works for you? That's easy, think of what you want in such a product. Do you prefer style over usability, or are simplicity and purpose more important? What are the essentials you need? Would you prefer your EDC to have a knife, a corkscrew, or maybe a compass? Once you find the ideal item, it's game over.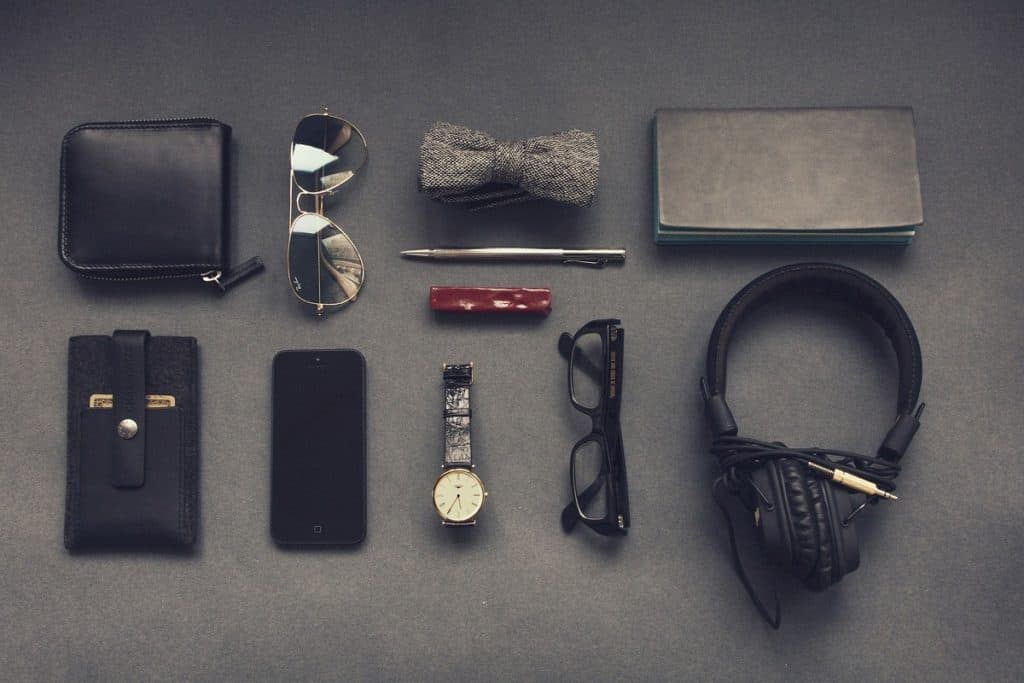 Frequently Asked Questions
Are Minimalist Wallets The Right Choice?
That depends on the person. If you need something compact that can fit the essentials you use on a daily basis, you've found what you're looking for. If you are someone that appreciates simplicity, minimalism, and individual style but also needs to get rid of the bulky money pouch, the EDC is the right choice
What Should I Look For In An EDC Wallet?
First and foremost, you have to think about what type of EDC item you are looking for, then you need to decide if you would like it to have some extra tools as well. Something very important is the RFID Blocking that keeps your information secure, and that's always a must.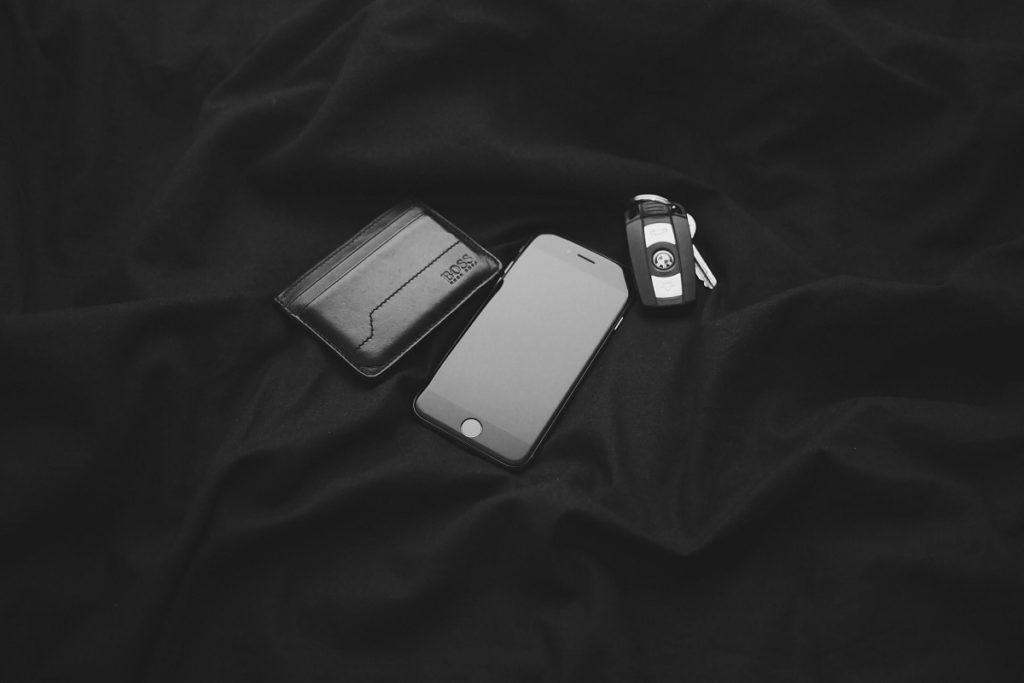 Does Price Decide The Quality?
The most expensive one is not necessarily the best option, but it's not the worst one either. Usually, the price goes up with the EDC money and card case having extra tools, sets, etc., but it also means better quality materials which are important for RFID protection.
The Best Choice
Without a doubt, our favorite product is the 'Car Carbon Fiber Holder Money Clip.' This carbon wallet is the full package with its trendy and sleek design that displays taste and masculinity while considering comfort and usability.
Not only is it 100% risk-free it also comes with a lot of extras that let you find the perfect option for yourself. It comes with detachable straps, clips, bands, etc., that allow you to mix things and switch them up every so often while keeping the high quality on point and always staying stylish and protected.
The Premium Choice
Our premium choice is the 'Gunmetal Skull Leather Holstex' wallet because it showcases that sometimes price means quality. This specific item is made for people with an expensive taste that appreciate customizable products. It comes with a multi-tool kit and an ejector plate for a simple extraction and easy access.
The case is slim and fashion-forward, with a combination of leather and metal that incorporate different options for graphics, material, color, and pattern. This product's RIFD protection is implacable with its additional shield that gives you the security you need on a daily basis.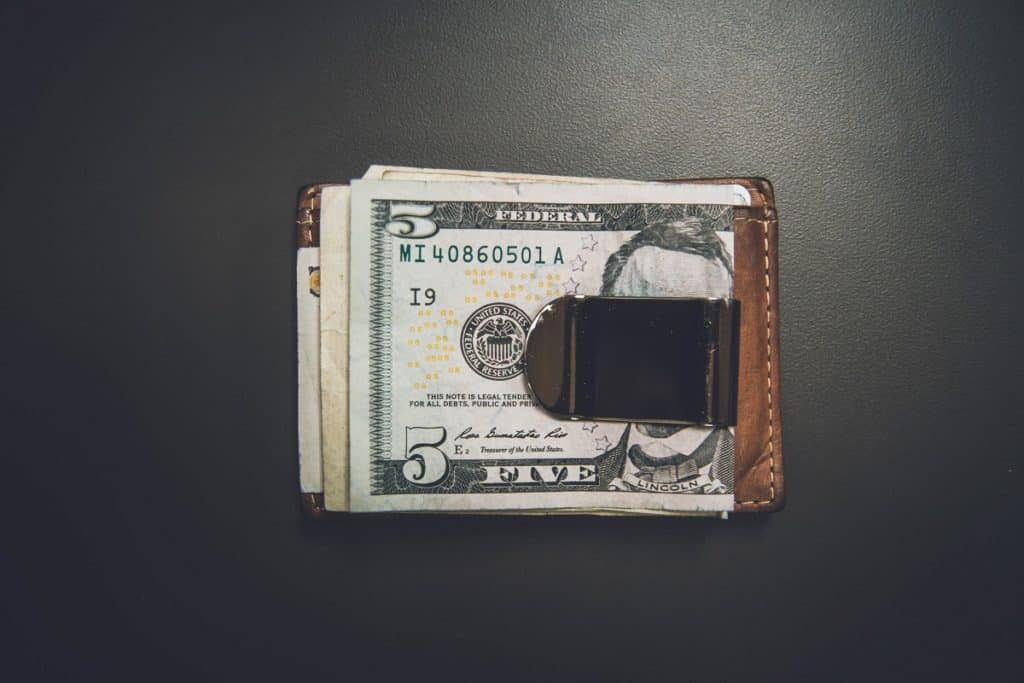 The Budget Choice
If you're on a budget but still want something minimalistic and modern, your best option will be the 'Magpul DAKA' as it has a vast functionality for everyday essentials. It has a shiny polished look suitable for everyone that likes simplicity and minimalism. Being convenient for ordinary use and travel, this choice is made out of reinforced polymer material, and welded construction shapes permanent impenetrable seals that are extremely durable and completely non-hygroscopic. The materials that the EDC case is made out of are oil, water, and chemical resistant, which makes it the best economical option.
The Bad Choice
Even though the 'Savage Spartan Tactical Wallet' has its positives, such as being a compact metal card carrier with military-grade RFID technology, this choice has its negatives. This option was created as a military product, but reviews show that it's indeed not that safe or accessible.
Customers complain about the immense amount of scratches up their cards and very sharp corners that can get someone hurt if not careful. They also dislike the fact that it comes in a cheaply looking box without the item having a logo of any sort, and some of them disagree with how the product looks in the pictures and real life. You should take into consideration people's opinions when purchasing something online.
Final Words
Still wondering if EDCs are your thing? Well, if you're searching for an item that's simple, sleek, and modern but is also accessible and compact while keeping your personal information secure, you don't have to search any longer!
EDC wallets are the future, with their compatibility, design, and protection. You can finally forget the discomfort of a bulky pouch and the non-stop lines on your pockets. Feel free and comfortable to do everyday activities and travel.
If you have any questions, suggestions, or critiques, drop us a line in the comments below.