The era of fixed-blade knives for everyday carry has arrived. Folding knives used to be preferred to carry around as they are easily concealable and can be folded up into your pocket, but that's no longer. A fixed blade is generally stronger, more reliable, and more durable while being just as compact and lightweight as a pocket knife.
Choosing the best is about finding the proper balance between utility and size while never worrying about your knife closing on your hand. We've tested 34 options over 12 weeks, and we've selected the 'Top finest blades' on the market today. Continue reading this article to find the one that's just right for you!
1. Fixed SA-L Gunner Grip (Tiger Stripe)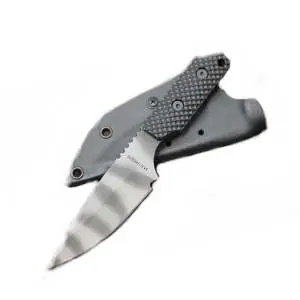 Mick Strider is a company devoted solely to developing and constructing edged tools designed to survive use in the hardest of conditions while evolving all of their problem-solving tools. These exclusive SA tactical knives have a thick stainless steel spear point blade with a Tigerstripe pattern. The knife's front tang is marked "Strider," and the back has the brand's logo.
This knife handle is Gunner Grip black G-10 and features the speed-safe assisted open, showcasing an excellent option for people with extravagant taste. This incredible everyday carry has a Kydex sheath with a Velcro loop, creating a valuable alternative.
Using only the finest materials and the latest technology, Strider Knives continue to set the pace in cutting geometry, function, and durability.
Features:
Tiger stripe blade pattern
Speed-safe assisted open
Gunner Grip G10
Kydex sheath with Velcro loop
2. Benchmade – Hidden Canyon Hunter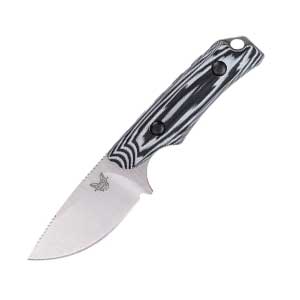 Benchmade is committed to keeping your tool outfitted with a factory-quality edge for as long as you own one of its products. And the Hidden Canyon compact knife saves you space while still being useful thanks to the large blade radius that surpasses skinning and meat removal.
The Hidden Hunter is the ideal hunting knife suitable for countless tasks in the field. It shows simplicity and style without forgetting about function, regardless of application. Made out of CPM-S30V steel for edge retention and corrosion resistance, this item makes breaking down a breeze.
The G10 handle is made from a tough composite material backfilled with resin creating a strong knife that can withstand a range of harsh elements. When in use, the full-tang construction provides enhanced stability, while the Kydex belt loop sheath gives you easy access.
If you're looking for the perfect EDC knife, you've found it in the Benchmade Hunter with its slim profile, compact size, and lightweight design. The Hidden Canyon Hunter is the perfect addition to your EDC collection, survival kit, backpack, tackle box, and more.
Features:
CPM-S30V steel, satin finish
Plain edge
G10 handle
Full-tang construction
Kydex belt loop sheath with buckle
3. Izula Black Survival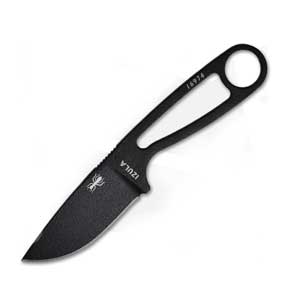 This knife comes from Peru, and the Bullet Ant is known as one of the toughest and most independent creatures. The Izula Black Survival is built on the same characteristics making it a good lightweight option for your survival kit. This knife has a skeletonized 1095 carbon steel handle and a flat ground blade with a black powder coat finish.
Each knife's handle is engraved with the logo of the company and a unique serial number that shows its legitimacy. The handle itself is made out of skeletonized carbon for a solid grip. This concealed carry includes a black molded versatile sheath that's remarkably durable and gives you easy access.
Some individuals might not like the feel of the naked handle, which is why they can either wrap it up with paracord or purchase the optional canvas Micarta handle scales for the Izula.
Features:
Skeletonized carbon handle
Flat ground blade
Thumb grippers
Molded carry sheath
4. Tops BLTT-01 Bull Trout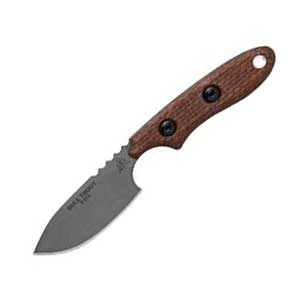 The Bull Trout is a practical and compact fishing knife that can also be used as an EDC survival tool. Tops knives were created with the extensive knowledge and real-life experience of people with a military background and experts in martial arts. These products are extensively built and hand-finished, ready to perform a variety of tasks.
Made out of stainless steel, this 6" fixed blade resulted from one of TOPS' annual employee challenges. Its sharp cutting edge requires little to no maintenance, while the contoured Micarta handle provides security with its ergonomic grip. The Micarta is a strong composite material made from burlap and synthetic resin, and when the material absorbs the grease in your hands, the knife will become your own.
That's not all, this item comes with a premium chocolate leather sheath that's functional and well-designed, contributing to the final touches.
Features:
Stainless steel blade
Micarta handle
Ergonomic grip
Premium leather sheath
5. Gerber Ghoststrike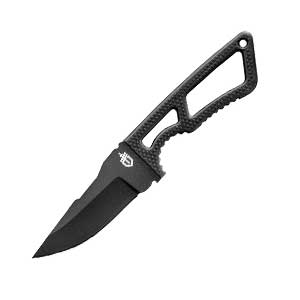 Next, we have the Gerber Ghoststrike. This fine edge is made of 420HC steel with black ceramic coating for minimal reflection and corrosion resistance. With its compact and contoured skeletal frame, this tool is light in your hand, while the rubber over-mold gives optimal, full tang grip.
To put it simply, this knife was built to have a subtle presence without making a profile against your outer clothing.
The Gerber Ghostrike is an ultra-light, self-defense knife with a modular sheath system set up for low profile or open carry that allows you to wear it horizontally or vertically on a belt like traditional fixed blade knives.
The handle is just as exceptional with its diamond-textured rubber over-mold that lets you have a firm grip in many critical situations. This everyday carry was built to last, always ready and never unprepared.
Features:
420HC steel blade
Ghostrike ceramic coating
Rubber over-mold handle
Modular sheath system
6. Tops Knives Baja 3.0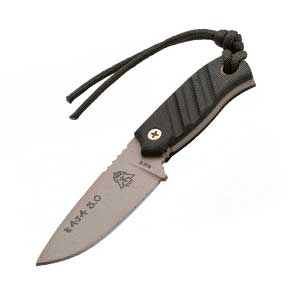 The idea behind the Baja 3.0 was to create a knife that combines simple design and fine execution that's effective and durable. Made out of 1095 carbon steel, this fixed blade bites deep, utilizing it in various tasks.
Having a simple handle design with a grooved green canvas Micarta scales enables the user to operate in different conditions, showing the hard work put behind every aspect of this item.
The company's game plan is simple yet very effective. "Improvise, Adapt, and Overcome." TOPS has developed a high-quality steer hide sheath that can be worn vertically and horizontally on your belt or simply tied to your pack. This option has proven to be a worthwhile, trusted, and reliable companion for any survival kit.
Features:
High carbon steel
Micarta handle
High-quality steer hide sheath
7. Buck Knives 853 Small Selkirk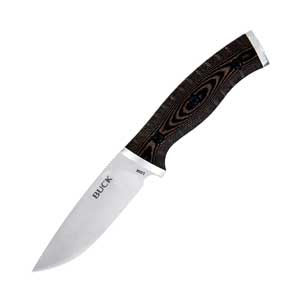 Thе Buck Selkirk was named after the rugged Selkirk range in Idaho with the idea to craft fixed-blade knives as strong as a mountain to help maximize survival in severe conditions and emergencies. Made out of 420HC stainless steel, this item delivers exceptional strength, edge retention, and corrosion resistance at an affordable price.
In addition, this everyday carry features a Micarta ergonomic handle with steel bolsters that can be used as a made-up hammer providing a safe and secure grip. It also comes with an injection-molded nylon sheath which can be arranged vertically or horizontally, while the belt loop that's included can be reversed.
This inexpensive knife has a lifetime warranty because the company believes in the quality of its product. The Selkirk is an ideal survival tool for many outdoor situations and everyday activities.
Features:
420HC steel blade
Micarta handle with steel bolster
Injection molded nylon sheath
Reversible belt loop
8. Morakniv Kansbol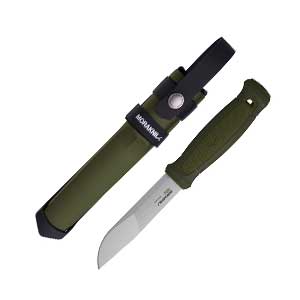 The Morakniv Kansbol has the flexibility of a lightweight knife and the strength of a more robust one, creating the ultimate everyday carry. This can be the perfect partner whether in the woods, on a hike, or at sea.
This Kansbol knife is available in two versions, either with a MOLLE multi-mount system or a tough Polyamide plastic sheath and leather belt loop. The MOLLE system securely fastens knives to clothing, vehicles, and packs so they can be instantly accessed while the plastic sheath holds them still on your belt.
Made of Swedish stainless steel, the Morakniv features an outstanding edge performance, razor sharpness, and exquisite corrosion resistance. This EDC knife features a Scandi grind that provides a lasting, razor-sharp edge while keeping the knife from slipping. The Kansbol is thin enough to use for carving and robust enough for difficult outdoor ventures.
The anti-slip handle works very well in wet and cold weather conditions while sitting comfortably in your hand. This knife can be used for an unbelievable amount of tasks, such as wood preparation, carving, or even starting a fire. With its sharp edge and exceptional balance, this is a knife to acknowledge.
Features:
Swedish Sandvik stainless steel
Anti-slip handle
Polyamide plastic sheath
Leather belt loop
MOLLE multi-mount system
9. Schrade SCHF57 6.3″ Full Tang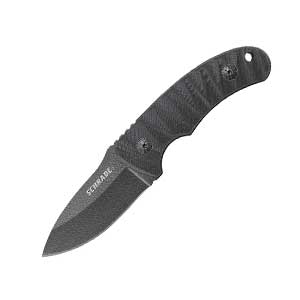 Schrade is a manufacturer that takes pride in inventing trustworthy knives that are impeccable for all sorts of outdoor ventures. Whether you are backpacking, hiking, camping, or enjoying any other activity, Schrade is the companion you'll need.
This product is made of reliable high carbon and a G-10 handle, creating a good combination between high quality and usability.
Having a full-tang design provides stability and confidence that the knife will not slip because of the thumb rest jimping. This everyday carry is dependable with its quick and easy access that the convenient black multi-carry thermoplastic belt sheath brings.
Even though some customers think that the knife is too small, it can still be useful and keep you prepared for a difficult situation. Something to consider when looking at this EDC item is the fact that you'll probably have to sharpen it quite often, and the sheath might not be tight enough.
Features:
65M high carbon blade
G-10 handle
Full tang design
Thermoplastic belt sheath
How to choose the best fixed-blade knife?
Knives are usually classified by their cutting-edge design into two types – fixed blades and folding ones. Both have different benefits, but fixed-blade knives are straightforward to use with no faffing around. All you have to do is pull it from its sheath (if there is one) and work with cutting, chopping, or slashing.
It may be hard to pin down exactly which fixed-blade knife is best for you, but there are some things we know for sure. We hope our reviews helped you decide which one was best for your needs. First things first – figure out why you want one! Then, determine which features you really need. You might not need everything listed below, but let's figure it out together! Here is what you should be looking for:
Use
Knives are often used for various purposes, including self-defense, camping, and survival. Some options are designed for one purpose; others can be used for multiple purposes.
You might be thinking that one knife can do it all but what you need is a function-specific one. In general, fixed-blade knives have one or more uses: EDC, tactical/combat, hunting, camping, etc. That's why we highly recommend you check what a specific knife is best for before purchasing it.
Type of blade
There are several different types of blades available for use, including carbon steel, stainless steel, ceramic coated, titanium coated, etc. Stainless steel knives indeed require less maintenance than carbon steel ones; however, they must be sharpened more often.
Whereas high-carbon knives will hold the edge better and retain their durability but sharpening them is a bit harder than stainless steel options. It may prove to be frustrating if you need to sharpen something right away or while out in the field; however, it's not impossible! Carbon tools are also pricier than their stainless steel counterparts.
Steel type is characterized by three factors: hardness, toughness, and corrosion resistance. Hardness refers to the resistance against bending and the ability to hold an edge. Hard steels typically produce cleaner cuts and slicing actions due to the acute edge.
Toughness is the ability to withstand pressure without cracking, which is essential for high-impact tasks like chopping wood. Corrosion resistance deserves its own section, so we'll discuss it in detail later on. But until then, it means how well the steel can resist discoloration and rust. Here are the most common steel types:
420HC – high carbon steel (stain-resistant, tough, and easy to sharpen)
1095 – high carbon steel used in World War II (often coated to prevent staining)
VG-1 – non-powder steel made in Japan (great corrosion resistance)
AUS-8 – decent steel found in low-cost options
4116 – the classic Swiss Army Knife steel
Blade length
When you decide what you will use your purchase for, it will be easier to choose its length. Length can make the difference between getting the job done safely and quickly or your task being unsafe and frustrating.
If you're picking a product for EDC, you don't need it to be long; however, if you plan to use yours in tactical or survivalist situations to cut down brush, for example, you need a longer option. Overall, if you plan to use your tool as an everyday carry, you won't need a long one, as it will be heavier and bulkier.
Sharpness
Generally speaking, a knife is no good if its edge dulls quickly. What happens if you are in the wilderness and don't have the time or tools to stop and sharpen it? That's why sharpness is one of the most important features to look for before making a purchase.
A lasting edge that stays sharp is what you need. This is where the steel type design and manufacturer come into play a role in the ability to retain sharpness. Another crucial factor is the shape of the blade when we talk about edge maintenance. A knife with a sharp factory edge is a plus, even though you will still have to sharpen it at some point. However, it shouldn't be a constant chore.
Corrosion resistance
When it comes down to corrosion resistance, the steel type is a huge factor. For example, some stainless steel grades will not stand up well in tough environmental situations, humid conditions, or salty air. That's why if you plan to use your knife in adverse weather conditions, you should opt for 410 stainless steel.
This grade tends to perform well in humid or salty conditions and resist corrosion. However, the weather shouldn't be the sole factor in your choice. Simple actions like cutting a tomato and not cleaning your tool after can also damage it because it's acidic. Overall, you should be mindful of your gear and keep it clean.
Durability
You don't want your knife to start crumbling due to corrosion, but you want it to be able to withstand adverse weather and heavy use. You want it to have some give but not enough to shatter, but any high-quality option will be shatter-resistant and will remain intact even if it hits a rock or other hard surface. Thus, you should choose a quality option if you want it to last and get the job done.
Handle construction
Not all tools grip the same, and you want a handle that comfortably fits your hand to feel secure as you wield it. You can find handle constructed from various materials, as you've seen in our reviews, such as rubberized components, metal, wood, or other materials. However, your choice depends entirely on what you prefer in your hand!
Frequently Asked Questions
Here are some frequently asked questions to help clarify any remaining issues you may be having before making your final decision. Before buying a product, we recommend having all of your questions answered so you know exactly which one best suits your needs.
Can I cut wood with one?
Yes, certain types of fixed-blade knives will let you cut through wood or plant materials. Usually, if you are in the great outdoors, you will need a tool on which you can rely to cut and split saplings. And you can do so with most items on our list.
What is the best type of sheath material?
Unlike a folding tactical knife, you can't tuck away this type of blade. What that means is that you will need a with which you will cover it while moving around, so you don't hurt yourself or the ones around you.
Most knives will come with a manufacturer sheath typically crafted from nylon. Generally speaking, the sheath material is a matter of personal preference. However, if you are willing to spend some extra cash, we highly recommend looking for a G-10 sheath.
Some of the best sheaths are made with synthetic materials like Zytel, but if you find them too expensive for your taste, a ballistic nylon sheath will do the job.
Can I use one for hunting and skinning?
Hunting is one of the main functions of these knife models, which is why you can use them to bring down an animal and while skinning it. Longer options offer ample room for leverage as you skin your prey. If you want to use your EDC knife for hunting, we recommend you select a product with a thick and sharp blade that lets you cut through hide and tissue with ease.
What is the difference between a folding knife and a fixed-blade knife?
In general, these models differ in a few ways. One of the most significant differences is that, as the name indicates, a fixed blade doesn't retract into a fold, but folding knives do. When picking a type, you should first determine what you will use it for.
For example, fixed-blade knives are longer and thicker than traditional folding or pocket knives, and they are designed to withstand pressure better than their competitors. They are best for heavy-duty tasks but not as much for precision work.
Final Words
If it's time for your next adventure, an EDC fixed-blade knife is something to have on at all times. When in the outdoors, you always have to think about extreme weather and critical conditions. That's why it's important to have everyday carry gear because it can save your life one day.
Even though we've tested 34 fixed-blade knives, we have a clear winner, and that's the 'Benchmade Hidden Canyon Hunter' with its lightweight design and compact size, making it ideal for any situation. So just throw it in your bag and be prepared, safe, and ready!
We would love to hear your opinion on the subject, and of course, if you have any questions, don't hesitate to ask in the comments below.