Nowadays, we live in times where you cannot predict what can happen to you at any given time, so a way to protect yourself from danger is a must. For a man, a concealed carry holster or proper gun belt is something easy and comfortable to carry, but for the average woman, this is not the case.
There is an excellent way to carry a gun – within a concealed carry purse. Below, we will look at what exactly it is, how to find the best CCW purses, and some amazing examples you can buy today.
1. Montana West Leather CCW Purse – Our Pick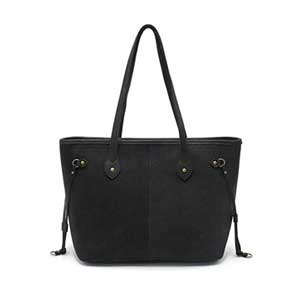 This bag from Montana West is ambidextrous, so it's both Righty and Lefty Friendly. It comes with a detachable velcro holster and a double-zippered center compartment to hold your gun holster safe and secure in case you need it, and it will fit almost any gun and holster combo.
It is made of 100% genuine soft leather that is not only nice to touch but also to look at. Its oversized main compartment holds your everyday essentials, and the two inside pockets can be used for easy access to a cell phone or makeup. A zippered pocket is there to securely hold valuables, including money, credit cards, and/or license. The bottom of the Montana West purse is protected by four metal rivets, so it is durable too.
It is classy, large enough to carry almost anything, durable, and modular – the perfect bag for someone who wants functionality and a clean design.
Pros
Large enough for most
Quality materials
Solid zippers
Holster included in the price
Cons
Straps feel average
Peeling leather on the straps
2. Travelon Anti-Theft Hobo Bag – Our Budget Pick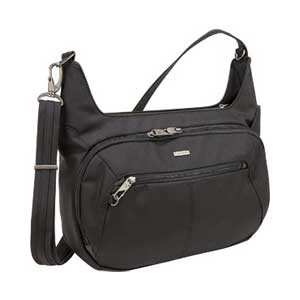 This anti-theft hobo bag from Travelon comes with a front compartment with tamper-secure zippers and a left-to-right reversible holster, resulting in a secure and easily accessible gun compartment. The Gun holster is secured to the rigid back wall of the compartment for a fast and secure draw.
The main compartment is big enough for an iPad, and it has RFID protection to keep all your valuable information safe. Overall, for its price and features, this bag truly compares to every other competitor on the list.
Pros
Decent security system
Durable
Lightweight
Very affordable
RFID protection in certain areas
Cons
Not a specialist weapons bag
Not many styles or colors
Not very stylish
3. Browning Concealed Carry Handbag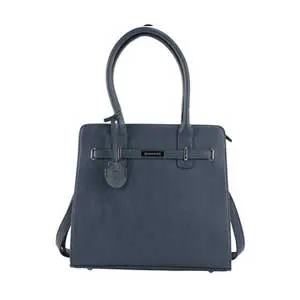 The Browning CCW handbag is available in two sharp-looking colors (grey and black), and it has all the features you'd expect from Browning. This is another great product for a right, left, or cross-draw. The leather strap is adjustable and removable so that customization will be as easy as pie.
The Browning has a wide base, with overall dimensions of 9.5 by ten by 3 inches, so you won't have to get frustrated about it falling over, and there is plenty of space for all your valuables and everyday essentials. It has a lockable holster that can be reached from the left or right side for quick access to your firearm, and it adds another level of security to ensure that no one can access your firearm but you.
With its quality faux leather and wide base, a lockable holster, and a clean and attractive design, it has all the features you may want but in a different form factor that can appeal to all sorts of women.
Pros
Excellent leather quality
Well-hidden CCW compartment
Cons
Zippers are not great
Inside fabrics are not great
4. Montana West Western CCW Gun Handbag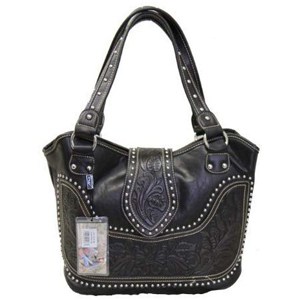 From Montana West, we have another western-style ladies' bag with a concealed handgun compartment on the back with a rather bold design backed up with a nice set of features. Made with high-quality PU leather and tooled genuine leather, a center flap cover over to the front of the purse decorated with silver studs, you have one extravagant but still attractive bag.
The bag comes with a top zipper closure and a center flap with magnet snap closure, one open pocket, and a zippered pocket, the actual gun pocket. On the inside, we have three inner compartments with a zipper enclosure for the middle, two open pockets on one side, and a soft lining for a quality feel, not only on the outside.
The leather concealment purse has two large handles to accommodate its size, and with its many features and an outstanding aura around it, this is surely a different choice for women that want to stand out.
Pros
Western Style
Durable leather
It comes with a holster
Decent size
Cons
Not everyone's styling
Might be too small for some
5. Justin West American Albino CCW Shoulder Bag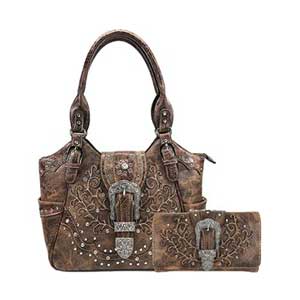 The Justin West American Albino has an interesting sugar skull design and features plenty of additions that make it a trendsetter in terms of fashion and also in keeping your firearm safe and accessible. It has a top zipper closure without multiple pockets inside the bag. The concealed compartment is located at the back of the bag with a cell phone compartment and two magnetic side pockets if you still need some additional storage.
It is made to stand out, making you the trendsetter of the party without drawing too much attention, and managing to conceal your weapon excellently, so we don't have a case of style over substance.
The American Albino shoulder bag by Just West offers plenty of room. It has multiple pockets inside, a phone compartment at the back, and magnetic flap pockets on the sides. And the best thing is that it manages to have all this space without looking too oversized.
Overall, for its price, you get a great bag with plenty of space and a conveniently concealed compartment to keep yourself safe at all times.
Pros
Decent quality
Comes with a smaller purse
Good zippers
6. Browning Women's Alexandria CCW Handbag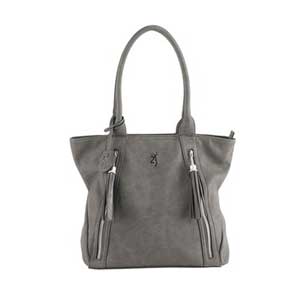 Another bag from the usually gun-associated company Browning. The Alexandria is another excellent combination of concealed carry and a stylish look. With their decades-long experience in making guns, they sure do know how to make a place to store said guns.
If you're looking for a little larger handbag with lots of storage space, this is a good option. It has a wide base, so you won't have to worry about it falling over if you set it down, and it has space for both a larger gun and all your essentials simultaneously.
One downside of the Browning is the straps aren't long enough for most women to carry cross-body, so if you plan on carrying your bag that way, you may want something else.
The Browning Alexandria key features, like the single access zipper compartment, the dual side and top access to the gun compartment, the removable locking holster, and the wide base design constructed of very soft faux leather, all makeup for the little disadvantage that is the fact that the purse cannot be carried cross-body. Overall, the Browning Alexandria is a truly excellent piece of equipment.
Pros
Reliable manufacturer
Great suede leather
Appealing style
7. Bulldog Cases Carry Tote Style Bag with Holster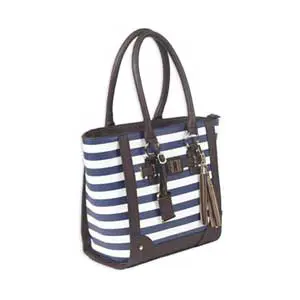 This is a cute striped red or blue bag by Bulldog Cases that can fool anyone that the person carrying it is harmless. It looks cute and innocent, which is exactly what you want for a CCW purse!
The Bulldog Cases tote bag includes a color-matched removable holster optimized for small framed compact pistols and revolvers that easily fit into the gun pocket. The holster is an excellent addition that results in a faster and more secure draw that makes the Bulldog Cases a solid contender for one of the best in business.
So for a cute and casual look during a nice stroll in the park but with a fiery twist on the inside in the form of a compact firearm, the Bulldog Cases tote bag is perfect.
Pros
Holster included
Lightweight
External pocket
Cons
Not suitable for large guns
Style questionable
8. Browning Ashley CCW Handbag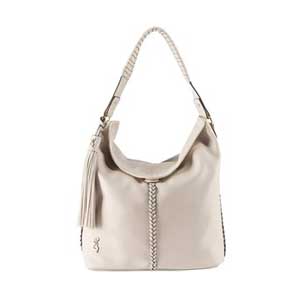 Yet another, and even not the last product from Browning on our list, the Ashley Purse keeps the company tradition of making amazing accessories regarding firearms and their accessories. From the outside, we have a nice PU leather that is not only double-layered for extra durability but it has a rich color and smooth feel that makes the bag a stylish and functional accessory.
The main compartment is accessible through a secure lockable zipper with a hidden key ring that keeps your gear safe and ensures secure access to your firearm or valuables, and the aforementioned secret keyring makes sure they can't be noticed easily. The side compartments have strong magnets, thus being less secure but much more easily accessible.
Thus, we end up with an attractive leather handbag with a detachable and adjustable holster, making it a versatile and beautiful accessory for every lady.
Pros
Holster included
Universal styling
Decent leather quality
Strong zippers
Cons
Straps sub-par
Easy to lose color
9. Browning Sierra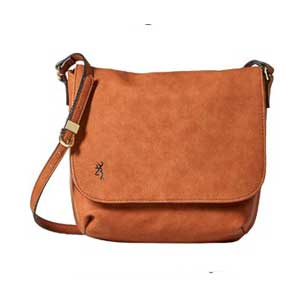 The last Browning entry on our list is very similar to the last one, the Siera CCW Purse. While on the outside, Ashley does look more attractive, both handbags are essentially the same, with the main difference being that this one is more crossbody orientated while the last one is over the shoulder.
It has the same secure hidden keyring system, a quality YKK zipper for the main compartment, and PU Leather giving the other shell a practical but stylish design for both formal and informal occasions.
Pros
Noce and soft leather
Safety locking
Stylish
Lightweight
Cons
Might be too small for some
Straps not great
10. Lady Conceal Norah Laced CCW Tote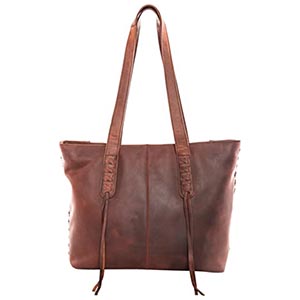 This Lady Conceal product is the epidemy of a good-looking CCW purse, with a soft and supple faux leather exterior rich with strong contrasting colors resulting in a beautiful purse with two good-looking braided handles that are durable and attractive at the same time.
While the company's name is slightly on the nose, the interior surely isn't. It has two large open slip pockets in the front and a zippered pocket, a large open compartment, and a leather key strap in the back with a strong and secure magnetic closure.
When it comes to accessories, the laced tote offers a matching in-design wallet with RFID protection that is followed by a universal and adjustable holster that is ready to protect and carry all of your firearms. The back carry compartment has ambidextrous access, and the zipper closures are equipped with amazingly durable YKK zippers.
This big and beautiful leather bag by Lady Conceal is an excellent last entry to our list, and if you want something bold and different but modern at the same time, this will be your best option.
Pros
Large enough
Good zippers
RFID protection
Matching wallet
Frequently Asked Questions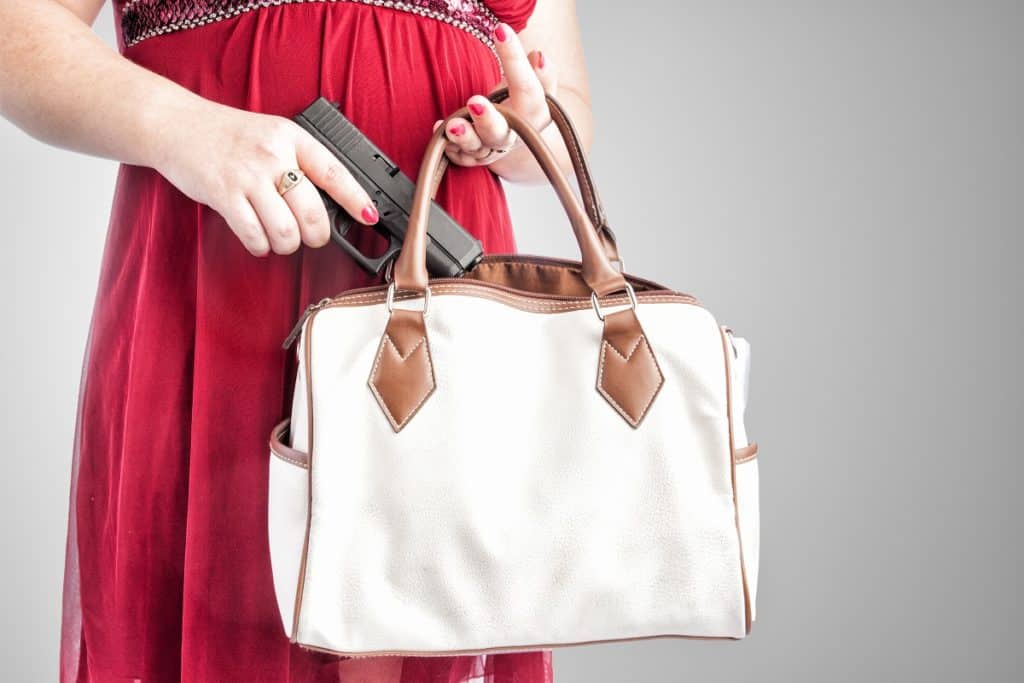 Why Not A Regular Purse?
This may seem like a good idea, but 'clutter' and natural weapon movement could cause you problems. If you just place your gun in your standard purse, you may not be able actually to find it when you need it the most, and that makes it useless.
Natural movement can also be an issue. This applies if you do not have large enough separate compartments inside your bag for weapon storage. By placing it loose in your handbag, it will move around as you carry it. I shouldn't joke with this, but in the end, this can result in you pulling out a comb rather than a gun, which can cost your life.
So carrying a gun in a normal purse is risky, we got that right. But what exactly makes a concealed carry purse so special?
What Do You Need A Concealed Carry Handbag?
Opting for a specifically designed concealed weapon purse or handbag is the way to go. This way, you will be confident that when you need the gun, you can find it easily.
Material
Most purses with a gun pocket are made from either real or synthetic leatheр, though nylon and denim can be found easily if you are after something that looks a bit different.
When it comes to leather, you need to decide: Is the 'real' feel and style of 100% leather for you, or is PU leather your preference? The real deal will cost more but has qualities many prefer. As for PU leather, you will find a good selection of cheap concealed carry bags made from this synthetic leather.
The best choice for the average person is a combination of PU and genuine leather that combines sturdiness with a good look and feels at a reasonable choice. Though this is a serious choice, it won't make a huge difference in the long run.
Size
Let's get this straight; size doesn't impact things as much as you think.
Regarding the CCW bags for women, think about the number of everyday essentials you like to carry. Let's say that you are the type of woman that carries her cosmetics with her and you need a bigger bag to get all your stuff – you shouldn't conform to size because, at the end of the day, the gun compartment is just an additional feature to an already nice handbag.
To simplify things, search for a bag or concealed carry purse similar in size to your current bag, this way, you will have not only space for your gun but your essentials too.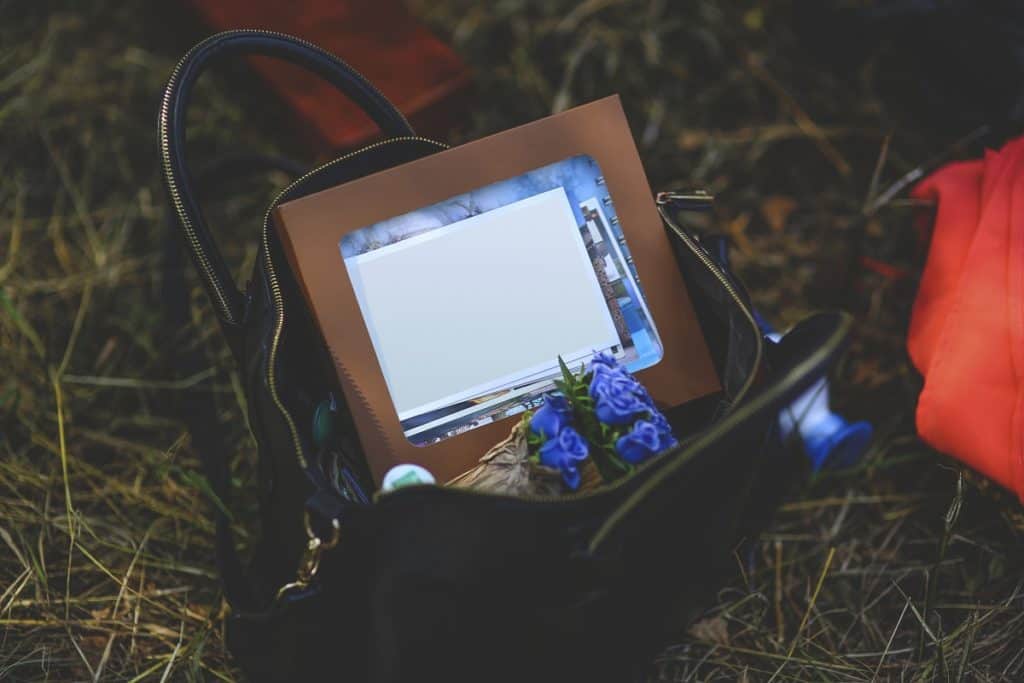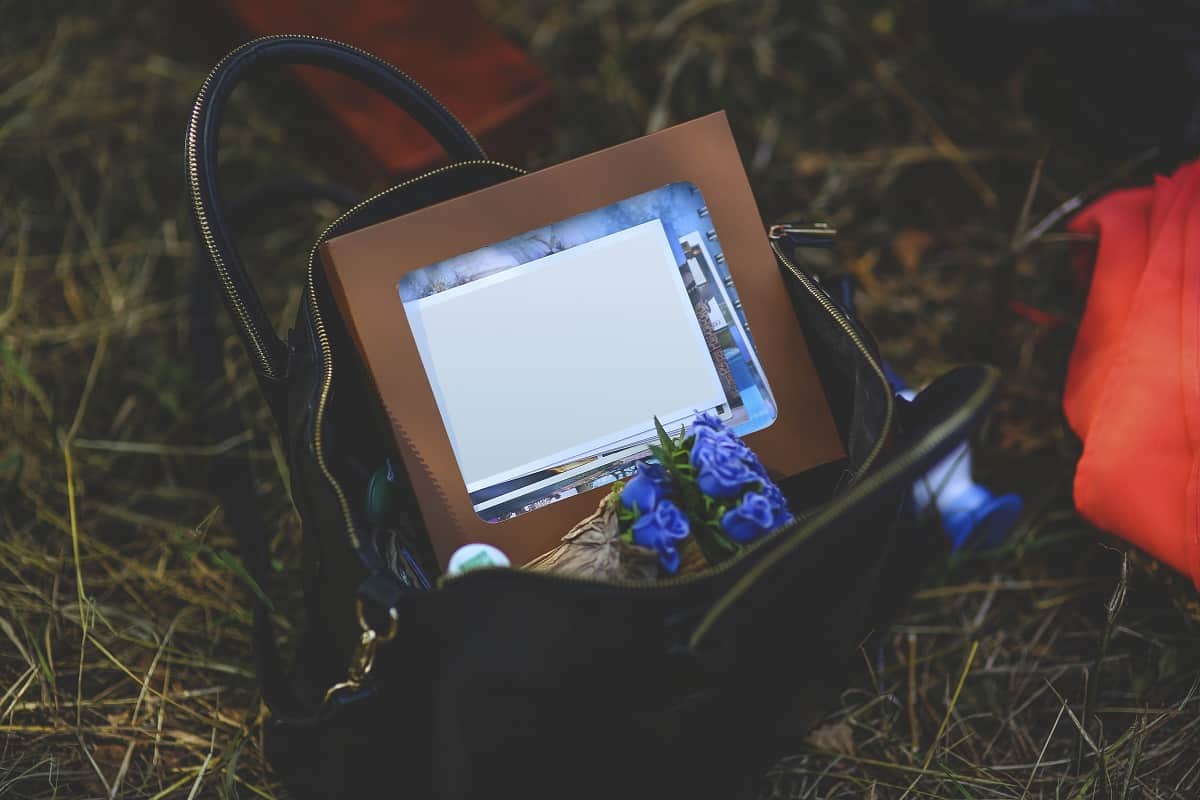 Straps, handles, and carry style
As with the other two options, there are many different styles, from fixed straps to removable and adjustable ones, that can be carried as a handbag or on your shoulder. Flexibility is very important here because one of the most important things about concealed carry is to carry your firearm comfortably. So, either tote style or over-the-shoulder, you should adapt to YOUR preferences.
Security and safety
While we are on straps, do you need slash-resistant straps? If this feature helps you feel safer, then go for it. Dependent upon the environment you are in, slash-resistant straps can be an important consideration. The real consideration, though, is:
Locks
Only you can decide how important a lockable concealed carry purse is. This choice will be based on your daily routine, but one thing is for sure – if you have small children, you should have a lock on your gun. If you do choose to have a lock, you should look for a model that supplies at least three keys, one for you, one for your husband, and one to stay at home.
Ambidextrous Use
This applies to 'lefties.' There is a very reasonable choice of ambidextrous easy, access concealed carry purses. There are more right-handed bags out there, but if you do draw with your left hand, you can rest assured that there is a bag out there made for your style.
Gun Compartment
Let's face it, fashion, style, space, and comfortable carry are what you are after from any purse. But the real reason you are looking at a concealed weapon purse is to carry a concealed weapon!
Check such things as holster availability, velcro lining, or 'straps' and the actual gun compartment size, with the last one very dependent on the weapon you will be carrying. Either way, you should adapt your concealment purse or bag to your gun, not the other way around.
You should also look into how much exactly the purse conceals said weapon because, after all, you buy it for that. To abridge it, you don't want a large bulge in the shape of a gun giving you away.
Final Words
At the end of the day, whatever you choose, having a CCW purse is a must in the dangerous world we live in nowadays. Be it a crossbody, over-the-shoulder, or tote bag resting on your shoulder, the gun ensures that there is something to protect your life.
If you have any questions or concerns, drop us a line in the comments below!