The right tool is invaluable, whether out in the wild or in the backyard. For example, you can't carry a regular-size saw out in the woods when hiking or camping away for a long time.
So, what's the solution? A saw that folds! It gives you a lightweight and compact tool you can carry wherever you go.
Let's take a look at the best folding saws to take with you on your next outdoors experience:
1. Bahco 396-LAP Laplander Folding Saw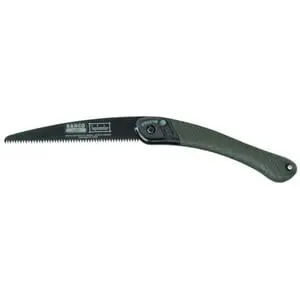 This brilliant folding hand saw is inarguably one of the best and, in my opinion, the best model. It is not only very durable and unlikely to ever let you down, but the Bahco 396-LAP Laplander Folding Saw is also an excellent jack of all trades while still being a master of some.
It is as compact as a folding saw, and while it may struggle with the biggest of trees, if you aren't doing heavy-duty work, everything will be as easy as pie. And even then, with a little bit more persistence, it can cut down even a 12′ tree.
This is described as being 'general purpose' by the manufacturer, and it shows its versatility. It can be suitable for cutting wood, plastic, or even bone if needed, so it has plenty of cutting capacity and power. It has seven teeth per inch and has a durable coating that protects it from dust and abnormal friction.
Having it around you at all times is a no-brainer with its reliable locking mechanism. This is one of the reasons it is the best folding camp saw. The only real caveat is that even though the handles are durable and have a nice grip, their plastic nature gives it a cheap kitchen knife-like feel. The blade, though, is almost perfect. The manufacturer offers spare blades, so even if something happens, replacing them will be no hassle at all.
2. The Friendly Swede Folding Saw TPR Handle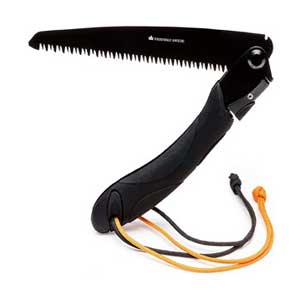 This saw is the perfect tool for every outdoor enthusiast (even if it is just your backyard garden). The saw has enough cutting capacity to be used on both green & dry wood, as well as plastic and bones. It will be your best companion no matter the situation, from trimming a bush into a nice minimalistic shape to complement your garden, pruning a tree or removing overgrowth to preserve your garden, or even building a shelter and cooking a meal during a tense survival or bushcraft situation.
The saw has a total length of 17 inches, and 8 consists of the blade itself. When folded, the saw is just over 9 inches. The saw blade is made of 65Mn steel (equal to 1065 Carbon Steel) and has seven teeth per inch, which gives it a high cutting capacity. The saw, in addition, has two pieces of 550 Paracord, which is useful in all outdoor situations thanks to its enormous durability.
When opening the saw, the blade will lock into place to make it sturdy enough even for the toughest of situations, as well as to avoid getting things trapped between the blade and the handle. This model is also covered by The Friendly Swede's Lifetime Warranty, which gives you the company's excellent customer support meaning that no matter what happens with your tool, they've got you covered.
3. Gerber Freescape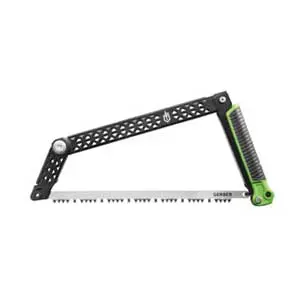 If there's any brand that knows how to make a sturdy outdoor-focused cutting tool, it's Gerber. Be it a bushcraft knife, hatchet, or in this case, a folding saw, they have you covered in everything. Their Freescape Camp Saw is excellent for several reasons. First, the ability to fold down completely flat makes it as compact as a foldable saw.
But that doesn't mean it is limited when it comes to blades because it accepts almost any standard 12′ saw blade. Thus, maintaining it or swapping the blade with a new one is as simple as possible. Combined with its durable build, this saw is one of the simplest yet best options available.
4. Zippo AxeSaw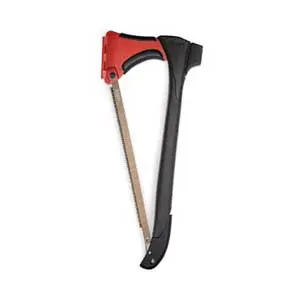 One of the biggest drawbacks to the other saws on the list is that while they are very versatile, they are just saws with no other functions. All of them, except for the Zippo AxeSaw, function solely as saws. This one, however, is double trouble, with both a functional 15″ saw blade and a 420 stainless steel bushcraft ax.
With these functions, when it comes to outdoor cutting tasks, you've got all your bases covered in this single, portable, versatile tool. It also boasts a safety sheath so you can avoid cutting yourself when using the saw, and the backside of the ax features a mallet tip that's handy for hammering in camping tent stakes. Overall, the ability to both cut down a tree into logs and then chop them into firewood is invaluable.
5. Silky BIGBOY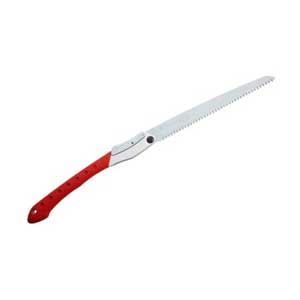 With a name like the BIGBOY, you can surely imagine that this compact saw trades in some compatibility for some chunky beastlike power. It is so powerful that it is suitable for some construction projects, like cutting through greenwood and logs. And while technically it is a folding saw, it isn't one that you will be putting in your pocket for bushcrafting, but rather in your car for a family camping trip.
For bushcraft, I'd only take it if I knew I would be stuck in one place where I could use it to make a pretty nice and big shelter. For a large folding saw, the BigBoy has a very thin blade, while this reduces weight, if you put too much stress on it, you can cause it to bend.
So even if it gives the impression of a big brute that can be used without care, it requires a lot of precision. This is mainly because it is a pull-only saw, but this is a very nice feature in the good run. You'll also want to make an undercut through larger tree limbs, or you'll end up with blade binding issues.
6. Agawa Canyon BOREAL21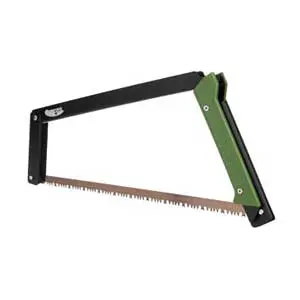 As well as being one of the best folding bow saws out there, in my opinion, this is the second-best model after the Laplander. The BOREAL21 is a versatile saw which is good for all sorts of uses, including backpacking, hunting, or clearing trails when trekking. This comes from the fact that its setup takes a fraction of most other saw's time. Once you take it out, it will unfold and then snap into place, becoming extremely rigid and sturdy in a matter of seconds, so using it in a hurry is no problem at all.
The blades tense themselves, and you do not have to touch them when opening or closing the saw. All of this functionality comes at just half a kilo of weight! The body has an excellent nylon handle and aluminum frame encased in durable steel to produce an astonishingly rigid and durable saw.
The saw overall uses only quality materials and great craftsmanship to construct an end product with no apparent flaws, but if you want to nitpick after prolonged use, it can get a little uncomfortable. So if you are looking for a large but still compact and lightweight enough saw that can do both heavy-duty and fine work, the Boreal 21 is for you.
7. Sven-Saw 21-inch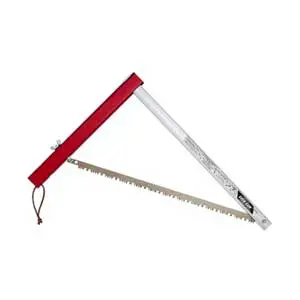 Like our last entry, the Sven Folding Saw is a 21-inch folding saw which is an excellent option for backpacking, in environments where you might need to do some work like cut away wood for shelter or even create some kindling for a campfire, but you won't need to take it out very quickly. While it is still compact enough for a backpack, it is nowhere near a pocket design, but this isn't detrimental.
The steel blades are very well made, offering a nice cutting capacity and amazing durability, especially for dry wood. It is very easy to unfold, even if it takes a little bit more time than others, and while it is just around half an inch thick, it can cut trees that are even 6 inches in diameter.
The handle is not only comfortable and very grippy, but it also acts to protect the blade itself when you aren't using it. While this isn't remotely the best choice here for a calm camping trip or work in the garden, the quality that it offers at its price is something that shouldn't be missed out.
8. Fiskars 7-Inch.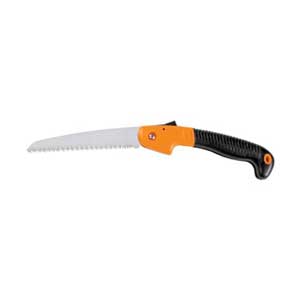 This here is a pruning saw that has a good enough quality and construction, paired with an extremely low price, making it the go-to budget choice. Even with its low price, though, the Fiskar manages to be a powerful performer when It comes to finer and lighter work.
The company has utilized a patented PowerTooth blade manufacturing process. Even without the marketing term, there's no denying that the triple ground teeth allow even the most newbie gardener to tackle most types of wood they will encounter.
The non-slip grip handle does exactly what it is designed to do and is also pretty comfortable for what it is. The hinge and the locking mechanism are well made for their price, but the big disadvantage comes.
There have been countless reports of the same problem – the handle breaks in half after a couple of weeks of use, so beware of this flaw. Overall, the compact design makes the tool easy to stash in your belt or pocket, making this a great go-to pruning tool for home gardeners, even though it has some glaring issues.
9. Filzer Buckster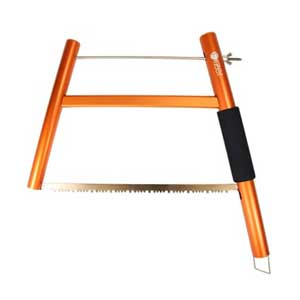 Most of the other camp saws on this list feature a folding format. And while folding can certainly cut down a bit on the bulk of a saw, they're still cumbersome and require a much shorter blade than normal wood saws. Filzer's Buckster Bow Saw splits the difference by offering a traditional format and length while having a collapsible and novel way of being more compact.
The 18″ steel blade is longer than most folding saws out there, and the whole device can collapse down and pack inside itself – thus, you get a single 19″ tube that is not only easy to carry but also durable and lightweight, acting as a case to the saw. To sum it up, we have a pretty nice saw that incorporates a new way to collapse, resulting in a novel and excellent mid-range product at the end.
10. SOG Folding Saw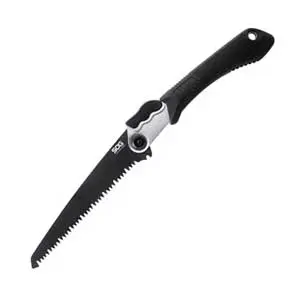 The SOG folding saw is a very beautiful piece of gear that is the opposite of style over substance. The Compact tool has been designed with camping, backpacking, and hiking in mind to stand up to all the harsh conditions mother nature can offer. The 8.25-inch high carbon steel blade with a black powder coat finish is one of the reasons the SOG looks so good and is a staple of the company.
This rather cunning attention to detail continues to amaze even up to the handle, which is also made from high carbon steel, which gives you an overall sleek and very desirable look.
Even though there have been some complaints here and there, the SOG still manages to fare well, even against some of the best saws out there. The tempered steel teeth have enough cutting capacity and power to work on hardwood and greenwood, and the average-sized blade makes it a versatile weapon no matter what you will be doing on the field.
To top all things off, the company also provides a well-made black sheath that features a snap closure and belt loop attachment, giving you easy mounting and storage and completing the awesome look of this saw. Overall, its astonishing looks are combined with a reasonable level of performance and a brand name that makes this product a perfect choice for someone who wants to look as good as they perform.
How to choose a folding saw?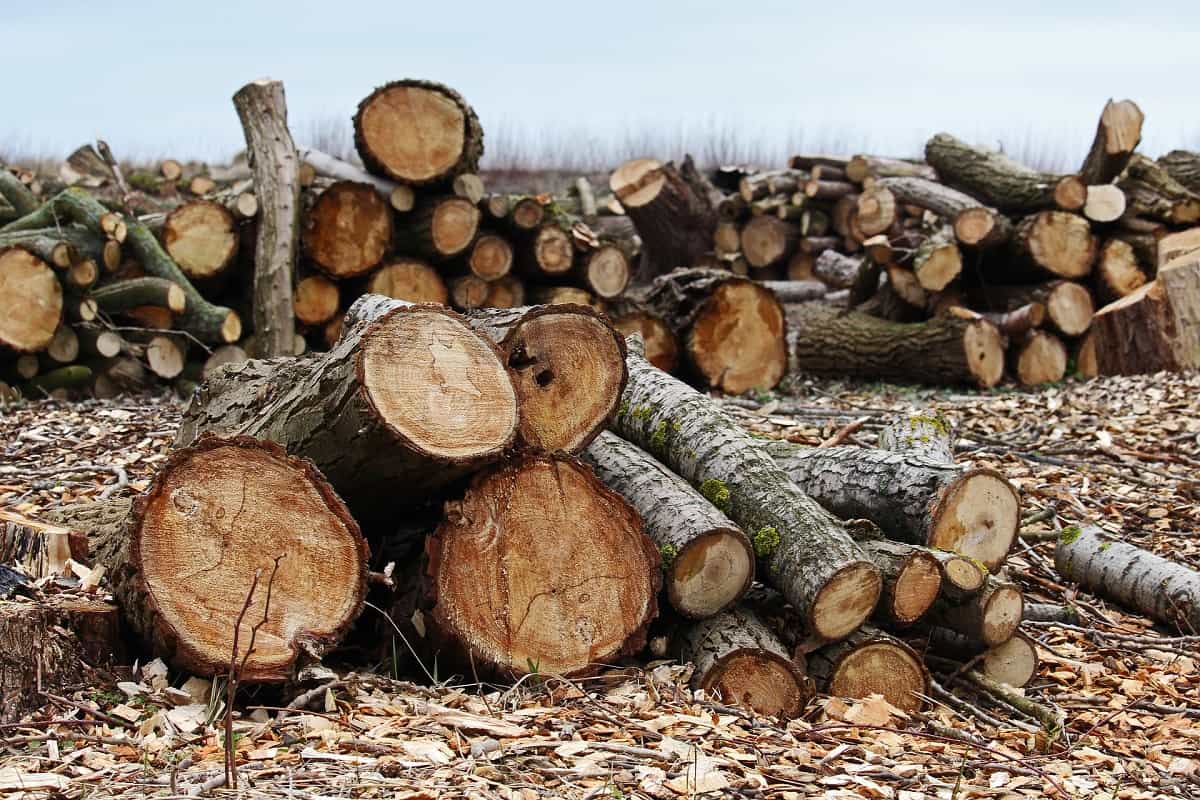 Blade Length And Thickness
The length and thickness of the blade affect how compact the tool is. Even though folding saws are designed to be small and portable, some are much smaller than others. A pocket-sized option is mainly for pruning, not chopping down trees, as it will have a smaller, thinner blade. Bigger and thicker blades will fare much better against heavy-duty work, but they trade their compact nature for this more powerful structure.
Cutting Capacity
Most blades list their cutting capacity. This simply refers to the thickness of the item (a tree, for example) that they can cut. If a blade's cutting capacity is 10 inches, anything with a diameter of 10 inches or smaller should be suitable for it to chop down, depending on its density. This is a very important factor, and if you are going to bushcraft with your tool because you will want as much cutting capacity as possible, as nature is a very unpredictable beast.
Tooth Configuration
The serrated blade of a saw differentiates it from an axe or a knife. The teeth used are vital to this, and they can be configured in different ways – some will be better at cutting certain types of materials, like wet wood, while others will be much better for dry wood. The tooth configuration will usually be measured in teeth per inch, and as it goes up, the finer the saw gets. Fine teeth may be good for stubborn materials like fabrics and softwood, but under stress, they are prone to break.
Dimensions And Weight
Naturally, when you're taking something out hunting, camping, or backpacking with you, you will need to consider how compact it is. Especially if you have bought it to be a portable last resort option, there is no point in buying a huge tool that folds if you just need something small for your pocket, like a pocket chainsaw, for example.
Type Of Saw
When talking about tools for the home and garden, there are dozens of different types of saws, but only a few of these have a folding variant. Bow saws are one type, these usually have a bowed metal design with a long, thin blade, and they have the bonus of easily replaceable blades. They are primarily used for chopping down trees.
Pruning saws are more likely to be small and are designed so that you can easily remove unwanted overgrowth or branches. Hand saws have a handle on one side and a blade on the other. And while they may not look like a typical saw, the core principle is the same.
Straight vs. Curved Blades
Straight or curved blade – this is also a very important question because different curvatures offer different capabilities. Straight blades are better suited for bigger tree trunks or branches and even bone and PVC. When looking for something to prune smaller branches, a curved blade is easier to get into the area for the cut, and this is the same for trimming bushes, where a curve will over you more flexibility.
What Are the Typical Uses
The type of saw you buy will also be dictated by knowing where and how you wish to use it. If you are going hiking and think you might need to cut away different areas of overgrowth, a smaller pruning or hand saw is for you. But if you chop smaller branches and trees, a folding bow saw might be a tad bit better.
On the other hand, a camper will want a small folding saw that can do a little bit of everything. All areas of bushcraft and landscaping have their own uses for folding saws, so it is worth considering the size, shape, and density of what you plan to cut! You should also think about the conditions of the place you are going to use your saw in. Will you be using gloves? Will it be hot and humid? All of this can play a major role in your final decision.
Materials Used In The Design
Not all saws are created equal in terms of the quality of the materials. Stainless steel blades are usually the norm, and sometimes they are even heat-treated for even more durability. The frame material is also a very important thing. Most of the time, it is aluminum, which is very lightweight while still being extremely durable.
Handle And Grip
The handle and grip need to be comfortable, especially if you will be using the saw a lot. The comfort factor isn't the only important thing, though, as having a good grip even in harsh conditions is crucial. Some models have enhanced grip that gives you contact even if it's wet outside or your hands are sweaty.
Cuts On The Push Or Pull?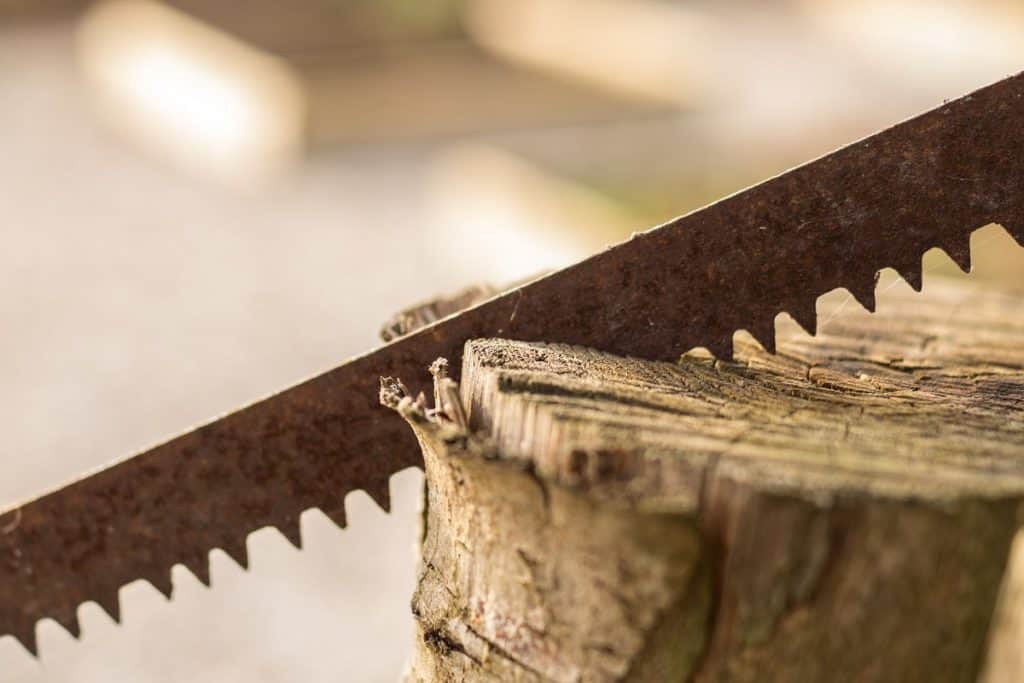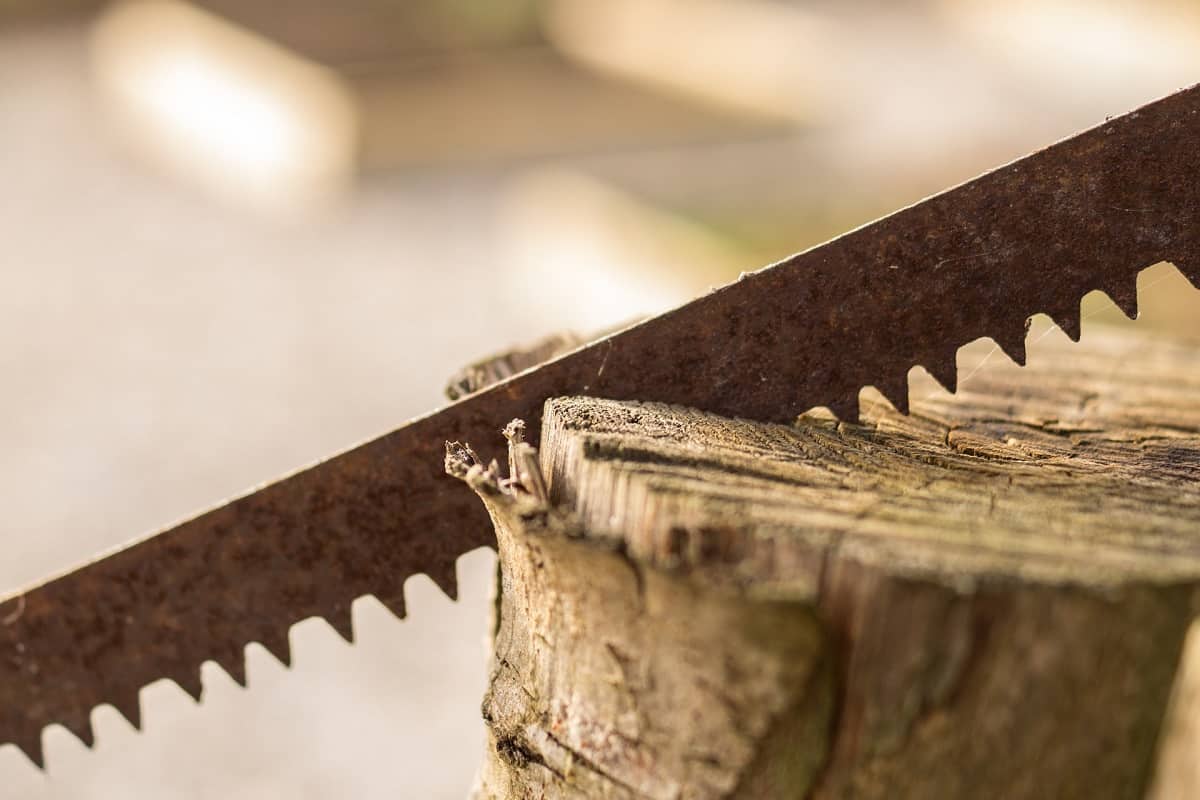 Saws can be push or pull strokes, but most only cut on the pull. This allows the blade to be thinner while still having enough power and durability to cut even thick wood.
It also gives more control over the cut and produces more precise strokes, which are perfect if you need a straight line.
Saws that are both push and pull allow for faster and more efficient cuts, allowing you to cut down even the biggest of trees, but they aren't as precise. For a beginner, it is better to use a push-and-pull saw because the pull-only ones require no pressure at all, and for a newbie, it can be easy to forget that.
Locking Mechanism
At first glance, it seems trivial, but you should always pay attention to the locking mechanism of the folding saw because having a lock gives you a lot more safety, even though they are some people who hate having to push the unlock button each time they grab the saw. In my opinion, this is a very necessary annoyance.
Replacement Blades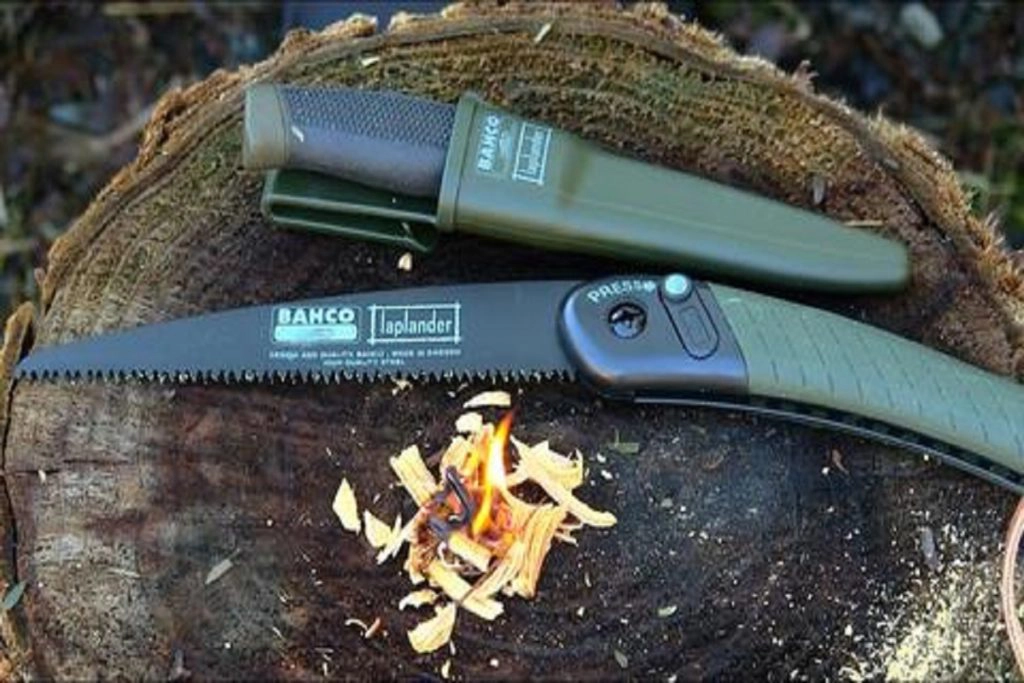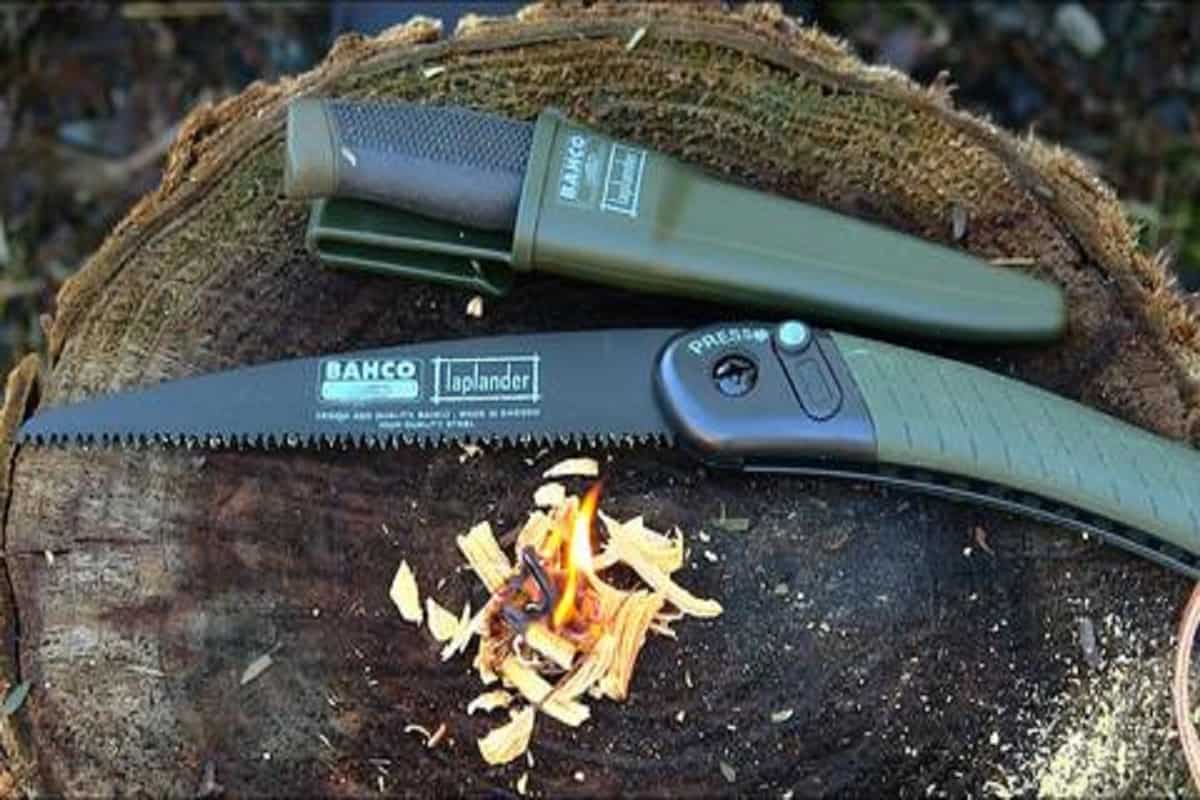 This is a very important category because no matter how quality a blade is, there will come a day when you need to replace it. And when that day comes, and you realize that they are too expensive, a good deal on a saw at first may not seem as good now. And if you aren't too good at maintaining and sharpening the blade or even repairing a bent one, expect to do it often. As such, check the price of a replacement blade first.
Frequently Asked Questions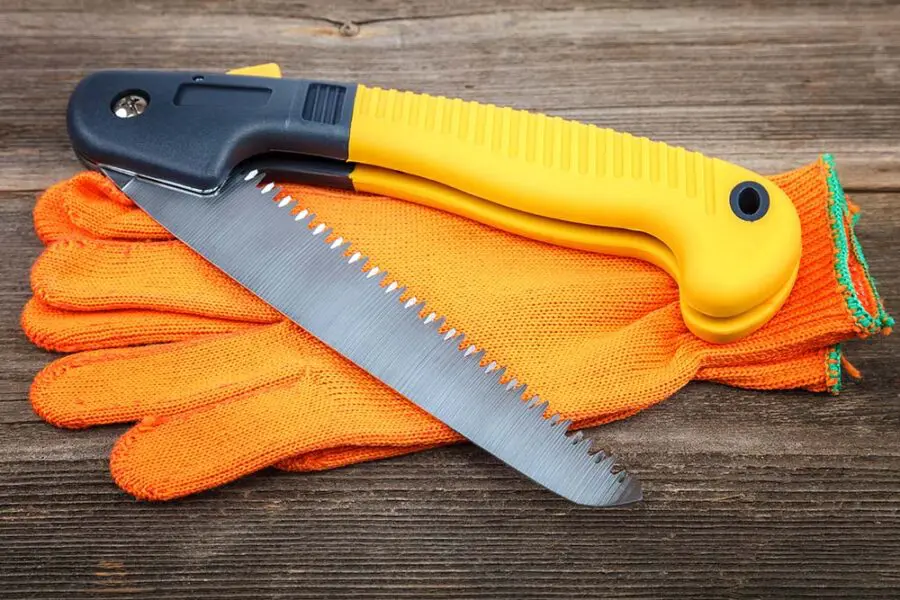 Why Choose A Folding Saw?
There are many reasons to get a folding saw. Having a saw is extremely useful for any kind of outdoor pursuit, from hunting and DIY butchering to clearing paths in the forest or during a hike. A saw will come in handy in a dozen of different situations, no matter if you are a seasoned camper or a newbie who is just getting started.
However, if you take a saw with you when going out and about, you will be doing something very stupid, except in one case. And this case I'm speaking of is by getting a portable folding saw, which allows you to take a saw without the cumbersome nature that a regularly sized one has.
Some are even small enough to be used as pocket-sized tools. Whether you will need a folding saw for doing some backyard work or as a part of your bushcraft gear during a journey, an ax won't be able to perform nearly as good as a saw.
Can You Sharpen A Folding Saw?
The blade of a folding saw may become dull over time, which results in a rough cut. A dull blade can also slow down your work or be more dangerous to use, so maintaining it properly is a must if you don't want to change the blade every other month or so.
Although many hardware or outdoor shops offer professional sharpening services, doing it alone at home isn't as hard as you may think. Tightly clamp the blade into a vise and simply use a small metal file or grindstone to sharpen the blade. The key is to sharpen only the beveled edges and not the flat ones, and that is also a pretty easy task, just sharpen every other tooth.
How Do I Clean A Blade That's Covered In Resin?
Using your saw to cut trees, you'll inevitably get some tree sap on it. The best way to clean blades is surprisingly the same way you shower – with soap and water. Most solvents will eat away at the blade, so stay very far from them
You can use a mild cleaner, though, like an oven cleaner. If you do, spray it on, let it sit for ten minutes, and then use a brush to scrub off the resin. If you don't know how mild the cleaner you will use is, it is better to stick to the good old soap and water.
Cleaning the blade is a dangerous task, so wear protective gloves to avoid unnecessary injuries. Also, after you are done, don't forget to spray it with some WD-40.
Can I Replace Or Sharpen The Blade?
You can replace many blades, and most of the products mention whether they come with spares or if spares can be purchased. Bow-style saws are usually the simplest to replace the blades. Sharpening is more difficult due to the serration, but it is possible.
Are Curved Or Straight Blades Better?
Though neither is better, some prefer curved options for pruning or reaching difficult areas to cut things. Straight blades may be more effective for basic uses such as cutting through a wooden branch or for more precise cuts.
Final Words
Like all choices, choosing the best saw for you won't be such an easy task, no matter how you look at it. You need to account for different features, ranging from its curve to its cutting capacity and preferred environment. Not to mention that it needs to be comfortable and compact enough for your needs. And now, what seemed like a simple tool at first is as complicated as 10-grade chemistry.
Any of the items on the list will do you good, no matter which one you choose, but in my opinion, the Laplander takes the cake, followed by the Boreal and SOG at the close 2nd and 3rd positions. But even if you don't like these particular models, with the knowledge that you gathered by reading this article, you can safely choose a saw, whether it will be for pruning or bushcraft, and be happy with your choice.