Casual survival, not the life-dependent one, is as simple as a first-look activity but a complex system at a second glance. There are many, no, countless, things you need to account for, like food, hydration, shelter, and many others. But today, we will be focusing on the shelter and heat parts. The main ingredient to keep those two things in check is wood, and what is the best way to acquire wood?
Some people may say an ax, but an ax is a very heavy and cumbersome thing to carry if you have a knife already. The best tool for getting some wood is a chainsaw, or more specifically, a pocket chainsaw. So, let's get right into what makes the best pocket chainsaw and the top models on the market.
1. SOS GEAR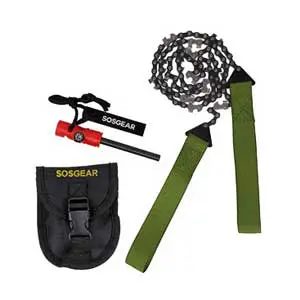 The best survival list is the one that is ready for anything, and with the SOS Gear, you can be ready for any situation in which you'd need to cut some logs. Whether it is for getting firewood, removing debris and clearing your path, or getting material for your shelter, this pocket chainsaw will be an excellent companion.
You get your choice of chain length: 24 or 36 inches. And it comes with a pouch to carry it in, which matches the color of the durable nylon handles. Overall, the chainsaw is light and durable, making it easy to be used. But beware, because even if this is a very nice model, there have been numerous customer reports of dull blades out of the box. And while they can be sharpened easily with a chainsaw file, having a product shipped like this isn't very nice.
2. Nordic Pocket Saw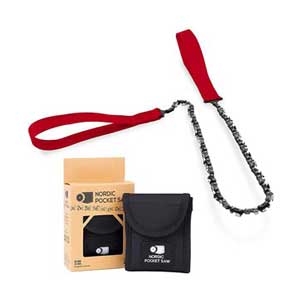 What makes the Nordic Pocket Saw special? This is an easy answer – Nordic is focused on three core principles – being as lightweight as possible, using only the best materials to reduce weight, being powerful with a durable construction, and being portable, which they achieve with an easy folding process.
On every major link, the Nordic has a double-sided tooth to make the saw even more powerful than it already is. When it comes to durability, the chain is made of heat-treated carbon steel, which is perfect for blades that are specially developed for resilience under harsh conditions. The heavy-duty nylon handles are extremely durable and give a comfortable and safe feeling grip even in wet conditions.
Overall, with its excellent materials, durable construction, and sleek look, not to mention the numerous awards that it has won through the years, this pocket chainsaw is maybe, if not the best, one of the best models that you can find right now.
3. Loggers Art Gens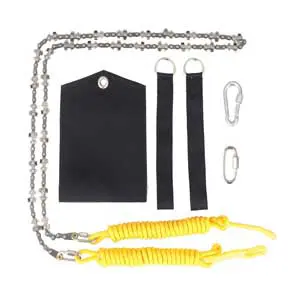 With its 62 Sharp Carbon Steel Teeth, The Loggers Art High Limb Saw has an Upgraded 48 Inch Chain with a bi-directional design for an even more accurate and fast cut. But that's not all because you also get two emergency ropes with nylon handles and a heavy-duty pouch that will keep the chain secure when you are not using it.
It cuts high limbs safely and easily from the ground. With the bi-directional teeth, both stroke rotations will do an excellent job, so it is perfect for camping, field survival, hunting, backpacking, and even gardening. Loggers also offer a 30-day money-back guarantee, and with their excellent customer support, you will leave very satisfied with this pocket chainsaw
4. Homyall 24″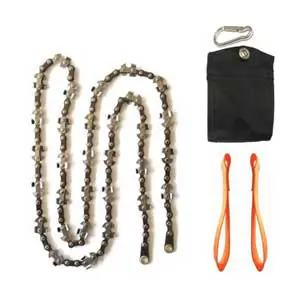 The Homyall 24″ Pocket Chainsaw has teeth on every chain link, meaning it has about three times the teeth of most other saws. As you may know by now, more teeth means more cutting power, and more cutting power means that you will be able to do your job in significantly less than with a normal saw.
If you're going to be doing a lot of cutting, you'll appreciate how much time this saves you. The Homyall also comes with a belt case, which means that you have an easy way to store it and access it simultaneously.
Unfortunately, its low price has a huge disadvantage – it doesn't have a warranty, so if it breaks, you're stuck with it. And with the fact that it doesn't have any replaceable parts, if something goes wrong, you have no other option but to buy a new one. So if you want something very cheap, this is the way to go, but in my opinion, you should stay away from products without a warranty.
5. PockeTech 48″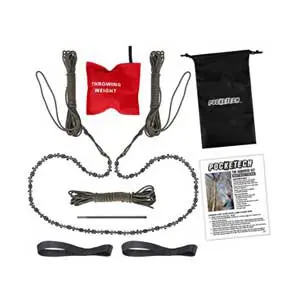 This PokeTech 48″ kit proves to be an invaluable package for anybody who needs a highly versatile and effective cutting tool wherever you go. The double-sided chain makes it extremely efficient and easy to land properly.
The newer model has Improved Ropes and a Throwing Weight Bag, but that's not all there is in the kit. There is also a very nice Blade Sharpener, Ropes, Throwing Weight Pouch, Extra Handles, and a Carrying Case.
With its long chain, you can cut limbs at 25 feet or add more rope if you want to go even higher. The whole kit is very small and lightweight, so it is extremely easy to carry wherever you go. And not to mention that with this amazing package, you also know that all the proceeds will go to charity, and even if that's not really a feature, it's a nice thing to have.
6. Skyocean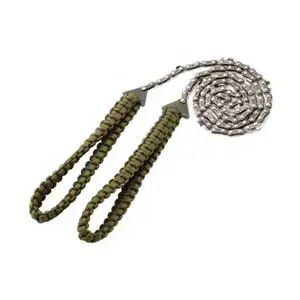 The Skyocean saw with has a total of 11 sharp cutting saw blades that help you to do any cutting work not only faster but also smarter. These blades are designed in a self-cleaning style, so you do not have to remove the small leaves and branches after every use.
It is a lightweight, versatile, and flexible chain saw perfect for almost any situation, from hiking to garden work. So if you are a camper, hunter, hiker, backpacker, or outdoorsman, this tool will be an amazing addition to your gear.
The Skyocean uses industrial-grade heat-treated steel that has been used to make the chain even more durable. The handles are nothing to sniff at, too, because it uses reinforced paracord for even better grip and uses. The premium materials aren't all the saw has hough.
The length of the paracord handle is enough to reach even the highest branches of any tree. The steady but flexible bi-directional motion of this chain saw will let you cut anything from small branches to large tree trunks and overhead branches easily. There is also a nice pouch for when you aren't using it.
The only major con that this pocket saw has is the fact that the self-cleaning teeth are only on one side, so you need to think before you start using it. But even if something happens, the saw comes with a pretty long warranty, even if it's made in China. Overall, its features and a reasonable price make this saw an excellent budget pick.
7. The Croc Survival Eat Wood 3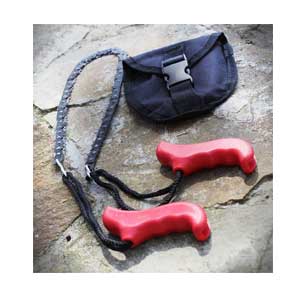 The Croc Survival Eat Wood 3 is sharp, durable, and an excellent choice if you're going camping. And you may get where its name comes from – the ultra-sharp teeth of a crocodile. And to be honest, the name is justified.
The Croc camping chainsaw has a 21-inch chain (36-inch if we include the handles), and a new and improved design gives you three times faster cutting time. It also features over 92 sharp teeth, a comfortable handle, and high-quality steel construction. The package also includes a convenient belt pouch for storing the pocket saw and even a 60-day guarantee.
The chainsaw can cut even a 3-inch dry oak tree in a matter of minutes, and combined that with its lightweight and amazing sharpness, you get a very feature-rich product. Even with its not as durable link system, the pretty good feature set and middle-of-the-range price make it a perfect choice for someone who doesn't want a budget but still doesn't have enough money for the high-end models.
8. SOS Gear Saw & Fire Starter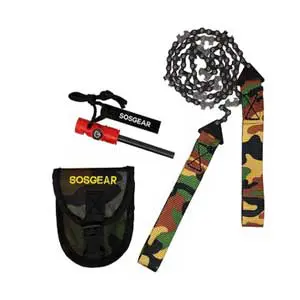 Yes, that's right, you actually can get a pocket chainsaw and a fire starter in one. The SOS Gear is more appealing than most other models by being a whole survival kit rather than just a single tool.
For starters, purchasing this model comes with an emergency whistle if you are in a really dire situation, Flint Ferro Rod, a compass for fire starting and navigation purposes, and all that is wrapped up in a nice camo pouch.
The lightweight and compact nature of the saw means that carrying it, and by nature, the whole survival kit will be as easy as possible and not remotely a burden. And what good does a survival kit give you if it is too cumbersome to wear?
A rare feature that this model has is its flexible nature, giving you the ability to choose between a more compact 24′ and longer but more useful 36′ version. The only con about the chain is that it is much smaller than advertised, but in some cases, that can be a good thing.
Overall, the SSO Gear & Fire Starter is a very good all-around tool that has some goodies inside that justify its a little bit higher price nicely.
9. Justech Pocket Saw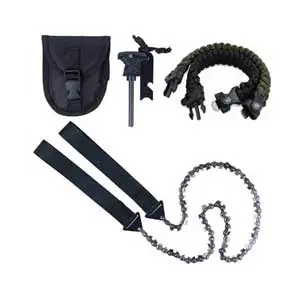 The Justech pocket chainsaw uses a 24′ serrated 33 pcs chain to ensure that even the thickest and tallest of trees won't be a challenge to you. It is made out of 65 Manganese Steel, and the handles use a thick nylon weave, so you have a set of two very durable materials. The whole construction makes the Justech product a tool with low vibration and high precision that can stay sharp and durable even after prolonged use.
But when you purchase it, you don't get only a chainsaw. You also get a pretty nice paracord bracelet that gives you even more flexibility and an excellent firestarter for the direst of situations.
The carrying pouch that comes with the saw makes it easy to be transported and a compact tool that you will be carrying without giving it much thought. Overall, it may not be rich in accessories or features, but it presents an astonishing level of quality for its price.
10. The Sportsman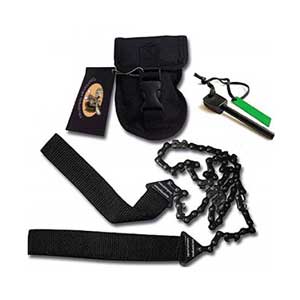 The Sportsman saw is handy, and practical, and suitable for any homeowner or hunter. It cuts quickly and softly, without requiring much force, making it perfect for survival situations where preserving energy is priceless.
The Sportsman model features a 36-inch long chain, high-strength, heat-treated steel construction, bi-directional design, which is perfect for fast cutting, and heavy-duty, rugged handles with metal brackets for additional grip.
Another great feature of the Sportsman is that it comes with a nylon front-snap carrying case, and you get a magnesium fire starter as a bonus. You need a regular 5/32 chainsaw file to sharpen, but that isn't much of a problem when you take in the fact that it has a lifetime guarantee.
This model can easily cut even a 12″ log in about 2 to 3 minutes and then be put back into its compact nylon pouch, where you can put it into your rucksack like it isn't even there. There have been countless reports of the company's excellent customer support, which is an amazing bonus.
Overall, with its excellent construction, lifetime warranty, and even an included fire starter, this chainsaw is maybe the best one, and this isn't without reason.
What Is A Pocket Chainsaw?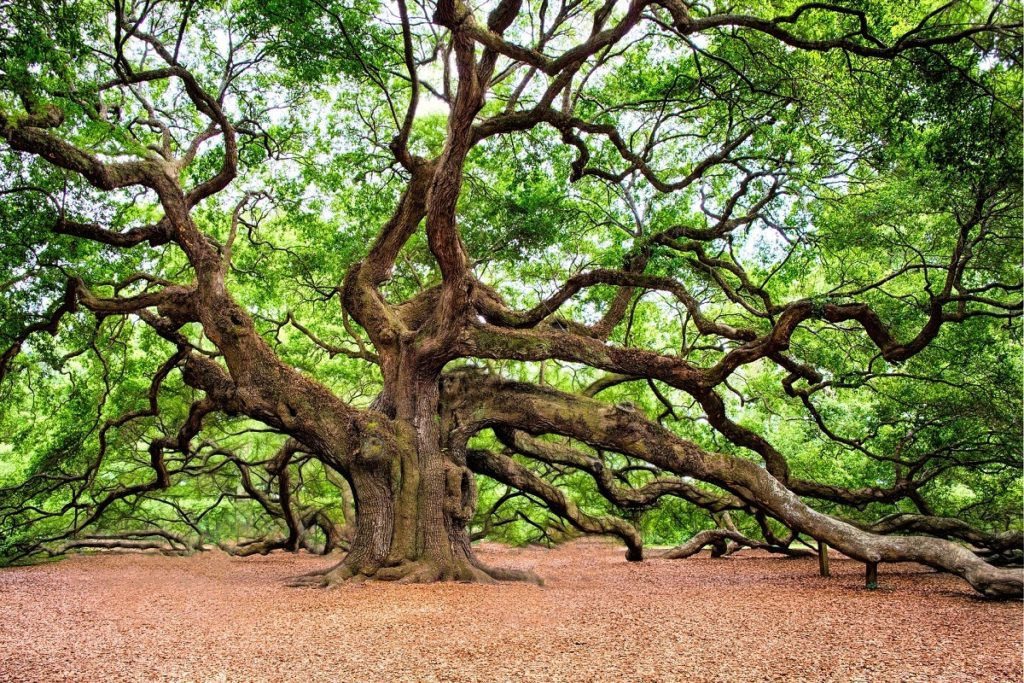 The short answer is: It's a chainsaw you can slip into your pocket, but the longer one is a bit more complicated. At home, you probably have a powerful tool in the face of a chainsaw that can cut through almost any plant, from bushes to trees. It just needs to be held steadily, and that's it. But they aren't very well designed for travel, because not only do they require fuel, but they are enormous and heavy.
Pocket chainsaws are so small that you can put them into a small case and your pocket to take with you. They are ideal for bush crafting, too, as you don't need gasoline because, with its manual nature, you are the fuel source. This, itself, makes it even better than a normal saw because it requires less accuracy and effort, and it doesn't have as many limitations.
How to choose?
Before we get to the models themselves, let's examine a very important topic – the key features that make up a pocket chainsaw. While on paper, you can buy whatever you find first, which will do you a good enough job, but if you know what to look for, you will have an even better experience with your new purchase.
Weight
Carrying as little as possible while it is crucial to survival, so look for pocket chainsaws that utilize lighter and stronger materials that won't be too cumbersome to use and carry.
Handles
Most models are equipped with two nylon handles on either side, and they are a comfortable choice because they give more leverage than plastic ones. The best ones, though, are paracord ones, which will have many more features, as paracord is one of the best nylon materials for survival.
Blade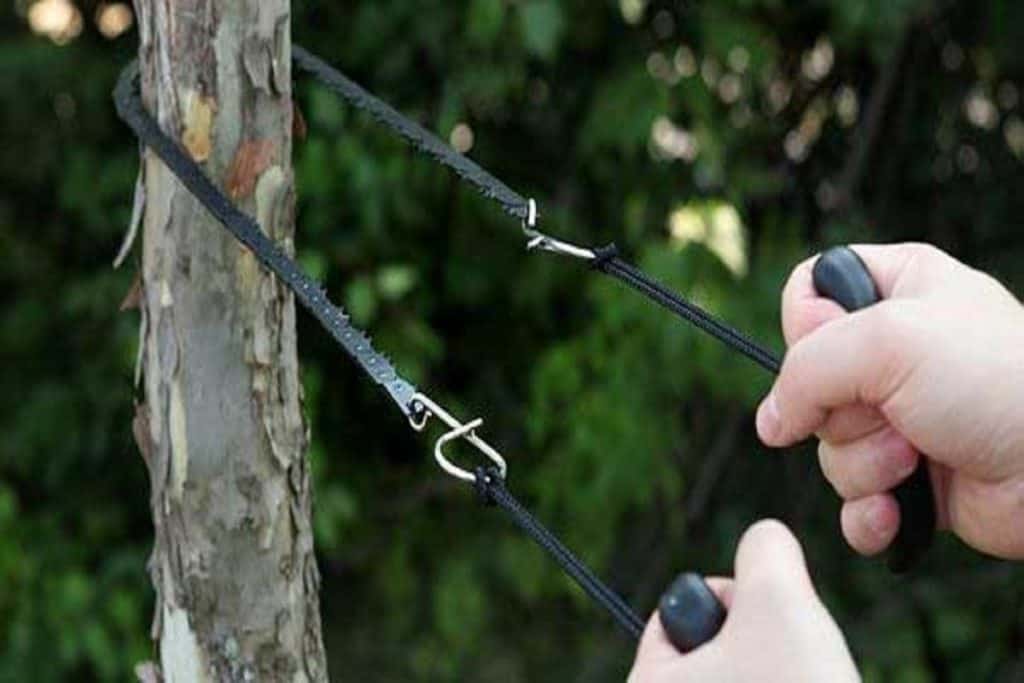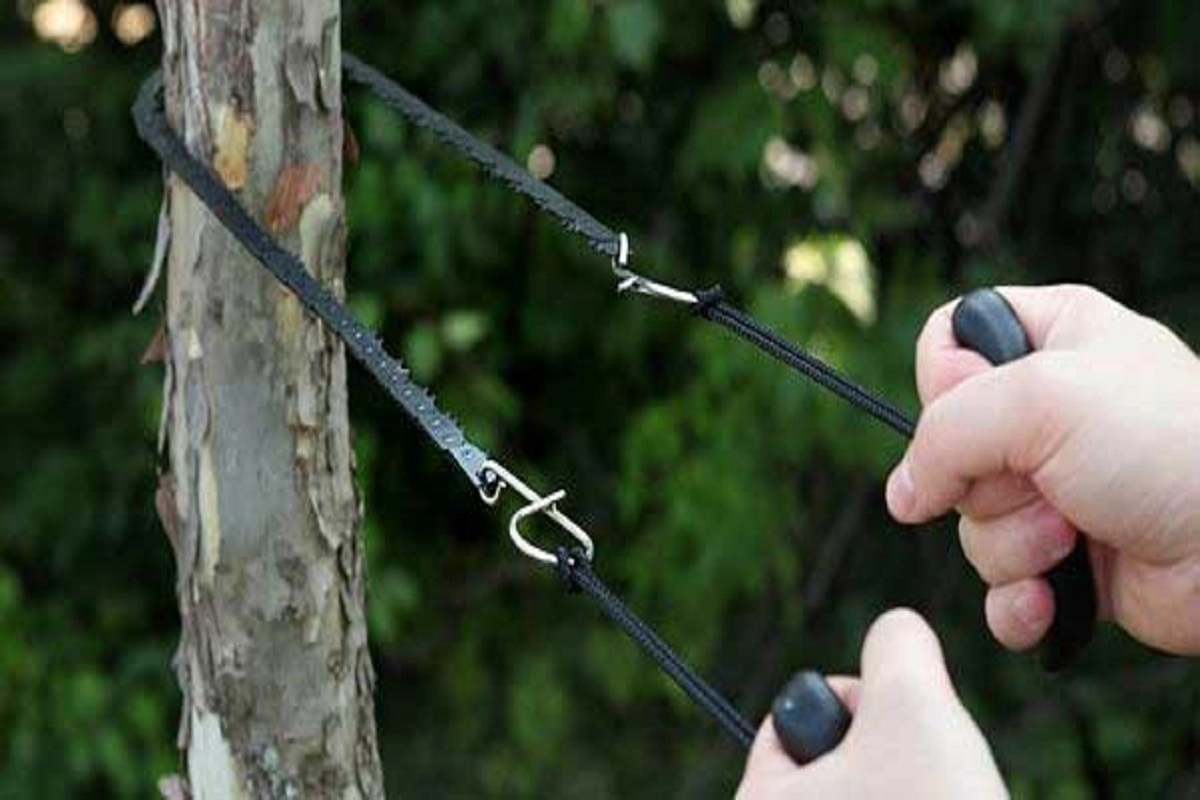 Avoid at all costs pocket chainsaws that use straight teeth like the ones you will find on the traditional saw. You should always look for bi-directional ones like on a typical chainsaw, not only because they will be more durable, but they will also cut through wood faster.
Case
The case is a very important thing, and you should always look for one that will protect both you from the chainsaw and the chainsaw from you. It should be durable but also easy to open and clean because these chainsaws can get really dirty.
Frequently Asked Questions
What Is The Maximum Length Of The Pocket Chain Saw?
Pocket chainsaws are at least 24 inches and, at most, 36.
Do I Have To Purchase The Carrying Bag Separately For My Pocket Chain Saw?
No, most of the time, the manufacturer includes a pretty nice carrying case that is tailor-made for the tool.
Do Pocket Chain Saws Require Maintenance?
Most of the time, you can go without much maintenance, but if you clean and oil it regularly, it will serve you much better in the long run.
Final Words
At the end of the day, carrying a compact and lightweight pocket chainsaw is a much better choice than any survival hatchet or ax out there. So now that you know what makes them so good and how to distinguish the good from the bad ones, and even what are the best models on the market right now, you will be able to get yourself an excellent companion for all things wood related on your next adventure trip or even an emergency.
Related pages: