Nature is a very kind but extremely unforgiving entity that won't hesitate to make your life miserable if you aren't prepared. You can bring tools, food, and water, but most of the time, you will forget to bring something to protect you from the cold and wet rain. But a survival poncho, a truly multifunctional and invaluable item, is something that you will always have on you after reading this article. So without further ado, let's get right into what makes a good poncho and some of the key features you will need to look for.
How to choose a poncho?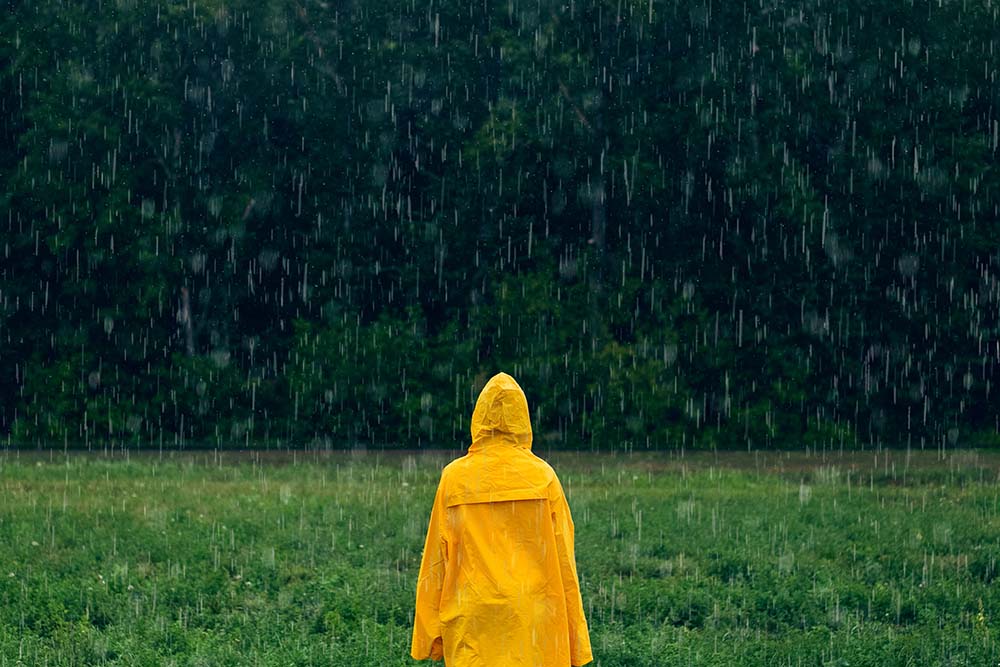 How to choose the correct size and weight?
It's important to get the balance right when it comes to a poncho's size and weight.
Most ponchos utilize a one-size-fits-all design, and they are always a little bit loose, so most of the time, you won't need to worry about it, but if you are looking for one for your kids, your better option is something specifically made for kids.
Тhe best case scenario is to find a product that can protect not only you but another person too, while still remaining pretty lightweight even when packed. If you are traveling alone, though, choosing a smaller model is a better option, but do keep in mind that the bigger ones have more functions. The really best ones, though, will focus on only one thing – making a product that has a large set of different features that retain a lightweight construction.
What is the best color?
While for most other products, color is just a cosmetic option that is irrelevant in the end, for a poncho made for survival, it is something extremely important. While you can't predict the exact place where you will need one, there are two main color groups that correspond to what you will be using it for.
If you are running away from a crisis or a war-like situation, your main priority is to hide, so the best option is to go for a light-colored or a camouflage one. This way, you will be able to blend in with the background much more easily than with a bright red one.
But if you are lost in the wild and your intention is to be rescued as soon as possible, having bright clothing is the best way to be noticed as fast and as easily as possible. A red or a neon-colored option is the best way to get the attention of a rescue theme even when it gets dark, and you are far away from them. In my opinion, if you have the budget, get both a bright and a camo one, to be prepared for any situation.
Build Quality
When it comes to finding a good poncho, you'll need to get something much better than just a thin nylon piece. While PVC is great at repelling most of the unwanted harsh conditions of mother nature can present at you, it isn't the most breathable material, so for prolonged use, you can start to get sweaty and uncomfortable.
PU-coated nylon is a sensible option, as it is known for its waterproof properties. Оn the exterior, we have comfortable and durable nylon, while on the inside, there is a waterproof polyurethane to protect you from both rain and snow. But at the end of the day, they have the same core problem as PVC ones – low breathability.
For arguably the most lightweight option, cube fiber is perhaps the best material to look out for. It combines plastic mylar with other fibers to make sure you have the lightest fabric possible. It isn't on the cheap side, though, so not anyone can afford it.
Many models will use silicone nylon or silicone polyester for both a tough and waterproof design. For an affordable and durable product, these options are the best middle of the road you can find.
Should you get a disposable poncho or reusable?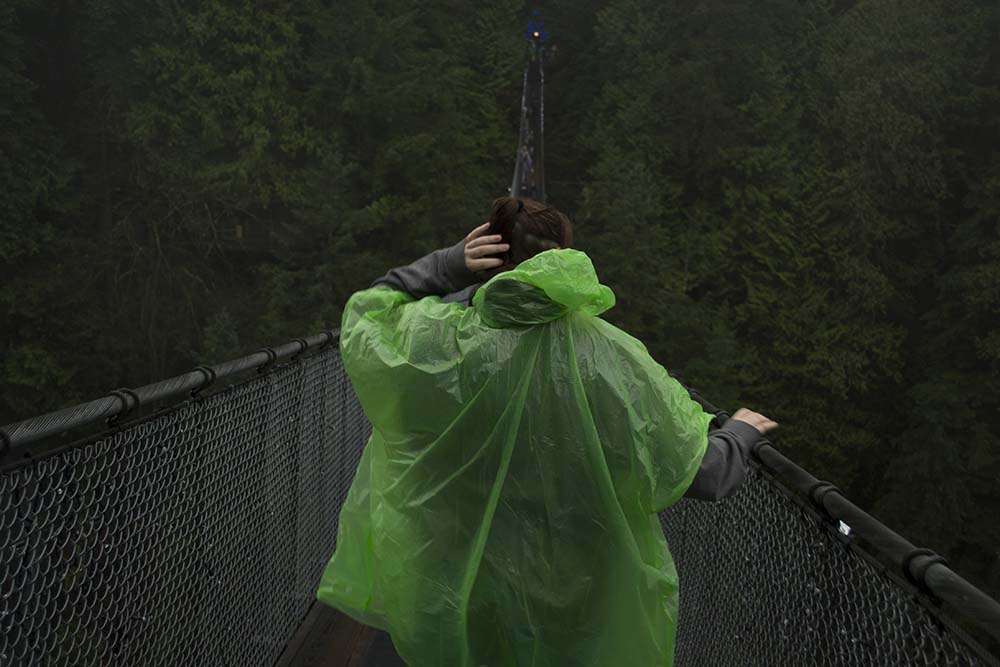 While up to this point, we have discussed mostly long-lasting models, a disposable variant is something worth considering. They are the perfect choice for a lightweight survival kit where you need as much space as possible, and you don't need the quality of a long-lasting poncho.
They differ from most other survival gear, and here is the case yet again. For a survival knife, for example, it is best to be durable and rigid, but in most cases, a disposable one will be an amazing option because even if something happens to it, in the pack, there are probably 20 more.
In the pack, they not only come in large numbers but in different colors, too, with a clear one always included, and with a little bit of maintenance, they can last you a lot.
What to consider about waterproofing?
If your fabric isn't waterproof, then why do you even have it?
Many of the best models out there have watertight construction to keep even the smallest of moisture away. You should look out for ponchos with taped seams as they keep the water out even better. And you should also try to find one that has a hood because the head is the most important area of your body.
What Is The Best Survival Poncho?
Let's take a look at the best survival ponchos on the market today and see if any of these excellent products will be the right choice for you:
The Coleman Rain combines its reasonable price with a good set of features that result in an end product that manages to check all of the needed boxes.
Unlike most other models on the market, it strays away from the traditional PVC construction and uses 15 millimeter EVA, and as a result, it is even more durable and wear-resistant. The different parts have welded seams, so when it comes to any type of moisture, you will be almost 100% protected.
Your head is also protected, with a full-coverage hood that can be adjusted using drawstrings. For closure, it uses a side snap enclosure, and with its versatile Grommets, it can fit almost anyone and be used for a variety of different tasks.
Pros
PVC free 15 millimeter EVA construction at the core
Welded seams for an even more watertight body
Full coverage and an adjustable hood to protect your head
Bright color perfect for emergency situations
Cons
Not very durable
A little bit expensive for what it offers
At only 0.68lbs, the Arcturus Reusable Rain Poncho is super-lightweight and it is ideal for almost any emergency or survival situation, as it packs in a very small and convenient carry bag that is included by the manufacturer.
It is a very versatile piece of gear and can be used as a tarp, emergency shelter, or even a groundsheet to help you stay as comfortable as possible. The Arcturus can be opened from both sides to access its full size, and if you need to tie it down, you have four steel grommets on each corner.
It is built from 210T rip-stop taffeta and coated with two layers of waterproof polyurethane. This makes it able to withstand a plethora of weather conditions, even if something unexpected manages to surprise you.
The hood is exceptionally large and deep, which provides ideal protection from adverse weather. And depending on the weather, you can adjust it anytime using the drawstrings.
The Arcturus is extra-long in size, so for most adults, it will be below the knee and even at boot level, and even in the most extreme of areas and situations, like a deep river or a flood, you will be extremely thankful for this extra protection.
Aside from the many different colors and styles the Anyoo comes in, it is extremely well built, and with its heavy-duty 210Tex nylon with PVC coating, you will stay dry and safe no matter the situation. It comes in a convenient carrying bag with a drawstring enclosure, and together they weigh only about 6 ounces.
The Anyoo rain poncho is rugged and resistant to tearing and abrasion thanks to its PVC-coated nylon fabric. It is rated at 3000mm, so rain protection is assured. And with a single piece construction and well-glued overlock, the waterproofing and water repellency are even better.
The hood has a drawcord, and together with its hook and loop fasteners, you can adjust it to your head and face better than almost any other product. The sides and the armholes aren't too tight, and thus you have nice ventilation and amazing comfort. And it is even big enough to keep not only you but also your backpack protected without restricting your movement. Or, if you need it to fit a little bit tighter, there are drawstrings to adjust the sides easily.
And with the included eyelets located along the hem as well as the hook & loop fasteners, you can use it for even more things.
Pros
Water-resistant and reusable
Made of durable, rip-stop material
Offers multi-use functionality
Lightweight and easily portable with the included storage bag • Has snap closures on the sides to deal with windy conditions
Cons
A little bit too oversized for its own good
Even though the hood is adjustable, it can be a little bit too tight at times
The Foxelli military-style poncho has the right mix of high-quality materials and functionality to make it the go-to rain gear for every outdoor activity. Whether going on a hike, on a concert, trying to survive an emergency, or just going out in rainy weather, this stylish product is an excellent choice.
It is available in a starry design, among other stylish and some more subtle colors.
Made of 210Tex polyester that has been waterproofed with a 3000mm polyurethane coating, this poncho provides the best cover in heavy rain and strong winds. The material is not only water-resistant but also extremely wear and tear-resistant, so you are going to get the most out of it.
Not to mention its big size, at around 100 to 60 inches, that will allow you to wear it even with a big 50 or 60-liter backpack. But that doesn't compromise its weight, because it manages to stay as lightweight as possible even with its huge size.
It can protect you from other outdoor elements when used as a sunshade, tent tarp, sleeping bag cover, or even as a camping blanket. The included steel grommets allow for quick form transitions and easy fastening.
The hood has a cap for extra protection and features a drawstring for quick and easy adjustments of fit. The sides have Velcro fasteners, so closing it in case of a strong wind won't be that hard.
Pros
Durable and relatively weather-resistant
It is made of high-quality, sturdy materials
Comes with a carrying bag
Lightweight and packs compactly
Multipurpose in usage
Has a capped hood
Cons
While the Velcro does actually provide a quick and easy way of adjustment, they aren't nearly as effective as buttons or snaps.
There have been many reports of not true to image colors on the end product and of it losing its dye pretty quickly.
Тhis raincoat from A – More is hooded, but with a simple zipper, you can separate the hood so that you can use it as a blanket for the grass or ground, a tarp for a shelter, or even as a fishing net.
It is extremely easy to carry with its lightweight nature and small size when folded. As it is waterproof and super durable, it can be even used for hiking, fishing, camping, and all of our outdoor activities without worrying too much about reliability.
Its size is somewhere in the middle of the road, but it is still big enough to protect both you and your large backpack, even in torrential rain.
Pros
Very durable made of quality materials
Super watertight able to protect you from both rain and snowstorm
Big enough for any task that you may want to use it for
Cons
A little bit too overpriced for what it offers
Not many colors that you can choose from
Many reports of defects
Too thin and made without much care for quality control
This poncho from Tebrion is designed to be big enough for almost anyone and be used for almost anything when folded out, but it is also made out of high-quality mylar that is not only very not only durable and tear-resistant but also pretty comfortable and thick enough to keep you warm in cold situations.
This set comes with two emergency raincoats and 2 EXTRA Large emergency blankets, which can also be used as backpack covers. It also has a large number of uses – emergency signal, shade cover, dust shield, sleeping bag liner, wind blocker, water collector, and many others. And there is a free e – manual if you want to learn more about its different appliances.
Designed for NASA space exploration, our durable dual-sided Mylar blankets are effective for retaining up to 90% of body heat and help to prevent hypothermia and shock, making them high-tech and better alternatives to almost any other material here.
Tebrion offers amazing customer support, and even if something is wrong with your product, even a small string, they will either fully refund or replace your product, whatever you choose.
Pros
Excellent customer support no matter the situation
Extreme quality of the materials used
Able to retain 90 of your body heat
You get four items for a very reasonable price
Cons
Pretty flimsy at times, not as durable as they look
Reports of missing blankets
Boasting of 10000mm waterproof rating and soft-shell fabric construction, you will want the Gloryfire Tactical to be your first line of defense against the sudden downpour.
Waterproofing is taken care of by the 10000mm WP-rated polyester/spandex shelling, and the seams are fully sealed-off for maximum effectiveness. Breathability and more so, the air permeability is rated at 6000gsm, which ensures that you're comfy and dry underneath.
The neckline design and double brims in the hoodie make sure that the water will slide off the hood and thus protect your face from any unwanted raindrops. When you're all done using it, it can be stuffed back into its front pocket for convenient portability and storage.
Pros
Heavy-duty construction.
Has an adjustable hood; cinched at the front and adjust at the back of the head.
Highly waterproof with fully-taped seams.
It offers generous coverage for you and your gear.
Extras; Velcro panels for ID, large grommets for hanging as a makeshift tent, and one-size-fits-all fitting.
Cons
It may be slightly beefy for an emergency rain poncho.
The snaps/cuff buttons are not strong enough to keep it closed in strong winds.
This set of three emergency blankets gives you all that you may want out of a survival poncho and even more. It includes two advanced dual-sided aluminum mylar blankets that will not only protect you from the rain but will also keep you warm.
Тhe other blanket is a gold-colored space blanket that is technically the same as the other two, but it is more orientated toward emergencies where you ant to be noticed more easily. The mylar is of the highest quality, being Military-grade 12-micron aluminized polyethylene, weight only 2 oz.
There is also a 100% return guarantee, so if something isn't up to your taste or standards, you shouldn't worry even a bit, because there aren't any complicated return policies.
Pros
High-quality material in the face of military-grade polyethylene mylar
Astonishingly lightweight and easy to open
Waterproof protecting you from any harsh conditions
Cons
Not very durable with some see trough spots
The crackly sound may give off your position and is annoying when trying to sleep
Standard ponchos can trap heat, making you hot, sweaty, and even wetter on the inside than the outside! The Huncho comes with front and back ventilation zips, allowing your body to breathe and stay cool.
The Huncho Hunting model is weapons-compatible with a waterproof pass-through zipper designed to protect you and your backpack even while your weapon is stowed away. You are also fitted with an external chest pocket for your binoculars and equipment and even a hidden inner chest pocket to keep maps and devices dry.
Durable, lightweight material that minimizes tears from outdoor snags or when sitting and lying down. Zippers are seam-sealed for increased water protection and double-layered lining for extra strength along with the six eyelets and four snap buttons on each side.
Pros
Front and back ventilation zips add a little comfort that is much needed
It has a gear pocket so you can use your weapon or binoculars while still being protected
Very adjustable and made for any shape and size of the body
Waterproof up to 5000mm, one of the class leaders
Cons
Very poor quality control
Large grommets
Hood is advertised to be compatible with caps, most of them don't fit
The SaphiRose backpacking poncho is stylish, made from a thin, breathable material, and popular among both men and women. Each arm is made with three different snaps for flexibility in adjusting and finding the perfect fit for you.
The SaphiRose is also available in a wide range of colors that customers like and is one of the best rated hooded ponchos you'll find for backpacking and the outdoors.
For an affordable price, this lightweight and soft model is a good investment, and the zip up the front is a very important feature when hunting or trekking that allows you to take it on and of very quickly without much more problem. It also has a nice and high neckline to keep water out of your face.
Overall this is a very portable, lightweight, and affordable product that fits nicely over your clothes in such a way that it keeps you warm while allowing you to breathe, thus allowing you to control your temperature by changing clothes. For its price, you can't miss out on it.
Pros
Very good looking and novel design
Super affordable for what it offers
Lightweight and compact
Cons
Numerous reports of sizing issues
It isn't sealed very well
Final Words
In this article, we've looked at some amazing ponchos, but one thing ties them all together – the fact that they will protect you from anything that you can encounter while out and about, no matter if its a little bit fo rain or a huge storm. While something more durable and long-lasting like the Arcturus is an amazing choice for someone who hunts or goes out trekking a lot, in my opinion, the formula that makes the best poncho is present mostly in the Tebrion pack, which offers you all the protection and features that you may want, at a fraction of the price and weight of the others.