Whether you have been planning a bushcraft trip or wish to prepare a bug-out bag, choosing the best camping tent is an important part of the experience. And as you might be using one more than once, we believe tents are one thing you should invest in. Surely, there are budget models that also exist, and we have thought about bringing them to you as well. However, remember that the tent will be your temporary address; therefore, it needs to be durable and withstand various weather and environmental conditions.
Furthermore, consider the ability to be not only a comfortable place to sleep but to store your belongings as well. We have made a list of the best tents, according to us, of course, that allows you a wide range to choose from and find the one that fits you perfectly. Considering the state of the world at the present times, you can never be too careful by having a home on the go. We have tested and tried products suitable for camping, bushcraft, and survival and created a list of the top 10 tents in all their glory.
1. Best Choice – MSR Hubba Hubba NX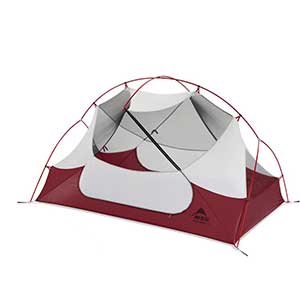 The Hubba Hubba NX camping tent is an award-winning model designed for the comfort and functionality of two people. It is created with a decent amount of headroom as well as comfortability and durability in mind. It is a 3-season camping tent, which is lightweight and has a design that speaks of style. The floor is 29 square feet long, and the interior height is 39 inches. The Hubba Hubba NX has two additional vestibules that provide extra 8.75 square feet on each side.
It also has two doors which makes it comfortable for gear storage. You have the opportunity to choose whether to buy the Xtreme Shield Waterproof Coating, which lasts more than 3 times the ordinary coating. The tent weighs 3.5 pounds, and without it – only 3 pounds. Furthermore, it comes with a 3-year warranty, which is fantastic should there be a manufacturing issue, you could always replace it.
The Hubba Hubba NX comes with four pockets – two large ones at the head and foot ends and two small ones at the apex of the doors. The zippers of the doors are much easier to unzip than in usual tents, and the canopy fabric creates high-privacy panels, which could be both beneficial and unfortunate.
Pros
Water-resistant Material
Durability
Peak Heigh Space
Lightweight
Easy Set-Up
Cons
Smaller Fly Doors
Challenging to Set Up Rain Fly
Higher Price
2. Coleman Sundome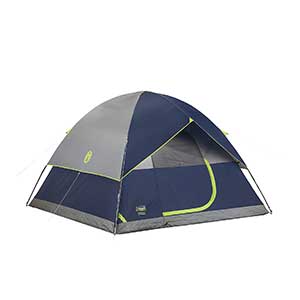 The Coleman Sundome Tent is a 2,3,4,6-person tent, which is designed for quick and easy setup. The tent is perfect for warm weather as it has large windows and a ground vent that pushes the air up and out for functional ventilation and lack of stuffiness. Furthermore, it has a WeatherTec system with patented welded floors and inverted seams that ensure you stay dry if the weather turns rough.
The frame of the Coleman tent has Insta-Clip pole attachments which assist in withstanding wind. There is also a rainfly included to keep the rain out of the tent, and the fabric is extremely thick for easy use despite the season. There is enough space in the room for a queen-size mattress, and there are built-in storage pockets for organized living. The Coleman Sundome comes with an e-port which makes it easier to bring electricity inside the tent.
Pros
Highly Durable
Roomy Interior
Budget Option
Strong Frame
Cons
Small Sized Pockets
Could Let Water In
The Rainfly Leaves The Bottom of Tent Exposed
Heavily Sloped Walls
3. Gazelle 22272 T4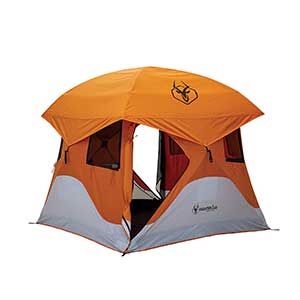 The Gazelle 22272 is a Pop-up camping tent that is suitable for four people or a family. This particular mode is fantastic, as it is one of the quickest ones to set up – you're done in under two minutes! It is resistant to wind, water, and fungus, so if this is something you're looking for, you should definitely consider Gazelle! Not only is it easy to set up, but it's also straightforward to pack up the tent and move on to the next location.
Furthermore, if you are the type of person who doesn't want to spend too much time setting up, instant tents are always the top choice. Plus, considering the fact you may be traveling with little children, the Gazelle would save you the hassle and worry of children running around while you're looking for poles and materials.
The shell of the Gazelle 22272 is manufactured from 210 denier oxford weave polyester, which offers resistance to ultraviolet lights. The floor of the tent is waterproof, similar to its shell. If you're a neat freak, that's okay, as the floor is removable, and you can get it cleaned up quickly and efficiently. The height peak is 78 inches which allow for standing up straight.
Pros
High Ceiling
Detachable Floor Panel
Removable Rainfly
6 Windows and 2 Doors
2 Min Setup
Cons
Weighs 30 Pounds
Fits Only 4 People
The Floor Isn't Too Big
It Could Get Tight If There Are More Adults
4. Coleman Cabin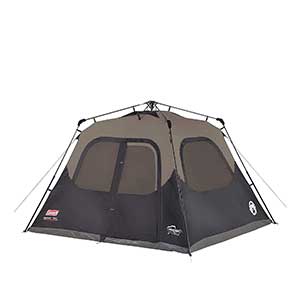 The Coleman Cabin Tent is another instant model for quick and easy setup. Because of the pre-attached poles, the Coleman Cabin goes up and down much faster than many other products on this list. In our opinion, it's the best choice for car-camping scenarios, especially for families. The Coleman Cabin tent offers options from 4 to 10 people; therefore, you can choose the one most suited to your needs.
It's perfect for people who don't want to mess around with poles and materials, and it goes up in around 60 seconds. The height peak is nearly 75 inches, and the tent itself is 90 square feet. Therefore, you can fit two queen mattresses inside without worrying about a lack of space. Even though you can fit 6 people, bear in mind you might be lacking space. There is also a floor vent in the back, which assists with overall ventilation.
The Coleman Cabin Tent has only one door, and it also has only two storage pockets, which are of decent size but not enough for many people. Unfortunately, any part of the tent which is not covered by the WeatherTec rainfly that Coleman Cabin includes might get wet fairly quickly.
Pros
Quick and Easy Setup
Large and Roomy
Ventilation
Durable Floor
Cons
Rainfly Isn't Top Quality
Could Get Wet Quickly
Only One Door
Lack Of Vestibule
Little Storage Space
5. ALPS Mountaineering Lynx 4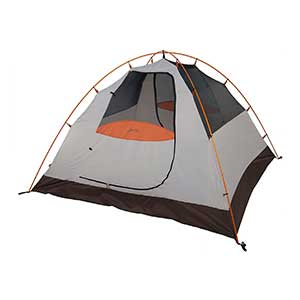 The Alps Mountaineering Tent is a dome-style tent with two doors, which is suitable for four people. It's free-standing and extremely easy to set up with its two aluminum poles making life a breeze. It's almost 9 pounds, so even though it's labeled by some as a backpacking tent, others might argue it isn't lightweight enough to deserve such a label.
The ALPS tent is a 3-season tent, and it's 64 square feet large and encompasses 52 inches height peak. If you're a tall individual and like to stand up straight inside the tent, this might not be the tent for you. There are 2 mesh pockets for storage and a gear loft that allows you to hang clothes to dry or put up lights. The body material hasn't been listed by the company; however, we believe it might be the same as the floor material, which is 75D 185T poly taffeta.
Furthermore, they propose a lifetime limited warranty, which covers manufacturing-related issues, should the situation occur. The ALPS Mountaineering tent is great for four people, and it's a high-quality tent that includes a UV-resistant fly. It's very spacious and makes you feel as if you're at home.
Pros
Quality Tent
Great Design and Construction
Quick Setup (10-20 Minutes)
Spacious With Two Doors
Lighter Than Most
UV Resistant
Cons
Not Big Enough For 4 Adults
Low Height Peak
The Poles Might Not Last For A Long Period Of Time
6. Coleman Cabin 6 People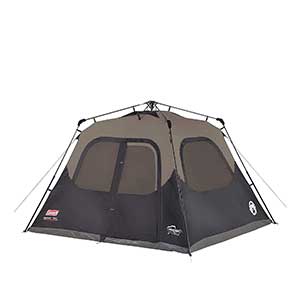 As you probably know already, the Coleman Cabin Tent is an instant, pop-up model that aims to set up in around 60 seconds. It's an affordable cabin tent that is suitable for mild weather conditions, with four side poles and roof poles to hold it strong. The darkroom technology incorporated in the Coleman Cabin makes heat control more efficient and blocks 90% of sunlight.
It's an extremely tall tent, which is one of the features we like about it. With a height peak of nearly 75 inches, standing up inside it is easy and comfortable. Furthermore, its ground dimensions are 10 x 9ft, which allows for 6 sleeping bags to fit inside; however, it will definitely feel cramped. It's a 3-season tent made of 150 Denier fabric, which makes it durable in a range of weather conditions.
It weighs nearly 25 pounds, and it comes with two vents and a one-year limited warranty. Furthermore, it has large windows, and it is a freestanding tent which makes it appropriate for moving around when it has been set up. It has only one door. However, it has a WeatherTec patented system, which means it has welded floors and inverted seams. It's a great choice for six people unless you are 6 adults, in which case you could get cramped.
Pros
Great Ventilation
Quick and Easy Setup
Can Fit Two Queen-Sized Beds
Spacious
Durable
4 Mesh Windows
Cons
Only One Door
Could Be Small For 6 Adults
Bulky For Carrying Because of Poles
7. MSR Access Lightweight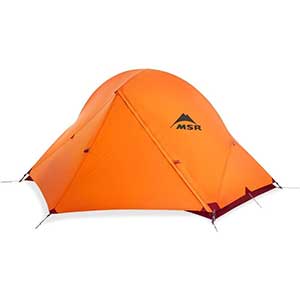 The MSR Access Tent is a 4-season tent designed to endure even in the harshest weather conditions. Therefore, if you are planning a solo journey through the mountains, the MSR would be a great option for you. It's a lightweight tent weighing 1.6kg, which is unusual for most winter tents and makes it our top choice for a single-person tent.
Furthermore, it offers a central frame that supports the tent during heavy snow; thus, it's durable and reliable. It comes with double walls, which are more secure, and it's made of an ultra-light fabric of 10, 20, and 30 Denier spread across the fly, walls, canopy, mesh, and floor. The fabric is DuraShield coated, and the floor is taped. The tent has one door and a couple of storage pockets, as well as a few loops to hang things around.
The peak height is 41 inches, and the floor space is 19 square feet. The double-wall structure would keep you warm in a winter environment. However, there is ventilation for warmer days. It is also orange in color, so if you are in trouble, it is easy to be noticed, especially in the white snow. The MSR Access tent is waterproof, and it's freestanding; therefore, you can check some worries off your worry list.
Pros
Freestanding
Lightweight
Suitable for All Season
Enough Space
Waterproof
Cons
Not Too High – Can't Stand Up Straight
Only One Internal Pocket
Not Ideal For Hot Weather
Pricey
8. Big Agnes Pumphouse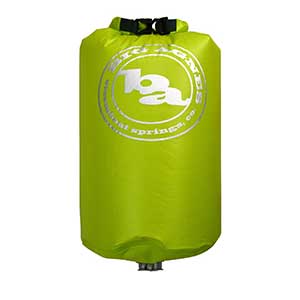 The Big Agnes Ultra Sleeping Pad Pump makes life easier not simply because it's extremely light but also because it's extremely fast to pump. What it does is it gathers large volumes of air which you can force into the sleeping pad. Not only can it be used for sleeping, but it can also be used as a pillow, a dry sack, a stuff sack, and more.
After a long day of hiking, it's ideal as it's quick and easy to use. Furthermore, it would be a great addition to a bug-out bag or an object great for survival and preparedness. It delivers rapid pad inflation, saving you time and energy. It's made from aviation-grade fabric, which also makes it durable.
It weighs 0.2 pounds, and its dimensions are 15 x 4 x 2in. It's fantastic with a Big Agnes Pad, and it's a budget option for those who don't want to spend fortunes. Unfortunately, you might also have to buy a tent unless you're planning on building a shelter or have found one.
Pros
Easy To Use
Quick
Lightweight
Cheap
Durable
9. ALPS Mountaineering Lynx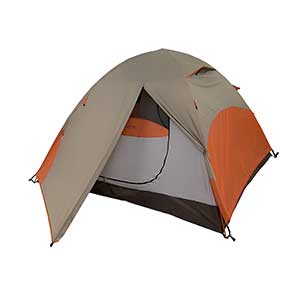 The ALPS Mountaineering Lynx Tent is an easy-to-use, simple and reliable tent with a freestanding structure. It is a two-person tent with a height peak of 46inches and an inner area of 37.5 square feet spacing. The ALPS tent is a freestanding, two-layered, full-coverage fly tent with two doors and two vestibules. It's a dome tent, and it's great for a couple, and they offer a solo version as well.
It also has windows, and it's generally a comfortable and airy tent. The windows do not give away your privacy as they are narrow. It weighs almost 6 pounds which is a bit much for a backpacking tent; however, it's not too heavy. The tent has 8 zippers, storage pockets, a gear loft, aluminum stakes, a guy loft, and two doorways. It's made of 75 Denier Poly Taffeta, and not only is it waterproof, but it also resists UV damage.
It is overall the best value tent, at a reasonable price for the lovely, quality tent you would receive. It's great for camping, as well as for survival in the wilderness.
Pros
Waterproof
Great Ventilation
Durable and Reliable
2 Doors
Gear Loft
Cons
Too Heavy to Carry for a Long Time
Heavy Rainfly
The Vent on The Fly Can Be Noisy In Windy Conditions
10. Kodiak Canvas Flex-Bow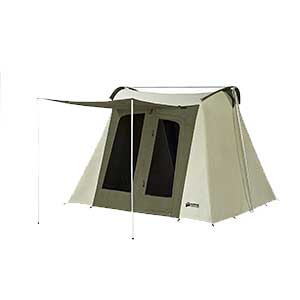 The Kodiak Canvas Flex-Bow Tent is extremely heavy and feels more like a cabin than a tent. And if we consider staying in the desert, we believe this is the one to choose. It weighs almost 70 pounds, which means you will need some manpower to carry it. Despite its weight, however, the Kodiak Canvas carries comfort and style with its 70 pounds of materials.
It's made with Hydra-Shield, 100% cotton duck canvas, which makes it reliable and durable, watertight, and breathable. At 78 inches peak height, it's comfortable to stand up tall without worrying that you might push it over. It has two large doors in the front and the back of the tent, as well as 10 zippers. It also has four windows; however, dust and sand are kept out of the tent.
The zippers are made as such to keep any weather outside of the tent unless the zipper has been opened. It comes with an attachable gear loft which makes it easier to keep the tent tidy on the floor. This is the perfect tent for desert camping and, overall, for really dusty areas. If it's raining and you leave the tent open, it will be filled with water, so make sure the doors are fully closed to avoid flooding.
Pros
Durable
Tall
Bombproof
Sturdy
Comfortable
Great Design
Organization Space
Cons
Extremely Heavy
No Separate Rainfly
Not Freestanding
How To Choose Your Tent?
There are a few things you should consider when shopping for a camping tent. The first one is sleeping capacity.  Whether you will be going on a voluntary trip or wish to be prepared for emergency situations, you must consider how big your group is. That means you need to think about the number of people that will need a space to sleep in while outdoors.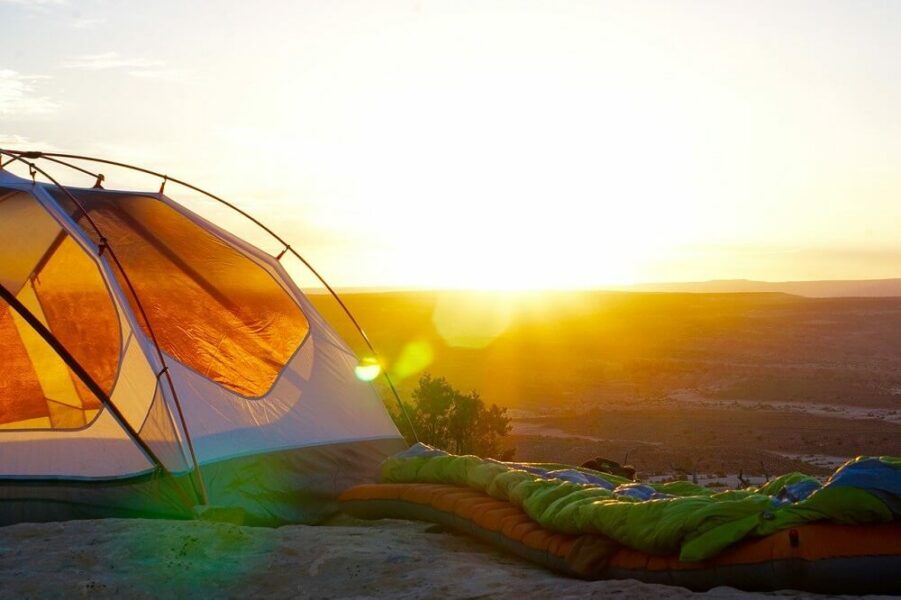 Capacity
Even if you are traveling by yourself, consider your dog or any extra gear that would need to be kept safe. Whenever you think about multiple people, remember that tents don't consider bulkier people; therefore, you might want to buy a tent for 4 people if there are 3 of you. That way, there will be enough space for everyone on the journey.
Seasonality
Another thing you should acknowledge is the seasonality of the tent. Some units are good for 3-season or 4-seasons. 3-season tents are usually the preferred option as they are extremely lightweight and are designed for the climate during spring, summer, and fall. They are usually equipped with ample mesh panels to improve the airflow inside, and they assist with keeping insects out. 3-season tents are also equipped to survive downpours and heavy rain because of the taut rainfly addition. However, they cannot survive snow, heavy wind, and storms.
The 4-season tents are designed to withstand heavy snowstorms and fierce winds; therefore, they can be used during any season. The main function of 4-season tents is to stand firm despite any inhospitable, unpleasant weather. What makes them different is the larger number of poles and the heavier materials used for their production. They are meant for secure refuge, so they are perfect for survival in the wilderness.
They have a rounded dome design that eliminates flat roof spaces so that no snow collects on top of the tent. Similarly to the 3-season tents, they offer mesh panels, which extend to the ground. This might create humidity in warmer weather, making the air feel stuffier.
Next, consider your personal budget, as some models can be more expensive than others, depending on their functionality and design.
Tent Designs
Dome
Dome tents are the most popular, as they are commonly used by 2 or 4 people. There are large, medium, and small models. Despite the large floor dimensions, dome tents tend to lack height, making it harder to stand up inside.
Cabin
Cabin tents are usually larger, which allows for standing up due to their higher peak. They are usually used by families, and the cabin tents resemble the walls of an actual room, as they are vertical. Some of them have windows and doors that seem as if they are not made of a softer material. Most allow for "room division," and funnily enough some are equipped with a closet. Cabin models can be used by up to 12 people.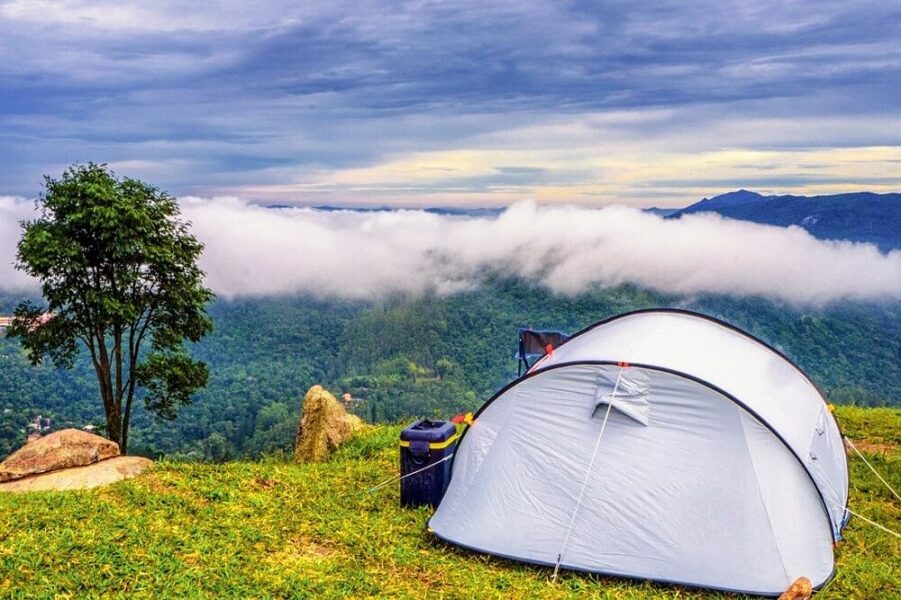 A-Frame
A-frame tents are for people who like old-school things or are nostalgic about the past as they were used way back in the 1950s. They are ideal for people who are looking for a more traditional design.
Tunnel
Tunnel tents have a uniform arch design. They offer enough space both vertically and horizontally speaking. They might be unstable in windier conditions. There is a variety of tunnel tent sizes on the market.
Instant
Instant tents are much easier and quicker to set up, made for people who don't want to spend too much time setting up their temporary shelter. The poles are already attached, which is fantastic, and it saves you the headache of attaching them in a downpour, for example. There are bigger instant models which would be able to fit a family of 4 or 5.
Backpacking Tents
Backpacking tents were created for people who would travel alone and carry their tents to the campsite. They are lightweight and easy to carry, even for a longer period. Even though they are mostly used by solo personas, backpacking models exist for 2-3 and 4 people. Usually, the lighter the tent is, the more expensive it can be on the market.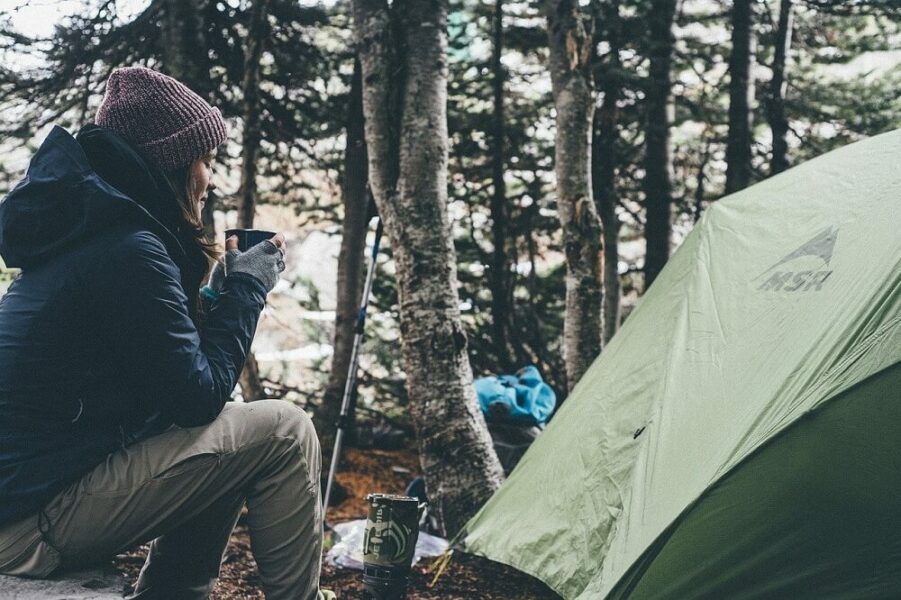 Functionality
Peak Height – Does the tent have enough height for a person to stand tall?
Floor Length – If you are taller, consider a longer model for you to be comfortable in.
Doors – How many doors do you wish to have? Does their shape matter to you?
Poles – The fewer poles there are, the faster it will be to set up the tent, and the easier it would be to move it around from spot to spot. Some tents have clips and short pole sleeves to balance strength, ventilation, and setup ease. Aluminum poles are stronger and more durable than fiberglass ones.
Rainfly – The rainfly is a separate waterproof cover that fits over the tent's roof. Whenever it starts raining, you can put it to use, or if you are colder and need some extra warmth.
Materials – Higher denier fabric and rain flies are sturdier than lower denier ones. Higher denier fabrics on the floor make it more possible to avoid leakages.
Ventilation – Mesh panels are used in tents' ceiling, doors, and windows. This allows for cross-ventilation to manage condensation. If it is hotter, go for models with larger mesh panels.
Interior Loops and Pockets – Usually, at the center of the tent ceiling, there is a loop meant for you to hang a lantern. Loops on the walls can help you keep things off the floor, and the pockets allow you to stay organized.
Frequently Asked Questions
Should I Get A One-Person or a Two-Person Tent?
Once again, it is a personal experience; however, if you are like us and like to have some extra space to move around, it might be best for you to rely on a two-person tent. Nevertheless, if you are traveling solo, consider the tent's weight, as two-person tents are usually heavier as they are meant for more people.
Even though they are, some exist which are lightweight and easy to carry. If you are not a person who requires extra space, there is no need to buy a bigger tent as one-person tents are well equipped for one person.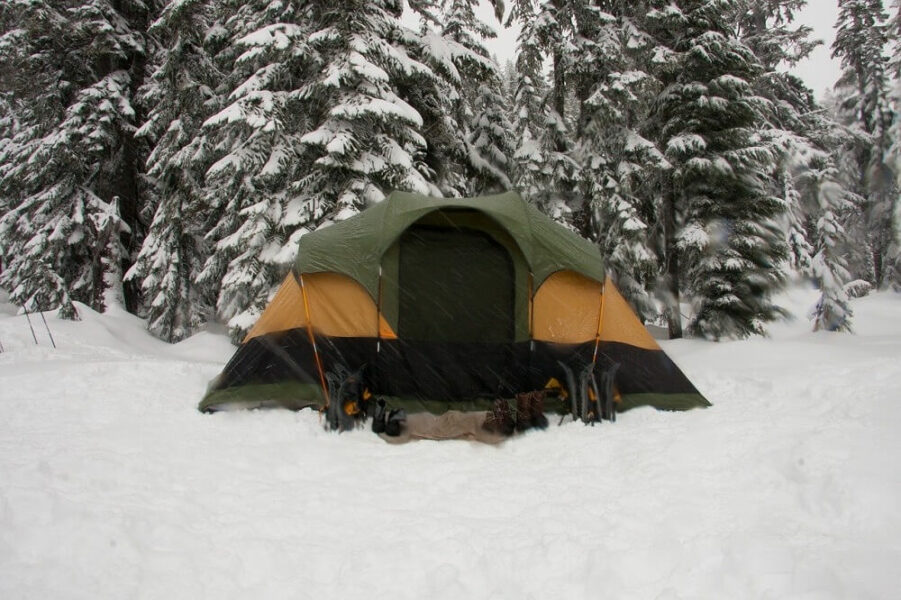 Are Expensive Tents Worth It?
Well, now that is a tricky question. Firstly, expenses are highly subjective to the budget of the person. Secondly, the more expensive a tent is, the more features it has and the more reliable it is. That is not always the case, however. That's why we advise you not to buy a tent simply because it costs a lot but research the tent and its features before buying it. Then again, cheaper tents tend to be made of lower quality materials and can sometimes be dissatisfactory.
Is A 4-Season Tent Worth It?
A 4-season tent is always worth it, especially if your trip is somewhere with heavy snowfall. However, if you live in a warmer climate and snow isn't expected, it's not necessary to buy a 4-season tent.
What Color Tent Should I Buy?
The color of the tent is extremely important as it's not only meant for looks, but it also has certain functions. If you want your tent to stay cooler, brighter-colored tents are the way to go. A black tent would absorb the light with all the energy that comes with it; therefore, you would have a warmer tent at the night. Black tents are great for winter. If you simply wish to blend in, a tent with the landscape's color is the way to go.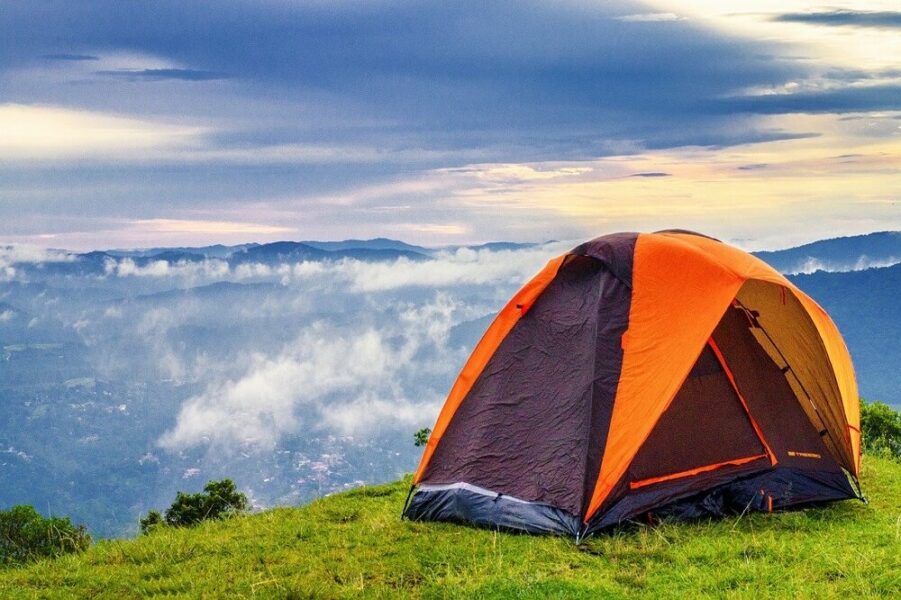 How To Make Sure A Tent Is Waterproof?
To be sure that a tent is waterproof, it needs to have sealed seams and a durable water-repellent coating. You can see that in the features of the tent. Furthermore, the zipper needs to close fully for no water to be able to get inside the tent.
Do Tents Lose Their Waterproofing?
Yes, the waterproofing of a tent might weaken. Therefore, if you're using a tent for more than 6-10 weeks, you would need to double-check that the tent is still waterproof.
What Do Waterproof Ratings Mean?
Waterproof ratings are measured in millimeters (mm) and usually fall anywhere between 800mm and 10,000mm. They are the amount of water pressure a certain fabric can withstand. Therefore, it's the pressure of water that can press through the water fabric.
Are Tents Safe From Bears?
Tents aren't necessarily safe from bears, especially if you are keeping your food inside of the tent. Therefore, if you are in an area with frequent bear sightings, make sure to keep your food 10 feet away from the tent. This way, there would be a lesser chance a bear would disturb you. Bears are generally not violent creatures unless they are hungry.
Do Tents Protect From Animals?
Tents do not protect you from larger animals such as bears and cougars; however, they can protect you from smaller ones such as insects and snakes.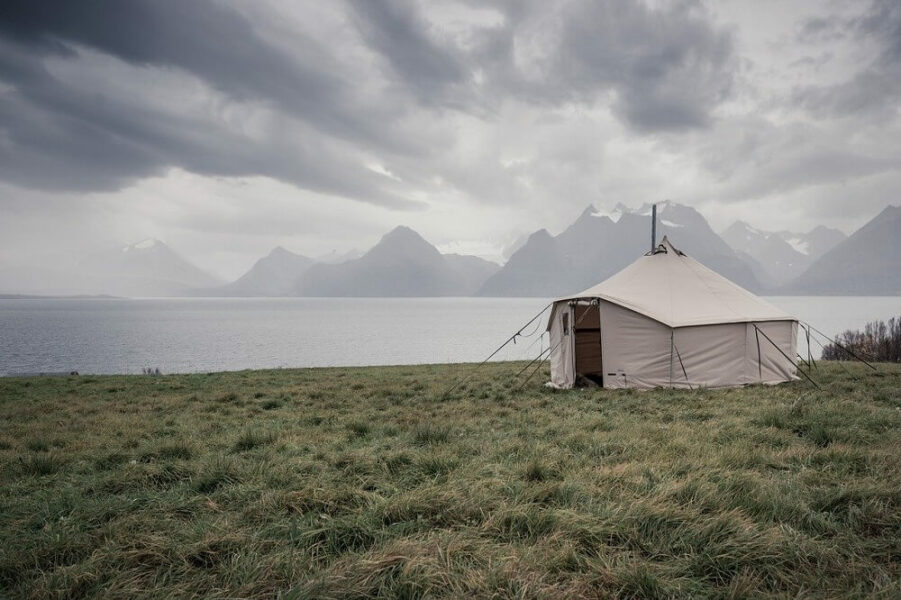 Final Words
There are so many different designs, sizes, and types of tents that it could be an overwhelming task to choose the right tent for you. That's why we have shared some of our experience with you, for you to have enough knowledge to buy the best tent for your experience. Once you have the knowledge and know the basic and most important things to look for in a tent, you will be able to make a great choice.
Based on our experience, we have shared our top 10 tents for various people and situations. Therefore, don't hesitate to take a look, and hopefully, you will find a great product that will last you for a long time. All of the tents mentioned above have been tested by us, and we are happy to conclude that there are some fantastic products to make your experience in the wilderness a calm one.
Whether you are shopping for a camping tent or wish to take your survival and bushcraft equipment to the next level, we are sure there will be a tent for you!