Emergency radios are meant for the worst of situations when you must leave home and all grids are down. Therefore, if you're lucky, you might never need to use an emergency connection. However, considering all the environmental, social, and political issues in the world right now, you can never be too prepared. And if having an emergency radio means you can communicate with people in a situation where it seems impossible, why not be well equipped?
It's especially important if you live in an area where extreme weather conditions are not unheard of. We'd advise you not to trust the latest technology, especially considering there is nothing more powerful than Nature.
1. Kaito KA500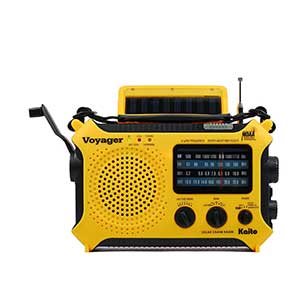 Kaito is a solar-powered radio which can be used in daily life or in an emergency. It's the premium tool to rely on in case disaster strikes. It has everything you need and more with a cellphone charger, a reading lamp, an SOS red beacon light, and a flashlight included in one product. It's made of strong, waterproof, and impact-resistant material; therefore, you can rely on it for a long time. Its approximate dimensions are 8.82 x 5.83 x 2.83 inches, weighing 1.4 pounds.
The Kaito emergency radio can be powered in six different ways.
3 AA Batteries (which are not included in the pack)
Hand-crank Dynamo Generator
Solar Panel
NiMH Rechargeable Battery Pack
5V Mini USB
AC/DC Wall Adapter/Charger (not included)
Furthermore, the Kaito KA500 includes the following features:
Alert Mode – You can set your Kaito KA500 to Alert Mode, which will be activated automatically as soon as it receives a signal from the NOAA.
Wide Coverage – It has a wide reception range, including AM/FM, shortwave, and seven pre-programmed NOAA weather channels. The seven channels are numbered 1 to 7 and can be accessed by turning the knob. The wide coverage is thanks to the telescopic antenna, which extends to 14.5 inches.
Pros
Impact and Water Resistant
Loudspeaker with Crisp Sound
6 Ways of Charging
Wide Coverage Because of Antenna
Multi-Functional
Cons
Weak Crank Powering – takes time.
Sun Takes Time To Charge Radio.
2. Midland ER310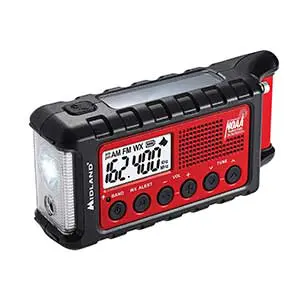 The Midland ER310 is a great everyday use crank radio, and with all its additional features, it is a fantastic choice for emergency use. Let's look at the features of Midland ER310 and see what makes it such a great choice.
Multiple Power Sources – The Midland ER310 can be powered through its solar panel, hand crank, or the rechargeable long-life 2600 mAh battery.
Emergency Flashlight – The flashlight flashes morse code in an emergency, or the bright CREE LED light can be used to signal for help. You can adjust the brightness to preserve the radio's battery life.
NOAA Weather Scan & ALERT – 7 Available NOAA weather band channels are automatically scanned, and the strongest channel is locked in. It will alert you for any severe weather updates. If there is a high risk, NOAA will alert you through the alarm.
FM/AM Radio – FM and AM is also available and can be controlled through the tuner.
External Device Charger – Charge phones or other electronic devices with the included USB Cable.
Ultrasonic Dog Whistle – Not only can you call your dog, but you can also use the whistle to alert rescue teams when lost or stranded.
Pros
Loads of Emergency and Preparedness Features
Multiple Power Sources
Charging Option
Great Reception Quality
Cons
Hand Crank Can Be Inefficient
The Device Is Not Waterproof
3. American Red Cross FRX3+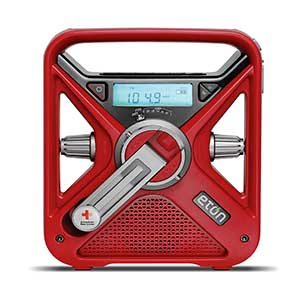 The Eton FRX3+ is a digital AM/FM receiver and a weather alert radio. It's a great choice if you are on a budget but wish to buy a quality product. The FRX3+ has dimensions of 5.8 x 6.9 x 2.6 inches, and it weighs 0.93 pounds. It comes with a large economic hand crank which allows for power boost whenever needed. Here are the features of the Eton FRX3+:
Power Sources – It can be charged by its solar panel, hand turbine power generator, or 2600 mAh battery. If you want, you can use AAA batteries as well.
Coverage & Reception – The emergency radio features AM/FM broadcast reception and NOAA's seven weather band stations. There is also an antenna for the AM reception and another for the FM reception.
ALERT – Alert System will notify you whenever there are serious weather warnings in your area.
Speaker – The speaker ensures clear and crisp sound; therefore, you wouldn't miss out on important news.
Additional Functions – A USB smartphone charge option, a long-lasting flashlight, and an alarm clock. Last but not least is the red flashing beacon to attract attention.
Strong Make – Made from higher quality plastic, Eton FRX3+ can survive through a majority of incidents.
Pros
Headphone Jack for Individual Listening
1 Lithium Ion Battery Included
Fantastic Speaker with Clean and Crisp Sound
Multiple Powering Options
Cons
Not Waterproof
Battery Life Can Be Questionable
Uncomfortable Grip
4. Epica Digital Emergency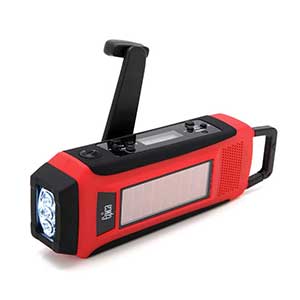 This small and lightweight emergency radio is a great choice for those who don't want to spend too much on an emergency device. It comes with everything you need to get regular updates on the news and the weather or to keep your area lit up and charge your mobile phone. Here are the features of the Epica Hand Crank:
3 Ways To Charge – You can charge it by its hand crank, the solar panel, or if you plug it in.
High-Quality Digital Tuner – Tune to the station you need without using analog; simply use the digital tuner to pick up AM/FM band and NOAA's Weather Frequencies.
3-LED Flashlight – Never be left in the dark with Epica's bright flashlight.
Charge Your Phone – You can charge your phone with Epica if you have a cable of course!
Portable & Easy To Carry – Put your fingers through the handle or use the carabiner to attach it to your pants; you can carry Epica with ease.
Pros
Red Color Makes It Stand Out
Lightweight and Easy To Carry
Multi-Functional
Digital Display and Tuner
Waterproof & Built To Last
Cons
There is no Battery Option with Epica
2 Minutes of Hand Crank Only Give You 20 Minutes Battery Life
5. The Running Snail MD-090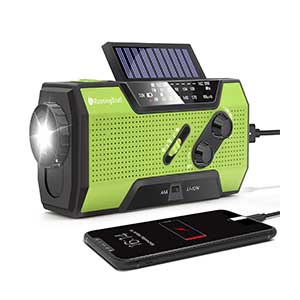 The Running Snail MD-090 is a great alternative that is not too expensive. For under 40 dollars, you get a multi-functional emergency radio to include in your bug-out bag. Its build is good enough to survive almost any challenge Nature throws at you. It's waterproof and long-lasting. Don't be fooled by the snail, it's quicker than you might think. The features of RunningSnail are the following:
Quality Coverage & Reception – AM/FM and NOAA Weather Alert Radio which you can control through its analog tuner and know all about nearby emergencies or national ones.
Multiple Ways To Charge – You can use the hand crank, the solar charging panel, a micro USB cable, or 3 AAA batteries. It also has the option to charge your phone as well.
Turn On The Lights – With the table lamp or the 1W LED Flashlight, never sit in the dark.
Ask For Help – The SOS Alarm with a flashing red light allows you to be noticed in an emergency.
Carry With Ease – The RunningSnail's dimensions are 6.2 x 2.1 x 2.9 inches, and it weighs only 10.2 ounces, which makes it incredibly easy to put in your pocket.
Pros
Waterproof
Compact
Micro USB For iPhone Charging Included
Multi-Functional
Tough & Reliable
Cons
Solar Panel Requires a Long Time To Charge
6. KAITO KA700 Voyager XL NOAA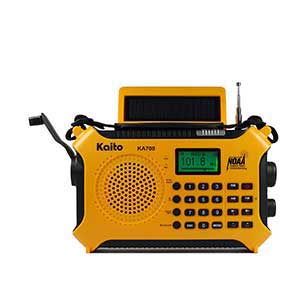 The KA700 is built for everyday use, as well as emergency preparedness, and is a fantastic Kaito upgrade full of features. The KA700 offers:
Different Charging Methods – rechargeable lion battery (through the micro-USB cable), dynamo hand crank generator, and a solar panel.
Phone Charger – Charge your phone through the installed USB slot.
Light – With the 5-LED lamp, you can read in the dark or light your way.
SOS Signal – Call for help with the LED flashlight or the red LED SOS beacon light.
All In One Music Machine – Radio (AM/FM/NOAA Weather), MP3 Player with SD Card, Bluetooth Speaker, Voice Recorder, Alarm Clock, Calendar, Text Browser.
Pros
Durable
Easy To Tune
Bluetooth Connection
Emergency Light and Alarm
Used By US Military
Cons
Heavy at 1.7 Pounds
More Expensive Than Most
7. Vondior Pocket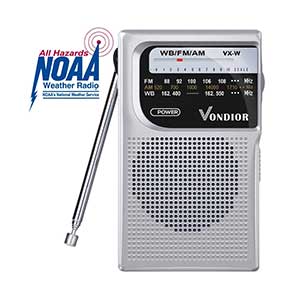 With the Vondior pocket radio, you can get notified whenever there is a high alert nearby. It's a NOAA Weather Receiver which is compact and easily carried in pockets. With a size of only 4.9 x 3.12 x 1.28 inches and a weight of 6.24 ounces, it's the perfect choice for people looking for something small and handy. Vondior Includes the following features:
Long Lasting – With just two AA batteries, your Vondior radio can last weeks!
Simple and Easy – Tune your device to AM/FM or NOAA Weather station easily.
Great Reception – Even though it's old school, Vondior offers great reception even in remote areas.
Pros
Durable Battery
Fantastic Quality for Low Price
Old School Design
NOAA Supported
Cons
Works With Batteries Only
Has Only One Function – Radio
Not Waterproof
8. Sangean U3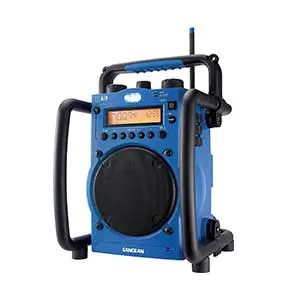 The Sangean U3 is an AM/FM Ultra Rugged and Water-Resistant radio with a digital tuner for station search. Furthermore, it comes with a PLL synthesized tuner and the following features:


10 Memory Presets
Backlit LCD Display
LED Band Indicator
Excellent Sound Performance
Stereo Headphone and Aux-in jacks
Auto Scan
2 Alarm Functions
The U3 is exceptionally rugged and capable of withstanding a variety of accidents. Therefore, if you are looking for something sturdier, U3 might be the emergency receiver for you. With dimensions of 9.75 x 9.75 x 14.5 inches and a weight of 9.57 pounds, it's not only large, but it's heavy as well. It can be powered by 6D batteries or charged through electricity.
Pros
Durable & Water Resistant
AM/FM Station Reception
Alarm Functions
Digital Tuner
Cons
Heavy & Large
No NOAA Weather Reception
Expensive
No Solar Charger or Hand Crank
9. Lynex NOAA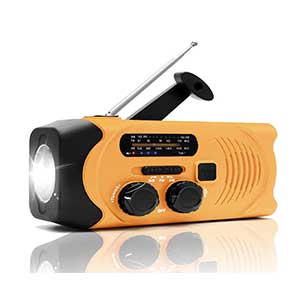 This orange/red emergency radio is a great choice, especially if you're worried about power outages and lack of communication with the outside world. This NOAA weather receiver is a compact choice with dimensions of 6.65 x 3.62 x 2.52 inches and a weight of 13.2 ounces. Here are the features of the Lynex Weather Emergency Radio:
3 Ways to Charge – Hand Crank, Solar Charging, or Micro USB Charge; never stay without a battery!
Weather Radio – It can receive NOAA weather forecasts or simple AM/FM stations.
Lasting Light – With a compact-sized flashlight, you will never stay in the dark!
Call for Help – The SOS Alarm is loud enough for you to call for help in an emergency!
Charge Your Phone – Connect your cable to the USB port and charge your phone freely!
Pros
Small and Compact
Multi-Functional
Brightly Colored
Cheaper Than Most
Durable
Cons
The Hand Crank Takes Time To Charge
Needs Batteries
10. YEZRO Solar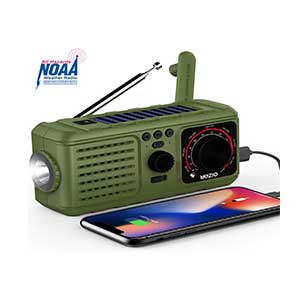 Despite the many good reviews that YEZRO has, some issues came with its purchase. Let's see its features first:
Emergency Essentials – AM/FM/NOAA broadcast access.
Multiple Charging Methods – You can use Micro USB, AAA Battery, Solar Panel, or Hand Crank to charge it.
Multi-Functional – Flashlight, Micro SD card, and MP3 Player.
Camouflage Design – The Radio is military green.
Pros
Nice Design
Multiple Ways to Charge
Lightweight and Portable
Cons
The biggest issue that can be experienced with YEZRO is the loss of signal. At many points in time, the YEZRO emergency radio does not connect to any broadcast.
Not waterproof or extremely durable
How To Choose An Emergency Radio?
Now that we have spoken about our favorite and not-so-favorite products, we can head onto the most common question section. We try to consider the questions we have heard, had, and answered regarding emergency radio. We want you to be as informed as possible before your next purchase.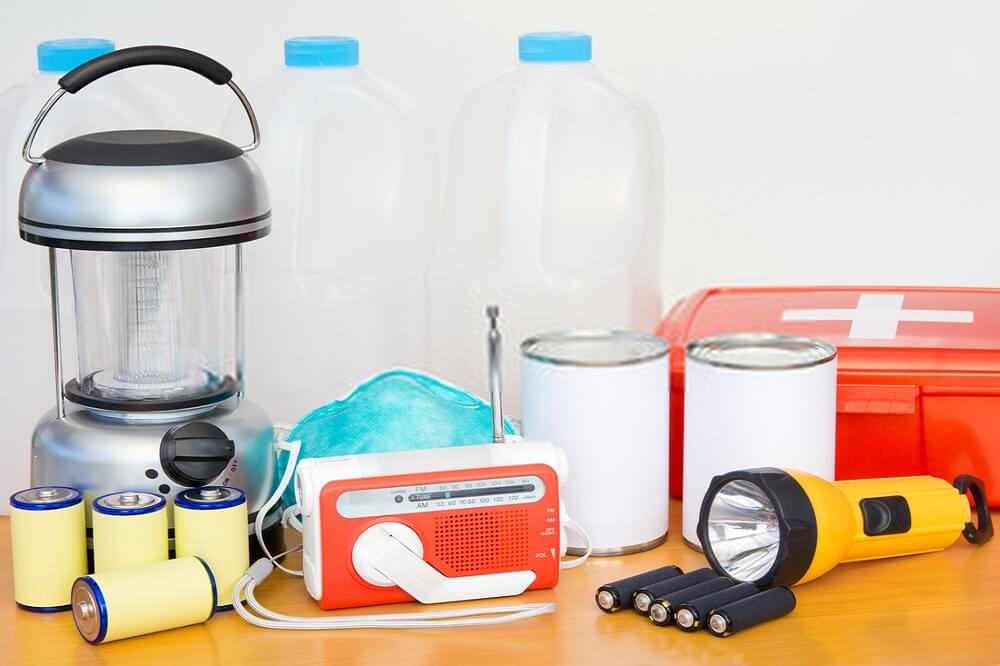 If you have ever lost power in the wilderness, you will know the frustrating feeling of not having information from the outside world. And if a disaster strikes, you would need as much information about the circumstances as you can get. That's why emergency radios were created and why we think every household should have at least one emergency connection.
Unlike the usual items, emergency radios were created to receive information from VHF (very high frequency) stations across the land. Not only can you know everything about the weather, but you can also pick up emergency broadcasts and access the usual AM/FM stations.
Therefore, if you're planning a camping trip or making your own bug-out bag, you should consider grabbing one of those gadgets too! In our guide, we will talk about the ways of choosing our top 10 list of emergency radios to pick from and answer the most common questions surrounding emergency communication.
Various factors need to be considered when choosing an item, especially when you think about the weather conditions a radio needs to survive. What most people think of when they hear the word 'radio' is sound, and in our opinion, the sound is very important, but not for disaster scenarios.
Yes, you will need to hear what is being said, however from a large distance and crisp sound is not the first feature to look for. Here's a list of things you need to look for :
NOAA (National Oceanic And Atmospheric Administration) – NOAA Weather Radio Hazards is a must-see logo in the world of the emergency radio. They are a nationwide network of on-air stations that broadcast weather information continuously. The information comes from the nearest National Weather Service office and cannot get more accurate. They also receive information from Homeland Security and regional Emergency Operation Centers. If your device has this, it will give you the most important information about the surrounding areas. NOAA covers all 50 states, as well as Puerto Rico, Canada, US Pacific Territories, and the US Virgin Islands.
NOAA EAS (Emergency Alert System) – Receiving weather alerts is vital, especially if you live in an area known for tornados and floods. These are alerts you don't look for but all emergency devices with EAS implemented turn into an alarm automatically and start warning their owners of upcoming storms, national emergencies, or regional warnings. This feature is a great one; however, it is more necessary for people who live in areas more prone to natural disasters. Even though we cannot predict it all, if you want to be extra safe, this is a great feature to search for.
IPAWS (Integrated Public Alert and Warning System) – IPAWS is a system maintained by the Federal Emergency Management Agency (FEMA). It broadcasts alerts such as missing people, imminent threats, or presidential announcements.
SAME (Specific Area Message Encoding) – This feature is included in devices that have the NOAA feature. It allows you to block alerts from other parts of the nation and only receive alerts concerning your county and nearby ones.
Charging Options – The ability to charge an emergency radio is crucial while in the wilderness; if the device stops, so does your contact with the outside world. The best bet when it comes to emergency radios and charging is:
Solar Charging – If it has a solar panel, it will easily draw power from the sun's rays, promising an easy charge.
Hand Cranks – They are advisable, as solar panels aren't reliable during storms and hand cranks are reliable most of the time.
Battery/ Car Charge/ Electrical Charging – Three choices that are not highly reliable because it's great to be able to charge it in the car or the plug; however, is that possible in an emergency? Furthermore, batteries only last so long, and the radio will soon be useless unless you stock your bag with at least a few sets.
Additional Features – Some emergency radios come with additional features such as:
Flashlight – You will probably have a regular flashlight; however, an extra one is never too much.
Cell Phone Charger – As strange as it sounds, some emergency radios come with this feature, and you never know when you might need it. They don't come with a cable, just the port.
Speaker Options – Some radios can have a headphone port in situations where you don't want someone to hear what is being said (like children.)
Language Options – There is the possibility of listening to broadcasts in languages other than English, in case English isn't your first option.
Waterproof Case – You would want to protect your radio from storms and water in general.
Digital Clock – Some radios come with a clock, and if you don't have one on your hand and can't tell the time by the position of the sun, it would be useful.
Shortwave Feature – Some radios can receive shortwave broadcasts. They don't broadcast emergency information and alerts; however, you can listen to broadcasts from across the globe.
Strong Impact Resistance – Your emergency radio cannot be made from cheap plastic, as it will break on day one. It should be able to withstand the toughest of conditions, so keep that in mind.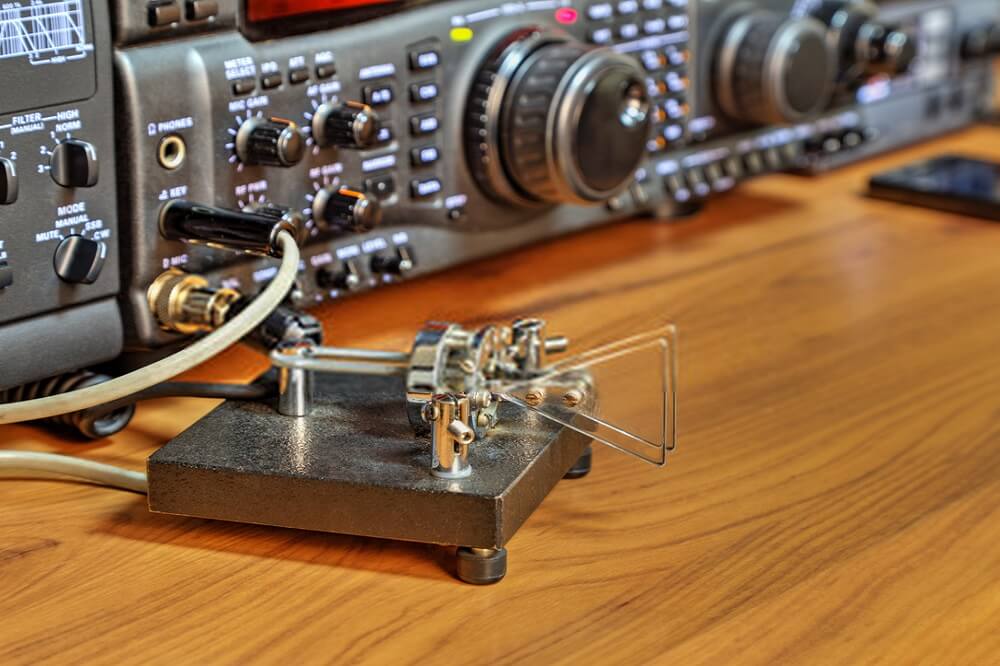 Frequently Asked Questions
What Is An Emergency Radio?
An emergency radio is a device that allows you to stay up to date during emergency situations. Most emergency receivers are multi-functional with a flashlight and two-way radio & can be charged by a solar panel.
When Will I Need To Use An Emergency Radio?
Emergency Weather Radios usually come in handy whenever there is a natural disaster taking place, such as a tornado, flood, hurricane, blizzard, etc. Whether you will use the device in the city or the wilderness, it will be extremely useful for you to have one. You can also use it if you're going camping and wish to stay informed.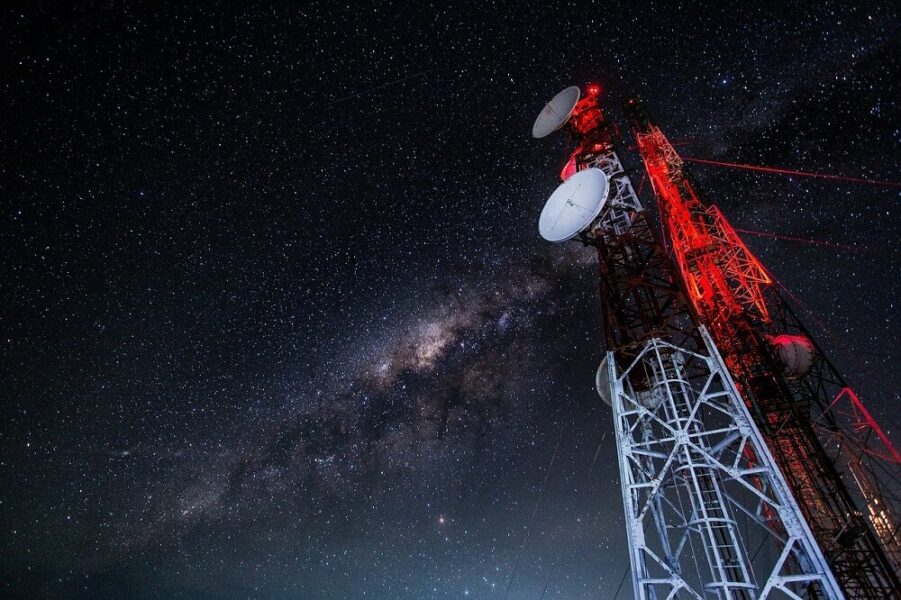 Where Can I Buy An Emergency Radio?
Survival Receivers are available in electronic stores, hardware stores, or most online retailers like Amazon. The only advantage of buying it in a physical store is that you might get to hold it in your hand before buying it. This shouldn't be a huge issue with online purchases, as you could always return it if you aren't satisfied.
What Is A Crank Radio?
A crank radio is generated by a hand crank attached to the device.
Do I Need A Two-Way Radio?
You need a two-way radio only if you wish to communicate with someone on the other end of the line. If not, buying a two-way device isn't a necessity.
What Should I Do If My Radio Loses Reception?
If you're inside a building, try to open a window and then try again. If you are outside, you should go higher to get better reception.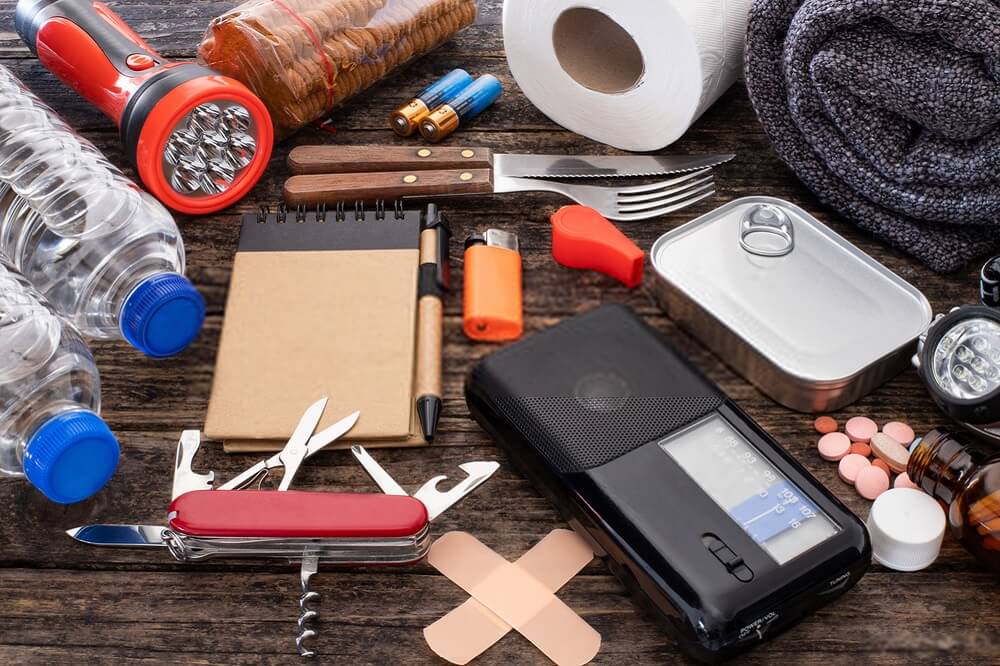 What Is NOAA?
As previously said, NOAA is the National Oceanic and Atmospheric Administration through which you can receive the most accurate weather predictions. It has seven channels, which usually turn on automatically once there is some serious threat.
Final Words
Although none of us wishes to be part of a natural disaster, we can't predict what life has in store for us. That is why it's better to prepare earlier rather than later, as it will give you peace of mind if the situation occurs. An emergency radio is meant to keep you informed if there is no other way to receive information. As we know and believe, knowledge is power; therefore, the more informed you are in a natural disaster, the higher your chance of staying alive.
That's why we created this list of top 10 emergency radios in 2020, for your ease and comfort and for you to make an informed decision when buying an emergency receiver. We hope this article has given you all the information you need to make a hassle-free decision and buy a quality, useful product.
Happy Prepping!