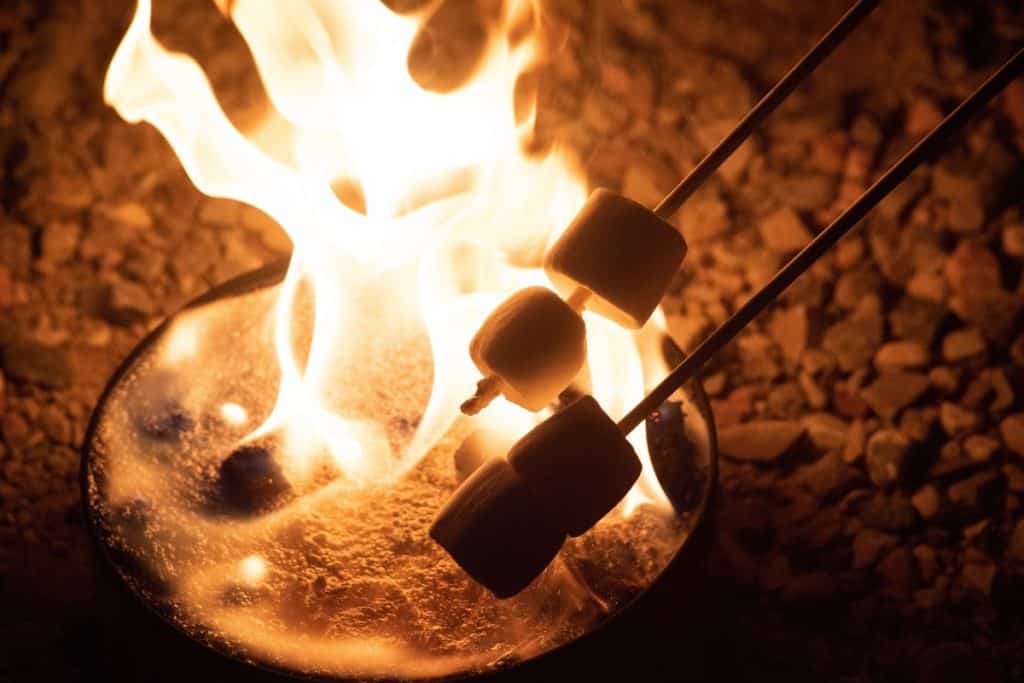 From the dawn of time, humans have sought one thing the most – fire. And even today, we haven't mastered fire fully, it's still a wild beast we must tame, or more correctly, fireman, but the point is, everyone has to have a way to start one in case of an emergency. And the only way to do that consistently is by finding а reliable fire starter that consistently creates a shower of sparks.
So without further ado, let's see what the best fire starters to use in bushcraft, camping, and hiking are.
1. Überleben Zünden Fire Starter – Our Pick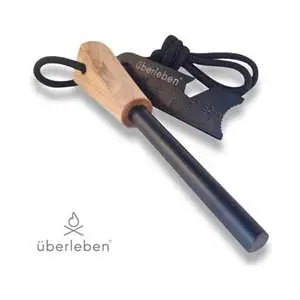 The Überleben Zünden is nothing more than a thick ferrocerium rod with a thick wooden grip attached to one end, which comes along with a striking device. It's nothing more than that because nothing more is needed, as long as you have collected suitable tinder and laid a decent fire.
Over the years, I've used many separate Ferro-rods, and frankly, most of them have little to differentiate. Nevertheless, the Überleben Zünden Bushcraft rod is notable for two reasons. Firstly, the wooden handle provides a good, solid grip, and on most occasions, it looks better than the plastic handles.
Secondly, the striking tool used doubles as a multitool in miniature. It has two different scraping surfaces that can send sparks showering off the ferrocerium rod, not to mention the bottle opener, mil-spec 550 paracord lanyard, and the hex wrench.
Pros
Simple to use
Includes a bottle opener
Two different scraping surfaces
Convenient hex wrench
Cons
Handle a bit fiddly
A bit expensive
2. KonvoySG Carbon Steel Fire Striker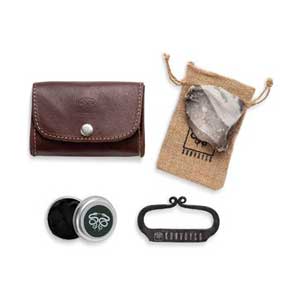 Nothing excites an outdoor enthusiast more than a well-packaged survival kit to ensure they are warm, safe, and have something to cook with when they are away from home, and that's exactly what you get with this new product.
This striker kit has everything needed to produce an efficient fire in seconds. Unlike a waterproof matchbox or a lighter, you will never run out of matches or gas. The steel carbon produces a high-temperature spark with just one or two strikes and works perfectly no matter how bad the conditions are.
Covered by a lifetime guarantee, this portable fire striker kit will give you at least 10,000 strikes before it gives up, or at least that's what the company claims.
Pros
High-quality Ferro rod
Should last over 10,000 strikes
High-temperature spark
Lifetime guarantee
Cons
It can be too small for people with bigger hands
3. KonvoySG English Flint Stone Rock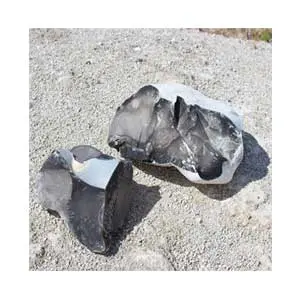 Here we have another offering from KonvoySG, and this piece of gear is a little bit different from the other products here. It's a traditional English Flint rock that isn't as easy to use in case of an emergency or extreme weather conditions as some of the other pieces of gear on the list but sparks pretty effortlessly. For safekeeping, it's presented into a Jute Bag case to protect its naturally formed irregular shape.
Sourced from the UK, their English Flintstones are ideal for use with the Carbon Steel Striker. For all those bushcraft lovers who love to get primitive with their fire-starting methods.
To sum it up, if you aren't interested in new gear, something more akin to a traditional fire striker, and you want an old-school way to get fire, this is the product for you.
Pros
Comfy Jute bag
Easy to use
Traditionally made
Cons
You need a carbon steel striker to use
Not reliable in extreme weather
4. SURVIVE Permanent Match – Pack Of Five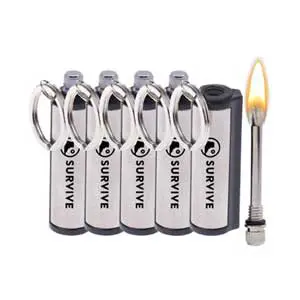 This product comes in a very well-made case and is perfect for anybody who needs to start a fire, from bushcraft lovers and people in an emergency to people who love BBQs and smoking meat.
The case is exceptionally tiny and light so that you can put it in your pocket for everyday carry. It is waterproof, weatherproof, windproof, storm proof, so sparks can fly in the wind while wet or cold in all types of bad weather. The keychain makes it easy to throw on your key ring, lanyard, car, or backpack with your gear for a day hike or backpacking.
The container housing is made from tough black ABS plastic and silver stainless steel. This product has enough space for fluid to produce up to fifteen thousand strikes with just one permanent match.
Suffice it to say this product from survival works like magic! It's fast and quick to start a fire without any unwanted complications and smoke. If you like to start your fires with matches, but you don't want to worry about running out of them, this is a choice to consider.
Pros
Lightweight and easy to carry
All-weather operation
Plenty of lighting fluid in each case
Cons
It can be flimsy at times
5. PSKOOK Bow Drill Kit Primitive Fire Starter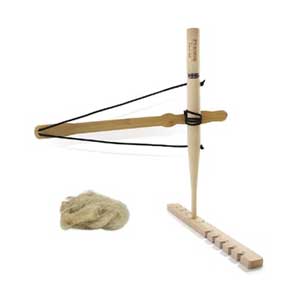 While most of the fire-starters here are basically on the same principle, a rod that gives you a spark, a match, or a lighter, this one here is a little bit more old school, or should we say VERY old school. It uses the bow drill principle to create friction between the moving center stack and the base to create enough heat for a fire.
While this is a very unreliable way to start a fire on paper, it can be fun for kids and enthusiasts to learn how our ancestors survived.
Sufficed to say, if you want something reliable in wet conditions, don't even consider buying this, but if you are interested in something more unique and special, this is an interesting option.
Pros
Great for kids and education
As reliable as it can be
Cons
It takes a while to create any usable fire
6. Epiphany Outdoor – V3 Pocket Bellows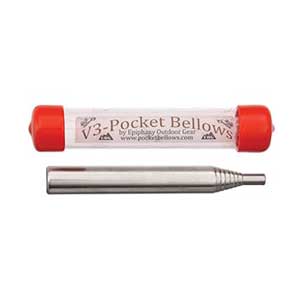 Here we have one lightweight, collapsible, stainless steel bellowing tool from Epiphany. The V3 compresses and focuses oxygen directly into the heart of a fire, and it is essential for a fire starting kit.
And why is it so essential? Because the oxygen it delivers can turn a source like soaked wood or green branches into a rolling form in little to no time. This collapsible bellow is extendable to give distance and keep your face and hair in a space long enough to be safe.
The Pocket Bellow fits perfectly into a survival kit/ bugout bag and can start a fire when camping under difficult wet or easy dry conditions. So, if you are serious about bushcrafting or you just want to escape alive in case of an emergency, you definitely should have a like this one.
Pros
It compresses and focuses oxygen directly into the heart of a fire, and it is essential for a fire-starting kit.
Great reach
Lightweight and easy to carry
Cons
You need something to start the fire with
7. Survival Frog Tough Tesla Lighter 2.0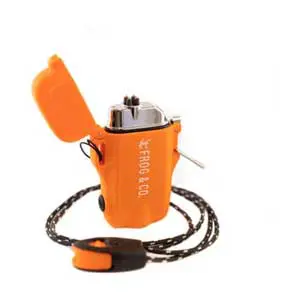 You can easily ignite a fire with the push of a button using this lighter from Survival Frog. It is rechargeable, and it is done with a normal phone charger, which means you won't need to buy a new cable, and that's pretty convenient.
This Survival Frog comes with an awesome case, and it doesn't require butane or lighter fluid to operate, only electricity.
Just touch the dual arcs to anything flammable, and you'll have an instant fire. It can be used 250-300 times per charge, with a 10-second safety time-out.
This new line of survival products from Survival Frog sure is great, with one of the best being this exact lighter. It is small, lightweight, convenient, and easy to use. What more can you want?
Pros
Rechargeable
It doesn't require any gas or fluids
10 seconds safety time-out
Over 200 lights per charge
Cons
Battery temperature can be an issue
8. Zippo Brass Pocket Lighter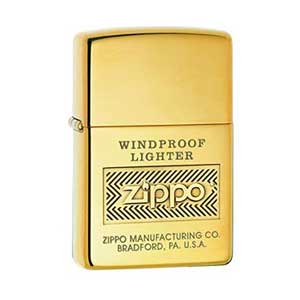 Introduced in 1982 to commemorate the 50th Anniversary of Zippo, the Zippo Brass continues to be one of Zippo's most popular lighter collections with a wide array of styles, sizes, and designs to choose from.
This collection includes the following finishes: Brushed Brass, High Polish Brass, Herringbone Sweep, Diagonal Weave, Gold Dust, and Venetian. Each lighter has a distinctive pattern, a bottom stamp signifying the year it was made, and is backed by Zippo's famous lifetime guarantee.
All windproof lighters are American-made in their Bradford, PA factory and come packaged in a gift box.
This option is a genuine Zippo, with the company's characteristic "click" sound, making using it not only easy but also amazingly satisfying. It's made of brushed and highly polished metal construction with a windproof design allowing it to work anywhere. And while it doesn't come with genuine fuel out in the box, if you buy one container, it will probably last you a lifetime, and it will preserve the lighter than any other brand's fluid.
Pros
Distinctive design
Durability that has proven in time
Genuine Zippo
Virtually indestructible
9. Zippo Emergency Fire Kit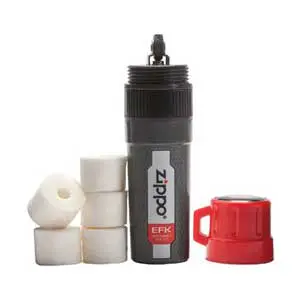 Zippo EFK Emergency Fire Kit has much to offer. First of all, it creates a sparks shower using the same flint wheel ignition system as the generation-old Zippo lighters. You'll rain sparks on your chosen tinder with a quick thumb flick.
The next thing you will appreciate about this kit is that it comes with a pretty ideal tinder choice in the form of five paraffin wax-coated cotton rolls. Each of them will burn once ignited for about five minutes, offering plenty of time to catch larger pieces of fuel, such as wood.
The spark wheel and paraffin disks tuck away into a plastic tube that is not just watertight but floats, so if you drop the emergency fire kit in a stream or over a canoe's side, no harm will be done. There's a spot to attach a lanyard that will help you avoid dropping the kit.
The main drawback is that the flint peg used to create the sparks will wear down much faster than you would experience with a Ferro rod and will stop being effective. It's easier to use the kit than a rod, but just make sure to bring the spare flints along.
The Zippo Emergency Kit has a solid 4.7 out of 5 stars on Amazon. One shopper called it "simple, waterproof, and self-contained," though many people did point out the frustrating need to replace the flint often with heavy use.
Pros
Same sparking system as Zippo lighters
Zippo reliability
Protected from water damage
10. Fire-Fast Trekker Ferro Rod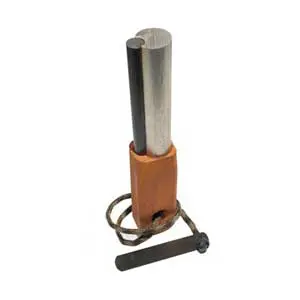 The Fire-Fast is one of the best survival fire starters ever made. It is not new on the market. Unlike most of the products here, its name means something, and while its price is slightly higher, it sure is worth it.
It is well made with a solid wood handle that is 3 inches long for easy gripping, even with gloves on. It has one of the largest flints of any starter at almost ½ inch wide. Wider flint means more sparks and faster, easier fire starting.
The Fire-Fast replaces the need for matches, lighters, etc., and works in any conditions, even completely wet. If you can't find any dry tinder, you can shave some wood from the handle and use that. The striker is sharp enough to shave the wood without cutting your hand.
This truly is one of the best homemade products, straight from the USA.
Pros
Well made
Easy to grip even with gloves
Large striking area
Cons
A bit expensive for s somewhat simple product
How to choose a fire starter?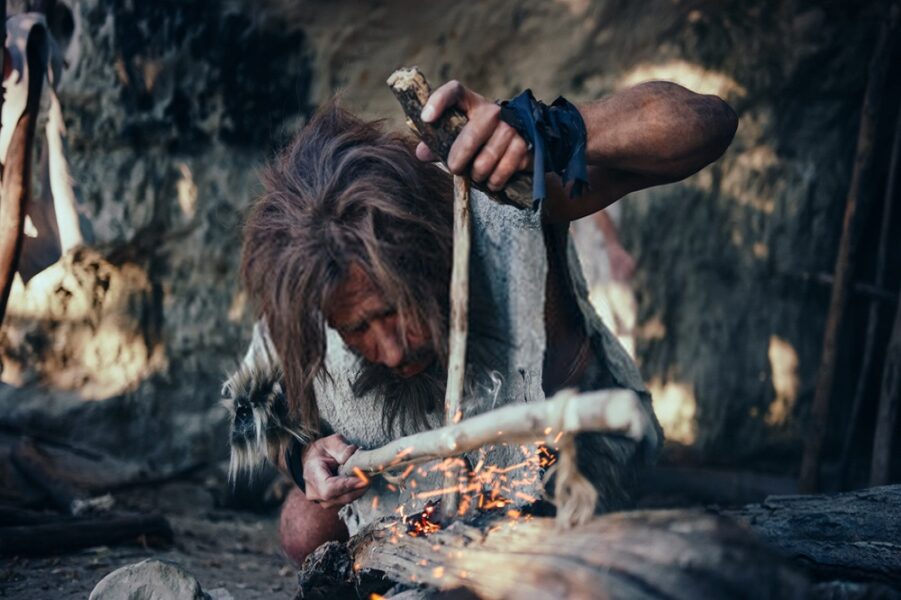 There are plenty of factors that will help make or break your decision on which fire starting method to use. Here is what you need to consider before making a decision:
Weight
If you're backpacking or making a small and functional survival kit, the weight will be a factor in your decision. Yeah, a 20-pound propane cylinder with a burner attachment is a great way to start a fire, but it just doesn't make sense. However, most fire starters are quite small for backpacking and survival.
Bulk
Again, for backpacking and survival, portability is usually tantamount. Fire-starters come in all shapes and sizes, but carrying around a pre-made bow drill is usually just not an option. Consider what you will use it for and how you plan to pack or carry it.
Waterproof
Many fire starters are naturally waterproof, such as cotton balls soaked in fuel, wax paper, or Ferro-rods. However, some aren't like shredded cedar bark, char fabric, and other particular tinder components.
Consider choosing a product that is inherently waterproof or storing your fire-starting components in a watertight container.
Ergonomic Grip
If you've ever been trapped in the cold, you know how hard it can be to lift your feet. If a particular piece of equipment is heavy and awkward, even the simplest tasks can be almost impossible to find. A fire starter that fits comfortably into your hands will make it much easier to start the fire, particularly on chilly fingers.
Consumption
No, we aren't talking about alcohol, but how quickly will you use the fire starter? Ferro rods last almost indefinitely, although they may eventually be worn out. Other types, such as mini Bic lighters, are consumed much more easily.
Then there are strategies like a fire piston that will never get worn out (assuming you keep them). Overall, you might want to think about an unconsumable starter for survival and emergency situations.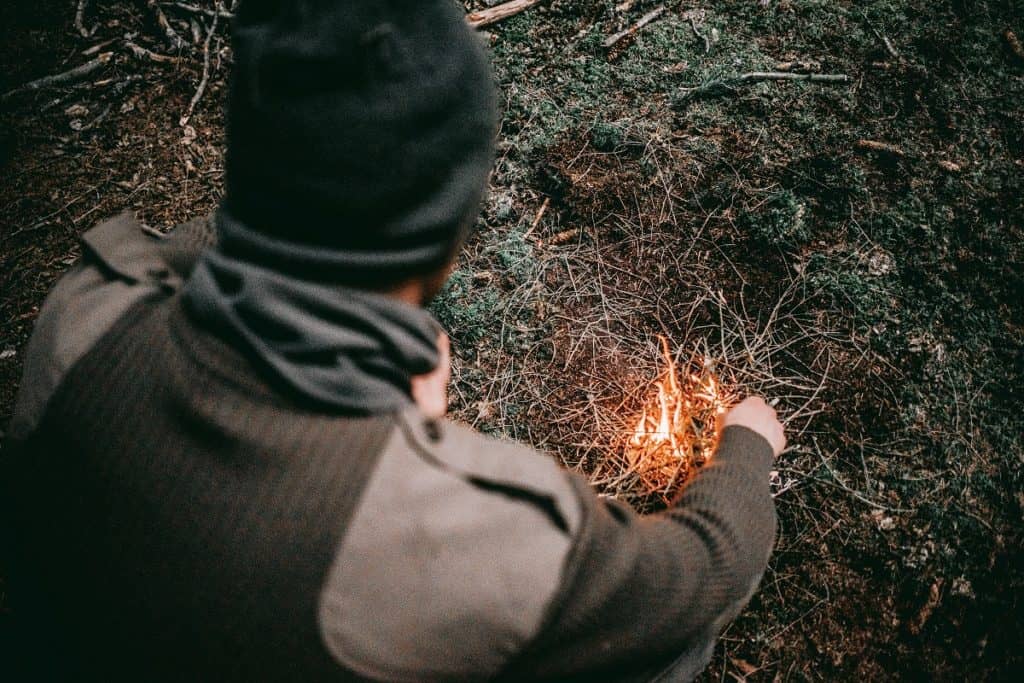 Ease of Use
If you're just going to carry around a knife and some string or rope to make a fire bow any time you want to start a fire, then you'll need to practice until you're a master so you can be sure your skills won't let you down.
Other methods, like the old Zippo / Bic lighter, are incredibly easy. Some devices, such as the hand drill, need very few materials but extremely high experience and skill levels. What is the method of starting a fire most sensible for what you want to do?
Strikes
When you're out in the woods, you need a reliable lighter. It's not something you'll rush out and buy every single time you head out, so you want one with lots of strikes. The minimum number of strikes you should look for should be upwards of 3,000. However, many will also perform up to 20,000 or more strikes.
Compatibility
If you want just to light your backpacking stove, then a fire piston or bow drill would be, put it lightly, an awful choice. You'd have to bow drill some embers, light some tinder, build a small fire, and then light your stove using a burning stick.
That's simply not practical, and a mini Bic lighter would make much more sense. On the inverse, if you're building an end-of-the-world survival kit, you'll probably want something more like Zippo and a few non-consumable fire-starting methods like a fire piston and some rope for a bow drill.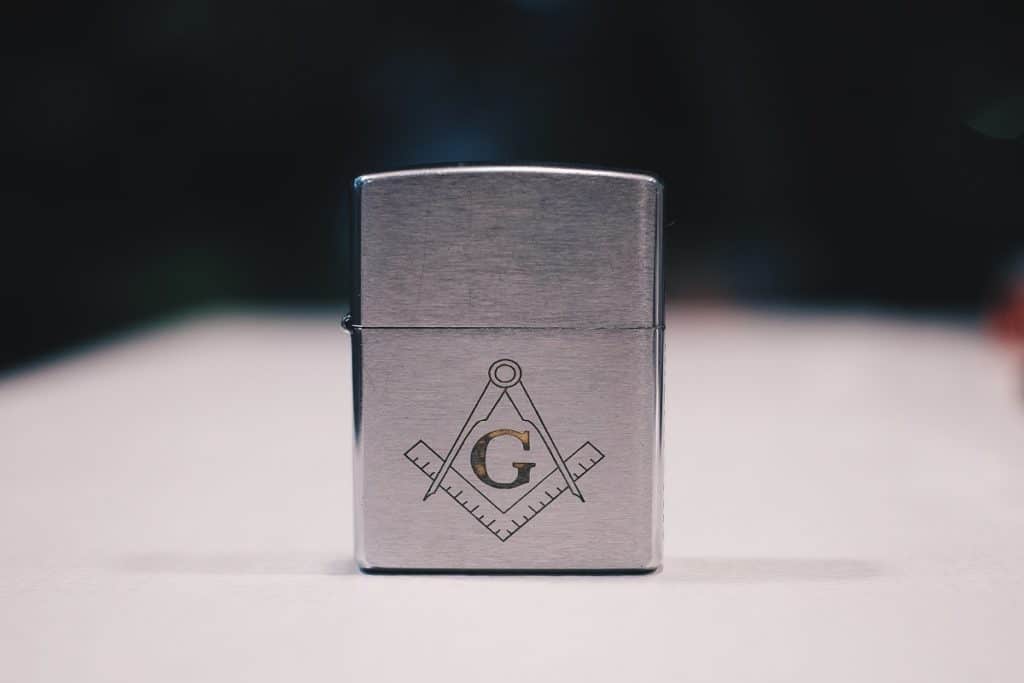 Pros and Cons of each fire starter type
Flint and Steel (Ferrocerium Rod strikers):
Pros: They work in all conditions, wet or dry, cold or hot. They are also light, small, and portable.
Cons: If you are using the older flint and steel fire starter, they can take some practice to learn how to use it effectively. The newer Ferrocerium strikers are much easier to use, and they take little practice to use them.
Fire Piston:
Pros: They're easy and convenient, they're successful, and they're just kind of fun to use. The majority of people have never before seen or heard of one.
Cons: To produce the compression, they rely on a rubber seal in the chamber. It becomes useless if it gets broken or dries out. Using and learning how to get the char cloth out quickly takes some practice to light up the tinder.
Matches:
Pros: They are cheap, small, and portable. Everyone knows how to use them.
Cons: One-time use and are ruined by water. Even the waterproof wax-coated matches don't always work when they get wet.
Lighters:
Pros: They're lightweight, portable, inexpensive, and perform well. They don't need to use any skills or work. This is one product that you should always live with.
Cons: Mechanical they break a lot more easily when they get wet, plus they require fuel, and they're useless when you run out. New electrical lighters work better when wet, but they still rely on lighter fuel and don't work as advertised.
Frequently Asked Questions
What is an emergency fire starter?
An emergency fire starter is a device that can be used to create the spark needed to start a fire. Most models on our list use a sparking bar struck with a metal striker to produce sparks.
These sparks are directed at tinder. The tinder may be chemically treated and come with the kit, or it may be naturally sourced from the environment. One of the best models on our list does not use sparks but compressed air to heat a charred piece of cloth to 500°F, making it smolder. This cloth is then used to start a fire.
What else is needed to start a fire?
Fires need a lot more to fire than just a flame. If you are in an emergency and need to make a fire outside, you'll need tinder and fuel. Dry wooden logs and branches are the most common fuel for emergency fires, but other dry plants and even animal dung may be used.
As for tinder, many of the fire-starters on our list have chemically treated tinder pellets that can burn larger pieces of fuel but can also collect tinder. The best tinder is small sticks, dried grass, or leaves.
These can be piled up and directed at them by the fire starter's spark. Tinder can also be produced by cutting larger pieces of wood into very thin strips with a knife.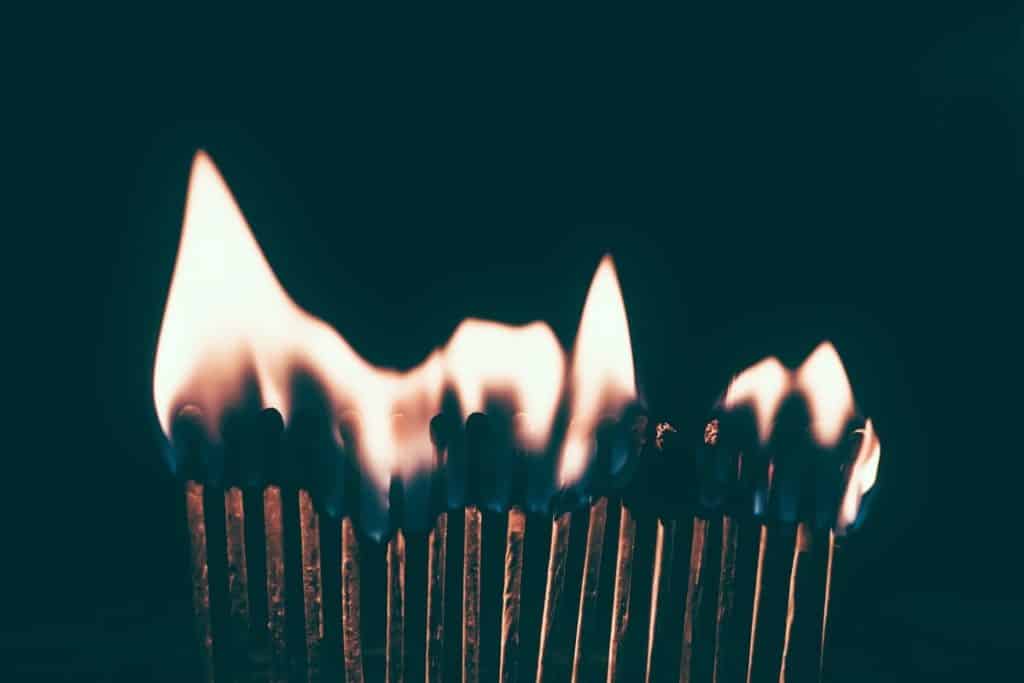 What are some important safety tips for backwood fires?
If you're making a fire in the backwoods, you always have to be vigilant to let the fire spread. Always clear any flammable debris from the area where you plan to build your fire. Use rocks to create a fire pit to help keep the fire from spreading and ensure that the area above the fire is clear from tree branches.
Keep water on hand to douse the fire at all times should it spread, and douse it completely before you move on. Always allow a spark to smolder. If there is any smoke at all, it could return to life again.
Final Words
As you've probably seen, there are countless options on today's market. However, when choosing a fire starter, multiple factors need to play a role in your choice. Also, when it comes to price, there is a huge gap between matches and other pieces of gear, which is why you need to think about the pros and cons of each item.
We hope we managed to answer all your questions regarding the subject, but if any were left unanswered or there is some information you would like to share, feel free to do so in the comments below.