A multitool embodies many core principles of everyday carry— utility, versatility, and portability. For some quick tinkering, a little bit of work on your car, or when you are in a pinch, it is perfect. Usual multitool functions include pliers, screwdrivers, bottle openers, scissors, and other cutting tools like saws. An EDC model complements other essential tools when you don't have much free weight and space left, and it will be a perfect addition to anyone's equipment.
EDC multi-tools come in many shapes and sizes. The two most recognizable form factors are the "Swiss Knife" style, popularized by Victorinox, and the butterfly or clamshell style. The Swiss Army Knife style has tools that pivot out of a pocket knife handle, where the blade is the central function of the tool, while the butterfly or clamshell style of multi-tools folds open into two handles with pliers being the usual central tool.
The rest of the tool implements are tucked away in the handles, sort of like two miniature Swiss Knives. Lastly, there are one-piece tools, which are pieces of metal that are designed to have many different functions without any moving parts.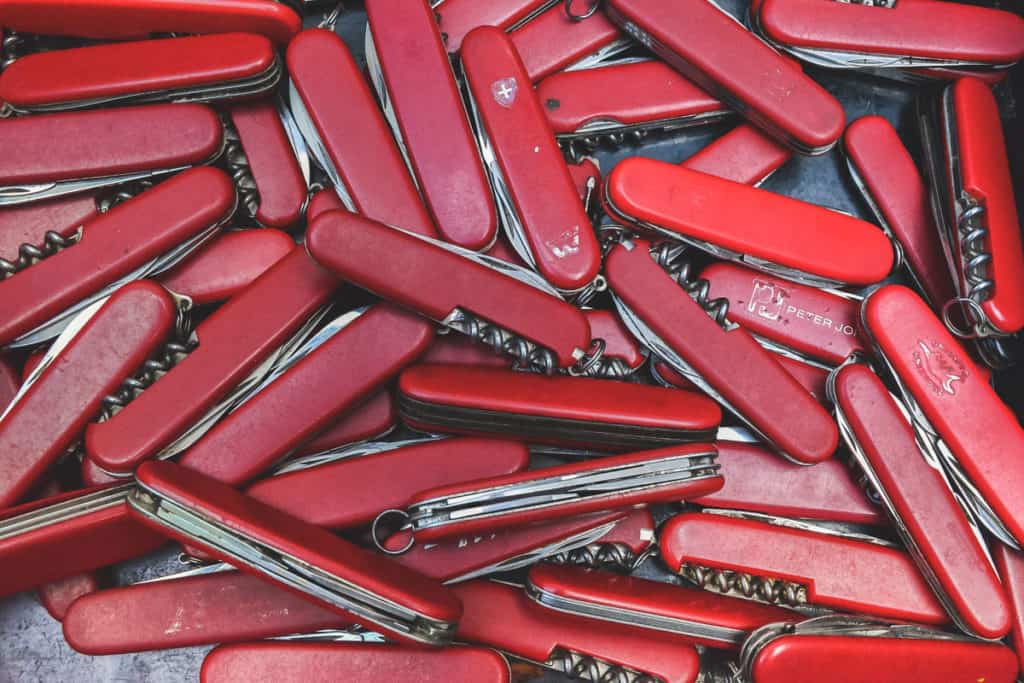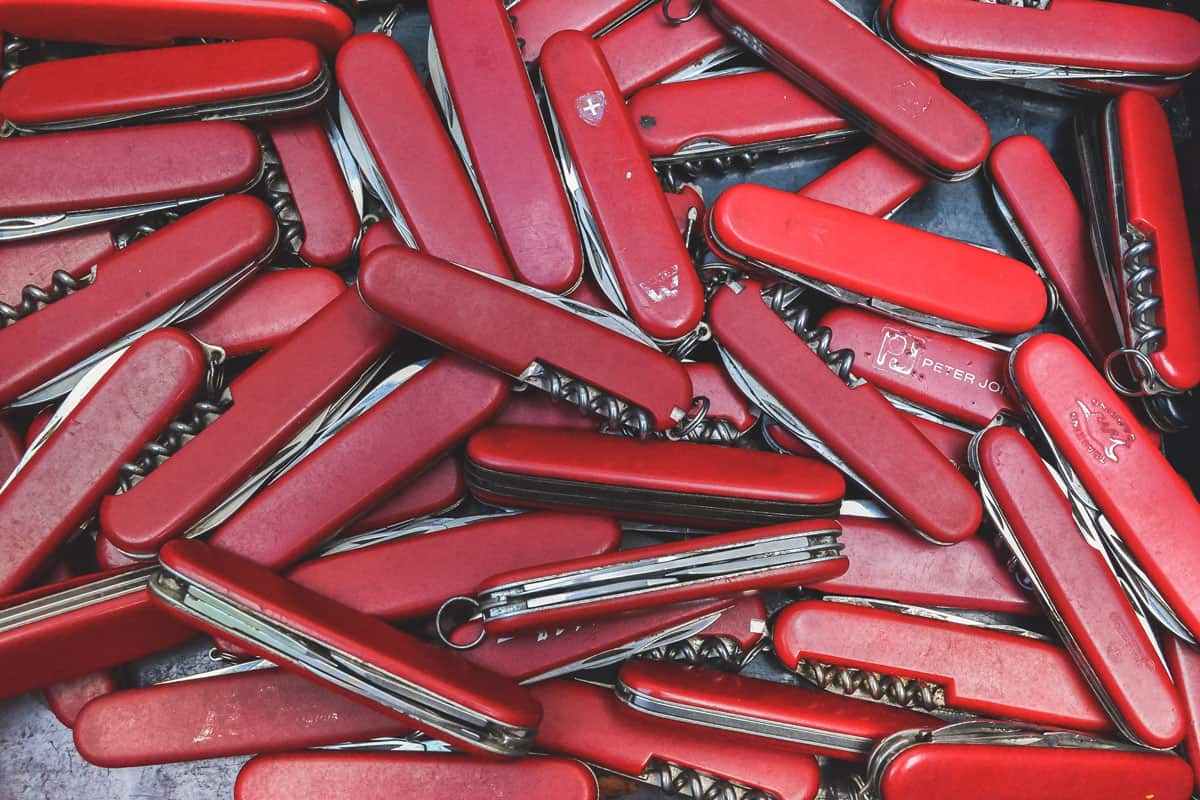 And the best thing about everyday carry multitools is the fact that there are so many different arrays of tools that probably there is one made for everyone out there because not one person has the exact same needs as another. There are specialized multitools for fishing, surviving, or for just all-around everyday use.
And while you should always search for the multitool with the best array of tools, with the most amazing craftsmanship, and from the best brand, your next piece of EDC gear should, most importantly, be personal to you. You shouldn't choose a hefty multitool if you are a minimalist at heart and vice versa. So without further ado, let's get right into what features you should be looking for when searching for your next multitool.
1. LEATHERMAN Skeletool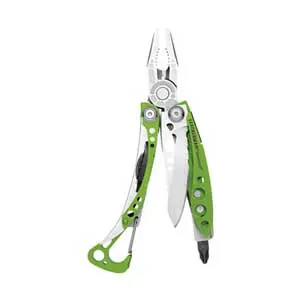 The small size and the lightweight and compact body of the Leatherman Skeletool CX have made it one of the most popular full-sized multitools over the past few years. Thanks to its functional design and lightweight build, it is the perfect combination between a full-featured multitool and a folding knife blade. Despite its small size, the Skeletool packs quite the punch. Thanks to its compact, skeletonized body, it manages to weigh only 5 ounces, making it almost unnoticeable in your pocket.
The great features don't end here, though, and it can be easily operated with one hand, making it perfect for solo repairs. A key Skeletool feature is its heavy-duty 154CM blade with a Wharncliffe shape for precision cuts and extensive serration, making it able to slice almost anything, from butter to leather.
Its bit driver end comes with a tungsten carbide tip that is ideal for emergencies. Its other tools include wire cutters, pliers, and a carabiner/bottle opener, which lets you attach it to a pack or pop open a beverage, rounding out its complement of everyday essentials.
Suffice it to say, with all the features that it offers at a price, you can find it most often, and this tool, leatherman is really one of, if not the best, multi-tool on the market right now.
Pros
It uses lightweight materials for its aluminum body, making it not only sturdy but also very durable too
The tool is very compact, but it still manages to include some of the most common multitool features
A heavy-duty 154CM blade with a Wharncliffe shape for precision cuts and extensive serration.
Cons
While the blade is pretty sharp and powerful, it's also very fragile, so if you put even a slight bit of force more than usual, it can snap.
The pocket clip is a nice and convenient addition to the whole tool, but after only a week of use, it will start to spring up and eventually brake off
2. SOG Baton Q4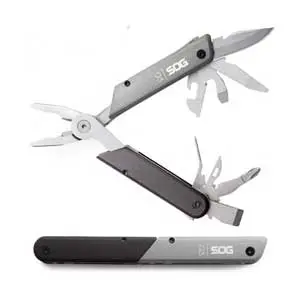 The SOG Baton Q4 multitool pocket knife features 13 survival tools, making it an excellent piece of EDC gear. The multitools selection includes Phillips and flat screwdrivers, a diamond file, a chisel, an awl, a wire cutter, and a couple more. It weighs only 6 ounces, and while it isn't the lightest of the bunch, it is not only amazingly rigid and durable but very functional, too.
This small multitool has an amazing pair of pliers with anodized aluminum handles to ensure it is not only strong but also easy on your pockets. The knife blade is made out of 5CR15MOV stainless steel, which is not only very resistant to corrosion but also strong while also a little bit flexible. It is easy to sharpen, and the customer service that SOG offers makes it also an easy piece of everyday carry gear to take care of.
Pros
The tool comes from a very well-known EDC brand, in the face of SOG, so you know you get some quality with the brand name
It features more than 13 survival tools, featuring the likes of two types of screwdrivers, a diamond file, a chisel, an awl, a wire cutter, and some exceptional blades
The whole blade is made from anodized aluminum, giving it protection not only from drops but also from rust while still being lightweight
Cons
The handles don't have a proper locking mechanism, so there can be some cases where they will fold back during use
There are many problems with the accessories – scissors easily dull on the opposite side when sheathing because of the angles involved unless you're very slow and careful, the screwdriver doesn't lock, and the pen cap breaks off easily
3. Gerber Gear Truss Multitool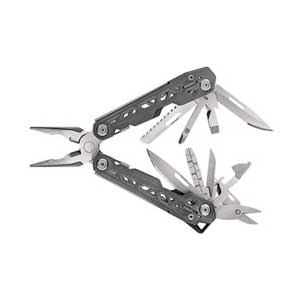 An evolution of the classic Gerber Suspension chassis while adding additional features and still keeping all of the standards like all outboard tools, all locking tools, and even spring-loaded pliers and a bottle opener. But instead of looking at what the old model already had, let's look at some of the new features, like the wire stripper, the very welcomed medium flathead driver, an awl, a file, and a ruler.
It also comes with a low-profile sheath that can be mounted vertically or horizontally on your belt to give you the ease of access that is perfect for you. It is also MOLLE-compatible, so it is even more adaptable than most of its competitors. The handle is very sturdy because it is constructed from a single piece of steel, thus making it slimmer and lighter while remaining pretty light.
Overall, for a pair of pliers multitools, you can't ask for much more, and Gerber manages to offer it at an amazing price, too.
Pros
This multitool is the evolution of the classic Gerber Suspension chassis, so it has quality behind it while still managing to add some new features
It shines with some very outstanding features, like a wire stripper, the very welcomed medium flathead driver, an awl, a file, and a ruler.
The tool also has a very low profile sheath that can be mounted both vertically and horizontally on your belt, and it is also MOLLE compatible
Cons
While the pliers' edges are smoothed off very well, the other edges of the tool are very sharp, making it hard to use
There is a lack of a file, and on top of that, even after a bit of using it, the mechanism is too stiff and clingy, so using it in a pinch is a no go
4. ROXON S801S Storm 16 in 1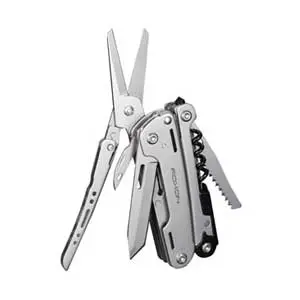 This is an upgraded model of Roxon's s801, and it is even better than before. Let's start with the material of the knife blade and scissor blade, which have been updated from 3Cr13 to 5Cr15MoV. Another great new feature is the Lockable saw, which shouldn't overshadow the reamer, replacing the hook disgorger. All of the new materials reach even newer levels of hardness and corrosion resistance, making them one of the best on the market in these categories.
It has a very reliable locking mechanism, allowing you to rest assured that it won't open randomly in your pocket. And even if something wrong happens, there is a 10-year warranty on the whole plier's multitool, which is still pretty good while it isn't industry-leading.  But that's actually not all, because the company manages to yet improve on the packaging by including a number of bit groups that provide additional screws that will help you mend your tool if anything ever bad happens to it, which isn't encountered very often in other models.
Pros
Similar to the model above, this multitool is an upgrade over the already great Roxon's s801, and it is better in almost any way
Both the knife and the scissor blade utilize 5Cr15MoV, which is a very high-end material, that is not only durable but gives them even more cutting power
Its locking mechanism is so reliable that no matter what happens in your bag and pockets, it won't ever open
Cons
While the knife has a lock that will protect your fingers, the saw lacks these features and places only a stopper there
The blade's surface doesn't proceed well, so any kind of dust or grime will leave permanent scratches and marks
There is the glaring lack of a pocket clip, which makes the whole tool much less convenient
5. Victorinox Swiss Army Knife Fieldmaster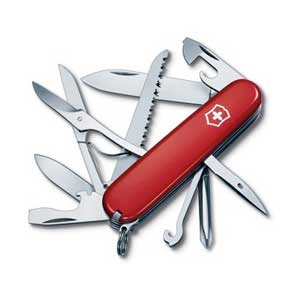 And here, at the end of the list, we have a spin on the traditional Victorinox Swiss Knife. It has 15 functions, including a 2.45″ blade, Phillips screwdriver, bottle opener with screwdriver, wood saw, and scissors – this versatile multitool can be used camping or around the house or office, making it an amazing EDC tool, with its lightweight body clocking in at only 3.5 oz.
Swiss Made stainless steel construction encased in the company's traditional polished red ABS scales provides sleek durability and an amazingly good-looking design. The Fieldmaster isn't only lightweight, but it is also very small and compact, thus being an excellent addition to everyone's EDC arsenal. And you shouldn't worry about any defects or manufacturing errors because the proud swiss offer a lifetime warranty, protecting yet again the Victorinox name.
Pros
This blade is a fresh new spin on the classic Victorinox design while still remaining as simple as possible and still having a whole dozen of features
It has 15 distinct features, like a 2.45″ blade, Phillips screwdriver, bottle opener with screwdriver, wood saw, and even scissors
It uses only the highest quality swiss steel that is encased in the company's traditional red ABS scales, so everyone will know you are using a quality instrument
Cons
The blade mechanism is very difficult to open, and in a pinch, you won't have quick and easy access to the multitool
Overall, while it uses premium materials, the whole build ends up feeling a little too clunky and cumbersome for a pocket multitool
How To Choose?
There are three main things that make EDC tools so great and sought after, and they are:
Lightweight, because no one wants to carry a 1-kilo knife in their pocket
Functional, because the reason you are carrying it in the first place is to be useful to your daily schedule.
Stylish, because with the rise of tech wear, EDC tools are becoming more and more fashion accessories
And all of these amazing characteristics are incorporated into traditional multitools to make much lighter and smaller models that are just as functional as their bigger brothers while being much better overall. So let's look at some of the other features that are very important.
Blade Construction
Edge Retention
Depending on how hard the metal that the blades use is, you will need to take the tool to the sharpener either more or less often, so if sharpening on the field isn't your thing, look for a tool that uses a harder material.
Hardness & Flexibility
While at first, you may think that you need the most rigid and hardest blade you can find, having a little flex means that your blade will be more resistant to snapping in half while using it, so look for something in the middle.
Metal Type
This is one of the most accented features when looking at the features on the site of the manufacturer, and it really is one of the core and most important factors when choosing a multitool. The 400 Series metals (410, for instance) is a great material for EDC tools because even if it's reasonably priced, it still offers great edge retention rigidity.
The CR metals (5Cr15MOV, for example) is a steel that's made in China and a pretty good stand-in for the 400 Series, all things considered. They have a variety of different hardness levels, though, so while it can be hard, you can certainly find a comparable variant to the American-made metals.
At the end of the day, though, even if this is a pretty important factor, it shouldn't be your top priority because, with today's technologies, most of them are pretty much the same.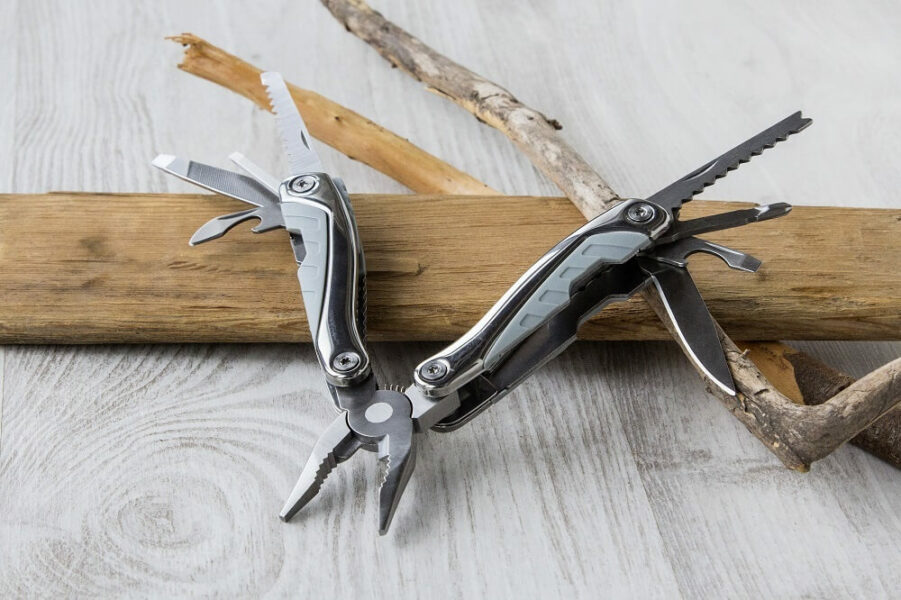 Functions and Features
What's everyone's favorite thing about multitools? Well, looking at all the toys they have, of course. Multitools on the market today offer more features and functions than ever before, with the added benefit of years of research, development, & execution continuing to improve their performance.
Standard on most multitools
Pliers, Knives, Screwdriver, Saw Blade, Can Opener, Scissors
Premium Functions:
Interchangeable bits & wire cutters, Diamond File, Flashlight, Corkscrew
Comfort & Style
EDC is all about comfort and style, and multitool manufacturers know that very well. With improvements in technology, the newest EDC multitools are even lighter, smaller, less expensive, and have even more functions than before.
Belt clips are becoming some of the most popular ways to carry your EDC tools. For years they have used a case with a belt loop on it, or people just put them in their pockets, but now belt clips have managed to remove the annoying hip bulge while still giving you quick access to the tool.
Carrying Cases need to be considered too. If you want to have your tool by your side at all times, you should definitely find a carrying case that is strong enough to hold it tightly and one with a secure closure system to ensure the tool is safely put away on your belt.
A Keychain or Carabiner is a feature mostly found on smaller models, but it is still pretty rare. It's very useful, though, because even if the multitool manages to escape from your pocket, the chain or the strap will hold it from falling between your car's seats, for example.
Frequently Asked Questions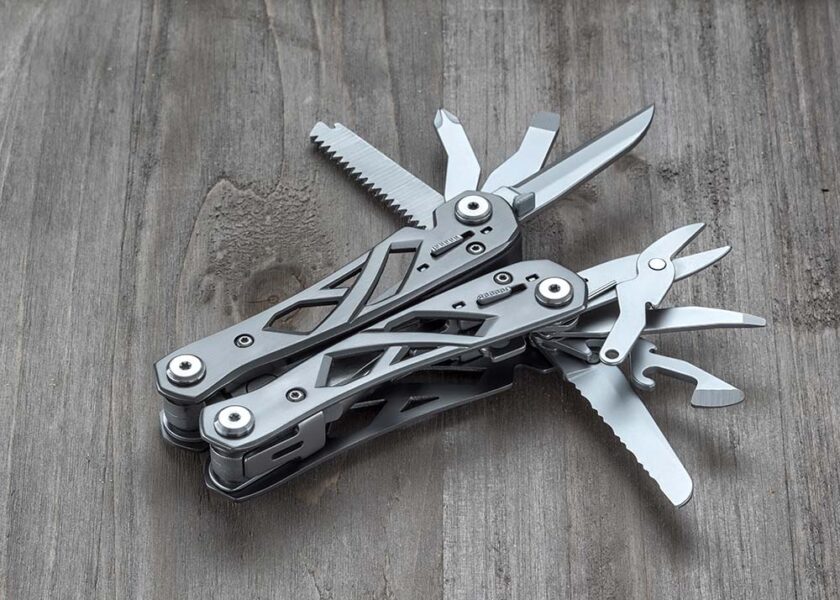 What Is The Best Kind Of Metal For Multitools?
If you aren't too keen on making hard choices, just choose stainless steel. Not only is it almost impervious to corrosion, but it is also soft enough to resist snapping while retaining its hardness and rigidness.
As far as specific steel varieties go, there is not going to be a whole lot of variance in quality when it comes to the EDC class of multitools. Their class of small and pretty affordable models narrows the choice of available materials, so in a sense, they are almost the same.
And there are some people that insist on having a purely American-made tool, but with how many parts are there in a multitool, there are a number of different parts made both in the USA and China, so most of the time, you won't be able to find something 100% from the good old American soil.
What's Better: Leatherman Or Gerber?
While there are a number of great EDC multitool manufacturers out there, no other companies are as big rivals as Leatherman and Gerber. The two brands have spent years competing for the same space on your belt or in your pack, and because of this competitive spirit, we have gotten some amazing models.
For a long time, it was thought that Gerber was just a more affordable alternative to Leatherman, and this was not necessarily untrue. Today Gerber releases a number of tools that are comparable to Leatherman both in terms of quality and price.
So what's the difference between these two? For the most part, it just comes down to personal preference. My personal advice is to focus on the tool itself, not the text that is imprinted on its side.
Final Words
To wrap things up nicely, a multitool is an amazing addition to every fan of the EDC lifestyle. It has all the things you may need during a normal day and some additional features that you never know when you may need it. The most important thing you should remember when you actually go to buy your new companion is to make sure it fits you perfectly because no matter how it is on paper, you should like it so much that you want to carry it every day. Otherwise, it's useless.