If you've taken the step of buying a handgun, either for personal protection, competitive shooting, or professional law enforcement, you've made an important investment. The next thing you should put a lot of thought into is the holster; not only is carrying around your firearm without a holster uncomfortable, but it can also lead to a lot of trouble in case of a survival situation. Of course, having a good holster can make a world of difference when you need to draw quickly, holds your firearm securely in place, and remain comfortable for as long as it's on your body.
Fortunately for you, BlackHawk!, one of the biggest names in supplying gear for military and police use, also has an amazing selection of holsters tailor-made for everyone's needs. Designed for any kind of carry and all built solid, these holsters are a smart investment, all made to help you get the quickest, most natural draw possible. So instead of rambling on and on, let's get into what makes a good Blackhawk holster and the best models on the market right now.
1. BLACKHAWK SERPA Level 3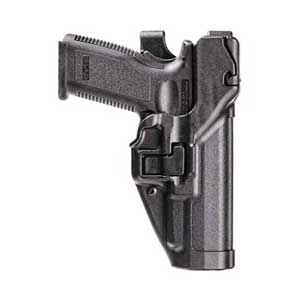 Level 3 retention holsters are pretty standard for law enforcement use. BlackHawk added their SERPA technology for superior retention, creating a holster that allows for rapid draw perfect in high-stress situations. You've got draw speed, natural release, and a cut-down body with a tapered trailing edge for optimal concealment. What more could you want? Excellent duty holster.
It does what it's supposed to do. What more could you ask for with a holster that's relied upon by so many people? Whether on duty or at the range, it will do the job admirably, again and again.
Release system ease of use
In a high-pressure situation, when you need your weapon in your hand, NOW, this holster will not let you down. It gives you a full grip for a nice, natural release.
Cost and Value
Whatever it costs for the feelings of safety, confidence, and reassurance that this holster gives you, it's minimal at best.
2. BLACKHAWK! Omnivore SL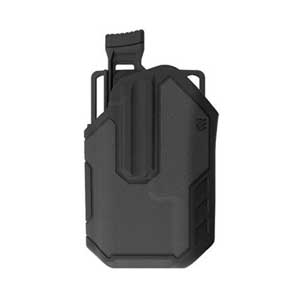 Omnivore. That implies that this holster shouldn't be picky, and it's not. With over 150 pistols equipped with an accessory rail, you'll be hard-pressed to find a gun it doesn't like. It is an extremely versatile holster that goes out of its way to make users happy. So many guns!
This holster can fit many different types of pistols to ensure you can carry the right one for the occasion. While it is pretty huge, that just increases the range of weapons it can hold.
Like a tank
It looks good, and it fits well, it's designed well. All around, the holster was built to perform, and for a long time at that. If you fear commitment, stay away because this holster isn't going anywhere anytime soon.
Cost and Value
For as solid-built as the holster is, it would be perfectly acceptable if it was also expensive. It's not. BlackHawk missed an opportunity to charge a lot more when they built it, given the quality.
3. BLACKHAWK EPOCH Level 3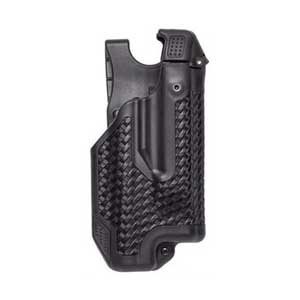 This holster has three levels of retention. THREE. That gives the EPOCH Level 3 Light Bearing Duty Holster the highest level of security that BlackHawk offers. It also fits several types of lights, locking on and not letting go. That in and of itself demands attention and should be enough of a selling point. But wait, there's more. Compatibility!
It's hard enough to find any light-bearing holsters worth talking about, so to find one with so many options is a breath of fresh air. Not only does it fit lots of gun/light combinations, but it also holds them well, too.
The Hold
Not only was this one designed to hold your firearm securely in place. It was also developed to allow you a quick and smooth draw of the weapon. Promising you that while drawing the weapon, you won't get a snag.
Cost and Value
Not a value-priced holster per se, but if you factor in how many lights it's compatible with, that really doesn't matter. If you need a light-bearing holster, it's affordable and well-made, so why don't you own one?
4. BLACKHAWK Ambidextrous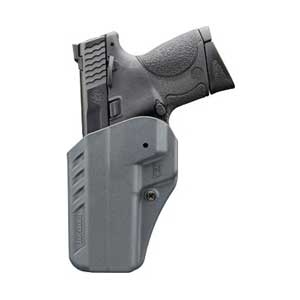 A more minimal holster than the two above, but still offering the right level of protection for both you and your gun.
The polyester construction of this holster means that it is more adaptable than most rigid holsters. As a result, it can be carried either IWB or OWB and is ambidextrous. This is perfect if your handgun is shared by a few people, as your wife or son can just pick up the holster and get going.
We especially value the slim profile of this holster, which makes carrying it concealed very easily. In addition, though, this holster has several other advantages:
For the price, this holster offers excellent value. Significantly cheaper than most rigid body holsters, if you only carry your pistol occasionally, this Blackhawk holster could be a good option.
If it's important to you, this holster is entirely designed and made in the USA. This also ensures the highest level of quality.
As for disadvantages, obviously, this kind of slimline holster will never offer the same level of protection as its larger brothers. The trigger guard mechanism here might be too primary for some, but for most people will be sufficient.
5. BLACKHAWK SERPA L3 Tactical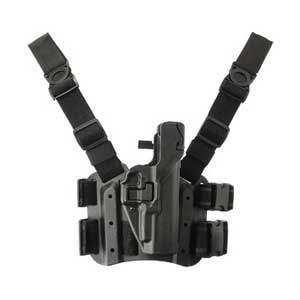 Top of the line. Every company has a product that customers and critics consider their crown jewel, which is right here. It's a tactical holster, so it needs to be well-built. Check. It cannot restrict movement. Check. It HAS TO have a wealth of safety features to help keep the user safe, Bingo. This holster was made for a specific situation, and it fits the bill to a tee.
Safety first
Did I say the wealth of safety features? Yes, I did. The leg strap was designed to stay put, the thumb-activated pivot guard for added security, and immediate retention upon re-holster are just a few of the features that make this holster super safe.
Great mobility
One of the most uncomfortable things about using this type of holster is unwanted movement. This selection eliminates that for you by implementing a design that reduces unwanted movement.
Cost and Value
The SERPA Level 3 Tactical Holster is one of the pricier holsters on this list. It is worth it with all the features included to improve safety, security, and function. Remember, the people who use this holster on a regular basis rely on it to perform, and boy, does it. This may be the best Blackhawk Serpa holster out there.
6. BLACKHAWK SERPA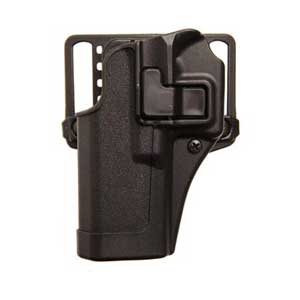 Check out how well this Serpa CQC holster works. Designed with Glock and Beretta handguns in mind, this features a series of belt loop and paddle platforms.
The dynamic matte finish of this holster adds a delicate appearance you will love to show off. A paddle or loop is included to let you thread a handgun through.
You can change out the holster quickly too. You would remove three small screws on the back part and then switch them out.
A firing grip makes it easy for you to draw the firearm as necessary. This also retains your gun right away after you add it back into the unit.
Are you a lefty or righty shooter? It does not matter as this holster is suitable for either need. You have to specify which hand you want to use when you buy it.
This is the first option for most handgun needs. The standard no-frills layout creates a comfortable choice that is right for you for minor concealment needs.
7. BLACKHAWK! Serpa CQC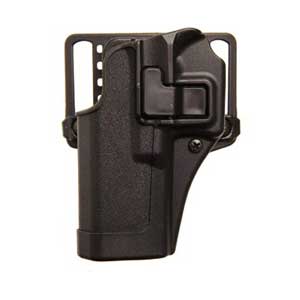 Blackhawk Holsters are typically known for their smooth draw. This holster, however, takes it up a notch with its Serpa Auto-lock technology. It allows for a quick draw, easy re-holster, and better all-around security, meaning your weapon isn't going anywhere until you tell it to. All this comes in a sleek package that draws no attention when concealed.
Retention
With the side button release, the extra level of retention provided means that your pistol can't just be ripped from its holster, nor will it just slide out accidentally. Where you go, it goes.
Paddle? Belt loop? How about both?
How do you wear your holster? It doesn't matter. The SERPA CQC Concealment Holster eliminates that question by providing both. You could switch it up and use both, just to keep things interesting, if you really wanted.
Cost and Value
As what is probably one of the most popular holsters, the Serpa CQC Is priced well enough that you likely won't look back on your purchase with any regrets.
8. BLACKHAWK EPOCH Level 3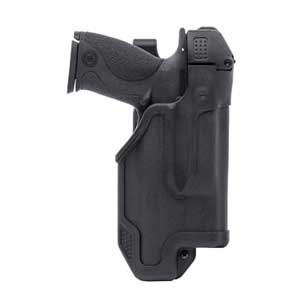 Building on our track record of reliable holster performance, the Epoch Holster delivers three levels of weapon retention for our highest level of security. The patent-pending retention system engages the pistol's ejection port when holstered and won't let go until you release it. As an added safety measure, the Pivot Guard opens by thumb activation and is designed so it won't close accidentally, locking you out of the holster. This unique design accommodates the most popular under-barrel lights on the market today, giving you all the versatility you've expected from BLACKHAWK.
The holster fits the most popular light guns, and there aren't any random snaps and hoods that can accidentally open, so you will be even safer. It also has a reinforced master grip, so quick drawing and putting it back will be as easy as pie. And with the ability to fit all traditional Blackhawk inserts, this is truly one amazing piece of tech.
9. BLACKHAWK Leather Inside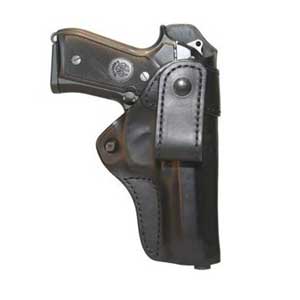 If you are seeking something a bit more upscale, with quality, the Leather Inside-The-Pants holster is an option to consider. Unlike the nylon options, this leather one is a bit more elastic to your personal needs and your weapon of choice. With this holster, you have the option of learning which drawing form works best for you due to how it was constructed. All-Leather Exterior
As previously stated, the exterior is made entirely made out of all-leather. Having a leather exterior works quite well due to how moldable it is. Unbeknown to many, leather is quite stretchy. It's one of those materials that stretch in multiple directions, which in turn creates this customized aesthetic. Any handgun you place inside of it will comfortably fit right in. Furthermore, the leather is paired with an adjustable tension screw that allows you to choose the level of retention the holster itself has. Having this feature is excellent for those that want to purchase one holster to hold multiple guns.
Adjustable Belt Loop
To be as comfortable as possible, this holster comes prepared with an adjustable belt loop. It is all about being able to adjust to what you are already wearing. Therefore, you want your holster to clip on simply. This one does just that with ease. You can easily and quickly mount it to your belt for added upper-body stability. It adds an extra dose of durability to your holster as well.
Cost and Value
This item is priced quite reasonably in terms of cost and value. Due to it being created out of leather, you might assume that the price with being on the pricier side, but that is not the case. You are getting a quality product that is quite durable and adjustable all at once. Furthermore, you can use multiple, multiple handguns with this holster as it will mold to what you need it for.
10. BLACKHAWK Serpa CQC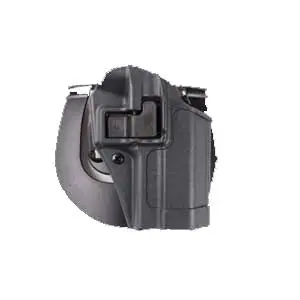 Hey, civilian, excellent holster. This is specifically built to be an everyday concealed carry or range holster and has the durability to prove it. Since it is for everyone, essentially, it has a smooth, quick draw and adjusts easily to fit your needs. Strap it on, slide in your weapon, and you are good to go.
Customize your angles
A math nerd's dream holster, really. Where do you want to draw from? The world is your oyster with this holster. For those who hate to choose, choose this holster.
Once it's in, it's locked in!
As is typical with BlackHawk products, once you hear the audible click, your gun is in there, by your side, where it belongs. Bonus, while it's in there, it fits perfectly so that it won't rattle around, either.
Cost and Value
Given what it offers for security, draw speed, and aesthetics, the Serpa Sportster Holster provides excellent value for a reasonable price. Without question, you won't be disappointed.
How to Choose the Best Blackhawk Holsters?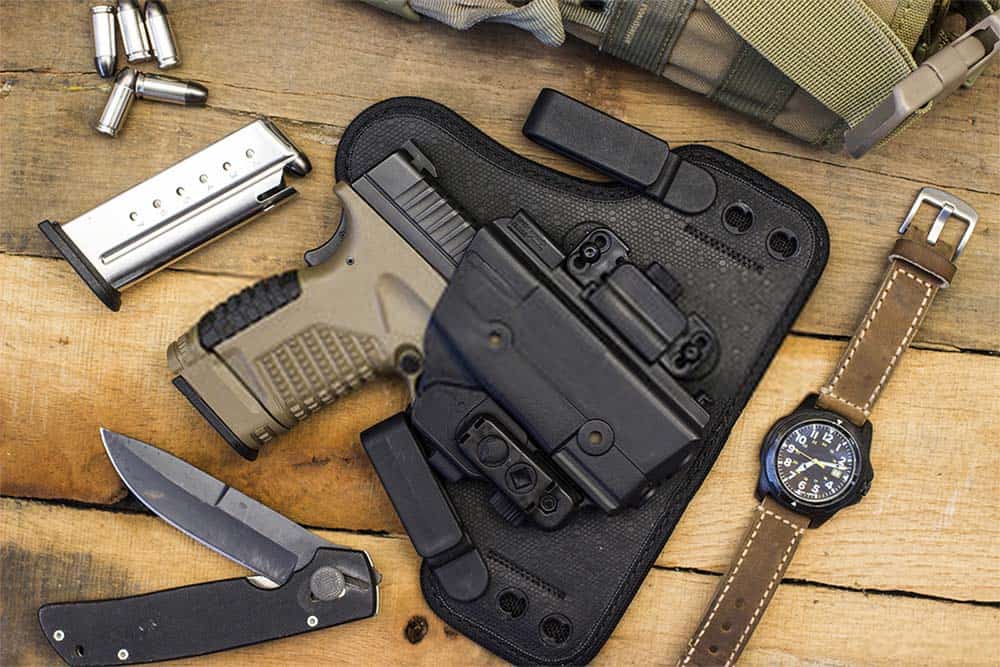 First and foremost, get the Blackhawk holster that best fits your gun and matches your carrying style. For most weapons, this will not be a problem because Blackhawk makes such a wide range of holsters that you should easily find one that suits your setup correctly. This, believe it or not, is the most common mistake people make because they buy something from a famous brand like Blackhawkm, but they consider if the holster actually fits well.
Weapon Security
With any holster, including Blackhawk holsters, the first thing you should look for is weapon security. The consequences of accidental discharge or dropping your gun can be severe.
Most Blackhawk holsters now come with fully adjustable retention screws. This means that it is possible to adjust the tightness with which the holster grips your weapon. This is useful if you own several similar weapons because you can adjust the holster for each.
It is also handy if you are setting up a holster for competition because you can adjust the level of weapon retention to your purpose.
Another thing to look for is the trigger guard mechanism. The guard on your holster should ideally cover the entire trigger mechanism to avoid accidental discharge.
Types of Holsters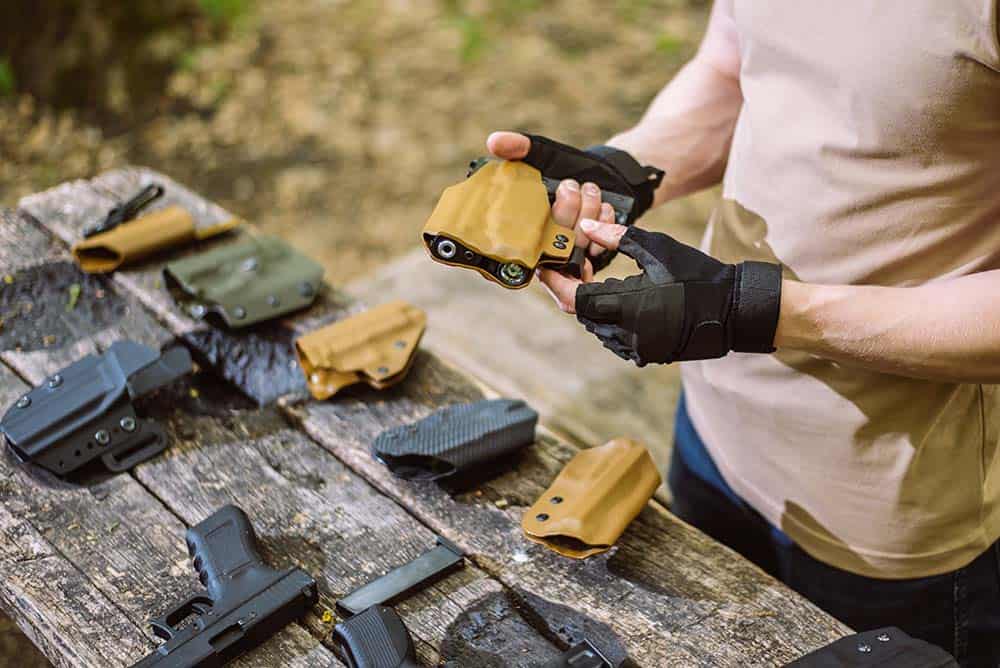 There are several different positions in which you can carry your pistol – inside or outside your waistband, on your hip, or even in a pocket holster. Blackhawk holsters offer a full range of different carrying positions, so pick a holster that suits your preferred method.
That said, if you are new to carrying a weapon regularly, it is worth reading up on the differences between IWB and OWB, as different people prefer different styles.
Though the Blackhawk holsters we reviewed were all IWB or OWB items, if you prefer a different type of carrying position, Blackhawk has a holster for you!
Ease of Access
Ideally, you want a holster that holds your weapon securely while also allowing you to draw it really quickly. In the real world, though, there is a slight compromise to be made between security and ease of draw.
In general, though, draw speed depends more on practice than on the type of holster you use. Hours spent practicing your draw are more productive in this regard than hours spent looking for holsters that promise a quick draw.
Another feature to look for is variable cant – the angle at which your weapon sits when in the holster. Different people prefer different cants, and you can even adjust this angle depending on the situation.
Concealment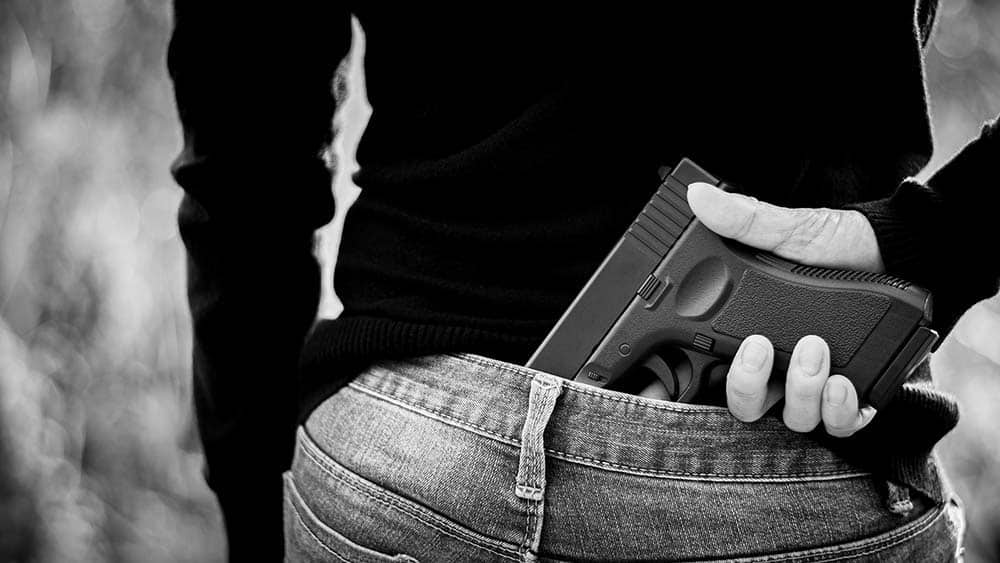 If you carry your pistol concealed, it goes without saying that you want a holster that hides your weapon well. Though some Blackhawk holsters offer a good level of concealment right out of the box, it is also worth reading up on how to conceal your weapon to get the best from any holster.
If you live in a hot climate where light clothes are standard, printing can be a problem where the shape of your weapon shows through your clothes. Though some people worry unduly about this, it can be a problem with any type of concealed carry.
Durability
Last but of course not least, look for a holster that will provide years of reliable service. While it may seem like hard-case holsters, typically made from extruded plastic, will last the longest, this is not necessarily true. Soft holsters, if made from sturdy fabric, can last equally as long.
In recent years, hi-tech materials have started to be used in holsters. One of our favorites is Kydex, an extruded plastic that offers excellent protection for both you and your weapon.
FAQs
Where are Blackhawk holsters made?
Blackhawk is a tradition-based American company, so the holsters are either assembled or fully produced here in the USA. While they certainly can't pump out as many numbers as some of their competitors that outsource everything to foreign companies that don't really know what they are doing, Blackhawk banks on their high build quality and great customer support, so you get a low volume and excellent quality for your product in the end.
Who owns Blackhawk tactical?
While nowadays the company is owned by a group of shareholders and the current president is Joshua Waldron, the company was started by Mike Noell, who was a former SEAL, so whether or not the company is the same as it was 10 years ago, the fact that it lies on military principles and qualities make it a really reliable and thus desirable in the end.
Final Words
All and all, Blackhawk really does make all different types of holsters, so any feature that you may want is put on some model out there, and finding the right model for you is a matter of searching a bit through their site. And while yes, they are one of the best manufacturers out there, never rely only on their brand name and try to focus on a holster that actually fits your gun well and you will want to carry and use.