During the ages, people have developed many tools, some for defense, some for survival, and some for convince. And even today, we still use all these tools, but we have developed something else.
Over the years, several brands have popped up with their spin on one of the most popular pocket gadgets – the multi-tool. It is essentially a gathering of many tools under a small package.
1. Leatherman Wave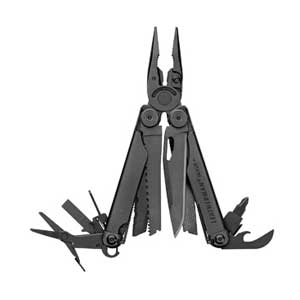 First, we will look at one of the original folding multitool brands and their latest and greatest outing, the Leatherman Wave. It is pretty lightweight, when only at 8.5 oz, while still having 17 tools at your disposal to use at any time.
It is made primarily of high-grade stainless steel, and with easy-to-operate locking features, it isn't that hard to use single-handedly.
Suffice it to say, with many tools and excellent features and materials, the only disadvantage to arguably one of the best multitools is its price, but you can probably swallow it.
2. Gerber Bear Grylls Ultimate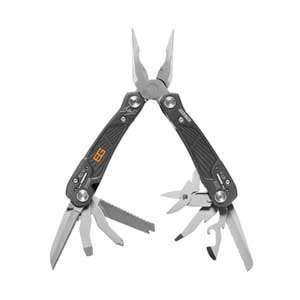 The Gerber Bear Grylls Ultimate is another sterling product that is well-designed and built. It features an ergonomic textured rubber grip, which reduces slippage and maximizes comfort, and a spring-loaded jaw for simplified use with one hand.
The Bear Grylls Ultimate comes with 12 stainless steel and weather-resistant components, including fine-edged and serrated knives, needle nose pliers, a Phillips screwdriver, a saw, medium, small flat drivers, wire cutters, scissors, a can opener, and a bottle opener.
Also, it boasts a patented Safe. T. Plus System, which provides improved safety by locking components into usage position. Lightweight and comfortable to use, the Gerber Bear Grylls Ultimate is one of the top survival multi-tools around.
3. Victorinox Champ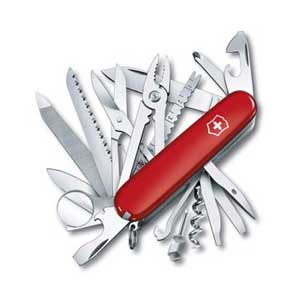 This is not only one of the original multi-tool brands, but also one of the most well know and respected ones, Victorinox. It's their biggest and bulkiest model, but it features so many functions that you probably won't be able to remember them all at once.
You are covered in all fields. You can cut with either a small or big-sized blade or even a saw, and if you want to open a bottle of wine, you are covered too with a corkscrew. The small screwdriver is paired with a can opener, but it isn't your only option for bolts, there is also a Philips head one. And I can go on and on because this Victorinox swiss army knife is so feature-rich that the article probably won't be able to fit on the page.
Suffice it to say, if your main sought-out features aren't a lightweight body and a compact size, the features packed can't be matched by anything else on the market.
4. Victorinox Swiss Army Swisstool Spirit X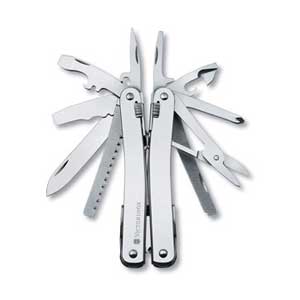 The Victorinox is a great example of one of the Swiss versions. It folds down to a tiny size at less than an inch across but still packs plenty of power in. Thirty-two different functions are included and are easy to access, and you won't find yourself fumbling around to pull out the tools.
The knife and saw are particularly good quality, so for survival needs, this can help with some of the more rugged activities you may have to put up within the great outdoors and can cut through many obstacles you might encounter.
This can come in handy in so many scenarios. A mini compass is even included for the adventurers out there. The lifetime warranty is impressive and shows the quality of the offer. Swiss craftsmanship plays a part here.
5. SOG Multitool PowerAssist Pliers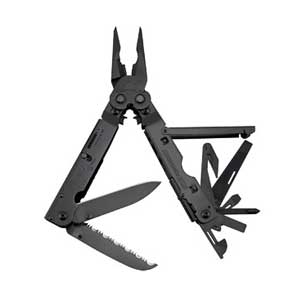 The final entry on our list is from SOG, a very famous survival equipment brand, and it is an excellent model. The SOG Pliers are an excellent EDC multitool with a great loadout, including pliers, screwdrivers, bottle and can openers, and even a blasting cap crimper.
It is a tough and lightweight SOG model, a true pocket powerhouse made out of excellent materials and with great craftsmanship.
The pliers come wax and oil-coated right out of the box for increased corrosion resistance and minimal light reflection, and if you aren't a big fan, you can remove them anytime.
To sum it up, this SOG model has all the ingredients for a great survival piece of gear, and it manages to combine them into an astonishingly good final product, so if you are in two minds about buying, don't hesitate and just purchase it.
Features to Look For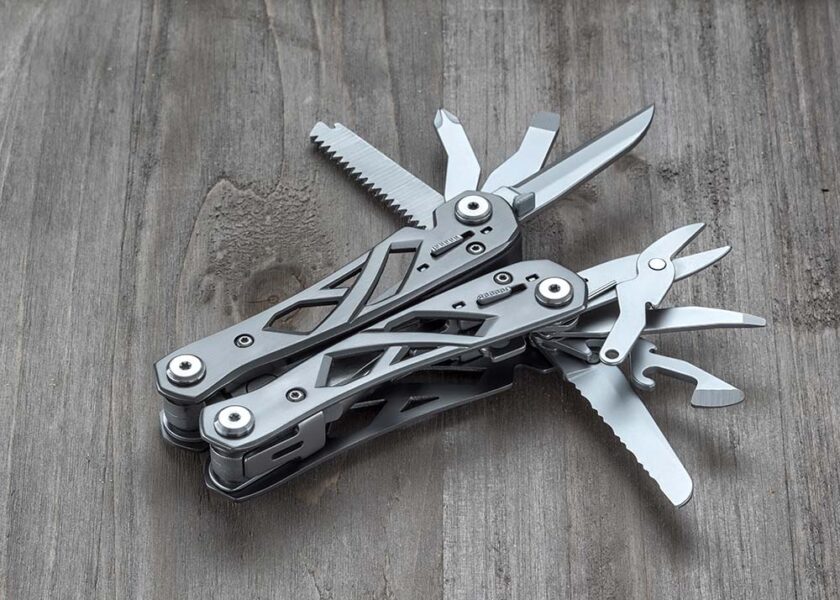 Knowing what to look for when choosing Different survivalists will prioritize different things. For instance, if you plan to set traps, you will need knives. If you want your tool to help you navigate, you can go for one with a compass.
Some of the tools we will look at have over 30 different functions and built-in tools. This is an incredible number. In any product such as this, there are a few tools that are staples and should be found in most of the products.
There are also some which are added luxuries. Think about what you really need. A Swiss army knife is pretty useless if it has toenail clippers and bottle openers where it could have knives and proper tools. Common features and tools include:
Standard knife – this can be used for various things, including food prep, making traps, cutting rope and cord, and more.
Serrated knives – these can be more useful for cutting some other items, including wood. It can act like a saw.
Pliers – for the hard-to-reach areas and those where you need to generate a little more twisting power!
Screwdriver – many attachments can let you fix things in a survival setting, and a screwdriver can come in very handy.
Wire cutters/strippers – great for all sorts of electrical repairs.
Dimensions and weight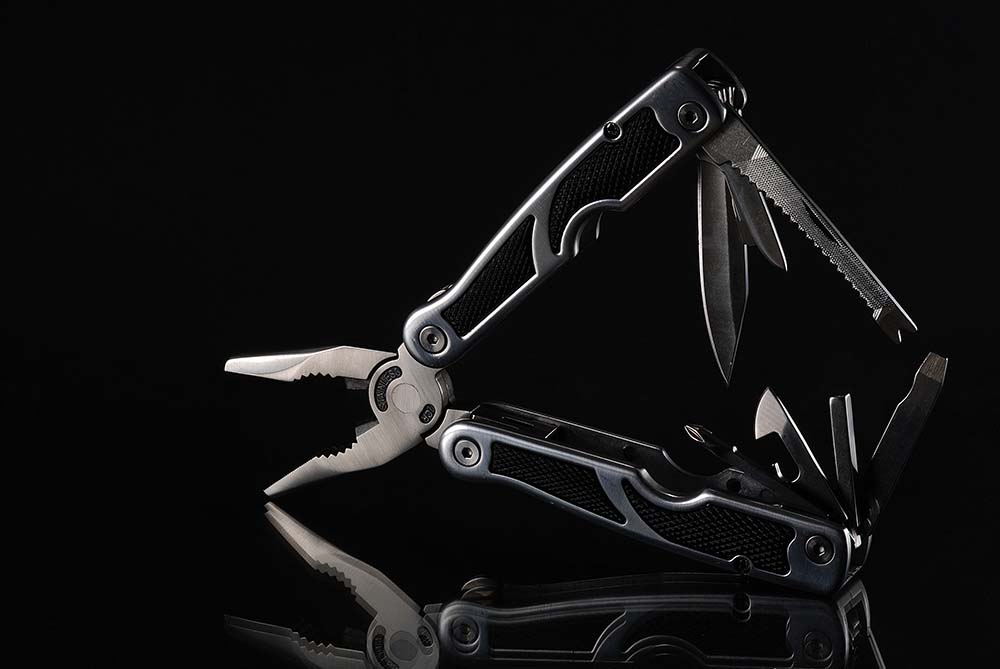 Think about the environment you are most likely to be using this tool. Also, if you have a backpack for survival scenarios, think about where the tool fits in. This will allow you to connect it to your belt and grab the tool whenever needed.
There is quite a lot of variation in size. Some people find that the very smallest can get a bit awkward to use, especially people with big hands. Most of the survival multi-tools on our list are small enough to comfortably fit inside a pocket, meaning they can be at your fingertips in one quick movement if you need your tool in a rush. A large number of tools also add additional weight, so add only the features you will actually use.
What materials is it made from?
The quality of the materials your tool is made from is another vital element. You shouldn't opt for a flimsy model, and stainless steel tools will be the best option for most. These may be coated and sheathed to add an extra layer of durability.
What can you use it for?
A multi-tool can help you in a variety of different situations. In fact, the number of these types of situations is virtually limitless. They can help with virtually every task you encounter in a survival scenario. Creating shelter, building traps, sharpening other knives, making fire, fixing things, cutting food, opening cans of food…the list is endless. Whatever the scenario is, in a critical situation, a proper multi-tool is a must-have item in your survival arsenal.
What Are The Most Common Types?
Let's clear something up – multi-tools are highly useful but supplemental. They are a jack of all trades device. They're not as effective as dedicated tools for any jobs they perform.
For example, most electric saws are better and faster than a saw blade in your run-of-the-mill multitool. But you can't wear a table saw on your hip. So a multi-tool is a bit of a jack-of-all-trades, master-of-none tool.
They're ideal for "quick fixes" and small casual problems. They're not a replacement for a conventional set of tools. Dedicated tools that are extremely useful and extremely valuable.
Every survivalist should have one because it's like a 'mini-me' of your full tool kit. So the first thing you must decide when looking for a survival multi-tool is which kind you want to buy.
There are three main types of options:
1. Swiss Army Knives
These are the classic knife blade with additional tools set up. They've been a popular survival tool for well over a century. The first known Swiss army knives included just a knife blade, a bottle opener, a reamer, and a screwdriver.
Today though, you can find just about any combination of tools. Genuine Swiss Army Knives are only made by two companies, Victorinox and Wegner.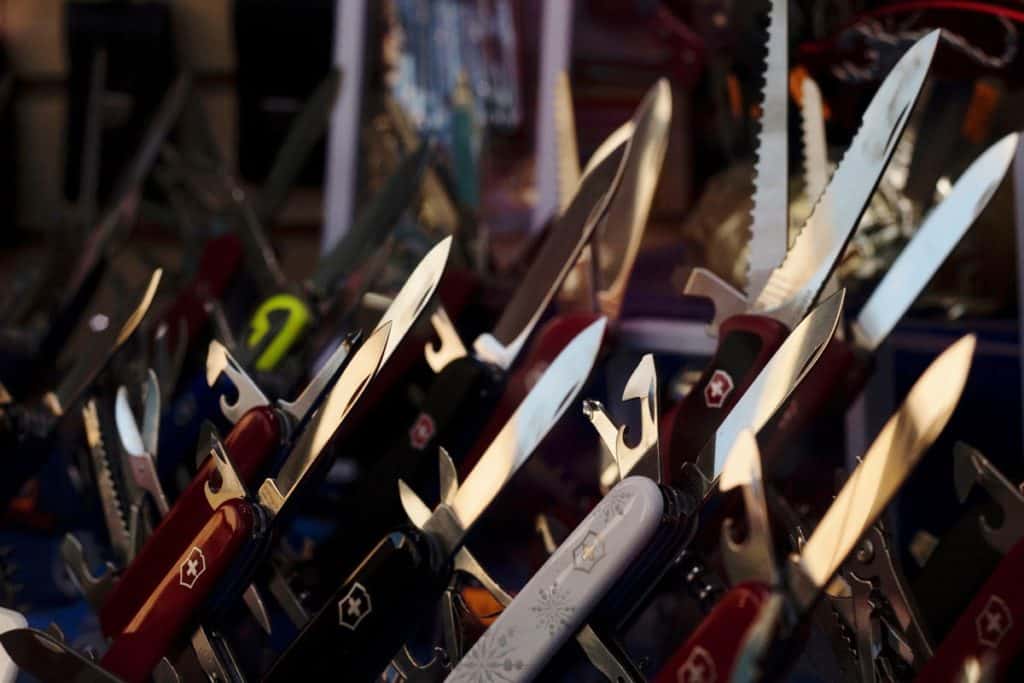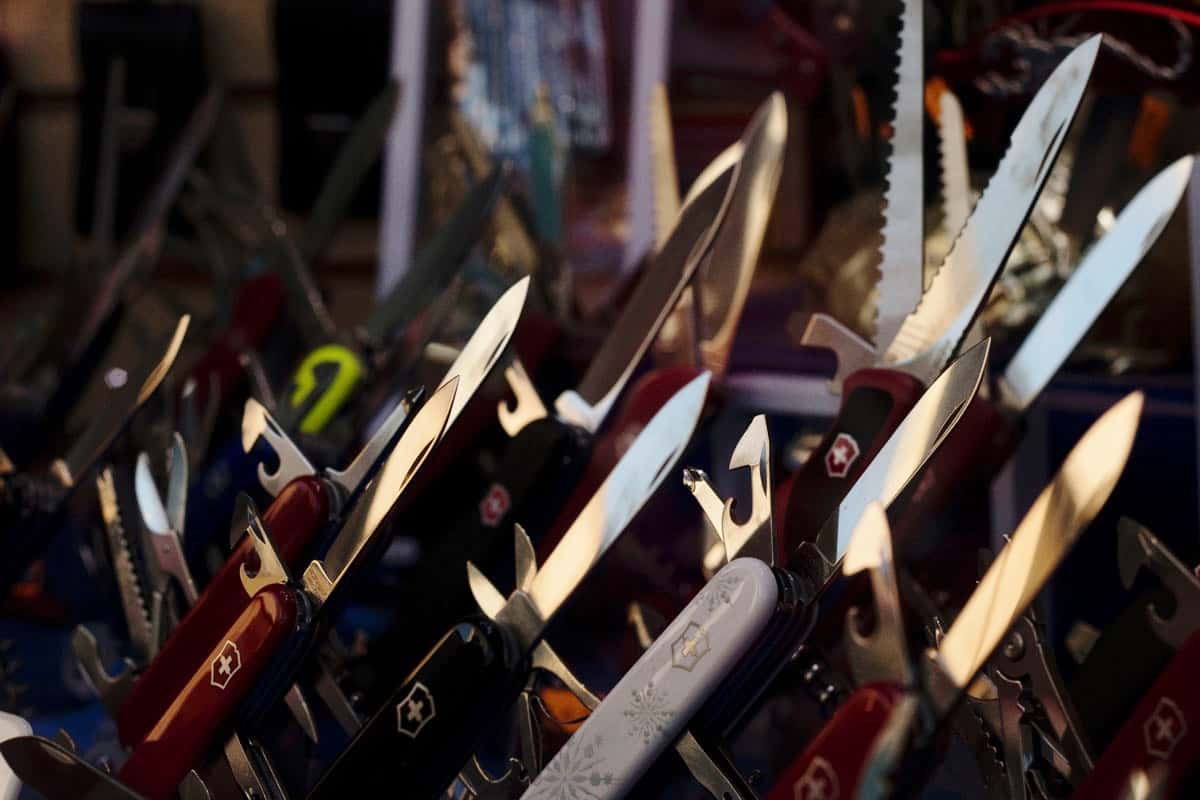 2. Folding
Tim Leatherman developed the world's first 'modern' folding multi-tools. They're more robust than conventional Swiss-Army knives and include a pair of pliers.
There's more space for tools than Swiss Army knives because there are two handles for tool storage, though they are bulkier too.
3. Credit Card Type
These are incredibly simple multi-tools that offer as many cool survival gadgets as possible into a single piece of metal. They are usually the size of a card. So these fit into wallets, backpacks, bug-out bags, and even on key chains. They are cheap, durable, lightweight, and minimalistic.
I own several and keep one in each of my emergency bags, one in my car, and another on my keys – that way, I'm always prepared with a set of basic tools. Survival cards often include bottle openers, wrench sockets, screwdriver bits, saw blades, measuring sides, and can openers.
Final Words
Finding the best too for you may isn't as simple as it seemed at the beginning now, is it? Though this list features some of the best models on the market, the final choice of what you will actually use depends on what features and the number of tools you need. Some are best for bikes, and some are best for survival, so getting an all-around multi-tool or specialized one is up to you.