Last Updated on by Jeremy
If you are a person, who carries around a gun trough the whole day, you know the feeling all too well – the need to continually pull up your pants because the weight of your firearm on your hip is just too much for your ordinary waistband to take. Not only can it be annoying and uncomfortable, but also very unsafe.
Even worse, you may choose to not bring your firearm with you every day because of how uncomfortable it is, and the day you do that may be the one you needed it the most. And comfortability is only the beginning; there are plenty of reasons you must wear a gun belt if you are carrying a gun, so here I'm going to help you choose the best one for you.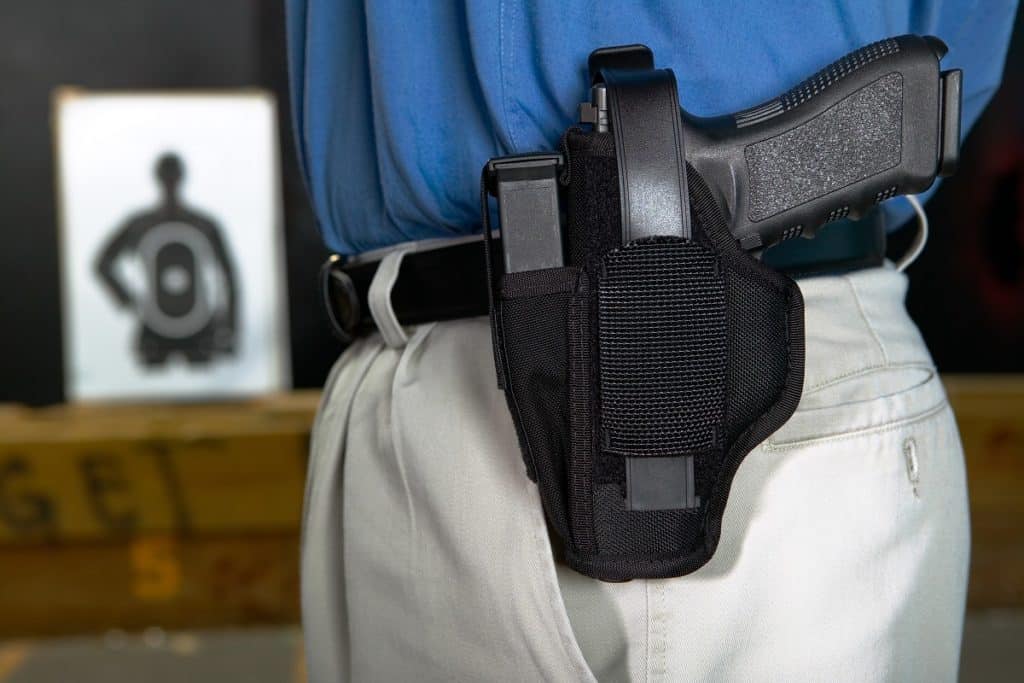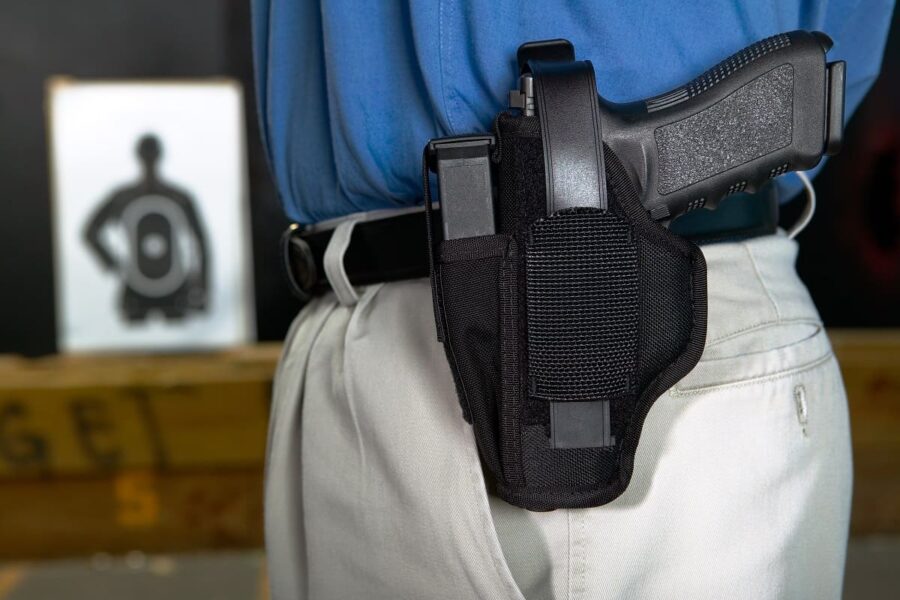 Why should I consider a gun belt?
Now, most people may think: "Why should I buy another belt when I already own one that should do the same job?" and well, they don't know how wrong they are. Not all products are made equal, and holster belts are a special breed.
Specifically designed to support the weight of a handgun, these are made to strap on a holster and have your firearm safe right next to you, ready to be pulled out at any time.
Usually, when people start carrying concealed equipment, they focus too much on the firearm and very little on the gear that is used with it. And that leads to people who invest quite a bit in a quality holster while ignoring the girdle.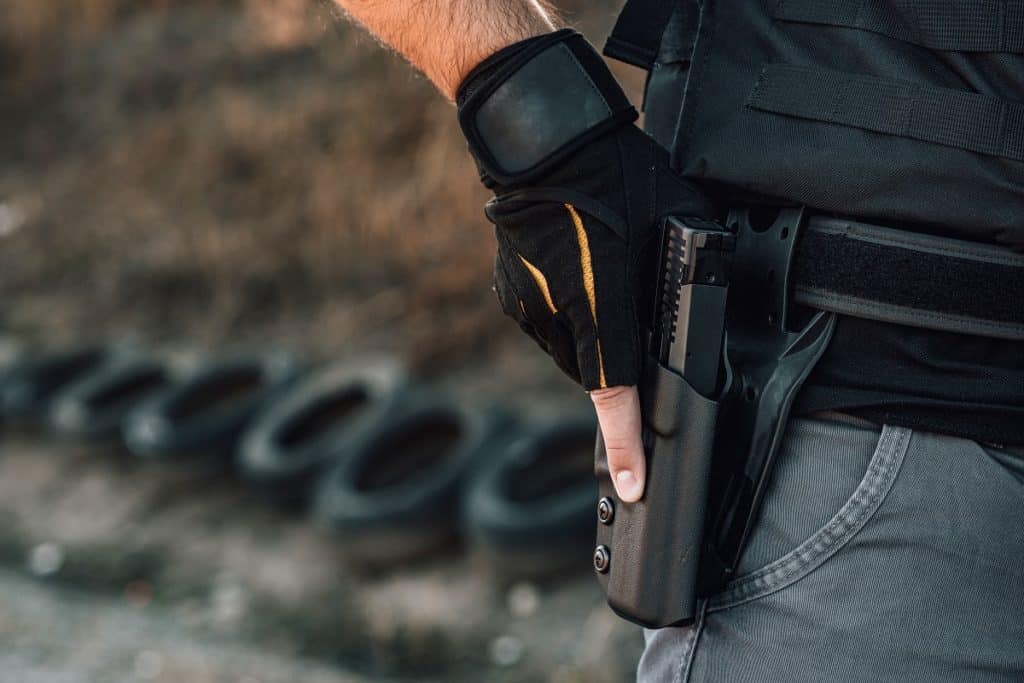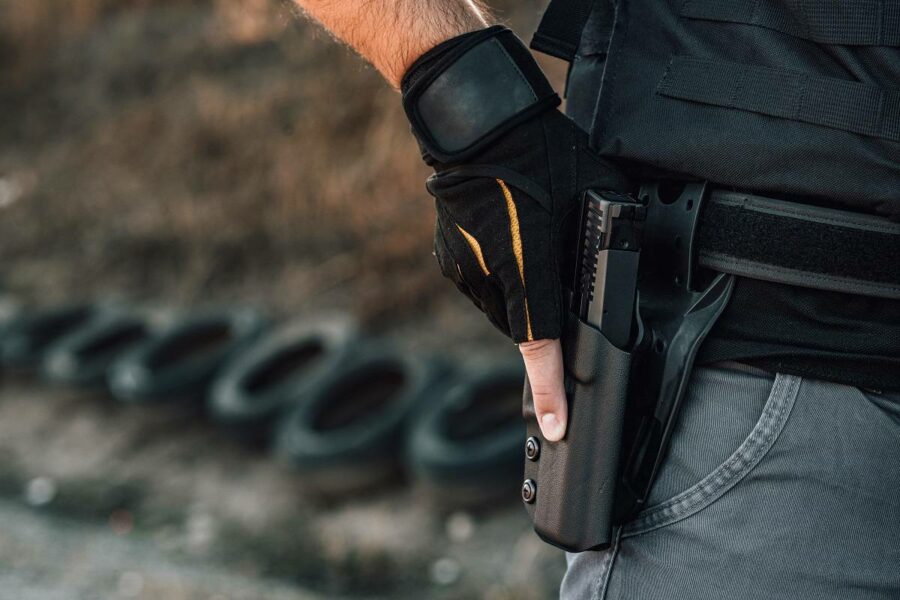 How to Choose the Perfect Belt for You?
Now that I've convinced you why you should use a CCW holster belt, let's look at some of the features and technicalities of the products, and I'll try to guide you to be an informed customer, capable of knowing what to look for when buying one.
What Mistakes To Avoid When Buying a Gun Belt?
If you don't do enough research, you are bound to buy an inferior holster belt, and you can expect something to backfire.
You will either waste a lot of money because you'll end up buying a better one later, or the waistband will be so uncomfortable that you will stop carrying it.
So, let's look at the three most common mistakes that you will encounter as a novice and the best way to prevent them.
Miskate 1 –Buying a Belt Made Out of Poor Quality Materials
The most common material used for gun belts is leather. Others are made out of polyester or nylon, which are also an excellent choice if they of high quality, of course.
Mistake 2 – Buying a Belt With Poor Quality Hardware
In addition to buying a waistband with inferior quality materials, lots of people also make the critical mistake of buying an item with poor quality hardware, such as the buckle.
Avoid soft metals at all costs. If the buckle is weak enough to be sent by your hand, it only won't be strong enough to survive daily abuse for a long time.
Mistake 3 – You Buy a Belt With Limited Stretchiness
Some belts can have limited stitching and still work well as a holster belt. For example, the web ones will often have limited stitching, while still being able to work just fine for the purpose.
However, more stitching is always preferable. And not only should the belt have plenty of stitching. That stitching also needs to be very well made and reliable without any loose frays of any kind, so always check the item well before buying.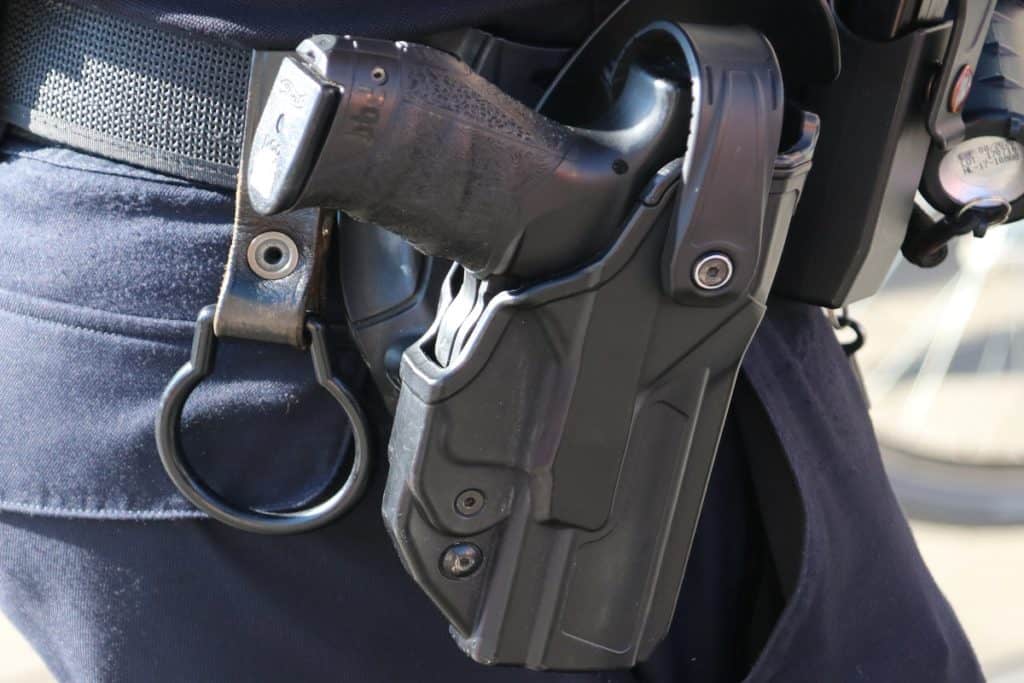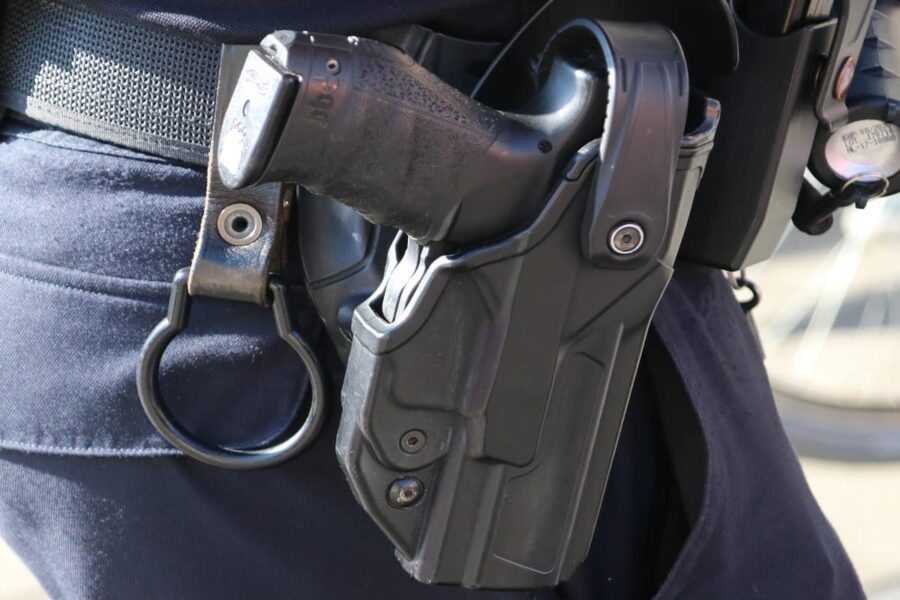 How to choose a gun belt?
So a gun belt is almost like a normal one… except it isn't. Some do look like normal ones, but under the surface, you have many different factors that make up the whole picture.
What Are The Gun Belt Basics?
The Best one is the one that is strong enough to support not only your concealed carry holster and a fire arm but also extra magazines and equipment like. It should also be well-centered enough to distribute the weight properly and thus prevent you holster from sagging, while still looking good for your daily attire.
While a quality gun holster is a very important part of carrying a CCW, a belt that complements it perfectly is as if not even more essential.
What Is Sturdiness?
While department store items are made from genuine leather, they are more like particleboard, being constructed from pressed together leather scraps, and this exact thing makes them so susceptible to breaking down and sagging under more extreme weight.
While in the old cowboy movies it may have looked pretty cool for your heavy and powerful pistol to sag down from your belt, indicating that you are a threat, if you want to do concealed carry, this is the last thing that you may want.
With a regular belt, our holster may change its position constantly, messing your draw procedure, and not to mention that it will point trough your clothes, instantly giving away your holster and putting you under even more danger if someone else with a gun notices it first and decides to attack.
Does Comfort Means Everything?
A good gun belt is able to distribute its weight pretty well, and thus, it will not only do the above-mentioned things, like keeping it from sagging and shifting but also it won't put pressure on just one spot, preventing any unnecessary back pains.
You should also think about how wide and long the waistband is because while bigger means are more durable and overall better, you should always try to cater to the shape of your own body, not just trying to go for the biggest model.
How To Match The Belt to Your Gun?
Size is a very important thing when it comes to the specific gun you will be carrying because some of them will be made for smaller guns, and some for larger, and if you get the biggest model and try to carry a measly 380 with it, not only it will be overkill, but also a little bit overkill for such a small gun.
Most gun belts can help be anywhere between three-quarters of an inch to an inch and half. Your holster clip is made to fit over the belt, so a smaller clip won't fit on an inch and half belt and an inch a half clip will constantly shift if the waistband is smaller.
Should I Choose Nylon Or Leather?
Like most other types of wearable gear, you have chosen both nylon and leather material for your holster belt.
Leather belts are significantly thicker because they are made from two thick leather outer layers and a middle Kydex or nylon core. Nylon gets its strong nature from the tight weave of its many strings, and some have even been reinforced. If you are carrying a smaller holster, you should go for a lighter and smaller option, most commonly found on nylon models.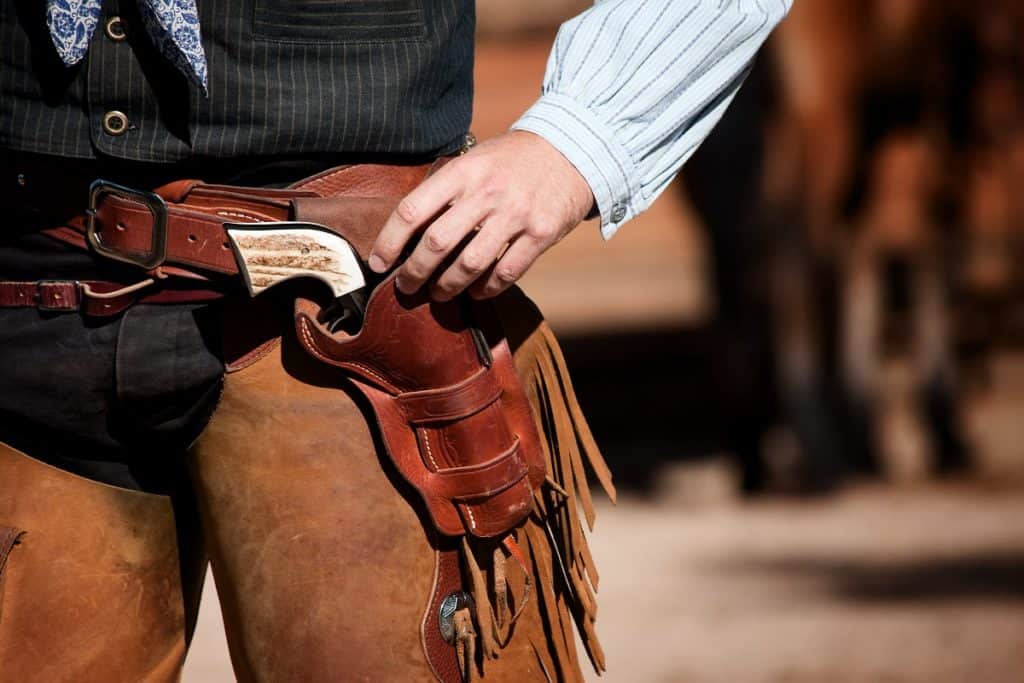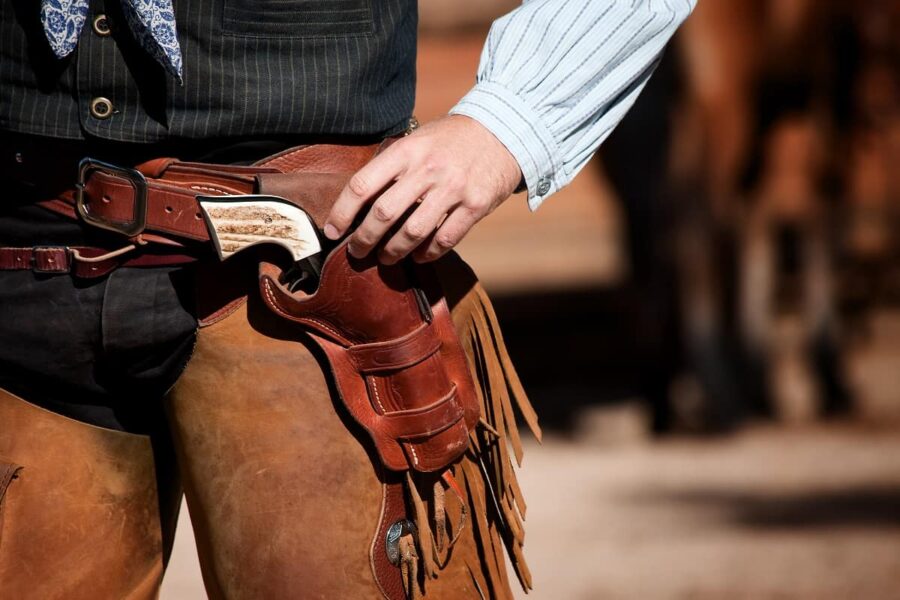 What Style Should I Choose?
While typically when you are carrying a concealed gun, people won't be able to see your belt, everyone wants to look good, no matter if only they can see it.
Down in the list, there are countless different styles, and you can even buy more than one model, and as a very subjective thing, only you can decide which model can look the best for you. From different colors, buckles, and patterns, you will have a lot to think about.
What Is The Optimal Price Range?
Your budget is a very important factor when choosing anything, not only a belt but like most other products there are some budget options that offer the same functions as higher and models and won't make you spend a large sum on them.
Both nylon and leather ones can be found in cheaper and more expensive variants, but most of the time the more luxurious models are made of leather, while the more budget side is overpopulated with nylon models of varying quality.
What Are The Main Types of Gun Belts?
Concealed carry holster waistbands not only have many cosmetic styles, but they're also many different functional styles, and they are determined by three major categories – Material, Buckles, and Enchantments. And while we have already looked at the big debate between leather and nylon, down below, we will look at what kind of buckles and Enchantments you can encounter when choosing a waistband.
What Kind Of Buckles Are There?
While there are many different looking buckles found on the gun and tactical belts, we can distill them into four different categories, and they being – Traditional, Slide, Track, and Cobra.
The traditional buckle, most commonly found on leather models, is just a prong that goes into the hole on your waistband that suits you. You don't have to worry about it loosening up, and overall its a simple but effective choice that does its job pretty good.
There is also the slide buckle which uses tension to keep it closed. Its big advantage is that it can be adjusted on the fly, but that is for the price of secure tightening.
While they are using the same principle as the slide buckles, the track one has, obviously, a track on its end to give you on the fly adjustment while still keeping the belt as secure as on the traditional buckle.
All of these are very prominent on the most, but for gun and tactical models, you will be finding the cobra one the most. It is definitely the most secure of the bunch. The only major problem is that most of the time, they are designed for tactical pants specifically, and there is a chance that they won't fit into your pants' belt loops.
In the end, though, even with the sizing issue, the Cobra one is the best option here.
What Are The Main Enhancements?
While the only major enhancement that you will find on a tactical waistband is that it is significantly reinforced compared to a normal one, there are a couple of models that utilize even more features to help you with your concealed carry of a fire arm.
They are Kydex and steel cores that give of better weight distribution and even more longevity to your belt. If there is a model with these additional features, I will address it bellow, but most of the time, they aren't necessary as gun girdles are made to be durable even without them.
Is Warranty Really That Important?
While it may seem like an important factor you should always consider, but most of the time the manufacturers are so confident in their products that they offer a lifetime warranty, and even if something happens to your EDC holster belt they will happily return or refund it without much resistance.
What is the best gun belt?
After we've looked at what you will be looking for when searching for the best gun belt on the market, lest actually look at what are, in my honest opinion, the best-concealed carry models you can wear every day easily.
Тhe first offering on our list is the leather waistband from Vedder Holsters, utilizing a unique and stylish design that will look good not only during a hunt but also on your workspace.
While it has a very good sizing chart, you should know that you need to order it a couple of sizes larger to accommodate for the extra features that make it so good for CCW.
This is because most tactical pants stretch, while the belt stays the same size.
Pros
This one is so stylish and has such enough design, that you can use it no matter what the situation is
The Cobra quick-release gives it a whole another level of usability, allowing you to remove it in a matter of seconds and use your fire arm faster than on most of the others
While it is not true to size, there is a nice enough sizing table that is choosing the model that is best for you will be as easy as choosing a normal one
Cons
If you prefer OWB carrying, this will be more than pain with the design
While the waistband itself looks very beautiful and has a nice overall design, the buckle has ugly engravings for dummies on the front and feels much cheaper
While at first glance Renteless looks as basic as it gets, almost the same as a normal fashion item, it is durable and rigid enough to carry not only a fire arm but two additional magazines on the side.

The whole bell is much slimmer than the other waistbands here, giving it a whole new level of comfort on top of its good looks, and sizing is taken care of with a great drop-down menu that makes choosing a model that fits you will be as easy as pie.

While it doesn't have the usability of the Cobra buckle, this is one of the best belts that can be used both for work and for thrills.
Pros
Renteless has a traditional and stylish look to it, giving it more flare than usual, while still retaining the rigidity and strength of its brethren, making it a perfect multipurpose waistband
It is much thinner than other models, so carrying for a long time will be a lot more comfortable than that of bigger and bulkier models
The belt has a huge level of pedigree behind it, with some of the highest reviews not only on amazons but on critics' sites as well
Cons
While the leather is of pretty high quality, the whole item is dyed in one color, so if you sweat a lot and you have light-colored pants, expect some awful results
The leather itself is very, very sturdy, but the lack of middle layer between the leather sandwich robs it from some much-needed rigidity
Another genuine leather waistband, the Hanks Extreme is not only an excellent but also a very popular choice for most fans of CCW. Made from Amish artisans, right here in the USA, that product offers an amazing level of craftsmanship. What gives its well-known quality and strength is the fact that the whole thing is made out of a single piece of full-grain leather, no gluing together or compression of scraps.
And it has very standard dimensions, so fitting it on your tactical pants will be effortless. This concealed carry belt has enough weight to it, because of the quality leather, giving you a quick and uninterrupted draw. The traditional buckle that is used has Chicago screws, so staying tight during a long day is a given. It is so strong that it won't sag even if you add an additional ammo bag to it. With their lifetime warranty and the huge variety of colors and designs, all neutral and perfect for any occasion, you've got a great product on your hands.
Pros
Hanks Extreme has an amazing level of craftsmanship, being made from Amish artisans, only in the USA utilizing traditional methods to give it a quality that can be hardly matched
Unlike other gun waistbands, it is made from a single piece of full-grain genuine leather, so it is even more durable and rigid than some of the models that have a steel core
It has a standard dimension that will fir almost any tactical or standard pants, and the buckle while traditional is enhanced in such a way that it will be better than some Cobra ones
Cons
The outer side of the girdle look astonishing, but the inner one is neglected and is only an afterthought with its lack of any lining
For smaller weapons, or for ones that you carry without additional ammo, this will do a good enough job, but for bigger ones, it still lacks additional middle core reinforcement
4. Blade-Tech Ultimate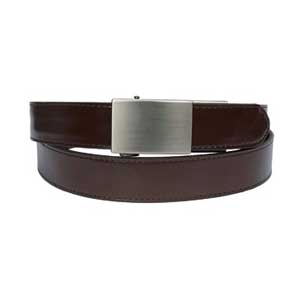 1. High Quality Brown Leather
2. Stylish Buckle
3.Extra security screws
4. Lifetime Warranty
The Blade-Tech Ultimate Carry Belt has not only quality leather, but the brown leather has been treated with a high level of craftsmanship. And not to mention the easy to learn adjustment level that will allow for effortless changes on the fly, combined with ratcheting mechanism for even finer adjustments. When it comes to buckles, this is one of if not the best one.
Said buckle is silver and very low profile, giving it a very nice look. We also shouldn't forget about the Allen wrench and two additional screws to secure the buckle even more if you need it. Tough the wrench is a little bit too small, you probably have some more around your house and the screws are enough of great addition. Overall, all of these great features are combined into a very reasonably priced package, decorated with a beautiful lifetime warranty bow.
Pros
Made out of only the highest quality brown leather, treated with an astonishing level of craftsmanship, not seen very often in its competitors
There is a bag in the package with two additional screws that give you the opportunity to make your buckle even more secure
It combines all of the above-mentioned features into a very reasonably priced package, combine with a very welcomed lifetime warranty
Cons
There are a number of sizing issues, not only with its thickness but also length and wideness
The additional screws are a great addition on paper, but they are of such low quality that it isn't even worth it
Тhis one is as simple as it gets, but it manages to combine its great customer service with a lifetime warranty, plus an amazing performance out of on the surface budget product and a real wideness of 1.5 inches, not like some other companies.

The heavy-duty build of the product is awesomely combined with its stylish yet simple design to make it both a fashion and a CCW waistband.
Its truly multipurpose, as all holster belts should be, at an even lower price than theirs.
Pros
It uses its simple and minimalistic design to its advantage to give it a classic yet modern and stylish look

Its performance to price ratio is greater than that of any other belt, and it is from a well known USA company on top of that

It is actually 1.5 inches wide, so being a pretty wide, it is big enough for almost any pants and wide and strong enough to support most commonly found guns
Cons
Being very susceptible to body heat, it will stretch more than 1″ inch after only an hour of usage, sagging down the whole holster
It lacks the quality of its much pricier competitors, and while not present at the start, it will show this with the time
Final Words
The belt is one of the main ingredients to successfully pulling of concealed carry of weapons because it is the foundation of having your most important tool as close to you as possible. And you shouldn't even think about compromises. You want the best waistband you can get for your money.
And above we've looked at some quality models, ones that have strong loops, ones that you can wear every day, but all of them have one thing in common – they will allow you to draw your firearms as quick as a flash when you need them the most, making self-defense an easily achievable goal.