Last Updated on by Jeremy
Today's trends lean towards minimalistic, functional and ergonomically safe everyday carry options that provide easy access and get rid of the heavy, bulgy backpacks. The sling bag comes with drastically reduced storage space making you think about carrying only the things you actually need.
Coming with a sleek and chic design these everyday carries allows you to keep your hands free while being durable, waterproof and accessible. By adjusting the shoulder strap you'll find your perfect setting whilst the padded and breathable back panels will prevent you from getting hot and bothered.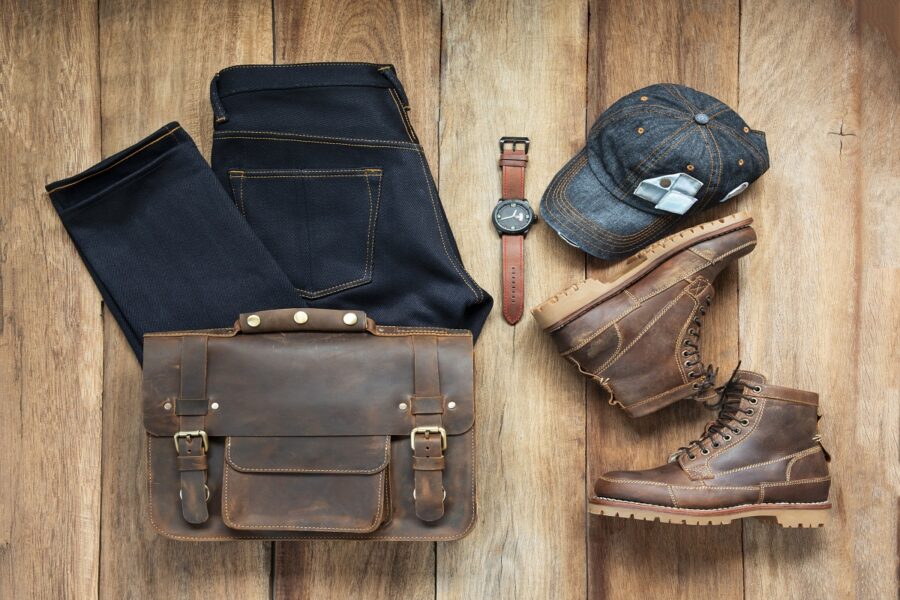 With their lightweight compact form, these bags are perfect for your adventures and daily routine. If you're searching to add to your EDC items collection and you want a functional bag that comes with super-fast access to your belongings this is the place to be!
How to choose your sling bag?
Remember that every single bag is different from the next but on today's market the variety of colors, sizes and styles can be overwhelming and that's why we're going to try and help you out. When deciding on the best EDC sling bag you have to think about size and volume, fabric and materials, zippers and hardware, straps and buckles, weather resistance, back panels and organization possibilities.
Slings bags are compact and can't hold as much as a backpack, so you have to keep that in mind. The size and capacity of these every day carries remind you to pick the minimalist way and only carry the essentials. For your bag to be durable, you have to pick one that's made out of long-lasting material, preferably comes with YKK zipper closure and is weather resistant. One of the most important things when looking for an everyday carry is a comfort that's why you should carry only essentials since these products weight isn't evenly distributed and no one wants a sore shoulder.
They are designed to offer flexibility, durability and convenience whilst keeping your personal belongings organized, dry and secure.
What are the best sling backs for everyday carry?
If you're looking for a practical and convenient sack that looks good but is also secure and light, EDC sling bags might be what you're searching for. Over the last two months, we've tested 37 products so we can find the best ones out there. In this article, you'll discover the best products on the market.
5.11 Tactical offers a wide range of products that defines their brand through challenge and fortitude promising preparedness beyond limits. They showcase that the right mindset, training, and gear are what separates those who are ready from those who aren't. This brand offers purpose-built gear for the most demanding missions and extreme conditions so you are always ready.
Made out of high-grade 1050D nylon, the 5.11 Rush Moab 6 features a lightweight, durable construction that's water-resistant which prevents moisture and water from entering the bag's interior. The 5.11 Rush Moab 6heavy-duty construction is also showed it its YKK zipper closure and MOLLE system with a SlickStick web platform exterior.
Coming with multiple pockets and various spacious compartments that keep your personal items organized this pack is equipped with a dedicated admin panel for quick and easy access, and a covert pocket at the rear that provides secure storage for a weapon. The MOAB was created as a high-performance sack with tactical CCW utility thinking about every aspect when constructed, the 5.11 Rush Moab has no competition.
Designed for people on the go, the 5.11 has adjustable compression straps that give you the desired length while its cushioned panel reduces strain on the shoulder making this sling bag our personal favorite.
Features:
YKK Zipper Closure
High-grade 1050D nylon
Water-resistant
Multiple pockets & admin panel
Rear for CCW utility
MOLLE SlickStick web platform exterior
Adjustable shoulder strap
The WOLFSPUR is a cross body shoulder bag that's optimized for concealed carry with a fully loop-lined rear CCW compartment and 17 inches of zipper opening for unobstructed access with an oversized pull tab secured by double snaps for fast draw.
The main compartment of the Maxpedition Wolfspur is lockable with a padded pocket that can fit most tablets for extra safety and multiple gossamer mesh pockets and elastic straps for organization. This upscale sling has a side expandable water bottle pocket and a fleece-lined EVA pocket that is featured on the front of the pack for fragile items storage.
A reinforced seatbelt webbing shoulder strap with quick-release buckles allows comfort and length adjustment with its superior, high-quality materials. Even packed full the Maxpedition weight distribution works like magic creating a comfortable experience. With this everyday carry, you get what you've paid for, and in this case it pure perfection.
Maxpedition Wolfspur Features:
Reinforced seatbelt webbing shoulder strap
Multiple pockets & elastic straps
CCW access
Loop-lined compartment
Expandable water bottle pocket
The Blackhawk Advanced Briefcase is ideal for both civilian travel and tactical operations with a robust shoulder strap and carry handle. Constructed from 1000 denier Nylon with reinforced stitching for durability and waterproof interior lining this sling bag is an awesome option to consider.
This Blackhawk model includes three external easy-access pockets and five additional interior compartments, two hook and loop patches and a removable, vinyl ID window. It gives you external laptop access through waterproof zippers from a padded, hook and loop-configurable pocket.
Compatible with all wheeled luggage the BlackHawk Advanced briefcase has a rear slot for pull-handle access making it ideal for traveling. It is quite strong, well made, durable, and great for all kinds of gear, personal belongings, and useful items. It is constructed perfectly with high-quality materials while being affordable and accessible.
Features:
Reinforced 1000 denier nylon
Waterproof interior lining
2 hook & loop patches
Removable ID window
Multiple pockets & compartments
Rear slot for pull-handle access
The Condor Elite Sector sling bag is constructed with Mil-Spec 500 denier Cordura fabric which is a high tensile strength composite nylon thread. It has YKK zippers throughout the pack with paracord pull cords and an Air-Flow system on the back to maximize ventilation and back support.
The main compartment of the Condor Elite backpack comes with a removable MOLLE panel and soft armor insert pocket while the secondary compartment has hook lining for modular accessories but keep in mind that it's sold separately. It consists of an exterior pouch compartment for tools, a conceal carry pocket with a quick access slot, and a Lockster buckle to connect the sling and waist strap. All compartments have grommets for drainage. You also get a sling integrated daisy chain that makes the bag solid.
If you want an everyday carry bag that's ergonomic, lightweight, and accessible without being overly bulky this is a good option that maintains a simple look without losing its durability and usability. This one can come in handy if you want a pack that's low-profile without all the tactical straps, patches, etc. but still possessing all essential qualities.
Condor Elite Sector Features:
500 denier Cordura fabric
YKK zippers with paracord pull cords
Removable MOLLE panel
Multiple pockets & pouches
Lockster buckle
Air-Flow system
Hypalon attachment point for D-Rings
This GREGORY body bag is a switch sling, everyday pack that will be your best friend for day-to-day activities and outdoor adventures. The Gregory is made out of 420D cross nylon and has a great zipper closure with a round-type double fastener for easy opening and closing.
The Gregory body bag includes a fastener outside pocket for flat items that offers easy access while the inside pocket is spacious and secure. Featuring an innovative hybrid system with breathable padding this everyday carry can become your to go bag. Even with a fully loaded pack this EDC option distributes weight properly and stays lightweight.
The brand is all about improving the experience you get with its adjustable suspension and an updated back panel that offers exceptional breathability. This is a smaller sling option that has a slim minimalist look that's also compact, durable and accessible.
Features:
420D cross nylon
Zipper closure
Inside & outside pocket
Switch sling
Round-type double fastener
The Coach Houston pack is reimagined in richly textured buffalo-embossed leather embellished with the same intricate stitching found on a baseball glove. The Coach pack has a fabric lining and zipper closure but some customers have complained about the difficulty that comes with opening and closing a zipper considering the item's price.
With a protective flap for a laptop and plenty of interior pockets, the Coach Houston has space for your belongings and a simple way to organize them. The pack has an outside zip pocket for easy access and an adjustable shoulder strap for the preferred length of the bag.
The Coach Houston is stylish with high-quality genuine leather but we think that it's overpriced considering what you get out of it. If you searching for a bag that's more fashionable than durable this might be something you'll like but if you're trying to find a sling that can be useful and tough this won't be the best option.
Features:
Smooth calf leather
Zip closure
Adjustable shoulder straps
Zip pockets
Laptop sleeve with secure tab
Polare has been specializing in men's leather bags and wallets for over 15 years showcasing traditional Italian craftsmanship and high quality. They pride themselves on making products that stand the test of time and are still affordable. The handcrafted soft grain leather Polare uses is strong, supple and ages gracefully while outfitted with robust hardware and premium YKK zippers.
The Polare is designed for easy organization, so you'll have immediate access to all your daily essentials on the go whilst the built in headphone port keeps your hands free so you can vibe to your favorite music. It has a reversible shoulder strap that allows comfortable carrying on either side and can be adjusted to the desired length.
If you want to be stylish and comfortable at the same time then give this Polare model a look. Made for day-to-day activities and outdoor adventures it has a one-year warranty and lifetime warranty.
Features:
Handcrafted soft grain leather
Premium YKK zippers
Adjustable shoulder strap
Built-in headphone port
Breathable padding
Kucspp has specialized in high-quality, affordable bags that are both practical and fashionable while advocating classicism, elegance, and durability so they can provide a pleasant user experience. Made of genuine thick cowhide leather for an efficient and stylish look. It's a quality product that's very well made and the leather is thick and strong enough to ensure long-lasting wear.
Stitching and hardware are done incredibly with a soft cotton lining and YKK zipper closure ensuring reliability and safety. Made out of high-quality material that should be durable for years this versatile Kucspp includes eight pockets both large and small.
Its adjustable padded cross-body shoulder strap is very comfortable to use and can be adjusted to the desired length avoiding back and neck pains. The Kucspp Cool leather bag comes with one year warranty assuring its usability and durability.
Features:
Genuine cowhide leather
YKK zippers
Soft cotton lining
8 large & small pockets
Adjustable padded cross-body shoulder strap
Vertx EDC Commuter now offers you to hit the range straight from the office with its multi-purpose commuter sling bag. This compact product allows for full carry options or simple grab-and-go capabilities with its efficient design. Experience all the benefits of an everyday carry with these nylon bags designed for the prepared professional.
The Vertx Commuter comes with an orbital strap design for fast back to front transition, four exterior zip pockets, and interior organization pockets that provide optimal storage for gear and personal belongings. Built to last, this commuter sack has a polyester lining and great zipper closure. That's not all, the Vertx Commuter can fit a laptop up to 15″ unlike most products on this list.
It includes a loop-lined interior pocket that opens outward for easy access making it ideal and compatible for a concealed carry. The hide-out convertible front flap acts as an additional load sling or stows away to reveal a MOLLE field while having reinforced internal pockets for even more security.
Vertx EDC Commuter Features:
100% nylon fabric
Polyester lining
Zipper closure
Orbital strap design
Multiple pockets
MOLLE field
This inexpensive TracTac Stage II is ruggedly constructed from premium materials and upgraded 900D Fabric making it ideal for both indoor and outdoor use. It is ideal for hiking, hunting, travel and much more.
Good for many occasions, the TravTac Stage II gets rid of the big, bulky and heavy accessories out there with a superior tactical MOLLE system and zipper closure. This unique product can be configured in three ways: shoulder pack, chest/back sling, and hand carry. That's not all it also has a shoulder strap that is detachable and can be adjusted in length.
The TravTac product padded shoulder strap provides comfort while the zipper pulls provide safety. It has three zippered compartments and multiple dividers for easy organization, including a thickly padded back pocket that's well suited for concealed carry. You also get a highly reflective safety patch that helps with night visibility. The patch is Velcro backed making it removable for trail marking or rescue signaling.
If you're trying to find a bag that's affordable, durable and lightweight the TravTac Stage II might be the perfect product for you.
Features:
Upgraded 900D fabric
MOLLE system
Detachable, adjustable & padded shoulder strap
Multiple compartments & dividers
Reflective safety patch
Frequently Asked Questions
What is a Sling Bag?
A sling backpack is a regular backpack that's smaller and only has one strap worn cross-body. Most models tend to be triangular in shape and slimmer in general. Given they are worn on one shoulder only, they also have a smaller capacity for your personal belongings to avoid shoulder pain. Of course, there should always be enough space to throw in your compact multitool, flashlight, and wallet among others. They normally are compact, durable and weather resistant which makes them a great companion for day to day activities.
What's the Difference between a Sling Bag and a Fanny Pack?
This question has been an ongoing debate on the internet for a while because most people don't see any big differences between the two. Not only they are different in shape but usability as well. Fanny packs are used as accessories with a hipster vibe when sling bags are used because of their durability and safety.
Are Sling Bags comfortable?
Sling bags are a very comfortable option for an everyday carry if you don't forget that all you need are the essentials. If you want a minimalist, durable and secure bag this is a great option but if you're someone that carries a lot of stuff this probably isn't the best choice for you.
Since slings are one-shoulder bags and if you carry heavy items the weight isn't distributed evenly, creating the possibility of back pain. So if carrying heavy stuff is part of your daily routine, you better consider getting an EDC backpack instead.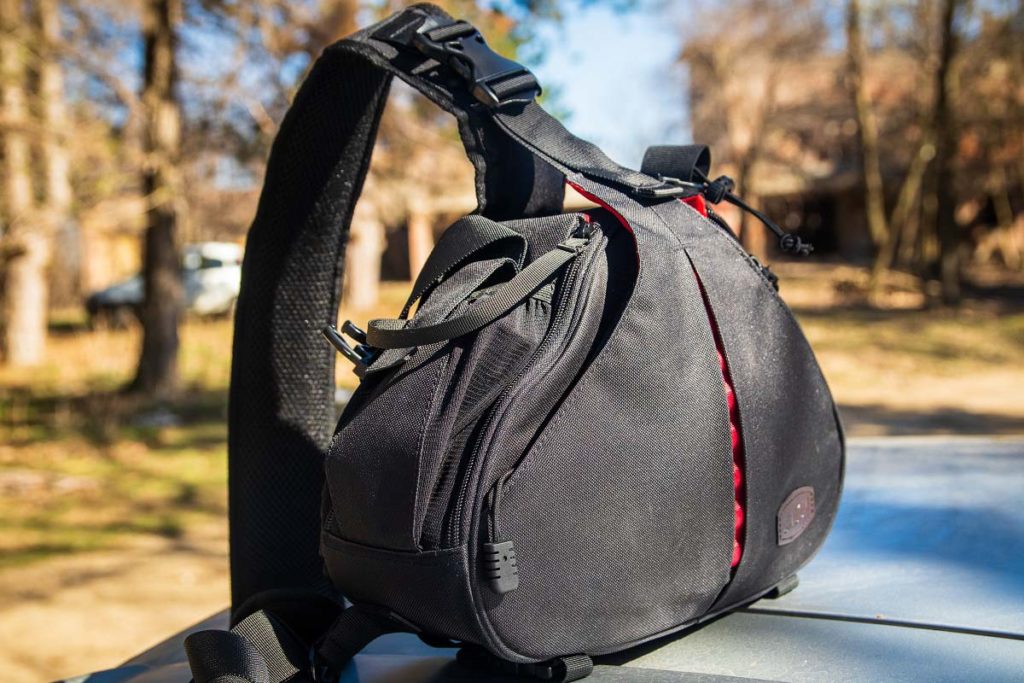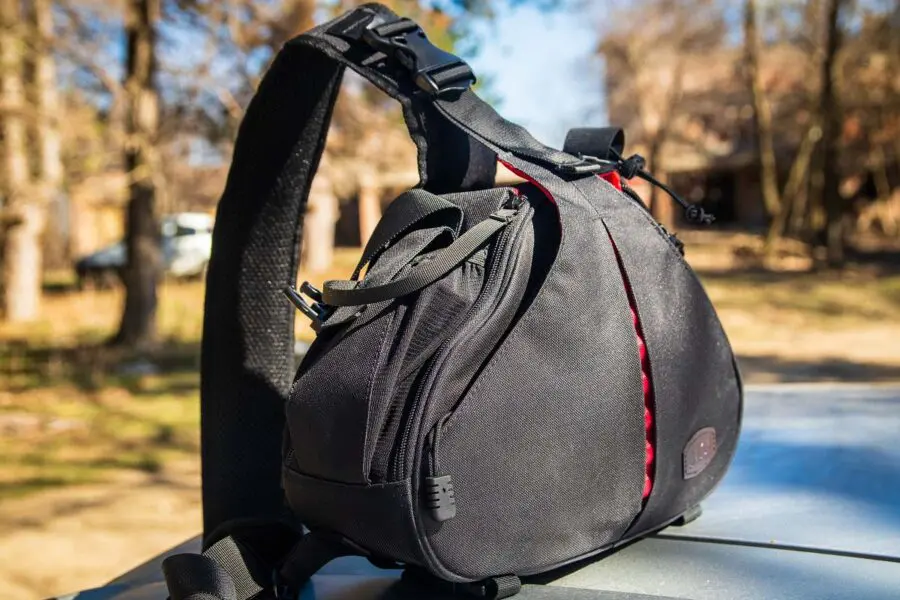 How to avoid back pain from a sling bag?
In our opinion, the first thing you have to do is carry less than five percent of your body weight in the sling bag so you don't have to worry about any discomfort in the neck, back, or shoulders. When organizing and putting your stuff , you should keep the heavy items at the bottom because they help you maintain a better curvature.
The simplest advice we can give you is to change the bag position every once in a while so not only one shoulder is receiving all the weight but both. Last but not least just keep in mind that these products are supposed to carry your essentials and you don't have to pack them full.
Final Words
If you're someone with a busy life that's always on the go or you simply want a convenient everyday carry for the outdoors, sling bags are what you're looking for. It will keep your hands free while the breathable back panels won't get you hot and sweaty. An EDC slings bag give you easy access to your personal belongings while keeping them secure and dry.
In our eyes, there's a clear winner and that's the 5.11 Tactical, created for people on the go that appreciate minimalism, safety, and durability. Which one was your favorite? We are here if you have any questions or suggestions, all you have to do is drop them in the comments below.