Safety doesn't happen by accident! If you are a gun owner or a weapon enthusiast, you want to make sure that your firearm is secure at all times so it doesn't end up in your kid's hands or a burglar when you least expect it. Of course, you want to have quick access to your handgun in case of an emergency, but that still means keeping it locked away for everyone's safety.
A lot of people will keep their weapons in their drawer, closet, or under the bed, but what happens if your child finds them? You have to be responsible and securely lock your firearms away. In this article, we'll help you find the best handgun safe for your personal wants and needs, so keep reading on.
1. Fort Knox PB1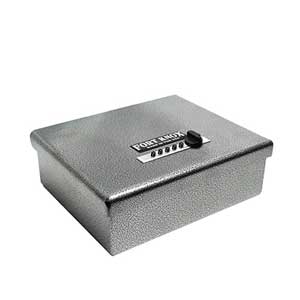 Two words that can best describe this exquisitely crafted handgun safe are strength and reliability. Made out of a 10 gauge steel body and a wrap-around door, this pistol box is practically impossible to break open. It would be highly unlikely even to dent this gun safe that features the Simplex push-button mechanical lock, which is fast and easy to use while giving you 1,081 different combinations to choose from.
The gas strut it comes with makes it easy to lift the heavy door giving you easy access while the heavy-duty tamper-resistant hinge is placed under the set door to prevent any pry attacks or unwanted situations. Coming with a foam-lined interior, this safety box prevents your firearms and valuables from damage or scratches. This compact and convenient safe is our personal favorite with the accessibility and protection it offers without forgetting about simplicity and style.
Fort Knox PB1 has an antique silver powder coat finish that gives the gun safe a durable yet beautiful look. The pre-drilled holes in the bottom allow you to bolt the pistol box to the wall and floor, giving it another layer of security and safety. Depending on the size of the firearm, you can either fit one or two, leaving you some space for ammo or other personal belongings. To make it even better, this impeccable pistol box meets California's Department of Justice firearm safety device requirements. It comes with a manufacturer's lifetime warranty that showcases the quality the product possesses.
Features:
10 gauge steel body construction
Wrap-around door
Heavy-duty tamper-resistant hinge
Simplex push-button mechanical lock
Foam-lined interior
Silver powder coat finish
California DOJ approved
Manufacturer's lifetime warranty
2. Stealth Hanger Safe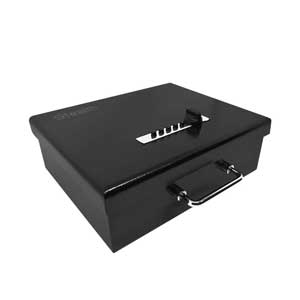 The Stealth hanger safe is made out of 10 gauge solid steel and a wrap-around door that has piston assist, which helps lift the door up and hold it in place, while the interior has a protective, high density, pluck foam that will allow you to fully customize it to the exact fit of your firearm.
This safety box has two steel lugs, two solid steel deadbolts, and a thick chromed locking bolt that keeps it securely locked. Build to be the toughest and most reliable hanger safe, this astonishing product comes with an easy-to-use, highly reliable Mechanical Simplex Lock. The brand has added a new security feature that encases the lock-in steel and creates a punch-resistant housing like no other. Even if a burglar tries to smash the lock, this additional security will prevent him from getting to your firearms and valuables.
Displaying advanced strength and security, this gun safe comes with bolt-down holes that can be mounted to a drawer, closet, nightstand, car, or any other flat surface. You get a chrome-plated, removable carry handle that helps you easily transport your firearms anywhere you go. The pre-drilled holes allow you to fit a master lock security cable through them if you want to use its portable feature as well. This hanger safe comes with a year warranty and the means to stay!
Features:
10 gauge steel body
Solid Steel wrap around door
Chromed locking bolt & 2 solid steel deadbolts
Mechanical Simplex Lock
Pluck foam-lined interior
Thick Locking Bolt with Steel Housing underneath Lock
Pre-drilled holes for mounting
Chrome-plated carry handle

3. GunVault GVB1000 Pistol Safe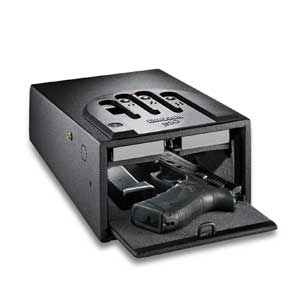 GunVault is one of the leaders in the industry that provides premium quality products at an affordable price while keeping security and reliability as priorities, so they can meet everyone's expectations and personal needs. Their biometric scanner allows lightning-quick access, even in the dark, and its improved high-strength lock mechanism and precise fittings make this safety box virtually impossible to pry open with any hand tools, so you don't have to worry about burglars using your own gun against you ever again.
This mini-vault uses fingerprint recognition to access the safe contents while a high-performance algorithm is used to quickly identify enrolled fingerprints with a very low false reject rate (FRR). The self-learning algorithm of this pistol safe adds new details to the fingerprint templates each time a user touches the fingerprint sensor, which decreases the likelihood of FRR. It also updates slight changes that might occur over time to an enrolled fingerprint to help distinguish different variations providing another layer of safety.
You can use up to 15 fingerprint templates that the GVB 1000 can handle. The gun safe is battery-powered for easy portability and optimal security, and each and every supply should last a year under normal circumstances. That's not all, you get an AC/DC power adapter and an interior courtesy light that prevents the need for a flashlight or other light objects. If your battery is running low, this California DOJ-approved gun safe indicates it with a blinking light.
Features:
16 gauge steel body
Foam lining interior
Tamper-proof, spring-loaded door
Mounting gear
Backup Override Key
Interior courtesy light
California DOJ Approved
4. Liberty HDX-250 Smart Vault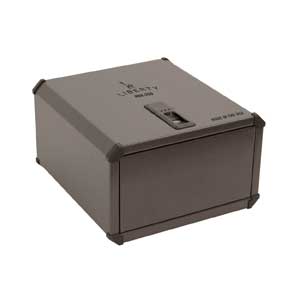 As a part of Liberty's new Home Defender series, the HDX-250 safely secures your firearm and valuables while allowing quick and secure access by using their 5th-generation biometric finger swipe technology. In today's market, this is the most reliable biometric system available, with the lowest fail-rate and supreme accuracy in which speed counts and the entry can be obtained in one second when utilizing the AC adapter and less than 2 seconds with the 9v battery.
This smart vault can accommodate 15 different fingerprints and has an auto-opening door, all you have to do is swipe, and you're clear. Made out of heavy-duty 14 gauge steel door that has built-in anti-pry tabs and a reinforced latch system that is specifically designed to resist pry attacks or other attempts to gain entry. Speed and security are what Liberty implements in each and every product, so you never have to worry about the safety of your firearms or family.
Engineers test every prоduct they build to ensure the quality and safety each box offers and to show us that you never have to settle for anything less than the best. Pre-drilled mounting holes at the bottom of the gun safe add extra security if bolted to a wall, floor, or even ceiling. This safety box has an interior light that lets you see everything without the interference of outside objects.
You get an AC adapter and a key backup, but other optional accessories can be useful as well, such as a mounting bracket and storage shelves. Designed to provide quick and easy means of securing your safety box to any flat surface, the mounting bracket kit includes the secure base plate and all mounting hardware necessary for standard installations. If you want to increase the storage capacity of your smart vault purchasing a shelf will help you organize your items, and it can be installed in seconds. Liberty stands behind the products they create, and that is why they offer a 5-year replacement warranty on any defects.
Features:
14 gauge steel body
Biometric fingerprint recognition
Auto-opening door
Built-in anti-pry tabs
Reinforced latch system
Lighted interior
Key Backup
5-year replacement warranty
5. V-Line Desk Mate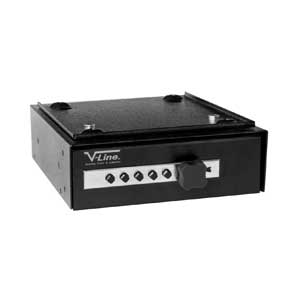 If you want quick and easy access to your firearm in case of an emergency, this handgun safe has a mechanical 5-button lock, meaning no keys to lose or batteries to change. Its size is compact and super convenient for under your desk or another small compartment that you can get to fast either in your home or office. Designed to be installed under most surfaces, this V-Line handgun safe includes a quick-release mounting bracket for easy installation. You can install it sideways with the top bolted to the side of a surface where the front opening case door will open effortlessly.
The safety box offers 1081 possible combinations, and it's easy to set a personalized code that will open the recessed door. A thick steel lock block welded to cover guides and adds strength to the lock bolt is added for pry protection. A continuous hinge is welded on one end to prevent pin removal, while the anti-pry brackets in the interior provide additional strength and security to this beautifully crafted handgun safe.
This elegant safety box is accented with a gold-tone pinstripe and logo design that is available in a textured semi-gloss black powder-coated finish that provides another layer of security. V-Line offers additional quick-release mounting brackets that you can order in case you want to use this gun safe in more than one location. As another additional option, you can purchase a universal mounting bracket or a tray for desk mate. The V-Line pistol box comes with a year manufactures warranty and is California DOJ approved, meeting the requirements of the Penal Code and the regulations issued thereunder.
Features:
Mechanical lock
Quick Release mounting bracket
Thick steel lock block
Recessed door construction
Semi-gloss black powder-coated finish
California DOJ approved
6. Liberty Vault – HD-300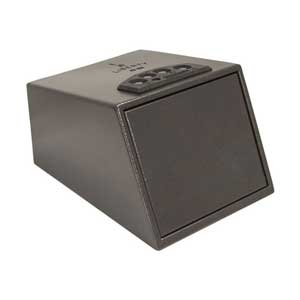 Liberty Safe and Security Products is the number one seller of residential safes in the U.S. The company offers the broadest line of home, gun, office, and commercial safes available for anyone. The HD-300 is the biggest home defender vault that Liberty offers that provides secure access with the ease of a simple electronic combo. With an auto-opening door, lighted interior, interior shelf, and a key backup, this handgun vault provides ample space and reliable speed when you need it most!
Perfect for nightstands, closets, drawers, or under your bed, this safety box lets you protect multiple firearms, documents, passports, medication, and other small valuables. Made out of sturdy 16 gauge steel construction, this simple gun safe has an angled front door design, which allows excellent visibility and simple access to your belongings.
Engineers test each product Liberty builds in head-to-head pry tests where the company easily outlasts the most popular brand while securely protecting your firearms and your loved ones. The hard work put behind the HD series shines through and beats the competition without even trying while displaying the speed and security Liberty offers with each product.
With an interior light, you don't have to think about finding outside power, and with the shelf inside that increase the storage capacity, you can neatly organize your valuables. Standing behind the quality of their product, the brand offers a two-year replacement warranty on any defects making this California DOJ-approved safety box our personal favorite nightstand gun safe.

Features:
16 gauge steel body
Auto-open door
Mounting holes
Interior Shelf
Key Backup
Lighted Interior
Tamper Resistant Design
California DOJ approved
7. Barska AX11678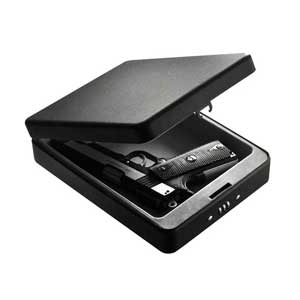 The Barska Handgun Safe delivers speed, reliability, and convenience in one compact package that features solid steel construction in a portable, lightweight design with a durable matte black finish. This is an excellent item for people who are on the road and want to keep their valuables safely stored and locked up. With its smaller size, this portable safety box is very convenient and easy to carry, yet it cannot merely be walked off with since it comes with a cable tether to keep the gun safe and securely attached to a stationary object.
Fully lined with a resistant lining, this lockbox prevents your valuables from damage and scratches. Built to last, this compact gun safe retains a 3-digit PIN code while the lock's unpickable wheeled combination is similar to what many business briefcases offer.
When you are on your next adventure, this handgun safe will make sure to keep your valuables and firearm safe and secure. This lock box is perfect for storing a gun, ammo, wallet, keys, cash, passports, and jewelry, so you don't have to worry about someone getting to your personal belongings. The small and lightweight design of this compact gun safe allows it to be hidden almost anywhere, in a duffle bag, backpack or suitcase. Barska backs this low-priced product with a year-limited warranty.
Features:
Solid steel construction
3-digit combination lock
Long self-locking security cable
Scratch-resistant lining
Black matte finish
1-year warranty
8. Barska AX11650 Biometric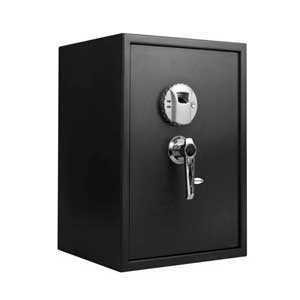 Barska offers a professional security storage solution that works like magic when it comes to protecting your firearms. Function is not lost with size with this deep, tall and wide gun safe, you can depend on the biometric technology to give you the ability to quickly and effortlessly access your weapons in time of an emergency. With a new generation of biometric fingerprint technology, you can store up to 120 different identification prints with a low false reject rate (FRR). Biometric access to your safe is a must-have for your home and office security.
You can store large valuable items such as firearms, ammo, cameras, laptops, passports, documents, jewelry, cash, etc. This safety box can store thousands of rounds of ammunition and dozens of handguns for shooting enthusiasts. The large biometric safe by Barska features a new manual 3-point solid steel deadbolt locking system that can be quickly opened with one motion. Access is as easy as pushing the power button, scanning your fingerprint, and then a quick turn of the handle will open the safe's door.
This large handgun safe includes a protective floor mat ensuring that items are not scratched or damaged, while the two adjustable, removable shelves allow you to organize your valuables in the storage. With the included mounting hardware and pre-drilled anchor points, you can permanently secure the safe to the floor or wall. As a secondary access point, the safe comes with two manual keys for backup. You get an external battery pack, and under normal circumstances, it should last up to two years, but you get a secondary rescue battery pack just in case the first one dies.
Features:
Biometric technology
3 point solid steel locking bolts
Protective floor mat
Quick turn handle
2 adjustable shelves
2 manual keys
Mounting hardware
Rescue battery pack
1-year warranty
9. V-Line Hide Away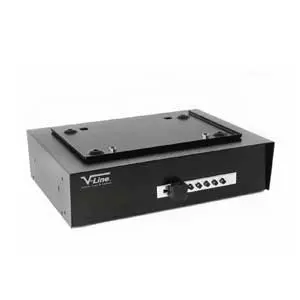 If you want quick and easy access to your handgun but don't want everyone to know you have a safe, the V-line Hide Away would be your best option. Because of its compact size, it can be easily mounted under your desk, shelves, and cabinets. With each hideaway safe, you get one quick-release mounting bracket for effortless installation under most surfaces.
Made out of 14 gauge outer body steel, this safety box has a continuous hinge that is welded on one end to prevent its pin from being removed, while the thick steel lock block welded to cover guides and adds strength to the lock bolt. The recessed door can be opened by simply putting your code in the heavy-duty mechanical push-button lock, let it swing open, and slide out the felt-lined drawer to gain access to your firearms. Inside the pistol box, you'll find anti-pry brackets that provide additional strength and security.
The V-Line Hide Away safe offers quick access with the 5-button mechanical lock, so you don't have to worry about keys you can lose or batteries that have to be changed, all you have to do is personalize a code out of 1081 possible combinations.
This is a California DOJ-approved handgun safe that comes with a gold-tone pinstripe, textured semi-gloss black powder-coated finish, and one year manufacturer's warranty. Professionals have tested this safety box, and it's been proven that it can stand up against light attacks. If you want a durable and reliable pistol box, this might be the option for you.
Features:
14 gauge outer body steel
Mechanical lock
Slide-out felt-lined drawer
Quick Release mounting bracket
Thick steel lock block
Recessed door
Anti-pry brackets
1-year manufacturer warranty
10. Stack-On Quick Access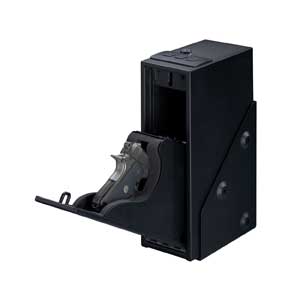 Stack-On has over 40 years of proven success in the manufacturing and distributing gun security products while striving to deliver exceptional value with a wide array of features, options, and flexibility made for the value-driven shopper.
This Quick Access Safe with electronic or biometric lock is designed to secure a single pistol and an extra ammunition magazine. When the correct combination is entered, the door opens instantly. Both the keypad and the biometric lock can be silenced if needed, while the warning system will let you know if your battery is running low. There is a foam padded sleeve that keeps the handgun in a ready position while preventing any damage or scratches.
Mounting hardware is included as well as a removable mounting bracket that allows the pistol box to be bolted in various ways and places. Coming with three years limited warranty, this single gun safe is California DOJ approved, meeting the requirements of the Penal Code and the regulations issued thereunder. The safety box keeps your gun protected from intruders, and this way, you keep your loved ones safe. Keep your pistol secure and access it fast with a touch of your finger!
Features:
Biometric lock
Removable mounting bracket
Mounting hardware
Backup key
Foam padded sleeve
Low battery warning system
California DOJ approved
3 years limited warranty
How to choose а handgun safe?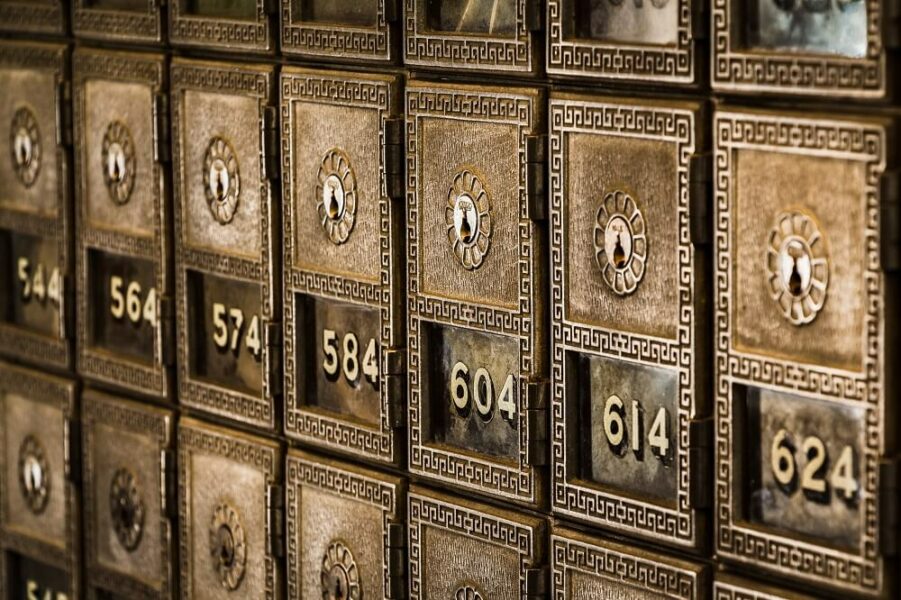 There are a handful of things to consider before buying a gun safe, one of them is to make sure the handgun safe you've picked will fit your firearm and even leave you with some space for other valuables. When searching for the perfect safety box, you want to make sure you pick one with quick and easy access which will open your safe in preferably less than five seconds.
Next is the type of lock you pick to keep your gun secure and safe. The most popular options are keypad lock, key entry, or biometric fingerprint technology, and all three have their advantages and disadvantages. If you pick a mechanical lock, it will most likely run on batteries and have a key override which will provide extra security. The key entry option is accessible and fast but tends to be less secure. Our personal favorites are the biometric scan safes because the only way they can be opened is by your fingerprint. Whichever one you choose, just make sure it's reliable and won't fail to open.
Having mounting hardware included in the pack will provide extra security, especially since small handgun safes can be bolted in different places. If you're planning a trip and want to take your gun with you, choose a safe that is portable, lightweight, and compact but also DOJ and FDA approved.
When deciding on the material, your best option will be to pick one that's with a constructed solid steel body for the exterior, and for the interior, it is a good idea to choose a lined one to prevent your items from scratching. Last but not least, make sure that you've selected a safety box that's pry-resistant.
Frequently Asked Questions
Where to buy pistol safes?
Nowadays, it's hard to know where to shop with numerous options on the market. That's why we strongly recommend picking reliable sources and specialized stores. The links we provide are tested and proven to be trustworthy and dependable. The days when you worry about making the correct decision are over because we are here to help and show you the way. We select our sources very carefully, making sure that they will be the right option and everyone will find want they're looking for.
What is the best handgun safe to buy?
For us, there is a clear winner, and that's the Fort Knox PB1. We can simply describe this classic safety box as durable and reliable. This California DOJ-approved safe is made out of solid steel, and it's impossible to break open. The manufacturer offers a lifetime warranty that proves the quality this handgun safe provides while keeping your firearms and family protected.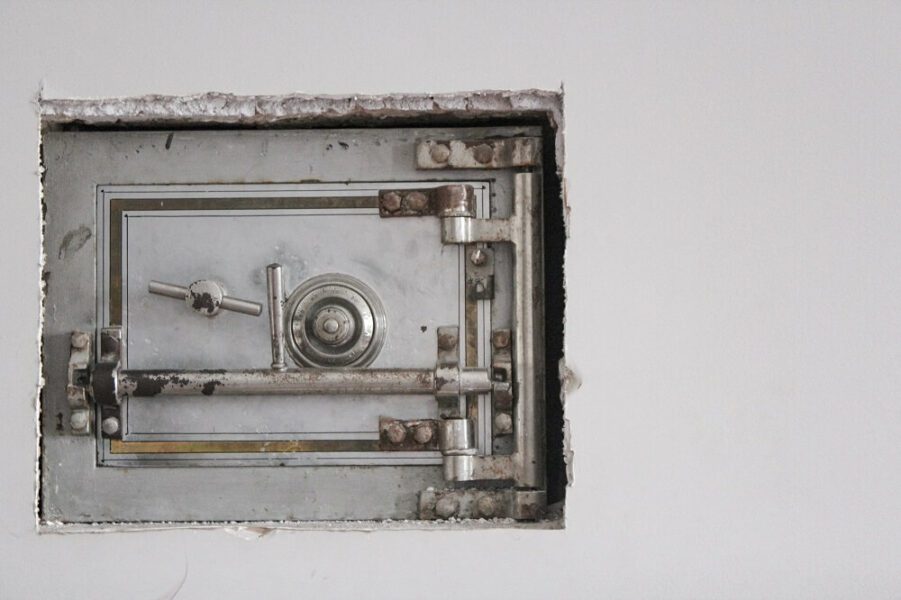 What is the best Quick Access Pistol Safe?
For us, the Stack-on is the best quick-access pistol safe made for the value-driven shopper that expects quality at an affordable price. This specific safety box allows you to use your firearm faster than any other because the biometric lock will open instantly, and the foam-padded handgun holder will always keep it ready in position. Always prepared with this pistol box!
What is the safest gun safe?
What makes a gun safe and secure? Well, the answer to that is simple, the lock and the construction. The Liberty HDX-250 has the most reliable biometric system available on the market today while having a sturdy solid steel construction. This safety box is designed to withstand any pry attacks and unwanted elements. Liberty implements security and speed in every product, and this handgun is no exception.
What company makes the best gun safe?
For years Liberty has been the number one manufacturer of residential safes in the U.S. The company offers the broadest line of home, gun, office, and commercial safes available from any other company, and their products are offered under three popular brands–Liberty, National Security, and Centurion. Liberty showcases high-quality, innovative products that provide superior fire protection, technologically advanced security systems, exquisite styling, and functional storage capacity like no other.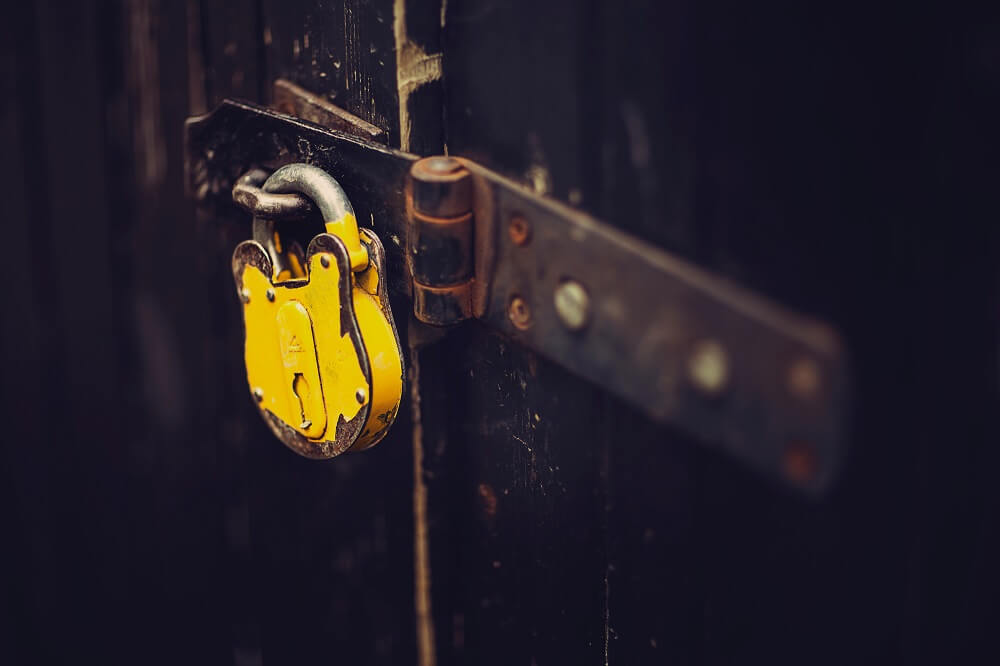 Final words
If you're a gun owner, you have to ensure that your child won't find your firearm in a drawer or in a box stashed in your closet because unless it's locked, it's never really secure. What happens if the kid thinks it's a toy? What happens if a burglar finds it and uses it against you? To prevent all of this from happening, all you have to do is purchase a handgun safe and know that you're protected but so is your weapon.
Pistol safes are a handy tool that provides numerous benefits and uses. No matter it is a legal obligation or a safety issue, firearms are dangerous and life-threatening that's why they need to be locked away securely while still allowing you to have quick and easy access to them.
We hope that this article was helpful for you and allowed you to make the right decision. If you have any questions or you simply want to share some information about handgun safes, we would love for you to leave a comment below.