Finding a good bushcraft backpack in days where the internet has thousands of offers could be very difficult. In order to find a solution, you should consider all details, such as the size of the bag, the durability, the design, and of course, the price. You could easily pick the right one by considering the weather in your headed destination, the duration, and simply the purpose of the journey.
The best bushcraft backpack will give you the comfort of moving freely as if you are not carrying any belongings. It allows you to be prepared for extreme situations and easily blend into the environment (if needed). All your bushcraft tools are quickly reachable from different pocket compartments. Indeed, it comes down to personal preference and what you're using it for.
Our team has been testing over 40 various backpacks, for now, over 7 weeks, to come up with the winners. Check out our favorite ones below, and let's see if your desired bag takes place in our ranking.
1. The 3V Gear Paratus 3-Day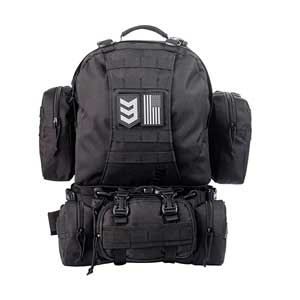 Our first product is the 3V gear Paratus backpack- a comparatively old model, yet people still tend to buy it. The Operator's tactical design is a weather-resistant bag, mostly used in the military. It is known to be one of the toughest backpacks, with comfortable shoulder and waist straps and an unlimited lifetime warranty against manufacturer defects. It has a huge main slot, a smaller compartment, and a pair of side pockets.
The rucksack is perfect for both long hikes and easy walks. You can choose from various colors: black, coyote tan, foliage grey, and olive drab. It can carry 40 liters and a weight of 4.45 lbs. If you are gone for up to three days, there is no need to worry about food or sleeping essentials, they will be secure in the 3V gear Paratus backpack.
2. ArcEnCiel Hiking Daypacks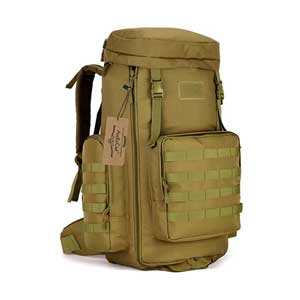 ArcEnCiel hiking daypacks is a high-intensity military-style specifications nylon model with zipper closure, scratch-resistant, and other appealing features. The bag's capacity fluctuates between 70L to 85L by opening the side zippers. It is very suitable in cases where you are carrying more equipment. There are carefully designed adjustable chest and waist belts to make it convenient for heavy carrying.
Many people prefer it while hiking, camping, climbing, and other outdoor activities, though it is also suitable for sports fitness. This is one of the few right choices you can make for both men and women. Designed to be used in combination with other equipment, with molle compatible assault pack, you can load molle bags, attachments, pockets, water bottles, and any other accessories if wanted.
Multiple pockets with zipped closures hold your belongings securely and keep your storage organized. You can fit 4 bottles in the front zip pocket thanks to the adjustable straps for extra security and resiliency.
3. Helikon-Tex Bushcraft Line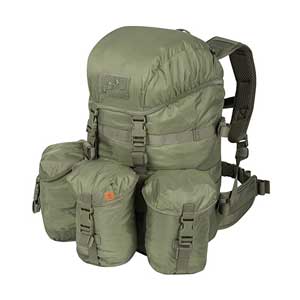 Helikon-Tex Bushcraft line is one of the most intriguing models for customers because of its three external buckled pockets. It is a functional universal backpack inspired by the classical Alice backpack. With this bushcraft item, your camouflage is guaranteed, you will be able to hide in the colors of nature. There are numerous panels for additional sack attachment, reinforced in key points- the main chamber and pockets bottom.
An internal mesh pocket inside the main opening can be very suitable for a map. While moving, if the backpack is not stable on your back, there is an adjustable hip belt, which makes things easier. The carry system is based on a detached plastic to the back, fitted with breathable mesh pads and anatomically shaped straps. 
Many buyers express their happiness in purchasing convenient items. The backpack looks quite small though its capacity is nearly 35 liters.
4. Nature's Lodge Canvas Backpack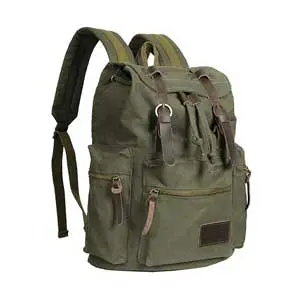 Nature's lodge canvas backpack is one of the vintage casual models. The strong and durable design is made of 100% cotton and leather. It goes well as a work bag, a school bag, or a road trip bag, it is even a piece of perfect carry-on luggage for plane travel. The color is easy to match with clothing, so it will not be hard to show off your new modern bag on the greatest occasions. Inside are a few inner pockets for your comfort and plenty of space for A4 notebooks, laptops, and other things.
Another cool thing is that the zipper on the strap can switch the bag from a one-strap sling bag to a shoulder backpack. In my opinion, the backpack is amazing, and honestly, I would even buy it myself, but the goal now is to find the best bushcraft bag. While this one is a regular backpack that can not keep your tools safe if necessary. 
5. Snugpak Sleeka Force Backpack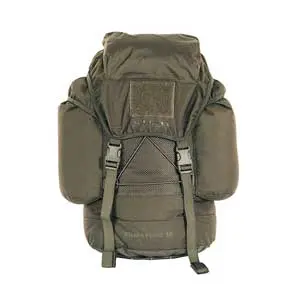 The next bag on the list is the Snugpak Sleeka force backpack. The backpack is not one of the largest though it still manages to be very convenient when it comes to traveling. It provides a total storage limit of 35 liters, which is enough for a spontaneous road trip. The design has two placed sections from both sides, normally, people put their daily essentials they need to be readily accessible there.
You should not be concerned about the rain with the Snugpak Sleeka bag since the zipped compartments on the top and bottom of the pack provide storage for rain cover. Made with heavy-duty 600D fabric, the idea was that it would be durable and lightweight to remain rigorous during extreme journeys. It features contoured shoulder straps with textured high-wicking materials to protect you under heavy weights. 
6. CREATOR 70-85L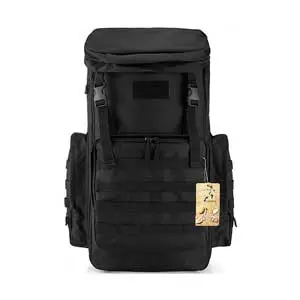 As we said above, while you are out in the open and struggling for resources, you surely wouldn't want to lose the ones you already have. A bushcraft backpack will ensure that all of your items are kept together and kept safe. The Creator is made of high-intensity 1050D nylon, meaning the chances of the color fading or scratching the bushcraft backpack are nearly nonexistent. With the capability of 70L to 85L, this backpack is enough to fit all your needs for a long trip.
It's a Waterproof bag, a heavy-duty mountaineer's backpack, with multiple zippered closure pockets and certainly adjustable bands for increased protection and flexibility. The design supports combining with other equipment by molle compatible assault pack you can place molle bags additions, bottles, or whatever you like.
Many also decide to use it as a survival kit. Besides holding your belongings securely and organized, the large capacity enables holding a laptop up to 17 inches. 
7. TETON Sports Explorer 4000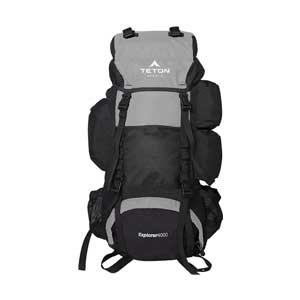 Teton sports explorer 4000 Internal Frame Backpack is High in the Ranking Pack and way more than a regular backpack. This size will accommodate all of your essentials. Bags like this one usually have extra loops and straps to carry items outside your pack. Internal frames tend to be more lightweight and low profile. Because of this, they are generally easier to carry.
You can add more items to your backpack without getting too weighed down. The multi-position torso adjustment is thoughtfully designed with your comfort in mind and fits a wide range of body sizes. The high-quality Explorer4000 is loaded with features like a sleeping bag compartment, multi-directional compression straps, and multiple compartments and pockets for strategic packing.
It is rather large and able to carry up to 65liters. The high-performance backpack includes a bright yellow attached rainfly and is hydration system ready.
8. MYSTERY RANCH – 2-Day Assault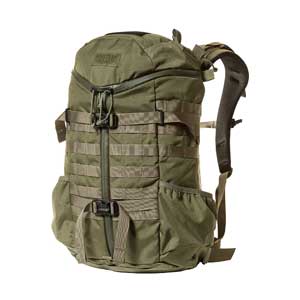 Mystery ranch definitely one of the best options you can choose. It is a smaller, everyday carry-sized version of the standard-issue 3-day assault, but the fact that it's a smaller version does not make it unsuitable for hikes, I would even say the opposite. Sometimes when your backpack is too big, it makes you slower.
Mystery ranch gives you the comfort of walking freely without knocking you down and, at the same time, can fit all your essentials. It is constructed for easy, rapid access to the pack's main compartment contents. It is built with the best materials available and the most durable construction methods that exist so that you do not have any worries during your mission.
9. WUDON Leather Backpack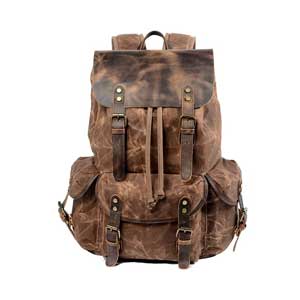 Wudon leather backpack, made with waterproof and durable waxed canvas, is designed for the doers in life. The bag allows you to carry large laptops, tablets, and other important apparel. The main compartment features a padded sleeve with open wall pockets and stays secure under a genuine leather flap with a drawstring closure. Boasting a solid construction with tensile stitching & rust-resistant, zine-alloy rivets, and hardware, your travel leather rucksack is a mighty road beast.
You could use the Wudon leather backpack for school, exploring, hiking, or even camping, you name it, it will be your partner through it all. The client's comfort is the biggest goal, so the backpack has one main pocket and three smaller ones. Wudon is a brand that focuses on bags made of waxed canvas and genuine leather. They have many options for school and some for hiking. In this case, I would say that this backpack is a school one and can not help you in nature.
10. Orca Tactical Backpack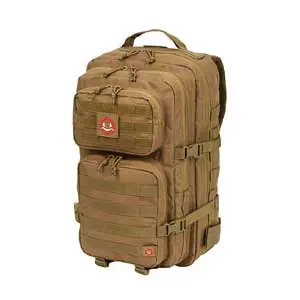 Massive storage in a small package is what we all want, isn't it? The Orca tactical backpack may be the one for you. Sized with a 40-liter capacity, this pack has plenty of room for all your essential gear. The unit is ideally used as a 3-day survival bag or backpack. The heavy-duty military-grade backpack is made from 600D polyester material. The closures are secured by high-quality YKK zippers with nylon pulls that are rust-resistant and tough.
The special coating makes the men's backpack both water-resistant and scratch-proof. The molle backpack webbing arrangement on the front and two sides of the backpack ensures you can add tactical gear needed for any mission. The best feature of the Army bag is the many different spots you can put your belongings.
Here Are 3 Key Matters To Consider When Buying The Right Backpack:
1. What Backpack Size To Choose?
It could be said that backpacks are divided into three types: short trips backpacks, a few days-long journey backpacks, and extended adventures backpacks. It is extremely important to choose the correct size, this way, you avoid complications during your excursion. The longer you say, the bigger the bag has to be.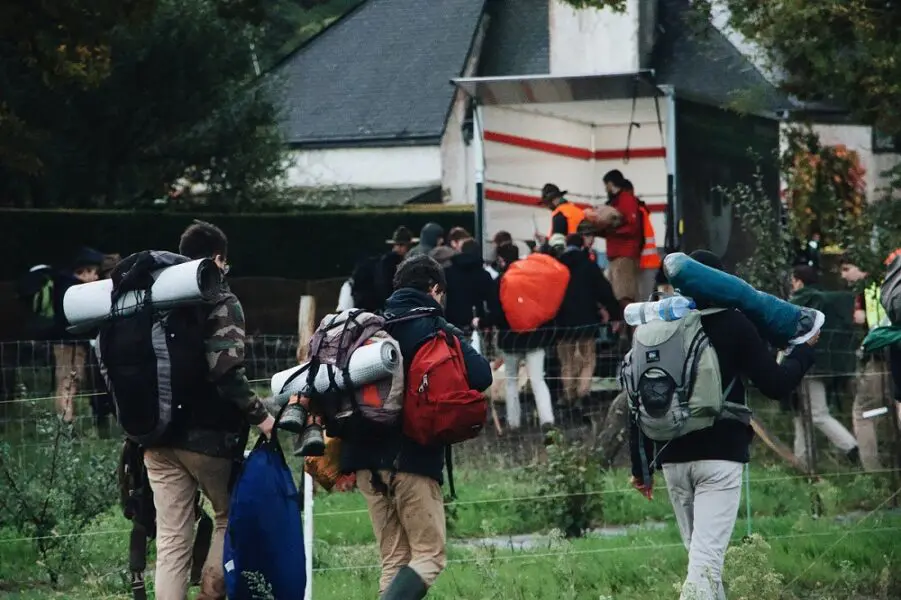 3. How Many Days Do You Need It For?
This question is partly explained in Q1, so it would be best to give you some examples:
Example 1: If you are headed on a one-night tour with a backpack willing to escort you through a long adventure, you will have unnecessary weight on your back. This will slow you down and possibly not reach your desired goal.
Example 2: Suppose you have gone on a difficult mission. Without enough space in your bag, you will not be able to fit enough food or bring all the needed equipment.
3. What Kind Of Shoulder And Hip Padding To Look For?
Your hips will be carrying most of the weight of your rucksack. For the same reason, if you add more weight to your backpack, you must make sure you increase the padding. Shoulder padding can also be very beneficial in reducing shoulder soreness and exhaustion. It is wanted by many when the journey lasts more than 5 days.
Each buyer has to decide which design will be more suitable for them. It is nice to mention that many new models have both hip and shoulder paddings.
FAQs
What Are The Must Have Essentials And Tools For A Bushcraft Backpack?
Of course, it depends on the person, but there are a couple of things that I strongly believe everyone needs. Here they are:
emergency tent: You have to have a place to sleep.
a pocket knife: It will become your biggest tool.
a folding saw: It is very handy and sharp.
flashlights: In nature, you have only got daylight, no lamps.
canteens: You do not know how far the next river will be, so you always have to have a plan B.
water purifier: A lot of rivers and lakes are full of litter.
fire starters; It is pretty obvious; you have to be warm, and you may need to cook something there.
an ax: A suggestion for a small ax.
What Things To Consider The Most To Fit A Backpack Comfortably?
The backpack should sit snugly on you while the hip belt is right above your hip bone, and you should always make sure it is well-tightened. Adjust the shoulder straps how you feel comfortable, they should not be around the lower back. There is no specific answer to this question because all our bodies are different, but when you feel the right backpack, you will know it is yours.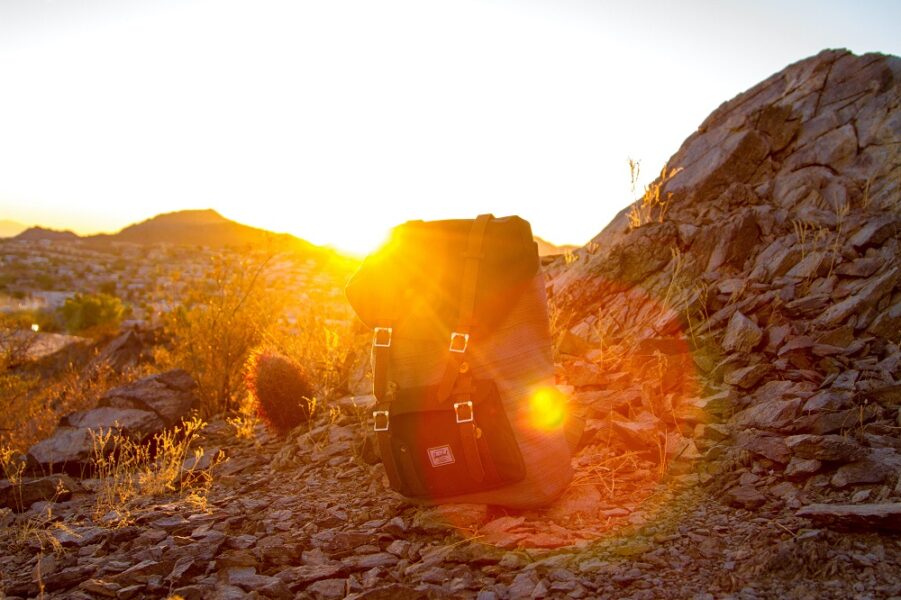 How To Adjust The Sternum Strap?
The sternum strap should not be touching your neck. If it touches your neck, it is far too high for you. In this case, consider adjusting the shoulder strap. If the sternum strap cannot secure the backpack to your back, your pack's hardness is too wide for you and your body.
How Do I Know Which Size Backpack I Need?
Overnight: This size is usually under 35 liters. It will fit all your essentials, and there is usually space for larger items that will strap to the outside of the backpack, such as a sleeping bag and a tent. Do not forget that you will need sanctification at night, use hand-held spotlights, they will greatly enhance visibility at night if necessary.
Three days: If you will be gone for up to three days, look at backpacks that can handle 35 to 50 liters. You can carry multiple outfits, a first aid kit, sleeping essentials, extra food, and other items you will need to stay safe, comfortable, and satiated for up to three days.
More than three days: This size starts at 50 liters but can exceed 70 liters. Think about where you are going and how long you will be gone. This size will accommodate all of your essentials. It also usually has extra loops and straps to carry items outside your pack.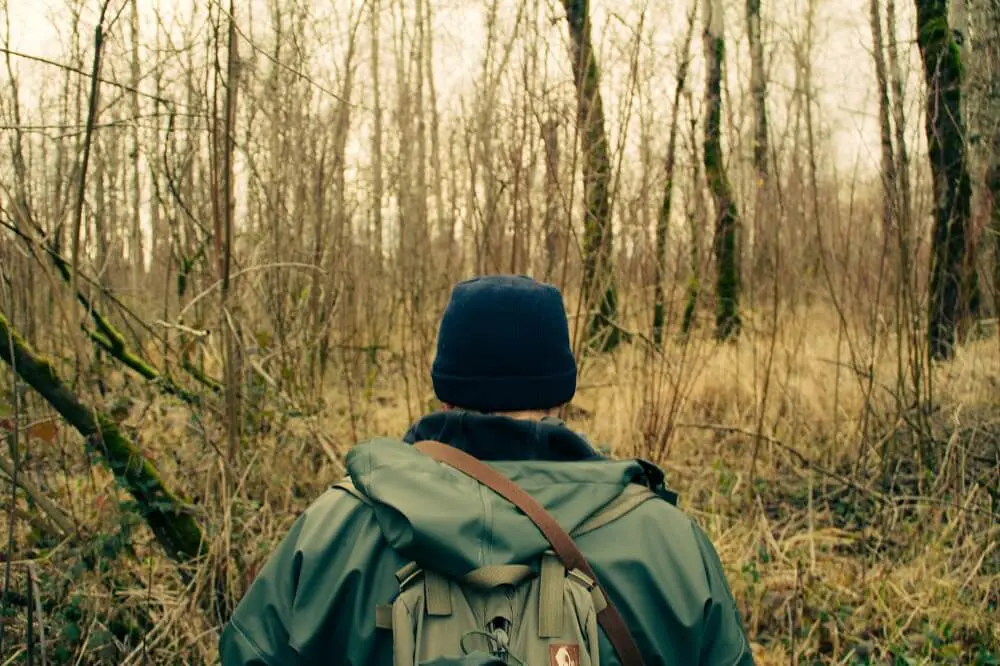 Final Words
Overall, products 4 (Nature's lodge canvas backpack vintage) and 9 (Wudon leather backpack) should not be in this category because they are school bags and would not be helpful in any situation. Product 10 (Orca Tactical Backpack) would be a perfect fit and an affordable cost for a short journey. Product 8 (Mystery ranch 2-day assault backpack ) will be a top pick if the traveling is expected to continue for more than 5 days. The price would be a bit more expensive, but it will definitely be worth it! And, of course, our choice should be Product 6 (CREATOR 70-85L), which has the perfect balance between price, design, and durability.
We strongly hope we have provided you with the information you need. We guarantee that if you follow our tips, you will not have problems with the equipment during your adventure. Remember to be safe and have fun!