"Safety isn't expensive, it's priceless!" and that's why buying a pocket knife nowadays can be hard considering the hundreds of options. Everyday carry knives are becoming a more significant part of your daily routine by the second. In today's article, we'll try and show you what to look for and how to find the best pocket knife that will suit your needs. Forget about the old-fashioned blades and all the headaches that come with using them and replace them with a high-quality blades.
Folding knives can be useful and helpful in many situations. A knife is an essential item for your EDC kit and day-to-day activities. We understand that it can be hard for you to narrow down the best options, and that's why we did it for you. We've selected the 10 best pocket knives on the market for 2020 that suit different needs and budgets while showcasing high quality and durability.
1. Kershaw Fatback 1935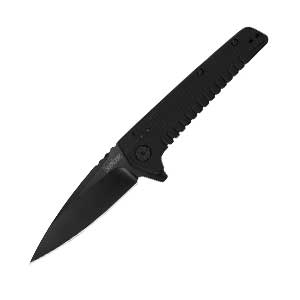 Kershaw is a brand that creates high-quality, exceptional working tools and knives affordable to all consumers for everyday carry. They pick top-notch materials while staying above the rest with intensive craftsmanship, advanced technology, and innovative design. The Fatback 1935 is hands down our favorite product made out of stainless steel for hardness and edge retention, offering wear resistance that can withstand damage from severe weather conditions and time itself. Coated in black oxide for additional corrosion resistance, this blade is an elegant and desirable option for every customer.
Using a revolutionary SpeedSafe Assisted Opening system that enables secure and fast one-handed blade deployment, this everyday carry locks into place for confident handling without premature closure. This knife's locking system safely secures the blade open and prevents unwanted blade closure. All you have to do is apply manual force so you can move the lock bar and fold the blade back into the handle. With all SpeedSafe knives, you get two options for one-handed blade deployment, either activate the smooth, instant open or press a flipper.
Kershaw provides you with a durable handle made with synthetic nylon polymer reinforced with glass threads for increased strength which provides a secure and stable grip. The brand has a unique pattern that is 'K' shaped, so you can easily recognize it while ensuring that you'll always have a secure hold, even in wet conditions. Convenient pocket clips are designed to allow the knife multiple carry options while promoting safety and efficiency.
Features:
Chinese carbon steel
Black-oxide coated blade
Nylon polymer reinforced with glass threads grip handle
4-position clip
Secure Locking System
One-Handed Flipper
2. Benchmade – Mini Griptilian 556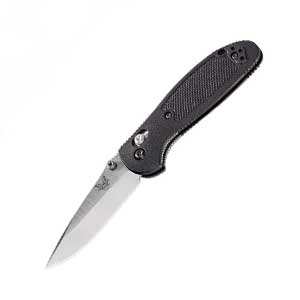 Benchmade knives are designed to perform without compromise for everyday carry, the line of duty, field, or forest when you need them and for however long you need to. That's why when it comes down to all-around functionality, you can't beat the Griptilian 556. This upscale product comes in different shapes, sizes, and colors, so you can find the one that works just for you. Built to perform, this everyday carry shows simplicity while providing unmatched function.
Ideal for every occasion, this premium option is made out of stainless steel for first-rate edge retention and corrosion resistance creating a perfect product no matter the application. You get a precision drop-point construction for versatility and strength. Built with a Grivory handle that is ambidextrous with a textured grip and molded from glass-filled nylon, this product displays superior durability.
Don't worry about locks any longer with this Axis locking mechanism which ensures safety while providing a smooth opening and easy close. Another plus is the lanyard hole for versatile carry options and the useful reversible clip.
The Griptilian 556 would be the ideal addition to your EDC collection with its reduced profile and lightweight design. Benchmade has dedicated over 30 years to crafting and designing the best knives worldwide for people from every walk of life and profession. Stop your search because you've found a premium pocket and folding knife that will bring your comfort and unrivaled results.
Features:
American stainless steel
Precision drop-point construction
Glass-filled nylon textured grip handle
Axis locking mechanism
3. CRKT M16-01S EDC Folding Knife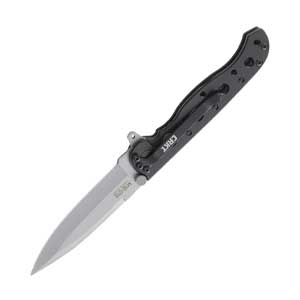 Known as the knife that changed everything, the original M16 Carson Flipper has earned a place in the Blade Magazine Cutlery Hall of Fame. Showcasing the immense dedication to craftsmanship the M16 Series present a folding pocket knife with a simple design, tough materials, and an affordable price.
Crafted out of retro-flavored stainless steel, the M16 handle is universally recognizable. This iconic handle has bored holes in its face that set it apart from other knives in the industry. Shaped and contoured with an ergonomic design that allows a bomber grip amid rain, grit, and grime. That's not all the handle features open chambers, which reduce weight while making the knife more comfortable to clean in the outdoors with a beautiful classic black oxide finish.
The CRKT doubles as an effective blade guard for rapid deployment and unshakeable safety while offering superior protection from the Automated Liner Safety. You get a traditional frame-lock mechanism that secures the blade while showing the Veff serrations used for superior cutting of cordage, rope, and fibrous materials. With this everyday carry, you balance performance and safety. This Carson blade has a flipper that, once open, becomes a blade guard to protect digits in hard-use situations without the need for high pressure.
Easy to open and close with an innovative safety pin that stays between the liner and the frame to keep it super secure when in use. The M16 is an inexpensive option that truly displays what performance and quality mean. And to prove it, you get a lifetime warranty that covers any defects in materials or workmanship.
Features:
Retro-flavored stainless steel
Black oxide finish handle
Automated liner safety
Veff Serrations
Lifetime warranty
4. Buck Knives 0110BKSNS1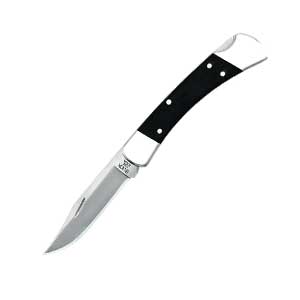 Buck Knives is a company that has shown experience and craftsmanship in each knife for over 110 years. They use premium materials and state-of-the-art technology to be able to create blades that will meet everyone's expectations. The brand shows that if you care about a product and the family name behind it, you will find a knife that is built to last a lifetime. With a legendary heat treatment that involves heating, freezing, and then reheating of the steel so that it can be sharper out of the box and stay that way.
The first Folding Hunter was created in 1963 and is still one of the best-selling knives in the U.S. Buck Pro version delivers the high-quality of its original product with a different look and upgraded capabilities. Made out of S30V steel, the Hunter Pro's blade is an excellent combination of edge retention, flexibility, hardness, toughness, wear resistance, and corrosion resistance. You get a sturdy G10 handle with nickel bolsters that is resistant to heat, cold, chemicals, and other abuse, letting this everyday carry be used in all sorts of extreme conditions.
This is a Lockback folding blade that has a mechanism that locks the blade in an open position which gets activated by opening the blade all the way. Perfect for someone who needs a sharp knife in the field, this product comes in a genuine leather sheath and a lifetime warranty. A century's worth of knife craftsmanship is put into these Pro-level blades so they can be used in the most demanding of situations.
Features:
Stainless steel blade
G10 handle with nickel silver bolsters
Genuine leather sheath
Advanced edge blade technology
Lifetime warranty
5. Kershaw Chive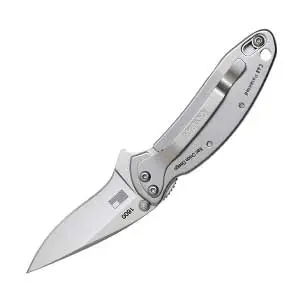 Since 1974 Kershaw has been making knives with award-winning technologies and advanced materials that show next-level craftsmanship. You know you're carrying the real thing with the solid sound of the blade lockup that the Chive offers. This company was the first on the market to propose the SpeedSafe assisted opening, where you get an incredible bang for your hard-earned buck.
Striving towards solid and reliable products, the brand has created the Chive blade with its patented Sub-Frame lock, which enables this lightweight knife to secure blade lockup. Kershaw's high-performance blade is constructed from 420HC steel that offers good edge retention and excellent corrosion resistance. You get a matching stainless steel handle with a non-reflective matte bead-blasted finish that shows an ideal everyday carry. The handle itself features a SpeedSafe-assisted opening, a Tip-lock slider, and a convenient single-position pocket clip.
With the Kershaw Chive, you get a tool capable of everyday tasks that's prepared to withstand extreme conditions as well. Kershaw has an exclusive Composite Blade technology that combines two sheets of steel into one blade, creating an innovative and durable result. This knife can make you proud with its ownership and a lifetime warranty against any defects in materials and construction. The Chive is sturdy and compact, making it easy to store and use. A blade like that can always come in handy!
Features:
420HC steel blade
Stainless steel handle
SpeedSafe assisted opening
Secure frame lock
Tip-lock slider
Single-position pocket clip
Lifetime warranty
6. Ka-Bar Agama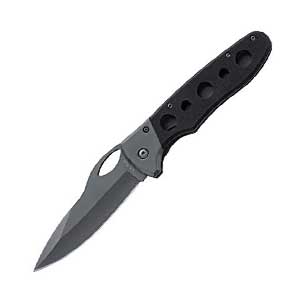 Ka-Bar is the well-known contemporary name for the combat knife used by the United States Marine Corps since 1942. Later on, the term becomes a knife manufacturing company for high-quality folders at a great price. This product shows thought in design, craftsmanship, and utility. The Ka-bar Agama is dependable and versatile, creating a blade that's ideal for day-to-day activities at a low-price range—made out of a 420HC stainless steel blade, which is lightweight and easy to balance with the G-10 Aluminum handle while sitting comfortably in your hand.
With an already-sharpened blade and a comfortable thumb slot for the single-hand deployment of it, you get a product with fast and easy accessibility. The straight-edge drop point of this everyday carry can do some serious damage and cutting. Opening the Agama is very smooth and quiet, but you can still hear the distinctive 'click' sound when it locks in place.
A very low thumb pressure to deploy the blade, and when it's open, it remains solidly locked, demonstrating no slack or looseness in any way. If you are looking to add to your EDC collection, this inexpensive blade will prove itself worthy!
Features:
420HC stainless steel blade
SS blade
G-10 Aluminum handle
Linerlock
Pocket clip
One hand open
7. KATSU Handmade D2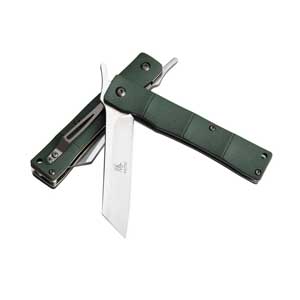 The KATSU Handmade D2 is inspired by traditional bamboo blades built in Japan. This is an exceptional product for everyday carry with an elegant razor-styled blade built with modern technology. Made out of D2 stainless steel and weighing less than 3.5 ounces, the Katsu is compact, lightweight, and stylish.
When purchasing this blade, you get an exclusive EDC with a handle that is created in authentic bamboo style. Getting a unique product like this one with a double bevel blade that is remarkably sharp and not for a beginner but for someone who appreciates craftsmanship at its finest. This tool will cut through whatever you need it to, while the traditional Japanese thumb notches along the knife's side will allow one-hand opening of the blade. You don't only get gorgeous aesthetics but so much more since the KATSU Handmade D2 blade is functional, light, and sharp.
Looking like no other, the Katsu D2 handle has a pocket clip that will allow you to grab it in case of an emergency quickly. The everyday carry comes in a high-quality nylon sheath making this tool one of the best-looking pocket knives on the market. But the KATSU D2 is not only beautiful but incredibly sharp and sturdy as well. This quality of modern Higonokami should be one to consider.
Features:
Sharp Double Bevel Blade
Genuine Bamboo style G10 handle
Japanese thumb notches
One-hand opening
Pocket clip
High-quality nylon sheath
8. SOG TFSAT8-CP Flash II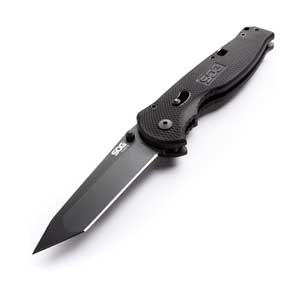 SOG is a U.S. tool and knife company founded in 1986, named in honor of the Military Assistance Command in Vietnam, which produces some of the best products on the market. Built to last, their knives always stand ready to assist you when needed with a fast and reliable everyday blade. The Flash II was created to offer quick and easy cutting for your daily routines while adventuring or in any emergency situation.
This SOG model is crafted in hard-cased black titanium nitride-coated AUS-8 stainless steel and powered by SOG Assisted Tech that will bring your blade to the ready faster than most. You get a unique blade design that combines the strength of a drop point with the more central position of a clip point for sharper piercing cuts. Scratch and peel-resistant, this blade serves as an everyday carry with stainless steel straight edge which features a sharp Tanto point.
The SOG TFSAT8 is compact and lightweight, with a glass-reinforced nylon grip handle and one of the most reliable knife systems ever.
Open your blade with one hand while the Piston Lock will secure the blade so you can hold it effectively on either side with its ambidextrous design. This reversible low carry has a clip so that you can pick it up quickly and securely. SOG knives are for life, which is why they will consider all repair and replacement requests because the brand is committed to ensuring their product lasts.
Features:
AUS-8 stainless steel
SOG straight edge
Glass-reinforced nylon grip
Tough titanium-nitride finish
One hand open
Piston Lock
9. Spyderco Para 3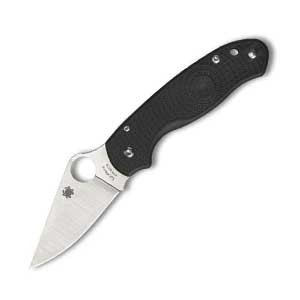 Spyderco was founded in 1976, and they introduced their first folding knife in 1981. That blade showcased the concept of a one-handed opening, a clip on the handle for carrying, and a serrated edge for superior cutting performance, which revolutionized the knife industry and defined the modern folding pocket knife.
The brand's best-selling product is the Para 3, which possesses all the needed key qualities while being in a compact, carry-friendly format. With its groundbreaking design, this blade takes another quantum leap forward by incorporating injection-molded fiberglass-reinforced-nylon scales. That's not all, this everyday carry has s streamlined version of Spyderco's patented Compression Lock mechanism that creates a sturdy option while keeping the overall weight to an absolute minimum.
You get all the features you want and need in a more compact package with a CPM S30V steel blade. This superior high-carbon chromium steel offers impeccable balance, edge retention, and low-friction cutting performance. It features an open-backed construction and stainless steel liners that are nested into the FFN Handle, which provide excellent support for the knife while reducing handle thickness.
Spyderco first introduced us to the Para series in 2004 and is still going strong with proven reliability and cutting performance in a more easy-to-carry design. Forget about an inconvenience with this blade's locking mechanism that securely opens during use and can be closed quickly and safely with only one hand.
Features:
S30V steel blade
Open-backed construction
FFN Handle
Fiberglass-reinforced-nylon scales
Compression lock
One hand open
10. CRKT Flat Out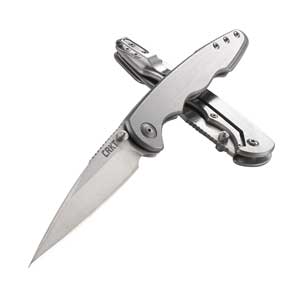 CRKT strongly believes in innovation and integrity and the fact that quality products always come first. For the company, innovation means building products that will continue to lead and define the industry in terms of creativity and utility while constantly trying to improve. For over 25 years, the brand has worked with some of the most renowned custom and independent knife designers in the world so that they can develop industry-shifting innovations and quality products. They've chosen to do business guided by integrity so that each and every customer can be satisfied with the tools CRKT puts on the market.
The CRKT Flat Out was created to make a difference with its high carbon stainless steel blade and handle, making it ideal for everyday carry. With beautiful satin and brush finishes, this blade's frame lock provides a secure lock-up of the blade without losing its style. The outburst spring-assisted opening deploys the blade smoothly and quickly, showing us what it actually means to build a reliable product.
Born in Oregon, CRKT's tools truly reflect the rugged terrain from which they come by creating a blade that can withstand rough weather conditions, time after time. Slim yet hard-working, understated yet powerful, the Flat Out is a beautifully crafted tool with a lifetime warranty that covers any defects in materials or workmanship because the brand believes in the precision with which every blade has been made.
Features:
High carbon stainless steel blade
Outburst spring-assisted opening
Frame lock
Satin & Brush finish
Lifetime warranty
What to consider before buying a pocket knife?
When purchasing a pocket knife, there are multiple things that you have to consider in order to find a sturdy and reliable option. You have to think about the materials, the blade, the type of handle, the weight, the locking mechanism, and even the design.
One of the most important aspects is what material the knife is constructed out of since it determines how durable and lasting the product is. The most common one is stainless steel but what you might not know is that not all are great in terms of performance and endurance. Pick a blade that will retain the edge for longer and will be able to deliver when needed. Next is the number of blades, and depending on your needs, you might want a model with multiple ones that can provide you with better performance and more versatility.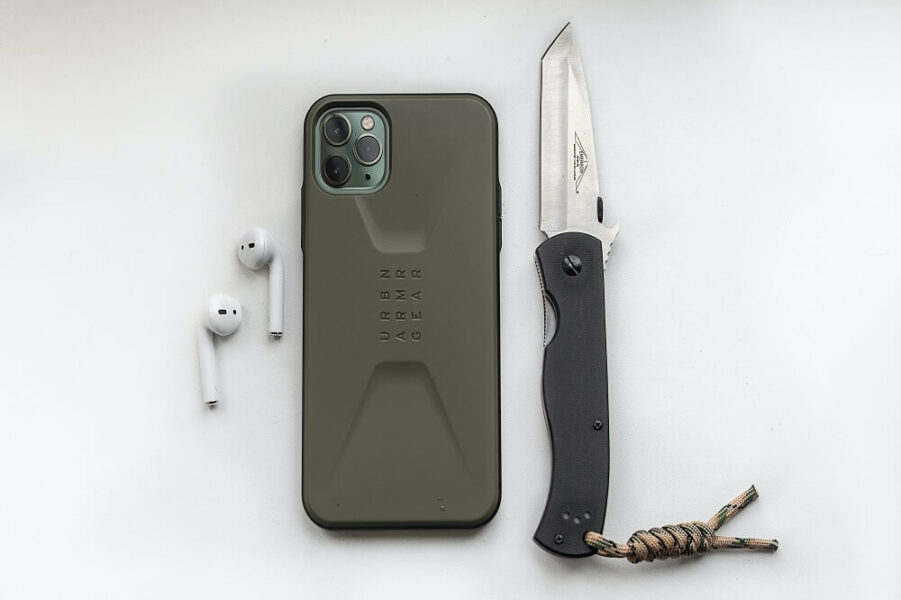 Another vital part of your choice is the handle type because it plays an important role when it comes to ergonomics. We recommend picking a handle made of aluminum, G-10, and Micarta, preferably reinforced with glass threads. This way, you can make sure you have a good grip on your handle. If you want an EDC knife, you should pick one that's lightweight because you'll carry it with you every day, which means a slim profile is your best option.
You have to pay attention to the locking mechanism each pocket knife offers. There are knives with manual opening, switchable or automatic, and assisted opening mechanisms, and all are useful depending on what you will use them for. Design is not as important, but you'll probably want to find something that not only works great but looks good as well.
There's nothing wrong with that, so you can take your time and pick the right blade for your personal wants and needs. We hope that this information is enough for you to be able to figure out what to look for so you can find the perfect pocket knife.
Frequently Asked Questions
What is the best pocket knife steel?
Every knife is as good as the steel used in it, that's why it is crucial to pick a reliable and sturdy material for your everyday carries. In general, most pocket knives are constructed out of carbon or stainless steel blades, and there have been a lot of debates on which one is better.
No matter how many arguments people have about blades, there is a clear winner, and that's the CPM S30V. The S30V is the best steel possible which means it also comes with a price tag that doesn't usually go under 150$. This steel can hold an edge and resists water, making it ideal for folding blades.
That's why it is favored by brands such as Benchmade and Spyderco because if the blade is shaped correctly, you can obtain a very fine edge that can handle abuse well. Something that you have to keep in mind is the fact that this harder steel takes a fair amount of effort to sharpen. With the CPM S30V, you get an edge that will retain the overall durability and hardness.
What is the best pocket knife to collect?
If you're a knife collector, there are a couple of knives that are so iconic that you need to have them in your collection. Knives have left a long-lasting impression with the use of innovative materials and lifelong blades that can cut through most. A knife collection can never be fully complete, but the Benchmade – Mini Griptilian 556 creates a solid foundation on which you can start.
Designed to perform without compromise, this upscale product shows simplicity while providing unmatched function. Ideal for adding to your EDC collection since this iconic tool is suitable for every occasion while being versatile and sturdy. You get what you pay for, and in this case, you get it all!
What is the sharpest pocket knife in the world?
If you're searching for a pocket knife that has a sharp edge, the Buck Knives 0110BKSNS1 Folding Hunter Pro is a premium option that would last a lifetime. Creating blades for over 100 years, this brand uses S30V steel and state-of-the-art technology that construct a sharp and durable product. The brand works hard towards achieving perfection with high-quality and upgraded capabilities. This sharp blade combines edge retention, flexibility, hardness, toughness, and wear resistance. Made with a sharp edge straight out of the box, the Hunter's Pro can be used in the most demanding conditions.
How to hold a pocket knife?
When you're buying a pocket knife, pick one that will be compact and lightweight since that will help you in the long run. Most people carry their knives in their pockets where you can clip them for quick access and security. You want the knives to ride with the blade's tip pointing up, and it should face rearward so you can quickly grab it and prevent the blade from accidentally falling open in your pocket. After the everyday carry is out of your pocket and you have deployed it, move your thumb to the side and wrap your other finger to the handle for a better and more secure grip.
Final words
Pocket knives serve many purposes while being useful and sometimes even crucial to your survival. You might need it to open mail, cut food, or for a defense task, that's why everyone needs a blade for day-to-day activities and outdoor adventures. Regardless of what you intend to use it for, picking the appropriate everyday carry matters, and that's why we hope we were able to help you with that process.
Not all blades are made of the same components, which means always checking what you buy. Our advice is to never compromise on quality and durability. Each and every product in our article has been tested, showcasing how reliable and tough they are so that you can find yourself the one that's just right for you.
If you want to share information regarding the subject or have any questions, we are here to help in the comments below.