Owning a weapon is an enormous responsibility, and that's why if you want to have a weapon, you'll want to make sure they're out of reach for kids or intruders. The good news is that nowadays, there are numerous vaults designed for each and every need.
Choosing the right box can turn out to be a challenging task, but that's why we are here to help and review the best gun safes on the market today. In this article, we'll show the best of the best when talking about cabinet and biometric safes, fireproof ones, top choices for long guns and rifles, handguns, and many more.
1. Liberty Franklin 35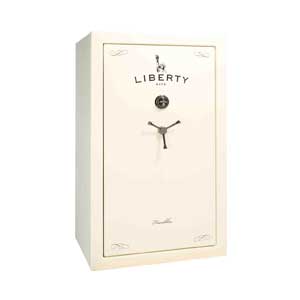 Built to last, the Liberty Franklin 35 comes with 75 minutes of certified fire protection and military-style locking bars that are thick and tough. You can choose from 11 options, including the hot-selling Marble Gloss finish to find the one that suits your home decor while serving its purpose.
This Liberty model comes with an electrical outlet kit, interior lights, and a deluxe door panel, creating the perfect blend of security and style. That's not even the best part because you get big military-style locking bars that provide additional protection with the 'Tough Door' Liberty offers.
The fire protection of the Franklin 35 is impeccable, with an 86,000 BTU fire rating, four layers of fireboard in the ceiling, three in the door, and two in all walls. In case of a fire, the Palusol heat-activated door expands up to 7 times its size to help with the heat and the smoke.
The 'DX-90 MONSTER MECH' revolutionary mechanism combines its over-center cam with a relocker to help prevent side-punching while the SURETIGHT handle will protect the lock from torquing. Pry resistance is increased considerably while the long bolt extension includes anti-pry tabs on the bracket, and the triple case hardened steel plates protect the lock from any drill attack. This premium choice is UL listed, so you can be sure your choice will work best for its intended purpose.
You get a 3-spoke SURETIGHT handle with the Liberty Franklin, and depending on the color you pick, it can be chrome or brass. With its upholstered interior, you get fabric-covered shelving or upgraded pin-dot velour fabric if you choose a model with a gloss finish. The Liberty Franklin 35 is available in three sizes and can hold up to 41 long guns. You won't find another option that can offer so much at this price.
Features:
Certified fire protection
A heat-activated door seal up
Sure tight handle with slip clutch innovation
Military-style locking bars
Triple case hardened steel plates
Electrical Outlet kit
Interior Lights
Deluxe Door Panel
2. GunVault GV2000C-DLX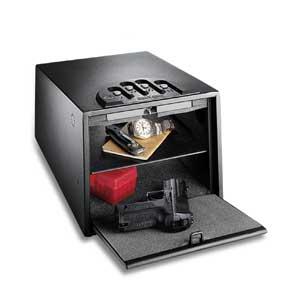 The GunVault GV2000C is a multi-deluxe handgun safe that gives you space for weapons and additional room for your other belongings. It's constructed of 16-gauge steel on the outside, while the inside has soft foam padding that protects your belongings from damage or scratches. It also has a removable shelf that increases your storage options for multiple weapons and larger valuables.
The GV2000 features include a high-strength lock mechanism, a built-in computer that blocks access after incorrect keypad entries so no one can get in, precise fittings, and an alert system that will let you know when invalid attempts have been made. Another feature is the motion detector that has an audio alarm to guard against direct tampering, while an audio warning prevents unexpected power loss when your battery is low.
Designed with user-friendly features for your convenience, this multi-pistol model has a nine-volt backup battery power that gives you enhanced security and easy portability, while the 'learn buttons' let you pick and program three different user codes from over 12 million options.
Coming with an AC/DC power supply jack that saves batteries and an interior courtesy light that is activated when you open the safe for more convenient access, this beauty has foolproof security that includes a backup override key and precise fittings that are virtually impossible to pry open with any hand tools. Not only that, but this GunVault model is California DOJ-approved making it an option to consider.
The GunVault GV2000C-DLX has a convenient keypad that is easy to use with its advanced No-Eyes access even in the dark. Its audio feedback system validates every correct keypad entry, or you can simply disable this option so it works in complete silence, that way, if someone tries to break into your home, they will never hear you open the door.
The GunVault also offers a high-strength security cable that can be used to secure cars, offices, etc., while the battery power will provide maximum security and easy portability.
Features:
16-gauge steel outside
Soft foam padding inside
Steel removable shelf
High-strength lock mechanism
Motion detector with audio alarm
Backup Override Key
Interior courtesy light
3. SecureIt Tactical Agile 52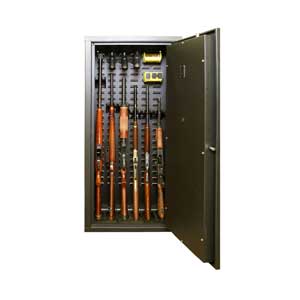 The SecureIt Tactical Agile 52 gun cabinet is hands down one of the bestselling ultra-light, heavy-duty gun cabinets on the market today without weighing hundreds of pounds but with the required safety and security for your weapons storage. The Agile 52 has two versions, and the upgraded one includes various accessories with every unit.
Additional accessories let you organize the space inside the safe for maximum performance while the 'Cradle Grid Technology' makes the Agile tough, flexible, and customizable, with unsurpassed security. It has a keypad control panel that provides easy access while the key override protects your valuables.
The SecureIt Tactical Agile 52 can store up to 6 firearms that are 50" or less, and the 'KnockDown' design will provide fast assembly. You can feel secure with the hinge swing 3-point locking system to prevent intruders from breaking in.
The SecureIt Tactical Agile includes the heavy-duty steel cabinet, louvered back panel, six upper cradles with removable bungees, and three stock bases, but the battery itself is not included, so keep that in mind when purchasing this item.
Let's talk more about the 'CradleGrid' system and all it offers. You don't need any tools since it allows adjustment on the fly to store any long gun or any style rifle with a scope attached. The straight-line access is an excellent plus because it will enable you to reach each firearm with moving the others, showcasing the perfect organizational awareness. The SecureIt ideal size is excellent for your home or office.
The SecureIt Agile 52 is designed with the same professional-grade craftsmanship that's used for the US military so every firearm owner can safely store weapons at a cost that's hundreds of dollars less than traditional vaults.
Features:
CradleGrid Technology
Keypad control panel & key override
Swing door with 3-point locking system
KnockDown design
Louvered back panel grid
Six upper cradles with removable bungees
Three stock bases
4. Liberty HDX-250 Smart Vault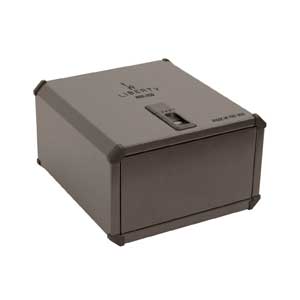 The new Liberty HDX-250 Smart vault s secures your handgun and valuables while allowing quick and secure access by using a biometric finger swipe technology in which the brand specializes, making this the most reliable system available on the market today.
Opening the Smart Vault can happen in less than a second when utilizing the AC adapter and 2 seconds with the nine-volt battery. What's incredible about the Liberty model is the fact that it can accommodate 15 different fingerprints, and when powered by the A/C adapter, it's constantly at the ready and opens instantly, all you have to do is swipe your finger.
The Liberty Smart Vault is made out of a heavy-duty 14 gauge steel door with built-in anti-pry tabs, while the reinforced latch system is particularly designed to resist attacks and other attempts to break an entry. Mounting holes are located at the bottom for direct installment. Liberty extensively tests everything they build so that the Smart vault can protect your firearms and, most importantly, your family.
Liberty's smart vault offers additional accessories like a mounting bracket and a storage shelf. The Smart Vault mounting bracket is designed to provide you with a quick and easy means of securing your Smart Vault to any sort of flat surface. As an added benefit, you can quickly remove it and secure base plates that will provide you with quick access anywhere you go. And if you want to increase the capacity of the Smart Vault, simply add a storage shelf, and all your problems will be solved.
Showcasing their quality products, Liberty gives you a 5-year replacement warranty on any defects, which speaks volumes. The brand's motto is "Speed and Security when you need it most," so don't settle for anything less than the best!
Features:
Biometric system
14-gauge steel door with built-in anti-pry tabs
15 Fingerprint Memory
Auto-Open Door
Tamper Resistant Design
Sturdy Steel Construction
AC adapter
Key Backup
5-year warranty
5. Browning Medallion 49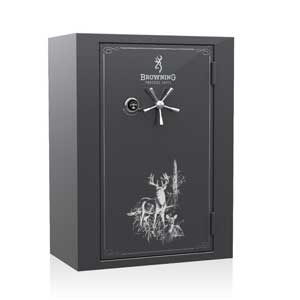 The Browning Medallion 49 combines fire protection, security, durability, and strong features that create the best seller in its department. This is a wide gun safe that's capable of protecting up to 49 long guns from fire and theft while leaving plenty of extra room for your other valuables and gear.
Designed like a bureau instead of the common box shape, the Browning Medallion 49 allows you to place it in different locations throughout your house or office without blocking off interior space, creating a piece of well-designed furniture look-alike that is elegant and stylish.
Browning has developed a ThermaBlock system that features thicker sheets of fire insulation that are arranged in an interlocking design which minimizes gaps that would allow the internal temperature in the safe to rise during a fire. Your valuables we no longer be unprotected from heat builds and flames with this incredible piece because the company understands the importance of fire protection.
The Medallion 49 has a 'DPX Storage System' that maximizes gun storage space by including a modular system of pockets and pouches for pistols and other valuables, while the door-mounted racks are used for long guns and rifle weapons. When it comes to maximizing storage, Browning products lead the industry with unmatched versatility with their exclusive Axis Adjustable Shelving that's completely customizable with an array of shelves that will meet your every need. The shelves are made from a single piece of sturdy steel wrapped in a soft, protective polymer coating that is extremely durable and designed to protect your guns and valuables while letting you adjust them up and down and side to side.
The Browning Medallion 49 comes with standard LED Lighting pre-installed into the unit so you can see without needing any outside help. This impressive option features an automotive-quality high-gloss finish that has been hand-polished to a deep shine to ensure the perfection of each detail.
Features:
10 gauge steel
Biometric lock
ThermaBlock features
DPX Storage System
Axis adjustable shelving
LED lighting
High gloss finish
6. Rhino Warthog RW6042X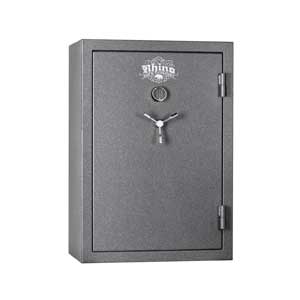 The Rhino Warthog will stand up to the toughest of abuses and keep performing with full 80-minute fire protection at 1400 degrees to the nastiest drill plate on the planet. You never have to worry because the Warthog won't disappoint! It has one of the most advanced fire protection, with three layers of fireboard in the ceiling and two layers on the walls, door, and floor. To help cut out the heat and smoke, the heat-activated door seal expands up to seven times its size, which protects the door edge perfectly.
Rhino works hard on its security features so it can create a product that is made out of a heavy-duty 12 gauge steel body and recessed 12 gauge composite doors. The Rhino Warthog includes an internal anti-tamper clutch, anti-punch, and anti-drill bolt works that even the toughest drill on the market can't break.
Spring-loaded re-locker keeps the Warthog secure if the lock is tampered with or removed, so you get two-sided protection. The Warthog holds up to 54 long guns and eight handguns, with the deluxe door organizer for more storage options.
That's not even the best part – the Rhino Warthog is UL-certified and DOJ-acceptable, with a fully upholstered interior and adjustable shelving that shows style and function. It has a 3-spoke vault-style handle and a factory-equipped electrical outlet.
The Rhino Warthog RW6042X has an optional 'Swing Out Rack' that is used for quick and easy access to your rifles, with a full unit attached to the interior that can swing up to 13 guns.
Features:
Fire protection
Heat-activated door
Heavy-duty 12 gauge steel body
Tungsten Carbide Drill Plate
Internal Anti-Tamper clutch
Spring-loaded re-locker
Deluxe door organizer
3-spoke vault-style handle
Adjustable shelving
7. Rhino Longhorn Nightstand Safe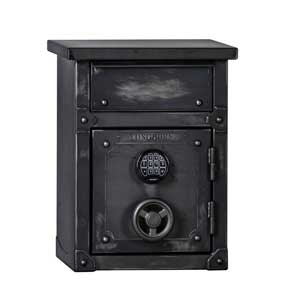 This vintage-looking Rhino Longhorn that's part art, part furniture can effortlessly be called one of the best proper nightstand gun safes. Every single Longhorn is hand distressed to accentuate the natural grain and variations in the steel while producing an antique quality piece for your home or office!
Coming with advanced fire protection with two layers of fireboard in the ceiling and one on the door, floor, and walls, the Rhino Longhorn sure can be stylish and useful. With a heat-activated door seal that expands up to seven times its size, it seals the door edge for enhanced protection.
The security features of the Rhino Longhorn nightstand are no joke either, with an internal Anti-Tamper clutch and Anti-Punch, Anti-Drill Bolt works. They are made of a heavy-duty 14 gauge formed steel body with external corner reinforcements on critical attack points and a recessed 14 gauge composite door with an external reinforcement ring for pry-point protection and safety. This Rhino model is UL listed with 2-sided protection.
Rhino never disappoints when it comes down to style and function, and you can see that with the distressed leatherette interior fabric and the plush adjustable shelving. The external hinges allow better access with a 180° door opening. With a simple keypad, all you have to do is enter your combination and get to your valuables in no time. You get a heavy-duty drawer for personal belongings and a handgun holder on the door back.
An external electrical outlet on the back will keep your nightstand powered up at all times. Don't worry about the safety of your family ever again with this excellent product by Rhino!
Features:
Fire protection
Heat-activated door seal
Internal Anti-Tamper clutch
Anti-Punch and Anti-Drill bolt works
14 gauge composite door with external reinforcement ring
Heavy-duty 14 gauge formed steel body
Electronic lock
Distressed leatherette interior fabric
Plush adjustable shelving
3-spoke cast iron handwheel

8. Liberty Handgun Vault HD-300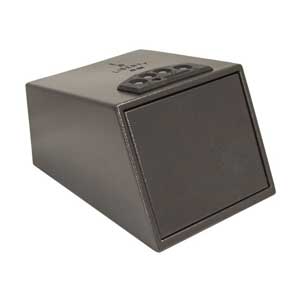 The Liberty Handgun Vault HD-300 is considered the biggest home defender vault that provides secure access with the ease of a simple electronic combo without taking too much space. The Liberty handgun has an auto-opening door for reliable speed and a key backup that provides security when you need it most.
Perfect for nightstands, closet shelves, or under your bed, this insert box allows excellent visibility and simple access with its angled front door design. You can fit all sorts of small valuables inside, such as handguns, phones, passports, documents, etc. The HD-300 comes with an interior shelf that can be very useful when you want to organize your vault and securely protect your firearms and your family.
With its sturdy construction made out of 16 gauge steel, the Liberty HD-300 will easily outlast most brands in head-to-head pry tests. Liberty is a brand that implements quality in each and every product they create, and to prove that they stand behind its products, you get a two-year replacement warranty on any defects.
The Handgun Vault HD-300 is California DOJ-approved, meeting the requirements of the Penal Code and the regulations issued thereunder. You should choose to trust Liberty because they care about you and your safety; that's why you should never settle when protecting your family and the people you care about.
Features:
Auto-opening door
Sturdy Steel Construction – 16 gauge
Quick and Secure Soft Touch Combo
Interior Shelf
Tamper Resistant Design
Key Backup
Mounting Holes
9v battery
2-year replacement warranty
9. Console Vault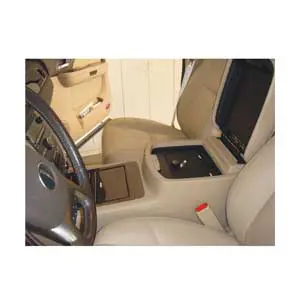 When choosing a gun safe for a car, you have to consider the specific model, the size of the car, and its purpose because this product can vary depending on the type of vehicle. For us, the best option for a car vault is the Console Vault which features an amazing secret compartment at its base that provides an extra dosage of security and covertness for your valuables.
The hidden compartment is used for extra secure storage, but if you don't need it and don't want to take advantage of this feature, all you have to do is remove the access panel for additional space. Some customers attach a holster to this area with Velcro to keep their firearms in place while on the road.
The Console Vault comes in two available models: one featuring a high-security barrel key lock and the other a unique keyless lock.
It is super easy to install and will only take ten minutes out of your time. You get a superior 3-point locking system that resists prying while the massive 12 gauge cold rolled plate steel, welded tab, and notch seams showcase durability. The perfectly balanced spring-assisted door has a drill-resistant lock that provides extra security.
This Console vault has a Triple Guard Lock System, which incorporates a latch design similar to the pins used in the doors of bank vaults, an overall improvement that greatly increases security.
While this is a Chevy Silverado-specific model, it also includes a front channel that incorporates the lid into the body of the vault itself, ultimately eliminating stress from the physical lock. And the end result is impressive because this safety box is the most secure product the brand has ever made.
Features:
12 gauge cold rolled plate steel
Triple Guard Lock System
Welded tab & notch seams
Superior 3-point locking system
Bank Vault style hinge latch pins
Drill-resistant locks
Secures to factory console bolts
Spring-assisted door
10. V-Line Closet Vault II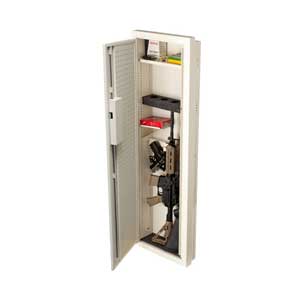 The V-Line Closet Vault II is the answer to customers asking for a secure option with easy access. This redesigned model introduces a redefined locking mechanism with a superior 3-point locking system featuring two steel rods that extend through the door and into the frame of the vault. The center locking feature is a 3/8″ brass deadbolt that extends through a steel lock block and the anti-pry brackets that are welded to the door of the safe.
V-Line constantly tries to upgrade its products and give customers the best possible experience, striving for reliability with quick access security vaults for your home or office. This in-the-wall box fits between the wall studs while providing a unique and space-conscious way to secure firearms and valuables such as guns, passports, documents, laptops, jewelry, and other items with the convenience of quick accessibility.
Made out of heavy-duty 14 gauge steel, the door utilizes the reliable Simplex mechanical push button lock, which means you never have to worry about dead batteries or their replacement. With this high-security user-friendly lock, you are capable of setting one of 1081 different combinations. The steel locking rods protrude into the top and bottom of the frame to add additional security.
The V-Line Closet Vault comes with an adjustable black foam barrel guard, but if you want everything inside to be organized, the brand offers additional options, including a pegboard door panel, pistol hangers, a full shelf, and a half shelf. Made in the US, this profound vault is California DOJ-approved demonstrating the durability and quality V-Line offers.
Features:
Superior 3-point locking system
Mechanical lock
Steel locking rods
Adjustable black foam barrel guard
Pegboard door panel
Pistol hangers
Full shelf & a half shelf
11. V-Line Quick Vault-In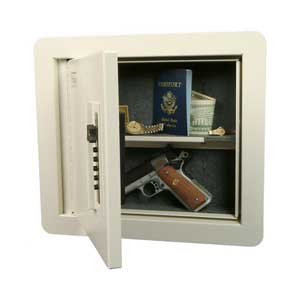 V-Line Industries has been proudly building security cases & weapon safes in the US for over 25 years. Their products are built to uncompromising quality standards, with the security and reliability you expect the fromV-Line products. The Quick Vault-In is the perfect "hiding place" for securing small valuables without compromising quick and easy access. Designed to be installed in between the wall studs, it can be covered with a painting for complete concealment. The attached bezel gives the vault a clean-finished look while hiding the drywall cuts.
Made out of sturdy fabricated steel construction with a pry-resistant design and felt lining in the back, sides, and bottom that protects contents from damage and scratches, this V-Line product has a door insert for both flush installation as well as maximum security while the inner steel frame adds another layer of protection.
The Quick Vault-In has a five-button mechanical lock that offers quick access without worrying about batteries that can die or a key that your kid can find. Setting and changing the combination is super easy, and there are 1081 possible codes to choose from. Its thick steel lock block is welded to cover guides and add strength to the lock bolt directly through the inner frame and to prevent prying.
The V-Line Quick Vault-In is easy to install with pre-punched holes you be set up in no time. You can get an adjustable felt-lined shelf that will provide additional storage space to comfortably fit a handgun, passports, documents, some jewelry, and other small valuables. It comes with a year warranty and is California DOJ-approved, meeting the requirements of the CA Penal Code and the regulations issued thereunder.
If you want to add a tad more style, you can pick the textured semi-gloss ivory powder-coated finish and improve the design even more.
Features:
Five-button mechanical lock
Mechanical push-button lock
Felt lining on the walls & back cushion
Adjustable felt-lined shelf
Sturdy fabricated steel construction
Pry-resistant clamshell design
12. AmazonBasics Home Keypad Safe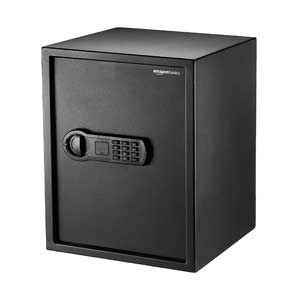 Amazon now offers a basic home safe that's affordable and will keep your valuables carefully locked away. The product is ideal for storing guns, documents, passports, jewelry, cash, and other items while protecting your personal possessions. A vault doesn't have only to be useful, but it can be stylish as well, with a black exterior finish that gives it a handsome polished look that will easily work with any interior setting at home or in the office.
The Amazon Basics is equipped with a programmable electronic keypad that allows quick set-up and easy operation, all you have to do is enter the passcode and pull on the handle to open the door to get to your valuables.
With extremely durable construction, the Amazon product is built from heavy-duty carbon steel with an 8-gauge steel door and a 14-gauge steel body. The two live-door bolts and pry-resistant concealed hinges offer reliable strength and exceptional security, which blocks intruders from getting inside and tampering with it.
There is an emergency backup key that makes it possible to completely bypass the electronic keypad, using the key to directly open it and access the items you've stored inside. The AmazonBasics comes with pre-drilled mounting holes, which make it easy to raise the safe to a wall securely, the floor, or even the ceiling, adding an extra layer of deterrence and security.
The vault comes with a year warranty and all necessary mounting hardware making this an economical option that can work for most. You don't have to worry about your kids finding or getting your weapon; they will be secure at all times, while the intruders won't be able to get inside and use it against you either.
Features:
Programmable electronic keypad
Heavy-duty, carbon-steel construction
2 live-door bolts & pry-resistant concealed hinges
Backup key for emergency use
Pre-drilled mounting holes and hardware included
1-year warranty
How to choose a gun safe?
When purchasing a gun safe, there are different features you should consider, such as size, weight, and quality. Not all products are the same; therefore, you need to find one that suits your needs and works right for you.
What size do I need?
You'll have to think about the size of your weapon since you might want a small or a large vault. If you don't need a large safe, get an average-sized one since it's going to be a lot easier to fit but make sure that you've measured the height, width, and depth of it, so you know the exact size and if it will work for you. Weight is another important aspect because the heavier it is, the harder it will be to steal.
What to look for when considering built quality?
Build quality is crucial, and that's why we'll advise you to compare different ones and find the ones with the most reliable features.
After you've checked the features, it's a great idea to consider what place to buy it from. You want to make sure that you've purchased it from a specialized store that's trustworthy and safe. We've made sure that all the links in this article are so you can get the best of the best.
What is the best type of lock?
When picking out locks, you have multiple options: biometric, mechanical, and electronic keypad. Biometric locks use your fingerprint and give you quick and easy access, mechanical ones open with a numeric combination and don't require any type of power source, electronic locks are mostly powered by batteries, and all you have to do is type in a numeric combination on an electrical keypad.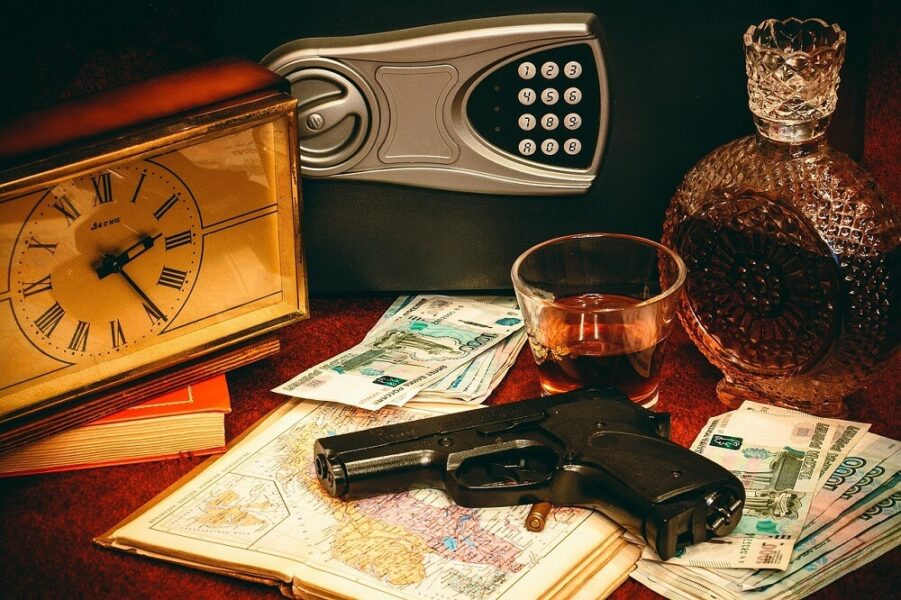 What type of locking system do you need?
Next is the bolt locking system since it's responsible for actually locking the door of the safe. Your best option is to choose bolts that extend from the door into the body because the longer and thicker they are, the more durable the safe will be. The door thickness is also quite important since it can resist pry attacks, and we strongly recommend at least a 5/16″, seeing that the thicker the door, the better it is.
What type of protection do you need?
After that comes protection types, depending on your needs, you should look for fire, humidity, or burglary protection, and if possible, why not all three? Most guns safe are made to keep guns out of reach, but that's not all you have to think about.
Today finding the correct gun safe might be difficult with all the available options on the market, and that's why we've tried to narrow it down so you can find the one that suits your particular requirements.
Frequently Asked Questions
Do I really need a gun safe?
Hiding firearms in drawers, wardrobes, boxes, and other places never really work. Your life might not depend on it, but someone else's might. What happens if your kid finds it and simply wants to play? What happens if someone tries to rob you and use your own protection against you? What happens if someone mentally unstable finds it?
For safety to be above all, you have to make sure that your weapon is in a secure spot, and there isn't a better option than a weapon vault. They will give you easy access but keep your kids protected and will prevent thieves from using weapons against your loved ones.
What kind of a gun safe do I need?
That question has many answers, but the right one is whatever works for you. Depending on the gun you've purchased, the type of safe can vary in capacity, material, locking system, etc.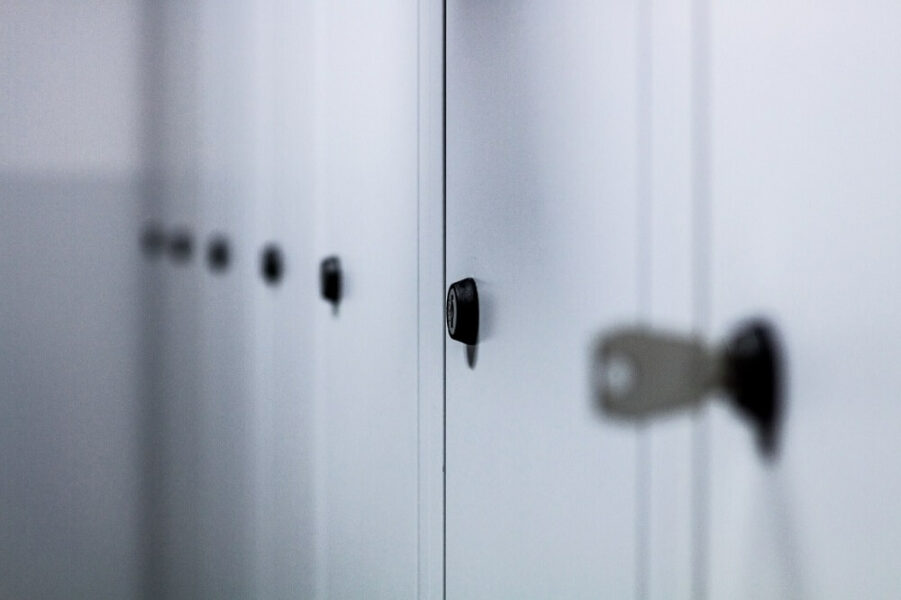 Are gun safes worth the prices asked?
If you are someone that owns a rifle or another weapon, they absolutely are necessary because protection is the most important thing, even if some people might not believe that we strongly do since your life and the life of others can depend on it.
You want to find a safe that will fit your weapon, and making sure that it has a secure lock is also a good decision. Quality is a crucial aspect as well because you'll know no one can tamper with your guns and if you're anxious about them being destroyed in a fire or any other extreme condition, just choose one that's fire-resistant.
If you have multiple weapons, make sure that they can all fit, pick a safety box that has a strong protection system so you get your money's worth.
Are gun safes burglar rated?
Some are fire rated, so why can't they be also burglar-rated? Most companies hire professionals to try and break into their creation in a specific amount of time, and as you might have guessed, some are easier to get to than others.
Everyone that owns a weapon safe wants to make sure that the firearms inside won't be stolen or used against them. That's why you should pick a tough and heavy product that's harder to open and carry. You also don't want to choose one that takes too long to open in case of an emergency because you will need quick and easy access. One or two locks might be just enough to do the trick.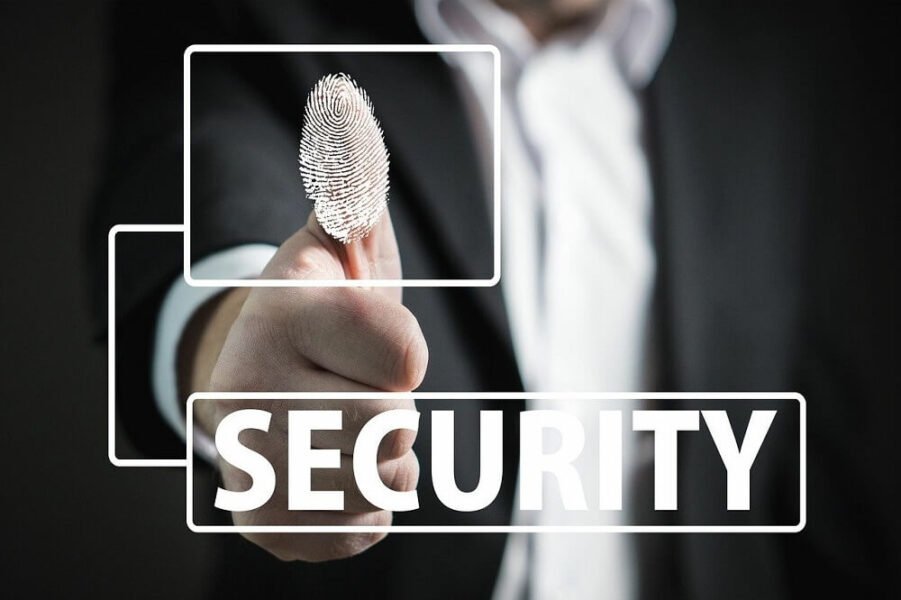 Are fingerprints and biometrics important?
Choosing nowadays can be hard with all the options on the market, and that's why the best thing we can do is be informed and think smart. Picking a biometric safe with a fingerprint means that your weapons are secure, but you still have easy access.
If you're ever in a hurry entering digit codes will take longer, and in an intense situation, every second counts.
Final Words
If you want to purchase a good safe online, you must take everything above into consideration so you know you've made the right decision! Our advice is to forget about specific brands and think about the qualities and features each vault possesses.
Make sure that you know the exact size of your weapon, and then check out the locks, the weight, the locking system, and the protection every model offers you. In this article, you can find something for everyone, so all you have to do is figure out what works for you.
See Also: