You don't have to be the line of defense your gun safe can do that for you! Each day technology advances more, and the time for biometric safes has come. Unlike safes with mechanical or combination locks, biometric ones give you quick access and an electronic locking system like no other. If an intruder enters your home, you can quickly open the safety box and protect yourself and your loved ones.
Most safes can be opened in the dark with a swipe of a finger and are powered with either batteries or A/C adapters if you are somewhere they can be plugged into. Biometric pistol boxes will keep your firearms away from your kids and prevent any pry-attacks. In today's article, we'll show you the 10 best biometric gun safes on the market for 2020 all you have to do is continue reading.
1. Browning Medallion 49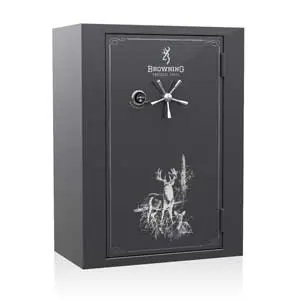 The Browning Medallion combines fire protection, security, durability, and strong features that create a best seller in its department. This is a wide gun safe that's capable of protecting up to 49 long guns from fire and theft while leaving plenty of extra room for your other valuables and gear.
Browning has developed a ThermaBlock system that features thicker sheets of fire insulation that are arranged in an interlocking design which minimizes gaps that would allow the internal temperature in the safe to rise during a fire. Your valuables will no longer be unprotected from heat builds and flames with this incredible piece because the company understands the importance of fire protection.
The Medallion 49 has a 'DPX Storage System' that maximizes storage space by including a modular system of pockets and pouches for pistols and other valuables, while the door-mounted racks are used for long guns and rifle weapons. When it comes down to maximizing storage, Browning safes lead the industry with unmatched versatility with their exclusive Axis Adjustable Shelving that's completely customizable with an array of shelves that will meet your every need. The shelves are made from a single piece of sturdy steel wrapped in a soft, protective polymer coating that is exceptionally durable and designed to protect your guns and valuables while letting you adjust them up and down and side to side.
This large gun safe comes with standard LED Lighting pre-installed into the unit so you can see without needing any outside help. This impressive option features an automotive-quality high-gloss finish that has been hand-polished to a deep shine to ensure the perfection of each detail.
Features:
10 gauge steel
ThermaBlock features
DPX Storage System
Axis adjustable shelving
LED lighting
High gloss finish
2. Verifi Smart S5000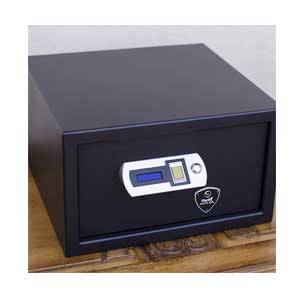 The heart of any biometric safe is its fingerprint sensor, and that's why Verifi Smart has designed the Safe S-Series, which showcases one of the most reliable sensors for quick access. These gun safes are engineered to work the first time, every time proving that this certified fingerprint sensor is the one to beat. Verifi safes perform self-diagnostic tests on their electronics and batteries to ensure they're ready for use every 24 hours. It's time for you to forget about the need to access a nearby electrical outlet or the constant change of batteries.
Made out of solid steel construction with concealed hinges and a recessed door that helps protect against pry-attacks, this gun safe has multiple alerts that will indicate what's happening. There are different alerts for an open door, tamper tries, reset attempts, and even backup key access so you can always hear what's happening around you.
Another layer of security is the pre-drilled holes located at the bottom for easy mounting, which prevents unauthorized removal. Programmed just as impressive as it was built, this safety box has access and event logs that show which users opened/closed the safe and when but they can only be viewed by the registered admin. The internal LED light can vary in duration and intensity or be turned off completely with the Nite-Lite setting that helps you avoid night blindness when opening your safe in the dark.
With unbelievably easy management, you can add/remove users, customize user names, change lighting settings, view access logs, and check your battery level, all from the LCD screen. If you're looking for a gun safe that will adequately secure your firearm, you've found it in the eyes of this California FSD-approved product.
Features:
Solid Steel Construction
Self-diagnostic tests
Alert system
Automatic Locking Door
Internal LED Lighting
FSD Approved
3. SentrySafe – Water and Fireproof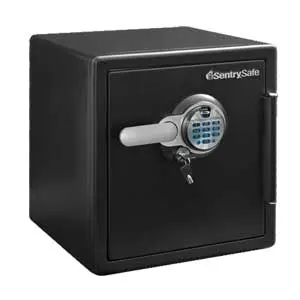 The SentrySafe protects your firearms and valuables in different conditions creating a safe that's designed to be water and fireproof while its biometric locking system prevents any pry-attacks. You never know what can happen, and that's why you should always be prepared for the unexpected with a UL classified box that can withstand 60 minutes in up to 1700°F and water for up to 24 hours. Access your safety box with a swipe of your finger with this advanced system that will allow quick and easy access.
Made out of solid steel for reliability and durability, this guns safe has four large locking bolts bigger than the ones on a traditional safe, providing excellent protection from forced entry and tool attacks. Something interesting about this safe is the fact that it has a Digital media protection system that will assure the safety of your tablets, phones, external hard drives, memory cards, USB drives, CDs, DVDs, and other electronic storage devices. The pry-resistant hinge bar reinforces the door adding another layer of security, while the bolt-down hardware ensures thieves cannot easily remove the safe from your home or office.
You quickly access your items without additional lighting with the interior light that provides increased visibility in dimly lit locations. If other people find the combination or access code to your safety box, you can disable the primary lock with the dual key so they won't be able to get in. There are additional accessories that can be purchased so you can customize your safe to fit your needs, with a key rack, deep door pocket, and adjustable locking drawer.
Features:
Solid Steel Construction
Fire, water & security protection
Pry-resistant hinge bar
Digital media protection
Bolt Down Hardware
Interior lighting
Dual Key
4. Barska HQ400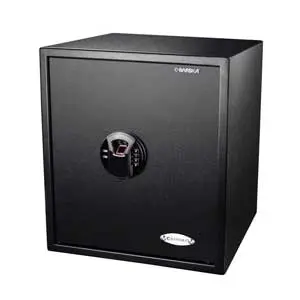 Barska is a company with a complete line of security solutions for the home and office, with a wide selection of biometric safes, fire vaults, key cabinets, depository safes, and lock boxes. Security experts strive to advance the safe's technology today, and that's why the company is one of the leaders in the industry with quick access to fingerprint-scanning safes.
The HQ Series with biometric keypad safes offers two different ways to access the contents inside the vault. First, the biometric module allows the user to store up to 30 unique fingerprints, allowing those who have programmed theirs into the safe to be able to access it in seconds. But if someone needs to access the contents of the safe when a registered user is not around, a PIN code can be used to access the safe with the numeric digital keypad. HQ400's advanced BioSecure technology will recognize the fingerprints that have been programmed into the safe while preventing everyone else from getting in.
If you are looking for a quieter way to access the safe, this Barska product offers a programmable sound option to eliminate any of the default alerts that occur when opening the safe. This vault is perfect for handguns, electronics, jewelry, medicines, documents, passports, and other valuables. You get a protective floor mat that will prevent damage and scratches, while the mounting hardware will keep the safe bolted securely to the wall.
Features:
Biometric fingerprint scanner
Numeric digital keypad
2 solid steel locking bolts
Protective floor mat
2 backup keys
Pre-drilled mounting holes
Mounting hardware
4 AA batteries
5. Protex FW-1814Z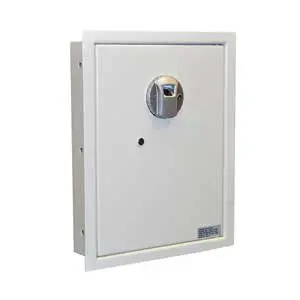 An easy way to find peace of mind and prevent theft from happening is to keep a wall safe in your home or office. The safest way to store your firearms and valuables is to keep them in your bank's safe deposit box. But this isn't always convenient, especially if you need daily access to them. That's where a wall safe would come in handy. This Protex safe is great for a home defender, equipped with a digital biometric lock for smooth operation and maintenance that's burglary resistant.
Made out of heavy-duty gauge steel, this safety box comes with a motorized locking bolt system that will open the door automatically. Wall safes are drilled into your wall, between studs, so you can install them when you are building your home or office, or you can put them in later. Most safety boxes come with a flange, so you don't need to re-plaster the walls and dual live motorized chrome bolts for added strength.
You get two removable shelves that will help you organize your firearms and valuables in its high-quality velvet interior. In case of an emergency, this vault has a key lock override system with two keys so you can get access to your belongings ASAP. The Protex FW-1814Z is the best wall safe to provide safety and security while suiting your needs.
Features:
Heavy-duty gauge steel
Burglary-resistant locking system
High-quality velvet interior
Spring-loaded door
Motorized locking bolt system
Key lock override system
2 Removable shelves
6. VAULTEK VTi-BK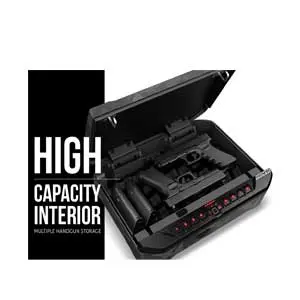 The VAULTEK VTi-BK was built for the gun owner with a tough and rugged, heavy-duty 12 gauge carbon steel construction and a durable powder coat finish which prevents corrosion and ensures long-lasting protection. Coming with a 5-point entry with a unique smart key, upgraded Smart Align biometric scanner, rapid-fire backlit keypad, Bluetooth app, and manual keys that allow instant access to your valuables from the automatic opening door.
This safety box has advanced anti-theft protection that includes anti-pry bars, Dual anti-impact latches, interior mounted hinges, and impact detection exclusive to PRO Series for the ultimate prevention against break-ins. Vaultek's high-capacity gun safe can store multiple handguns while leaving enough space for passports, documents, jewelry, and other small valuables. There's an optional dual key security mode that requires both fingerprint and keypad code to access the contents of the safe.
Inside you'll be amazed by the refined interior that includes a non-absorbent closed-cell foam padding that protects your firearms from any damage. The responsive LED light will allow you to easily view your safe contents with adjustable brightness. With Smart SAfe technology that uses the company's app for a highly interactive experience in which you can see the battery status, you can adjust the brightness of the interior light, unlock the safe remotely with one simple swipe, and more. It's time to forget about your worries because you've found the smartest safe that's ever been created.
Features:
12 gauge carbon steel
Durable powder coat finish
5-Point entry
Anti-pry bars & dual anti-impact latches
Smart SAfe technology
Non-absorbent closed-cell foam padding
Micro-USB charging kit
7. Stanley Tools – STFPKP200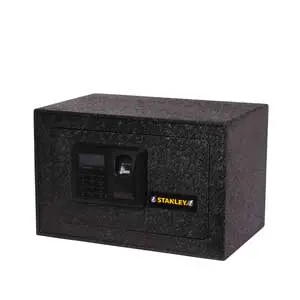 Since 1843 STANLEY tools have shown quality, reliability, innovation, and value trusted worldwide for accuracy and dependability. The company is dedicated to continually testing, designing, and improving its products to ensure quality and maximum function that will suit your needs at an affordable price.
This biometric safe keeps your valuables secure and organized whether you're at home or in the office. With its practical size, this safety box can fit inside a desk drawer, filing cabinet, or other small spaces, while the sound protection is perfect for everything from firearms and jewelry to petty cash and confidential documents. It is made of laser-cut solid steel construction, seamless welding, and a motorized deadbolt locking system that offers the utmost peace of mind while its easy electronic interface runs smoothly on 4 AA batteries.
You can access this beautifully made gun safe by fingerprint recognition which can store up to 32 fingerprints, a security PIN from the digital keypad with LCD display, or an emergency key. For extra security, this inexpensive vault offers a motorized deadbolt locking system with solid steel locking bars. If you're looking for dependable, durable, and spy-level protection for all your safekeeping, the Stanley Biometric Drawer Safe is what you need!
Features:
Laser-cut solid steel construction
Seamless welding
Motorized deadbolt locking system
Digital keypad with LCD display
2 Emergency keys
4 AA batteries
Anchor bolts for mounting
8. Barska AX11780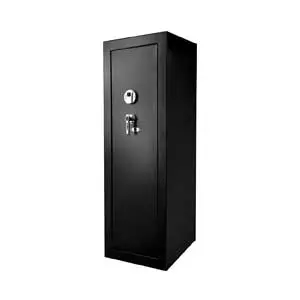 The Barska AX11780 is the largest biometric safe today that allows you to keep items secure and quickly accessible with a swipe of your finger. Its advanced biometric fingerprint recognition technology allows for fast, secure access to your belongings with a simple scan of your fingerprint. Push the power button, hold your finger on the scanner, and the door will open in less than three seconds when you push the handle. This is the solution to safely storing your large guns and rifles while having instant access to them in case of an emergency.
Forget about a key you can lose and codes you can forget, you no longer need to worry with this impeccable gun safe. Made out of 14 gauge solid steel construction, this safety box has an internal removable 16-position rack that will keep items organized. The vault's interior is lined with a soft material to protect priceless valuables from scratches and damage, while removable storage shelves allow you to arrange additional accessories.
For another layer of security, the safe is manufactured with six mounting bolts at the back of the box. It includes mounting hardware which securely attaches the Barska safe to a wall, the floor, or any other solid flat surface. With a 5-point deadbolt locking system and solid steel construction, which guarantees that no unauthorized users will access your valuables while you get two coded manual keys for backup. If you're someone that's looking for a large biometric gun safe, we can safely say that your search is over!
Features:
14 gauge steel construction
5-point deadbolt locking system
Internal removable 16-position rack
Silent access mode feature
External battery pack
6 mounting bolts
2 two emergency backup keys
9. GunVault GV2000C-DLX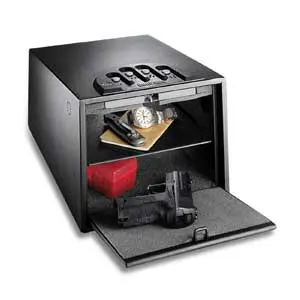 The GunVault GV2000C-DLX is a multi-deluxe safe made of 16 gauge steel on the outside, soft foam padding on the inside that will protect your possessions from scratches, and a high-strength lock mechanism that performs reliably, time after time. With many features that include precise fittings, a built-in computer that blocks access after incorrect keypad entries, and an alert system that lets you know when invalid entry attempts were made.
You also get a motion detector with an audio alarm guarding against direct tampering, as well as an audio warning when the battery is running low to prevent unexpected power loss. This safety box includes an interior courtesy light for more convenient access activated when you open the safe and an AC/DC power supply connection jack that, when used, will save your battery's life.
A removable shelf increases your storage options for your firearms and valuables. Next is the No-Eyes keypad, which is conveniently located and gives you instant access-even in complete darkness, while the audio feedback system will confirm each correct keypad entry unless you've put it on silent mode. With the included mounting hardware, you can bolt this safe almost anywhere and in any direction.
Features:
16 gauge steel construction
High-strength lock mechanism
Soft foam padding
Steel removable shelf
Motion detector with an audio alarm
Interior courtesy light
Backup Override Key
California DOJ Approved
10. American Security ESF1214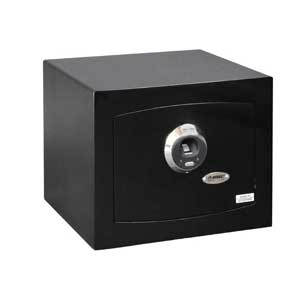 American Security is one of the best US providers of security solutions and safety boxes. They strive to protect the assets of their consumers by providing a broad array of security safes and consulting services with the highest degree of quality, integrity, and responsiveness since the late 1940s. The company offers an extensive product line of over 400 standard models of burglary and fire-resistant safes in every insurance classification.
With a state-of-the-art fingerprint electronic lock, this gun safe has a spring-assisted door that opens automatically when unlocked. Made of a solid steel body, this classic and elegant vault includes an emergency key lock with two keys for unexpected situations and an anchor kit used to safely mount the box to a flat suffice for extra protection.
This safety box has a large storage capacity with an adjustable shelf for easier organization and accessibility. The laser-cut arched door is not only made out of solid steel, but it also has a casing and an attractive high-gloss black finish. American Security provides a year parts and labor warranty for this simple yet durable gun safe.
Features:
Thick solid steel body
Motorized bolt work system
Solid-steel locking bolts
Spring-assisted door
High-gloss black finish
Adjustable shelf
What To Consider Before Buying A Biometric Safe?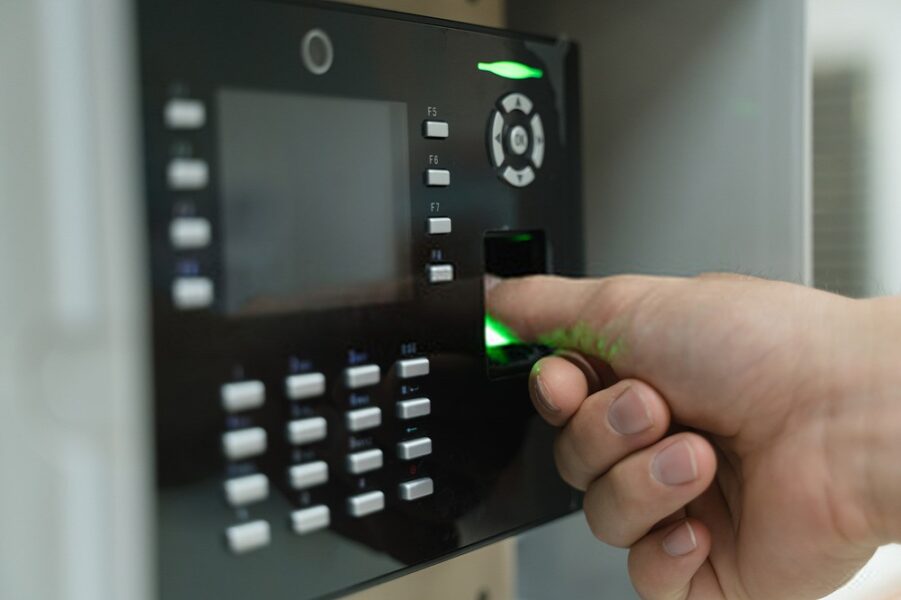 When deciding on a biometric gun safe, there are multiple features you have to take into consideration so you can make the right decision that best suits your needs based on your weapon's arsenal. You have to think about the weight, size, capacity, price, power, and purpose that you will need it for. Let's talk about size and weight first. Do you want to use the safe for traveling, or will you put it in one place?
This question can have different answers, and if you pick a super heavy safety box, the best option is to mount it to the location you've chosen, but if you want a gun safe that you can move, pick one that's lightweight and compact.
Next is the offered capacity, we advise you to pick a safety box that will provide some extra space in case you want to purchase another firearm in the future, but that doesn't mean picking one that's gigantic. Make sure you've measured the inside of the safe and that your weapons will fit.
As you probably already know, biometric safes can get quite expensive, but that doesn't mean that there aren't affordable options as well. Don't pay for things you can't afford, pick something that you will use and won't break your wallet but at the same time, keep in mind that the higher the quality, the higher the price.
Power is another important aspect of a safes purchase since they run on batteries that can die eventually that's why it's better to choose one that comes with an AC adapter. Last but not least, think about the intended purpose, precisely what you plan to use the gun safe for and what's important for you. Optional accessories never hurt anybody, so you can take a look at them and find a shelf that helps you organize your items or a tray that can be very useful.
Frequently Asked Questions
Are Biometric Gun Safes Safe?
Isn't this the ultimate question? You can never be 100% sure, but from what we've seen and tested, biometric gun safes are quite secure. Since they don't have a mechanical lock or a PIN code, they are more reliable because the way to get them to open it is with a fingerprint which means an intruder can't guess or crack it. Your kids will be protected, and the possibility of them pressing some buttons and opening the safe is impossible. Biometric safes utilize fingerprint scanners to identify you before allowing you access within seconds. Stop worrying about the safety of your family and choose a safe that won't budge!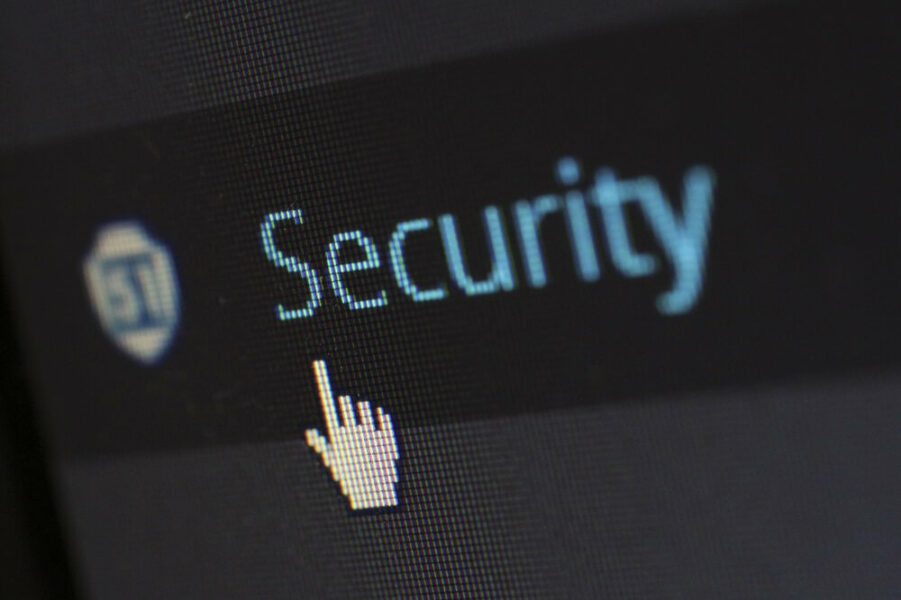 What Is The Best Brand Of Gun Safes?
Nowadays, we have too many options to choose from, and that's not necessarily good. Some brands have established and named, and proven their quality products, and other brands have been present for months and made a boom with the items they offer. One thing's for sure, Liberty has been the number one manufacturer of residential safes in the US for years. The company offers the broadest line of home, gun, office, and commercial safes available from any other company, and their products are offered under three popular brands–Liberty, National Security, and Centurion. Liberty showcases high-quality, innovative products that offer superior fire protection, technologically advanced security systems, exquisite styling, and functional storage capacity like no other.
How Do Biometric Gun Safes Work?
Let's talk about the technology of the locks themselves. Biometric security systems use fingerprints, eye retinal, hand geometry, facial recognition, and even the blood vessels under your skin to identify you. But for gun safes, the most common option is a fingerprint, and you can't really forget your combination since it's at the tip of your finger.
Each fingerprint is scanned and stored by a sensor which prevents thieves from breaking in and keeps your children away. Everyone's fingerprint is different and unique, and that's why it's nearly impossible to duplicate. Most safety boxes can hold at least ten prints, and in case you need to open it, but you're not in the system, all you have to do is have the backup key. Biometric safes were created to provide quick and easy access while keeping your firearms safe and secure.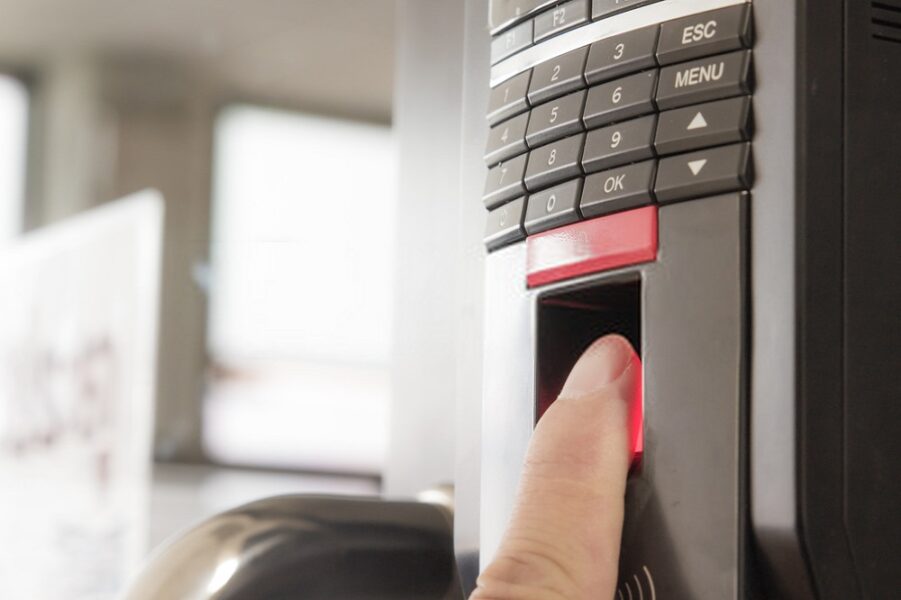 What Is The Most Secure Home Safe?
There is a safe like no other, and that's the Browning Medallion 49 with a combination of protection, security, durability, and quality that can't be matched. Made of sturdy solid steel construction, this premium product has a DPX storage system, ThermaBlock features, adjustable shelving, and LED lighting, and it can fit 49 firearms. Who can beat that?
Final Words
When you're spending money on a gun safe, you want to make sure it's not for nothing, spend your money wisely. There are different safe options on the market, but not all will protect your firearms. If the safety box has a mechanical lock or a PIN code, it can be tampered with a lot easier compared to a safe with biometric technology. With a fingerprint recognition system, you get the utmost level of security and limited access to only authorized individuals.
This option is much faster to use, and in case of an invasion, the gun safe can be opened even in the dark. The level of security you get with a biometric safe is unmatched, and you never have to worry about protecting your family ever again! If you have any questions on the subject, we would love to help you in the comments below.