A First Aid Kit is an incredibly important addition to the collection of every survivalist, outdoor enthusiast, and even the common hiking explorer. In an ideal world, we should all have one that would tend to us in an emergency. What we are looking at in this article is a variety of kits to cover every scenario – from a simple emergency to more complicated survival scenarios.
Let's see what the best survival first aid kits are and if any of these can fit the bill for you:
1. My Medic MyFAK First Aid Kit – Our Choice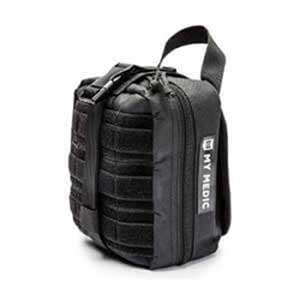 In my humble opinion, the MyFAK First Aid Kit is the premium choice on this list. As a nature enthusiast, I have always admired the different colors and views that nature offers at its disposal. Therefore, I was very pleased to see the number of colors MyFAK offers. Of course, that isn't its most important feature; however, it's a very nice touch.
MyFAK is made from thick 600 ballistic nylon, it's waterproof and suitable for any environment – dry, wet, dirty, muddy. It's an advanced product suitable for serious preppers and survivalists. The comfortable, tri-fold backpack has a size of 7.5in high, 6.5in wide, and 5in deep. It's adaptable to all kinds of situations. Therefore it's convenient for anyone.
The backpack has a tear-away back panel that lets you tear it without unbuckling. Its velcro backing allows the bag to be attached to any loose nit fabric. The price of the MyFAK might be higher, but this option includes medical supplies, which could help you with:
Airway – if you have a hard time breathing, there are supplies to assist you – CPR Shield
Bleeding – it has liquid skin, gauze pads and rolls, secure strips, a tourniquet, bandages, pads, and ointments that would assist in healing.
Burns – if you get burned, there is burn gel that cools and prevents infections
Hydration – there are tablets should you feel dehydrated
Medication – different medications (Tylenol, Benadryl, Pepto-Bismol, and Advil) would help with various aches
Emergency – a rescue whistle, a survival rescue blanket, paracord, a lightstick, for unfortunate situations
Sprain and Fracture – elastic bandages and splints
Minor operations – scissors, tweezers, waterproof tape, gloves, etc
Further assistance – sting relief, antiseptics, creams, thermometer, and others
MyFAK provides you with a lifetime guarantee for this high-quality product. This is why we made it the premium suggestion on our list. It's a fantastic product, suitable for anyone, anytime, anywhere.
2. Echo-Sigma Trauma Kit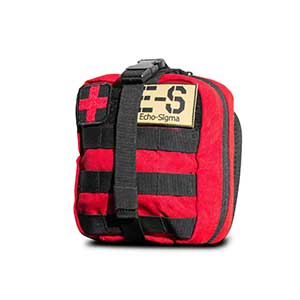 The Echo-Sigma trauma kit is our choice for the overall best first aid kit. This high-quality kit offers a range of medical products appropriate for an emergency. As expected, the availability of medical help in the wild could be scarce. Therefore it's more than necessary to prepare yourself before your journey.
This Echo-Sigma option is great for people who have some knowledge of wounds and medical assistance. However, the manufacturer advises explorers to learn before applying the practice in an emergency to be able to save a life if necessary.
The Echo-Sigma trauma kit is the perfect choice for survival and preparedness, whether you're on a short trip or cycling through a whole continent. This compact pouch is 8in high, 6in wide, and 3.5in deep, making it a helpful and discrete companion.
Inside you'll find a wide selection of supplies that can be used on unexpected traumas and injuries. And again, it has a variety of colors to choose from, which makes it even more popular. But, honestly, we can't recommend it enough. The contents of the rip-away backpack include:
1 Condor Outdoor MA41 Rip-Away EMT Pouch
1 C.A.T. Combat Tourniquet
1 Celox RAPID Hemostatic Gauze
1 Adventure Medical Suture/Syringe Pack (which has 10 types of instruments within)
NAR Emergency Trauma Dressing 6"
2 NAR Compressed Gauze
1 Pair Trauma Shears
2 Rolls of Adhesive Dressing Tape
2 Pair N.A.R. Black Talon Nitrile Gloves
3. EFAK Emergency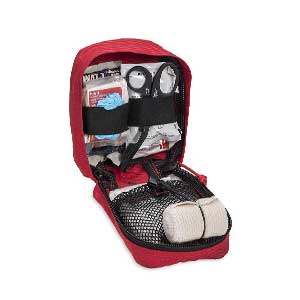 Since we talked you through the premium and overall best choice, we thought it might be a good idea to propose a budget first aid kit, as well. That is indeed the EFAK Emergency kit. It is a marvelous set, designed to be available to everyone due to its affordable price. If you are going on a long journey, you would want to be safe and reassured that you could help yourself or your loved ones in an emergency.
The EFAK isn't only accessible but also includes high-quality materials that would assist in tough situations. Furthermore, it's a great choice if you want an everyday set, which you could take to the park or leave in your car.
The small kit is inside the bag, and it accommodates instruments and supplies to serve you in severe bleeding, minor wounds and burns, insect bites, minor operations, personal protection, and the flu.
EFAK is a lightweight backpack that weighs approximately 2 pounds and is 6.5in high, 5.5in wide, and 4in deep, making it compact and easily portable. The EFAK might not be as advanced as our previous suggestions, but it's easily attainable and an excellent choice for shorter trips and adventures. Here is what you can find inside:
Personal protection – CPR face shield, emergency/survival blanket, nitrile gloves, antimicrobial wipes
Bleeding – SWAT-T tourniquet, compressed gauze, and trauma bandage
Wound/blister/burn – burn gel, various band-aids (knuckle, moleskin, etc.), wound closure strips, non-adherent dressing, sterile gauze pad, povidone-iodine prep pad
Immobilization – elastic bandage wrap
Medication – Aspirin (Analgesic), Diamode (Anti-diarrheal), Diotame (Stomach), Diphen (Antihistamine), Hydrocortisone Creme, Ibuprofen (Anti-inflammatory), Triple Antibiotic Ointment, Hydration Powder, Insect Bite Treatment
Instruments – Catheter Tip, EMT shears, irrigation syringe, Luer lock tip, tweezers, flat duct tape
4. Delta Provision Co. IFAK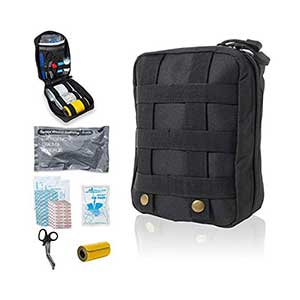 The Delta Provision Co. IFAK is a tactical first aid kit ideal for any environment, whether it's your house, car, the wilderness, or a military mission. It includes supplies to treat the simplest scrapes or badly broken bones to more serious injuries.
The Delta Provision consists of 130 pieces inside a large backpack that is 9in high, 6in wide, and 4in deep. The bag is MOLLE and PALS compatible, meaning it can be attached to any additional gear you may carry on a camping trip, mission, or to the backseat of your car.
Overall, this suggestion is perfect for treating minor traumas, as well as bone fractures or other emergencies. The backpack is highly durable; thus, it's suitable for diverse needs and scenarios. The Delta Provision is stocked with :
Personal protection – CPR face mask, emergency blanket, pair of gloves, antiseptic wipes, survival whistle, eye pad, compass for survival
Bleeding – elastic tourniquet, bandage roll, gauze pads, tape, alcohol pads, iodine pads, adhesive wound dressing, cotton swabs
Wound/blister/burn – burn gel, roll-up splint and Israeli bandage/battle dressing, cold pack
Instruments – minor operation items – medical scissors, metal tweezers, safety pins, tongue depressor, razor blade
5. MONOKI 302 Piece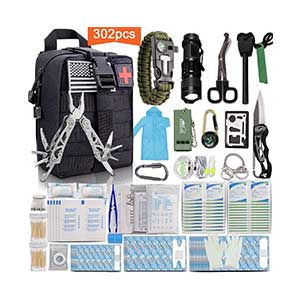 If you are searching for a great value set consisting of a huge range of medical supplies and instruments, then the Monoki 302 pieces first aid kit is the one for you. It has everything a survivalist would need in one place. In addition, the backpack is recognizable because of the US flag and red-cross badges, which allows for a quick grab in a difficult situation.
The bag also has velcro backing enabling quick removal, as well as further attachment options. The approximate size of this pack is 8in high, 6in wide, and 4in deep, and it weighs around two pounds. The Monoki Tactical is compact, easily portable, and filled with all the necessities you might need in an emergency!
The selection is admirable, and it consists of :
275 pieces of first aid supplies – metal medical scissors, plastic tweezers, safety pins, blue tourniquet, adhesive bandages, mini bandages(for kids), knuckle bandages, cleansing wipes, alcohol prep pads, antiseptic cleansing wipes, cotton sticks, triangular bandage, non-woven surgical tape, disposable CPR mask, PBT bandage, disposable PVC gloves perfect for treating several people
23 pieces of survival tools – paracord bracelet, survival flashlight, multitool plier, folding knife, stainless steel saber card, disposable poncho, emergency blanket, whistle, compass keychain, fire starter, wire saw, aluminum D-ring buckle keychain, fishing equipment set
6. Surviveware Compact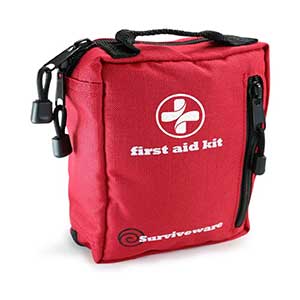 In case you're looking for a small, more compact first aid kit, Surviveware is the way to go. This light, the one-pound bag is 5.5 × 7.5 × 3 inches, and it easily fits in the glove box of your car or your camping gear. The bag itself is quite durable because it's made from 600D Polyester, and it's adaptable to any weather. In addition, the Surviveware set is waterproof, and all items are protected with laminate bags.
Furthermore, the bag's inner sleeves are labeled depending on their function, thus if you're unsure what to use, Surviveware has your back! There is some extra space so that you can add items of your choice. It contains various medical supplies, making it fantastic for outdoor adventures or simply daily use.
Inside this all-purpose first aid kit, you will find:
Personal protection – emergency blanket, nitrile gloves, whistle, eye pads, personal medicine laminate bag
Bleeding – adhesive bandages, gauze swabs, hypoallergenic tape, strip wound closure
Medication – personal medicine mini bags
Instruments – safety pins, splinter probes, tweezers, and a very useful first aid guide
7. Survivaware Medical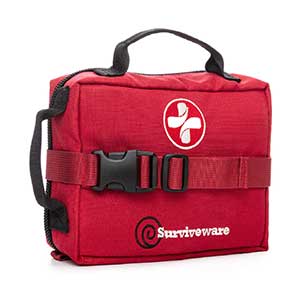 The Surviveware Medical aid kit is a larger set suitable for adventures and overall preparedness for natural disasters. The Surviveware consists of color-coded and labeled compartments filled with everything one needs in a state of emergency.
It's perfectly equipped for ultimate survival, and it all fits in a 12 x 8 x 6-inch bag, which weighs around three pounds, and it's easily compatible through its velcro backing. The items inside the Surviveware are high-quality and won't fail you when you need them. You have additional items and information, such as CPR instructions, sewn on the appropriate section of the set.
Each treatment solution includes instructions on dealing with the emergency, and they're all packed in reusable bags, making them well suited for your camping trips and hikes. There is additional space if you need to add any medications or other personal items. The Surviveware medical bag helps you feel utterly prepared and have fun on your trip. This option includes:
Personal protection – emergency blanket, nitrile gloves, whistle, eye pads, personal medicine laminate bag
Bleeding – adhesive bandages and other, gauze swabs, ear swabs, cotton balls, hypoallergenic tape, strip wound closure
Medication – personal medicine mini bags
Instruments – safety pins, splinter removal probes, tweezers, sheers, and a very helpful first aid guide
8. Lightning X EMT/EMS Kit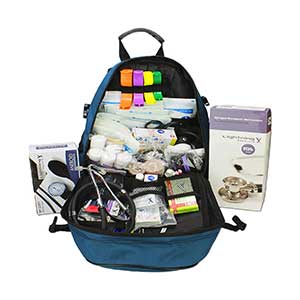 The Lighting X first aid kit is a backpack stored with all the essentials for a first responder or survivalist. It's called The Special Events Backpack due to its ability to serve you in times of need. It's a large backpack with dimensions 17.5 × 12.4 × 9.5 inches, and it weighs around 9 pounds. It's perfect for storing at home, in your vehicle, or to be used as a carry-on due to its shouldered backstraps.
To make it visible and safe, Lighting X has added reflective triple trim, as well as a logo padding for your ease. Its size allows for personal additions, as it has over a dozen pockets and mesh pouches. The backpack itself is water-resistant, allowing for safe transportation of its contents.
The Lighting X EMT/EMS setup is a marvelous product. However, it might be difficult to carry on longer trips due to its weight, even though it's not impossible. Nevertheless, it's a good choice for medical professionals, first responders, and survivalists alike.
The Lighting X First Responder Kit consists of the following supplies:
Personal protection – penlight, Sprague's stethoscope, eye pads, adult blood pressure cuff w/ case, CPR mask, Oropharyngeal airway, instant cold packs
Bleeding – band-aids, bandage sheers, trauma sheers, Kelly hemostats, gauze pads, roll cloth tape, vaseline gauze pads
Medication – ammonia ampules, triple antibiotic ointment
Instruments – safety pins, splinter removal probes, tweezers, sheers, and a very useful first aid guide booklet
9. SURVIVEWARE Car/Truck Kit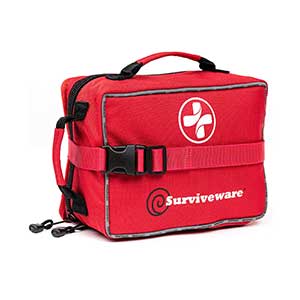 We find the Surviveware first aid kits to be a grand pick for survival and preparedness. This one is the Largest Surviveware setup, which goes along with their mini-set. The 50-piece mini-kit is perfect if you want to go on a trip and not carry too much.
As with all Surviveware products, this one has separate compartments which are labeled and organized. Thus, the product provides peace and informs you even in stressful situations. All the different trauma response items are stored in laminate bags and include instructions where necessary.
The bag is water-resistant and useful for any weather. It's a high-quality kit stored in a 600D Polyester pack, which is MOLLE compatible and allows for effortless portability. You can keep it in the backseat of your car or attach it to your backpack.
The large Survivaware includes 200 first aid items, and the bag allows extra items to be added. The dimensions of the bag are 10 × 7.5 x 5inches, and it weighs 3.5 pounds. So not only is the bag high-quality, but so are the supplies inside of it. Also, Surviveware offers a lifetime warranty.
Personal protection – emergency blanket, nitrile gloves, whistle, eye pads, personal medicine laminate bag, flashlight,
Bleeding – adhesive bandages and other, gauze, swabs, cotton balls, tape, strip wound closure
Medication – personal medicine mini bags
Instruments – safety pins, splinter removal probes, tweezers, shears, knife, and a very helpful first aid guide.
10. Everlit 250 Pieces Set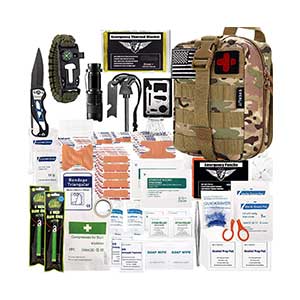 Last but not least on the list is the Everlit 250-pieces set. It's a military-grade EMT back that has enough supplies to treat a family going camping or to leave at your house for unforeseen emergencies. The Everlit 250 was customized by US military soldiers, and it includes a must-have MDC emergency kit filled with nine survival gear items:
Flashlight, compass, whistle
Glowsticks(2), rain poncho, knife
Flintstone, saber card
The Everlit 250 was created by war veterans and has been field-tested, making it a trustworthy companion on your outdoor adventure. The bag is MOLLE compatible and can be attached to any additional gear. The bag's dimensions are 8.5 x 6 x 4.5in and weigh only 2lbs. It's made from 600D nylon, and it's water-resistant. All of the contents of the Everlit are made from high-quality materials to serve you in times of need.
The product has a one-year warranty, thus if you are not satisfied with it, Everlit will give you your money back! The Everlit has sewn-in badges of the US flag and a red cross, making it easily visible and attainable. It is filled with a range of high-quality medical supplies, and it's an overall superb product.
What should be inside a First Aid Kit?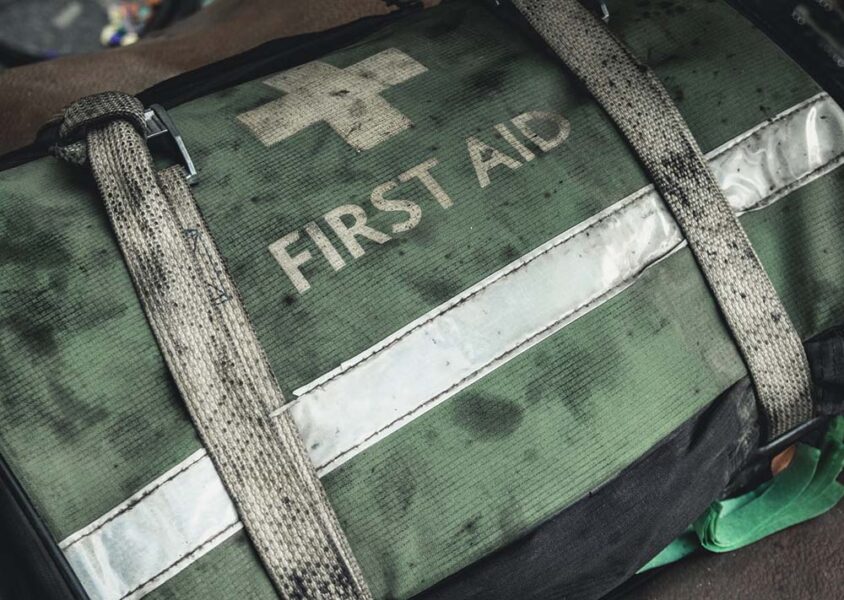 There are diverse options to what one would include, but the most important things would be for the treatment of :
Cuts, bruises, burns, mild pain, allergies, gastrointestinal problems, minor injuries
Fever, nasal congestion, cough, sore throat
More serious joint, muscle, and body pains
The most necessary items would be bandages, gauze rolls, adhesive tape, antibiotics, salves, cold packs, alcohol wipes, and many more. Keep in mind that depending on the size, the contents inside your kit may vary.
Frequently Asked Questions
Where can I buy the best first aid kit?
Most brands either have their own website or put their faith in trusted sellers to handle their products and offer them to the wider public. Some medical kits can be found on Amazon; however, it isn't impossible to receive a product that is different from the one advertised.
Of course, that is not always the case. However, it is good to be safe and only purchase products from trusted, proven sellers, as it is a health products after all. In our list, we have proposed a variety of products that have been tracked and verified, so if something has caught your eye, simply follow the links, and you will be left satisfied.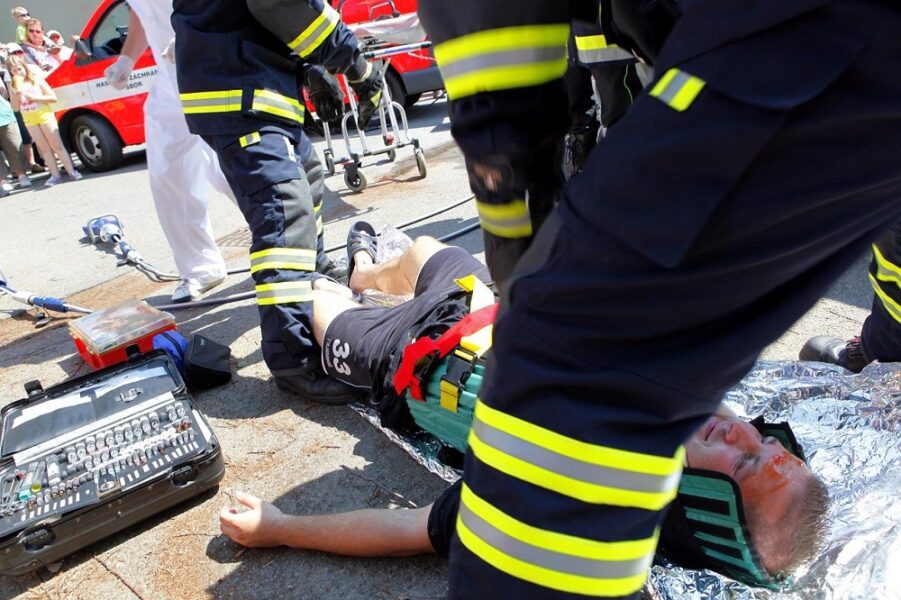 What to avoid?
Some kits include medical products only intended for use after serious medical training. Therefore if you haven't got the knowledge, you might cause serious trouble using certain supplies. It is not advisable to carry the following products:
Decompression chest needle (you need the training to use it properly)
Knives and scalpels (unless you know what you're doing)
Hydrogen peroxide (does damage to both bacteria and healthy cells)
CPR masks (it's not of utmost necessity)
Suture tool (It's heavy, and it's unlikely you'd need one)
Final Words
We have walked you through our Top 10 choices and showed you what the best first aid kit should look like to help in a survival situation. Hopefully, we've answered all your regarding the subject, but if you have any or simply want to share some information, drop a comment below.
It is important to choose a product that would keep you calm in most stressful situations and would be compact and comfortable to carry if you're a prepper or survivalist. If you're planning to survive in the wild outdoors or simply at home (not that there's a big difference), choose your first aid kit wisely.