Emergency whistles are a prime example of non-verbal communication. If you are hiking and hear a loud whistle blasting off off-trail, you know exactly what is going on. Someone is in trouble and they need your help. Therefore, owning a good survival whistle is an absolute must. There are many outdoor backpacks which include a survival whistle built into the buckle clips. That way even if you forget to pack your whistle, you can still have one at all times.
Yet these small built-in buckle whistles are cheap, not 100% reliable and not the loudest option available. So even if your backpack has one built in, we still recommend investing in a high-quality survival whistle. Whether you're camping, hiking, fishing, boating or going for a night jog, the best whistles are a vital piece of safety gear, especially when traveling out of a cell phone range.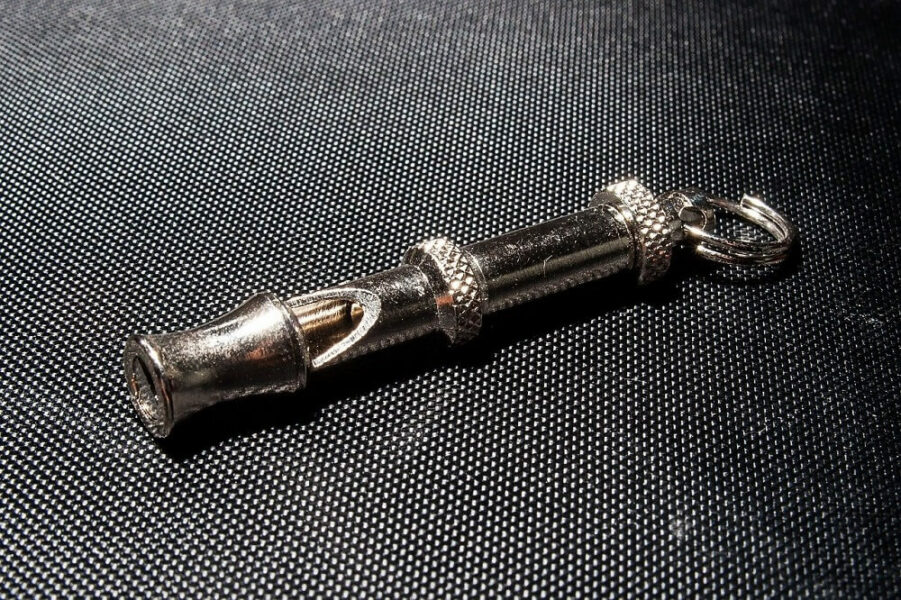 When looking for a solid survival whistle, there are a few things you should look for, including:
Durable Material: Of course, one of the first things you need to look for in a survival whistle is the material it is made of. Plastic would be the ideal choice, however, there are different qualities out there, so you need to make sure that you choose a high-quality plastic whistle. It will not let you down when you need it the most.
Loud: Always keep in mind that if your whistle is not loud, it will not do you any good if you are in a survival or emergency situation in the wilderness. You want to be heard when you blow your emergency whistle so, a survival whistle that produces 90 to 120 decibels of sound would be perfect. This will make sure that you are heard above ambient noises such as breaking waves or engine roars and more importantly- over great distances.
Reliable: You want to choose a whistle that always works whenever you need it to. There are some whistles out there that have been known to malfunction under certain conditions. If you want a reliable survival whistle that does not jam, freeze or deteriorate, or get overblown, you should choose a pealess whistle.
This type of whistle produces a high-pitched, penetrating sound that you can depend on when you need someone to hear you. With pealess whistles, the harder you blow, the louder the sound, which is exactly what you need in a survival situation.
Easy to Carry/ Access: When you are in the wilderness, you need to make sure that your survival whistle is easy to access in case of an emergency. You should choose a whistle that comes with a breakaway lanyard attachment that breaks away when you put pressure on it. A lanyard attachment also allows you to wear the whistle around your neck, making it easy to carry and access when needed.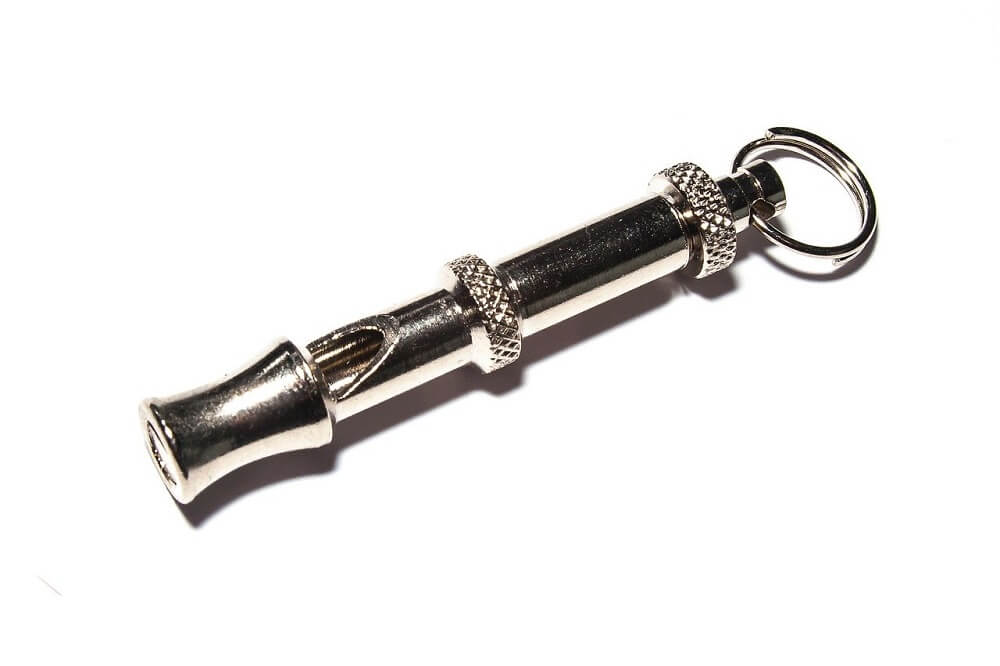 Visible: That black whistle you are checking out might look cool, but it is always best to choose survival whistles in bright colors. This makes them more visible in the dark. You do not have to worry about looking for it in case of an emergency.
Make yourself heard with a small though powerful whistle. We recommend checking out and picking up a whistle (or two or three) today in order to be prepared. Here is a list of some of the best emergency whistles on the market, and what makes them worth a look:
The Best Survival Whistle On The Market Right Now

One of the top survival whistles available right now is the Survive Outdoors Longer Slim Rescue Howler Whistle. It is a slim, single-frequency whistle that emits a 100-decibel signal, making it audible from over one mile away. It features a design, ensuring that the whistle works without jamming or freezing in any outdoor condition, whether you are on the trail, on the slope, the water, and more.
It's pea-less design ensures that the whistle works in any outdoor conditions without jamming or freezing. Weighing less than an ounce, this ultra-portable whistle fits in any pocket and attaches to zipper pulls. Each pack contains two whistles to share or distribute among gear like a rain jacket or go bag.
Storm All-Weather Safety Whistle had 6 item bundles, including 3 all weather storm whistles with 3 Koala quick release sports safety lanyards. It is one of the world's loudest survival whistles- tested in excess of 120 decibels, heard over a quarter of a mile through trees and over half a mile over water.
The astonishing whistle even works under water, making it a great choice for scuba diving, boating, watersports, and water rescue. The safety whistle can be heard over 50 feet away underwater, and is used by military and law enforcement worldwide (including US Navy, US Armed Forces, US Coast Guard, and Police).
This TI-EDC Titanium emergency whistle is made from ultra-lightweight and strength of titanium and well-polished with aesthetic appearance. It is waterproof and works in both dry and wet conditions. You can have it on your keychain or hang around your neck as a pendant. The high quality is guaranteed with its non-allergenic, strong, durable, resistant to corrosion material.
The whistle is suitable for emergency survival, hiking, camping, traveling, pet training, sports and boating. It is loud enough and can be heard from far distance. Its size is the perfect match with a length of 1.55", 0.31" outer diameter, 0.17oz weight. Titanium emergency whistle is highly portable and can fit perfectly on your keychain, necklace or backpack.
This super loud survival whistle is excellent for camping, hiking, hunting, fishing, boating any kind of outdoor activities, also for dog training. It has double tubes and can provide up to 150 decibels, which could be enough to be heard at a very long distance. The emergency whistle, made of Titanium can be described as precision-machined, resistant to corrosion, non-allergenic, lightweight and durable.
One of its many perks is that it is light weighted (27g) and highly portable, allowing it to fit perfectly on your keychain, necklace or backpack. It includes one wristband and key chain, which is very compact. The survival whistle is water-resistant and can be used without a problem in rainy day or humid weather.
The Sonik Blast CMG whistle is extremely loud and easy to blow. The Fox 40 Pealess Whistle is special because it produces three slightly different frequencies simultaneously. The different frequencies are superimposed on one another out of phase and thus alternately reinforce and cancel out each other. The result is a loud, piercing vibrato. The whistle is injection molded and ultrasonically welded together, rather than glued, for maximum durability.
Fox 40 whistles are great for sports use (coaching and refereeing – on and off the field), emergency and survival (hiking, camping, and outdoors safety), water (Lifeguard and boating, kayaking, rafting), and police and firemen (Simply safety and rescue). The high impact ABS plastic construction ensures high durability and complete moisture resistance.
Tacray is capable of producing a sound up to 120 decibels. This elegant, double tube titanium whistle design is loud enough to be heard from a far far distance. Once again, the whistle is multi- purpose, meaning it is suitable for emergency survivals, hiking, traveling, pet training, boating or sports.
Made of titanium, the high-quality whistle is resistant to corrosion, can stand harsh conditions, and is a reliable tool. You can attach it with ease to keychains, backpacks, and necklaces, which makes it great for your every day carry essentials.
The volume od Nubarko can reach as high as 130 decibels with an inclined round whistle tube. There is no little ball to rattle around and no need to worry about it falling off. Its exquisite cut design makes the air vibration more frequent and the sound louder.
The whistle is delicate and convenient to carry, suitable for a variety of carrying methods and great for different outdoor activities such as camping, fishing, hiking, etc. The model is light weighted, non-magnetic, resistant to rust and corrosion. The Nubarko whistle is stable at both very high and low degrees.
Simular to the Tacray double hole design the whistle is made of Titanium, resistant to corrosion, non-toxic, nor allergenic, and amazingly durable, and is suitable for emergency survival, hiking, camping, traveling, pet training, sports, and boating. The gadget is again loud enough and can be heard from far distance, with its up to 120 decibels.
Tacray titanium emergency whistle is extremely light weighted with a weight of only 0.254 oz., and super compact with a 2.16" length and outer 0.38" diameter. The whistle allows you to tie it anywhere you would feel would be appropriate and easy to use.
This little pealess whistle has everything you want a safety whistle to be: lite, easy to blow, super loud, floatable, handy to carry, and last but not least highly visible. Heimdall's lanyard and large clip make it have multiple attachment options, you can loop through a PFD strap, fit on backpacks shoulder strap or attach to a belt.
It is the perfect must-have safety tool for any water sports like boating, kayaking, fishing, or hiking and hunting in case of an emergency. Many also describe it as a great whistle for walking and training a dog. The whistle is made of non-brittle plastic, meaning it can not crack or break. The small, yet powerful gadget reaches up to 120 decibels, and is audible to over 1 mile.
Ti22 Air Titanium can provide a loud sound up to 150 decibels, meaning it can be heard from a greatly far distance. Made of pure titanium, it is lightweight, strong and durable, and resistant to corrosion. The emergency whistle is waterproof and works perfectly in both dry and wet conditions. The Ti22 whistle comes with a keychain and is very convenient to carry when you got out. It is small and easy to carry so, you can hang it around your neck with a lanyard or just put it on your backpack. It is also easy to just put it in your pocket and let it be your EDC equipment.
FAQS
What is a survival whistle?
Whistles are one of the best bang-for-the-buck items you can have with you in an emergency situation. Survival whistles provide an extremely loud sound that require very little blowing effort.
What is the use of a whistle in emergency?
Survival whistles are mostly known to signal for help, though you can also use your emergency gadget to scare away animals or even criminals away. You can even survive a natural disaster thanks to your whistle.
Most natural disasters occur without warning and because of this, you should make sure that there is always a whistle in your emergency preparedness kit. What would you do if you get trapped under a fallen building after being hit by an earthquake? It could happen to you, and you could be trapped for hours.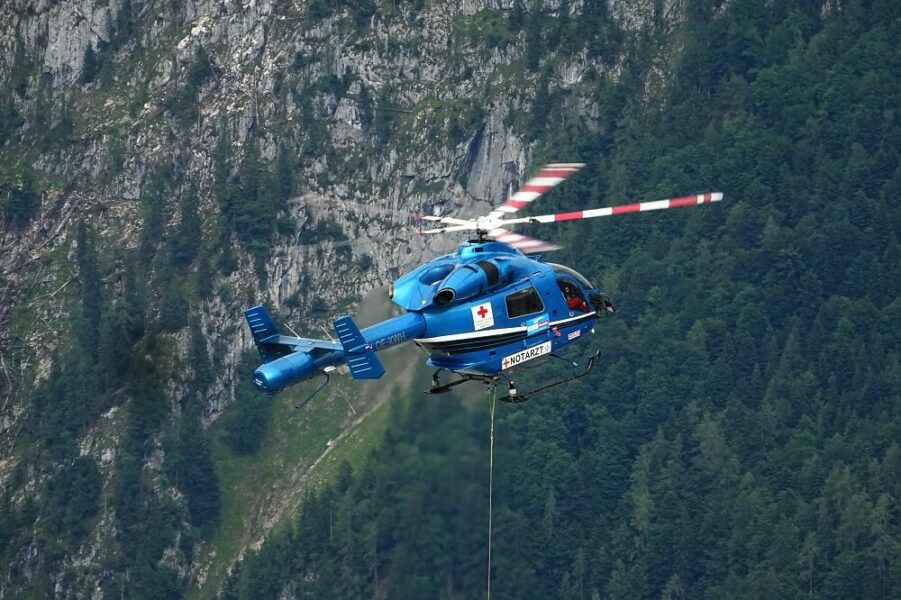 What is the loudest whistle?
The Storm All-Weather Safety whistle is the loudest whistle on the market! Perfect for divers, lifeguards, and for recreation. Creates a clear, high frequency sound, with a power rating over 75% greater than other referee and safety whistles. Its unique patented design allows it to be heard under water up to 50 feet.
How far can you hear a whistle?
It seems that the average signal whistle sounds at 80-120 decibels, and can be heard at least half a mile away.
Verdict
To wrap it up we would say that S.O.L. Survive Outdoors Slim Rescue Howler is the best option out of all products, Storm All-Weather Safety Whistle is perfect if you are on a budget, and if you have saved up a bit more money to invest in a nice survival whistle both TI-EDC Titanium Emergency Whistle and TACRAY Titanium Emergency Whistle (Double Hole Design) will meet you expectations.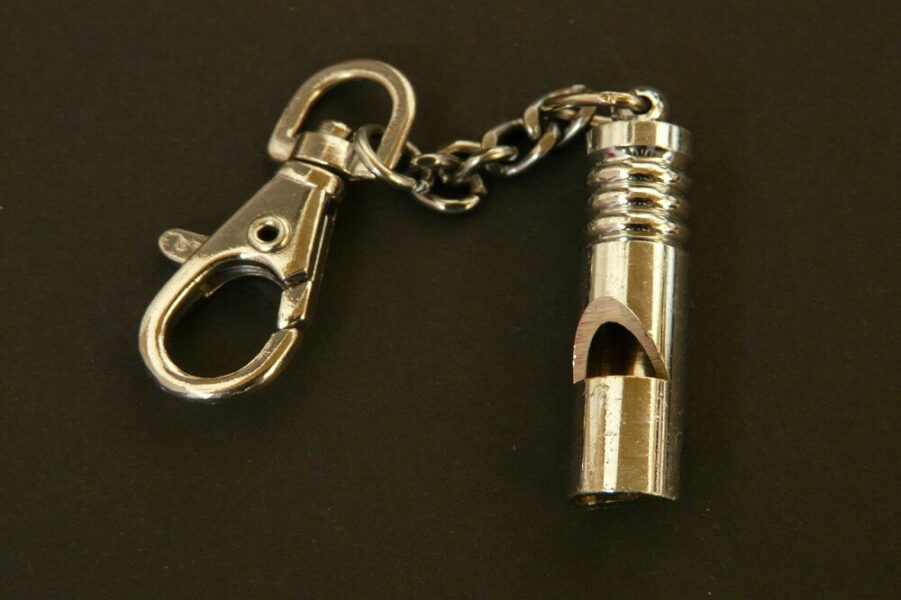 Final Words
Whistling has been an important survival skill for thousands of years. Of course, back in the day, people used their lips and hands to do so. But today, whistles have been refined into a better survival tool. They are the perfect way to signal for help when you are stuck in an emergency. No doubt, whistles have saved countless lives over the years. They are a cheap, effective and reliable survival gadget. So, if you take survival seriously (and if you're reading this, we assume you do) you must own at least one survival whistle. Do not get caught without one in a situation where attention could have saved your life.