While some people adore an extra accessory, others don't understand the point of purchasing something just for the looks of it. And while that may be true for some accessories, passport wallets are an important everyday carry item that not only gives some color and style to your life but they have the important job of keeping your documents safe. When you're often traveling, you know the worry of believing that you have lost your passport just to find it at the bottom of your bag.
That's why we like to avoid such worries, and we started relying on a passport holder for protection and security. As we are well aware of the pain of searching for the right product for you, we have come up with a list of the top products which we think are the best on the market. Let's take a look at some of the best everyday passport wallets to carry with you while traveling.
1. Saddleback Leather Co. Holder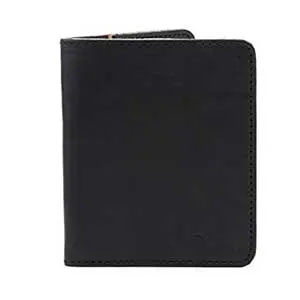 The Saddleback Leather Passport Holder allows men, women, and families to carry up to 4 passports at a time. Not only that, but it also has two stacked card pockets on each side of the bifold wallet that can hold up to 5 cards each.
It has a pocket big enough to hold even the largest currencies in the world and not worry about losing cash. It's highly durable at a somewhat reasonable price because it's made of genuine full-grain leather from environmentally friendly farms in Mexico.
The Saddleback holder is so nice they offer a 100-year warranty after testing the wallet and seeing it can withstand stampeding bulls, as well as small children. The marine-grade polyester stitching ensures that the wallet's construction matches the quality of the leather material it's made of.
The wallet and its pockets are lined with RIFD protection, so if you're traveling to a land you don't trust, you shouldn't worry too much about card scanning.
The Saddleback is available in four colors – black, dark coffee, chestnut, and tobacco. Overall, it's a premium choice considering the high quality of the leather and the level of craftsmanship at a low price.
Pros
Full-Grain Leather
Colors to Choose From
Marine-Grade Polyester Thread
100-Year Warranty
Cons
Credit Card Pockets Are Loose When You Put Less Than 5 Cards
2. Fossil Richard Leather Bifold Wallet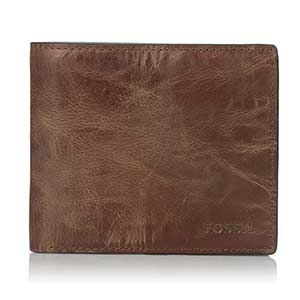 The Fossil Bifold is an exquisite, quality wallet that is perfect for people who are on a budget and don't want to spend too much. It is made of leather, and the Fossil logo is embossed on the front, making it tasteful and nice-looking.
It is not much different from a regular wallet, making it a sensible choice. Furthermore, the wallet has a lining that is made of cotton, and it's fairly durable. On the inside, you can find two interior slip pockets, eight credit card slots, an interior bill compartment, and a flip ID window made of plastic.
It also offers further protection with the RFID lining that helps you avoid theft while traveling or even in your daily life.
The Fossil is the perfect choice for people who want a simple yet functional wallet to carry their documents in. You can choose from black, brown, dark brown, dark brown with a polished finish, or navy colors.
Pros
Functional
Variety of Colors
Tasteful and Nice Aesthetic
RFID Lining
Fits in Pants Pockets
Cons
You Can't Carry a Passport
Doesn't Propose Softer, Brighter Colors
3. TUMI Province Passport Case Holder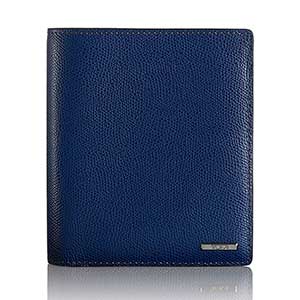 The TUMI Province is a unisex passport wallet suitable for men and women. It has a luxurious feel and looks, and it comes in vibrant colors like blue, ember, black, or grey stripes. It has the usual bifold closure, and while it's slightly larger than a usual wallet, the TUMI has a passport sleeve, 9 card pockets, a slip pocket, small pockets for tiny objects such as SIM cards, and a cash pocket.
Made of 100% genuine leather and textile lining, the TUMI wallet easily justifies the slightly higher than most price tag. It weighs 0.24 pounds, and its dimensions are 5.75″ by 4.75″. It allows you to stay organized while traveling, keeping all essential travel documents together, even your ticket if you fold it. It's a premium accessory and perfect for those looking for something more than an ordinary wallet.
Pros
Quality Material
Fresh Look
Functionality in Pockets and Sleeves
Lightweight
Cons
Expensive
No Boarding Card Slot
4. Fjallraven Passport Wallet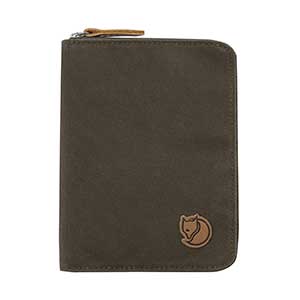 The Fjallraven passport wallet is an exceptional product at a sensible price. It is designed to be able to hold more than one passport, which makes it a decent choice for most people. It's bigger than usual at 5.9″ in length and might not fit into the pocket of most pants.
Despite this setback for some, it has many benefits which compensate for the larger size. The interior layout of the wallet is very thoughtful, with a passport sleeve on each side, four card pockets, and a zippered coin pocket.
Furthermore, it has a pocket for banknotes, where you could also fit a passport. The Fjallraven passport wallet is made of G-1000 HeavyDuty Eco materials, and it has the Fjallraven leather logo on the front. The whole wallet can be zipped, unlike many other passport wallets. The fabric is durable and weather resistant, and the wallet is proposed in 9 colors. Therefore you can choose the one suited to your taste.
You will find some leather accents throughout the wallet, such as the zipper, the logo, and a couple more places. Despite the leather, Fjallraven is known for sourcing materials from ethical sources.
Pros
Quality Craftsmanship
Variety of Colors
Holds A Few Passports
Great Interior Layout
Cons
Bigger Than Most Wallets
5. Leatherology Deluxe Passport Cover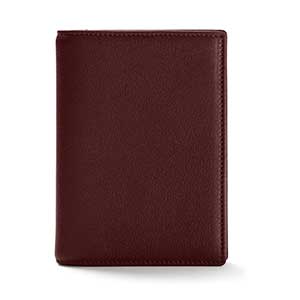 The Leatherology passport cover is the ultimate travel essential with its full-grain leather material. It has a simple yet tasteful design with a bifold structure inside which you can find a passport pocket as well as four card holders and an extra pocket. It is offered in 21 different colors, including black onyx, rose, turmeric, teal, and many others. The colors are rich, and the texture is firm with a beautiful, smooth finish.
The colors are added by using aniline dyeing. You can choose whether you want the RFID blocking as an option for a few extra bucks. You can add a personalized monogram to the wallet if you want to give it a notch of personality. It comes in a beautiful box, and overall, the Leatherology passport cover is a compact and not too expensive choice for most people, although it is a bit steeper than the Fjallraven above.
Pros
Variety of Colors
Natural Colorin
Simple and Tasteful Design
Cons
No Coins Compartment
RFID as an additional extra
Frequently Asked Questions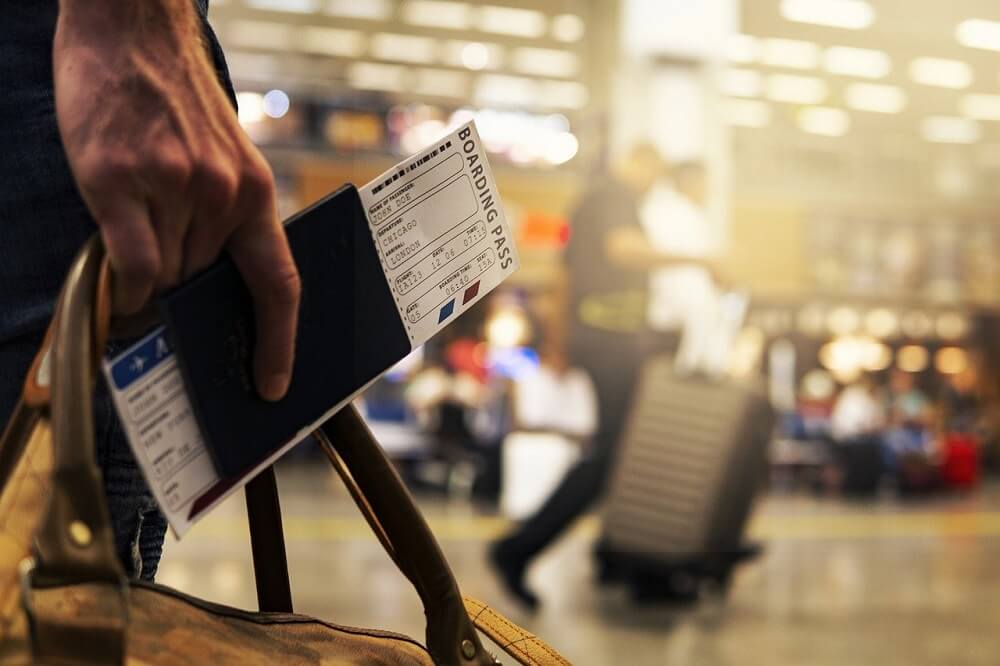 Are Passport Wallets A Good Idea?
Passport wallets are a good idea. They can give your passport an extra layer of protection. And when you're going abroad, especially if you do it often, it's good to have peace of mind that your passport is protected it won't be easily misplaced.
What Is Passport Wallet?
A passport wallet is similar to a wallet; however, it is meant to fit not only cash and cards but also your passport. It is the type of tool that offers ultimate organization for traveling.
Are Passport Covers Legal?
Yes, passport covers are legal. However, bare in mind that when you must show your passport to the authorities, you will have to take the cover off.
How Do You Use a Passport Wallet?
You use a passport wallet by inserting your passport inside of the pocket meant for the passport. It depends on the wallet, as some have a separate passport holder.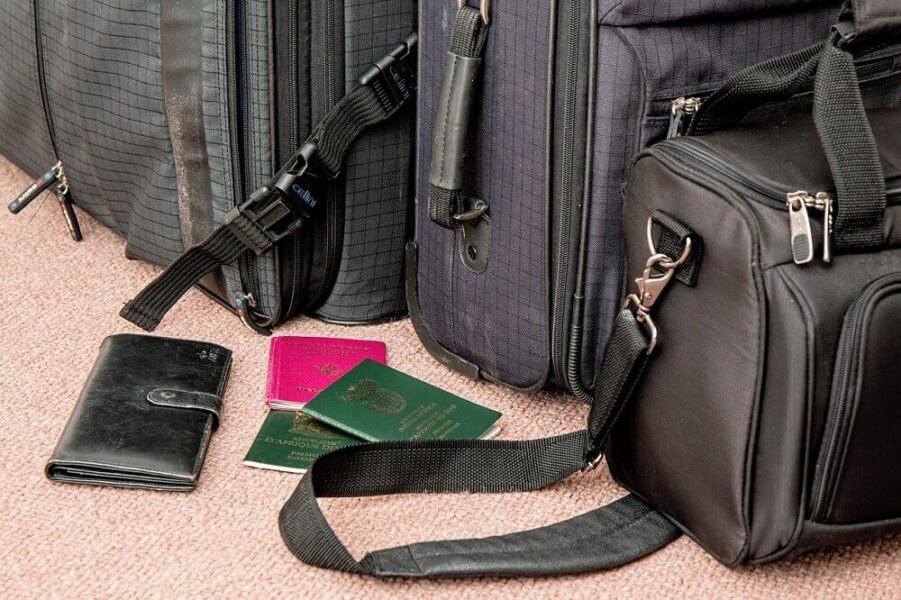 Are Travel Wallets Necessary?
Travel wallets aren't the most important thing for your journey; however, they are quite useful and give you peace of mind.
Do You Need RFID For Your Passport?
Yes, we do believe that you need RFID blockage for your passport. RIFD stands for Radio-Frequency Identification, through which someone could copy all information of your ID or credit card. Therefore, most passport wallets should be able to block RFID, and we believe it adds a layer of protection, which is always necessary these days.
Final Words
When traveling abroad, a passport wallet is a useful item. Not only does it make your life easier due to the organization it creates within your life and backpack but it's also a nice accessory to own. It gives you peace of mind as most wallets can hold not only a passport but also credit cards and cash.
Happy Travelling!