Any outdoor enthusiast or survivalist will be faced with the dilemma of choosing the appropriate survival tool at some point in their journey. With this article, we are here to solve that problem by introducing you to the best survival machetes on the market.
That is one outstanding item and an important part of your survival arsenal, which could be the difference between a life and death situation. When you are in the great outdoors, you must be packed well and prepared for a worst-case scenario.
That's why today, we will share what we think are the best survival machetes on the market today, so you don't have to be overwhelmed by endless options.
1. CRKT Chanceinhell Machete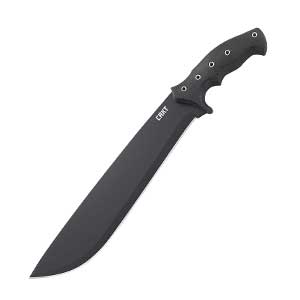 The CRKT Chanceinhell is the real deal. How do we know that? The Chanceinhell is a beefy fixed blade survival machete designed to be reliable, durable, and robust. If you want to ensure your survival, this is the one to grab with an ergonomic handle that reduces hand fatigue and a carbon steel blade with a black powder coat finish, which prevents rust and corrosion. This fantastic product is built for extreme environments and hard use while allowing efficient cutting. This CRKT includes a reinforced nylon sheath with a Velcro belt loop system for multiple carry options, and an extra paracord fob comes for emergencies. Grab this excellent instrument now and feel the difference.
Pros
Corrosion-resistant blade finish
Ergonomically designed handle
Reinforced nylon sheath
Lifetime warranty
Cons
Not appropriate for hardwood chopping
2. Condor Warlock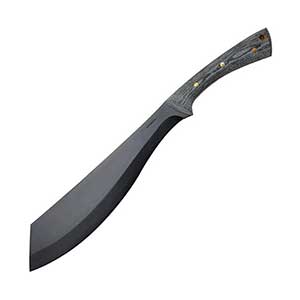 The Condor Warlock is a premium quality machete with a high carbon steel blade with a black textured powder-coated finish to prevent rust and corrosion. You can use this tool to chop and cut wood, clear bushes, cook and skin fish, etc. Its sharp tip is incredibly suitable for stabbing and piercing, making this upscale item the perfect outdoor companion. This valuable item has an impeccable Micarta handle and comes with a handcrafted welted leather sheath. Warlocks full tang bad boy provides comfort and a secure grip in every situation and weather condition.
Pros
Ergonomic Micarta handle
Epoxy black powder coating blade finish
Sharp tip
Leather black sheath
Cons
Heavier than most
On the pricier side
3. Fiskars Saw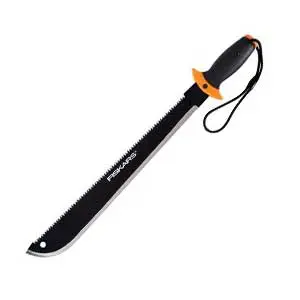 The Fiskars machete offers an innovative design as a dual-function tool, which features an ultra-sharp blade on one side and an aggressive saw blade on the other. Ideal for cutting trails, stripping logs, and clearing bushes, this tool has a tempered steel blade that cuts through effortlessly. Forget about the numerous flimsy options with this affordable product with a Softgrip handle, which provides excellent grip and comfortable use. Fiskars allows one-handed use, so your other hand removes the branches you're cutting. This way, you move faster and with more efficiency. Fiskars believes in the quality of its products, and that's why they provide a lifetime warranty for this inexpensive tool.
Pros
Large-toothed saw blade
Tempered steel
Softgrip handle
One-handed use
Cons
Not appropriate for hardwood chopping
No sheath included
4. Kershaw Camp 18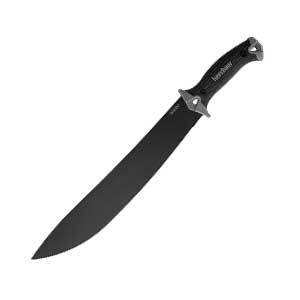 Kershaw is a brand that praises itself for its exceptional, high-quality tools that are accessible and affordable to all consumers. The Kershaw Camp Series offers powerful and intense machetes, and Camp 18 is no exception. It is made of high-performance, durable steel with excellent wear resistance and a fine powder-coated finish that offers blade protection. You get a sturdy handle with an attractive appearance and exceptional performance that provide a secure and comfortable grip. This instrument will become one with your hand and allow you to quickly clear brushes, slash, split, hack, and scrape just about any material for any task.
Pros
High-performance steel
Black powder coat finish
Polymer handle with textured rubber
Molded sheath
Cons
Possible blade coating eroding
Not for chopping smaller branches
5. Tramontina 24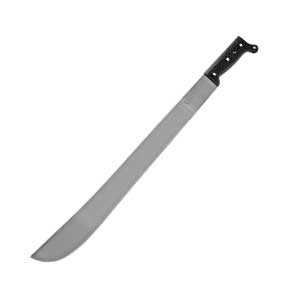 As one of the most popular machetes in South Africa, Tramontina has become a staple for most rural workers. This extraordinary tool is made of a high-carbon steel blade and a textured hard plastic handle that will fit perfectly into your hand. Tramontinas handle is triple-riveted to the last longer while providing an excellent experience. The blade is long enough to withstand all types of brushes, vegetation, branches, etc. Made for the people, this economical product comes fully sharpened but might still need some edge sharpening for complete efficiency.
Pros
Highly resistant to rust and corrosion
Textured hard plastic handle
Suitable length
Comes already sharpened
Cons
If its power runs out, that's it because the option to power it with double-A batteries isn't even remotely viable, it's just too dim
6. Gerber Bear Grills Parang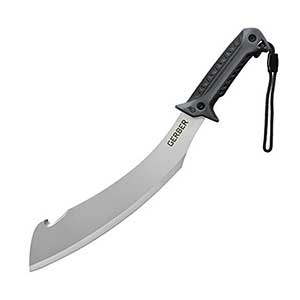 The Gerber Broad cut machete is evolving from the traditional jungle tool to an effective and durable tool designed to take on any dense brush. Made of tough carbon steel, this Gerber blade is rust and corrosion-resistant. Constructed to slice cleanly, this parang comes with an ergonomic rubber handle, which provides a comfortable and secure grip for all-day use. This parang has an innovative hook and cut notch that allows us to have an extended reach to more vines and branches than usual. Designed for long days and tough tasks, this product includes a safety lanyard to secure your instrument.
Pros
Durable carbon steel blade
Ergonomic rubber handle
Corrosion resistant
Innovative hook + cut notch
Cons
Difficulty in sheath handling
Possible blade chipping
7. Bushmaster Survivor Squad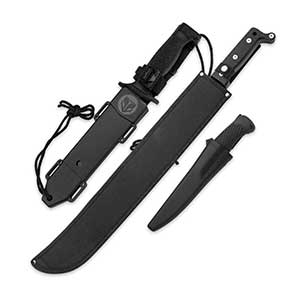 Bushmaster's Survivor Squad Set offers three versatile knives with which you can tackle any task in any environment. This combo provides you with unmatched skill, rock-solid strength, and sharp potency. Each item in the Survivor Squad is carefully designed for a specific set of tasks. The Bushmaster's machete is a reliable, top-notch product made out of non-reflective black-coated stainless steel that can withstand vigorous use in the most challenging of conditions. Ideal for chopping wood, slicing, paring, skinning, and carving, this product has an ergonomic handle that has been delicately textured for a secure non-slip grip. Every item in the set comes with a heavy-duty black nylon sheath for better protection and easy transportation.
Pros
3 piece set
Black-coated stainless steel
Ergonomic black handle
Suitable for hacking bushes and wood
Cons
Not the best for knuckle or hand protection
8. Expat Libertariat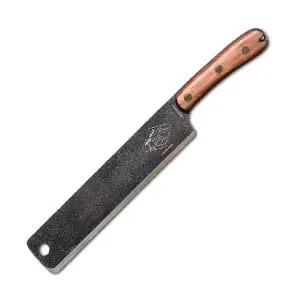 The Libertariat machete was designed to be a lightweight tropical survival tool. Crafted with the highest quality steel with a rugged Condor Classic finish, this incredible product provides a secure and comfortable grip during use with its tapered walnut handle. Made for hard use, this sickle will cut through most brushes and vines while showcasing excellent performance and durability. One thing that you have to keep in mind is that this product needs to be taken care of and cleaned correctly so that you can avoid possible rust and stains.
Pros
Carbon steel blade
Tan canvas sheath
Sturdy & durable
Limited edition
Cons
It might rust and stain
On the pricier side
9. Mossberg Combo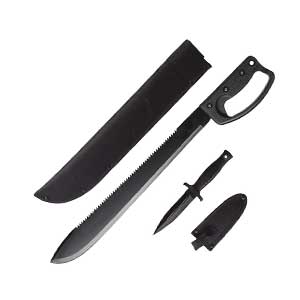 Are you looking for a good survival combo? Stop searching and look at the Mossberg Combo, which offers a sharp black steel machete and an extremely useful boot knife, which will add another layer of protection in the wilderness. The Mossberg is made from durable steel construction with a non-slip, sturdy handle that will allow you to get through any tough challenges that come your way.
You can use this versatile tool for hacking, clearing, carving, and many more possible activities to help you in the deep forest, jungle, or any other tough situation you might find yourself in. Both items in the combo come with their sheath for easy transportation and accessibility.
Pros
Non-slip handle
18" machete + boot knife
Suitable for tough activities
Included sheath for both
Cons
It might rust and stain
On the pricier side
10. Gerber Gator Bolo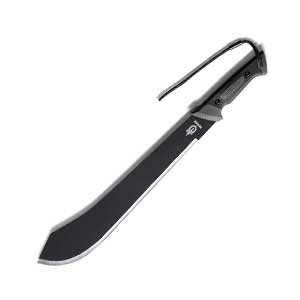 Gerber has turned this traditional jungle tool into a modern product with multiple purposes. The Gator Bolo is made of corrosion-resistant steel with a full tang construction for durability that creates a powerful tool suitable for any sort of chopping. This instrument has an ergonomic handle with a slip-proof grip that allows comfort year after year. Designed to withstand serious cutting, it includes a rugged nylon sheath, which will keep the blade from getting damaged when not in use. That's not all, you also get a wrist lanyard used as an extra measure of insurance when you're working hard. Built to last, this one part hedge trimmer, one part ax means 100% business.
Pros
Corrosion-resistant steel
Full tang construction
Ergonomic handle
Rugged nylon sheath
Cons
Possibility of loose screws
On the pricier side
How To Choose The Best Machete For Survival?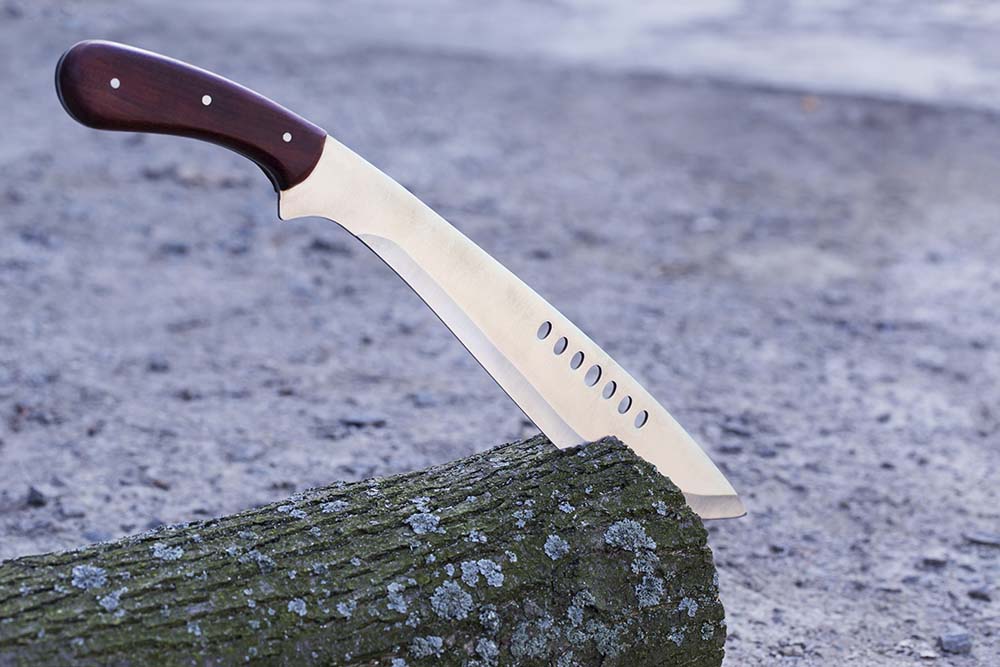 This ideal survival instrument could serve many purposes, such as chopping wood, clearing land, cleaning and prepping food, etc. Most survivalists use it to protect themselves from predators and wildlife. To be able to pick the excellent machete, there are multiple questions you should research before purchasing one, such as:
What Is The Best Blade Material?
Choosing the right material for the blade is one of the most important things when you're faced with getting a machete. Always search for a material that is strong and durable so that your blade doesn't disappoint when you need it most. Your two best options are carbon and stainless steel, both with pros and cons. For example, carbon steel is more reliable than stainless steel, but it isn't rust-resistant. You should carefully consider where and how you will use it.
What Is The Best Blade Length?
Length is the next aspect of the blade should think about. Most of them range from 10" to 30," and the most common length would be 18" long. Long blades clear larger areas faster but are harder to transport, while smaller sickles are more portable but offer less reach.
What King Of Handle To Choose?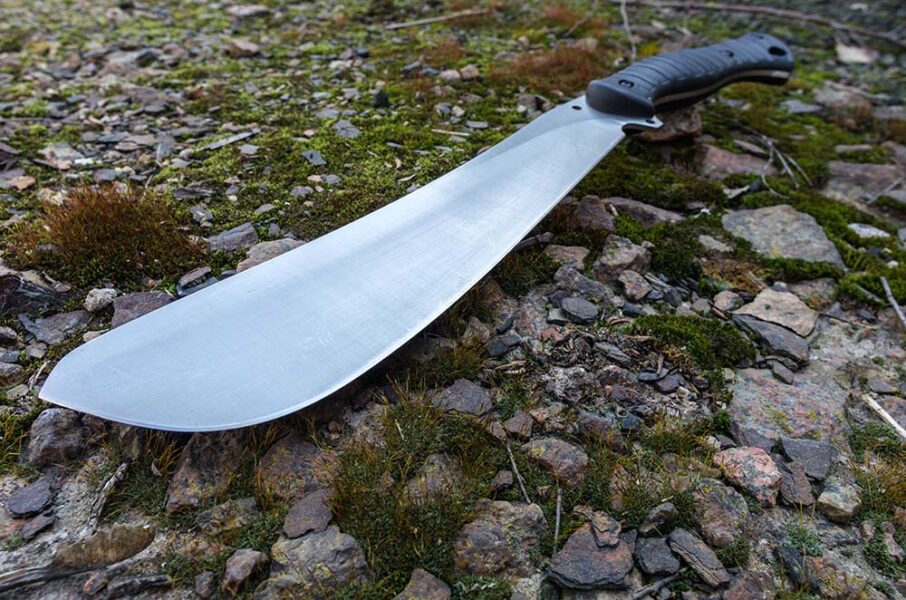 Finding a machete with a good handle is also an essential component. Your best bet will be an ergonomically-designed handle since they are a lot more comfortable to grip and provide a better hold. Try and avoid wooden handles since they may rot when they get in contact with water often. Plastic handles aren't a bad option since most are quite sturdy, but sometimes they might get slightly slippery.
Is Weight So Important?
Weight is crucial, considering it might tier you quite a bit. If you deal with a lot of heavy-duty work, you want something efficient and lightweight. Lighter options are also suitable for hiking and camping.
What Kind Of Tang Should I Look For?
Last but not least, consider the tang of a machete. You need to be on the lookout for a full-tang one since it is stronger and will provide better balance.
Frequently Asked Questions
What Is The Best Survival Machete?
The overall best is the CRKT Chanceinhell Fixed Blade Machete because it's a product that is built for extreme environments and hard use. By getting this instrument, you ensure your survival in all conditions and situations. If money isn't an issue, another excellent option to consider is the Condor Warlock. Sharp and incredibly comfortable, this tool is the perfect outdoor companion. However, if you are on a tight budget, your best bet is the Fiskars Saw because it will get the job done efficiently and effortlessly.
Is A Machete Good For Self-Defense?
Machetes aren't designed for a fight because most won't sever a limb or cut through bone. However, what it can do is scare off intruders very fast. That's why it is commonly used for self-defense, especially inside a household, and works quite well. Your best option is to shock the intruder without using it, considering that these instruments lack the mass to make deep cuts or slash through bones. The advice we can give you is to shout at intruders and look confident while holding the weapon since that might make them reconsider and flee.
Are Cold Steel Machetes Any Good?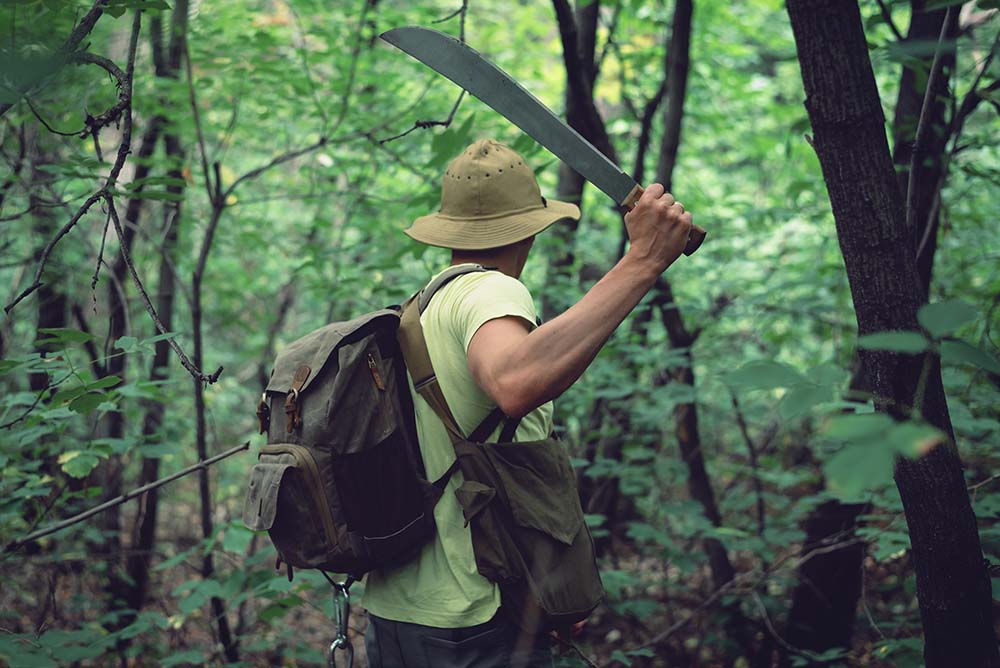 Cold steel machetes can be set apart from others because of their sword-like blade styles, which have been around for a while. They perform well without damaging the blade while providing high value at a low cost. You can use these for multiple activities, such as chopping wood or cutting through vegetation and debris. We think cold steel instruments are affordable and will get the job done, so why not get one?
Is It Illegal To Drive With A Machete?
The answer to that question can vary depending on where you live. For example, in most American states, a machete is classified as an agricultural tool and not a weapon. Most of them are usually sharpened on one side of the blade, unlike other items like stabbing knives and swords, which are classified as weapons. The regulations are minimal, and although most would label them an 'illegal knife,' they aren't officially illegal. Therefore you should be around to drive around with it in your vehicle.
Do You Need A Permit For Machete?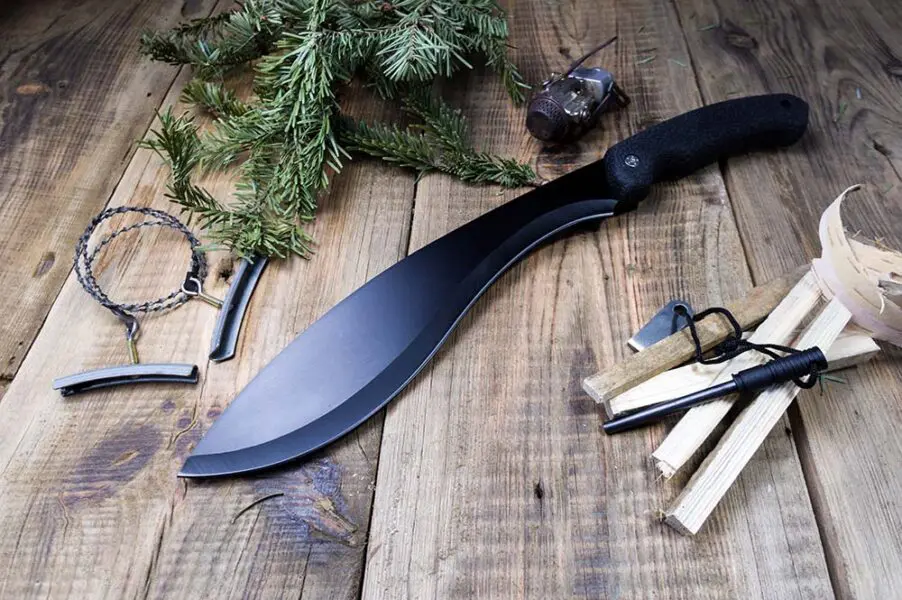 As we said in the question above, machetes aren't officially classified as weapons, which means you don't necessarily need a permit for them. That might not be true in some regions and countries, but they aren't officially illegal in most places. When talking about fixed blades, you should simply wear them in plain view just to ensure you don't get in trouble. However, there isn't an open carry limit on the size in most regions, which means you can openly carry a sword or machete with the need for a permit.
Final words
Finding the appropriate machete isn't an easy job, that's why we worked really hard and carefully handpicked the best ones on the market. In your quest to search for the right instrument, you should take into consideration its size, material, weight, and handle. If you follow our guide, you will find great assistance in your search for the best survival tools. As usual, if we haven't answered a question you are interested in, drop it in the comments below, until next time, survivalists.