Many of the tools that we used centuries ago are still some of our most important companions when it comes not only to survival but to ordinary life, too. Yeah, the bow was replaced by the gun, wood and stone were replaced by metal and plastics, and so was the shovel in some way – by machines. But survival shovels, or camp ones, whatever you may call them, are a whole different story.
Unlike the spade you may use in your backyard, the survival shovel is more of a multi-functional entrenching tool than just a wooden handle and a head for digging. They are made with higher-end materials, like a nylon handle, a serrated edge, a high carbon steel blade that can turn into a compact digger, or a swivel head locking mechanism that can be rotated 90 degrees sideways so you can use it for light chopping. They are easy to use for digging, too, of course, but they are much much more than a normal backyard digging tool.
1. FiveJoy Military Folding Shovel Multitool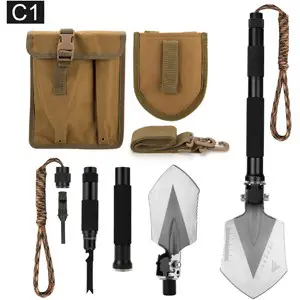 This FiveJoy is made using only the best materials, like high-Quality Carbon Steel (Blade and handle) and Aerospace Grade Aluminum for the handle. It has many features, like a Heavy Duty head, Sharp Axe Blade, Serrated Saw Edge, Hammer, and even a paracord. It has all the must-haves for surviving outdoors. Not only can you dig trenches with this versatile tool, but you can also enjoy various additions such as a hidden rescue knife and saw, emergency whistle, fire starter (magnesium rod), bottle opener, and more!
The FiveJoy is very lightweight, clocking in at only 1.2lb, and amazingly compact – this is an essential gadget to add to your outdoor first aid survival kit. It folds amazingly easily, so you can chuck it in the back of your car or your bug-out bag and know you are ready to take on anything with this tool.
You can adjust the FiveJoy military angle with its special screw locking device, making it simple to alternate functions and positions. Spade can be used at 30°, 85°, or 180° angles as a hook, hoe, or shovel. Thoughtfully engineered handle optimizes comfort and control for all glove types to minimize hand fatigue. Slip-proof foam cushion on the aluminum handle is water-resistant, quick to dry, and perfect for recreational gardening or on your backcountry hike or cross-country trips. Suffice it to say with this tool, you will always be prepared.
Pros
Lots of accessories
Well built
Strong head
Reasonable priced
Cons
Jack of all trades, master of few
2. Gerber E-Tool Folding Spade With A Serrated Edge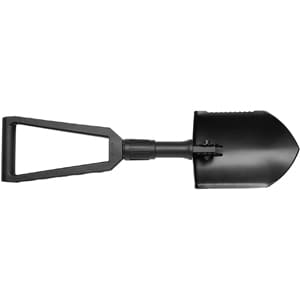 Let's imagine you want to keep things simple, but for your situation, and you want something more compact shovel. Then look no further than the Gerber E-Tool Folding Spade. It's a proven, rugged, and reliable design and can be used in various military, hunting, survival, tactical, industrial, and outdoor situations.
The power-coated boron high carbon steel head also includes a serrated edge on one side to allow you to cut through any obstacle you may encounter, making it a powerful tool for much more than just digging.
The shape of the blade also allows for deep penetration into the ground with each strike. This compact but mighty trencher comes in at an easy-on-the-back 2 lbs and breaks down to only 9.37 inches when in its closed position.
When fully open, its safety locking design will ensure the shovel will be as sturdy as a full-sized one. Lastly, the open handle design allows maximum grip and power, helping you blast through your trenching chores quickly.
Gerber is known for making good survival tools, and they don't disappoint even a bit with this survival shovel. If you get it, you will not regret it.
Pros
Well known brand
Reliable
High-quality build
Serrated edge
Cons
A bit expensive for a shovel
3. Extremus Trench Folding Camping Shovel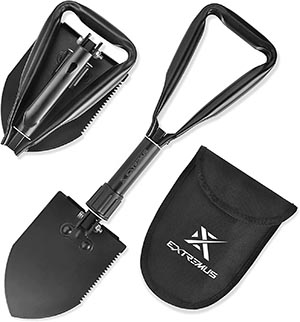 The Extremus is ideal for many activities like camping, hiking, snow, self-defense, backpacking, fishing, hunting, gardening outdoor activities. Still, you can also use it in your garden or for home repairs.
It is the perfect way to get yourself or your car out of an emergency, and when you aren't using it, it folds down three times and can be put into a high-quality case to protect the head.
To be frank, if you are interested in something lightweight and compact, which is a little bit expensive, you should look into this shovel for sure.
Pros
Not a household name
Cheap enough
Small enough to carry around
Cons
Quality concerns depend on the batch
4. M48 Kommando Survival Shovel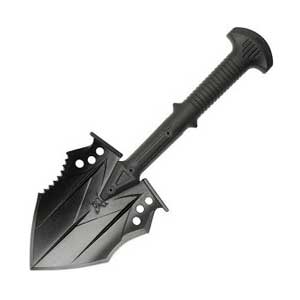 This M48 product takes the simple idea of the wooden handle digger in its simplicity and then upgrades it in both build and style. The M48 Kommando features a dang near indestructible, injection-molded nylon handle with 30 percent nylon & fiberglass reinforcement.
The head is tempered 2Cr13 stainless steel coated with hard, black oxide. The blade features a partially serrated edge on one side and a concave chopping edge on the opposite. The shovel also includes a reinforced nylon belt pouch for safe storage and portability.
The bottom line is the Kommando has a few extra worthwhile features without trying to do it all. It's a badass survival shovel that looks as good as it digs.
It's ideal for all camping and outdoor adventures and helps with digging, light chopping, or even a defensive weapon in an emergency.
Pros
Reasonably priced
Compact
Ergonomic
Multiple uses
Cons
Quality concerns
The handle can rattle at times
5. ANTARCTICA Folding Camping & Survival Shovel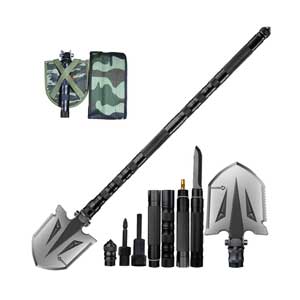 Conveniently dig trenches with this versatile tool with a hidden rescue knife and saw, emergency whistle, fire starter (magnesium rod), bottle opener, and more!
Easily fit this folding camping tool in your backpack or the trunk of your vehicle. Dig your car tires out of snow, mud, or ice, or use the head as a glass breaker in an emergency.
Removable tool: Removable magnesium rod is replaceable after use. The detachable protective cone can break windows, screwdrivers, and whistles in an emergency.
Thoughtfully engineered slip and sweatproof handle optimizes comfort and control and leverages all glove types to minimize hand fatigue. Comfortable and ergonomic to use as a recreational garden shovel, camping, or on your backcountry and cross-country trips.
It is built of quality material of high carbon steel and aviation aluminum alloy, durable and lightweight.
Pros
Cheap enough to buy
A versatile tool
High carbon steel head
6. FiveJoy RS Military Shovel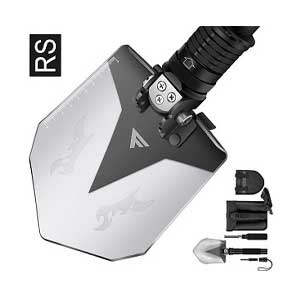 The FiveJoy Military is the Swiss Army Knife of digging tools. This folding entrenching tool breaks down into several unique survival tools. Which is great when you're trying to consolidate your gear. If you choose the FiveJoy Military for your bug-out bag, you won't have to pack as many separate tools. It's got you covered and includes:
Sharp Axe Blade
Serrated Saw Edge
Hammer
Paracord
Fire Starter
Ruler
Emergency Whistle
Bottle Opener
These extra tools help make this well-designed product extremely versatile. It can dig holes and trenches, but it can also saw logs, chop wood, cut, pick, and pry to your heart's content. You have two options with the FiveJoy Compact Military Folding Shovel. A lighter compact version (C1) or the larger heavy-duty version (RS).
If you're planning to hike, backpack or bug out with it, then go with the lighter option. Otherwise, you'll want to upgrade to the heavier-duty version. Either way, this piece of gear is a tough son-of-a-gun. It's forged from heat-treated high-quality carbon steel (blade and knife) and aerospace-grade aluminum (knife). These metals give the blade maximum strength and lifetime durability. It's also rust, water, and fracture resistant.
Unlike others, you can adjust the shovel angle with its unique screw locking mechanism, allowing it to function in alternate positions. It can be set up at 40°, 90°, or 180° angles to operate as a shovel or a hoe. Smart engineered handle design optimizes comfort and control. The slip-proof foam cushion on the aluminum handle is water-resistant and quick to dry. It's the real deal survival tool and worthy of an investment in your survival arsenal.
Pros
Good quality
Plenty of accessories
Heavy duty shovel
Strong folding mechanism
7. RHINO USA Folding Steel Shovel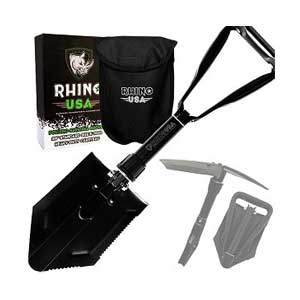 This model from Rhino USA is made of high alloy steel material reinforced to resist rust, which is how it can be used anywhere. While it folds into a neat compact piece that fits easily in its carrying bag, it can also be unfolded into three sizes: 24.8inch, 18.5inch, and 13.38inch. The board is 0.18cm thick to endure tough conditions, and the sides of the board are serrated to chop things on the side for a neat job.
This is a multi-functional tool that you can use for digging, prying, sawing, chopping, and cutting as well as picking. That makes it ideal for bringing with you on your fishing escapades, hiking, camping, and any other outdoor adventure. The fact that it can be taken apart into pieces that are easy to carry in the bag that the maker provides makes the Rhyno an even more worthy investment.
Speaking of multi-purpose natures, the head doubles up as a bottle opener. The board, being made of alloy, is tough enough to act as a hammer during an emergency. The head's curved nature allows it to be used as a hoe while the pick does some lifting and digging.
Though it can be a little flimsy at times, the Rhyno USA product is small, lightweight, multifunctional, and easy to use, so if you want something on a budget, this is the one for you.
Pros
Built in the USA
Small and lightweight
Cheap
8. Iunio 38″ Portable Folding Shovel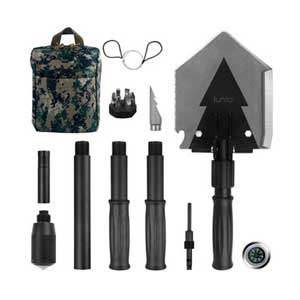 The Iunio Portable is so much more than just a regular too, though! It features tools that you couldn't even imagine being put on a shovel: Board, Hexagonal Wrench, Saw, Bottle Opener, Nail Extractor, Hoe, Pickax, Fish Scaler Tool, Emergency Whistle, Fire Bar, Ice Ax, Flashlight, Wire Saw, Compass, Safety Hammer, Screwdriver.
This Iunio is reinforced with extra thickness on the board and is strong enough to endure the toughest conditions. Its head and extension bars are high-carbon steel, which is high-strength and wear-resistant. The grip on the handle is made of rubber, ideal for maximizing control. It has passed the durability and destruction test.
The Iunio folds into a high-quality and super compact tactical waist pack that fits your belt. This folding model is assembled with practicability, functionality, and security. The Iunio Portable is a must-have emergency tool for every car, truck, snowmobile, ATV, or UTV! It is backed with a Lifetime Warranty!
Pros
Lifetime warranty
Lightweight
Strong head
Lots of accessories
Cons
A bit expensive for what it is
QA issues
9. Sahara Sailor Tactical Folding Shovel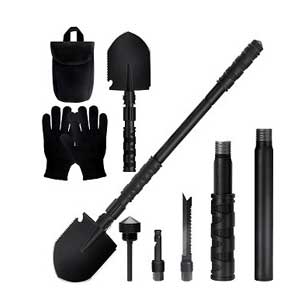 Are you looking for a decent shovel for your next camping trip? Look no further than the Sahara Sailor. This durable product is made with military-grade solid carbon steel and aerospace-grade anodized aluminum tubes, making it sturdy enough to handle any survival or camping digging situation.
The multi-functional tool includes 12 other options and tools, such as a hoe, saws, bottle opener, cleaver, whistle, knife, fish scaler, emergency hammer, flat-blade screwdriver, and a 4-size wrench. The Sahara Sailor can be folded and expanded by twisting the lock for secure storage and carrying.
A durable storage bag is included with the package. The Sahara shovel is perfect for camping, hiking, gardening, backpacking, hunting, traveling, expedition, or even emergency outdoor survival. A lifetime warranty with 100% satisfaction and zero hassle returns is guaranteed.
Pros
Excellent price
Great for camping and emergency use
Small enough for vehicle use
Lifetime warranty
Cons
A bit heavy for the size
Not the best handle
10. Amoolo Small Folding Camping Shovel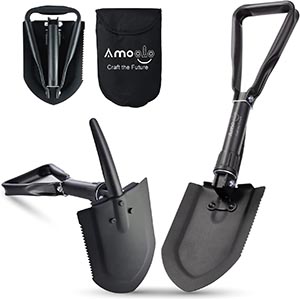 The Amoolo folding shovel is a versatile and handy tool perfect for various outdoor activities. Made of high-carbon steel, the Amoolo shovel is durable and rust-resistant, while the heat-treated blades are 0.06″ thick for added strength.
The triangular large handle is designed to reduce weight, hand fatigue, and wrist strain, and the shovel can be easily folded into a straight or 90° angle position.
A must-have camping accessory, the Amoolo Shovel comes with a heavy-duty nylon case with a loop backside and padding inside for easy attachment to your belt or backpack.
Pros
Very reasonably priced
Lightweight but durable
Fully foldable
Usable carry case
Cons
Build quality can be subpar
How To Choose A Survival Shovel?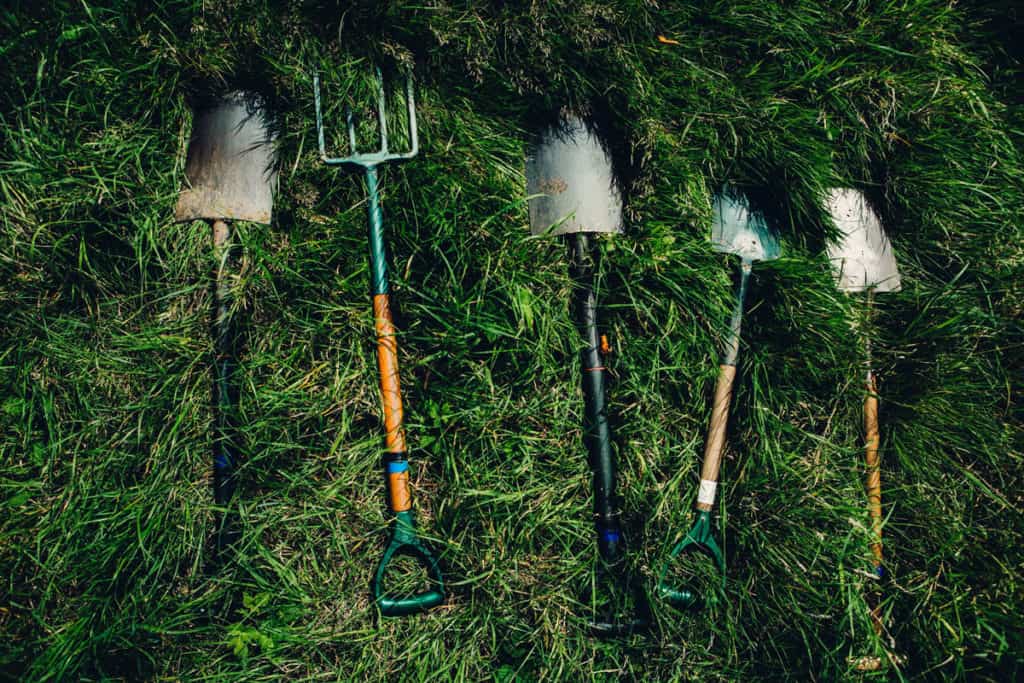 Before we look at what the ten survival shovels look like and overview their features, here's how you can decide which of those features you need and how to choose the best folding spade for your needs.
Types Of Use
But for some jobs, nothing can replace a good shovel, and they still play a significant role in:
Military regimens
Small projects in mining and construction
Emergency rescue (i.e., firefighters, EMTs, and SWAT teams)
Backyard gardening and landscaping
Camping
The basic design is simple. There's nothing fancy about it. It's made up of a thin, flat, sturdy spade-shaped hard material with a handle attached. It's simple, but it's effective.
But the shovel has come-a-long way throughout human history. They are specifically designed for specific jobs. For example, there are tools made specifically for avalanche rescue. There are military ones for digging foxholes and trenches for battle. Some are ideal for digging deep narrow holes, while others are for planting gardens. In recent years, the survival community began developing survival shovels.
The bottom line is there's a type for almost any circumstance. And while any is better than none, as you'll soon see, not all shovels are created equal. Today, grabbing "any old digger" for survival is a terrible idea. The standard backyard one is too long, heavy, and bulky to take with you, especially on foot. These run-of-the-mill tools won't fit inside your bug-out bag and will slow you down. Yes, a regular shovel will fit in most cars or trucks, but it will take up valuable space. And as you'll soon find out, they can't hold a candle to modern-day tactical folding masterpieces.
Head
When shopping for the best survival shovel for your needs, pay attention to the material the head is made of. You're looking for something extra durable, like reinforced nylon or heat-treated stainless steel (such as the one used for the Soviet-style military tactical shovel). If the head is made of metal, it's heavier and easier to be used for entrenching, but it will need sharpening from time to time, whereas the nylon-based ones won't.
Also, the edges of the head can have different features. A serrated edge has all-around usefulness, so you should look for this regardless of your specific needs.
Handle
A sturdy wooden handle can carry the weight needed to help you operate the shovel more effectively. However, a folding handle means you get a portable tool that can come in handy when packing light. Usually, folding models compensate for the extra weight they sometimes carry through increased sharpness.
Size And Portability
Usually, a standard backpacking shovel is around 16 inches long. They are all meant to be portable, so regardless of whether they are compact and folding, you can carry them on your belt with a pouch and a loop, protected by a sheath. All models featured on our list qualify for this kind of portability.
Weight
A reliable tactical tool shouldn't be too heavy since the whole point of having a good portable shovel is to carry it around easily. A standard weight to expect from such a tool is between 6 and 8 ounces.
Extra Tools
As mentioned above, some survival shovels come with a variety of extra tools incorporated. If you're looking for an all-around useful camping tool, then it would be worth looking into such a survival multi-tool. Bottle opener, fire starter… you name it. If you already carry these separate tools around (for instance, if you go adventuring with an off-road car), then maybe look for a tactical shovel which can be more useful for digging your wheels out when they're stuck in the ground or which can be used as an ice pick and so on.
Durability
All of the best survival shovels are built to last, but some (the ones made of stainless steel) should also be sharpened from time to time. Depending on how often you will need it and for what kind of jobs, the sharpening will need to be performed more or less often. The nylon-based tactical shovel won't need to be sharpened and may keep its edge better. All great brands guarantee a lifetime use of their products, so if you go for a model featured on the list above, durability won't be an issue.
Frequently Asked Questions
What Is a Survival Shovel?
A survival shovel is a tactical tool originating in military history, with a design that has proven its usefulness in various outdoor situations. It's great for camping, hiking, gardening, and other survival-related situations, and it can even come in handy for industrial purposes. Its edges are perfect for chopping roots while digging and trenching, setting up camp, for helping your car get out of a tight spot during off-road adventures, and so on.
Why Do I Need One?
If you like adventuring in the great outdoors, a reliable camping shovel is the best tool you can have on hand. It's relatively small and easy to carry around (compared to a regular one) but sturdy and helpful in various situations you will encounter while hiking, camping, climbing, etc.
It will help you set up camp, dig a fire hole or a sanitation hole, help move your car or tent, chop through cumbersome vegetation, do minor repairs on your equipment, fight wild animals, and so on. A few other tools areas needed during outdoor adventures, to take a look at your top of the best survival shovels above and pick the best one for your needs. You'll thank us later.
Final Words
The best product for you can't be easily determined, let me tell you. Each shovel here is good enough to be put into your bug-out bag and be used as a proper multi-functional tool, but each model here is very different too. They have different materials, some use high carbon steel, while others use stainless steel. But at the end of the day, no matter which one you like and finally decide to get, they will be excellent companions, no matter in what situation you may fall.