Whether you are commuting to work, going on a trip, or trapped in an emergency, a watch is something you can put on and forget about until you need it. And yes, some of its features are a little bit redundant now that everyone has a smartphone, but we aren't talking about ordinary models.
I'm talking about some of the best watches on the market, with high-end materials like sapphire crystal and stainless steel and irreplaceable features like water resistance, a compass, a triple sensor, or tritium gas tubes. Unlike your smartphone, these tactical watches are either digital or use analog quartz movement, so they will go for weeks or even months without stopping, and they will always be there for you.
1. SUUNTO Core All Black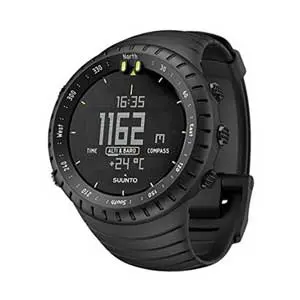 Suunto is a Finnish company that produces high-quality sports, dive, computer watches, and military-grade compasses. The brand name is a derivative of the Finnish word "Suunto," which means direction or bearing. Their name and logo fit perfectly with their identity and history as a company since they have made military-issue compasses for the Finnish, Swiss, and a host of NATO military units.
The Suunto Core is an all-around outdoor model with many useful features. This all-black beauty is encased in a tough composite material with an aluminum bezel. The Suunto Core has a black digital dial that can display barometer, altimeter, and compass information. To put the cherry on this impressive delicacy, it can even display weather information as well as alert of you coming storms.
Suffice it to say, this watch model is as useful as good-looking, and if you aren't very concerned about price, this is one of the best choices.
2. NIXON Regulus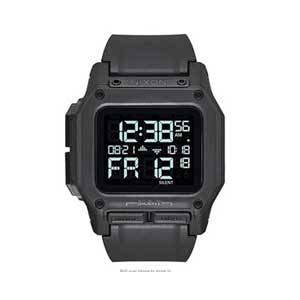 The Nixon Regulus is a high-tech and element-proof, all-black 46mm "Basic Operation" watch. It is ultra-durable and designed with input from US Special Operations personnel. The Nixon model has extreme 100m water resistance, dual chronographs, and an oversized LED backlight display. Top that with the fact that it can last five years and shock-absorbent materials, and you have one very feature-rich tool.
What makes this Nixon model special, though? Well, it's a military-spec product made for covert missions, so it has a silent mode and alarms that only you can hear. If you want to be stealthy during a hunt, for example, the Nixon Regulus is made for you.
Suffice it to say, if you are interested in something that has a minimalistic but also functional design, and has some nice stealth features, choose this watch, and you won't regret it.
3. Citizen AT0200-05E Chronograph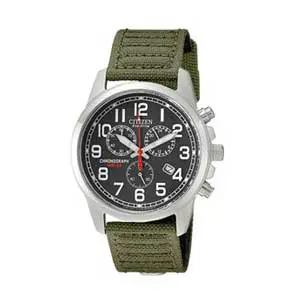 This stylish Citizen is ideal for your active lifestyle. The Eco-Drive Corso never needs a battery, and it's extremely durable with a stainless steel case and a Green canvas strap with adjustable buckle closure. Its face features a three-hand analog display with quartz movement, three sub-dials, and a date display window. Regarding features, it has a chronograph functionality, hour markers, and a minute track. The Eco-Drive is Water resistant to 10 ATM/100 meters.
Another great thing is that Citizen offers a five-year limited manufacturer's warranty on all their products. Suffice it to say, with great features like a stainless steel corpus and a quartz movement, this is definitely one heck of a watch. But be wary, though it has a huge level of water resistance, it's not a dive model, and it probably won't last that long.
4. SureFire 2211 WristLight Series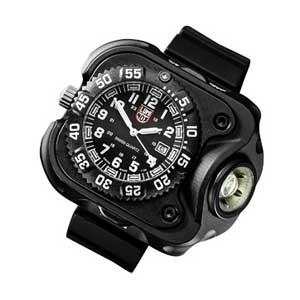 Everything about the Surefire brand is tactical, down to its name. The brand was founded in 1979 and soon started producing laser sights for handguns and shotguns. Today, their line of products includes tactical flashlights that can be attached to handguns and other firearms, wristwatches, suppressors, headlamps, high-capacity magazines, and, oddly enough, phone cases.
Since SureFire is not a watch manufacturer, they partnered with Luminox to produce the SureFire 2211 Luminox. It's a wrist-mounted flashlight with an analog mechanism. The flashlight incorporates a high-output LED emits 300 lumens of high-intensity white light. It's perfect for close-quarters combat situations or searches and rescues. You can also dial it down to 60 or 15 lumens.
The watch is encased in a square casing that also houses the flashlight. It features a round bezel, a black dial, and large luminescent hands and numerals. For a lightweight and practical choice, this may be the best-built one on the list.
5. Casio G-Shock Rangeman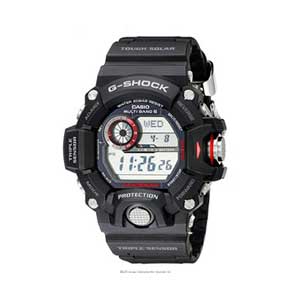 Casio is one of the most recognizable multinational companies from Japan. In the 1980s, Casio became a giant in the watch industry with its line of affordable electronic timepieces. In 1983, they introduced G-Shock to the world. G-Shock is short for Gravitational Shock, a name chosen to show how tough these G-Shock models are.
The Rangeman Tactical from G-Shock is a radio clock that receives atomic clock radio time signals from radio towers in the UK, US, Germany, China, and Japan. It features a compass, temperature and depth sensors, and solar panels. The case and buttons protect the timepiece from impact shocks and keep mud and dust out. It also works well as a diver's watch since it is rated for 200 meters of water resistance.
For the price, the features and quality that it offers make it truly deserve a spot on the list of the best tactical watches.
6. Timex Expedition Grid Shock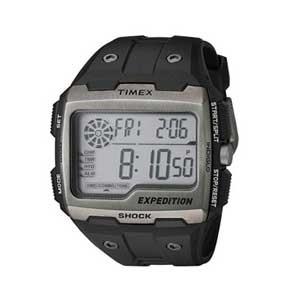 Inspired by the much-loved in the survival community WS4 design, the new Grid Shock is ready for anything. It's got vibrating alarms and timers and an Indiglo night light for after dark. The hardened resin case with stainless steel top ring is officially shock-resistant and water-resistant to 100 meters.
It has an Adjustable black 16mm resin strap that fits up to 8-inch wrist circumference so it can go on your wrist snugly. It also has many aces regarding time-related features, including a 100-hour chronograph, 24-hour countdown timer, three vibrating and audible daily, weekday, or weekend alarms, and a chronometer. It also has solid shock resistance.
But that isn't even the end, though, because it has some fewer uses but still interesting survival features, like a 24-hour military time mode, three-time zones, Occasion reminders, a Hydration timer, and a month, day, and date calendar.
Suffice it to say, with a bright digital display with an indigo light, resin case with a stainless steel ring, many great features like timers and calendars, and this watch is one of the best not only on the list but on the market, too.
7. Garmin Foretrex 701 Ballistic Edition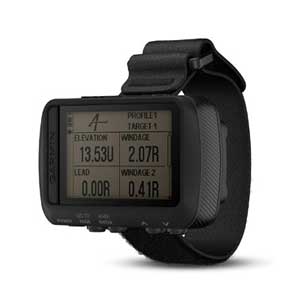 Navigate the world hands-free with the durable Foretrex 701 Ballistic Edition wrist-mounted GPS navigator for outdoor and tactical use. Constructed to military standards for thermal, shock, and vibration (MIL-STD-810G standard), Foretrex 701 includes Applied Ballistics Elite software to calculate aiming solutions for long-range shooting.
Keep your bearings nearly anywhere with GPS, GLONASS, and Galileo satellite systems, which provide accurate positioning. Includes a built-in 3-axis accelerometer, 3-axis compass, and a barometric altimeter so you can get your heading even when standing still. Explore longer -battery life in navigation mode exceeds 48 hours and lasts up to 1 week in UltraTrac mode.
Stay connected with smart notifications -such as texts, emails, and alerts -that appear right on your wrist. Other connected features include automatic uploads to the Garmin Connect online fitness community.
This watch is truly durable, and it can even be seen with night goggles on, so that's a bonus. With a long battery, accurate navigation, and a nice design, we have an excellent watch on our hands.
8. Garmin Tactix Charlie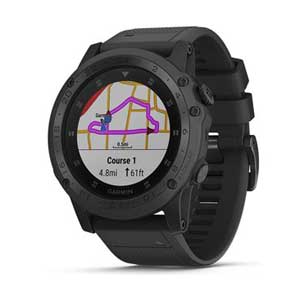 Garmin comes back on this list – this time, with the Garmin Tactix Charlie. The Tactix Charlie has a 1.2-inch diameter display with a 240 x 240 resolution. It also comes with a 16 GB memory, a heart sensor, and a gyroscope – all not found in the Bravo.
Training and gym features are also much more elaborated with Charlie. There are also outdoor features and cycling features added. Charlie has an overall shorter battery life when compared to the Bravo because of the added features. It still comes with GPS navigation, path tracking, and Traceback – the feature that guides you on the same path back to your starting point. Overall, it's a great entry on this list of awesome tactical watches, and Garmin has yet to disappoint.
9. Casio G-Shock 200M WR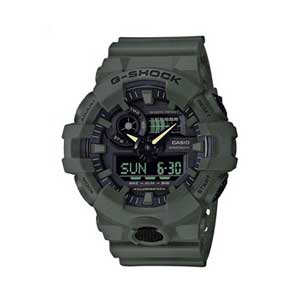 Another classic example of Casio's famous G-Shock series is the XL 200M WR model. As the 200M in the model name suggests, this Casio is rated for up to 200m water resistance, making it as close to a proper diver watch as possible.
The Casio timepiece comes with a super illuminator LED light for unexpected dark conditions and hard-to-see scenarios. The LED light is supposed to help you see in the dark up to 3m ahead.
It has a World Time function covering 31 times zones, daylight saving on/off switch, and a home city swapping function, helping you keep track of time abroad.
The plastic band is a great fit for wet conditions, and the G-Shock branding ensures the watch will survive in the hardest conditions known to men.
10. Timex Full-Size Ironman Endure 30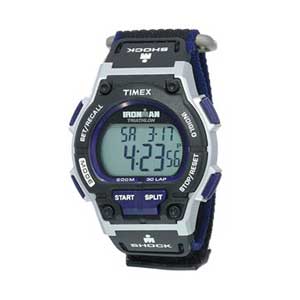 A throwback to the original 1986 Ironman watch, this time, the Timex is even more durable and functional than ever, with a stainless steel corpus and all the watch features built-in. It has a very adjustable black nylon leash that not only looks sleek but is also strong and long-lasting. The 100-hour chronograph has a 30-lap memory, but the features don't end here. There is also a 24-hour countdown timer, and the Ironman is shock resistant.
There is a calendar, several different alarms, and all that is contained in a black and silver resin case with an acrylic lens, under which there is an easy-to-see digital display with an Indiglo light-up dial. The watch is amazingly water-resistant, and overall you get a pretty amazing package with this product. So if you have a very active lifestyle, what are you waiting for, go ahead and grab it.
What to look for?
The point here is that the best field watches focus more on functionality and durability. To claim your money's worth, it is only fair to purchase one of the field watches available. To help you with your decision-making, there are a few considerations when you're in search of the perfect tactical watch.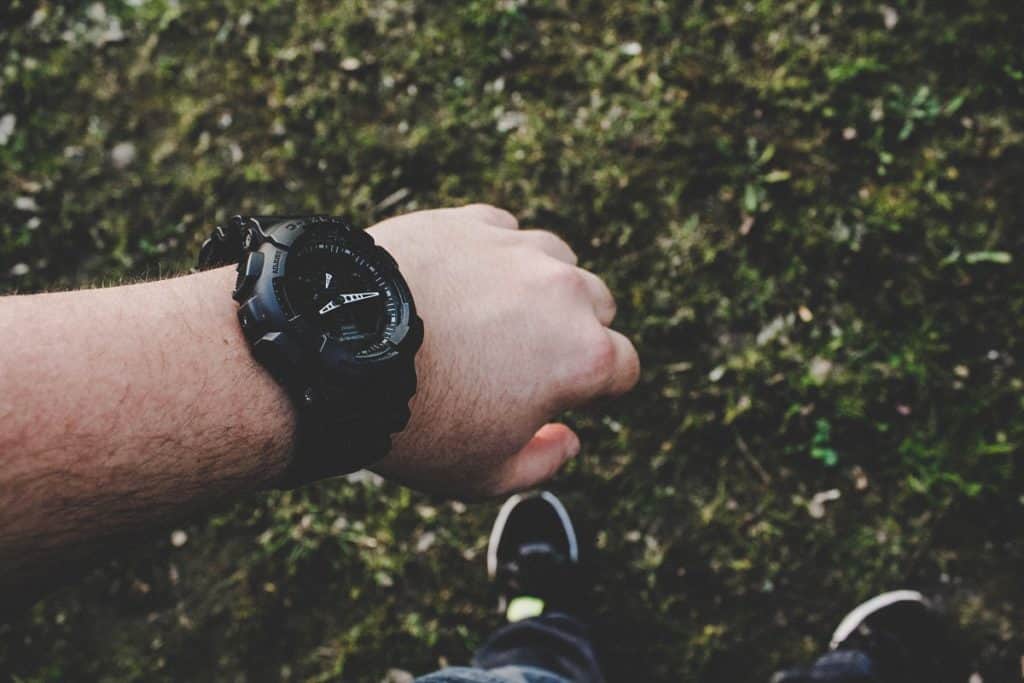 Is it worth considering military models?
It is a necessity for the best field watches to be resistant to elements and tremors. This means they have both shock reliance and they are water-resistant AND scratch resistant. You need to ensure that your watch not only lasts a long time but also performs remarkably as if it is fresh from the box.
Are there different types of watches for tactical use?
As you might expect, there is a variety to be found when comparing one tactical model to the next. However, for the sake of simplicity, the tactical watch category is frequently broken down into three types:
Heavy Duty: These are the hefty (commonly digital) behemoths that pack in as much functionality as you can imagine. Think of the Casio G-Shock as a starter point and work from there.
Tactical Field: Minimalist by design. Field models are typically distinguished by their slim bodies and highly legible dials. What they lack in broad utility, they make up for in durability and accessibility. These are truly some tough tactical watches for men.
Pilot models: Modelled after aircraft gauges, pilot timepieces usually feature large, readable dials and high resistance to atmospheric pressure. Great for jumping out of airplanes, Operation Dumbo Drop style.
Should you go for digital vs. analog?
While each comes with a set of its own pros and cons, it's up to you to decide what type of descriptive features you'd like your dial to display.
On an analog watch, the time and information are represented by hands that move around the dial and point to the numerals or markers that represent the data you're after. A digital one, on the other hand, displays numbers or digits on an LCD or LED screen.
Digital watches are usually always quartz-powered, which makes them extremely accurate. Analog watches can be quartz-powered or mechanical. Your decision will come down to accuracy, presentation, and what type of dial display is easier for you to read at a glance.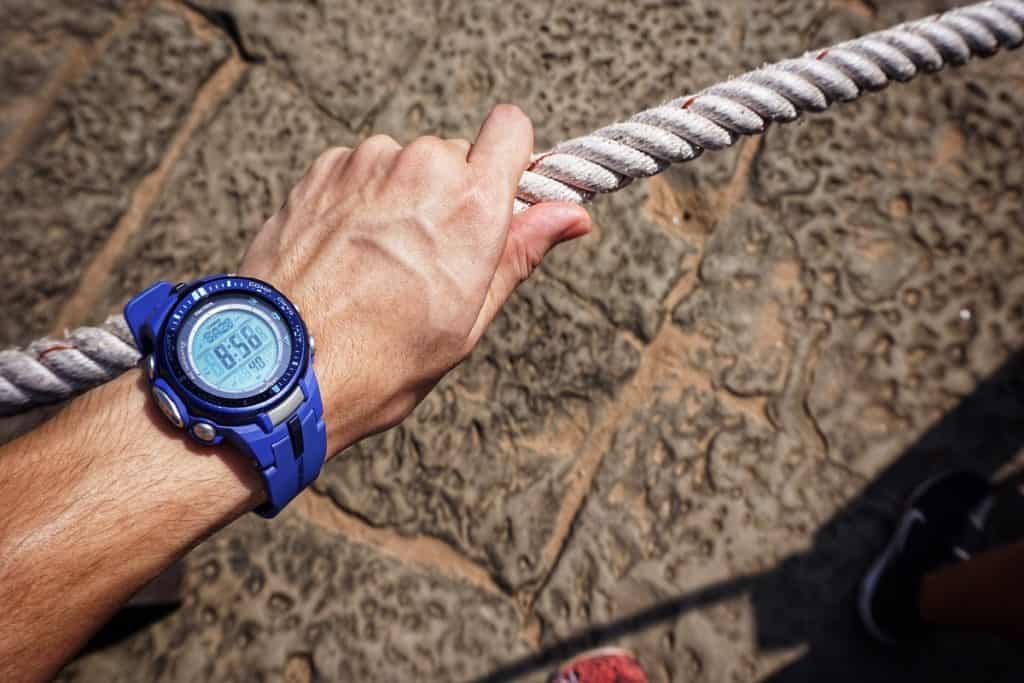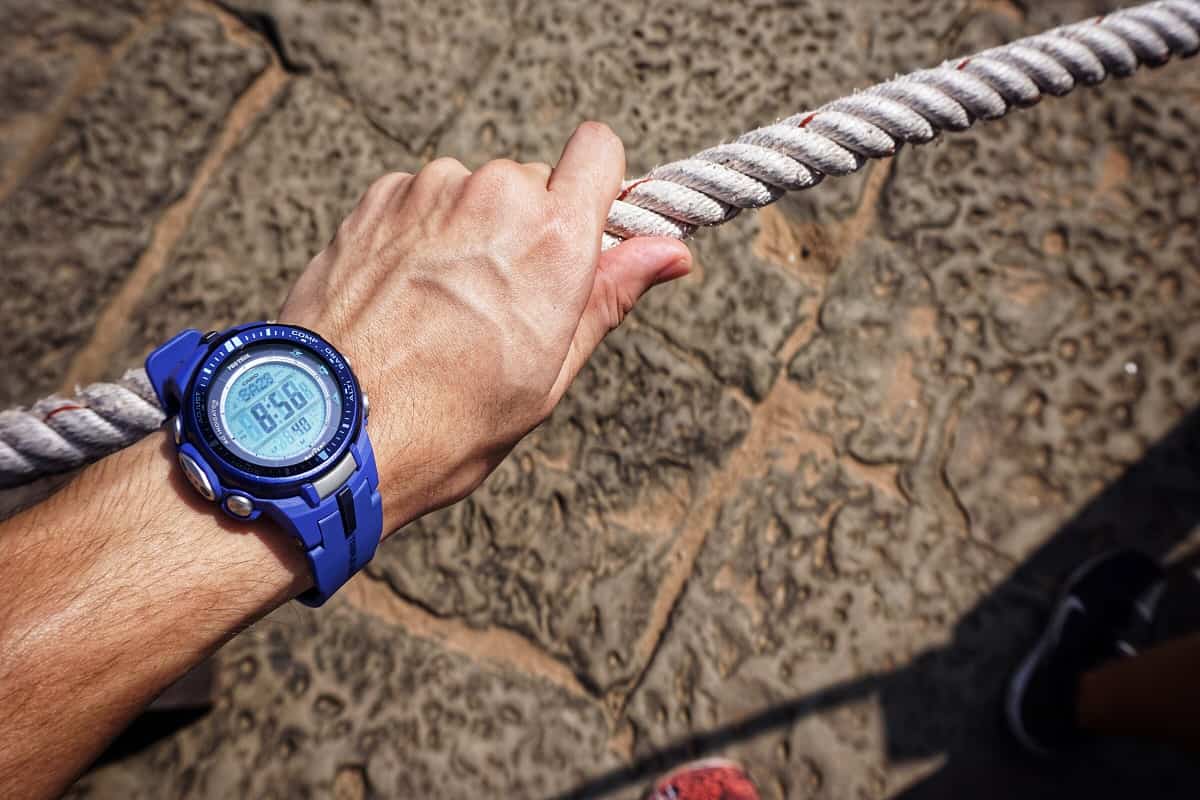 What is the best power source?
When deciding which power source is right for you, there are two important factors you need to consider, namely – accuracy and longevity. These factors are derived from the two watch movement types: mechanical and quartz.
Mechanical power sources rely on mechanical parts, like gears and springs, to function and can be divided into two types of movements; automatic and manual. Mechanical wristwatches are mostly appreciated by collectors and timepiece connoisseurs. They are regarded as luxury products delivered with a high level of craftsmanship.
A tactical watch with quartz movement is typically more accurate. These devices are powered by batteries, which need to be placed anywhere from 1-5 years. It's not uncommon for a tactical quartz mechanism to come with a solar-powered battery. Quartz watches are generally more affordable than their mechanical counterparts.
Reliability
Whether quartz-powered or automatic, a tactical watch needs to work. If you look down your wrist and your battery is dead, or that sweep seconds hand is no longer sweeping, the model is useless because even if you try to, you won't be able to read anything.
How to choose a strap?
In addition to looking for a watch with a tough, solid construction, we must look for a band that resists hits and scratches. Many people opt for silicone straps (or other plastic components) because they are comfortable to wear and offer great durability. Try to avoid metal or leather straps because, although they may have an elegant design, they are not scratch-resistant.
Stealth
While a tactical watch doesn't need to be PVD-coated or feature a matte finish, any minimization of reflection is a good thing, at least in a military environment. This is why some militaries require their soldiers to cover their timepieces.
Legibility
A watch that can't be easily read, whether analog or digital, provides little utility to the user.
Shock Resistance
Will the timepiece withstand impacts and/or vibrations? If you suddenly hit your watch on something, will it remain intact, or will it be broken to pieces?
Given the lifestyle that is associated with tactical use, you would want a product that will be able to survive sudden hits or falls. Again, the material used is another important factor in this.
How important is water resistance?
Not all tactical watches are the same when it comes to water resistance. Some are resistant for only 30 meters, others for 50. There are even a few that you can take to scuba diving as they are resistant to 200 meters, but you probably won't be diving 200 meters on a casual basis.
Before taking your timepiece to the water, remember the specifications of the model to make sure that it will still function when you get out of the water.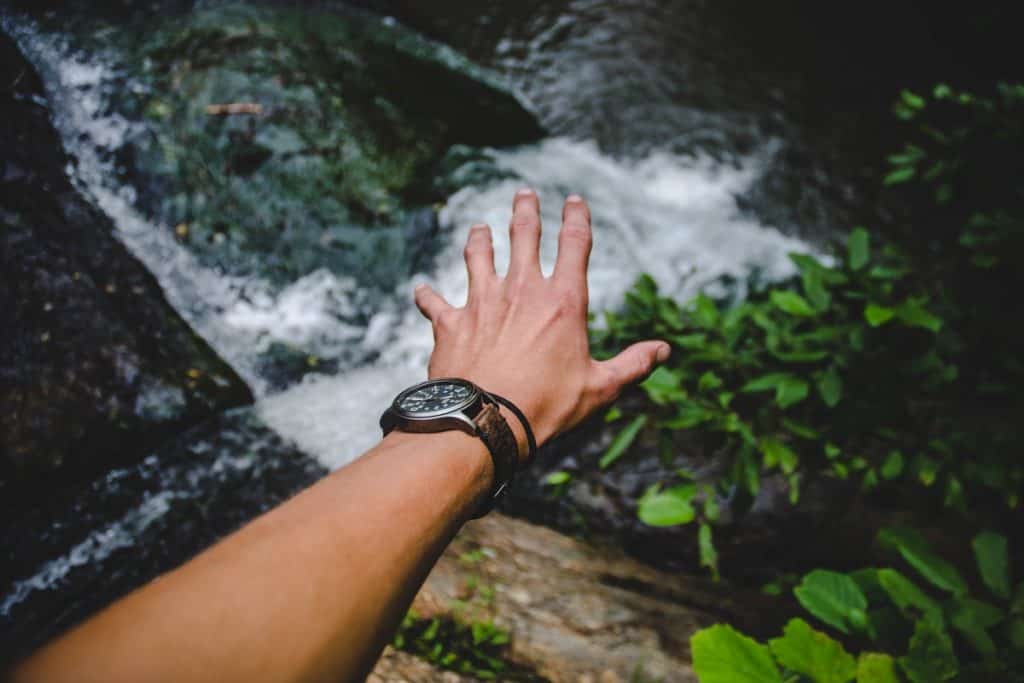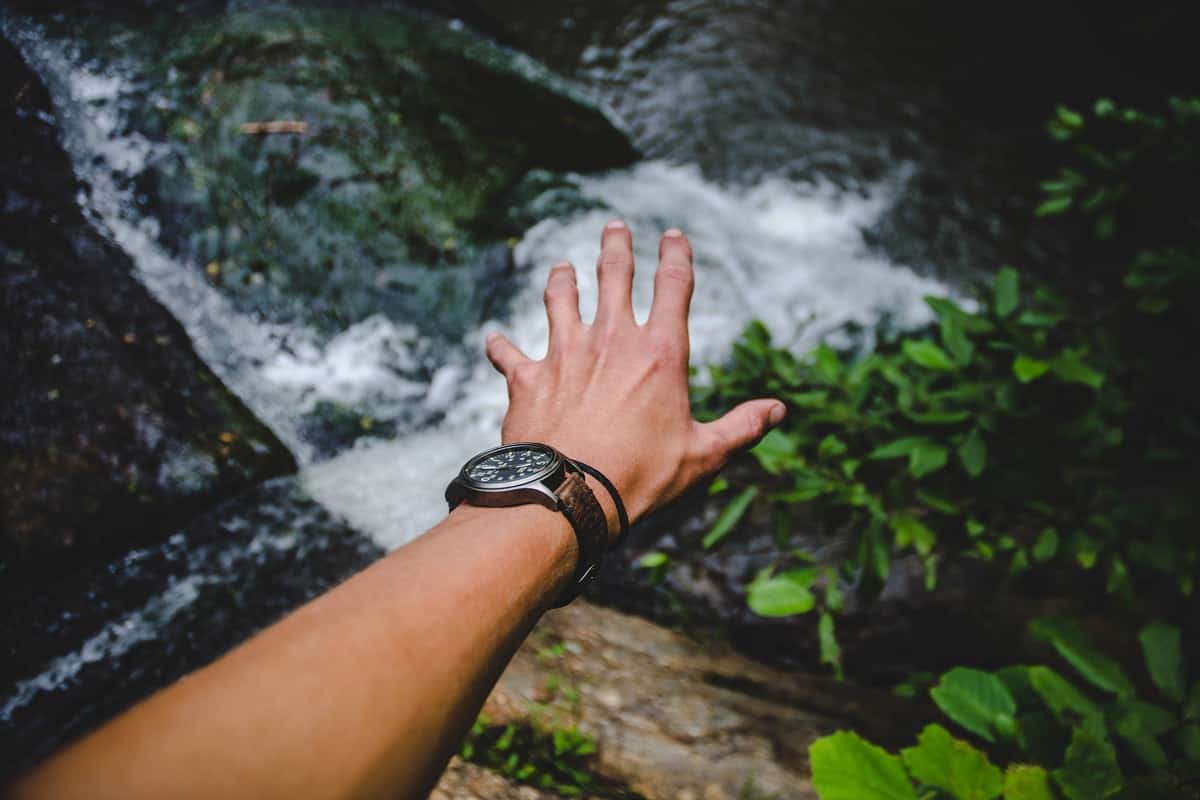 Dark & Non-Reflective Surfaces
Besides its "anti-bling" appeal, dark and non-reflective surfaces offer the benefit of better concealing your position in the field. It not only minimizes the risk of the sun or a flashlight glinting off your watch and compromising your location, but it also helps against drawing unwanted attention compared to a flashy timepiece.
Night Vision
This specific feature is required when you go hiking or hunting, and that proper military watches simply need, especially if there's a search and rescue operation. You can also use the function when you visit an area with little light, but you still need to keep track of time.
What is the best scratch-resistant face material?
Scratches can be difficult to avoid when exposed to harsh conditions. If you do want to keep your timepiece free from permanent marks and scratches, then you might want to pay attention to the type of protective glass that's used in each design and how durable it is.
You can decide the types of glass into three distinctive categories:
Acrylic glass
This type of watch glass is not glass but a type of plastic. It's cheaper than the other types, and it's easy to replace. Acrylic does, however, scratch very easily, although most scratches can be buffed out with little effort.
Mineral Crystal glass
Slightly costlier than acrylic, mineral crystal glass looks better than the former and is more resistant to scratches. If this glass type does scratch, the marks might not buff out as easily, and you might have to replace the glass altogether.
Sapphire Crystal glass
The most expensive of the three, sapphire crystal, has the highest level of scratch resistance and is the most aesthetically pleasing. These attributes do come at a cost, however, and although the glass doesn't scratch easily, it is prone to shattering without much force.
Design
A military watch should have a robust design and be in a dark discrete color that won't draw too much attention – a crucial characteristic for timepieces used by military personnel, hunters, and other tactical outdoorsmen. All models in this review feature a rugged design and come in dark colors such as black, dark grey, and camouflage green.
Battery Life
Most models without GPS can run for at least one year without replacing the battery (some are equipped with solar rechargeable batteries). GPS models have a much shorter battery life, but on the other hand, they also offer more features. All the GPS pieces included in this review are equipped with powerful rechargeable lithium-ion batteries.
Tactical/Military Features
In addition to the standard features such as time, day, and date, a military watch should also have more advanced features, like a compass, altimeter, and barometer. Compass and altimeter are useful for navigation, while the barometer provides atmospheric pressure data, which can be used to forecast the weather. Additionally, some military watches are equipped with storm alarms, sunrise/sunset times, moon calendars, and other advanced tactical/military features such as automatic shot detection.
GPS
Watches that support GPS allow you to instantly get the coordinates of your current location in various formats (including the MGRS format, which is normally used in armed forces). Furthermore, they can also be used for navigation along pre-planned routes and waypoints.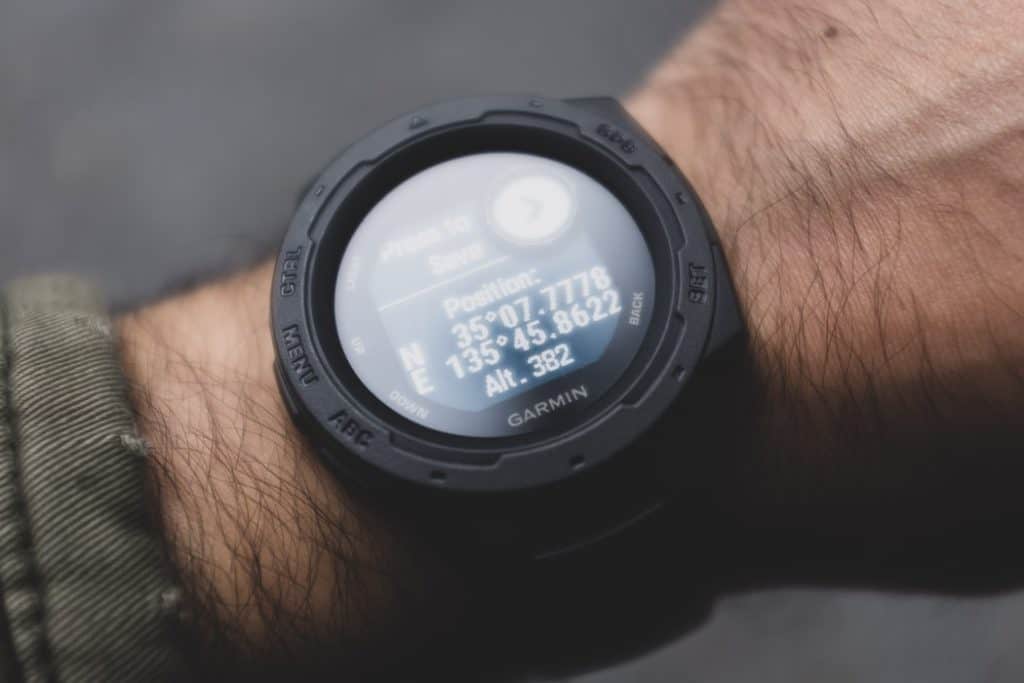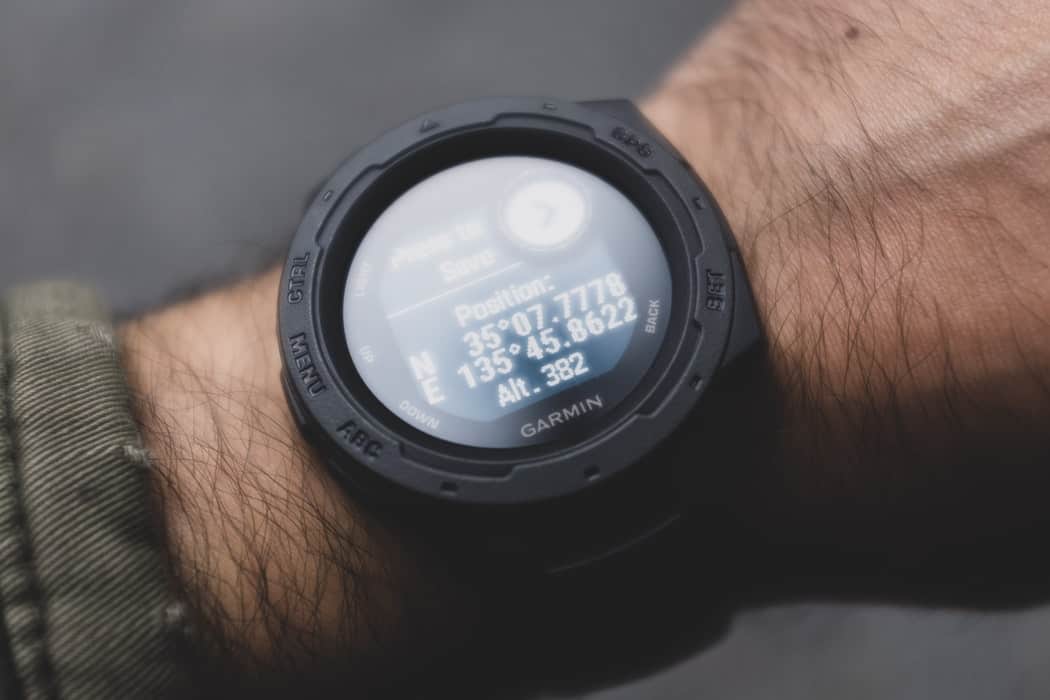 Additional features
Sometimes, one of the factors that push us to search and buy a new gadget is because we need it for a specific purpose or an upcoming event. Military models are known to be jam-packed with various features. And this fact is the reason why many people admire these timepieces.
Frequently Asked Questions
What Is Tactical Watch?
A tactical watch has distinct features that make it different from typical models and suitable for tactical operations. Although classic models were primarily used by the military, today, many brands try to revive these timepieces and market them to civilians.
Tactical watches are meant to withstand extreme conditions, moisture, dust, and impact. They are usually made of durable material and have a simple yet rugged style.
On top of their high durability, they also have incredible features designed to help the military in the field, like navigation systems, altimeters, barometers, and luminous digits and hands.
Overall, military and tactical models are one of the most highly sought-after timepieces on the market because of their wide range of features and use cases.
While most classical military timepieces were analog ones, today, you can choose between remakes of those and highly advanced digital or smartwatch versions that come with any feature you can imagine.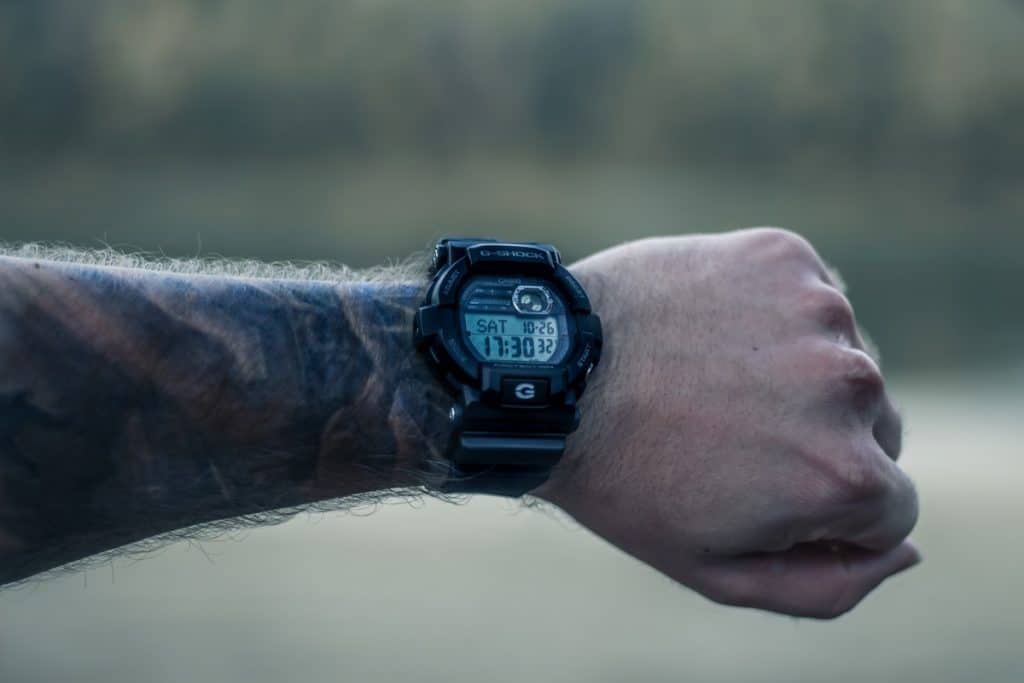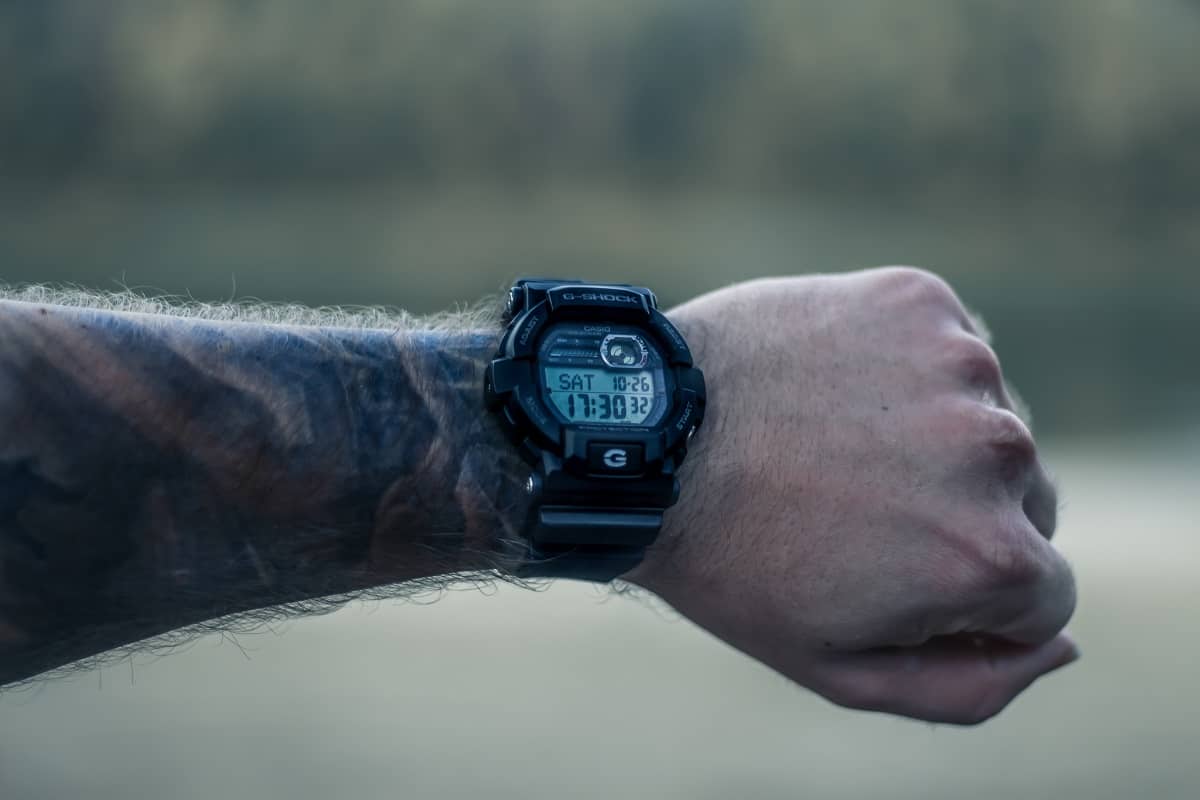 What Watches Do The Military Use?
Today, the military uses the Marathon Navigator (Swiss-made and one issued by the government) and Casio G-Shock because of the high level of accuracy and durability they have. These models passed the Military standards overall.
Back in the day, Military men were issued timepieces meant to use in the field with basic functions, but it's not designed to last. In 1999, the MIL-W-46374 [R], considered the stricter official specification for military use, was issued for the service men. These watches should have a high level of accuracy; water resistance must be shockproof and survive the harshest conditions.
The government still issues military timepieces to military men and women, but they are allowed to provide their watch as long as it passes the US Military standards for these timepieces.
How To Change A Watch From Military To Standard Time?
To change a watch from Military time to Standard time, here's what you need to do. There are two ways to change it from military time to standard time.
First, with the dial facing you, you must press the "Adjust" button on the top left side. You should see a flashing of the time setting. You can then press the lower right side button once, which changes the 24-hour format to 12-hour AM, PM setting. Set the time manually, then press the "Adjust" button.
The second way is for you to advance the hours. You can do this by going through the 24-hour cycle and then back to AM and PM and so on. Hit the "Mode" thrice until the TUES blinks, as well as the seconds. Press the "Reset" button until you see the hours blinking. It then changes from 24-hour mode to 12-hour mode (AM, PM). Keep on advancing the hours until you get the correct time.
Every watch is different, though, and you might want to consider reading the manufacturer's manual on how to set the time back to the civilian time setting from the military time format.
Why Do Military Wear Watches Backwards?
Military wear watches backward due to reasons that might surprise you. One reason the military wear their wristwatches backward is that it will allow them to check time conveniently while aiming at a target, which happens most often when they're in the field.
Another reason is that soldiers should be discreet and avoid being seen or heard at all costs. Recognizing that most military watches have luminous digits and shiny casings that may reflect light, wearing their watches backward seems logical to prevent unwanted attention from potential enemies.
Third, it also protects the watch itself from getting damaged.
Final Words
Finding the best tactical field watch isn't as easy as it seemed initially, does it? With all of those different built-in features, some being more light than others, some having water resistance while some don't. All of those different factors help to make a good tactical watch.
But at the end of the day, you should choose a light, multifunctional, durable, and long-lasting piece of tech, no matter the brand. And of course, you need to like the design, so you can wear it with you every day without worrying about it looking stupid. Because even if you buy the best and most expensive watch on the list, or ever built if you don't like it, you won't wear it every day, and you won't have it with you when you need it.
To sum up, I like the watch for what it is, not for what the specs and reviews say, at the end of the day, it's just a watch with some extra bells and whistles, not a life-dependent resource.