In today's modern world, it feels like disaster could be looming around any corner. It could be that you have to evacuate your home due to flooding or if a storm rips through your hometown. Whatever happens, there is always the chance you get stranded and need to survive for a few days before help comes. If you want to keep yourself and those you hold dear safe in these kinds of situations, getting a high-quality survival backpack is essential.
Survival bags are also known as bug-out bags, and when choosing one, you should look for one that is ergonomic and tough. You want to be able to hold all of the supplies you need to last at least 72 hours without access to food, water, and shelter.
Here we will dive into some of the best survival backpacks available on the market and discover some of the assets and disadvantages of each tend for heavy-duty use in survival situations. The stitching is probably some of the best I have ever encountered, and I know that it will stand up well as an assault pack going through the wringer during use.
1. 5.11 Tactical Rush 72 Backpack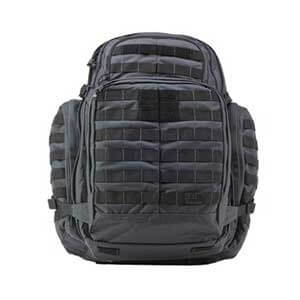 Voted at the top of the list is the 5.11 Tactical Rush72. It's completely water-resistant because of the PUx2 coating and has been built out of 1050D nylon. The 5.11 is one of the most durable brands on the market and is meant for 72-hour use in rugged terrain.
There are so many pockets with the 5.11 Tactical Rush72, more than enough to carry all the gear you need for a three-day survival stretch. Not all 72-hour backpacks make good on their claim to be the right size for everything you need for the amount of time, but this one truly does.
The main compartment of the bag has Molle webbing that allows the pack to expand, meaning you can add in even more gear. This makes it the perfect choice if you want a hiking backpack with enough supplies to last more than three days.
You can use the 5.11 in any weather you encounter because it is versatile for any situation. The lack of water bottle storage didn't bother me as it was easy enough to store your water within the bag itself.
However, there are, of course, a few cons because no bag is perfect. It's a product that is more on the expensive side, but if you want reliable storage for an emergency situation, then you want to invest in something of higher quality like this.
The hip belt and waist strap don't have any sort of vertical adjustments that other tactical packs may have. This wasn't a deal-breaker for me as it didn't affect the size of the things you could carry or the overall performance. Weighing in at 5 pounds, this pack isn't exactly light, but when you carry it, it isn't heavy enough to be uncomfortable.
Pros
Big enough to carry everything you need.
Comfortable
Adjustable straps for extended comfort regardless of your size
Reliable brand and customer service
2. Drakon Outdoors 40L Waterproof Dry Bag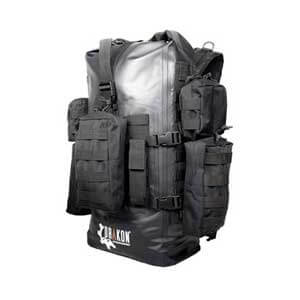 With any survival product, you will always be looking for something durable, with enough space for all of your survival gear and something robust enough for any kind of situation. The Drakon Outdoors 40L backpack comes from a brand that is known on a global scale for producing high-quality survival gear. This product is absolutely no exception to that rule.
This assault pack is sturdy but has the added advantage of being lightweight as well. You can use it for a survival situation or for general outdoor activities that you need gear for, like hunting, camping, and hiking. There's plenty of space in the main compartment that also has easy access so that you can get to them within a moment's notice. This is why I think this pack more than deserves its place on this list.
In addition to the large compartment within the Drakon Outdoors, there are also six more compartments on the outside. This means you don't even need to open the bag to dig through your possessions if you want something on hand at all times.
Overall I found the Drakon Outdoors to be very user-friendly, and they've also created it in a way that keeps all sorts of stress and strains off your back and shoulders using an internal frame and compression straps. In my opinion, I would prefer a longer hydration pocket or sleeves, but this was the only downside I could find.
Pros
Reliable brand
Reasonably priced
Sturdy build
Large pockets
Tough internal frame
Hydration pack
Cons
The hydration bag could be larger
3. Reebow Gear Military Backpack 34L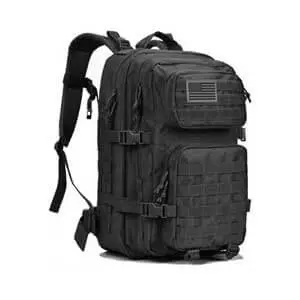 When you look at the Reebow Gear, you are looking at more than just a survival tool, but something with superior military quality added in. The total capacity is 34 liters, which is more than enough for what you will need to carry in most cases. There has been talking that it could be used as a three-day escape bag, but I don't think it can carry that much gear.
The Reebow Gear isn't the largest on this list, but when you open it, it is surprisingly spacious. It's been made to last with double-stitched seams and includes heavy-duty zippers, too. There isn't a water bottle with this product, but there is space to carry 2.5 liters of water so you can drink it on the go.
The waist belt, sternum strap, chest strap, and padded shoulder straps are all completely adjustable to customize where the weight will fall around your body. Because the Reebow is waterproof, it has the Molle webbing you would come to expect from a product meant for survival.
All in all, I would say it offers up a generous amount of storage for its smaller size and comes at a relatively reasonable price. The downside of this pack, I would say, is that the Molle strips are spaced apart quite awkwardly.
Pros
Very reasonably priced
Molle compatible
Heavy duty stitching and zippers
Large enough for 3 day's supply
Cons
No hydration pack/bladder
No waterproofing
4. Elite Survival Systems Stealth Backpack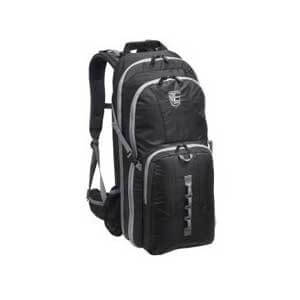 You can tell that the Elite Survival is a good product of how well it has been thought out, designed, and put together. It is one of the top products available today and is praised for its durability and affordable price tag.
The Elite Survival Systems has been made from 500D nylon, and the chest strap has the unique feature of having a built-in whistle as well. Both of the compression straps are comfortably padded, and the waist belt can be removed as well if you prefer to be without this when you carry your gear.
To each side of the tactical bag is a zippered pocket so you can easily access the essentials you need at a moment's notice. On top of the bag is a rubber handle that is easy to grip without problems and issues.
Along the bottom of the bag is a mesh holder for your water bottle, but the pack doesn't have a full hydration system because many people use this type of bag to carry firearms. The main use of this tactical bag is to hold a short-barrelled rifle discretely. Inside the main storage compartment are the Velcro loops that prove just that, with each loop customizable to fit your firearm perfectly.
The pack is around the same size as other three-day products, but you can tell from its size that it has been made to carry weapons more than regular gear.
However, all of the outside storage compartments still make it a good contender for the job at hand. In my opinion, a survivalist would enjoy a larger bag more than this offering, but it's easy to use and comfortable when traveling long distances. It could be a good backup or something for another family member to use during an SHTF situation.
Pros
Well put together
Decent padding all-around
Plenty of pockets
Gun and molle packs
Cons
A bit expensive
No hydration pack
5. 5.11 Tactical RUSH24 Military Backpack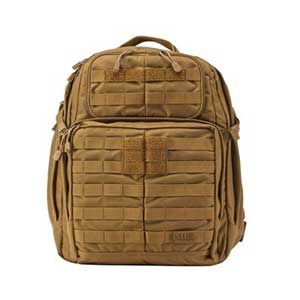 As you may have cleaned from its name, the 5.11 Rush 24 has been designed to hold everything you need for 24 hours. It's a popular model in the range because it's completely waterproof, offers up a lot of space, and is comfortable enough to wear to travel long distances.
It is smaller in cubic inches than many other products on this list but is still made from the standard 1050D nylon and coated with PUx2 to be water-repellent. Because of its construction, the 5.11 Rush 24 is lightweight but sturdy enough to use in tough situations.
I don't think you could damage this bag easily because it's clear that the stitching is of the highest quality to increase its durability. The storage compartments are probably some of the best you will find on a tactical backpack as well. I loved the addition of YKK zippers, which repair themselves, so a broken fastening won't be an issue with this product.
As far as storage availability, the 5.11 Rush 24 is only meant to hold enough gear to last a day, and for that reason, it does have plenty of space. The main compartment measures 20 x 12.5 x 8 inches and also has a 2070 cubic inches capacity.
Mesh pockets are always a big deal with backpacks, and in the main pocket, there are three, so you can store your smaller items easily without risking losing them. One of them has a pull cord, so I found it good for things like batteries and keys.
Towards the top of the bag, I used the pockets available for loose items I wanted to use regularly, like fire starters or loose change.
A bad back won't be an issue with this item because of all the padding around the pack that takes the pressure off. All of the straps are comfortable, including the waist belt, and I liked the addition of the compression straps, so when the bag isn't completely full, you can compress it. Some people have complained about there being almost too many pockets, but I say you can never have enough when it comes to survival.
Pros
New and improved design
Big enough for most people
Molle compatible
Elastic side pockets
Cons
Pretty expensive for what it is
No hydration bladder
6. Direct Action Dust Tactical 20l Capacity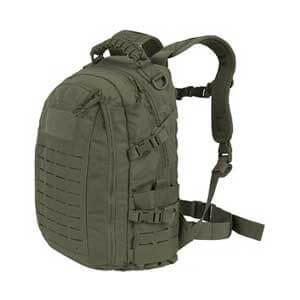 As soon as I saw the Direct Action Dust, I knew the military style would suit my needs the best. This product is a smaller version of the Dragon Egg from the same brand.
The entire bag has been made from 500D Cordova and has a waterproof coating as well, so you can use it in the rain without having to worry about your belongings getting wet. The weight is pretty reasonable for the size as well.
I liked that there are various color options for the Direct Action Dust. I know the style isn't exactly the focus point for these survival packs, but it's nice to have a choice. While it may look on the small side, I'm sure that this bag could get you through a day with all of the gear you need.
Inside the pack is where the magic of this product truly lies. Inside is webbing, which has been laser cut, so when you carry bulky gear, it won't snag and cuts down on the overall weight. It features the YKK zippers, which are almost invisible, and the hip belt buckle has a quick-release mechanism. The rear panel of the pack also has extra ventilation in case you need to haul wet clothing with you.
Both of the exterior pockets are zippered, and the back compartment of the bag is big enough to hold a hydration bladder if you feel one is necessary. Of course, there are zippered pockets on the inside, too, so you can store smaller items safely.
I would say this bag has pretty much everything you could need for a shorter survival stint, and it outperformed what I expected it to. The hip belt is slightly uncomfortable because it isn't padded. I would find this bag to suit the needs of anyone who is traveling in a group and will be carrying multiple bags.
Pros
Rugged and reliable
Molle & Pals system
Water-resistant
Cons
Not compatible with bigger laptops
Non-detachable waist strap
Pockets a bit shallow
7. Alps OutdoorZ Commander + Pack Bag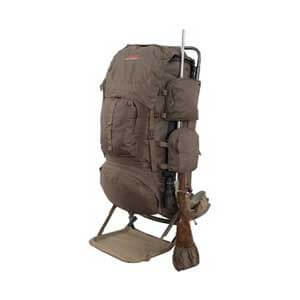 Now I'm not the biggest fan of bags with an internal frame. I find them clunky and hard to hold for long periods of time, so you can see why I wasn't so excited to try the Alps OutdoorZ Commander. Although they sell it as two separate entities, I would say the backpack and internal frame combine as one full system for survival.
The internal frame has a comprehensive lashing system, offering up to 5250 cubic inches of storage space. You can also fully adjust the internal frame and use the rifle carrier inside for your firearms or tactical gear. The Alps OutdoorZ has a set of extra tree extension straps, too, just in case the capacity isn't enough for the size of your haul.
Let's look at the frame, as it's the biggest component of the bag. I often find these frames heavy, but with the Alps, they are light and made from strong aluminum. You can adjust it to suit your height as well, which isn't common for every bag with a frame.
The full adjustment range goes from 17 inches up to 23 inches, which is good for those of us who are a little taller. The sternum and waist strap is thick and padded for comfort – something I appreciated when testing this pack on hiking trails.
Now we'll move on to the bag itself, which can be bought separately from the frame if you find it too bulky a size for your survival gear needs. At the top, there is a removable middle divider so you can keep your gear positioned upwards, and there's plenty of storage for anything you need. The different zippered compartments make large load organization a breeze.
Something I love is pockets, and the Alps OutdoorZ Commander has lots of them. There are small and large pockets included as well as a longer, rectangular pocket to the left which can easily hold a spotting scope for a rifle. The nylon ripstop fabric makes it more resistant to tears, even with aggressive use, and I found the zippers to be sturdy as well.
Overall I found the Alps OutdoorZ Commander to provide a lot of different storage options as well as enough pockets for all of your gear. It is slightly heavy when you include the frame, but if you carry gear for an entire family, it should see you through quite well.
Pros
Plenty of storage space
Durable build
Rifle compartment
Hydration pocket available
Cons
Shoulder straps are sub-par
Can't be used without the frame
8. Tactical Military 1050D Backpack 50L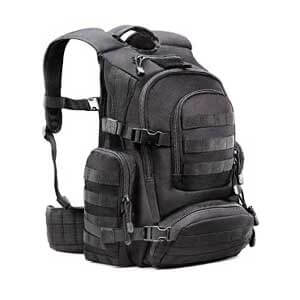 Of course, it wouldn't be a best-of list if we didn't look at a bit of a dud. The Tactical Military 1050D sounds great on paper, but overall I found it was easy to rip apart, and it just wasn't durable enough to hold all of my gear.
First of all, let's discuss the features that made it seem like a decent choice in the first place. It's made from 1050D nylon and has a 50L capacity, so you should be able to keep all of your essentials in it for at least one day of survival. There's molle webbing all around the bag for different pouches that you may want to attach, although there is a distinct lack of pockets.
The only bit of cushioning on the entire bag is on the back panel, which makes the Tactical Military 1050D super uncomfortable to wear. Normally these types of packs come with padded straps to make them easy to lug around with you, but with the Tactical Military 1050D, I just found it to be a pain from start to finish.
There's also a compartment in the bag which was made to store a laptop. I have never found the need to take a laptop on a survival trek, and when I placed mine in there, I found that it made the back padding completely redundant and useless.
One of the things the product description boasts about over and over again is its durability. Within four days of use, the stitching was coming apart. It is also not waterproof at all – a fact I found out during a heavy rainstorm and having my latest paperback completely ruined.
When I had loaded most of my gear into the backpack, I noticed that the lack of an internal frame meant the bag completely lost its shape, which made it lumpy to hold.
Overall I would stay away from the Tactical Military 1050D as it is unreliable, and I can see why it would have a cheaper price tag. If you are an occasional hiker, it may do the job for you, but for survivalists, this is not the right choice.
Pros
Plenty of storage
Molle compatible
Comfortable to wear
Cons
Cheap feel
Zippers are a bit stiff
Not waterproof
9. TETON Sports Scout 3400 Internal Frame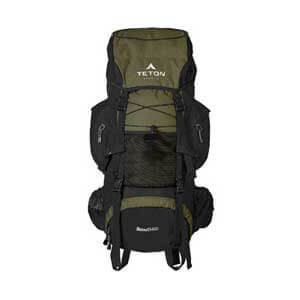 TETON Sports Scout 3400 is everything you need in a backpack for survival purposes. It is strong, durable, and completely capable of holding all the gear you need to make it through a few days away from home.
Boasting a very tough internal frame, you can keep all of your gear exactly where you want to put it within the bag, and it has the added benefit of keeping your balance as well. While the Teton Scout weighs around five pounds, which may be heavier for some, the structure means it will last for longer survival excursions.
The TETON Sports Scout probably has the largest capacity of all the packs featured on this list. It measures 3400 cubic inches, which is plenty for you to store enough supplies for three days. There are a lot of pockets on the outside, which I found handy to store bulkier items that wouldn't necessarily fit inside the bag itself.
It also allows you to have easier access to the things you need more often without having to dig through the entire contents of the backpack.
The frame is found to be quite flexible when carried, with the aluminum giving the carrier strength and comfort while in use. It has been designed to fit the contours of your body as well, so carrying heavier items is easy.
Each shoulder strap is padded, so it takes some of the weight from the bag away from you, making movement a lot easier as well. There is a hydration system, including the bug bag, that will hold up to three liters of water for drinking on the go.
I like to be cozy when I sleep, so although the Teton Scout 3400 does have a tonne of storage space, I found that the sleeping bag compartment was a bit too small for my needs. However, everything else was simple to use, and I liked that you could adjust the frame to suit your height.
Pros
Very low price for the size
Durable and sturdy
Plenty of pockets
Cons
No Molle webbing
Uncomfortable for long use
Pockets can be hard to access
10. 5.11 Rush Moab 10 Tactical Sling Pack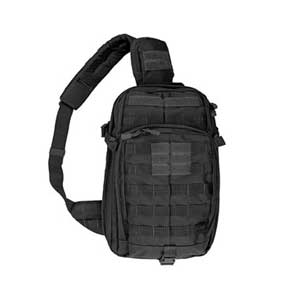 The final choice on our list is the 5.11 Rush Moab 10. Yes, another 5.11 Rush backpack, but I like a sling bag alternative for our survival needs. It has a single strap sling fastening that allows you to access the front and back much easier than you would with a standard double strap backpack.
The 5.11 Moab 10 is definitely on the smaller side, with the idea that you can strap it to the side of your larger bug bag when you need to leave in a rush and want enough gear to last you two to three days. The single strap design is becoming more and more popular for tactical use, the idea being that you can grab it faster and simply sling it over your shoulder than having to mess with adjustable straps.
Of course, a two-strap bag is a more traditional route, but if you want something easy to grab in a hurry and aren't as concerned with how much you can haul with this bag, it may be an innovative new way of packing for survival.
In total, the Moab 10 has a capacity of 1093 cubic inches, which is equivalent to 18 liters. There are several different storage compartments of different sizes, and I liked the added features of a fleece pocket for your sunglasses and various external webbing for storing must-have items. I also enjoyed the addition of a coms pocket that you can pass your headphones through – a must-have for long walks.
At the top of the pack is a carrying handle, and inside there is also a small hydration bladder for water on the go. Because this is part of the 5.11 tier range, the backpack can be attached to any of the other products in the Rush line of products. I found it to match the online reviews' incredible durability, constructed from strong 1050D nylon and YKK self-healing zip fastenings.
The strap can be adjusted to be worn on either of your shoulders, depending on your personal preference. Inside there is a concealed pouch that has been specifically designed to hold weapons of full size. It is hidden but is in a great location that allows you to grab and draw it quickly if that situation ever arises.
People seem to appreciate how you can wear the pack differently and that it is clearly built to last. There are so many different compartments for organization, so it's important never to overload it because all of that weight will be distributed onto one shoulder instead of spreading out across your entire back. This is the pack's only limitation.
Having just one strap limits you on how much weight you can conveniently and comfortably lift, which you will have to keep in mind when packing your gear constantly. I wish that it had another option, like an attachment for a second strap, so that if you did want to lift heavier loads, you had the extra support there to help with the weight distribution.
Overall this is probably the best budget backpack you are going to get in the sling strap range, as many others feel flimsy and end up being pretty much useless in survival situations. I liked the addition of padding to the shoulder and that you can switch shoulders at any time to suit your preference. It's very similar to the 5.11 Tactical Rush 24, and only this product has two straps compared to this slingback option.
Pros
Excellent handle
Great craftsmanship
Lightweight
Top-notch water resistance
Cons
Can be uncomfortable at times
Sling might not be for everyone
Frequently Asked Questions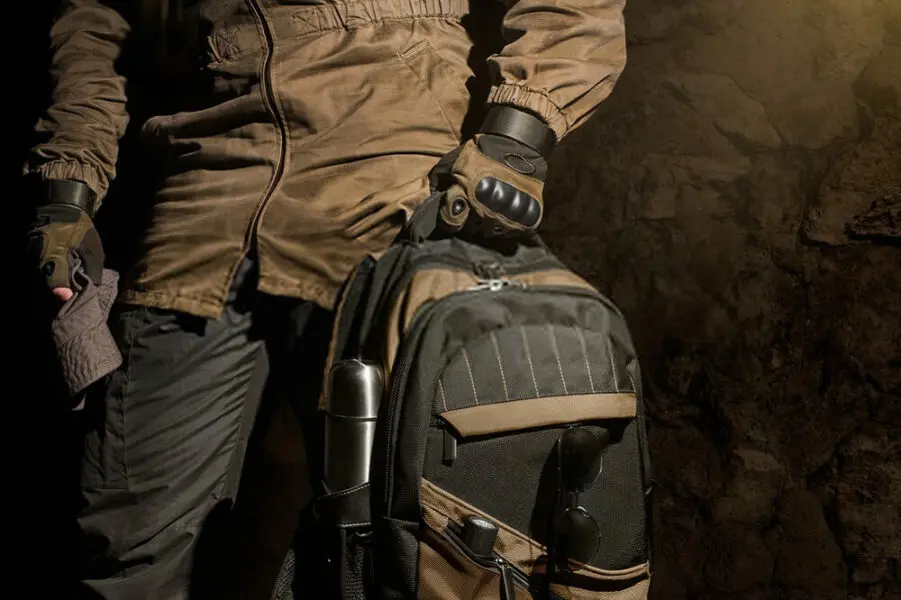 What Should Go In A Survival Backpack?
There are a few essentials that should go in your survival backpack, which include:
What Is The Best Backpack For A Bug Out Bag?
The best to use as a bug-out bag is probably the 5.11 Tactical Rush72. It is huge, comfortable to wear, and can easily carry everything you need to live for 72 hours out in the woods. There are lots of compartments for storage as well as internal pockets, and the entire construction is water-resistant and tough.
Are Mountaintop Backpacks Good?
Mountaintop backpacks are affordable and can make a great survival backpack in a pinch. The brand has been around for over thirty years, so you can trust that they have the right experience and technology to manufacture good backpacks.
What Do You Put In A Bug Out Bag?
There are some essentials you should always put in your bug-out bag, including:
Water
Food
Bedding
A source of heat or means to start a fire
A first aid kit
Hygiene items
Tools
Final Words
A survival backpack may just be the most important bag that you ever pack. It must be well-built and well-stocked to survive a life-and-death situation. The best bug-out bags are built with solid construction and should also be comfortable, ergonomic, and allow you to be organized while giving you the right amount of storage needed. Consider everything you may need to survive before choosing your backpack, and keep it ready to go in case of an emergency.