Let light shine out of the darkness. Everyone needs a light source in case of an emergency or power outage. Lanterns fill each room with light to allow you to accomplish the necessary activities in your household. With their long battery life, they are often used at campsites and in the outdoors in general since camping lights illuminate larger spaces than a flashlight could. Their glow is softer and not as blinding as a headlamp, which leaves most of its surrounding area in the dark while still creating an unpleasant experience.
Picking the right light might seem hard, considering the numerous options today. That's why in today's article, we'll show you the 10 best emergency lanterns for 2020 that will suit everyone's preferences and budget. First, you need to figure out where and how often you will be using it, next, you should consider the factors that will play a role in your choice. If you continue reading, you'll find our guide on how to choose the proper lamp and the ones we've handpicked just for you.
Let's take a look at the top 10 emergency lanterns on the market today and see if any of these excellent products can fit your specific needs:
1. Streamlight 44931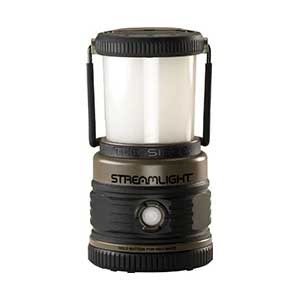 If you want a lantern that will always deliver, no matter the task, the Streamlight 44931 won't disappoint. This alkaline D-Cell battery-powered light is built to last. With its sturdy polycarbonate thermoplastic construction, this hand light provides 360° of soft light, illuminating large areas without blinding anyone around.
Size and run-time are super important, and in both, Streamlight delivers like no other with four light modes and a compact and portable body. This product comes with a removable glare-reducing cover for even light distribution. The well-designed emergency lamp has incorporated D-rings on both the top and bottom to hang upright or inverted.
Pros
Strong top and bottom D-rings
Lasts for up to 15 hours
340 Lumens and 360° light
Incorporated D-Rings
Waterproof
Cons
Batteries aren't rechargeable
2 years warranty
2. Coleman Multi-Panel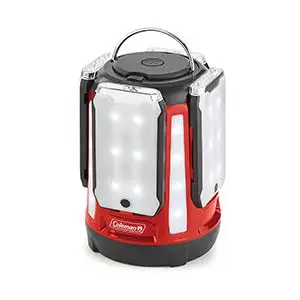 Coleman is a brand that strives to provide people with the best outdoor experiences with high-quality products. This attractive lantern has four removable light panels, which can be used as multiple light sources. Simply pop off the light and use it for whatever you need. The best part about these panels is that they are magnetized, so you can attach them to metal and have your hands free to do whatever you want.
Each panel of this premium product features a fold-down handle that can also be used as a kickstand for most flat surfaces. High quality at its finest, this durable lamp is water-resistant and can withstand splashes from any direction. That's not all, this excellent light works as a power bank for your mobile device as well.
Pros
Multi-panel design lasts longer
Detachable panels for multiple light sources
Water-resistant
Rechargeable
Long distance lighting
Cons
Heavy for a long-distance carry
On the larger side
3. Vont 4 Pack LED Camping Lantern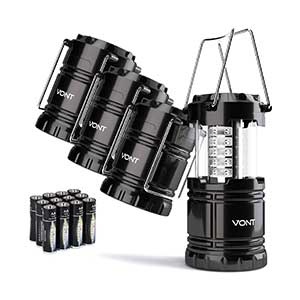 Vont is a company that believes in quality products at an affordable price, that's why they've created this fantastic camping light which is compact and cuts through 360° of darkness. With its unique collapsible design, this item is super bright and long-lasting. When collapsed, the lamp is smaller than your phone and can easily fit in your survival kit or camping backpack. Made out of aircraft-grade materials, this sturdy light can survive a 10-foot drop. Waterproof and indestructible, this product comes with a lifetime warranty that showcases the quality and longevity of this low-priced product.
Pros
Multiple light sources
Compact & lightweight
Bright & long-lasting
Strong & durable
Waterproof
Cons
Batteries aren't rechargeable
No batteries included
4. LE LED Camping Light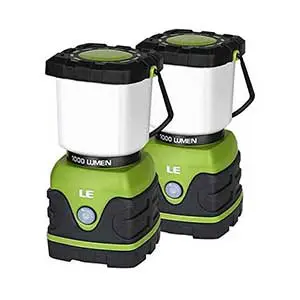 LE is a company that focuses on creating the best lighting experience by introducing us to their LED camping lamp, which is very convenient. This portable emergency light offers four light modes which are easily adjusted to meet your need with a 360° brightness. Suitable for any survival kit, this emergency light can be used for up to 15 hours at once.
The LE LED Camping Light has IPX4 protection, which makes it waterproof and quite suitable for camping, hiking, fishing, etc. Coming with a cap that can be removed, this lantern can be turned upside down to provide better light in a big area. Supported by a two-year warranty, this product works at 1000 lumens and offers sufficient brightness to its users.
Pros
Four light modes
Waterproof
1000 Lumen & 360° lighting
Long lasting & portable
Cons
Batteries are hard to install
No batteries included
Blinking indicator doesn't turn off
5. LE LED Rechargeable Lamp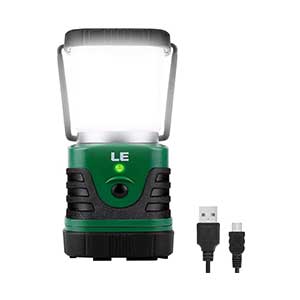 This convenient and portable lantern is an excellent outdoor companion. This emergency light is ultra-bright with 1000 lumen and 360° beam angles with a broad lighting range. It has two hooks, one on top and one on the bottom, which you can use to hang it upside down to light up a more significant area.
Suitable for many outdoor activities, the LE LED lamp is water-resistant and tough. In addition, you can use it as a power bank to charge your mobile phone. Long press adjusts the brightness, providing you with four light modes in which you can find what you're looking for. LE is confident in the products they put out on the market, and that's why this camping product comes with a two-year warranty.
Pros
Four light modes
Convenient & portable
Water-resistant & long-lasting
Works as a power bank
Rechargeable with USB cable
Cons
Two-year warranty
Rubber handle wears out
6. LUXPRO BROADBEAM LED Light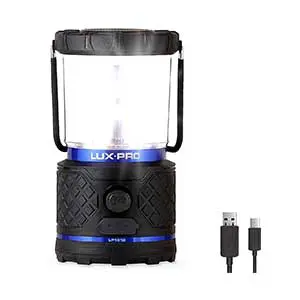 The LUXPRO LP1512 is what you've been waiting for. This 360° broad beam is a rechargeable dimmable camping lantern that's super easy to operate and can illuminate large areas. It can vary from 75 to 1,000 lumens, allowing you to find the perfect setting with the simple knob variable dial.  The LP1512 doubles as a charging station, so you can use it as a power bank for your electronic devices wherever your adventures take you.
Created with a dual-battery design, you can use both alkaline and Li-on rechargeable batteries, which can operate in tandem or interchangeably. Made to withstand the elements, this versatile emergency product is water-resistant and sturdy. It comes in a rubberized casing for protection, which makes it hold up to very extreme conditions.
Pros
Heavy duty construction
Works as a power bank
Water-resistant & portable
Rechargeable
Cons
No batteries included
7. Blazin Bolt 400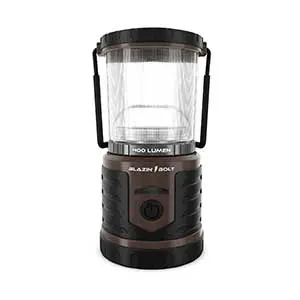 Stop worrying about your battery dying in the middle of a storm and get the Blazin Bolt 400 with a built-in indicator for the s power level. This excellent 400-lumen light with 360° coverage has six light modes, which can be very useful in different situations. The emergency lamp is virtually indestructible because it is drop-proof and water-resistant.
No rain or storm will stop you from shining bright on your next outdoor experience. Relax, and don't worry about your phone dying since this light doubles up as a power bank that can charge your device in no time. What makes this product even better is the 100% lifetime warranty, which isn't limited. Who can beat that?
Pros
Lightweight & portable
400 Lumen & 360 ° lighting
Weather-resistant
Rechargeable
Cons
Batteries are hard to install
Uses power when not in use
8. AlpsWolf 800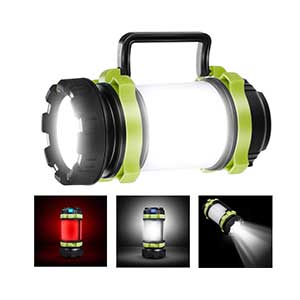 AlpsWolf is a camping lantern with four different modes and a 360° broad beam, which can bring enough brightness to prepare you for most emergencies. This rechargeable light can be used as a power bank to charge smart devices and electronics. Designed with military-grade materials, this useful and durable light is both water and drop-proof, which makes it the perfect companion if a hurricane, rain, tornado, or earthquake occurs. The LED camping light has a handle and a two-way hook conveniently hung in a tent, on a tree, or wherever you need it to. You also receive two quality assurance for this fantastic product.
Pros
Four light modes
Waterproof & drop-resistant
Rechargeable
Two-way hook & grip
Cons
Two years warranty
One light mode at a time
9. Rayovac Sportsman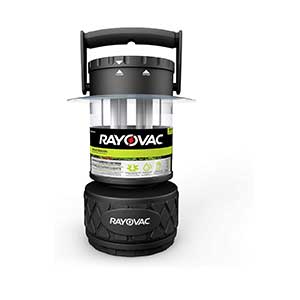 Illuminate most spaces with the Rayovac Sportsman Lantern, which can light up an area within a 45-foot radius. This rugged lamp has three light settings: high, low, and night-light modes that you can easily switch with a dial. It folds away for easy storage and has a rubber handle for effortless carry. Made to last, this emergency product is able to sustain a drop from 3 feet because it's shatterproof and shock-absorbing. The light is powered by D batteries that can hold up to 14 hours of continuous use. Rayovac stands behind each product and offers a manufacturer's lifetime warranty.
Pros
Ultra bright
Three light modes
Fold up for easy storage
Shatterproof & shock- absorbing
Lifetime warranty
Cons
Lower life battery
No batteries included
10. Coleman 390L LED Twin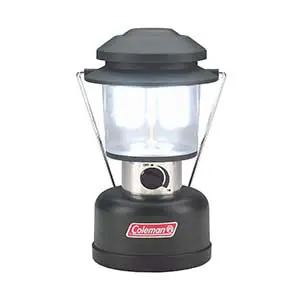 Light the night away with the Coleman high-performance 390L emergency lantern, which lets you see far while providing efficient and energy-saving light. The rotating dial offers customizable light settings that provide extra-bright light on high and super-dim on low. This quality product can last up to 299 hours with D-batteries with a beam distance of almost 20ft.
You get quick and easy access to the battery chamber from when you unscrew its base, allowing you to change them at any time and place. Not only that, but this survival light construction delivers reliable output, even in wet and windy climates, since it's weather-resistant and quite durable. Last but not least, this excellent light comes with a five-year warranty from the manufacturer.
Pros
Ultra bright & powerful
Multiple brightness settings
Long-lasting
Water-resistant
Cons
No batteries included
Not rechargeable
On the heavier side
How To Choose The Best Emergency Lantern?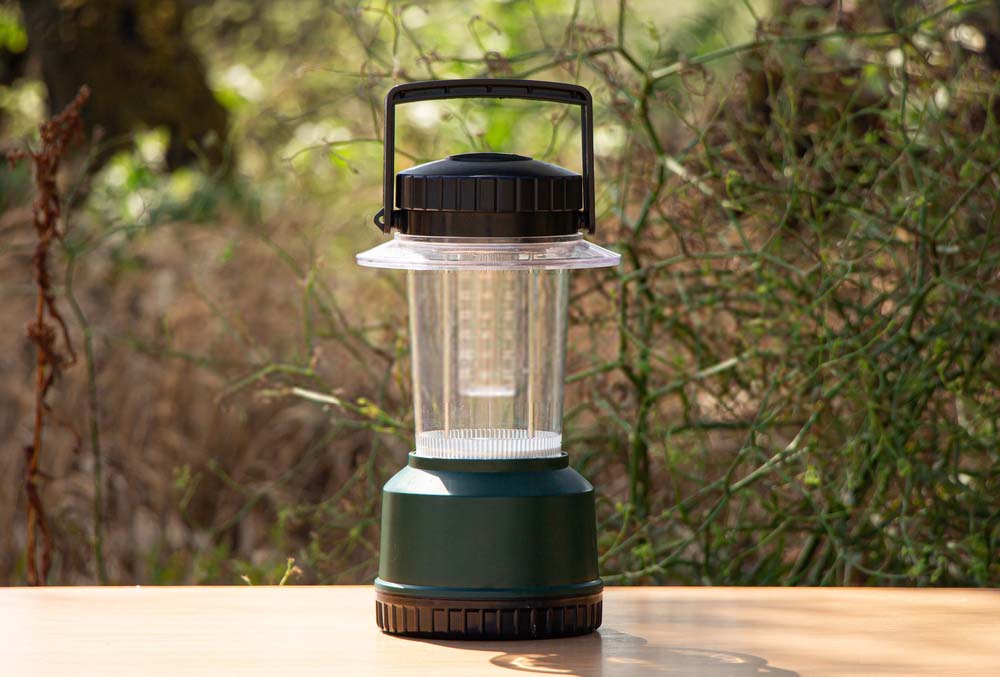 There are so many options out there that most people might find it overwhelming to choose the right emergency lantern. When figuring out which light best suits your needs, you should consider some factors to choose the one that will work for you.
What Is The Brightness Level?
Brightness is hands down the most crucial part to consider. Think about your preferences time-wise since a higher intensity brightness means more battery usage and shorter life, while low brightness lanterns offer longer run-time.
What About Construction?
The build of a lantern is one of the essential qualities to consider, considering no one wants a flimsy one that can survive in rough weather conditions. Try to pick one made of high-quality, durable, and sturdy materials so that it will last longer and you don't have to buy a new one often.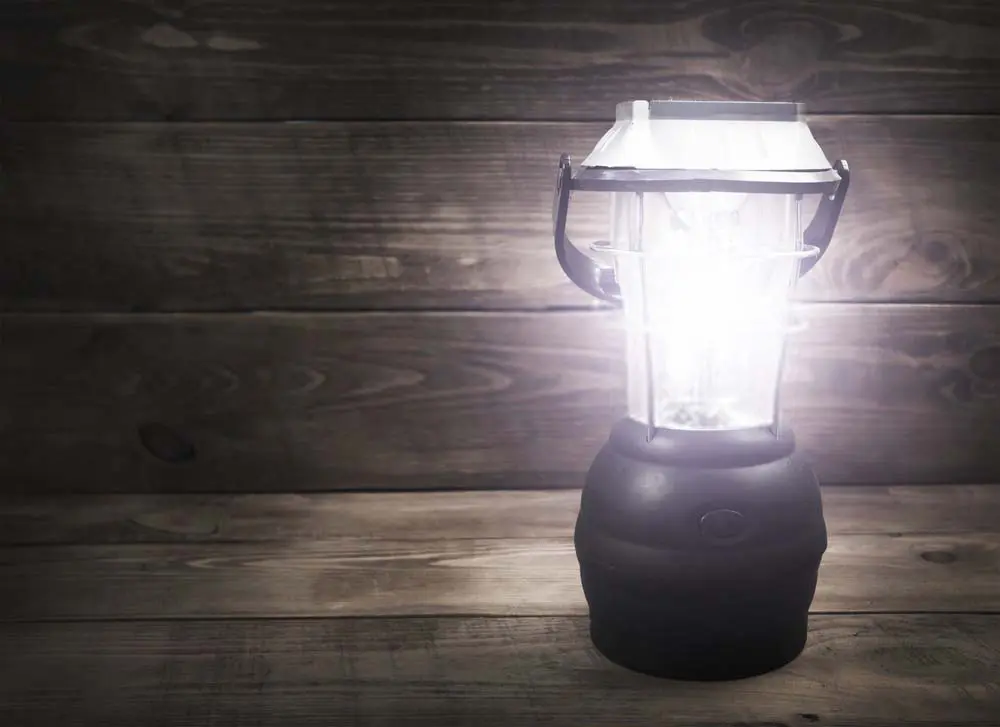 What Batteries Does It Use?
Most lanterns run on batteries, some of them are D batteries, and some are AA ones. When choosing your item, keep in mind that D batteries last longer, and check if the company you are getting your product from includes them in the purchase. Our advice is to go for a rechargeable light.
How Much Power Does It Need?
How much power you need generally depends on what you will be using the lantern for. Models with higher wattage ratings are preferred because they are brighter and charge faster; however, most times, the higher the wattage, the higher the price.
How Does It Weight?
If you are planning on carrying the lantern in your backpack or want to bring it with you to a campsite, you should look at the lighter models and pick something compact and portable. You go a step further and even choose a collapsible light.
Is Weather-Resistance Important?
Considering that most lanterns will be used in the outdoors, they need to survive rough weather conditions. For them to be able to withstand the elements, they need to be durable and water-resistant.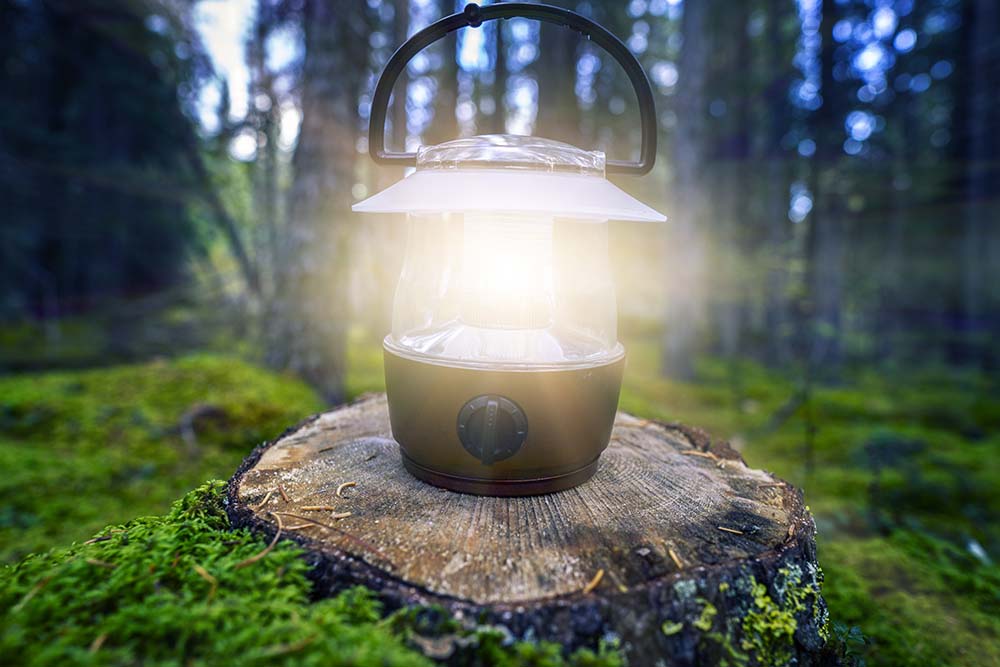 What Are The Important Extra Features?
If you've found two lanterns that answer your requirements, what can set them apart is the extra features they offer. For example, if you're trying to break it down between two models, the one that works as a power bank or the one with the secure handle should be your winner.
What Is The Average Warranty?
If you are buying a quality lantern, you want to make sure it will last longer. That's why you should always pick one that offers a warranty so you can make sure your investment is safe. Most of them come with a guarantee for a year or two, but if you can find yourself a light with a lifetime one, you've hit the jackpot.
Frequently Asked Questions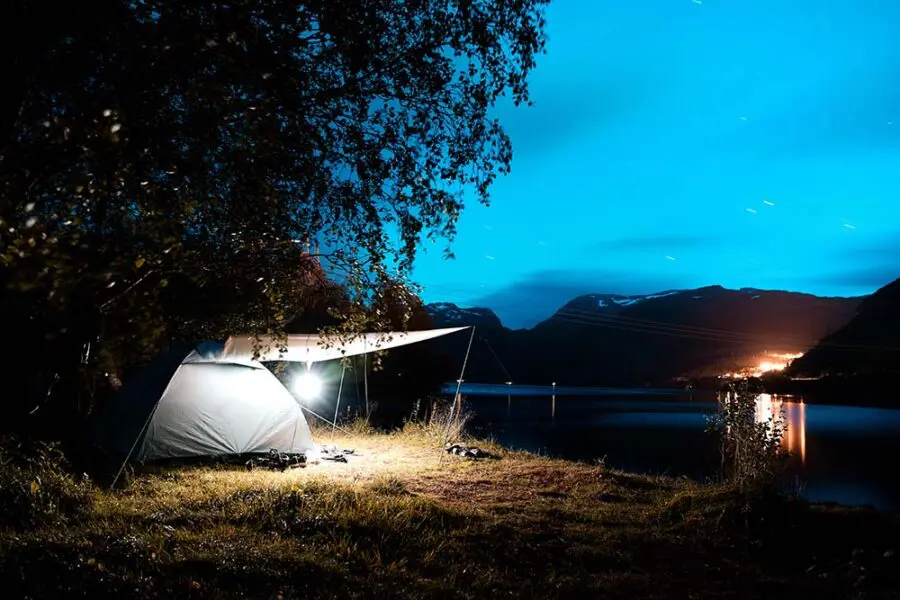 What Is The Best Lantern For Power Outages?
Everyone needs a light source in case a power outage or an emergency occurs. That's where lanterns come in handy and fill each room with light so you can accomplish the necessary activities in your household. When deciding on a survival light, the first thing you have to consider is its running time. The longer, the better, and that's where the Coleman 390L LED Twin comes in.
This fantastic survival lamp can run for almost 300 hours without changing batteries. It's ultra-bright and powerful and has multiple light settings to suit your needs. By getting this emergency item, you get a durable product that is weather-resistant and can withstand a beating.
What Is The Best Battery Operated Lantern?
The best battery-operated lantern is, hands down, the Streamlight 44931 because this is light, and will always deliver, no matter the task. Made with a durable and robust construction, this product provides 360° of light, which illuminates large areas. Suitable for many situations and experiences, this waterproof emergency product won't disappoint.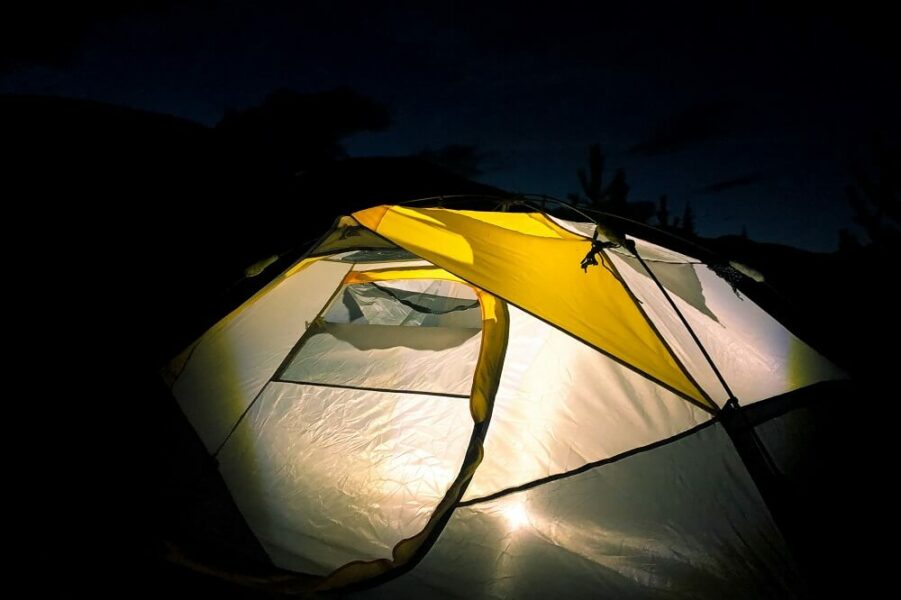 You get a removable cover for even light distribution and incorporated D-rings on both sides for accessibility. This innovative survival item is one of the top products on the market today and is a great investment for many reasons.
How Much Do Lanterns Weigh?
If you are getting a light for your household, you can buy one even if it's on the heavier side, but if you're going camping, you want something that will be light and won't take much space in your backpack. You want to be able to hang from the ring inside the top of your tent or your campsite.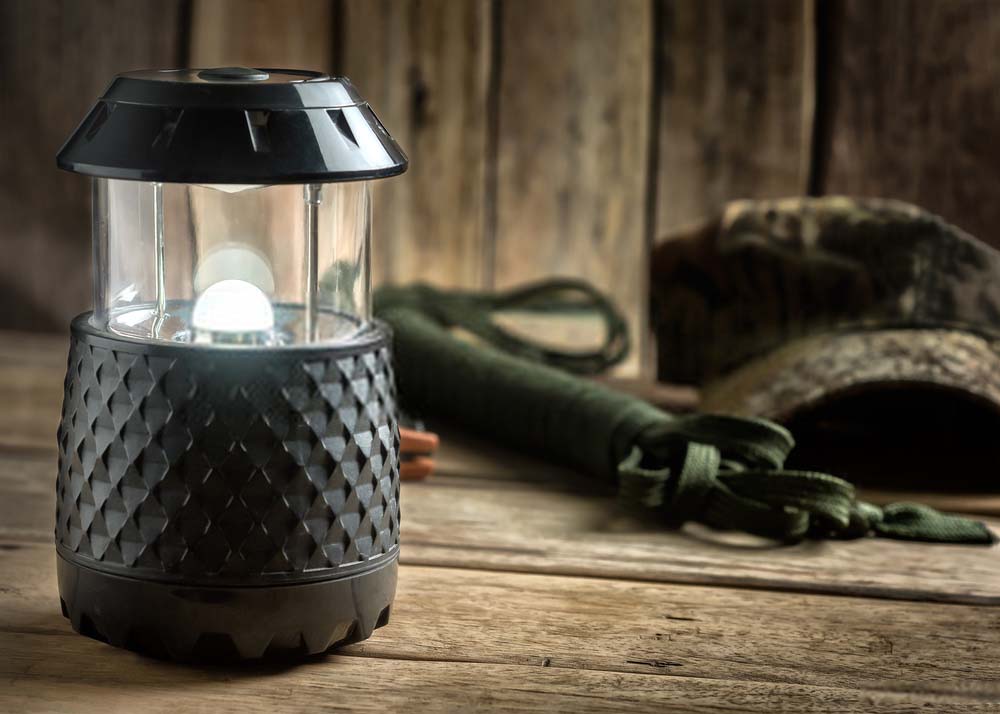 How Can I Light A Room Without Electricity?
If you end up without electricity for whatever reason at your home, there are multiple options lantern-wise that won't need any power to work. This way, if a power outage occurs, you have these possibilities:
What Are The Battery Operated Lanterns?
A big part of lights today is battery-powered and features LED lights. They have different options, such as alkaline, lithium, or Li-on batteries, some are rechargeable, and others are not. Typically those are lightweight and portable with a durable design and water-resistant construction. But if they use non-rechargeable batteries, they aren't eco-friendly, and the long-term cost of replacing them increases sufficiently.
What Are The Fuel Operated Lanterns?
Depending on its design, each lantern burns a specific fuel. The most popular options are propane and butane, which both come in a refillable tank and burn efficiently. Their light can be easily adjusted and light up an entire camp area. However, remember that fuel-operated lights can work without gas, so you always have to carry extra.
What Are The Candle Lanterns?
Candle lanterns are affordable and easy to use. They provide you with soft and natural light, which is enough for at-hand tasks and activities. But if you want to light up a big area, this type of lamp won't do the job.
What Is An LED Lantern?
Nowadays, most battery-powered lanterns feature LED lights. An LED lamp or LED light bulb is an electric light that produces light using one or more light-emitting diodes. Electric lanterns rely on different types of battery sources, which can be rechargeable or non-rechargeable. LEDs have a longer lifespan and are significantly more efficient. Some designs can use external sources for a recharge, such as a USB cable, a power bank, or even a solar panel.
What Level Of Brightness Do We Need?
The level of brightness you need depends on what you will use the lantern for. If you're using it for comfort, you need a soft and low light, but if you're working outdoors, you'll need an efficient and bright light to get the job done. When you're deciding on a light, take into consideration how many Lumens each one is. We've separated them into four simple guidelines:
10 – 50 lumens – The lights in this area are usually used as nightlights, which are enough for you to move around the house safely.
50 – 200 lumens – This diapason is suitable for general usage inside a household.
200 – 1000 lumens – That's what we need in the outdoors for camping and other activities and conditions.
Over 1000 lumens – Normally, everything over 1000 lumens is used only on construction sites and large spaces for repairs.
Final words
Finding the right emergency lantern for your survival arsenal can be tough, considering the numerous products available today. When you are choosing a light for emergencies or great outdoor experiences, you have to think about the products` durability and longevity. No one wants to be let down when they most need it, that's why it's essential to pick a light that's made of high-quality materials and has a longer run-time. We hope we were helpful enough to make your decision easy on what's best for you.
If you have any questions or want to share some of your experience, we would love to hear about it in the comments below.