Tactical belts can be great for carrying various kinds of geaar, including weapons and various tools and supplies. It can be tough to find the right one, though – they usually come in various features, durability, and materials.
We'll try to outline some of the best tactical belts on the market today – including budget-friendly models that are still durable enough to last!
1. 5.11 Tactical – Maverick Assaulter's Belt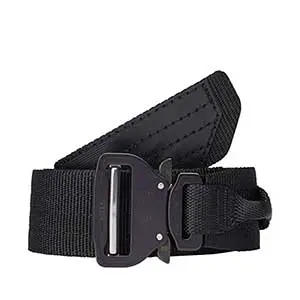 5.11 Tactical is a brand that embodies this mindset of preparedness by designing gear for individuals that are ready for any mission. That's practically how this tactical belt was born. With heavy-duty construction, this nylon belt offers support and accessibility in the most demanding situations.
This rugged item features the AustriAlpine buckle, which provides quick attachment and detachment without losing stability or security. You get reliable functionality and exceptional comfort simultaneously with this impeccable sturdy belt. Lastly, this fantastic gear is reinforced with an integrated web loop, with which you can find the perfect fit.
Features:
100% nylon
AustriAlpine buckle
Reinforced with a web loop
2. Blackhawk! 41CQ12BK Rigger's Belt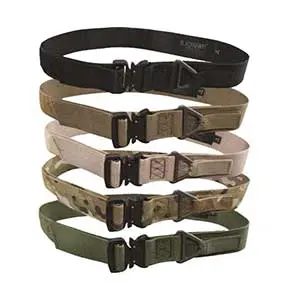 If you are someone that appreciates high-quality, this premium Rigger belt is what you need. We all know that security and ease of use are essential in tactical situations, which is why this Blackhawk product was created.
The Blackhawk! belt has been constructed to military specifications, which makes this product extremely durable and tough. It was designed with a quick-detach Cobra buckle that made deployment much easier than before.
Blackhawk's superior product boasts a 7,000-pound tensile rating, with a hook-and-loop that secures the running end.
Features:
COBRA quick-detach buckle
1.75" webbing
7,000 lb. tensile strength
3. KingMoore Heavy Duty Tactical Belt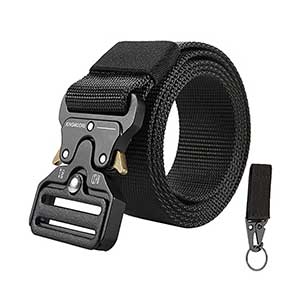 Are you looking for good quality, exquisite workmanship, and style? If yes, you are in the right place. KingMoore's tactical belt is made of high-grade nylon fabric, which is thick and powerful.
The KingMoore is a hole-less belt that allows you to adjust to your exact size with a robust non-slip metal buckle. The brand made sure to offer a product that is flexible and comfortable without forgetting about support. With unbelievable anti-tearing properties, this item can endure an impact as high as 9,000N without getting damaged.
Features:
High-grade nylon
Hole-less belt
Aluminum alloy buckle
4. AMRAP Tactical Gun Belt With Quick Release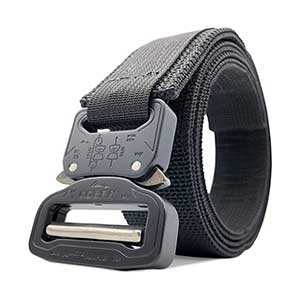 The AMRAP is a reliable and stiff gun belt with a Cobra Hybrid buckle that can hold loads up to 2000Ibs. Made out of two identical pieces of nylon webbing stitched together for extra durability, this product will support all your daily carry needs without losing comfort.
There is stitched Velcro, which helps keep everything in line. Forget about the flimsy, thin belts that won't even hold your pants up, and get yourself the Tactical Slimline belt and carry on with your day.
Features:
COBRA Hybrid buckle
Nylon webbing
Adjustable
5. Carhartt Casual Rugged Belt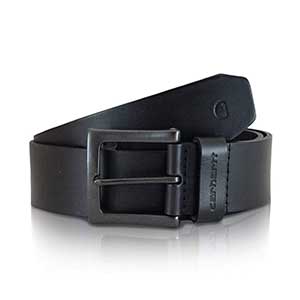 Carhartt has designed a reliable and durable belt that can get you through long days and extreme circumstances. Whether soaked in sweat or waist-deep in a river, a durable belt can make a huge difference.
Carhartt's rugged belt is made of top-grain leather, which features triple-needle stitching and a snap-attached buckle. This reinforced product has a brass finish buckle with an engraved logo and a tapered tip.
Features:
Top-grain leather
Tapered tip
Double row stitching
6. Timberland PRO Workwear Leather Belt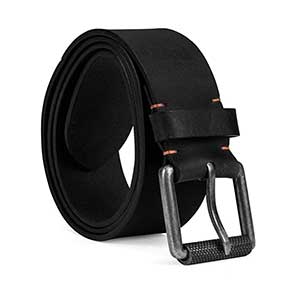 The Timberland Pro Series features gorgeous leather belts, providing you with an unforgettable look and impeccable quality. Made out of 100% genuine leather, this amazing belt is smooth and soft to the touch.
This heavy-duty Timberland looks great and lasts long. What more can you ask for? You get a strong and sturdy product with a single-prong antiqued silver buckle that allows for great closure. Perfect for hard use and oppressive conditions, this belt will never disappoint.
Features:
Genuine leather
Single-prong antiqued buckle
Belt closure
7. Relentless Tactical – Concealed Carry Gun Belt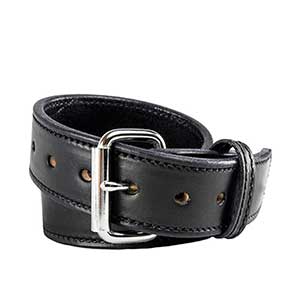 If you are searching for the ultimate concealed carry leather gun belt, the Relentless CCW is the item for you! This tactical belt is specifically designed to fulfill every need that a gun owner will have. Handmade in the US, this product is created out of premium full-grain leather, which 100% is guaranteed never to split.
Keep your firearm within reach, and don't worry about your belt bending or sagging since it comes with a lifetime replacement warranty. Get this awesome gear right now and forget about all your problems because, with Relentless CCW, you receive only the best.
Features:
Premium grain leather
100% Guaranteed never to split
Great for concealed carry
8. Relentless Tactical – Steel Core Gun Belt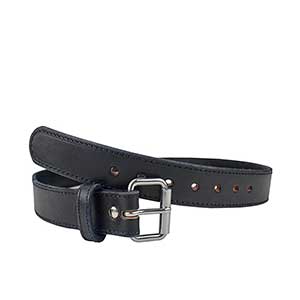 If you aren't a nylon lover, this beautiful handmade tactical belt is just for you! Made with lather and a unique spring steel core, this product is strong and reliable enough for all your gear without forgetting about comfort and style.
Two thick slabs of US leather provide extra strength and create a product that is tough and dependable. Don't worry about the item stretching or sagging because this robust tactical belt comes with a lifetime warranty and a construction that is stiff enough to take on anything you throw at it.
Features:
Spring steel core
Quality Leather
Reinforced
9. Klik Belts – Cobra Buckle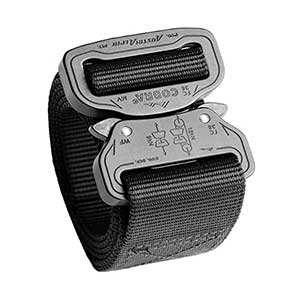 Cobra has patented the world's strongest belt from the world's strongest components. This tactical model has a lightning-quick release and an adjustable design for the perfect fit. Made with Austrian precision, this item was created from a sturdy nylon fabric suitable for heavy-duty use.
Each Klik Cobra buckle is made with aerospace aluminum alloy, one of the most durable materials you get, only premium quality products. All you need to know is that these belts won't disappoint you in any situation or condition.
Features:
Quick-release COBRA buckle
Nylon webbing
Heavy-duty
10. Klik Belts – 2 Ply Nylon Tactical Belt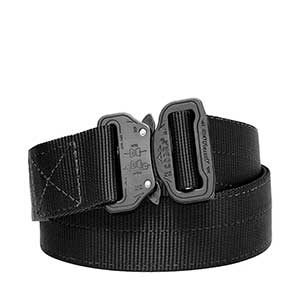 The Cobra Quick Release belt was designed to be able to adjust to a precise fit. This high-class product has an outer ply made out of military-spec nylon and an inner ply with rigid webbing that is triple-stitched. Cobra has been known for its buckles for ages, and even the aerospace industry has taken advantage of this fantastic item. These buckles were developed in Austria from workhorse material, which has been used for the most powerful machines in history. Reliable, comfortable, and durable, this tactical belt is on most survivalists' lists because we all know that Cobra doesn't collapse under pressure!
Features:
Quick-release COBRA buckle
Military spec nylon
Triple stitched
How to choose a belt for tactical use?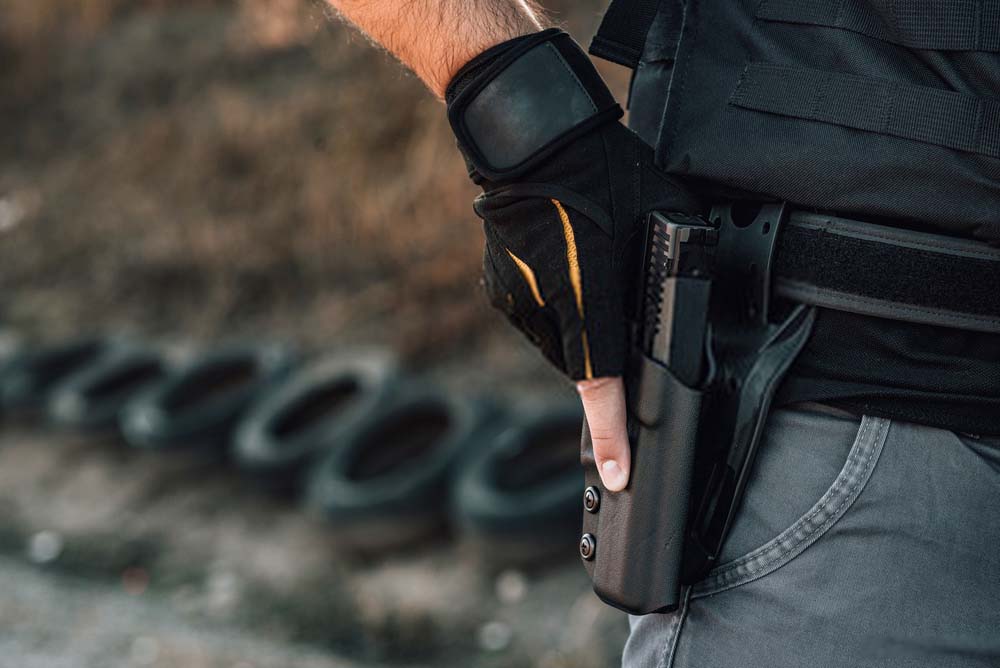 When you're searching for a proper tactical belt, there are a few factors you should consider so that you are well informed and can make the right choice. Belts have been a part of our wardrobes for ages for a reason, and that's to provide stability and comfort. Here are the things you should check out before making your final decision:
Material
The material is one of the most important factors, that's why you should always look for ones made of strong, thick materials. Tactical belts are much more efficient than regular flimsy ones, which most times are made out of cheap unreliable fabrics. Usually, tactical models are constructed of nylon, but what you need to check is if they offer reinforced stitching and heavy-duty tensile strength. Nylon is a material that dries fast, which is positive when outdoors. It also is tear-resistant and quite breathable. Leather is another used cloth, but it's not necessarily the best when it comes down to shopping in this category.
Width
The width of a tactical belt is essential because it helps to evenly distribute the weight of the gear attached to it, which is why most belts in this category are wide and durable. We don't recommend purchasing anything beneath 1.25" since it might not hold up for long. What you need is something between 1.25" and -2" thick, so it's effective at holding your equipment.
Buckle
Most buckles on tactical belts can vary in, and that's why we should try to find one that can support the weight of everything we are carrying. Depending on your needs, you might want a plastic buckle so you don't have to worry about airport security, or you might want to repel from a wall which will require a more robust and bulkier option. No matter the reason, you need to find a buckle that you can rely on, which won't open on its own.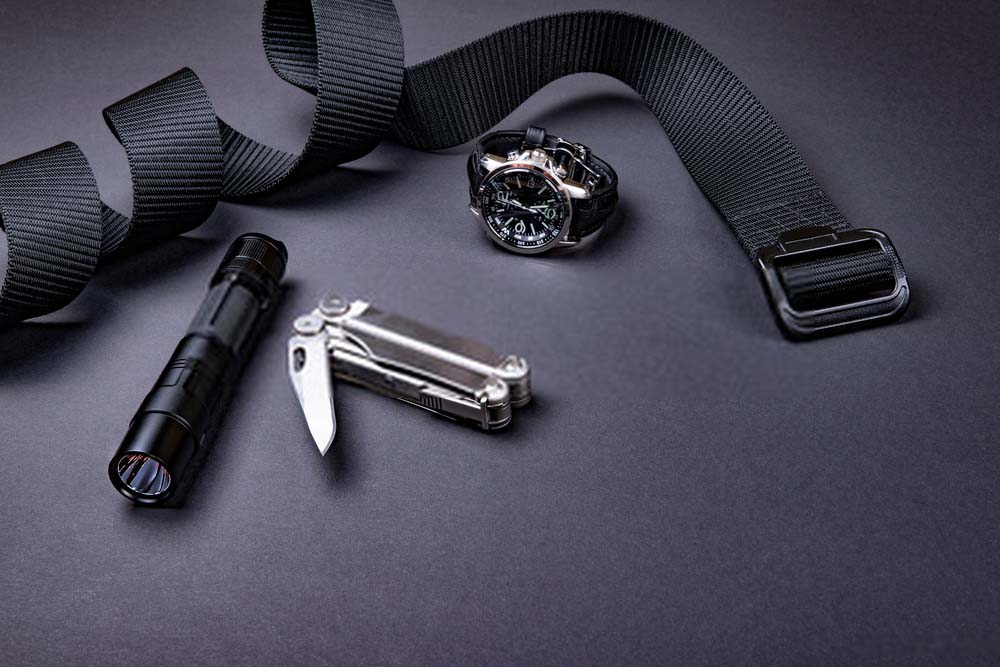 Rigidity
What we mean by rigidity is how stiff the product turns out. Even though we want a rigid, high-quality belt, we still need it to be comfortable. However, picking a rigid item is the better option since loose belts can get less effective at properly holding your gear.
Comfort
Last but inevitably not least comes comfort. Considering you would most likely be wearing your tactical belt for an extended period, you need something nice and comfortable.
Frequently Asked Questions:
What is a tactical belt?
Tactical belts were created to provide general support, often used to hold gear for military and law enforcement personnel. Usually, tactical ones are made of high-quality nylon, cotton canvas, or fine-grain leather, so they can be durable and flexible enough to support various supplies. They are mainly used for their carrying capabilities. The fact that they provide extra features such as easy and comfortable gun carry or hookups for connecting rappelling makes them the desired product from each survivalist.
Are there different types?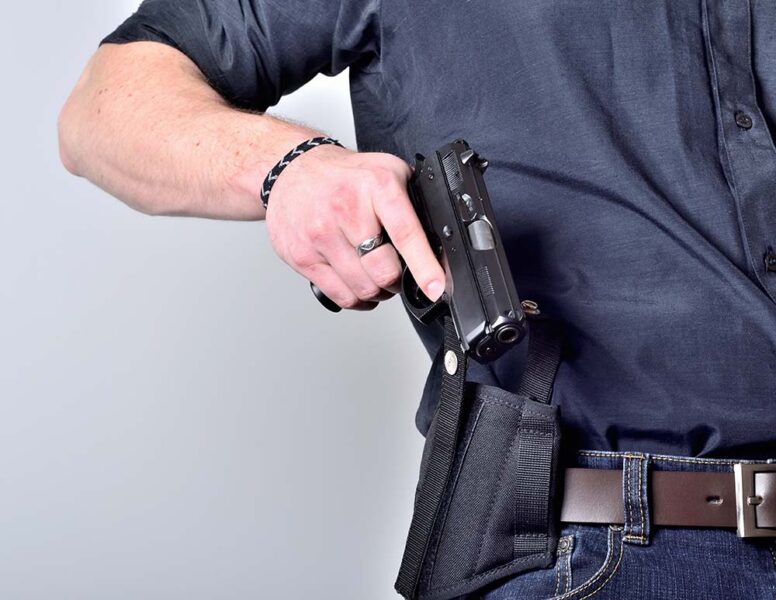 As we already know, they were mainly created for support and their carrying capabilities. However, there are multiple different types with a specific intended use which are:
Duty – Police, Firefighters, etc…
These belts were designed to hold up different equipment, usually relatively heavy gear. Usually, they will be rigid to support 10 to 15 lbs. of supplies while still being a comfortable option.
Gun use
Like the name says, gun belts are supposed to carry your firearms, which is why they frequently turn up to be thicker and stiffer so that twisting and stretching can be avoided when a gun is holstered. Most times, the belt will be reinforced so that it's firmer and sturdy.
Military belts
Military belts use webbing and durable buckles that utilize friction for tensioning. The web can be worn in regular day-to-day activities. However, they aren't designed for carrying heavy equipment, and you will be able to tell them apart because of the absence of holes in their cord.
Rigger models
Rigger belts are intended for rappelling, which is why they include a ring for possible carabineer attachment. Usually, they are used for climbing, roping, and even zip-lining. They can withstand thousands of pounds of tensile strength.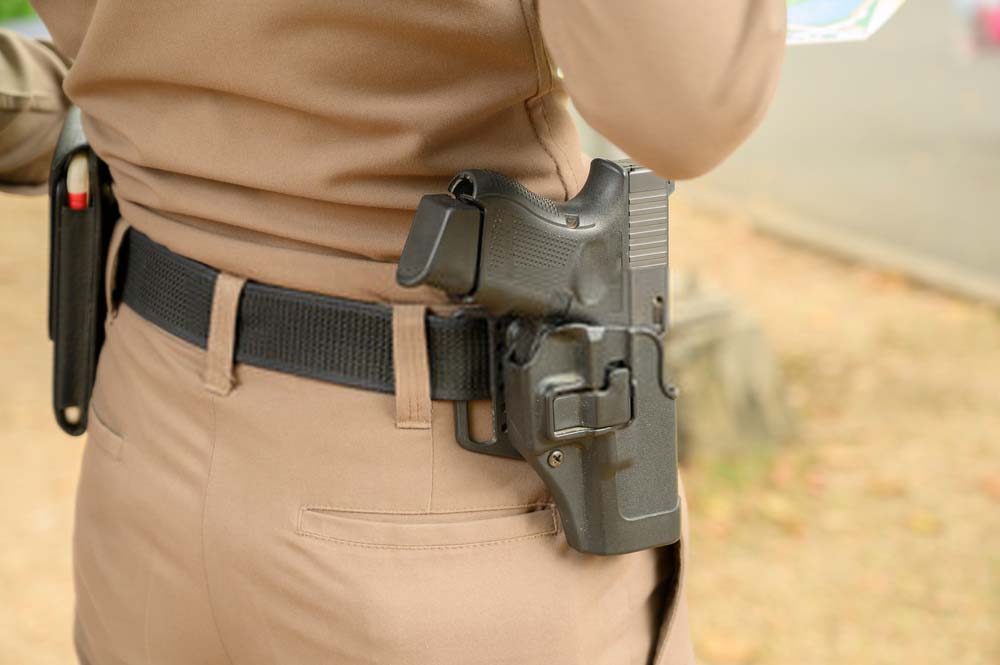 Trainer belts
Trainer belts, also known as instructor belts, typically have some sort of clip that can be used for a carabineer. They feature a robust tension-locking buckle and reinforced sewing, which is why they are regularly used for emergency rappelling.
Magnetic latching belts
Magnetic latches have been designed to hold up gear while providing support. The capacity they can hold depends on the strength of the advertised magnet. These aren't intended for rappelling.
What is the best choice for a tactical belt?
After long consideration and research, our team of experts has selected the 5.11 Tactical Assaulters belt as the best one on the market today. With heavy-duty construction and high-quality materials, this product has no competition. Designed for a comfortable and convenient experience, this piece of tactical gear will provide you with the support you need. Be prepared and ready for anything that comes your way with this durable, survivalist dream product.
Do gun belts make a difference?
Gun belts do make a difference! They will provide the much-needed support to carry your firearm with the constant need to pull your pants up. Picking another type for your weapon might be uncomfortable and unsafe, which is why you should choose an item that you'll be able to carry all day without any discomfort. You don't want a flimsy, sagging belt that can twist or catch while driving or sitting down.
What belts do police use?
Police officers wear heavy-duty police belts, which allow them to carry useful items, ranging from handcuffs to weapons. They are designed to hold different equipment while providing comfort and support. They need to be made of thick, high-quality materials, which will also provide easy and quick access to your gear.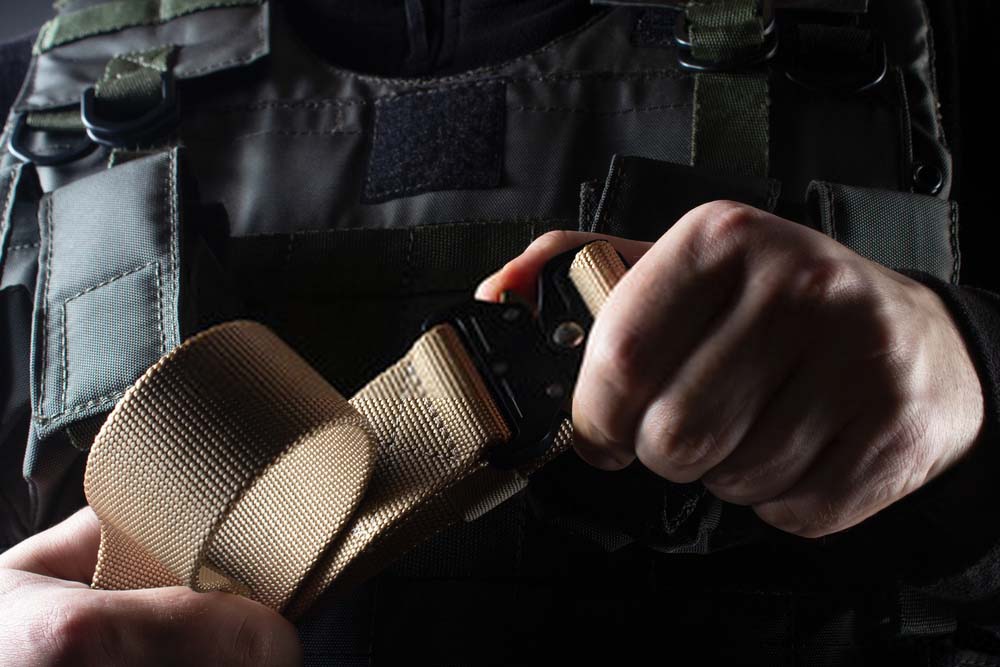 Do I need a special belt for concealed carry?
The answer to this question is pretty straightforward, and that's yes – you do need a special belt for concealed carry.
There are plenty of reasons why you should be wearing a gun belt if you are carrying a weapon. A gun belt will support the firearm and keep it in one position. When you're carrying a gun, especially for an extended period, you will need a belt that will provide comfort and security. Usually, the heavier the gun, the stiffer the belt should be.
Final words
Wearing a quality tactical belt will give you the confidence and security you're looking for while allowing you to choose from a wide range of high-class gear. Tactical belts are multifunctional tools designed to provide the ultimate support experience while bringing comfort and stability as an essential part of your tactical gear.
We hope that this article was informative enough to make your decision when buying a tactical belt that will suit your needs. If you have any suggestions regarding the subject or you have any questions, we would gladly answer them in the comments below.