When choosing the right tactical backpack for you, there are many things to consider. In this Buyer's Guide, we'll focus on the characteristics that play the largest role in separating good tactical backpacks from great ones. These factors include price, MOLLE compatibility, size, durability, and the ability to customize the pack's organization system.
Let's take a look at the best tactical backpacks on the market today and see if any of these excellent products fit the bill for you:
1. 5.11 Rush 72 Military Tactical Backpack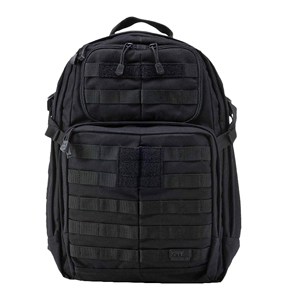 The 5.11 Tactical Rush 72 is a versatile, rugged backpack designed to be a full-featured 72-hour military-grade tactical bag. Among the Rush line, which is their flagship backpack line, the 72 ranks are one of our favorites.
We also liked the 5.11 Tactical Rush 24. They both are very popular and have created quite a buzz with their fans. With a large stuff-it pocket and a few excellent internal organizational pockets, it makes stowing your great easy. It also has strategic pockets for your different gear and helps keep it organized.
The pack is available in 7 different colors, depending on your preference. Although the primary usage of tactical backpacks comes from law enforcement, medical personnel & military personnel, they are becoming more popular in the civilian world. According to outdoor site Gear Lobo, the need for a quality tactical backpack is rising among everybody, from preppers to hikers.
2. BLACKHAWK! S.T.R.I.K.E. Predator Hydration Pack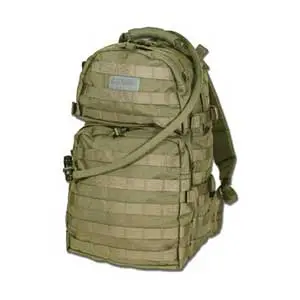 The BLACKHAWK! S.T.R.I.K.E. Cyclone Hydration Pack is a versatile, rugged backpack that is NTOA reviewed and approved and has quickly become a customer favorite! The pack includes a 100 oz. BLACKHAWK! Hydration System that is protected by Microban antimicrobial technology and features a Bite Me bite valve and patent-pending quick-disconnect system.
Features: Twin compartments for extra storage. The large compartment has an internal pouch for radio packs and three antenna ports with flaps; over 100 external S.T.R.I.K.E. webbing attachment points; anodized D-rings and quick-cinch buckles for compatibility with 3-Day accessory pouches; reinforced waist belt with additional attachment points; padded, contour-fit shoulder straps with sternum strap; rubber drag handle; and metal grommet at bottom of pack for drainage.
The main compartment is one of the best on the market. It is 19 l, with a front one that is half of that, also being one of the best. Both are made out of durable nylon with watertight seals.
3. EBERLESTOCK Halftrack Pack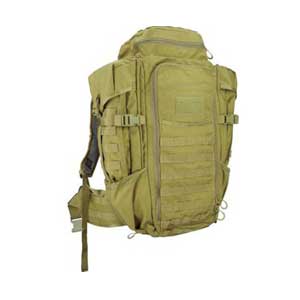 The F3 Halftrack comes in a long, lean design with 2,150 cubic inches of storage — which easily renders it a capable travel backpack for trips across town or the country. Its front panel contains an assortment of PALS-compatible webbing, Velcro badge attachment, and a tall zipper front pouch.
A top modular pouch and dual hydration pouches on either side of the pack help you keep important items at your fingertips while on the move. Its side compression straps add load-bearing control and minimize your profile, while a padded shoulder and waist harness system keeps you comfortable. Rain cover pulls out quickly from the bottom compartment to keep your items dry in inclement weather.
4. Camelbak B.F.M. Hydration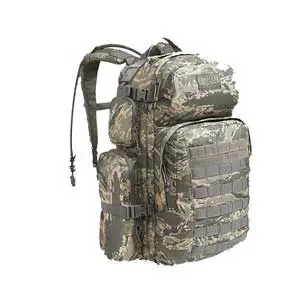 I've been a huge fan of American-made Camelbak products for as long as I can remember originating with their best-in-class hydration systems. I figured that I loved their hydration systems so much and that they did such a good job of transporting water that surely they could have built a good tactical pack as well, and I was right.
These bags' primary design features revolve around good old H2O. The hydration system found in this pack is the Mil-Spec Antidote reservoir with a quick link exit port and QL Hydrolocking bite valve adapter kit. These are among the best water systems available for rough terrain and combat situations built thus far.
The bag itself is constructed of Corduroy 500D, which is a happy balance between lightweight and durability. Usually, I'd shoot for 1000D or 1050D. Still, with this bag carrying so much water already and naturally being a heavy pack when loaded, the 500D material was a solid choice to ensure the pack doesn't add too much weight to your overall loadout.
These packs are designed for 3-4 day excursions and are actively used by our servicemen in combat zones. This bag, although it says it's the same size internally, is noticeably larger than the next bag I'll talk about, the H.A.W.G. This bag also offers a bit more customizability, and in my opinion, it is heavier but more comfortable when carrying heavy loads. T
The Camelbak Motherload is another great bag if you need more storage but is quite large to be considered a true tactical backpack, hence why I didn't add it to this list. On the flip side, the Camelbak Mule is a compact, tactical-ish backpack much smaller than the H.A.W.G. and B.F.M.
Key Features:
Top tier water deliverance system trusted by combat veterans all over the world. Camelbak B.F.M. tactical backpack includes the coveted Antidote Hydration System and multiple routing clips and exit ports for water delivery customization. The main compartment utilizes a clamshell opening design and can be upgraded with medial inserts.
5. 5.11 Tactical All Hazards Nitro Backpack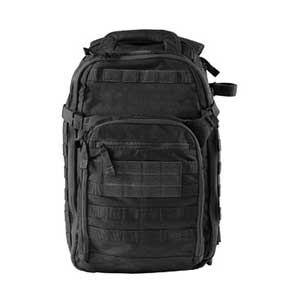 This low-key tactical backpack offers 1,768 cubic inches of storage and all the features of a professional-grade carrying pack. A middle shove-it pouch holds irregularly shaped items, while side-mounted lanyards and three-sided MOLLE webbing allow customized use.
The full-zip front and rear compartments contain a padded laptop sleeve and hydration-system storage. Internal webbing and tear-out-mesh pouches for medical or emergency supplies offer additional organization and tactical gear arrangement. The front clamshell compartment also has a high-visibility orange lining to help signal emergency responders and cohorts.
6. Spec Ops T.H.E. Every Day Carry Pack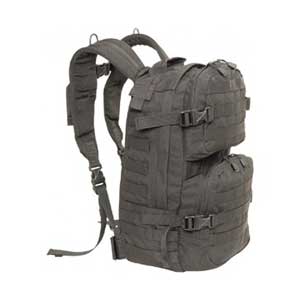 Designed for small-volume everyday carry, this tactical pack features front, side, and bottom MOLLE webbing, as well as 1,376 cubic inches of internal storage. Its modular design is made with 1000-denier water-resistant materials and is compatible with standard hydration systems.
An MTX shoulder harness system and removable 2-inch waist belt help secure the bulk of your bag without uncomfortable shifting. Dual external ports can be used with hydration hoses, headphones, or radio antennae. This pack comes in 14 different colors for highly customizable wear. All Spec-Ops bags are made in the U.S.A. and guaranteed for life.
7. REEBOW GEAR Military Tactical Backpack 72h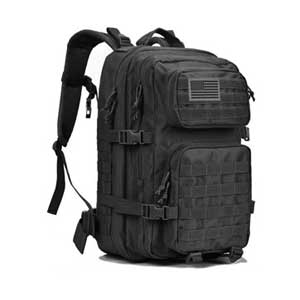 The Reebow Gear Military Backpacks are newly designed for outdoor hiking, camping, trekking, and hunting experiences, the only one of their kind around. It is made of the highest quality fabric and therefore comes as a durable, strong, high-density, and waterproof backpack.
Every single lining is double stitched, and every section is lockable with heavy-duty quality YKK zippers and cord pulls. In addition, it possesses a front-load compression system with a comfortable padding back area. The padded shoulder straps are made of ventilated mesh padding, making it ideal as a military backpack, hunting gear backpack, trekking backpack, or camping rucksack. It is also perfect for family day trips outdoors or abroad.
Generally, this is made from excellent craftsmanship, is of great quality, multifunctional and versatile, well built, and will not disappoint. As for versatility, it comes in various rugged, tough, and camouflaged military color designs and carries a great price tag.
This bag really "packs" some amazing features, including a watertight and double-lined fabric and a front-lined mesh pocket for quick access. Plus, a reasonable price shoots this bag up with some of the best bags on the market right now.
8.S.O.G. Barrage Tactical Internal Frame Backpack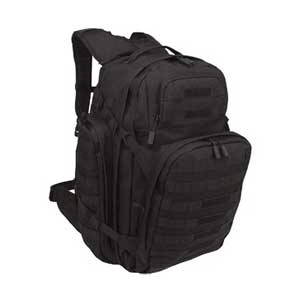 This backpack keeps you organized with an extra-large main compartment and MOLLE backpack webbing for attaching accessories. Large enough for a multi-day pack out, this military-style backpack features a top-front zippered stash nylon pouch, two left and right-side pockets, and a soft-lined pocket at the top for eyeglasses and electronic devices.
Designed with your comfort in mind, the Barrage features yoke-style adjustable, padded shoulder straps, an adjustable sternum strap slider for added security and comfort, padded waist strap belt with a quick-release buckle for supporting heavy loads.
You'll be able to quench your thirst wherever you roam with a hydration bladder pocket featuring left and right tubing ports for easy access to H2O (reservoir sold separately).
9. Maxpedition Falcon-II Backpack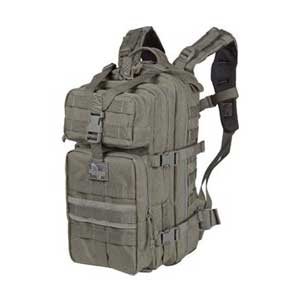 This is a more slender backpack making it very easy to carry over long distances as there won't be much weight on your back. The capacity of 20 liters should be good enough for most needs and will be able to take enough gear for a great day out. It comes in five different colors, which all look great and will keep you looking stylish, whether you are hiking or using it every day. The bag has two large main compartment areas in the middle with two smaller pouches at the front.
To prevent excessive movement, it has a Y strap over the top of the bag and compression straps down the sides. Once on your back, it will be safe and secured with the padded should straps as well as the sternum and waist straps. This military backpack has a storage space of 20 liters, which is decided in several zippered nylon compartments. We also shouldn't forget that this bagpack has branded F zippers, it's water-resistant and comes in various hip colors and removable accessories.
10. Direct Action Ghost Pack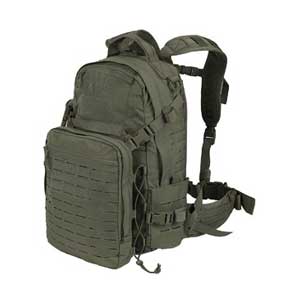 Ghost MK II is a 30+ liter backpack, scalable, and well suited for the role of a tactical 3-day pack. It features the main pack with two zippered compartments-first, larger, has an internal hydration pocket and an accessory mesh pocket. Second, accessible from the backside of the pack is reinforced and will hold a large laptop computer.
The low profile look and feel makes it a perfect army backpack to wear every day. If you are looking for a heavy-duty backpack for your laptop, hydration bladder, etc., or just a solid base for your bug-out bag, with many compartments, waist strap, and lots of attaching and accessories, this mobile backpack is one heck of an offering.
How To Choose A Tactical Backpack?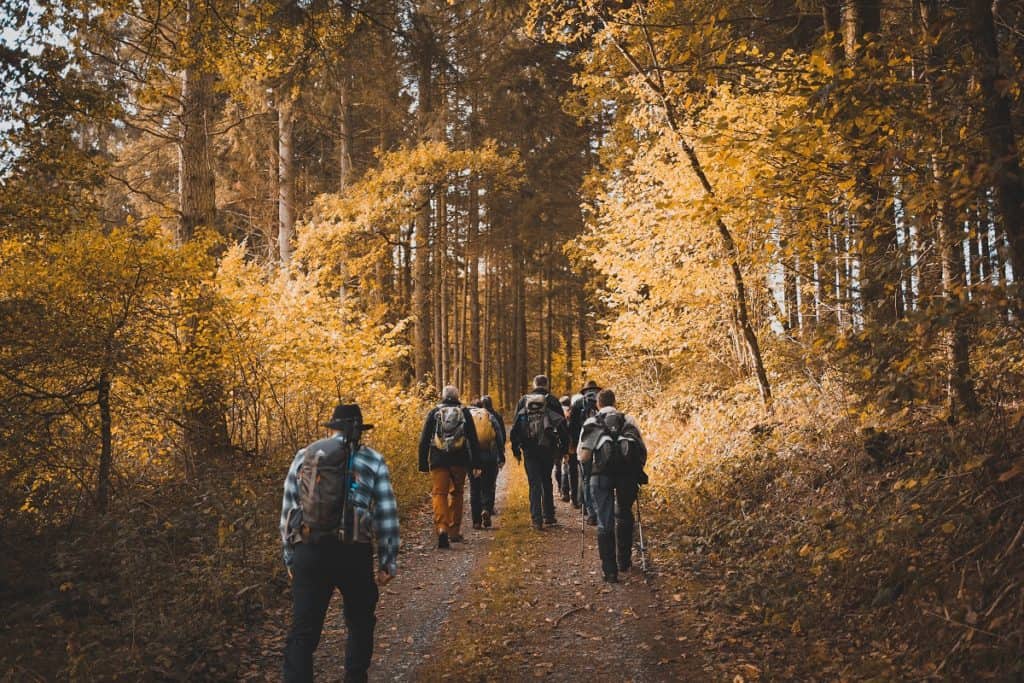 Price
Price is a huge factor as these packs can range from $30-$300. You need to decide what your main purpose for the pack is and how often you will use it. In general, the price of a given pack will go up if the manufacturer uses higher quality materials and adds more features.
The more basic models will function well as daypacks but won't have much use past that. As with many survival and outdoor recreation items, you will largely get what you pay for. If you want a tactical backpack to last, it's worth spending a bit more.
MOLLE Compatibility
MOLLE webbing is a feature that can add accessories to your pack, making it able to carry more gear. This MOLLE webbing allows you to add straps, compartments, and other customized features to your tactical backpack. The military elite relies heavily on MOLLE webbing because each mission can call for a slightly different setup.
The major advantage of a tactical backpack with MOLLE webbing is that it will be able to mold to fit your needs. If you're an outdoor enthusiast that might head out on an elk hunt one weekend and a snowmobile trip the next, it pays to have a do-it-all style pack that can be customized for each activity you enjoy, and that's what the MOLLE system offers.
A good tactical backpack with a MOLLE webbing should allow you to organize and find your gear and compartments at a moment's notice. Some packs have more organizational pockets than others. Some of these pockets include shade protectors or hydration bladder compartments. Make sure you find a pack that offers the number of pockets, customizability, and specific added features that you'll find most useful.
Compression
The main purpose of compression straps is to help compact your gear and pack once it is completely packed. Compression straps also help to compress the gear into your backpack into a denser package. In doing so, you'll be able to center the weight on your back and body more easily. If you're primarily going to be using your tactical backpack for long-distance trekking, being able to compress gear and center the pack weight on your back will go a long way toward allowing you to cover more miles every day.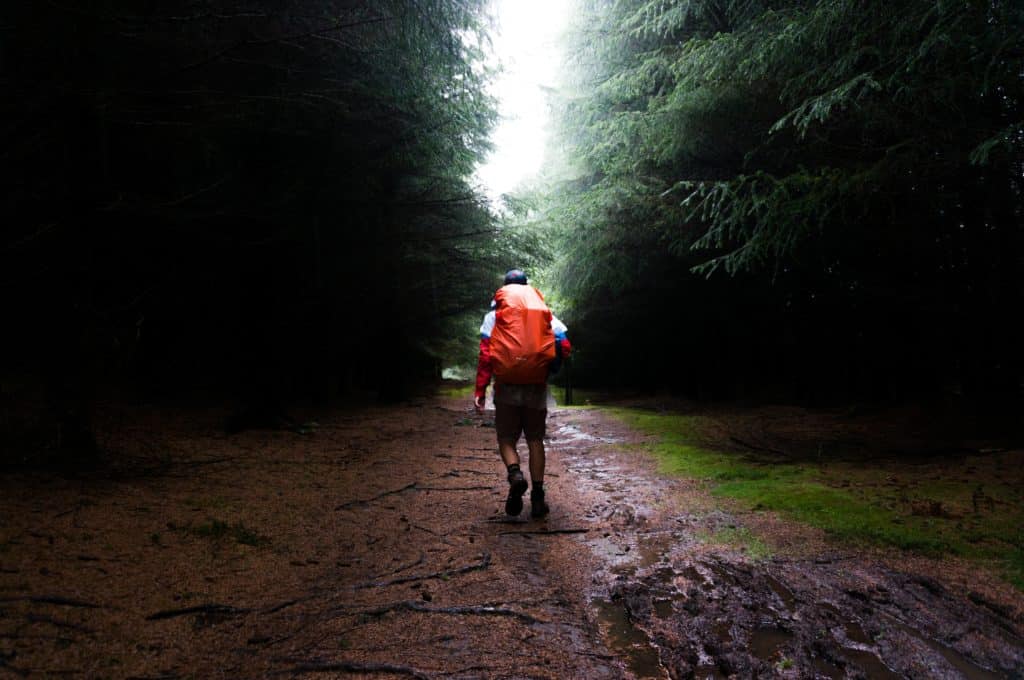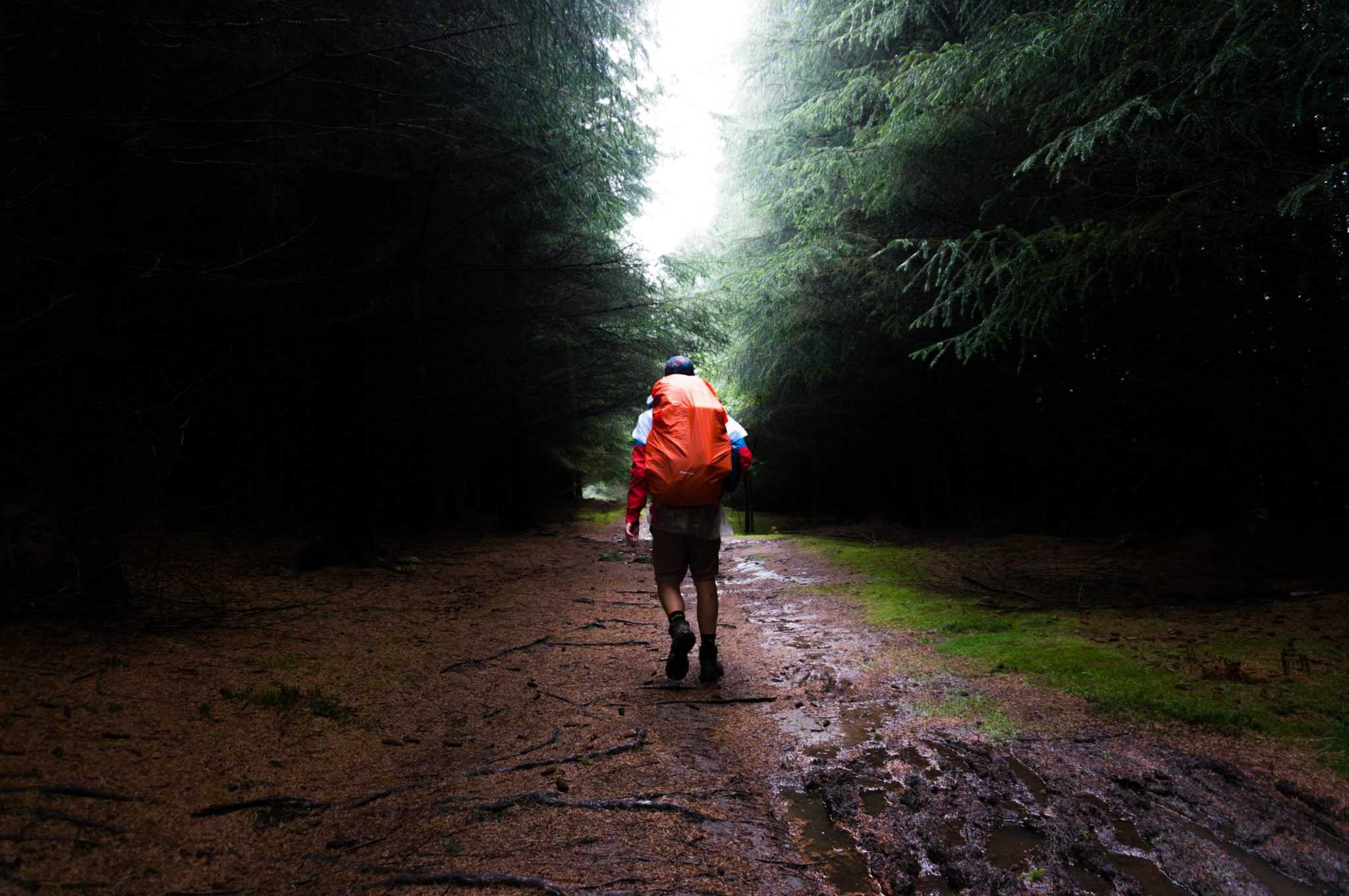 Use
These bags are called tactical backpacks as they are made to a military standard. That means they will be highly rugged and made for the extreme environments that military personnel might find themselves in.
It's unlikely that you are considering using these tactical backpacks to go to war, though. Still, their durability and usability make them brilliant backpacks for a larger variety of different activities, even for simple activities and everyday use.
These tactical backpacks are going to be brilliant on hiking trips as they will be able to contain everything that you need. The bigger ones are going to be able to give you enough items for a good few days, while the smaller products will be ideal as day packs, but regular day packs are also great for this.
A tactical backpack would also be very good for traveling, too, where you are likely going to have to carry many items. When traveling too, you are likely to put the backpack through a big use, and the extra durability will be very useful.
The backpack is also going to be ideal for everyday use, whether that is simply going to the gym or going out on a day trip. Their build quality means they can be used all the time and will last for years.
It's part of what makes these tactical backpacks huge value for money, as you will always have a great use for them and be able to use them all the time. Where other types of backpacks might fail after a while, your tactical backpack is going to be able to last for years.
Storage Capacity
The storage space of these bags is going to be very important to the type of activity that you want to be able to complete. The use that you are going to have for your bag needs to reflect the size of the bag.
If you are going on a multi-day backpacking trip in the wilderness, then you are going to need a bag that has a high capacity. In these situations, having a bag with a capacity of around 35-40 liters is going to be ideal as that will be able to hold many items.
If you are going to be going out on a day hike, then you wouldn't need as much capacity, and therefore having something like a 20-liter bag is going to be able to do the job, as you'll be able to get everything that you need to carry in the smaller space.
It's worth bearing in mind, though, that it's probably going to be a good idea to get a backpack that is on the larger side as you don't want to end up with a bag that is too small and have to leave some important things behind that you otherwise would have wanted to take.
The way these bags are designed, it doesn't matter if they will be underfilled as you would still be able to have a highly compact bag. The reason for this is due to the compression straps that these bags have. They will ensure little movement, even if the bag isn't full.
On the other end of the scale, if you want a large backpack and are worried about running out of space, having a backpack with a MOLLE system will mean that you can attach various items to the back of your bag, even when it is full.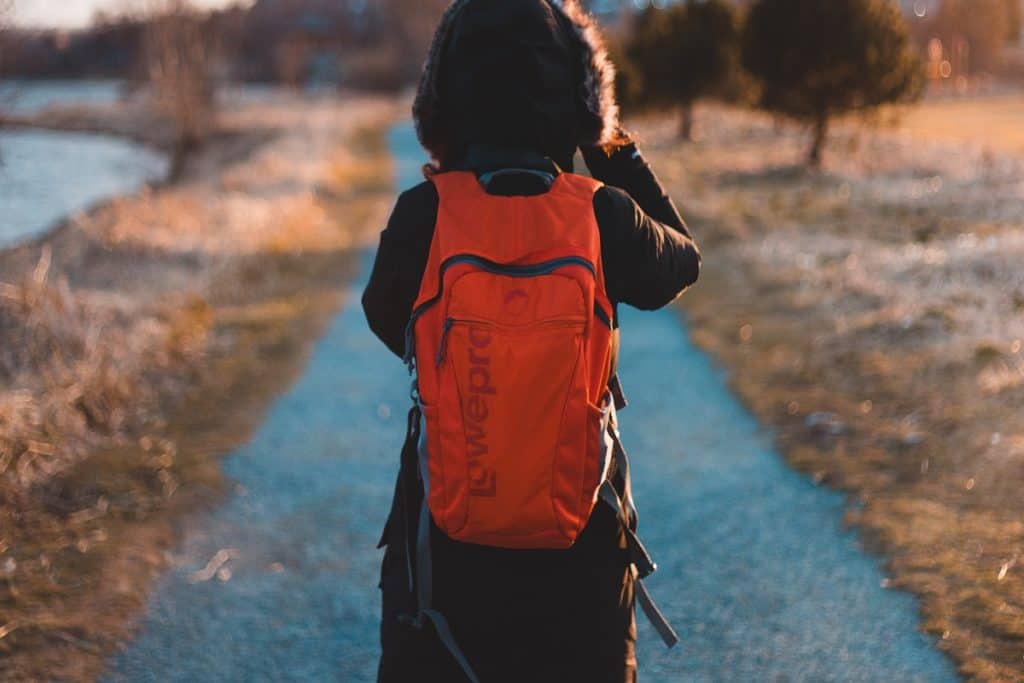 Portability
If you have a fully packed 40-liter tactical backpack, you know it will be very heavy. In that respect, you want to ensure that it will be comfortable even when the weight increases.
When this is the case, just having shoulder straps aren't going to be enough. The shoulder straps have to be good enough to take the weight, which will be where most of the pressure of the bag will be placed against.
Due to this, you want to have wide straps that are going to be heavily padded to be able to give you that layer of cushioning. Like the back panel, you want this to be made out of breathable mesh so that you will not get too hot and sweat too much.
One aspect that back makes backpacks difficult to carry is if there are too loose. This will mean that you are constantly fighting against the movement and momentum of the bag. Having a sternum strap will help to take some of the weight off your shoulder but also help to keep your bag tight to your body.
Holding a weight with a stretched-out arm is more difficult than holding it close to your chest. These same physics apply to your backpack, and you want it to be as close to your body as possible. Compression straps will help with this as they will help to make your bag tight and portable.
Being able to have easily adjustable straps is also important in this. Another strap that will be very useful is if you have a waist strap. Like the sternum strap, this will help to take some of the weight off your shoulder but also help to keep the bag held tightly to you.
Carrying Capacity
The carrying capacity refers to how much weight the backpack is going to be able to hold. This is where tactical backpacks excel, as they will be able to hold a significant amount of weight before breaking, which adds to their usability.
It's not something that you are going to have to worry about with these types of bags as they will be reinforced in the weak areas. A tactical backpack is going to be able to carry a whole load of heavy camping gear without any issue.
The point where the bag breaks will be much higher than the load that you will physically be able to carry, and therefore, you can have confidence that this is a bag that you will be able to use in any situation as it will take a lot of stress.
These backpacks are made to be highly durable, which is why the material they are made from is very thick when compared to other bags. As well as the durable material, the buckles can take a vast amount of weight.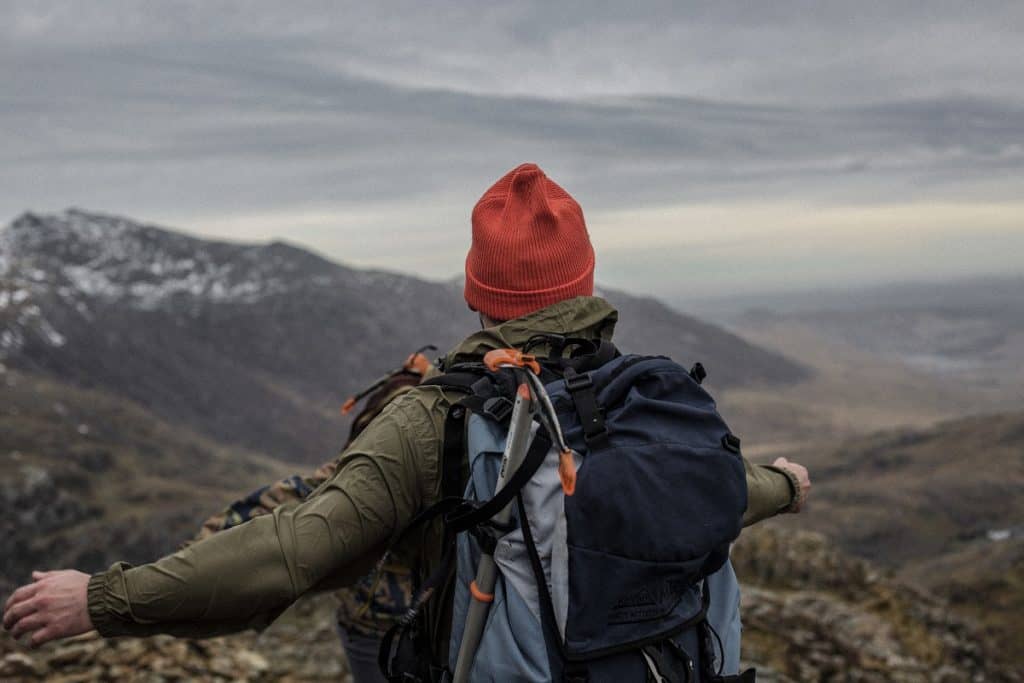 Weight
With any outdoor item, there is going to be a balance between weight and durability. Generally, the more durable you are going to make a product, the heavier it is going to be as extra materials and features are going to be in mind.
With tactical backpacks, it is a balance that is more favored towards durability than it is with regular backpacks. These backpacks are going to be slightly heavier than other options, but you do get a lot of extra features for that weight.
These backpacks are designed to be able to take a lot of weight, which means that a few extra pounds of bag weight aren't going to be that important if you have a fully stocked 40-liter bag, as it is going to be a small percentage of the overall weight.
Therefore, weight isn't a huge concern regarding this product as they aren't meant to be lightweight. If you think that you are going to need something lighter, it would be a good idea to look for the best regular backpack instead.
With these bags, the extra weight comes because they are made from thicker materials throughout the bag and the number of compartments they have. Added to that, they will often have extra straps and buckles.
That doesn't mean you shouldn't care about the weight, though. It's always worth checking, just to make sure that you are not going to be getting something too heavy. You still want to bag to be under six pounds, even with all that extra durability.
Durability
Not all packs are made equal as far as durability goes. Some are made with high-quality materials and construction. Denier count is one of the ways to compare packs to one another in terms of the fabric quality used in their construction. In general, a higher denier count means a more durable pack. However, the type of material also plays a role.
Certain materials with a lower denier count can be more resistant to scratches and tears than a different material with a higher denier count. So, as you can see, it pays to research fabric strength and quality more closely before deciding on a tactical backpack.
As a general rule, you should look for a tactical backpack with a denier count of at least 500 to 1200. Cordura nylon fabric is a well-regarded fabric that you should keep an eye out for as well. X-Pac (or XV) fabric is also a good option, but you should generally avoid packs made from just polyester or Kodra (even though it sounds cool).
The pack's stitching and zippers also play a large role in its overall durability. Y.K.K. zippers are generally considered to be high-quality (2) and are increasingly used by many designers of tactical and outdoor recreation gear. Other zipper brands to look for include TiZip, I.T.W. Nexus, and AustriAlpin.
When it comes to stitching, experiments have shown that nylon thread is stronger than polyester. Similar tests have shown that straight stitching is stronger than stitching in a zigzag pattern. This is because straight stitching spreads force along a line, whereas zigzag stitching concentrates force at the points of the zigs and the zags.
Paying attention to stitching is important because the seams of a tactical backpack are typically its weakest points. A company that has taken the time to reinforce the stitching of their backpacks can be trusted over those that hardly mention how they've stitched the pack together in their product description.
Comfort
In a backpack that you might be wearing for days at a time, comfort should also come into play. Some of the features that help to improve the comfort of a tactical backpack include the quality of the suspension system, padding on the shoulder straps and hip belt, and the breathability of the back panel. These features will largely determine how the pack sits on your body, how it feels on your shoulder and hips, and how effectively it can wick away moisture when putting it to use.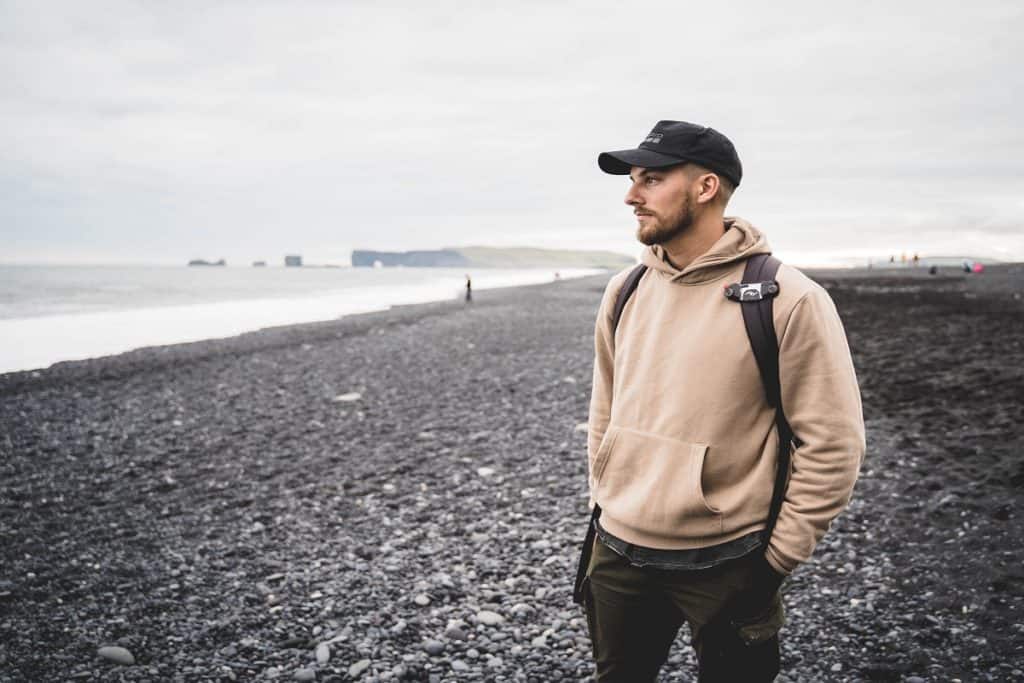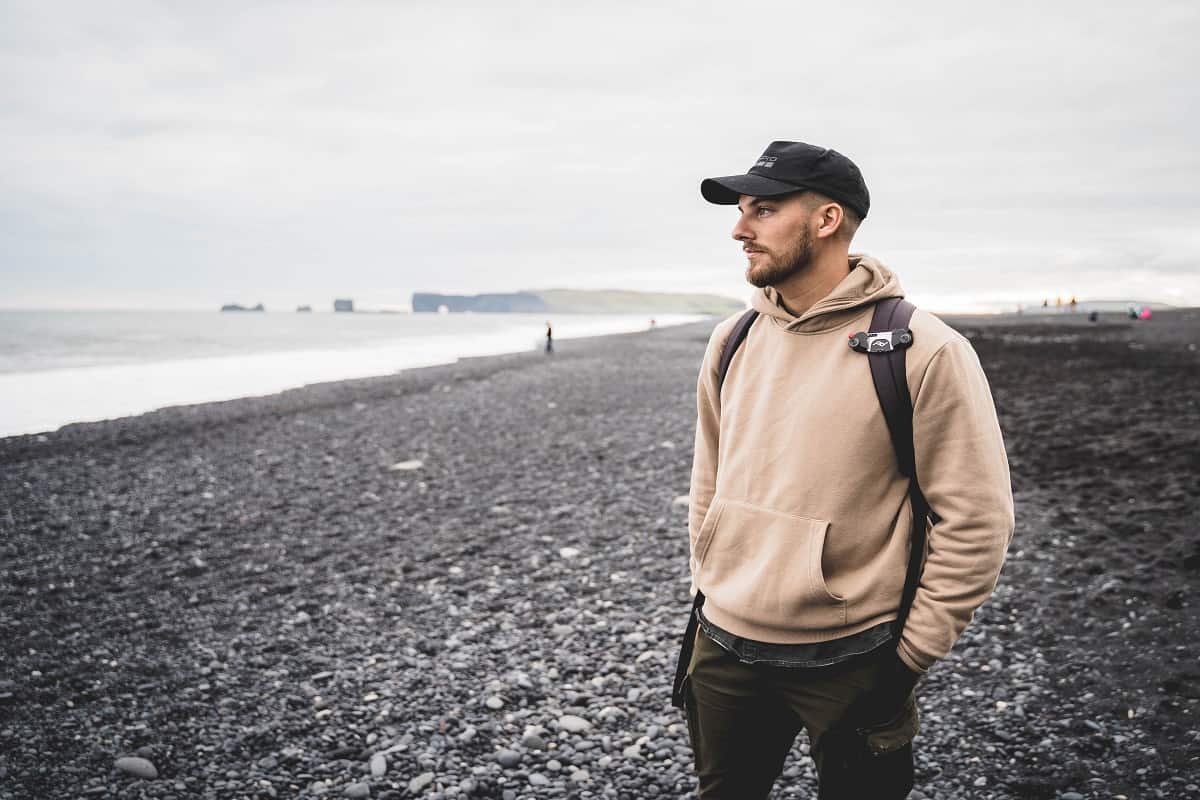 Hydration System Compatibility
Some people will prefer to take a water bottle on their trip simply. Still, others will see the merits of a hydration system, which will make your life very easy and give you constant access to water whenever you need it, with a water bladder that you automatically have when you wear the backpack.
Most companies don't provide you with the system that you need to have your water, and therefore you will usually need to buy this separately. Most tactical backpacks, though, will give you a section of compartments where a hydration pack can be placed.
A hydration pack will essentially be a large bladder placed in your bag, and a drinking straw can come from this to the top of the bag to give you easy access to your water. It is a very useful way of staying hydrated.
If you have too much weight on the side of your backpack, then this can affect your momentum, which will make the bag harder to carry. This is the same reason these bags have compression straps to keep everything as close as possible.
One of the great aspects of a hydration pack is that it will be placed centrally in the bag. That will make your bag easier to carry than having large water bottles on the side of your bag. This adds a lot of conveniences.
One negative, though, is that users may prefer to use this space for something else, as the hydration pack can take up a significant amount of space in your bag. This personal preference is based on how you want to take your water and how much stuff you will put in your bag.
Access
How do you get into the pack and its compartments? Is there one massive cavernous compartment? Are there a few smaller easy-to-access zippered pockets to store your small gadgets? Is it a clamshell that opens to expose everything inside? Does it have a 3-ZIP (Tri-Zip) style opening?
There are pros and cons to all of these. I lean towards a full clamshell opening and Tri-Zip myself, as I find they provide excellent and easy access to everything inside. Rolltop provides a large main compartment but can be a bit cumbersome when you're armpit deep in your pack's opening that looks like a largemouth bass's mouth, trying to get your fingertips on a Tic Tac mint you dropped at the very bottom.
Back Panel
If you have ever carried a large backpack that doesn't have a lot of back support, then you will understand just how helpful it can be for your backpack to offer a lot of support in this area. The reason this is required is for two main reasons.
Firstly, if you don't have any padding on the back of the backpack, this means that anything that is in the bag will be pressed directly against your back. This can not only be highly uncomfortable, but it can also quickly be painful too.
Secondly, if you have a backpack flush to your back, then you are going to sweat very quickly. Again, this would be very uncomfortable as your back becomes wet. It can also be dangerous too, as you will overheat and lose a lot of water, therefore needing to hydrate constantly.
To get around this, you first want a back panel with a lot of padding. This will be able to have that barrier of cushioning between you are your backpack so that you can hold it tightly to your body without worrying about anything digging into your back.
You also need this back panel to be well designed in two ways. You want it to have mesh padding so that air is going to be able to flow through it, but the best back panels will also have channels that let air flow through, therefore minimizing any sweat that you will have.
A comfortable back panel is an underrated part of a backpack, especially a tactical backpack, due to the weight that it is designed to carry. If you didn't have a back panel on a long trip, it would quickly make you miserable.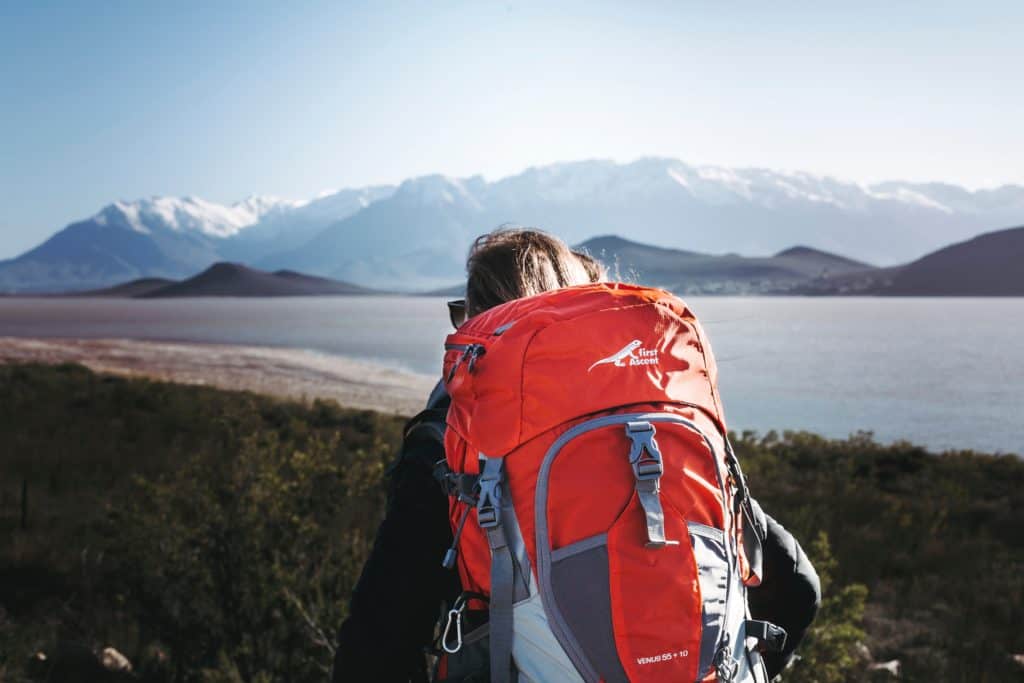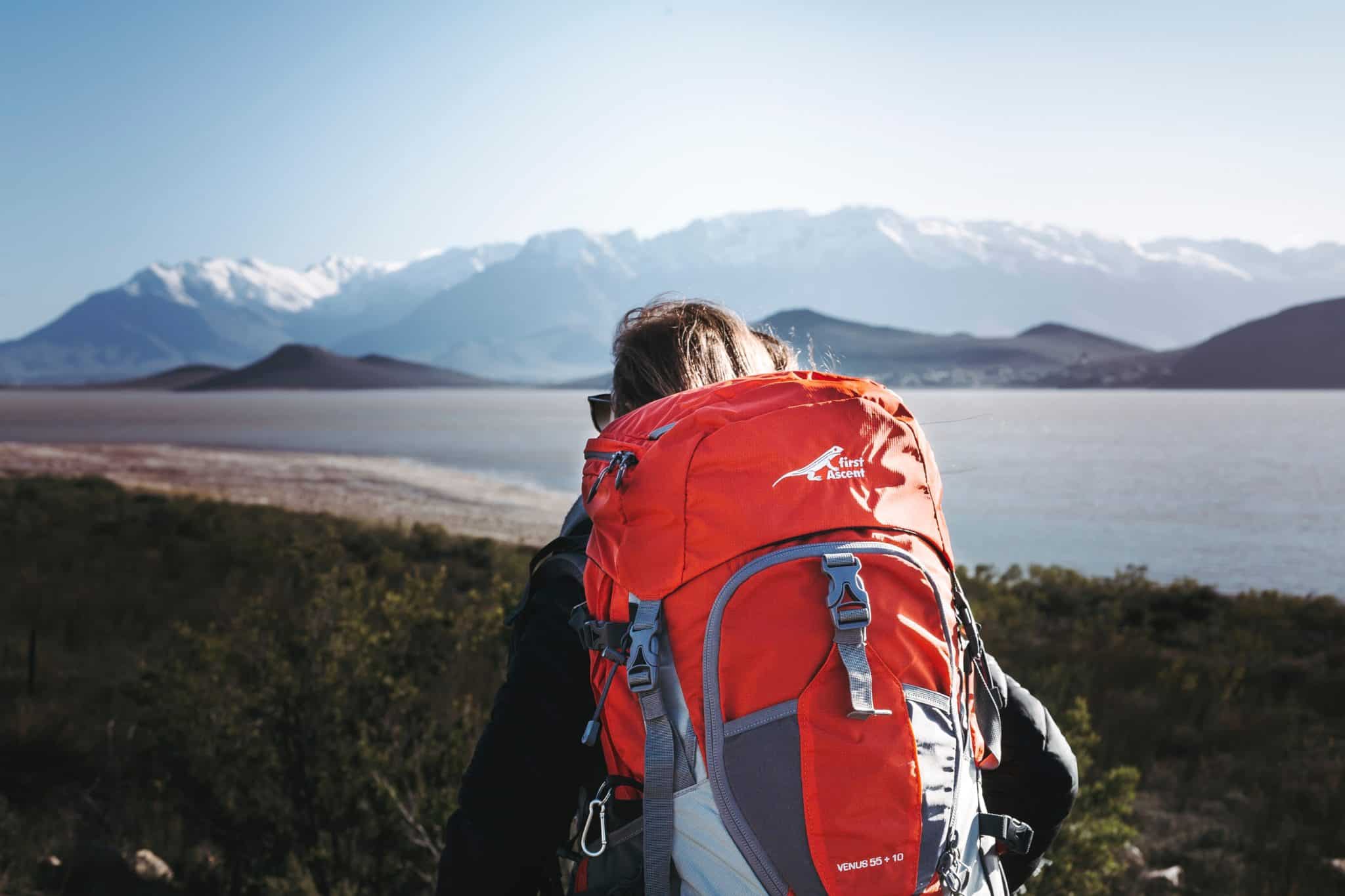 Country Of Manufacture
This is one tough nut to crack. And I'm going to set the record straight here. Some folks swear by Made In U.S.A. packs. Some folks want a pack that's manufactured in their own country. Some folks don't care. The simple answer is…it doesn't matter. Yes, I said it. I know some factories in Vietnam that are MUCH better at making packs than dozens of U.S.A. factories.
On the inverse, I know some U.S.A. factories that are better than Vietnamese factories. For the U.S. military, it is a requirement that the packs be made in the U.S.A. (via the Berry Amendment). So unless you're an enlisted soldier, this shouldn't matter to you. Because in that case, you're being issued your gear anyway. It depends on the pride each factory and each sewer puts into their product.
Aesthetics
Yes, I talked about how the military/tactical packs are made for function. They are. But you're likely a civilian walking around on urban city streets. So this is really up to you. How loud do you want to be? These packs are visually covered in MOLLE webbing, meaning "military" to most onlookers, whether they realize why or not.
Most of these packs come in my favorite color, black. In my opinion, black is the best way to rock a tactical pack without shouting "military"! But they also come in a variety of other colors and camouflage patterns. A subdued olive drab green can look super handsome, and MultiCam (or MultiCam black) can be fun too.
Just think about this before you commit to the purchase. Even with my all-black Triple Aught Design FAST Pack Litespeed, I'll have people casually ask me when/where I served while I'm in the security line at airports.
Additionally, do you like Velcro patches? These are generally called "morale patches." Inspired by actual armed forces with a civilian spin on them. Some people think they're cool and funny. Some think they're tactical. There are hundreds of manufacturers of fun and serious patches to adorn your pack.
Depending on which vibe you're going for, look for a panel or strip of female/loop Velcro on the pack's exterior. Some brands even offer packs in Velcro-less options to maximize your "gray man" status. Check out some morale patches from our friends over at ITS Tactical.
Organization
Here's what makes a pack "for you" or not. In the past, I used to love more pockets, more zippers, and more hidden compartments. I could fit X into this pocket, then Y into this separate area, and then Z into its compartment. The thing is, separate pockets and compartments mean extra construction = extra cost, extra material/hardware = extra weight/cost, and it takes some impressive memory skills if you swap out packs as often as I do.
I lean more towards Inception Packing, with multiple visually recognizable organizer pouches. I prefer one large compartment for bulky items with maybe 1 (maybe 2) extra pockets for small stuff I want to access quickly. That's what I like in my setup. And I recommend this for most.
But maybe you like having one pack that you don't swap out. So this is where dedicated pocketing can be intriguing for some. Just remember gear advances in technology. Gear grows and shrinks in size, depending on technology. So that pocket for an iPhone 4 definitely won't fit the new iPhone 11 Pro Max. In this case, try fitting some of your must-have gear in the pack before committing.
Frequently Asked Questions
Tactical backpacks are frequently entrusted with all the gear soldiers may need on a mission. That includes many items that typically don't even enter civilian minds when preparing for outdoor adventures. If you're still unfamiliar with a few of the terms used to describe the features of tactical backpacks, we hope we can answer your questions in this section.
What Is A MOLLE Backpack?
A MOLLE (usually pronounced "Molly") tactical backpacks are packs that feature a webbing system allowing removable accessories and compartments to be added. Most tactical backpacks run a MOLLE webbing system on their packs.
What Is A Rucksack?
A Rucksack is a word used interchangeably with 'backpack.' Typically a rucksack will only have the main compartment, whereas a backpack will have many different pockets and compartments. Essentially a rucksack is the same as a backpack.
Summary
Whether you're into hunting, trekking, alpine mountaineering, or casual hiking, many situations call for a proper tactical backpack.
In this article, we've looked at many of the defining features that make the tactical pack what it is, and thus you now know what you need to be looking for, depending on the activity and personal preferences. We even touched upon some of the best models that many of the top brands offer, and with all that info, you are sure to make a well-informed choice that will be perfect for you.