If you have ever watched archery, you've probably seen a takedown recurve bow. And if you have by any chance thought to start archery, you probably know this is the type of weapon to go with.
All Olympic archers use it, but that doesn't mean it's all competitive. You can use it for hunting or just for some weekend fun. But however simple it may look on the outside, it consists of many factors, like draw length, string durability, and so on.
So, if you are here to buy one, get yourself ready to learn all the necessary information, and buy the right one for you.
1. SAS Spirit Bow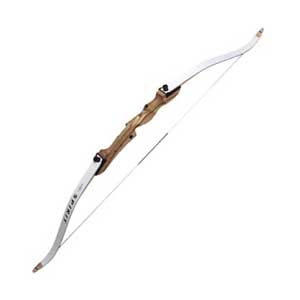 There are times when you want a tool that gives you only the performance you need at a price you can actually afford. A couple of years ago, that wouldn't have been possible. Now, with modern, cost-efficient lightweight materials, a cheap one that is good enough for sport, fun, and hunting is a real thing.
And here we have something that will be very easy on your pockets but won't be a kids' toy either – the SAS Spirit. With a similar style to other Southland Archery, it still looks premium for its small price. Excellent addition to the quality is its maple laminations, which make it even more rigid and strong.
But unlike other models we will be looking at, the Spirit doesn't have anything exceptional going for it. Its performance is mid-range at best, and while it can take the game and with some practice, it has enough accuracy for sports archery. It's just a fun small weapon, clocking at only twenty inches, about one-third of the size of its competitors. But for a kid who wants to start sports archery or for someone who is just fooling around in his backyard, it's an exceptional choice. And let's not forget that its small size makes it easier to carry around and great for fishing, too.
So with premium materials like maple and milled aluminum, for a small tool for beginners and kids, this one packs not only quality but quite the punch, too. Add it to your arsenal, and you won't regret buying this excellent traditional bow for beginners.
Pros
With a similar style to other Southland Archery items, it still looks premium for its small price
It's just a fun small weapon, clocking at only twenty inches, about one-third of the average size
With premium materials like maple and milled aluminum, this item manages to bring some quality to a budget tool with a similar style to other Southland Archery products, it still looks premium
Cons
Its performance is mid-range at best, which makes it a very poor choice for anything competitive
2. The Southwest Archery Spyder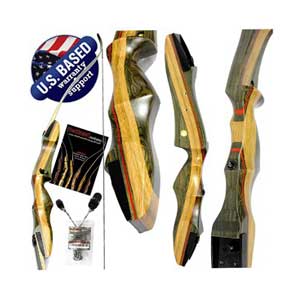 If you are just getting into archery, The Southwest Archery Spyder Takedown just might be the one that will serve you the most. Its durable, strong, and reliable design makes its tier ease up a little bit and stop worrying about keeping the bow whole.
This model is available for both left-handed and right-handed use. The draw weight can be adjusted in a pretty wide range, from 20 pounds to 60 pounds, using increments of 5 pounds. This really simplifies the process of choosing the draw weight most comfortable for you. Another great thing is that it is compatible with Fast Flight and Fleming strings, so you have a choice.
This Spyder is perfect for hunting – from a small game like rabbits to big games like deer and even bow fishing. Target practice isn't won't be a problem either, with high accuracy. One thing to note here is that you can order the bow with a string attached directly from the manufacturer as an extra if you want to.
Pros
Its durable, strong, and reliable design makes it perfect for both practicing and competition
Perfect for hunting – from a small game like rabbits to big games like deers and even fishing
Another big bonus is that you can order it with a string attached, directly from the manufacturer, as an extra if you want to.
Cons
The limbs are very fragile and combined with the fact that the riser that they include isn't brand new really shows the lack of good quality insurance
3. Spyder XL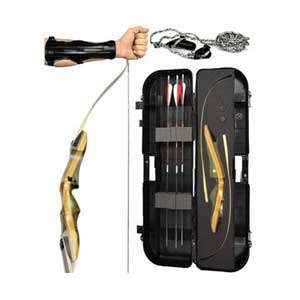 Here we have the bigger brother of the Spyder we looked at above, the Spyder XL 64. This one very well-received upgrade over the standard one, with very welcomed bigger ribs and the same revolutionary Southwest Archery design.
Again here we have reinforced limb tips made out of redwood, with an interchangeable grip for whatever your preferred hands are and a very premium used in the ribs.
For the price it is most commonly found on, it offers a fair bit of bang for your buck. With an Allen wrench for assembly, a string, and an arrow rest, you are getting almost the full package.
But its advantages aren't over, they just keep increasing. The wood isn't only very high quality but also lightweight, thus making it easy for transportation. And not to forget the one-year manufacturer warranty, giving you the certainty to push your tool to its limits.
Pros
This one very well-received upgrade over the standard one, with some much more powerful and meatier limbs
For the price it is most commonly found on, it offers a fair bit of bang for your buck, being somewhere in the middle with almost high – end performance
It has reinforced limb tips made out of redwood, with an interchangeable grip for whatever your preferred hands
Cons
While at first, the one-year warranty may sound like a lot, for a bow that isn't as premium as some out there, it can start to crack just after the warranty ends
4. Hunting door Archery Longbow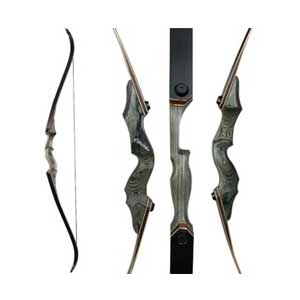 This Longbow is a handcrafted piece of art, and it's more of a traditional weapon. And the good thing is that it doesn't only look good, it also feels good in the hand, with a comfortable handle that is sadly only for right-handed people, so that is bad news for left-handed users.
But that doesn't make it lesser with a fiberglass finish of the ribs. And that, combined with the high-quality maple and bamboo wood, makes it very lightweight for its pretty huge size of 60 inches.
And all of that makes it an excellent choice for activities from hunting to shooting styrofoam targets in your backyard. This is excellent recurve hunting weapon, with reinforced limb tips and amazing additional features, so if you add it to your arsenal, it will be an excellent companion to any and all archers. The quality materials like maple and carbon steel are a steal at this price, so don't wait and just go and grab it.
Pros
This Longbow is a handcrafted piece of art, and it's more of a traditional weapon, and this is a very good thing
The good thing is that it doesn't only look good, it also feels good in the hand, with a comfortable handle
The quality materials like maple and carbon steel are a steal at this price, making it one of the best budget choices
Cons
While its handle is very comfortable and grippy, it is made to be used only by right-handed people, and that's a huge caveat
5. Southwest Archery Stingray 2.0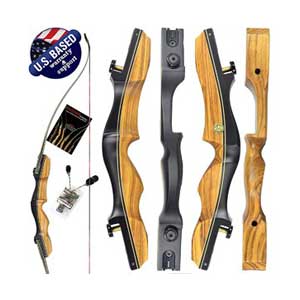 This is another big brother of the Spyder we've looked at earlier, and it shows. A heavy and rigid tool with a high-quality feeling in the hand, this is a serious toy for people who want professional performance. It's made only using premium materials like high-grade fiberglass and maple wood, so you know it's good.
It comes with a premium feeling velvet case for carrying it around, and that's a pretty important feature for a takedown hunting recurve weapon because, at the end of the day, portability is one the best characteristics of these products.
But that isn't the only thing that comes in the box. And the accessories are included in all the sizes the product comes in, from 60 to 62 inches. They include a high-quality string, a video tutorial with all the necessary information, and even an adjustable riser for left or right-handed people. The 62 inches one should be your choice because while it is a little bit bigger and more cumbersome, it offers a lot more power and features, perfect for hunting.
So if you are one of the users searching for something that comes from the USA, but it also has some pedigree behind it accompanied with quality materials, this is your best option, made from premium materials like Maple wood and carbon steel, for the price you can't go wrong with this one.
Pros
A heavy and rigid weapon with a high-quality feeling in the hand, this is a serious piece of gear at a very high price
It comes with a premium feeling velvet case for carrying it around, and that's a pretty important feature for a takedown product
The 62 inches one should be your choice because while it is a little bit bigger and more cumbersome, it offers a whole lot more power
Cons
While it definitely offers not only quality but also some amazing stats, it is so pricey that it is a good choice only for people who will be competing in a serious tournament
Frequently Asked Questions
What Is A Takedown Recurve Bow?
A recurve bow is an archery weapon that gets its name from its curve. In the center, it curves towards the shooter, and at the tips, the opposite is true – the item curves away.
While takedown bows are recurve ones, unlike more conventional recurve ones that are one-piece construction, it is made out of three distinct parts: a riser and two removable limbs.
Which Are The Benefits Of Choosing The Takedown Recurve Version?
The Takedown recurves are rich in customization, so for people who are serious about the activity they are participating in, it's a well-sought choice. From hunters to sports archers and beginners, you can set up the recurve weapon; however you want to suit your liking. And here I've listed all of its best advantages.
Different Draw Weights
The biggest benefit of the takedown is that you can replace the limbs to increase the draw weight without replacing the whole tool itself. This aspect is especially handy for people who are just getting into archery and want to start at a draw weight of, for example, 25 pounds but can increase it at any time, thus giving themselves a low skill ceiling that is also adjustable. Most of the takedown recurve weapons come with a set of differently weighted limbs, but even if they don't, you can always purchase additional ones from the OEM.
Easy Transport and Storage
Traditional recurves take a fair bit of space, particularly if their string is removed. So finding a place to store it safely or even getting the weapon into your car can present quite the challenge. Since it has a modular design, removing its limbs, storing, and transporting it will be much easier.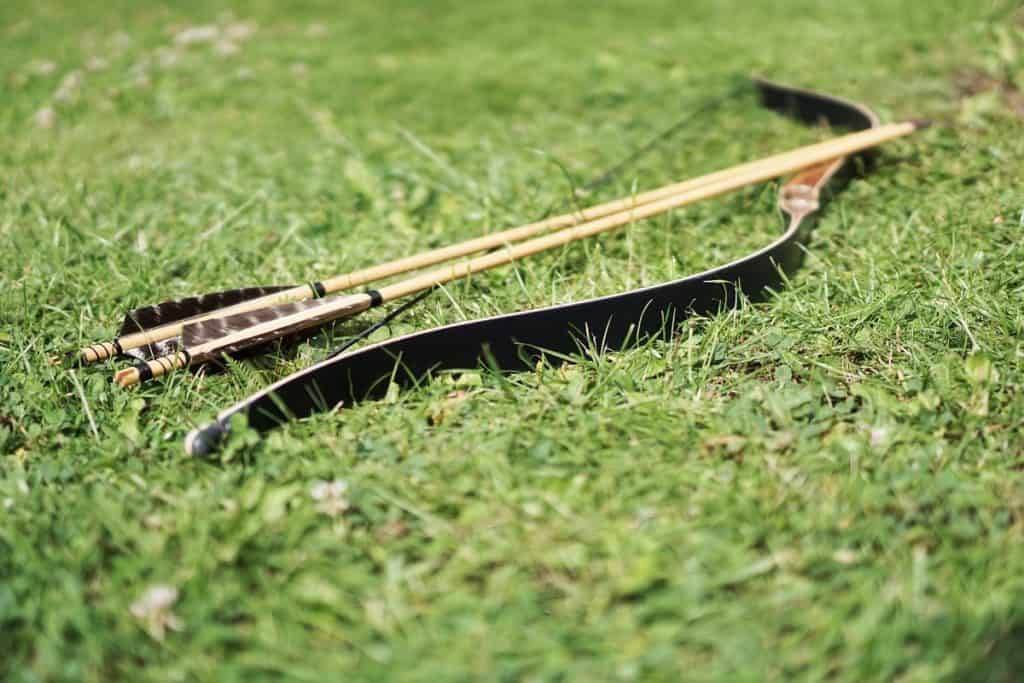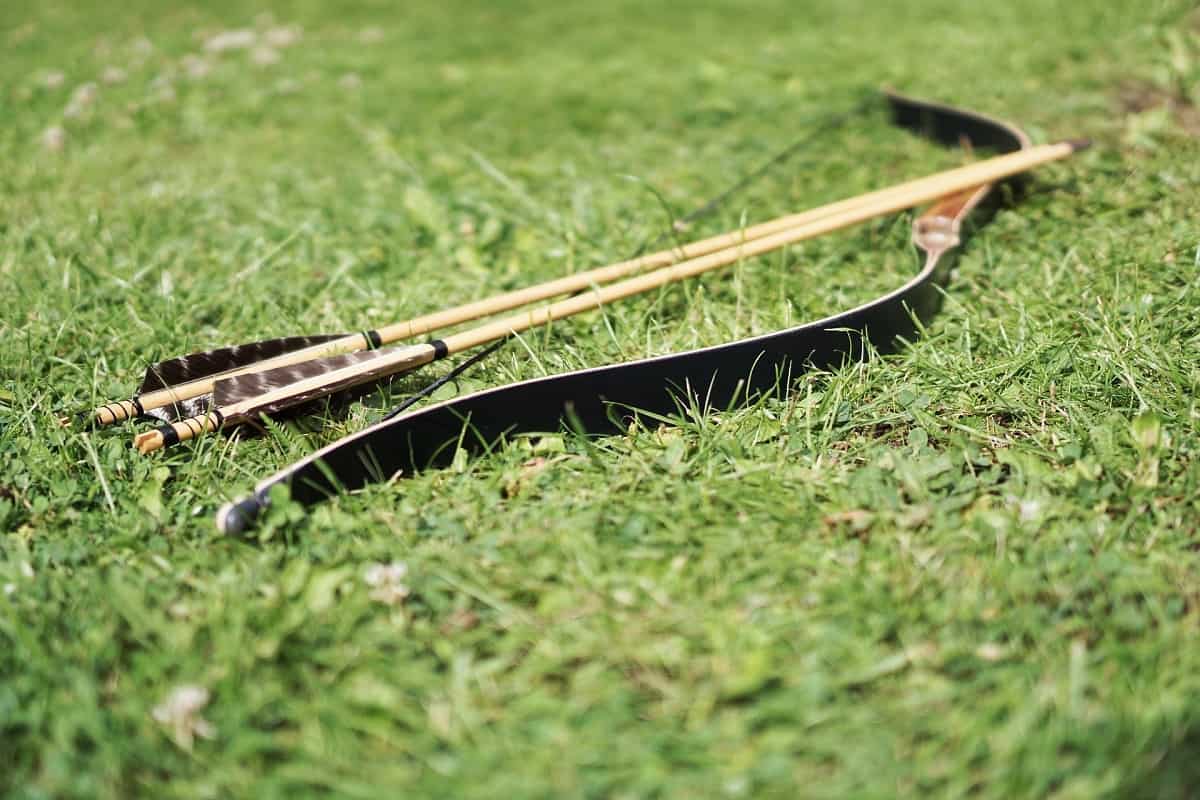 What Makes A Good Takedown Recurve Bow?
Although takedowns are specialized weapons, they aren't all exactly the same. The market is saturated enough to have a bow for every person out there. To find the one that suits you like a glove, you need to take a couple of things into consideration.
What Is Your Purpose Of Shooting?
While you could just go straight down to the list with the best products out there, you need to think about what you are going to do with it once you've bought it. And this is the factor that you should put the most thought into.
If your intention is just shooting through cardboard or foam targets in your backyard, you won't necessarily need the top-of-the-range model. Any recurve weapon will do the most basic actions, so if this is what you are going to do, you ought to be better with a more budget option. Because even if you plan to do some serious activities, you should first get your feet wet with something a bit easier to use.
However, if you're looking to hunt animals, you should need something with enough power to pierce through skin and bones, so your minimum draw weight should be at least 40 pounds.
If you don't want to invest that much money, there comes the best feature of the recurve bows. You may buy a cheaper model, and you can change its limbs later. That way, you can identify if it is the right weapon for you without burning too much money.
The only case where I use something higher than 40 lbs is if I'm going to hunt some big game, like deers or boars, but even these can be hunted easily with about 40ish. The animals you will be hunting with this much draw weight are things like buffalo and bears. In these situations, you want to be safe, so aim for something with about a 55-pound draw weight or higher.
What Is Draw Length?
Accompanying the draw weight is the draw length, and choosing the perfect one for you is as important as choosing a comfortable pair of underwear. While the process of finding the draw length itself isn't exactly rocket science, your performance strongly depends on being able to get it correctly. No matter the model you've chosen, measuring the most suitable draw length for you is very, very important, as this also determines the right size and length of the arrows and the bow you are going to use.
When choosing your weapon, you don't simply try to make it fit your body, you find the perfect measurements for your body and choose it accordingly. So, let's look at the elements that actually make a difference to your draw length.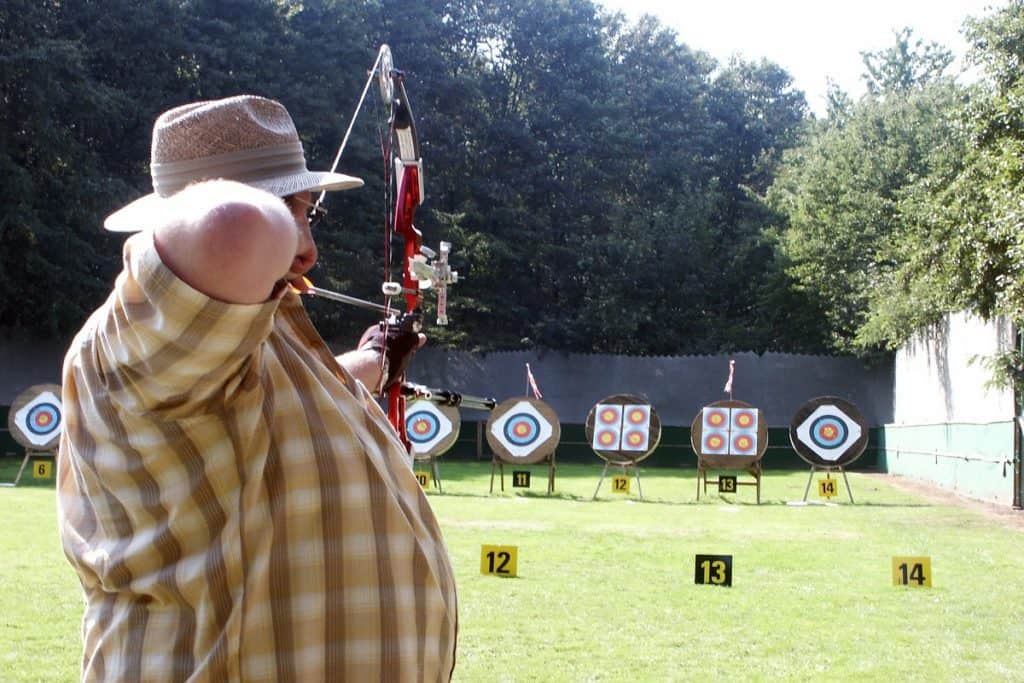 What Elements Influence Your Draw Length?
When measuring for proper draw length, the top of your shoulders and your arm should be correctly aligned. Make sure your shoulders are not in a shrugging position but a low, natural position. These two elements will ensure that you can get a draw length that isn't shorter than your actual one. To ensure that the draw length you get won't be longer than your actual, your neck and head shouldn't be straining backward while measuring, so just keep them relaxed.
Make sure not to hold the string at an anchor point too far back. Make sure your release aid doesn't lengthen your draw, either. Observe good posture when measuring and make sure the wrist of your drawing hand is not arched or strained. Don't use your back muscles when measuring, as this will push your entire shoulder toward your spine, giving you a falsely long measurement.
Beginner archers should not attempt to take their draw length by themselves. It is best to work with a coach or pro-shop expert who can help you measure your draw length properly using a practice bow and a measuring arrow. Remember to stand in good form and alignment during the process.
Why Measure Your Draw Length At All?
No matter how your archery instructor tells you that there is just one position animal stance, each and every one of us is unique.
While some people have longer or shorter arm spans, others have smaller forearms and slightly longer fingers as well. That's why it is important because when using recurve weapons, the draw length is too small will make it impossible for the archer to assume proper archery shooting form.
How To Measure Draw Length?
It's a pretty easy process. With both arms outstretched to your sides and your palms facing outward or to the front, measure from one middle finger to the next, the result is called your arm span. Then divide the result by 2.5 or just subtract 15 and divide it by 2. The result from these methods will be as close as possible to an accurate measurement. The bat thing you can do here is just to do both methods and take the average of the two results, just to be sure.
But there is yet another method out there. Take a yardstick, then place one end on your chest, at the point just down your throat. Stretch your arms as far as possible, just like you clap your hands in front of you. Mark the reading you get at the very end of your middle finger and add an extra inch to that to get your rough draw length.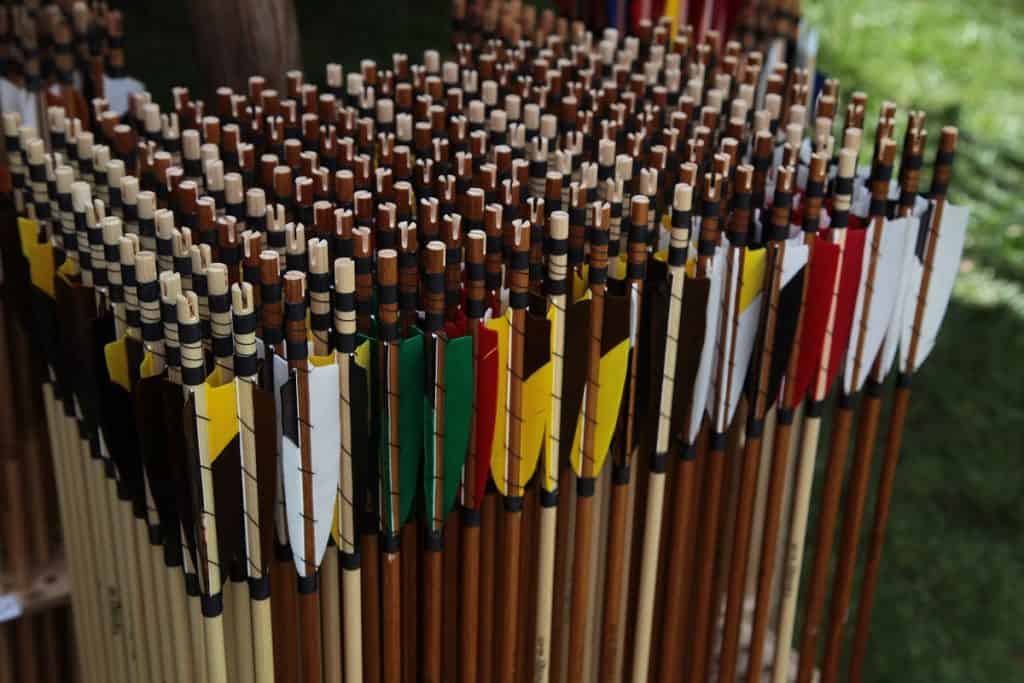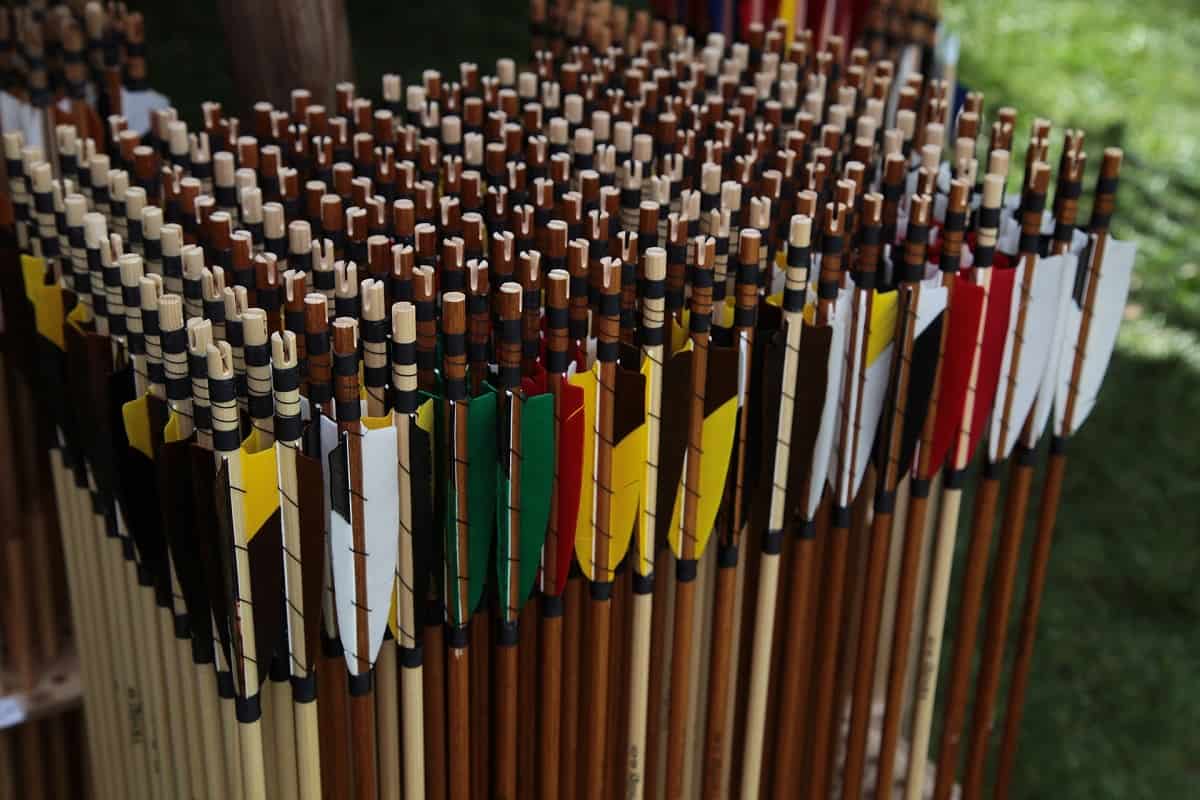 What Is Bow Length?
That is another important factor that you should research thoroughly; the rule of thumb here is that the bow length is double the draw length. But be wary that this is not 100% accurate, so test this theory for yourself and find what is right for you.
How To Find Your Recurve Bow Length?
If you know your draw length, finding your recurve bow length is as easy as pie. There is some room, though. This is a great starting point if this is your first takedown recurve weapon, but for your next one, you shouldn't follow it.
It is of uttermost importance that you are able to get a pretty accurate measurement for your recurve tool length since going too short will result in less accuracy. Going too long, on the other hand, will cost you speed and overall performance.
What Is Draw Weight?
Now we've gotten to the nitty-gritty of things – the draw weight. The draw weight is a measurement of how it is for you to draw your recurve bow. It's kinda hard to explain, but I will try to approach it in the easiest way possible, so hopefully, it will be understandable.
The lower the draw weight, the easier it is to draw the string toward you. The higher the number is, the harder it is to draw the string and shoot.
So that means that the draw weight is a very important measurement that you need to know before you buy your product. It's not so fun to buy something you cannot use properly.
A lot of people overestimate their strength when it comes to to-ing weight, so don't be like them. A good starting point for most beginners is about 20-30 pounds, so even if you are in great physical shape, start small.
You should consider the specific factors for you, like your age, gender, and body weight, when picking your draw weight and keep in mind that these numbers are variables, so that they may change, but with the interchangeable limbs, that isn't of any issue.
For most people, as they train more and more, they will see a significant increase in draw weight because as time goes on, your strength increases, and so does your muscle tolerance.
For children, an item with ten to fourteen pounds in draw weight would be a good starting point, and as they train, there will be a significant bump to about twenty pounds, which can easily be done by replacing the limbs.
Women should start with 25- 35 pounds because even I(a 27 male in good physical shape) started with around 40 pounds, which was demanding enough in the beginning. So I think 40 to 60 pounds is a good starting point for most average men out there.
Do note that this is just a starting point, and you should adjust your draw weight with other specific characteristics to make the best choice. But don't start worrying because you might choose the wrong draw weights like we've mentioned many times above, the while shouting of a takedown recurve weapon is the fact that the limbs are interchangeable; thus, the weight is, too.
What determines the Limbs Quality?
Limbs quality determines your recurve bow's longevity, reliability, and even accuracy. The best material out there is hardwood, and the limbs should have maple laminations, preferably fiberglass. Something that you should want to have is reinforced limb tips because they really do make a huge difference.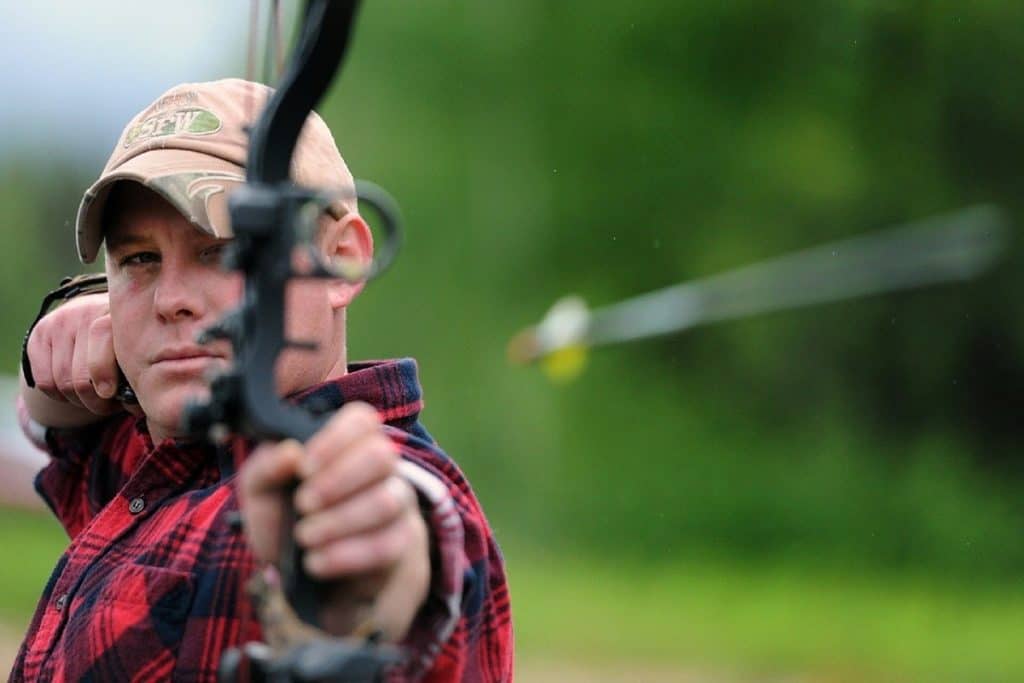 What Is A Riser?
The riser is the main and middle part of the takedown recurve weapon, the place where the grip rests. A traditional t-riser is typically made out of aluminum, hardwood, or in the best case, hardwood laminate. Its design determines the hand orientation. Some risers are only suitable for one-hand orientation, while others have ambidextrous designs for both left- and right-handed archers or, even better, an interchangeable grip.
For material, something like a redwood or maple base is the preferable option for strong and rigid risers that will not only last long but survive tensions even from the most powerful limbs.
Some riser models can even be equipped with various accessories like sight, stabilizer, or quiver. You can also install an arrow rest to your riser that serves as a place to put the front of your arrow.
A rest stabilizes your draw and the arrow release to enhance accuracy and precision. Some products have a tray fitted to the riser, so you don't have to bay and attach one yourself.
So the main things you want from a riser are rigidity, good materials like maple and redwood, stability, and modular ambidextrous design, and that's pretty much it.
How To String A Recurve Bow?
Now you know what to search for in a recurve bow, but here comes the most important part – setting it up and storing it correctly. If you fail one of these steps, you risk destroying your new toy.
To avoid this, I will show you a simple step- by step guide on how to do things in the most pain-free way possible to ensure your weapon lasts a long, long time.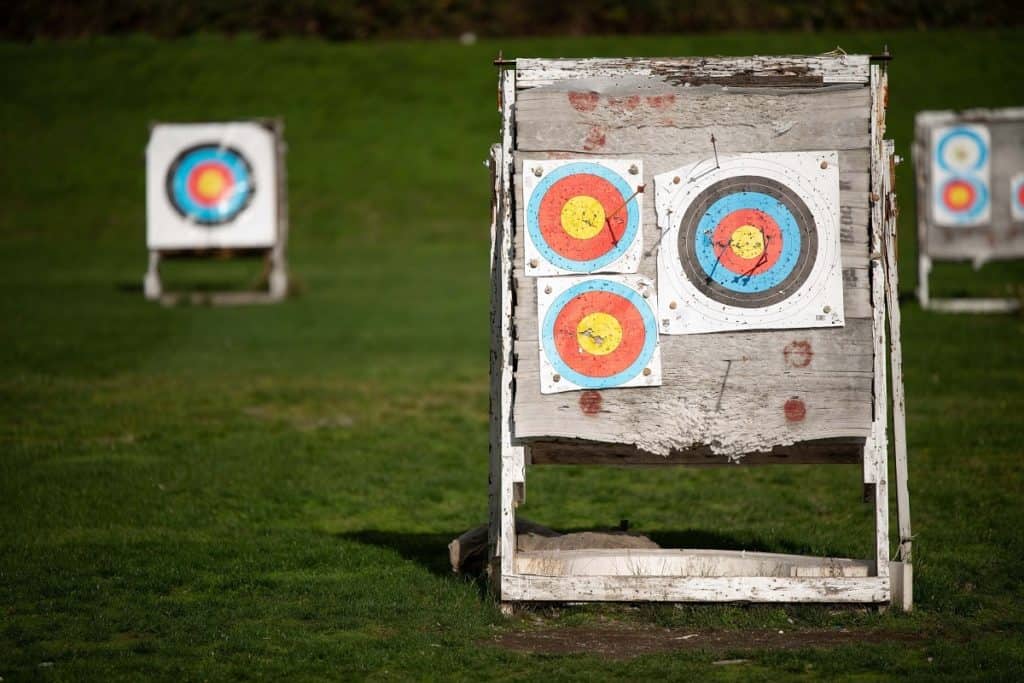 How To Use The Recurve Bow – How To Shoot, Stand And Aim?
And finally, we got to the fun part. You know how to choose IT, how to string it correctly, and all the little details that even most experts aren't aware of, now it's time to use it.
When you pick up your new, recurve weapon, place your feet at shoulder width, at a slight angle towards your target. If you are a right-handed archer, you should place your left hip towards your target, and if you are left-handed, the opposite.
Now that you have taken the right stance, make sure not to step over the shooting line with your feet. Great, we are making a lot of progress. Place your dominant foot slightly in front of the other, and this will make it more comfortable and gain you some extra stability and remember to keep your feet at 45 degrees to the shooting line.
You are now ready to pick up an arrow and lift the bow to prepare for shooting. Nock the shaft and make sure your arm is a safe distance away from the string so you don't get hit when you release the draw.
Keep the arm that is holding the bow straight all the time because having it bent will make it hard for you to hold it while drawing.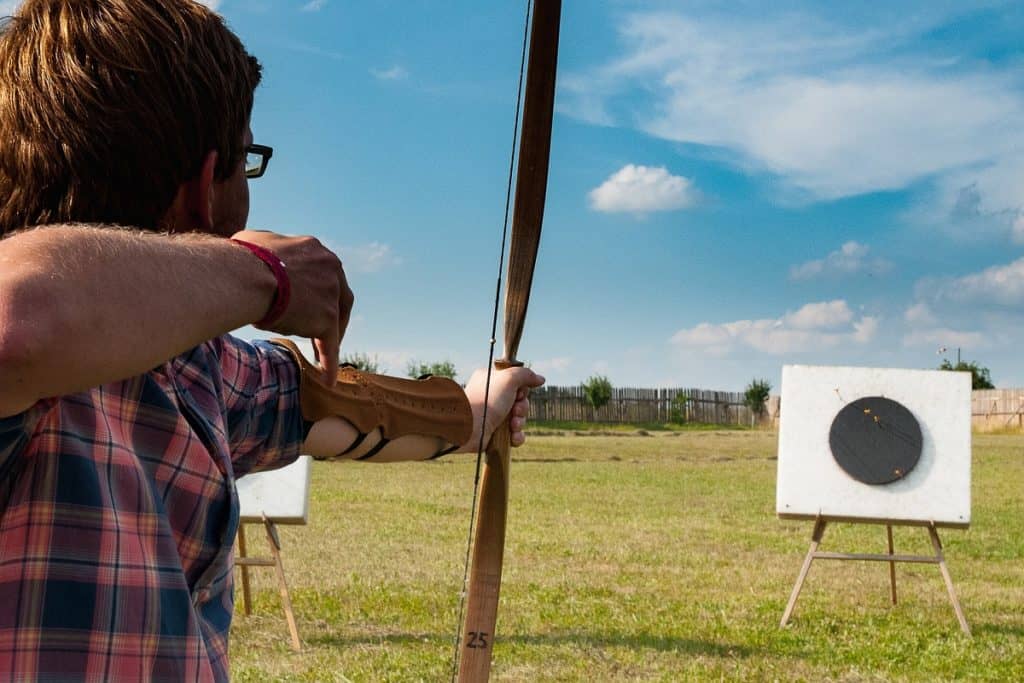 Should I Use A Loose Grip?
The most common mistake that even I was a victim of is a tight grip. It's understandable that you want to hold on to it, you have probably spent a lot of money. But don't go overboard; the less you squeeze, the better. That's the reason why Olympic archers drop their weapons into a sling after each shot. They don't squeeze at all and let it drop into the sling after each shot instead so that they can stay perfectly relaxed in order to get the best result possible. Beginners, on the other hand, are too scared to do that.
How To Use The Tab Hand?
By now, you should have an ok understanding of how to hold and threaten your holding hand, now, let's take a look at your tab hand. Basically, you should make a hook with your index and middle finger, and these are the two fingers you will use to grab the string and charge the power into the arrow. Make sure to relax the pinky finger inside the palm throughout the shooting process.
When you have hooked the string with your tab hand, draw the string towards you using your back muscles, not the bicep, this is very important! If you are not sure if you are doing it correctly or not, ask someone that has been doing archery for a while and make them take a look at your form.
What Is An Anchor Point?
This is the way you grab the string. The right thing to do here is to pull the string towards you until your index finger is aligned with your jaw and try to put the string in the center of your nose. Don't be afraid of it, and it won't cut your face in half, I can assure you.
A lot of beginners have probably been slapped by the string on their forearms, so they don't want to put the string anywhere close to their face. But they are doing so will have bad results later, like a worse overall shape and accuracy.
How To Release It?
Now the thing left is to aim and then release. When releasing the bow, don't throw it like it's a rock, but rather like accidentally dropping a precious case on the floor. If you are struggling with this part, buying a release is always an option, but I would personally recommend more practice if you are trying to get good at archery.
A very abrupt release of the string will have a negative impact on the whole shooting experience. This also applies to your body, so try to keep your body in its shooting position and calm until the arrow reaches the target. This is to make sure you don't interrupt your shot by moving the bow before the arrow has flown out.
Final Words
Well, here we are at the end, we've looked at the Top 5 reviews, and the products we touched upon were exceptionally good, but if I'm honest, not one of them can be considered the best.
Suffice it to say – the best takedown recurve bow is something that really doesn't exist right now. While yes, objectively, there are some products out there made out of high-quality materials like maple and killed aluminum, ones with many features, and believe me, when it comes to features, there are many traditional ones and ones for hunting, and each one is best in its category, there isn't one that is overall the best weapon. The things you want the most are good limbs because the limbs affect the performance in many ways, and a rigid riser, no other fancy feature, can mark up for a bad basis.
At the end of the day, the best one is the one with the right draw weight and length for you, not the most expensive one, so choose wisely because, as I said, there is a weapon out there for all users, they are just waiting.