Be it a survival situation or just a casual hike through the countryside, keeping in touch with people is live-dependent. And you may think that your phone isn't too shabby and it will do you a good enough job, but there are places where cell signal isn't available. Then you will need another device for communication. And there comes the two-way radio, a device that allows you to keep in touch even in locations without a mobile signal. They are more widely known as walkie-talkies, but whatever you call them, they will be an invaluable addition to every emergency.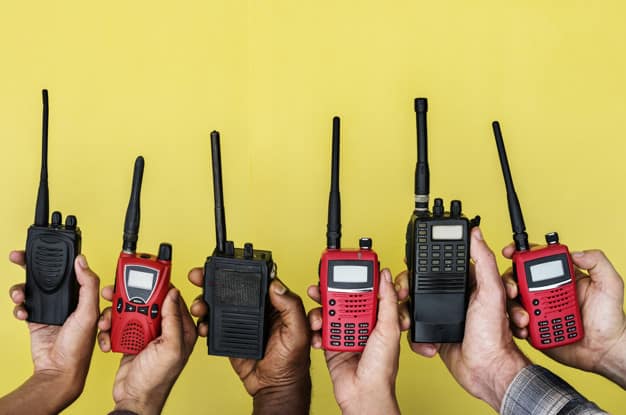 But as with all electronics, there isn't one best two-way radio perfect for all occasions because you will find some features that were cut off because of others and so on. And to make your life a whole lot easier, I've done the research to tell you which are the best radios for each category of activity and what you need to be searching for in a 2-way radio.
1. Retevis RT21 Walkie Talkies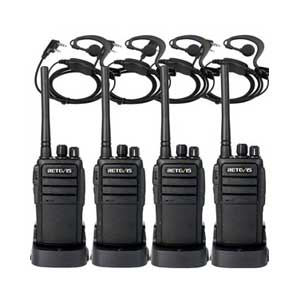 The range on these Retevis RT21 Walkie Talkies is anywhere from 1/2 a mile to 2 and a half miles. You may get a shorter distance if you're in the woods or mountains, where various terrains are present, and obstacles interfere with the signal. It's a good choice for construction workers if the building doesn't have metal pillars or walls.
The Retevis RT21 can be used for even more purposes, and unlike most of the other products, it doesn't require a license because it uses the FRS channel for communication. All of these things make it handy for outdoor use, but it works for small businesses as well. It is available in a 6-pack, and they come with one large charging station (it fits all 6). A 10-pack option is also available.
Pros
Great Customer Service
Excellent Range
Very good voice quality
Convenient charging case
Large battery
Cons
Questionable quality control
Build quality complaints
2. The BaoFeng BF-8HP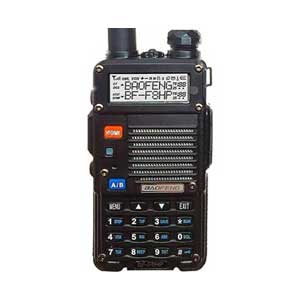 This radio is the best user-friendly option, with a detailed user guide and belt clip. It is meant to be used by people who aren't very well versed in technology because it has a simple UI and the option for a concierge service. It has a desktop charger, a 2000mahvLi-ion Battery Pack, and a 7″ dual-band antenna.
It features a high-gain antenna (HGA), meaning the signal strength is far superior to BaoFeng's previous models, thus meaning it also has a wider range. With an 8-watt output, this two-way radio is a battery champ, with a duration of around 16 hours and with 8-hour charging time. It can transmit on both narrow and wide-band frequencies, with 128 programmable modes. It comes with an earbud included, so it's an excellent choice for hunting or the workplace, where noise isolation is needed. It also has a flashlight included.
Pros
Upgrade power output
Improved range
Reliable connection
Great battery life
Cons
Genuine concerns
Quality control issues
3. Arcshell Rechargeable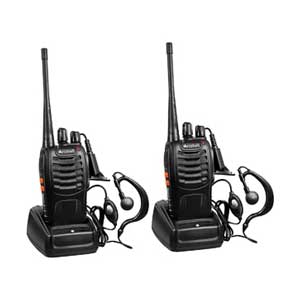 Though they aren't going to win any awards for style, these rechargeable radios are by far the most economical if you're looking for a piece of gear to communicate with up to 10 people at a time. For a pretty small price, you get six radios, all of which come with an earpiece and recharging dock, or one for all of them. The radios operate on 16 pre-programmed channels in the 400-470MHz band, but privacy channels are an option too. The earpiece is the best way to use these radios in noisy environments, and it also features a very useful VOX system.
But the low price comes with a few drawbacks that can change your decision. The AR-5 only has a maximum transmitting power of three watts, so it has a quite narrower range than the models mentioned above. On the other hand, it has a large array of accessories that can be attached to the radio without much effort. It has a reliable performance of under a mile. It has a small battery that takes quite a bit more than more expensive models, and heavy use can kill the battery in as little as eight hours, and it takes two to three hours to charge a completely dead battery.
Pros
Decent performance for the price
1500mAh battery
Lightweight
Cons
Limited range
Build quality issues
4. Motorola MR350R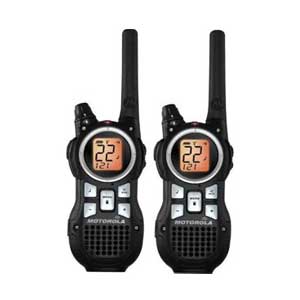 When you just need a way to make long-range communications in any given environment, Motorola MR350R is a perfect option. It's as business as usual, it operates using all of the 22 channels available and offers a range over a distance of up to 36 miles. This walkie-talkie comes with an excellent ergonomic design, making it very easy to use and hold even in harsher environments. It is dual-band enabled, meaning it can broadcast over both GMRS and FRS bands, offering more channel combinations and use with or without a license
The MR35OR is lightweight, making it easy to put in your bag and forget about it, and large buttons make it easy to use, even with gloves. The build quality of this two-way radio is excellent, made with premium materials and electronics. The manufacturer says it can withstand any challenge without affecting its performance. The device is sturdy and waterproof, though submitting it isn't a very good idea. It can handle light rain and splashes, making it ideal for camping and hiking. The device uses a Ni-MH battery with a lifetime of 8 hours, which is pretty good for the price.
Pros
Over 35 miles range
22 channels
11 weather channels with warnings
Very long battery life
Cons
The belt clip can break
5. Midland GXT1000VP4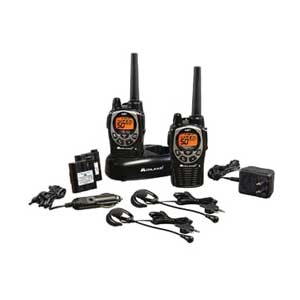 Midland has been making two-way gear for decades now, but innovation is still strong with this company. The GXT1000VP4 is a great example: it features a whopping 50 channels, 142 privacy codes, and an impressive 36-mile range. With a very bright backlit LCD screen, alert messages, and a special 'whisper' mode for more quiet places or situations like hunting. They are also rugged, waterproof, and come with large battery packs for operating for hours at a time.
Beyond the basic two-way radio capabilities, Midland designed the GXT1000VP4 for use in emergencies. There is an SOS siren that can alert others in times of need and a built-in NOAA weather alert radio that keeps users ahead of extreme weather. They even come with a boom microphone for disturbing messages like a megaphone.
Pros
Over 30 miles range
Weather scan + alert
Waterproof
How to choose the best radio for your needs?
Now that you know the different types of radios, you need to know what to be searching for in one. So here are the characteristics that define a quality radio.
Technology – VHF vs. UHF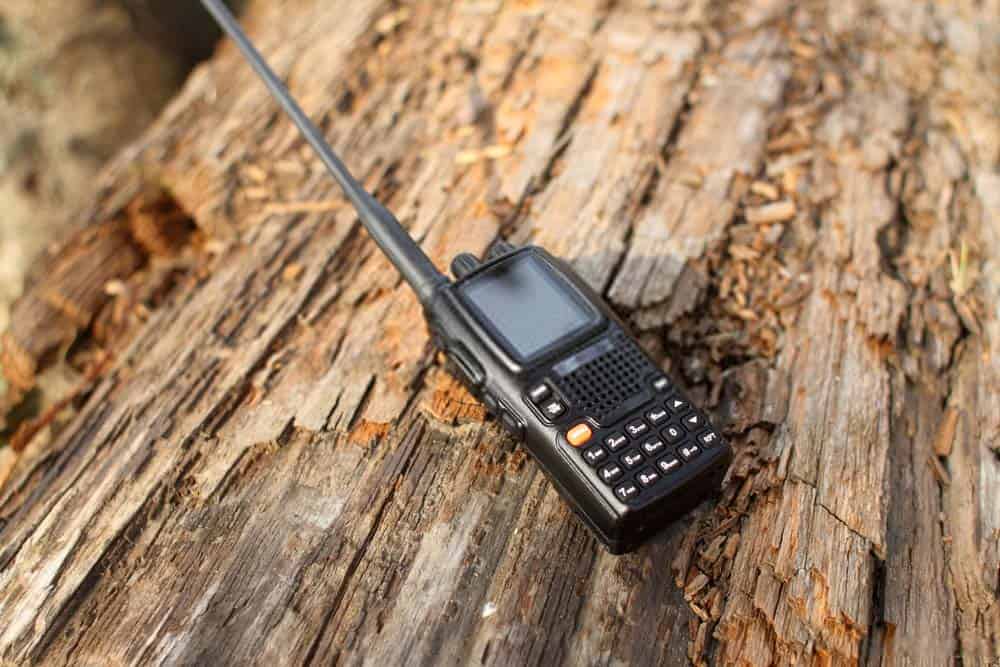 When you buy a radio, you need to pay attention to whether it's a Very High Frequency (VHR) radio or an Ultra High Frequency (UHR) radio. VHF radios operate at 126 to 174 MHz. They work best in open environments where there aren't any objects to restrict the signal. They usually have longer antennas than UHF radios and are powerful enough to get their signal through trees.
UHF radios operate at 400 to 512 MHz. They are more versatile than VHF radios as they can be used in more urban environments, too. UHF-s have shorter waves and aren't that susceptible to interference. UHF and VHF radios are not compatible. Therefore, if you are buying more than one pair of two-way radio systems, ensure they are all of the same kind.
Range And Talking Distance
Usually, manufacturers will specify the maximum distance they can communicate with each other if there are no objects like buildings and landscapes between them. A radio with a range of 8 miles can usually cover about 3 to 4 miles in actual usage. Depending on what you need a two-way radio for, consider choosing a device with a wider range. Most models will come with a range of around 20 to 50 miles.
Antennas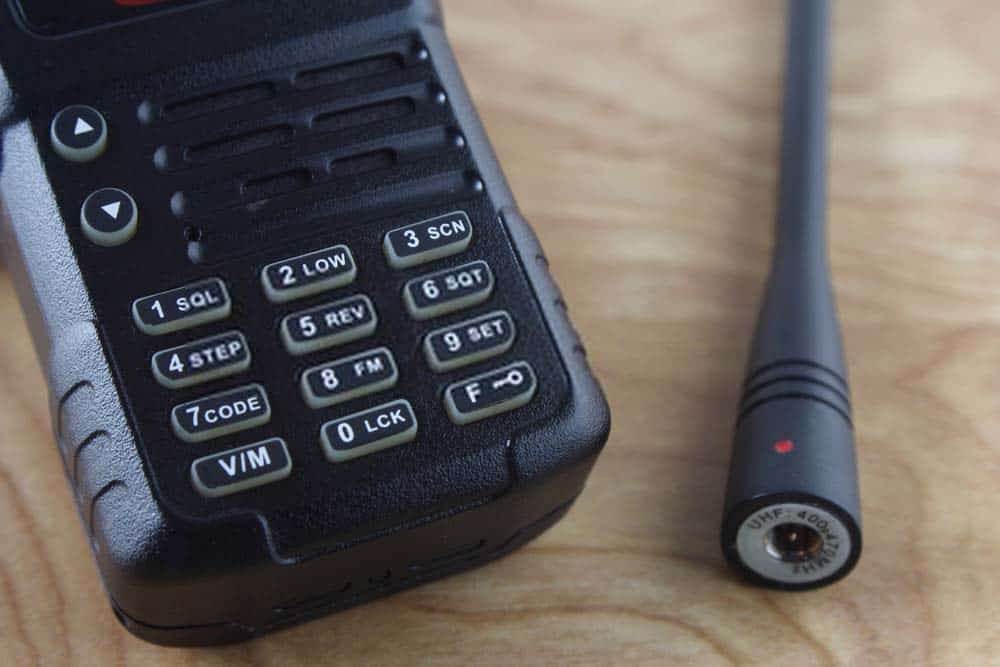 The antenna is a very important factor that affects the range. The rule of thumb here is pretty simple: the larger the antenna, the better. Larger antennas will have a higher "effective radiated power," which may extend your range. The only reason you may want a smaller antenna is if you want to store your radio more conveniently. And remember, if you are using a base station or vehicle-mounted unit, you will get much better transmission and reception if you add an external antenna.
Battery Life
Handheld radios run on different types of batteries. Cheaper ones are equipped with AA or AAA batteries. Still, most higher-end two-way radios use lithium-ion rechargeable batteries like a smartphone, nickel-metal hydride batteries, or Nickel-Cadmium batteries. It is important to know the estimated time of usage of the model you want to buy, and you should always carry some spare batteries.
Available Channels
All radios have different channels for easier forms of communication. So you should consider if you will need the full twenty-two channels or just fourteen. The more channels a radio offers, the higher the prices. Thus you need to make sure you are buying only the number of channels you need and not waste money on high-end features you probably won't even get to use. The most expensive models out there can have up to 121 privacy codes, which is a lot.
Weight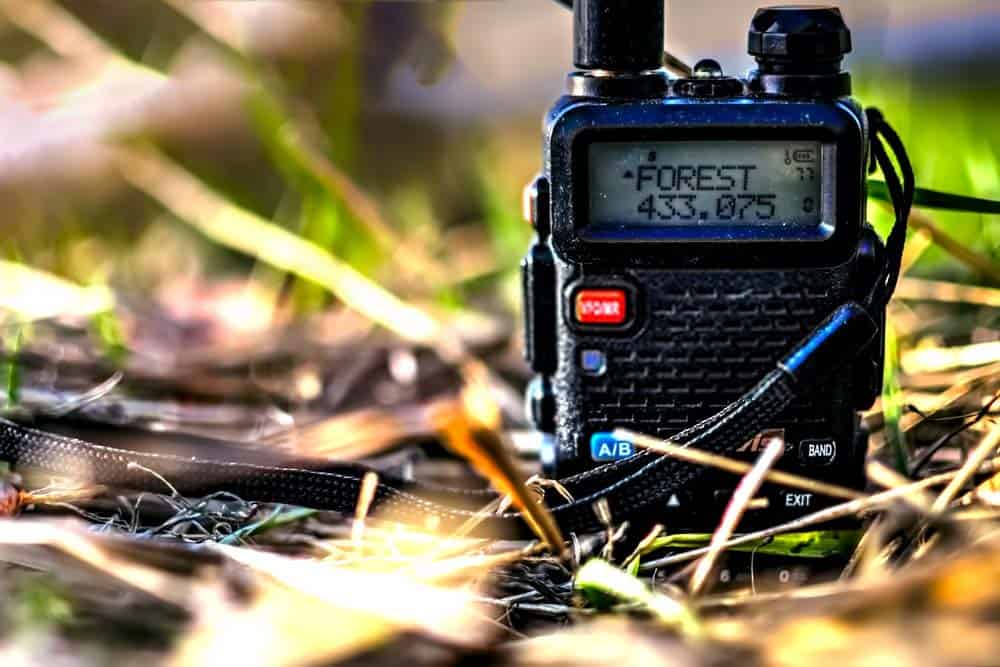 You should think about which features are really necessary for you because there are some walkie-talkies out there that are pretty heavy. And their weight comes from additional features, so thinking about what you only need the most is essential because the more lightweight the radio is, the easier it is to use.
Accessories
Like almost every piece of gear out there, any radio out there will have or at least be able to be equipped with a large array of accessories. We are talking about charging stations, car holders, signal amplifiers, and so on. But like any piece of tech out there, accessories are just an optional extra that, in almost all cases, will benefit you just a tiny bit.
Most important features to look for:
When choosing your preferred two-way radio, it is important to look for additional features, such as hands-free gear, headset, and other accompanying equipment. A backlit screen and keypad are necessary if you intend to use the gadget in the dark. And screen gives you many advantages, like the ability to see your battery life or provide alarms and timers. And down below are the most common and useful features out there.
Privacy Codes
Privacy codes or "Extra Channels" are additional combinations of the 22 main FRS/GMRS channels that radio makers add to help you find a quiet place to talk. These are restricted to radios that are made by the same manufacturer, so do consider this.
Let's say you and I want to talk on channel 8, but we don't want to hear other people on the channel. So we are going to dial in channel 8, code 21, and it should isolate us from any outside chatter from other codes on channel 8. It's not perfect, and there are cars when people from other channels can interfere with your connection, but that's a rare case. If the specs list anything more than the 22 primary channels, they are just privacy codes and may or may not work with other radios. As we've mentioned above, some models offer the amazing 121 privacy codes.
Weather Radio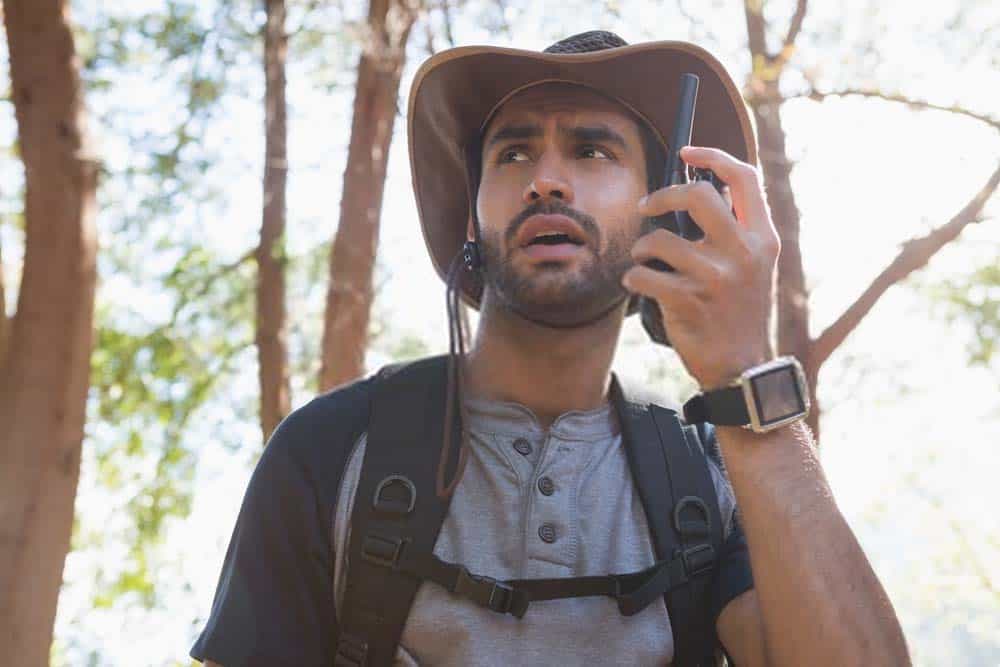 Most radios these days can use the National Oceanic and Atmospheric Administration (NOAA) weather channels to get updates on local weather. Some even can alert you if severe weather is heading in your direction. Look for NOAA weather alerts if you want to be notified without having to monitor them continuously.
Multi-Use Units
Some radios are multi-functional and have other capabilities on them, like VHF radio or GPS. These can be useful, eliminating the need to lug around two items. Make sure the battery life is to support both actions at the same time, but if you want a serious GPS, just look for a dedicated one.
Cell Phone Extenders
There are cell phone attachments like goTenna that plug into your phone and allow you to text other phones with it. So if you are out of the cell area, and you still want to text your family or friends, if they have the attachment, it will be as easy as pie.
VOX
VOX, or "Voice Activated Transmit," is a feature that allows using your radio hands-free. The radio senses when you start to speak, and it will start transmitting automatically. There is an excellent high-end feature for everyone, but mainly workers or people doing sports will benefit from it the most.
MIL-STD Or MIL-SPEC Specifications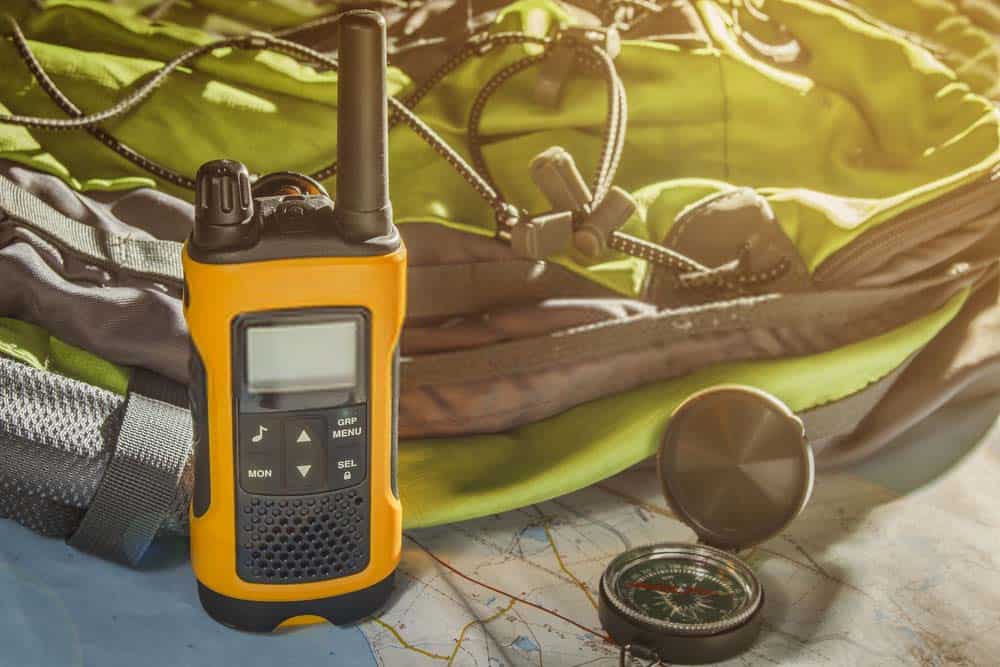 If your radio is marked with either of these acronyms, it has been designed to meet military specifications and standards. This means that it has passed certain checks for quality, reliability, durability, and compatibility and that it will stand up to different environmental factors. If you will be skiing or hiking in more demanding environments, it's a must.
IP Features
IP doesn't stand for IP address here. It stands for "Ingress Protection." It is a rating scale that tells you how effectively your radio is sealed against dust and moisture. If you know you will be using your radios regularly in conditions with a great deal of dust or precipitation, you should consider something like an IP 68-rated two-way radio.
Noise Filter
It's a feature that clarifies and boosts your signal significantly.
Keypad Lock
If you are going to do some serious activities, the ability to block all input from your device is good if you want to make sure your settings are kept and you don't call a channel accidentally.
Headset Jack
It's obvious what it does-your phone has one. You can use this to hook up a headset for hands-free operation or just better sound quality.
What Are The Most Popular Types of Radios?
There are dozens of different two-way radios on the market these days. And to make the right choice, first, you need to decide how and where you will use it. The two major categories of radios you will be choosing from are Family Radio Service (FRS) and General Mobile Radio Service (GMRS).
FRS radios do not require any license. These models operate on 0.5 watts and can transmit on a total of 14 channels with 22 additional channels. Most consumer models on the market right now are FRS radios. They are considerably inexpensive and easy to use, perfect for the mass public. Their short range of coverage is about two miles, ideal for casual walks in the woods or hiking. GMRS radios, on the other hand, require a license from the Federal Communication Commission.
These higher-end models range from 1 to 2 watts and can all of the 22 available channels. This type of radio has initially been available for commercial use only. These days you can buy recreational GMRS radios, and a license isn't required for just purchasing. Their price is significantly more steep than that of FRS radios, but they have a wider range of coverage of more than 5 miles, with some covering up to 30 miles.
Though 2-way radios can be divided into the two categories mentioned above, they can also be put in areas, depending on what you will be using them.
Walkie Talkies For Kids
These walkie-talkies are tailor-made for children. They are made from lightweight plastic and only use either double or triple-A batteries. They come in dozens of colors and designs to appeal more to kids.
Long Range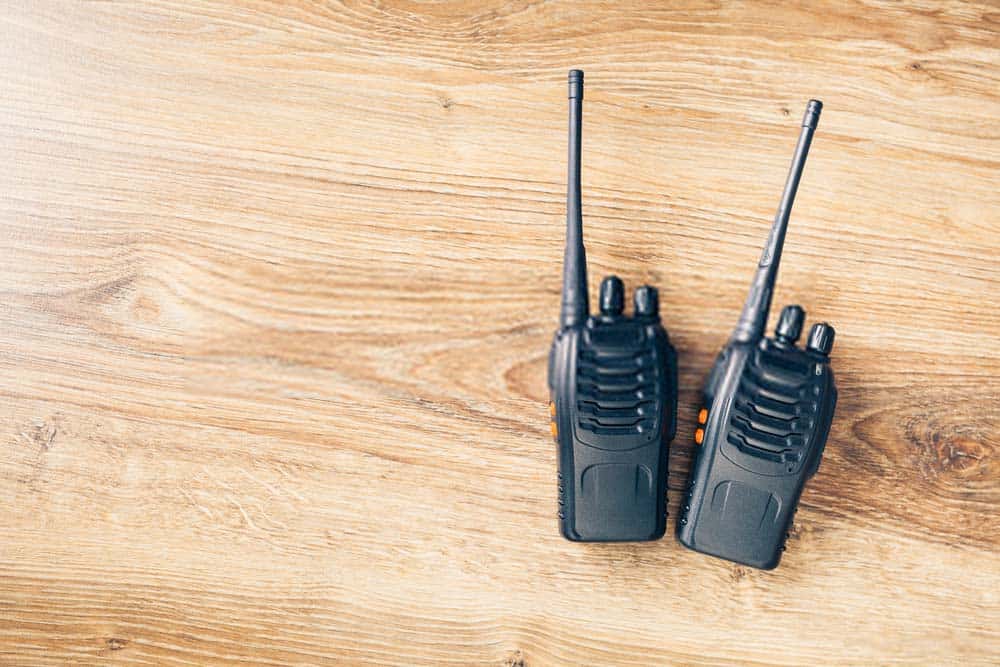 These models are with higher energy levels and consumption, but they have a much wider range of use. The range of coverage increases with power, so, for example, a 3-watt radio can cover up to 12 miles, while a 4-watt radio can reach up to 30 miles.
Hunting Two-Way Radios
They have various additional features that hunters can find useful and choose from. For example, they range from boom microphones to car chargers, flashlights, and headsets for a more covert way of communicating.
Waterproof Radios
They are the toughest and most rugged two-way radios out there. Waterproof radios are ideal and essential accessories for nature walkers, mountain climbers, and camping fans. They are reliable, with high-end waterproof sealing, far better than your standard smartphone one.
Vehicle-Mounted
These are made to be mounted on your dashboard, just as you would expect, and can take their power from your vehicle's battery. Their range can be extended quite a bit with an external antenna.
Desktop Base Station
These are mostly found in wood cabins or at your home and use AC power, but they still need an external antenna to boost the range.
Final Words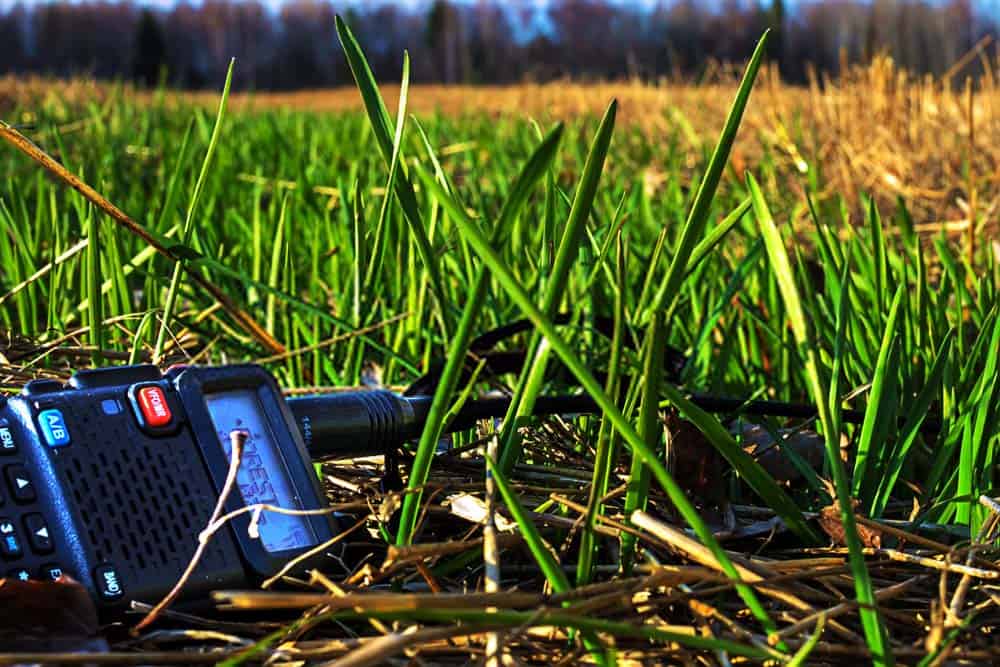 It wasn't easy ranking all of this equipment objectively because every last one of these radio systems is an excellent choice for any user out there, be it for an adventure or an emergency.
And even if it doesn't have all the bells and whistles like additional accessories and rechargeable batteries, the only thing you need is for the radio to work flawlessly. Bet on well know companies that offer great customer support and know-how to handle business matters well, and you most certainly have the best radio for you.