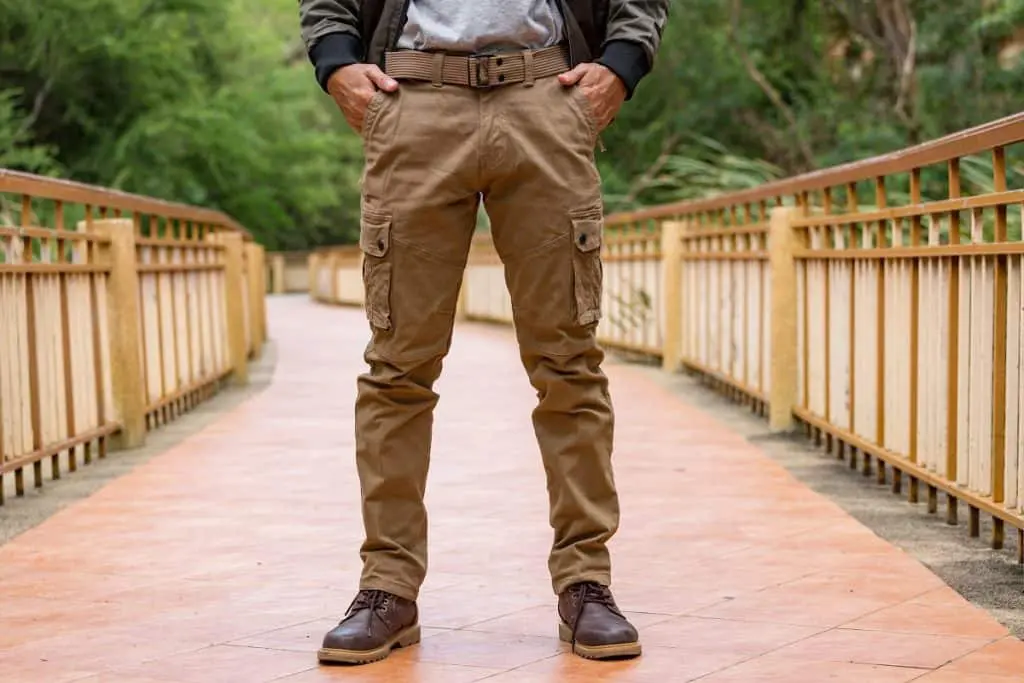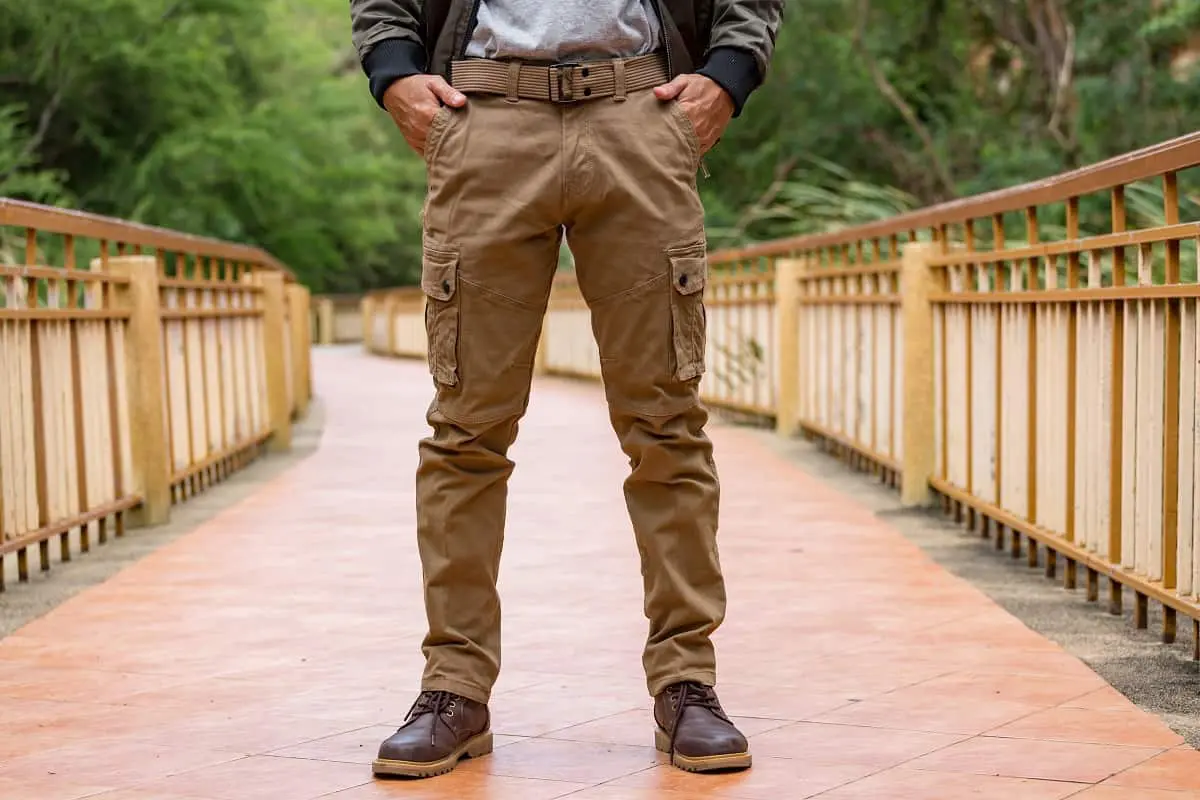 Heavy-duty pants were designed initially for mountaineers but can now be found in several configurations. They have several distinct differences from ordinary cargo pants, like a robust color scheme and a thicker, sturdier belt loop to support heavier things like survival gear, knives, weapons and such.
And now that we've mentioned all these optional extras, they can be, at times, overwhelming. That's where we try to help – we tested over 40 different brands and models to help you avoid dissapointment and even make some of the mistake other people are making when buyint tactical clothing.
So without further ado, let's see what we think are the best pants for tactical use today:
1. 5.11 Tactical – Defender Flex Slim Jeans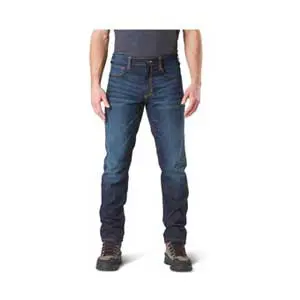 5 .11 tactical is one of the most well-received brands out there. It's based in the USA and was started in the State of California. The brand's name comes from the highest rock climbing difficulty level that was listed in the Yosemite Decimal System at Yosemite National Park, which was developed by the creator of the company in the 50s.
The Defender has a modern design, closer to jeans than traditional cargo pants. They are 3/4 cotton, and the rest is polyester T400 Lycra Tough Max, which adds much-needed strength to the jeans. They also have a fitted waistband, which makes them fit even better because comfortability is a thing you shouldn't be compromising.
The pants feature dual back pockets, GSA/TAA compliant, five-pocket styling, and two rear hip pockets, making them versatile and, with their excellent stitching, able to carry things from your cellphone and wallet to your knife or gun.
While the jeans are advertised as slim-fitting, most customers report that they are wider in the hips and seating area, but for an athletic man, it shouldn't be a problem.
And even with this small caveat, the double stitching that reinforces the areas that wear the most, the excellent color choices, and the seven pockets make these jeans not only stay stylish but practical at the same time. 5.11 has again made a pair ideal for the people who jump in the face of danger but still want to look good.
Pros
Made from a brand with huge recognition
A durable mix between cotton and polyester for even more rigidity
Plenty of pockets
Stylish enough for everyday use
Cons
Not always true to size
They lose their color pretty fast
2. BLACKHAWK Men's Tac Life Pants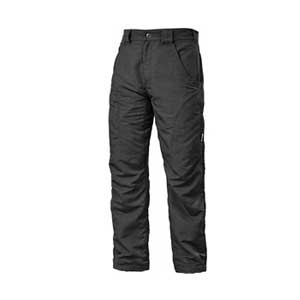 The Blackhawk Tac Life Pants are a great pair of pants, but in a whole different way to the 5.11 jeans, we looked at above. They aren't that stylish, but that's not what they were designed for. Their philosophy is to demilitarize the stereotypical pair of military trousers to add comfort to even off-duty hours.
The Blackhawk Tac Life is made from a high durability nylon fabric, reinforced with water, oil, and stain repellent Teflon coating fabric shield.
The pants also have seven fabric pockets and, combined with the double reinforced belt loops, make the pants even more useful for carrying around all kinds of tools. And what's more, the pants have three interior pockets for storing assault rifle magazines.
Though they are pretty big, some people report some comfortability issues. The sizes are smaller than listed, and the pants don't have reinforcements on the areas that experience most of the wear. They are cut in a stranger way, and while the fabric is for heavy-duty work, it can be a bit restrictive on movement.
Suffice it to say, these Blackhawks offer all the features you want from a pair of tactical cargo pants, but with the cost of comfortability. And at the end of the day, comfort is something you will be compromising only if you need protection in your work environment, the only place where these pants will thrive the best.
Pros
Durable construction
Teflon coating for water and oil stains
Reinforced pockets and belt loops
Cons
They are too small for most people
They have some comfortability issues
There is a huge lack of reinforcement on areas that experience a lot of wear
3. LA Police Gear Men's Cargo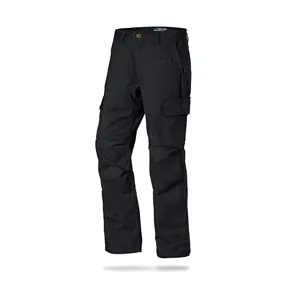 The LA Police Gear Men's Urban Ops Tactical Cargo Pants are a perfect modern solution to every law enforcement or military need while still being comfortable and stylish. They are made from a combination of high-grade nylon and a Cotton Rip-Stop Fabric.
Its fly has a YKK brass zipper for ensured secure closure and an elastic waistband, thus being useful while still being comfortable. But the band isn't only for comfortability, it is also perfect for CCW ( Concealed Carry of Weapons).
The articulating knees and Gusseted crotch make these pants a great choice for those always on the move. The Urban Ops Pants offer an improved fit and ultra-lightweight material while still being sturdy, durable, and useful.
These cargo pants have it all. They have a durable fabric while still being comfortable and good-looking enough. They are designed for police officers, but every person who wants a good feeling and reliable pair of pants can benefit from them, from cyclists to mountaineers and workers.
Pros
They are super stylish for a tactical pair of pants
Ripstop cotton and nylon are combined to make an extremely durable pair of pants
They are lightweight, and with their articulating knees and Gusseted crotch, they are very comfortable
Cons
The material, while durable, is too thin to keep you warm even in a mildly cold weather
They are too tight in the crotch and calves area, and some of the pockets are placed too inconveniently
4. Rothco Tactical BDU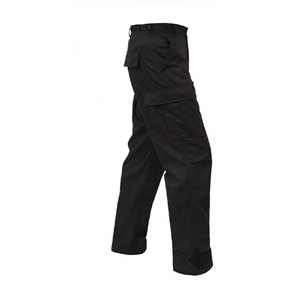 A BDU – or a Battle Dress Uniform was a standard uniform used by the United States Armed Forces from the 1980s to the early 2000s. They have been replaced by other types of suits, with the design now being used for more widespread clothes, like these tactical cargo pants.
The pants are a very versatile piece of clothing. They are made from a combination of polyester and clothing but have some military-grade features. The Combat Tested Reinforced Seat and Knees Pads add superior protection and are pretty comfortable too. Storage isn't a problem – the Rothco BDU includes 6 Versatile Pockets, Including Two Front Slash, Two Large Button Down Pleated Bellow Cargo, and Two Button Down Back ones.
A pair of Drawstring Ankle Ties to Cinch your military uniforms over your boots is an excellent addition, just like all available colors. Suffice it to say, this pair of pants is perfect for people who are searching for something that is military-grade while still being civil enough to be comfortable.
Pros
Using the tried and true design of BDU military uniforms, giving them a huge quality standard
There are seat and knee pads that are combat tested and add some much-needed reinforcement
There are a pair of drawstrings near your ankles so that you can wear the pants over boots even more easily
While they are made with military standards, they still manage to look like a normal pair of pants
Cons
Material is too thin and doesn't live up to the standards they try to achieve
Zippers aren't the best, and the sizing is confusing – too tight in some areas and loose in others
5. Rothco Tactical 10-8 Lightweight Field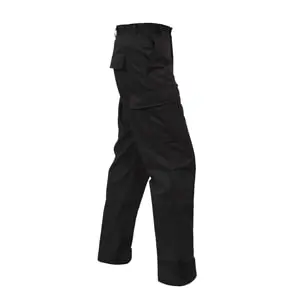 The Rothco 10-8 isn't only a good pair of BDU pants but also a good choice when you need a covert product. With an all-black fabric, cargo pockets that stay flat and them being built with lightweight materials are not only stylish but useful.
The Rothco field pants are a propper tactical product while still being average looking enough to be used by police, undercover, and other law enforcement duties for covert operations or buy an everyday Joe just because they don't attract so much attention.
If you want something that has a tried and true military BDU design but still looks modern and casual and can be combined with any casual clothes, the Rothco 10-8 lightweight pants might be the ideal solution for you.
Pros
Perfect for covert use
Their stylish look is complemented by flush pockets that stay flat when they aren't in use
They are USD by the police and special forces, so you know it's a quality product
Cons
The color fades away after only a couple of washes
The button closure is pretty inconvenient and should be replaced with a zipper
How to choose a good pair of pants for tactical use?
There are many different characteristics to a pair of tactical pants, so to help you decide which is the best for you, I've prepared a list explaining all of them in the most comprehensive way possible.
Type Of Fabric
There are many fabric combinations for a pair, but there isn't a perfect one. They have different pros and cons, and every type has its uses.
Cotton
A pair made of one hundred percent cotton is a rare occurrence in the current market. Most manufacturers out there use only up to 98 percent of cotton, combining it with Lycra or polyester because of the drawbacks of full cotton pants. The one hundred percent ones are much more stretch resistant, and when they get wet, wrinkles form in the fabric. But there is one significant advantage – your skin breathes.
This means that even in the most firey environments, you can be comfortable in your pair of tactical pants. Another positive thing is that cotton doesn't irritate sensitive skin, and even in scorching hot weather, you won't get any rashes.
But there are even more drawbacks. The absence of Lycra allows the pants to shrink over time, so even as low as two percent of it will save you cotton pants from getting smaller.
Another thing is that there is little to no protection in one hundred percent cotton pants. If it starts to rain, you will be soaked, and if you spill something on them, they will be stained.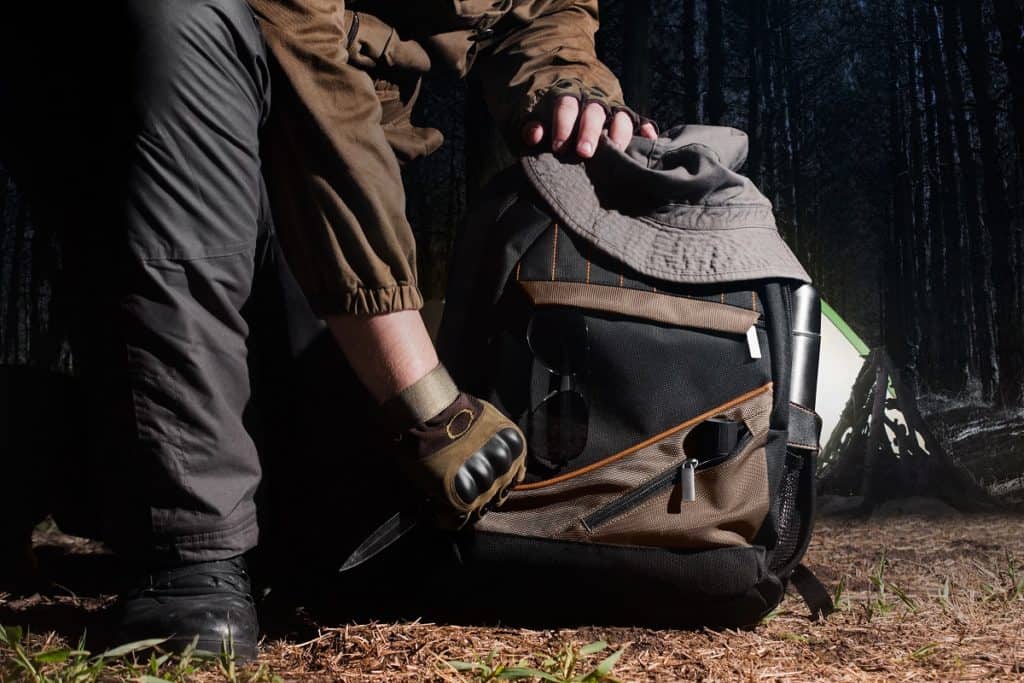 Cotton retains heat as much as it can, but it also soaks any moister in the air or near you, so even if it keeps you warm for a small period, when you get wet, it won't be delightful. They are mostly targeted towards more temperate weather because of their ability to breathe, and in the summer, they are to only viable choice if you don't want to be cooked alive.
So if you are a fan of the maxim form over function, these pants will offer all the comfort you want in any condition for the cost of functionality.
Polyester and Cotton
Most trousers in the market right now are made with this exact combination, with a more substantial percentage of polyester varying from sixty to eighty percent. Polyester is used because of its advantages, but that doesn't mean that there aren't some drawbacks.
Polyester is much easier to treat and clean, so manufacturers add a Teflon fabric protector to most pairs to make them water-staining resistant.
They are more resilient to wear and these but at the cost of comfortability. Unlike cotton trousers, your legs can't breathe, so in a hot and humid environment, you can get uncomfortable in your skin, and even rashes may appear.
While polyester is good at insulation, on the harshest and coldest of days, it won't keep you warm. But they have water resistance so that they won't retain any moister, and even when it's snowing, or there is a massive downpour, you will still be warm enough to feel comfortable. On the other hand, polyester pants are a no go in the summer because of their insulation – they retain all your body heat, making you very uncomfortable.
So a hybrid fabric is more for people who need all the tactical protection pants can offer, and comfort is a thing they can give up for more versatility.
Style
If you are buying tactical trousers for everyday use, style is a thing you can't just ignore. If you want something less shouty, or just the opposite, you should find a style that suits the message you want to tell by wearing this type of pants.
The Classic Tactical Style
This style makes all of the many cargo pockets very visible, and the overall design language makes the look more rugged and works fashioned.
If you have some household chores to do, or maybe you are going fishing, they make you look confident in what you do and prepared for every situation. They have strong waistbands and double-reinforced belt loops for all the tools you will carry with you, but for everyday life, you may not want to look like an undercover FBI operative.
The Low Profile Style
This style of pants can be recognized as tactical only if you look at them hard, so if you are going on a job without a specific dress code, they are the right choice.
Their cargo pockets stay flat when they are empty while still being as big as pockets on normal ones. They are suited for everyday use, so if you are going to eat or even going to work with them, they are the preferred style for more activities.
When it is best to wear tactical pants?
1. Tactical Situations
It's obvious why tactical pants are the best choice in this type of scenario. All of this is their namesake and why they were created. In a high-stress situation, the many cargo pockets of your pair will be storing all your additional tools and ammunition, making them close at hand.
These pockets are specifically designed to be stronger for carrying things like knives, small guns, and magazines and can be opened quickly while still being securely closed when you aren't using them.
In a tactical situation, every moment matters, so to be able to reach all the accessories you need quickly is a unique feature.
Tactical trousers are designed with knee pads in mind, so you can insert a pair easily without any modifications to help you change shooting stances when you are practicing on the shooting range, for example.
All of these features, combined with their high resistance to wear and tear, make them the go-to equipment, whether you are practicing shooting or preparing for a tactical situation.
2. Hunting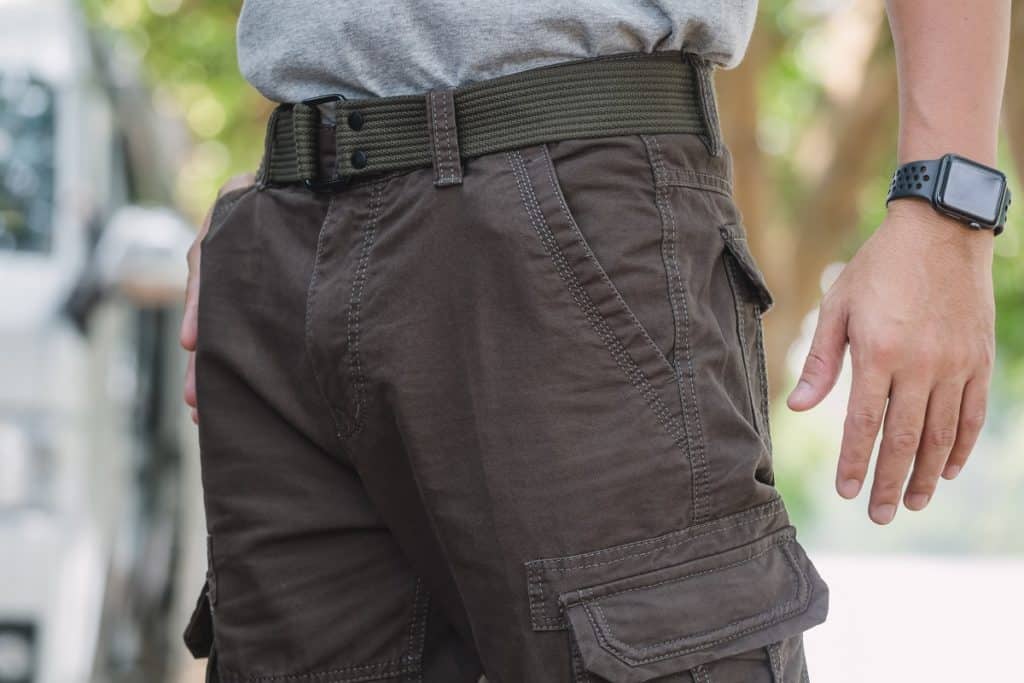 Hunting is one of the most relaxing hobbies out there. No matter if you are alone or with family and friends being one with nature is an exceptional experience.
Even if you are overwhelmed with equipment, the things you use the most can be sorted in your pockets for easier access; thus, cargo or tactical clothing is a great addition to your hunting gear.
Hunting usually takes a hefty amount of time, and you must walk, stalk, and crawl through mud, bushes, and grass to get a good and steady aim right on the target. And their slots for knee pads, combined with the high resilience to wear and tear of the nylon used in the pants, make them aaa fantastic tool against the roadblocks during hunting.
Most of them are also waterproof, so fog or a little rain won't stop your hunting session, and the isolation keeps you warm enough even in colder weather.
3. DIY Projects
If you are the type of person that browses Pinterest casually, you've probably seen some DIY projects. All these projects require a vast array of different tools for all the actions you are going to be doing. And how can you store a tool easily while it still being at hand – a cargo pocket, which coincidentally every pair of pants has?
And rather than continually moving back and forth from your toolbox to the workbench, you just put every tool you need inside one of your dozen pockets, and you have them only at hand.
The reinforced seams of your tactical clothing help you move around freely while keeping your pockets full. Siting, bending over, or even lying on the ground isn't a problem.
All of the lightweight materials from which the pants are built make them a proper choice for every home handyman.
4. Household Chores
If you live in the countryside, far away from the comfort of a large town, you probably know how hard it can be to repair even the smallest of problems. And the larger your house is, the more tasks you have to do daily to keep it clean and sturdy.
You never know when you will need to carry something large and heavy, from the wood you've chopped for your fireplace to bags of food for your farm animals or spare tires for your car. The protection that the pants offer can save you many injuries, and you don't have to worry about keeping them clean.
5. Fishing
The pant's many pockets can keep almost all of the tools you are going to use – from a spare fishing cord and hook to some bait and a knife. While you can always carry an additional box with you if you can bring a few ergs, why not benefit from it?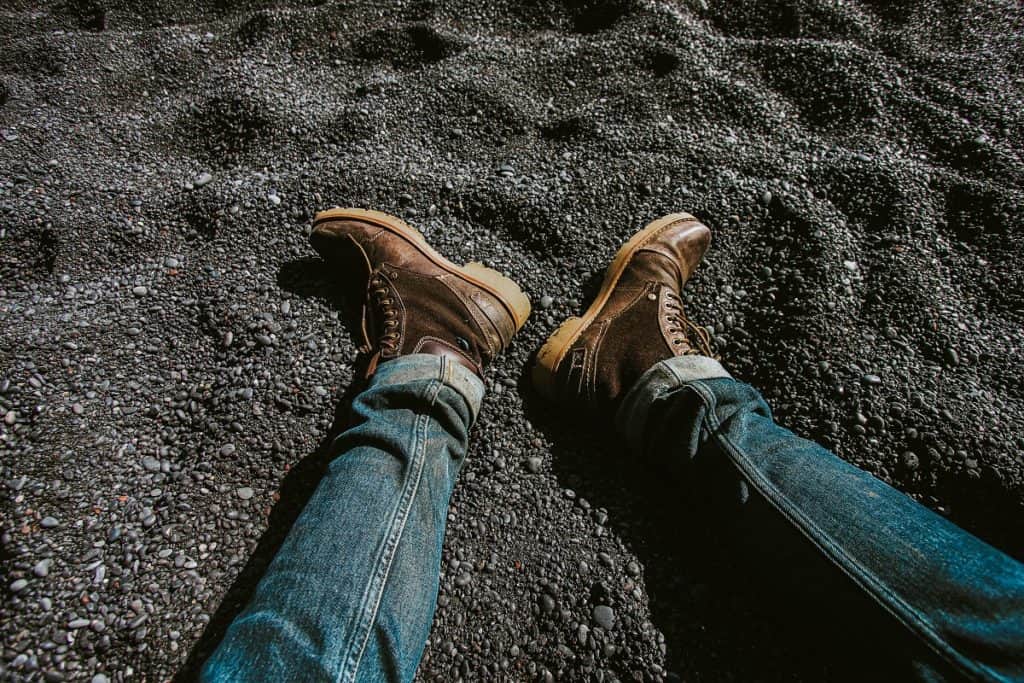 6. Paintball And Airsoft Matches
Most tactical pants are offered in a vast array of different camouflage or dull colors. A great example is the pants 5.11makes because most of their models come with a range from washed to primary and military colors, helping you blend in with your paintball or airsoft arena.
But can isn't the only advantage that tactical trousers give you – they are flexible, and we'll build, allowing you to move freely and get a proper shot on your opponent.
The more extensive range of motion the pants give you isn't the only positive thing about them, though – they can also store useful accessories and spare munitions.
Final Words
If you are searching for the best tactical pants on the market right now – there isn't a one-fit-all solution just yet. While there certainly are pairs that are best in their specific area, there isn't one be-all-end-all model.
So no matter what the brand is, how well they are constructed, or how lightweight they are, they've cut some corners. There still aren't breathable fabrics with Teflon coating that looks covert, but there are certainly ones that are the best in all of these three features separately.
So, think about how and where you are going to use yours, what you want from them, and what features are most vital for you, and you will find the right pair.