Bushcrafting, at its core, is a method of survival and an essential one at that. If you end up stranded in the wild, you must have the essentials, including a tactical torch, a compass, a water filter bottle, an emergency blanket, and a watch. But with my little adventures, I can assure you if you don't have a blade, you are just asking for it. A bushcraft knife is your way of collecting and carving wood and cleaning a small game like rabbits and fish, an irreplaceable combat tool and an essential piece of your gear for building a shelter. It's a heavy-duty alternative to the typical Swiss Army knife, and in this article, I will show you why you need it, how to choose it, and which one is the crème de la crème of all bushcraft knives.
1. Ka-Bar Becker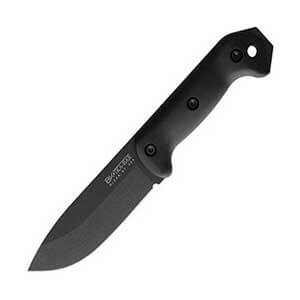 The Ka-Bar Becker is a perfect combination of style and substance. Even if it was dropped five years ago, it is still one of the most critically well-received bushcraft knives. While its blade is a 1095 Cro-Van Carbon Steel compound, it is just as competent as stainless steel because of the black protective powder which comes with it. Although it isn't as resistant to rust as the former alloy, the powder is good enough while still giving you the strength and rigidity of a carbon steel blade.
The Ka-Bar Becker sharp drop point blade is also a sizable 5.25 inches in length and, combined with its small cutting angle and a durable and robust alloy, makes it the Swiss army knife of the bushcraft knives. It can chop and carve wood, kindle a fire, and cut food just like a kitchen knife while also being sharp enough to skin almost any small game.
And we shouldn't forget about the handle because it's made of some of the best stuff – DuPont's trademark Zytel has high durability, impact, and abrasion-resistant nylon, which has high amounts of fiberglass, similar to G10. All of this, combined with its size, is the same as the blade, and the full tang makes it still lightweight at only half a kilo while still being well-balanced and durable.
While the Ka-Bar is more substantial than others of its class, the lightweight handle makes up for it. It perfectly fits in your hand but is still big enough to be used as a baton or a chisel. It comes with a sizeable heavy-duty pouch with a neat pocket in which you can carry a pocket whetstone.
Pros
Even if it was dropped five years ago, it is still one of the most critically well-received bushcraft knives out there
1095 Cro-Van Carbon Steel compound
Zytel abrasion-resistant handle
Well-balanced and durable.
Cons
Unreliable seam stitching
The hood is positioned strangely, so wearing a backpack underneath may not be very comfortable
2. Spyderco 3.92″ Pattada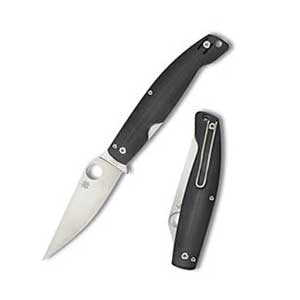 The Spyderco isn't an ordinary mass-produced knife, it's made with love and care. It's a tradition and has been passed on for generations. The Spyderco origins are traced back to the island of Sardinia. The Pattada bares itself capital's name Pattada, where this type of blade has also been known as resolza.
Let's face it – the Spyderco Pattada does look stunning. It keeps the classic lines of its ancestors while also looking modern, thanks to the G10 used in the handle. It uses one of the best high-grade N690Co stainless steel, which is a tad bit softer, but it does give it excellent corrosion resistance. Its curved blade is more suited towards meal prep and skinning, though its flat grind and narrow cutting angle still give it the versatility of a bigger knife.
This model, unlike other ones, is a folding one, but that doesn't make it less viable. Just the opposite, the Pattada becomes more portable and lightweight, therefore allowing quick actions, but this results in a knife that isn't very good for heavy-duty use.
So to wrap it up, if you want this Spyderco, hang it on the wall at home and brag to your friends how much you know about blades to have chosen this art piece, but if you want a hardcore bushcraft experience, you'll need something a bit bigger and bulkier.
Pros
Excellent build quality

Comfy handle

High-grade N690Co stainless steel,
Curved blade
Cons
Folding blade – not so strong for chopping wood and all

More of a designer piece ove

r a full-pledged bushcraft blade
3. Morakniv Bushcraft Carbon Steel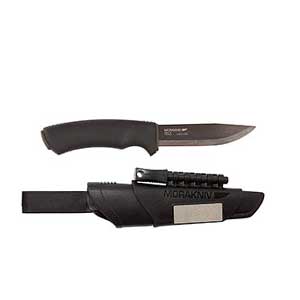 The Morakniv Bushcraft Carbon Steel is a carbon steel drop point blade, narrow and sharp, has a good-feeling ergonomic plastic handle, making it very lightweight and easily used, and a Scandi Grind that gives sharpness.
It has a very durable black coating against wear and corrosion and a hardened steel blade that makes the relatively small 4.5-inch blade strong and stable enough to chop a small tree to help you build a fine enough shelter. Another great thing is that it's easy to sharpen; thus, you shouldn't worry too much about your knife's durability.
While the coating is good enough for a small number of consecutive uses, you should oil it after every use to make sure the metal is adequately protected against the forces of nature.
Another great thing about the Morakniv is that there is an optional heavy-duty plastic sheath with an included diamond sharpener and a fire starter kit. That, with the help of the sharpened spine of the knife, can produce sparks as high as 300 degrees Celcius and last for 7000 uses, which is long enough for almost any bushcraft artisan.
Pros
Durable coating

Excellent Sheath

Premium Carbon steel
Cons
The steel needs proper maintenance

Not sharpened well from the factory
4. Benchmade Bushcrafter 162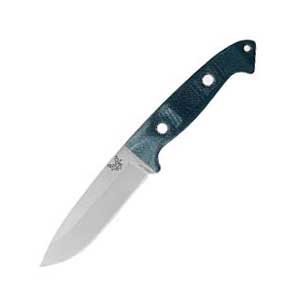 The Benchmade Bushcrafter 162 is a bushcraft knife with a hair-popping sharp drop-point type blade with a high-grade s30v stainless steel alloy and a premium micarta handle.
Another great thing s that you can go out in the wild and forget about it – it doesn't require as much care as its carbon steel brethren while still being as rigid as them. That doesn't mean you shouldn't oil it once in a while. I can attest to the durability of the edge, being as sharp as when I left the house at the end of the weekend.
The premium price of the Benchmade comes with some goodies included. They include a high-quality buckskin sheath and a fire starter rod. The sheath is one of the highest quality ones I've felt. It's a perfect size, it sits well on your belt, and is ideal if you draw and put back your bushcraft knife a lot. The fire starter rod is infinitely reusable because of the high durability of the blade's s30v stainless steel alloy.
While Bushcrafter 162 uses some high-quality materials, like it is micarta handle, most customers report many quality control problems, like missing handle pins and the fact that the blade isn't a Ray Mears licensed product.
So, the Benchmade is a pretty good piece of gear, but poor marketing and quality standards don't justify its high price point because, for the same price, you could find even more quality knives.
Pros
This bushcraft knife has a hair-popping sharp drop-point type blade made with a high-grade s30v stainless steel alloy and a premium micarta handle
There are some welcomed bonuses like a high-quality buckskin sheath and a fire starter rod, with the sheath being one of the best out there
It manages to stay at a pretty reasonable and affordable price without cutting any major corners and retaining the brand name
Cons
While it is being advertised as one, the knife isn't a Ray Mears licensed product, and that is a huge detriment to the company
There have been numerous reports from customers of some glaring quality control problems like dulled-out blades and missing handle pins
5. The Gerber Strongarm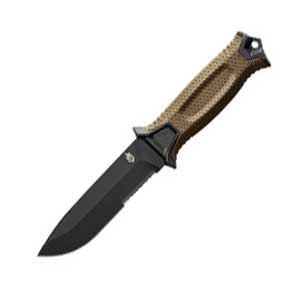 Gerber has been in the market since 1968 with its Strongarm lineup, made for the military. Its blade's design is rooted in the martial art of survival, with its 420HC ceramic coated full-tang drop point blade.
The handle has a diamond-shaped rubberized coating to give your knife more grip in harsher conditions. The handle mentioned above has a striking pommel for added versatility in the case of an emergency. The included sheath has a variety of ways it could be mounted, including a drop-leg belt mount fashion.
This Gerber Strongarm looks and handles just like a piece of military gear, with its bulkier look and feel in hand. While it is more significant than most knives, it can also do more detailed work like carving and meal prep. So if you're searching for something produced in the good old USA, this is one of the best homemade knives out there
Pros
Gerber has been in the market since 1968, with its knife lineup, which has been made for the military, so quality brand name is the name of the game here
The handle has a diamond-shaped rubberized coating to give your knife more grip in harsher conditions, and it also has a striking pommel for added versatility in the case of an emergency
The included sheath has a variety of ways it could be mounted, including a drop-leg belt mount fashion, and the whole package has a very nice and bulky military feel
Cons
While the diamond pattern is a pretty nice addition to the handle that adds some grip, the fact that it isn't carried all the way makes it pretty much unnecessary
The blade uses a pretty nice blade, but there could be a much better one at this price
What Makes A Good Bushcraft Knife?
Bushcraft is a way of life, a philosophy, and an art form. And just like every eccentric artist who has his way of painting or composing, everyone who is into bushcraft has a different idea of what is the perfect tool for the job.
Several key features determine the quality of a bushcraft knife, they being:
Materials
Design
Features
Build Quality
Fit and Finish
Cosmetics
There are specialized bushcraft knives for wood carving and crafting, which need to have an excellent curved handle, or for a general surviving task that requires a full – tang. The blade runs through the handle. The general all-purpose bushcraft knife has to have some defining features which will make it your best companion in the wild.
What are the different Tangs?
And what gives you all the features you need? The Tang. It is this part of the blade that runs through and connects the handle with the cutting element. There are three main types. They were a full-tang, a partial-tang, and a stick-tang. They define how the knife feels in your hand, how it's balanced, and how rigid it is.
While I'm personally most affiliated with the full-tang knives because I prefer their feel, some people swear to the quality of the stick ones, so I'm going to list you their pros and cons.
1. Full-Tang Knives
The defining feature of the full-tang bushcraft knives is the rigidness that the full-length blade gives. While they are more substantial, some people prefer them because the weight makes them feel of higher quality and much more robust.
2. Partial – Tang Knives
This old-school construction is the least used one because the blade isn't securely connected to the handle, making it unbalanced, less durable, and thus less desirable. While they've improved dramatically over the years, they still aren't up to par with the other two.
3. Stick – Tang Knives
This type of Tang is mostly encountered in Scandinavian bushcraft knives and makes them extremely strong and balanced, thus making them a considerable replacement to the full-tang ones. They give off a different feel and are often used for tasks requiring a stronger blade, like cleaning small games.
The Handle
The Shape
The part of the tool that is most important to the ergonomic level of the bushcraft knife. Everyone has a different taste in tool handles, some like longer and thicker, while others prefer slim and short or even curved and straight.
While your preferences will bias your selection, every task has a specific type of handle that will make your life a lot easier. I'm personally a fan of the curved ridge design because I spend a considerable amount of time in wood carving and crafting. A straight handle will be uncomfortable after prolonged use.
But for example, for preparing food, you will need a long and light bushcraft knife, while for fire-starting, you will need one with a healthy spine and a shorter blade for split kindling. The best bushcraft knife handle is the most comfortable one, but you should consider choosing the most competent for the job you'll be doing the most.
The Material
Most bushcraft knives rely on durable, coated, polished wood handles. Still, some elements are even more reliable because the organic nature of the wood makes it absorb moisture, thus rotting it over time, and that's why the synthetic ones have an advantage. At the top, the overall best handle materials are G10 and Micarta, both synthetic.
Micarta
A phenolic resin-impregnated paper or cotton fabric layered and cured under high heat and pressure. The nature of its creation process gives it an infinite number of possible patterns and colors, hence taking the lead in the design department over the G10.
G10
G10 is a high-pressure fiberglass laminate. It is created by stacking multiple layers of glass cloth, soaking them in epoxy resin, and compressing the resulting material under heat until the epoxy cures.
G10 is very similar to Micarta, but the base material is glass cloth, thus making it more robust and durable than Micarta while sacrificing the looks.
What makes a good blade?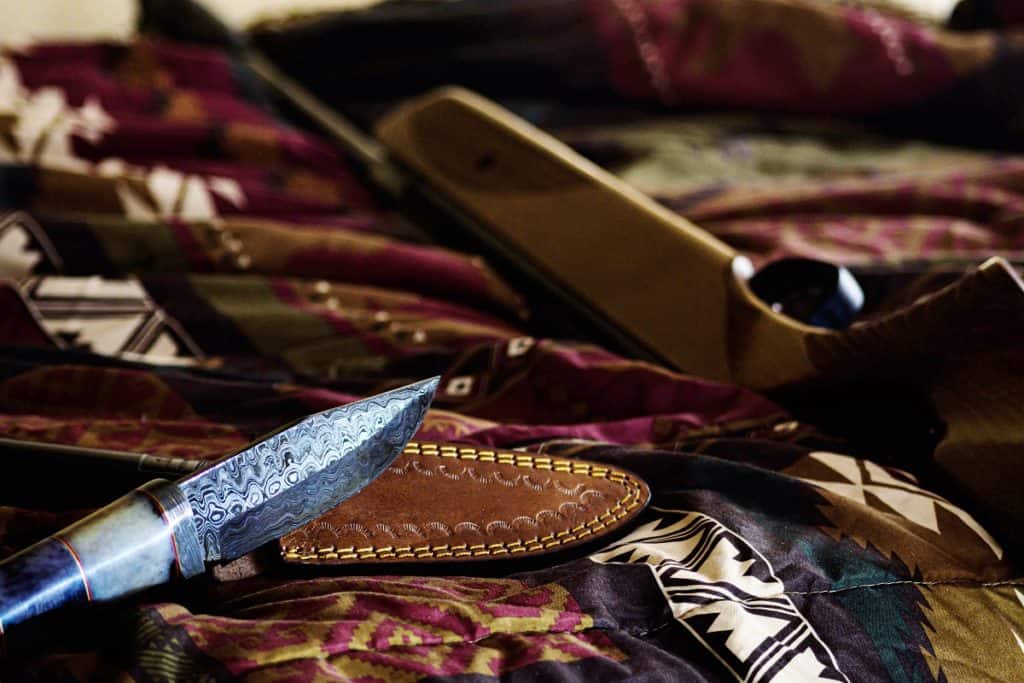 The blade is, in fact, the core ingredient of a good bushcraft knife. While the handle is just as important, in the wilderness, the right blade with a subpar handle will get you a long way, while in the opposite case, your comfortable grip wouldn't help much if your blade is dull and fragile. So let's look at some of the essential characteristics of a bushcraft knife's edge.
The Size
I'm pretty sure everyone, just like me, would like to carry a massive weapon, just like a hero from an adventure movie, but let's be honest – you don't need it, and a knife the size of your arm isn't a bushcraft knife anymore, is it? If you think you'll encounter something that the average bushcraft knife can't handle, maybe you need to consider something like a tomahawk or a machete. You shouldn't try to make your knife something which it isn't – if you need something bigger, carry it alongside your other tools. I use a 4.5-inch blade, so a bushcraft knife in the range of 3 to 6 inches is large enough for any task but at the same time small enough to be nimble light.
The Shape And Design
Most people that aren't well enough versed in the art of bushcraft may envision a large, big knife with a curved belly that usually butchers use, but in fact, a well-rounded bushcraft knife should have a long flat blade in the center of the handle, that ends with a tip. The tip shouldn't be excessively narrow and sharp, nor dull and rounded. While a curved blade is perfect for slashing and cutting, the flat edge gives you something the curved one doesn't – versatility. With it, you can baton, chop and push cut, and because of its size, you shouldn't come across something you can't cut or slash.
The Geometry And Grind
The blade's geometry consists of its grind and primary bevel and secondary if there is one. The grind is this area of the module, which is from the spine to the cutting edge or second bevel. The primary setup is the grind to thin from the spine down until the corner of the second bevel. The extreme angles are made for specific tasks, so for an all-rounded knife. The best grinds for a bushcraft knife are:
Convex and Chisel, which are the only primary bevel
Scandi, which is traditionally only central but is often found with secondary, just like Flat Grinds, which almost always have hie a secondary bevel
While these aren't all types of grinds, they are perfect for the multifunctional purpose of the bushcraft knife.
The Cutting Edge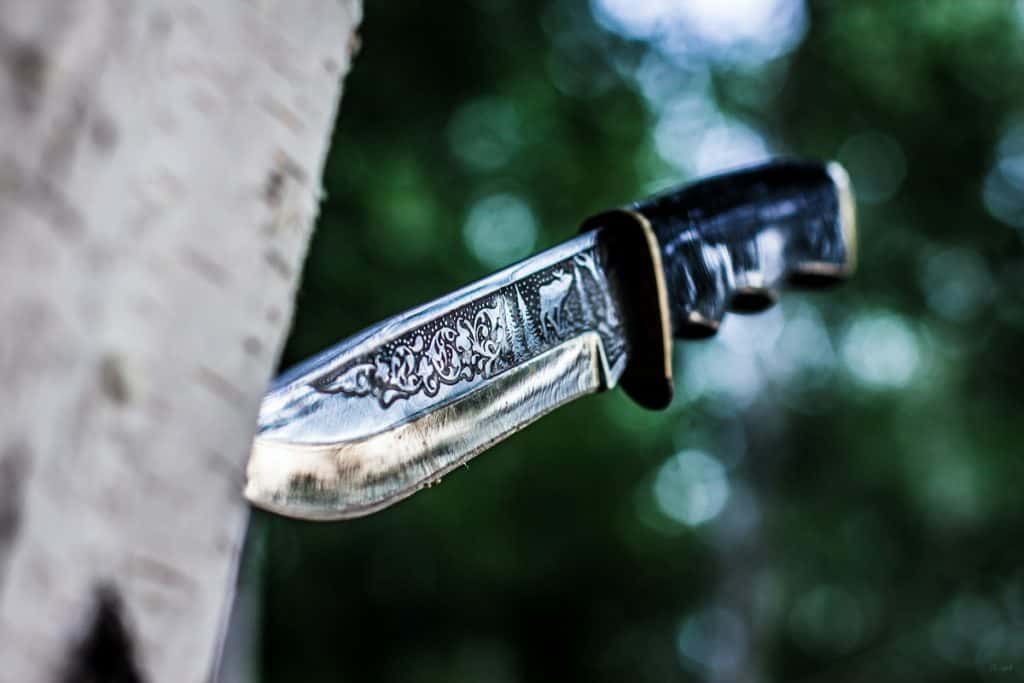 The cutting edge is the main feature of your knife, the reason why it's so versatile, and a thing you should thoughtfully consider.
The thing that differentiates one cutting edge from another is its angle. As the angle increases, the blade gets duller, but it also gets stronger and more durable, perfect for more substantial work like woodcarving and batoning. At the opposite end, the smaller the angle is, the sharper the blade, therefore making it ideal for food prep and slicing. On the other hand, the narrower edge is more fragile, thus making it not suitable for heavy-duty work.
So you should consider the tasks you want to perform with your bushcraft knife and choose an excellent cutting-edge angle for you. I usually carry an ax with me for more demanding work, so I prefer a sharper blade with a narrower angle.
You should know that the cutting edge angle is the combined angle of both cutting ones. For example, if you have a 24-degree one, the two sides have a cutting angle of 12 degrees.
But another thing you should consider is sharpening the knife. After prolonged use, you'll eventually need to sharpen it, and a knife with only a primary bevel and a smaller angle will be more comfortable to grind. A secondary bevel one will need more skill to keep the blade at the optimal angle to sharpen it correctly.
The Material
The thing about your knife's material is that there isn't a perfect be-all and end-all one, but the best materials on the market right now, stainless steel or carbon steel alloys, are the right choice. Countless other articles list several arguments that try to convince you why specific material is more durable or heat-resistant than another. I can tell you that the two primary alloys have only one significant difference – the carbon steel is more rust prominent but stronger, while stainless steel has more chromium to make it rust-stain resistant.
Some people say the new to that market super steels are the right choice, but that isn't 100 percent true. While they are even more resistant to rust, corrosion, and wear, they aren't as hard as carbon steel or durable. Another caveat is that the tip breaks off easily in sharpening with an ordinary stone, and you need to carry an additional diamond grindstone.
In the end, there isn't a steel alloy that does everything – some are good in some areas while being bad in others. So as a newbie in the field of bushcraft, the best way to determine what material suits you best is as simple as a pie – experiment. If you don't get out in the field, you can't get a good enough feel for the alloy that you want in your knife. So I will recommend a couple of alloys and leave the end choice for you.
Carbon Steel Alloys – 1095, 1080, CPM D2, A2, O1
Stainless Steel Alloys – CPM 3v, CPM S35V, 440c, VG 10
The Features
Don't forget one crucial thing – you're searching for a bushcraft knife, not a saw, not a can opener. The versatility of the knife comes from the fact that you carry a single blade that does pretty much everything you want. For example, as I mentioned above, if you have a saw blade on the spine of your bushcraft knife, not only does this make it less rigid, but also more dangerous.
If you're doing a push stroke, the saw can bind, thus slicing your palm in half, and that is very dangerous if you are miles away from the nearest town and don't have a proper first aid kit. So to wrap up, if you need a saw for more significant trees or your shelter, there are perfectly good foldable saws out there in the market, so if you think you need one, don't combine it with your blade – two blades don't equal to twice the tool.
Final Words
In the end, all the qualities mentioned above and characteristics could be combined in millions of different ways – from a carbon composite or a plastic handle and a carbon steel blade to a stick-tang blade with a narrower cutting angle. If you imagine a combination, it probably exists. But now, I'm going to show you my list of the best bushcraft knives and objective reasons why I've ranked them that way, and when you've got enough experience, you'll be able to find the best bushcraft knife for you.
Now, to give you all context, every one of the abovementioned blades is the right choice. But I've been using one blade for the last three years, which is Ka-Bar Becker Unisex Outdoor Knife available in Nero – One Size. This knife truly embodies the spirit of bushcraft – a blade that does everything you need and helps you overcome anything.
The knife has a significant and robust drop point blade so that it can do demanding heavy-duty tasks like batoning and chopping, as well as some more delicate work. While it doesn't have a stainless steel blade with a dazzling satin finish, its carbon steel one has a black powder coating that, with care, can wield the same results. It has a full tang which is, in my opinion, even better than some scandi ones.
Suffice it to say this knife is the overall best option out there and should be in every bushcraft enthusiast.