MRE stands for "Meal Ready to Eat." This is the ideal food supply for people in the military, survivalists, outdoor enthusiasts, etc. They are easy to use, and their shelf life is longer than most food provisions. Usually, they are lightweight and compact, so you can carry them around easily without having a problem with their portability. When deciding on an MRE, you need something that is highly nutritious and will keep your body healthy.
However, today's market is packed with MREs that don't taste good and aren't the real deal, that's where we come in. In today's article, we'll review the 10 best MRE packs available on the market for civilian use.
1. US MRE Military Surplus 24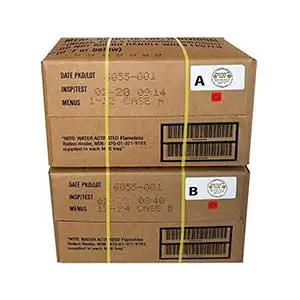 These MRE provisions are a fantastic option with long-term storage life and immediate consumption. They will roughly provide 1250 calories per meal with an unbelievable variety of Asian, Mexican, Italian, traditional, and vegetarian cuisine. All meals consist of a main course, a side, a snack, a dessert, and an accessory pack with flavor-enhancing seasonings, matches, toilet paper, and other survival essentials.
Not only that, but you receive a large assortment of snacks, desserts, coffee, cappuccino, milkshakes, and beverage base powders. You get two cases, each one containing 12 different meal entrees with a Temperature Indicator (TTI) found on top of each case.
Pros
Different meal entrees/ big variety
Inspection Certificate with Pack Date
Long shelf life
Accessory pack
Cons
Frequently substitute products
Not all meals will include heaters
2. Mountain House Just In Case 14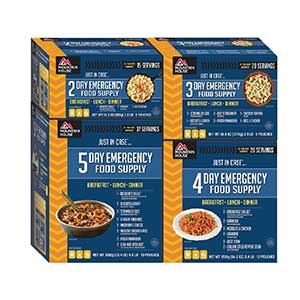 If you're someone that wants to be prepared for any situation, but you run on a tight budget, the Mountain House MREs are an option to consider. This is a 14-day emergency food supply kit packed with a variety of breakfast, lunch, and dinner meals.
The manufacturers pray themselves with delicious and tasty food that includes 42 total just-add-water meals that can be eaten directly out of the pouch. Are you a fan of comforting food? Mountain House offers meals such as Biscuits and Gravy, Beef Stroganoff, Pasta Primavera, and more.
Pros
12+ year Taste Guarantee
42 total just-add-water meals
Different meal entrees
Easy to store
Cons
Inspection certificate isn't available
No essentials, only meals
3. Mountain House Breakfast Bucket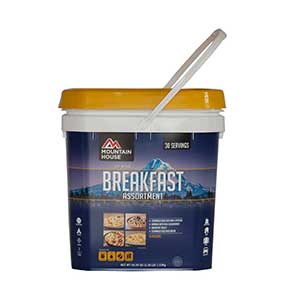 The Breakfast Bucket from Mountain House offers a total of 16 freeze-dried meals with a wide assortment of breakfast meals such as scrambled eggs, hash browns, back granola, and other tasty foods. This delicious selection comes in a lightweight, reusable bucket that can be easily stored as your emergency food supply.
You get a meal in 10 minutes by just adding water to your package. These provisions don't require refrigeration and come with a 30-year Taste Guarantee and a 30-year shelf life, which will have you at ease for a long period.
Pros
Freeze-dried breakfast meals
Reusable bucket
30-year Taste Guarantee
16 breakfast meals
Cons
Only breakfast options
Inspection certificate isn't available
4. S.O.S. Rations Emergency
This is an ideal package for someone who is in the process of building a disaster/ emergency kit. The S.O.S. food rations are U.S. Coast guard approved and come with a shelf life of 5 years. You get two packages with nine delicious bars in each that provide 410 calories per bar and a total of over 7000 calories for the whole emergency ration.
You get a package with cinnamon flavor and one with coconut. What makes these bars exceptional is the fact that they come with a non- thirst provoking Formula, which offers maximum survival capacity with drinking water restriction under all environmental conditions.
Pros
High energy value
US Coast Guard approved
Shelf life of 5 years
Non-thirst provoking Formula
Cons
Designed to sustain life, not common usage
Only two flavors
5. Sure-Pak MRE Meals Ready to Eat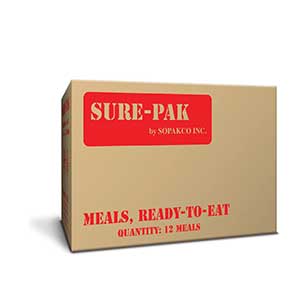 What makes this premium quality MRE package different than others is the option to purchase an utterly vegetarian package. It is the only one of its sort on the market. You will receive 12 individual meal kits: an entrée, a side dish, a dessert, a bread item, some sort of spread, a powdered beverage, and a condiment pack. These MRE provisions come with a date code and waterproof packaging, making them perfect for not only emergency kits but adventures in the great outdoors as well.
Pros
Julian Date Code
12 Meals per case
Waterproof packaging for each meal
Includes flameless ration heater
Cons
You can't freeze them
Recommended for 72 hours and under
6. Mountain House Rice & Chicken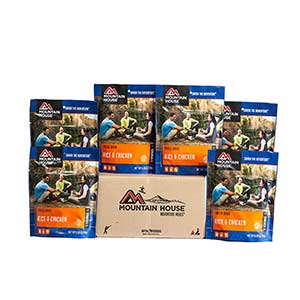 Mountain House offers a freeze-dried meal that doesn't have to be boring or taste bad. If you are someone who enjoys the taste of a home-cooked meal, this MRE is the closest you can get to it with an emergency food ration. You get six pouches of a chicken and rice entrée that are super easy to prep and require no cleanup.
Trusted by many, this Mountain House product provides us with the longest proven shelf life in the industry. That by itself can put you at ease, knowing that you can rely on a hot and delicious meal when you need it most.
Pros
Quick and easy preparation
Longest shelf life in the industry
6 rice and chicken meals
Fresh flavor
Cons
One meal option only
No snacks or dessert
7. A-PACK Ready Meal 12 MRE Kit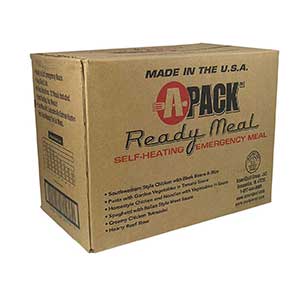 The A-Pack Meal kit is compact, durable, nutritious, self-heating, and shelf-stable. Each case contains 12 meals with six delicious options. All meals are individually packaged with durable, easy-to-open packaging. A single case can provide nutritional variety in critical situations or natural disasters in which your appetite may be suppressed by stress.
You receive a self-heating unit that will get your food ready in less than 10 minutes. Every meal includes an entrée, a side dish, a seasoning packet, utensils, and a napkin. A-Pack has worked hard to be able to reduce sodium in their products immensely.
Pros
Various meal options
Self-heating unit
Reduced Sodium
Long shelf life
Cons
No snacks or dessert
Inspection certificate isn't available
8. Augason Farms 30-Day Supply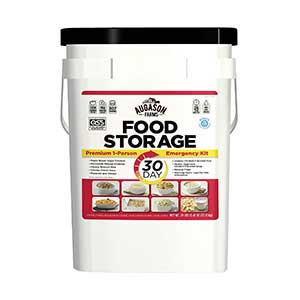 The Augason Food Supply is something you won't find in any other emergency food kit. The company works hard to create the ideal daily meal preparation with its unique Meal Planner. In an emergency, your body needs energy and is carefully prepared to ensure that you are consuming a balanced number of calories each day when it comes down to extended periods.
If you appreciate the rich flavor and satisfying entrees, you'll be glad to have chosen this option. As a QSS-Certified food supply, you know that picking Augason's means picking quality.
Pros
QSS-Certified food supply
30-Day Meal Planner
20+ years shelf life
Easy to prepare and transport
Cons
1 person supply
Product specifications may differ slightly
9. Mountain House Adventure Pack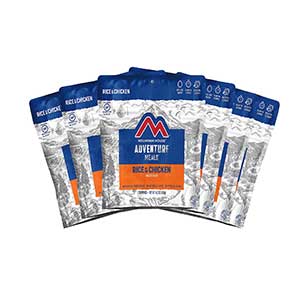 No matter the adventure, you need protein and carbs to keep you energized, which is precisely what you'll get with this Mountain House meal. With no artificial flavors, this MRE package has tender cooked chicken, zesty pimientos, and hearty rice. This perfectly seasoned meal is quick and easy to prepare, so you can enjoy a satisfying meal in minutes.
The Adventure pack is lightweight and portable, which makes it suitable for trips outdoors. Perfect for many situations, this MRE meal is air-compressed, which makes it ideal for high-altitude adventures.
Pros
Gluten-Free
No artificial flavors
Quick and easy preparation
Air-compressed for high-altitude adventures
Cons
If its power runs out, that's it because the option to power it with double-A batteries isn't even remotely viable, it's just too dim
10. Wise Company Food Supply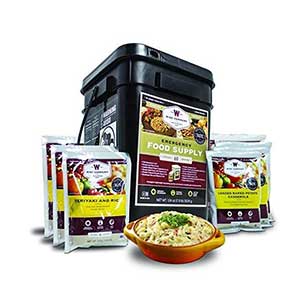 Wise Foods entrée kit is one of the most varied options on the market today for MRE food rations. 60 servings of delicious lunch and dinner entrees stored in a convenient, long-term food bucket that ensures your family has the food they need in an emergency. Easy to carry and even easier to prepare, this food supply would work in most emergencies and sustain your body's health. However, not only do they have a wide variety of meals, the manufacturers have created tasty and delicious food which everyone can enjoy.
Pros
Various meal options
Shelf life of up to 25 years
Suitable for families
Quick and easy to prepare
Cons
Only ready-to-eat entrees
Product specifications may differ slightly
Why is it so important to be prepared, and how is food the most important?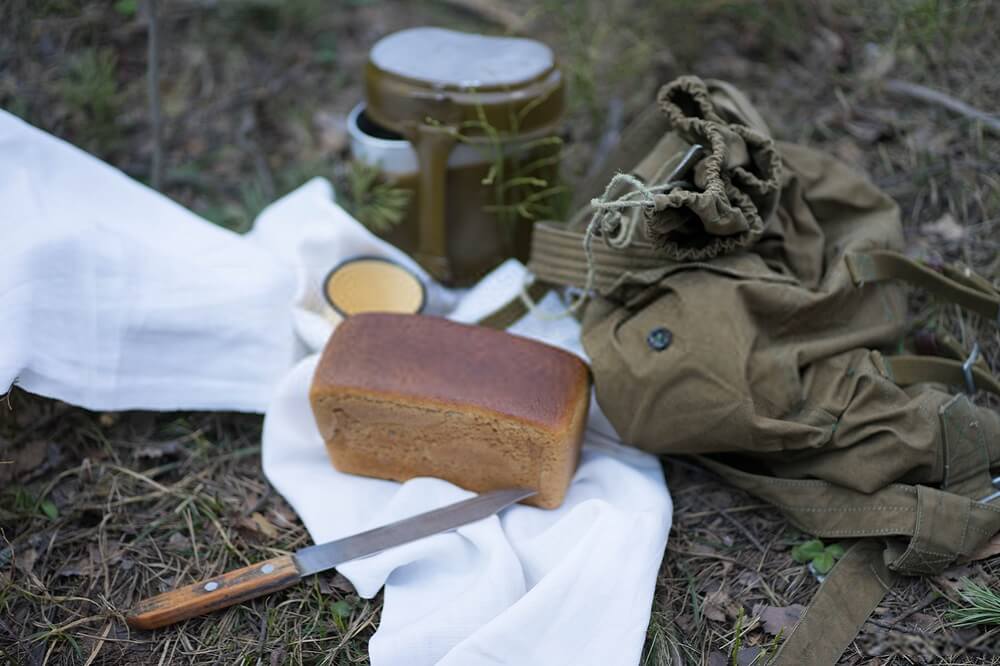 The one thing that everyone has in common is the need to prep. Regardless of the threat, everyone wants to protect their family and loved ones from those who mean harm. Every single prepper understands that food is one of the most crucial factors in human survival, if not the most important one. If you end up in a situation in which a natural disaster occurs, or a terrible event happens, you need to make sure you have enough food to support yourself and your family when reasons are stopping you from getting food in another way.
That's where MREs come in with their long shelf life and compact and portable package, which includes a full meal. Usually, an MRE will equal 1,250 calories of food that is already pre-cooked and can be eaten hot and cold. With this sort of food ration, you can get different menu options. Our immune system won't work without food, which is why eating means taking care of our body and health.
How to choose the best MRE for your needs?
When you want to purchase MRE packages, you need to make sure that you are well-informed before making a decision. Here are some tips on how to pick the right option:
Check the source or vendor
Always read the fine print on a package before buying it. It is essential to see if the MREs are authentic military-grade products. You need to be very careful with unofficial MRE provisions and try and avoid them. If you've already purchased them, don't solely rely on them. 
Check the price
To be able to get a good deal, you will have to do some research and check out 3 or 4 stores so you can compare and decide on the best option. Buying in bulk is typically a great idea because a pack of MRE can get down from 6$-7$ to 4$. When you want to purchase an MRE pack, no matter the reason, you need to have the right information with which you'll ensure that you spend your money wisely.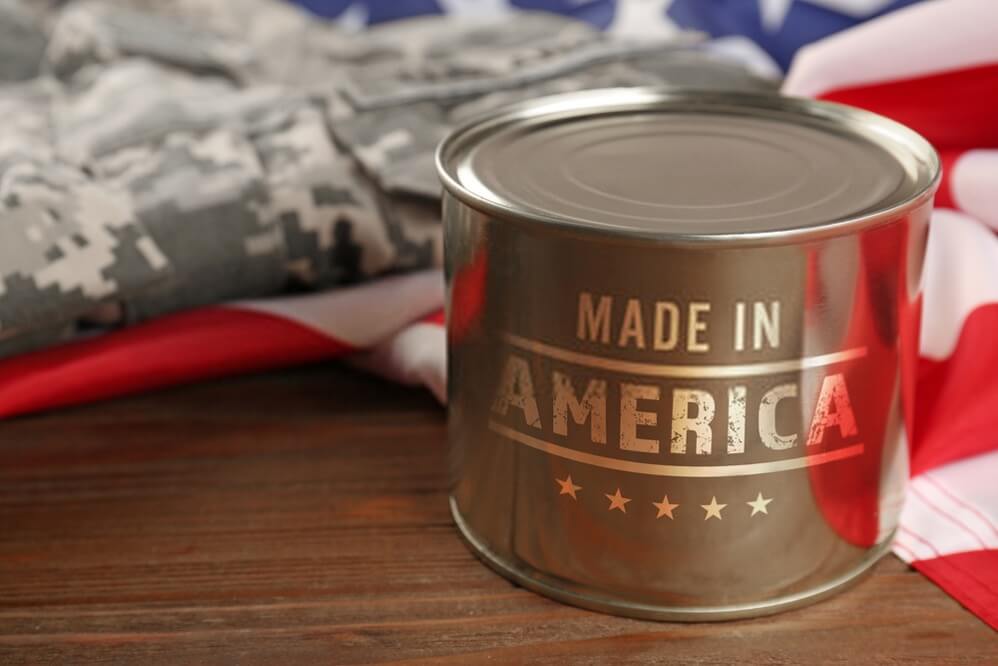 Look for a "Date Code"
Proper MREs are always stamped with a four-digit code which shows the product was made. "Julian Date Code" implements the shelf life of a product. The first digit in the code display's the most recent matching year, and the other three numbers show the day. For example, 8129 would mean the 129th day of 2018.
Have options
Having options is always a plus when picking up food provisions. If you have specific needs, it is great to consider looking for vegetarian meals: low-sodium ones or even Kosher food. MREs shouldn't have to be distasteful and unpleasant. 
Check for pictures
Avoid buying MREs online from sellers who won't provide pictures of the product. Either way, people can claim they have a product and end up seeding you a completely different thing. However, the possibility of that happening when they have pictures of the provisions is smaller.
FAQs
What is an MRE meal?
MRE stands for "Meal Ready to Eat," and it is a full meal stored in a small package that needs minimal prep and can be easily stored. Originally they were invented for the military since they needed a way to survive in extreme situations. However, MREs have become more common with time, and now they are used all over the world by preppers, survivalists, and campers who prefer easily stored and compact meals when they are in the great outdoors.
Depending on the package you are purchasing, there are several different meal types you can get. Usually, an MRE consists of the main course, some sort of a side, bread, a snack, and a dessert. Typically there are some miscellaneous items like the necessary utensils and sauce for the meal. These products aren't supposed to be fancy and incredibly delicious, the idea behind them is to provide efficient and convenient fuel for your body to sustain it.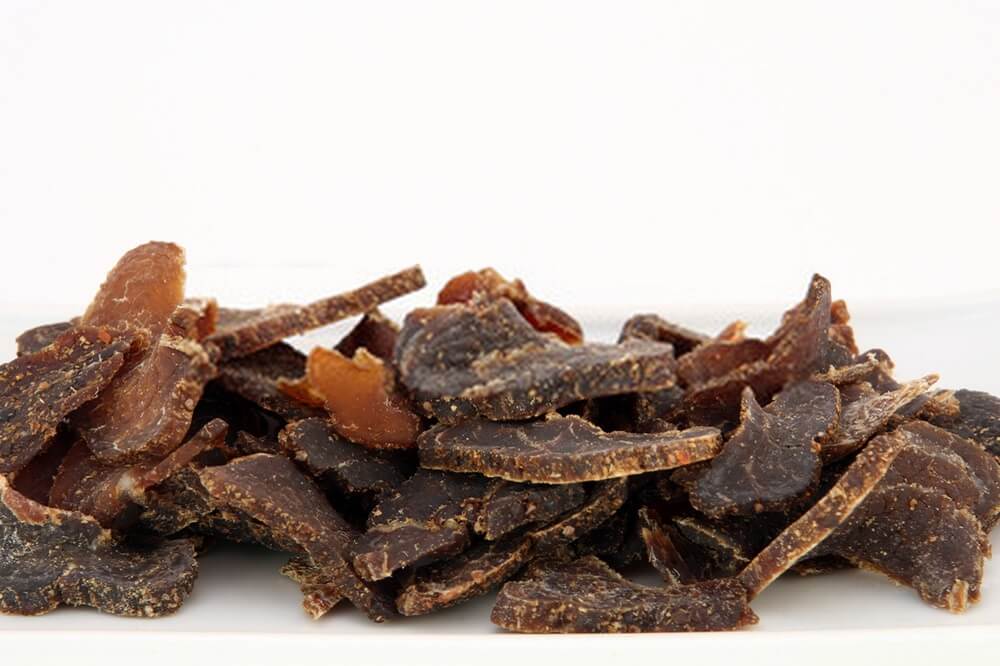 What makes MRE food great?
Being prepared is always a great thing, and the main factor for your survival is food. That's where MREs come in handy. Here are some of the reasons why:
Long shelf life
MREs usually last for five years, but if kept properly and in cool conditions, they can last even longer. If you decide to freeze them, they can pretty much last forever. What can beat that? The long shelf life of this product makes them ideal for emergencies and occurring disasters.
The price
Most companies sell MRE meals in packs, which can be a great deal if you do some research. Typically a single MRE will cost you between 6$ to 7$, but if you buy a pack of 12 or 24, the might get down to 4 $ a pack. Plus, if you end up prepping, we all know that the better you're stacked, the better off you'll be in the long run.
Transportation and Portability
Since MREs are designed for emergencies, they must be portable and easily transported. They were made lightweight so soldiers could carry them over long, hard distances. That's why weight and size are significant factors.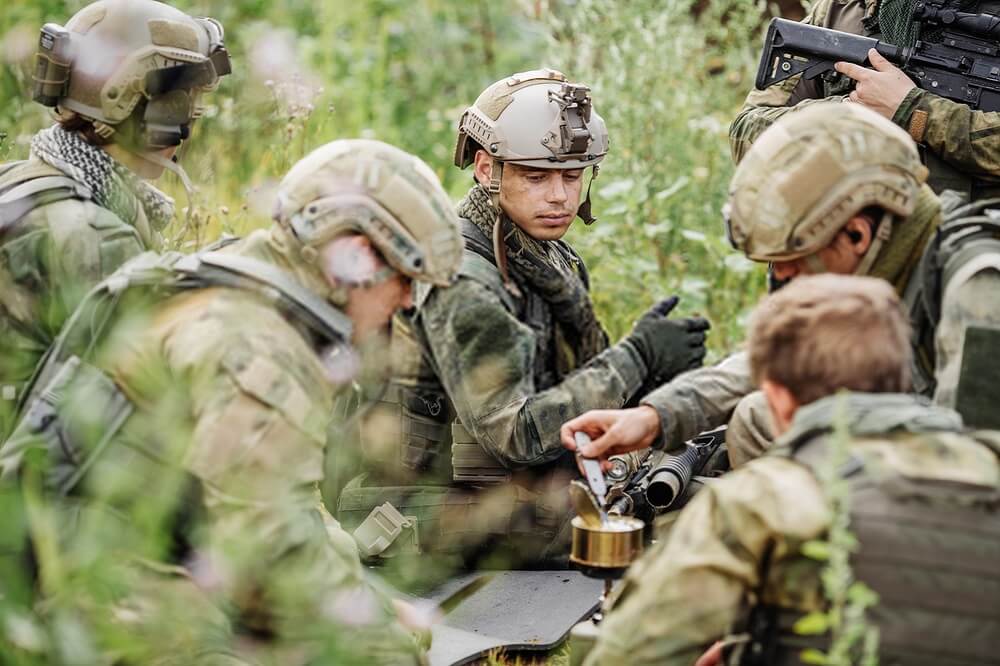 No messes
MREs are great because, with them, you don't have to worry about molding, and while you are eating, making a mess by spilling isn't an exciting problem. They are easily stored and compact, and if you look into them, you can find some packages that are pretty flavorful for survival rations. 
How to heat an MRE?
Sometimes MRE meals get mistaken for dehydrated or freeze-dried foods, but they are entirely different. MRE packs are pre-cooked, which means that they will retain the full moisture and easily last for more than 5 years. The way to heat an MRE is by using the chemical heater pouch that comes with it. Here are a few short steps with which you can prepare your MRE meal:
Open the MRE pack
Find the bag with a label – Heater
Fill the pouch with water (look at the specific amount for the set bag)
Let the pouch heat up for a minute
Insert the main course into the heater (the main course should stay in its package)
Close the heat pouch
Wait for 5 to 10 minutes
If you end up missing the heater bag in your MRE package, there are a variety of ways to heat your meal. The easiest one is to boil it in clean water for 3 to 5 minutes, and you will be set to go.
How to maintain your MRE stash?
No survival ration has an indefinite expiration date. Even long-lasting MREs come with one. No one ever wants to end up relying on food that has gone bad. You want food that will be fresh, which is why you should have a list of what you have and when did you get it.
Use a spreadsheet to remind you of when something will go bad so you can try and prevent it. Maintaining a good stash means being able to rotate provisions appropriately. When you see that some of the food is approaching its expiration date, set it aside first.
By eating the meal with the shortest shelf life, you ensure that you cycle through the older food supplies and have fresh survival food at all times via rotation. However, keep in mind that you have to think about the way you store your MREs as well. They need to be stored in a cool, dark, and dry place, so their life is longer. Don't leave them in a warm place or front of direct sunlight since this will decrease their life.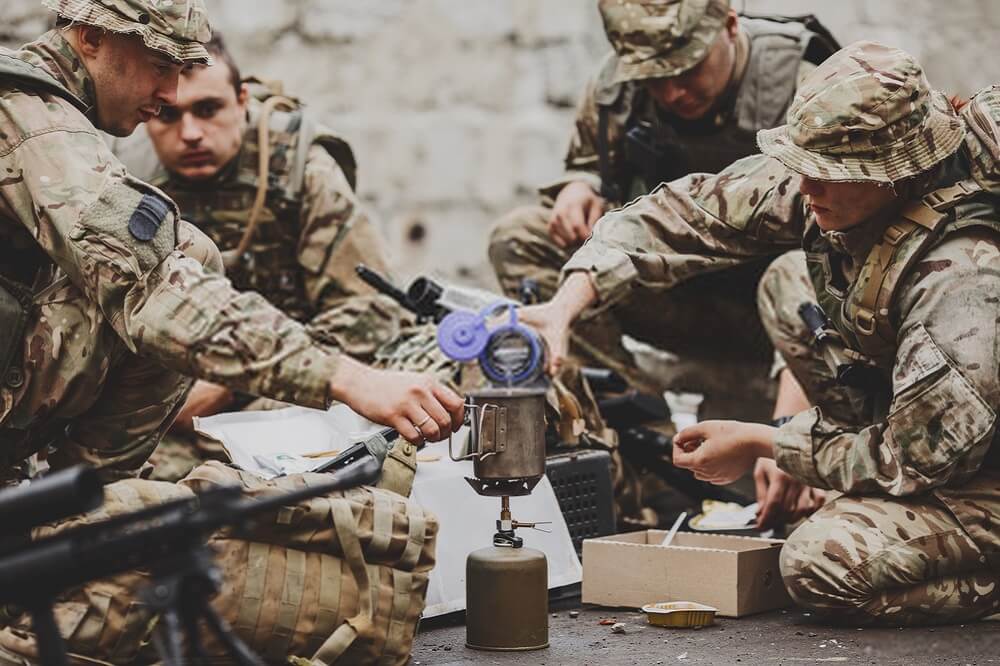 How many MREs should you eat a day?
After much testing, the recommended intake of maximum MREs is 21 days. The truth is that eating MRE isn't great for long periods, but only a few days in a row. The consequences of eating too many MRE packages can be severe. Considering the stomach is responsible for most of the auto-immune functions of the body, not treating it properly isn't a good idea.
Upsetting your stomach can throw your body into an illness if not taken seriously. However, if MREs are your only option, you will at least be able to sustain your body. The recommended intake for this type of provision per day is 1 to 3 meals. If you are in the military, you will need more energy, which means you'll need three packs, but if you're not as active, one or two MREs will be plenty.
Final words
Getting MRE package meals is ideal for everyone planning and preparing for a situation in which a regular food supply may be severely restricted or unavailable. These food rations are designed with a unique package that can withstand extreme conditions and has a long shelf life if kept properly. MREs are suitable for the military, hospitals, survivalists, campers, and many others put in a situation in which you have to sustain your health.
All meals are lightweight and easy to carry, they are ready to eat, which has made them very popular over time with the civilian population in this day and age. If we haven't answered any of your questions, feel free to ask the questions below. We would love to help you with any information you need regarding the subject.