No matter how well your day goes, if you end up being caught in the rain unprepared, your day will go down faster than you can imagine. Nowadays, umbrellas are used as so much more than a tool that will protect you from the rain. Many options on the market offer incredible wind protection, some are fantastic conversation pieces, and others are used for self-defense.
1. SunTek 68″ Windcheater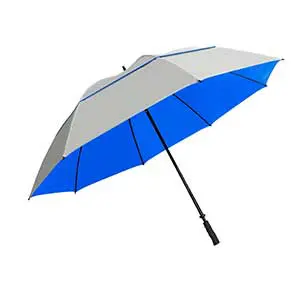 The SunTek Windcheater is the item that will protect you from harmful UV rays while keeping you cool in the sun and dry in the rain. This affordable vented everyday carry features a silver coated double canopy and an excellent Vortec Venting System, preventing it from inverting in wind storms. You get a product with durable construction made from fiberglass that will provide extra safety in the event of a lightning storm.
Coming with an extra-large canopy that will freely cover you and your gear, this item will keep you out of the sun on the hot summer days and protect you from rain and snow in the cold. Each Windcheater includes a matching protective storage sheath that can fit into your luggage or sports bag. Lastly, this fantastic product has an ergonomic handle that will provide you with a comfortable grip and always keep you protected from all weather conditions.
Pros
Durable & versatile
Protects you from UV rays
Vented silver-coated canopy
Vortec Venting System – prevents wind
Ergonomic rubber handle
Cons
Might start to peel around the canopy center
2. Repel Travel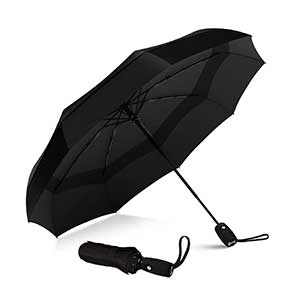 Repel is a company that has been pushing the limits and setting the bar higher with every product they create. Each one is designed to ensure the ultimate protection and comfort in any weather condition. This world-renowned everyday carry is fortified with 9 resin-reinforced fiberglass ribs, which can withstand turning inside out while protecting you from the elements. The Repel Travel uses state-of-the-art Teflon technology that provides superior water-repellency and dries instantly.
Foldable and durable, this Repel product is like nothing else, with its ergonomic, slip-proof handle with a wrist strap makes your carry pleasant and easy to hold. With an effortless open/close function and a three-fold chrome plated metal shaft, this product will provide you with excellent stability and quick one-handed operation.
Pros
Lifetime replacement warranty
Three-fold chrome plated metal shaft
Auto open/close function
Teflon technology
Ergonomic, slip-proof handle
Cons
No UV protection
On the pricier side
3. Lewis N. Clark Travel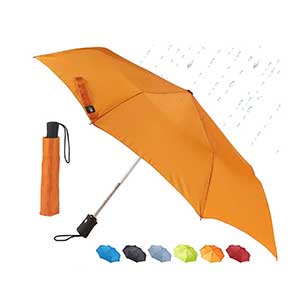 This Lewis N. Clark item is the ultimate protection against both rain and wind with sturdy metal ribs and a 3-fold chrome-plated steel shaft. This product is rust and corrosion-resistant, and its canopy is made from waterproof materials that ensure you'll stay dry at all times. You receive a mold-resistant sleeve that effortlessly slips into bags and briefcases, so you can easily access it anywhere you go.
With an automatic open/close button and a rubberized non-slip handle, you can quickly open it and comfortably hold it against high winds. Lewis N. Clark's full-size rain protector will survive being turned inside out without breaking from winds up to 30mph. If your everyday carry fails in any way in the first year, the manufacturer will replace it free of charge.
Pros
Teflon-like coating
Automatic open/close button
Lightweight & flexible
Chrome-plated steel shaft
Mildew-resistant protectant
Cons
Not as durable as others
On the smaller side
4. Magictec Sport
Magictec is an item that repels water and other elements through its waterproof and quickly drying canopy with state-of-the-art Dupont Teflon technology. Designed with a three-fold chrome plated metal shaft and a durable metal frame, which will provide great stability in high winds. The Magictec Sport has an ergonomic, slip-proof handle with a wrist strap for easy carry.
If we can describe this everyday carry in three words, they will be automatic, compact, and light. This sturdy product has resin-reinforced ribs that will not bend, making it windproof and, all in all, weather-resistant. You can quickly open and close it with the one-handed automatic function and keep yourself from getting soaked.
Included in your purchase, you get a stylish, protective travel sleeve to fit it in your purse. Magictec makes sure you are protected for life from the rain with its lifetime replacement program.
Pros
Lightweight & strong
Teflon Technology
Auto open/close function
Lifetime replacement warranty
Wind-resistant
Cons
No UV protection
On the smaller side
5. Bodyguard Inverted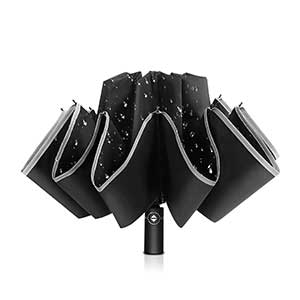 Bodyguard is an umbrella that's different from other traditional items because it is shorter and reversed. The reasoning behind the reverse folding is to prevent rainwater from dripping anywhere. No matter the weather, it will provide you with a wonderful time and a fully automated button system to ensure quick and easy operation.
This product is designed with 12 inverted ribs with a Reflective Stripe that will deliver high visibility during low light and rainy conditions, alerting vehicles and other people of your presence. Compact and easy to use, this everyday carry has excellent water repellency and a sturdy windproof structure. Easy to carry and even easier to fit without taking much space, the Bodyguard Inverted will withstand the test of time.
Pros
Inverted windproof design
Teflon technology
Auto open/close function
Reflective stripe for high visibility
Dries of quickly
Cons
On the smaller side
Quite heavy for its size
6. LifeTek Hillcrest Golf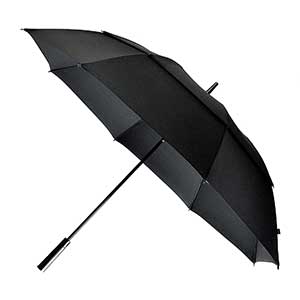 LifeTek is an item suitable for someone with an active lifestyle who demands the best rain protection. If you need a broad umbrella that's easy to operate and can stand up to the harshest weather conditions, Hillcrest Golf is what you want. This everyday carry is stylish, reliable, durable, and highly wind resistant. What more can you ask for? Offering a quick deploy auto-open mechanism and a Teflon canopy that will protect you from rain, wind, and skin-damaging UV rays.
The Hillcrest frame is engineered for strength and reliability with a canopy system with release vents for maximum stability. With a micro-weave thread-count fabric, this Golf rain protector provides superior water repellency and a Quick Dry technology. Blocking 97% of harmful UBA/UVB rays, this LifeTek everyday carry will keep your skin safe and bring stability to every sports enthusiast. To prove the quality, the manufacturer backs up these products with a two-year warranty.
Pros
Large & highly wind-resistant
Quick deploy mechanism
Superior water repellency
2 years replacement guarantee
UV protection of UPF 60+
Cons
Not as durable as others
7. DAVEK SOLO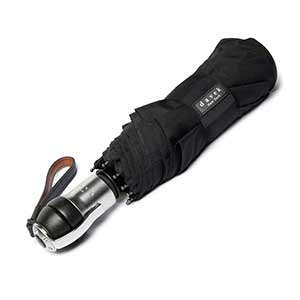 Davek has built an umbrella with exceptional durability and precision engineering that will remain by your side for many years. Designed with a patented frame system composed of high-grade steel, fiberglass, zinc alloy, and aluminum, which creates a superior construction for everyday carries. This item features an excellent automatic open/close system and a weather-resistant canopy constructed of the highest thread count fabric for maximum protection.
With a gorgeous handle with a convenient clip to attach to your belt or hold in your bag, the Davek Solo combines durability and style. This sleek and fashionable product is portable and compact enough to fit into any bag or luggage and strong enough to withstand the most brutal weather conditions.
We consider this to be the ideal individual-sized weatherproof item. You get it with an impeccable rib construction that can prevent breakage in strong winds. However, if something happens to it, the company offers an unconditional lifetime guarantee to replace your product for free.
Pros
Superior construction
WindFibre Frame System
Auto open/close function
Weatherproof
Unconditional lifetime guarantee
Cons
High price
On the smaller side
8. Senz Umbrellas Original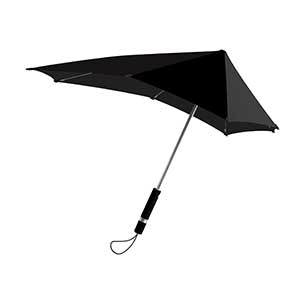 The Senz Original is an iconic product with an aerodynamic design that finds the best position in the wind, so it protects you without breaking. This has been categorized as the number one storm umbrella for a reason. It will withstand wind up to 100 km/h because its frame prevents it from turning inside out. Hands down the best everyday carry on the market today, the OG Senz has won all major design and innovation awards, which proves its quality and reliability.
Equipped with a UV protection of UPF 50+, so it can provide the best possible protection no matter the season. Senz has developed not only a durable product but also a timeless and classic design that allows you to travel in style. Set up with one of a kind eyesavers, which help protect the eyes of other pedestrians, this everyday carry comes with a 2-year manufacturer's warranty.
Pros
Aerodynamic design
Stormproof up to 100 km/h
2-year manufacturer's warranty
Unique patented rib construction
UV protection of UPF 50+
Cons
Not a sufficient shelter for two
On the pricier side
9. Unbreakable Walking – U-115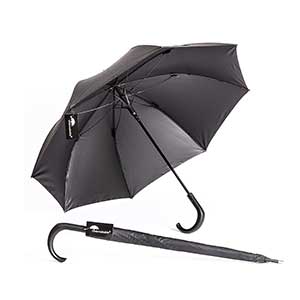 The Unbreakable walking stick was designed by Thomas Kurz, the author of many world-renowned training products for martial arts and an expert on self-defense instruction. On the market since 2004, this everyday carry has offered the highest performance standards while maintaining a clean and elegant look.
It is handcrafted from the highest quality materials with impeccable quality in the rain, just as much as in the self-defense area. Unbreakable's tool is machine-made with fiberglass and polyamide and can support up to 310Ibs.
You don't ever have to feel funny or awkward with this stylish and sturdy walking stick. Considered to be as strong as a steel pipe, the U-115 will protect you from the rain and everything else. The main rod of the umbrella is made of a proprietary composite and has a wide crook handle, which can be free useful if a mugger decides to strike. Never raise suspicions with the Unbreakable Walking – U-115 that is legal to carry everywhere and is backed by a 5-year warranty from the manufacturer.
Pros
Unbreakable walking stick
Made with fiberglass and polyamide
Stainless steel tip
Wide crook handle
Legal to carry everywhere
Cons
Handle might get sticky in hot weather
Higher price
10. Balios Prestige Travel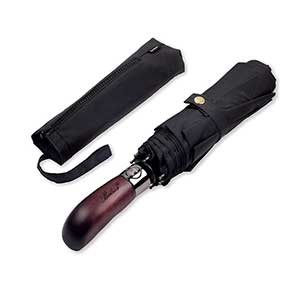 Balios is an everyday carry in which you can see impeccable craftsmanship and attention to detail. With a sturdy frame construction and exquisite design, this product is the perfect combination of durability and style. This design comes with a 100% handmade real wood handle and a high-grade hardened steel shaft with a unique thickened premium fiberglass wind-resistant frame system that offers incredible durability.
Specifically engineered to help resist windy conditions, this double vented canopy has not competition. The fabric it's made out of is ultra-soft and lightweight with high-density water repellent, which will protect you from getting wet in the rain. All you have to do is press a button, and you're ready to keep yourself dry. Balios Prestige is the perfect combination of artisan craftsmanship and rigorous quality.
Pros
Wind-resistant frame system
Vented double canopy
High-density water repellent fabric
Luxurious handmade wood handle
1-year replacement warranty
Cons
Not a sufficient shelter for two
Frequently Asked Questions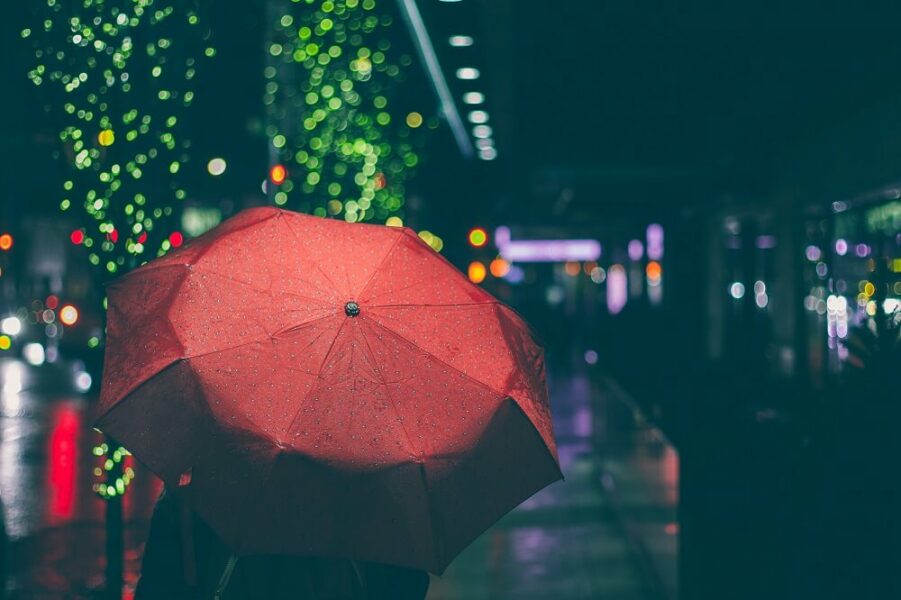 How to choose an umbrella for everyday carry?
Picking the best everyday carry might turn out to be quite hard if you don't know what to look for, which is why we've made this guide to help you pick the best item. Here are the features you need to take into consideration:
Does It Offer Rain Protection?
Some people might find this unbelievable, but some items won't protect you from rain. You need one that will repel water, and typically, those would be made out of waterproof fabrics like polyester with Teflon. Some models have a second canopy on top that is smaller and protects the weaker parts so don't get wet.
Does It Offer Wind Protection?
For the most part, rain comes with wind, which is why you need an everyday carry that will be wind-resistant. If you can find how many miles per hour an umbrella can withstand, that's a good sign of its quality. Pick the one that won't turn inside out when a storm occurs because no one wants to be left in the rain with a broken one.
What About Durability?
This is one of the essential features of every protective item. Always look for one that is durable and sturdy. Don't waste your money on flimsy, cheap ones that can't even last one storm. You can check if yours comes with a warranty because if the manufacturer stands by its product, that would typically mean it will last for a while.
What Size Should You Choose?
Size is a feature that is more of a preference than a necessity. However, the bigger the shade, the better it will protect you. Usually, larger ones were created to keep you and your belongings dry and smaller ones are meant to protect you only. Depending on your needs, both can work, but keep in mind that the bigger, the heavier it will be.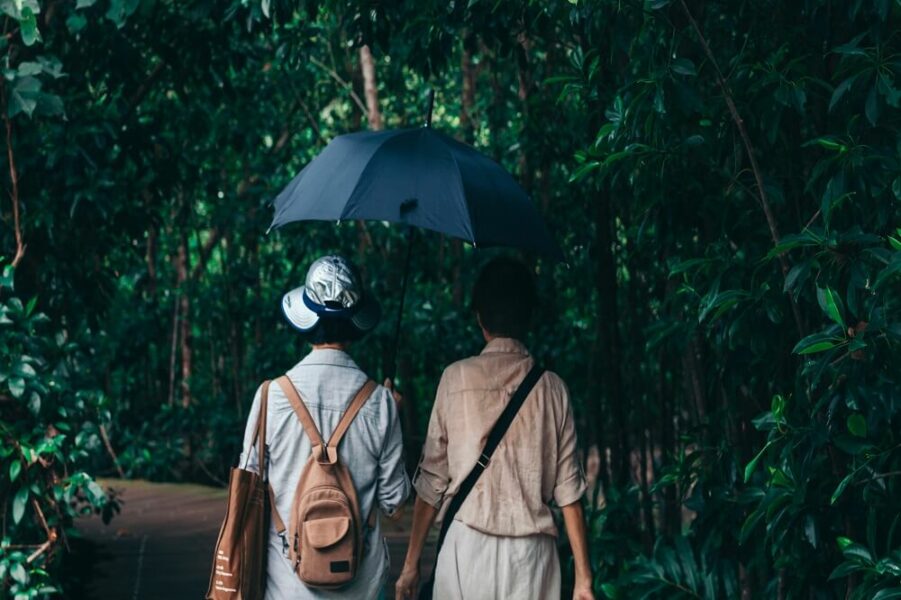 Is Compatibility Important?
Finding a compatible umbrella is a feature most people underestimate, but everyone needs to consider it. What happens if you are a businessman and you walk around with a small pink umbrella? How would that look for the people around you? Everyone has the option to pick what they like, which means thinking about the way it would look with your outfit. Don't pick a huge one for your kid or a small one for your husband. Be smart and considerate.
What About Usability?
No one wants to spend a couple of minutes trying to open their umbrella, which is why usability is an important aspect of your choice. What you need to look for is an easy-to-open one, which generally will have an auto-open function, and you'll be protected in seconds by the press of a button.
What Handle Style To Choose?
This is a feature that depends on personal preference. Some people prefer a plastic handle, another a wooded one. Both options have advantages and disadvantages, but no matter which one you pick, make sure it is ergonomically designed so that you can carry it around comfortably. 
Do I Need A Sheath?
Sleeves are what will protect your umbrella from mold and mildew. We recommend choosing an item that comes with a sheath, but when you get to use it, don't forget to let the everyday carry dry before you put it in.
What Are The Advantages Of Using One?
The word umbrella comes from the Latin word of "umbra," which means shade, which is why they were originally intended to protect people from the sun. Today after hundreds of years, it protects us from both sun and rain. Here are the advantages and disadvantages of umbrella use:
What Are The Аdvantages Of Using One?
Umbrellas are designed to protect you and prevent you from getting wet.
They are also used to protect you from the harmful effects of the sun.
Usually, they are affordable, lightweight, and easily transportable from place to place.
What Are The Disadvantages Of Using One?
Sometimes can potentially put someone's eye out with their ends.

When the rain ends, you have to carry it wet.
It can obstruct your view, which can be quite annoying for others.
These products are both dependable and practical, but they can be an annoyance as well. We believe that the advantages you get from carrying an umbrella are way more significant than the disadvantages. You should take care of your protective item and it will take care of you.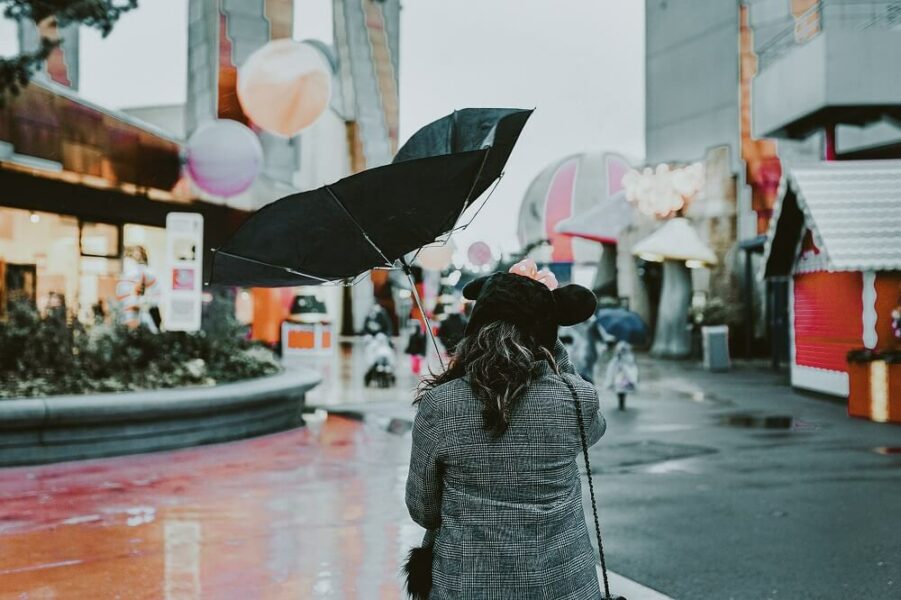 What Is The Most Durable Umbrella?
Umbrellas are becoming more popular each day, which can make it hard to tell the difference between high-quality and unreliable ones. To be great, it needs to be able to protect you from the sun and rain as well as the wind. If an everyday carry can withstand wind that means it is sturdy and strong, which is what we need at the end of the day. After long consideration and many tests, we've found the most durable product on the market for 2020, and that is the Senz Original.
This item easily slices through all winds while finding the best position to withstand it. The manufacturer has worked hard to create a product that's light and strong, portable, and durable so that each customer can have a high-quality piece they can count on in bad weather.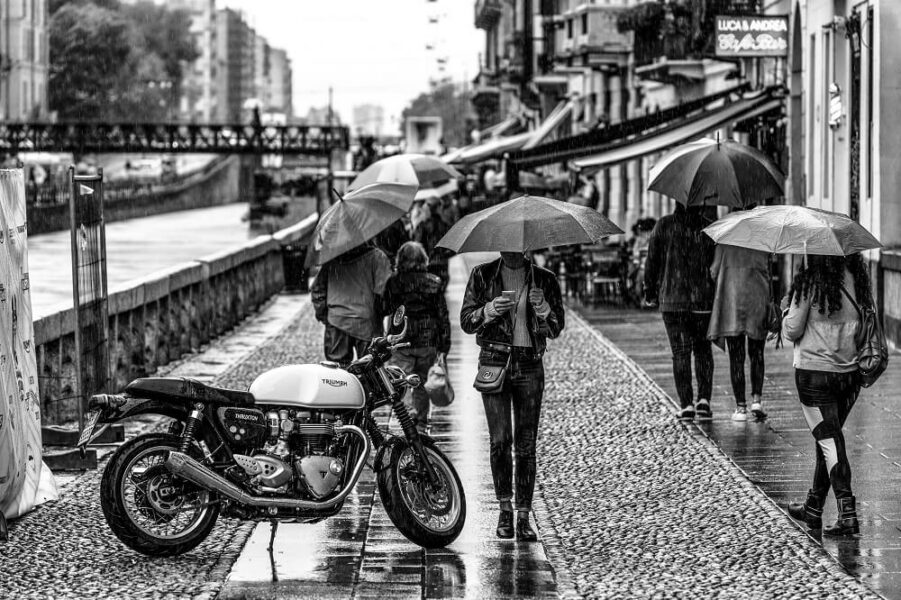 What Is The Best Color For An Umbrella?
Everyone needs it on a rainy day, and for a big percentage of the world's population, the appropriate color for that is black. If it isn't black, usually, it will still be a dark color. These are the reasons why most people buy black umbrellas:
Absorbs Heat
A while ago, it was found that products that are colored black dry faster than other colors, which is why this has become a standard practice on the market. The reason why the everyday carries dry faster in black is because dark fabrics absorb more heat from the surroundings, and therefore the evaporation process is more rapid.
Great Protection
Black absorbs all radiation, which is a very useful factor when choosing an item that will protect you from the sun. Studies have confirmed that darker colors have a significantly better anti-ultraviolet effect, and that is one of the reasons why black has become a standard today.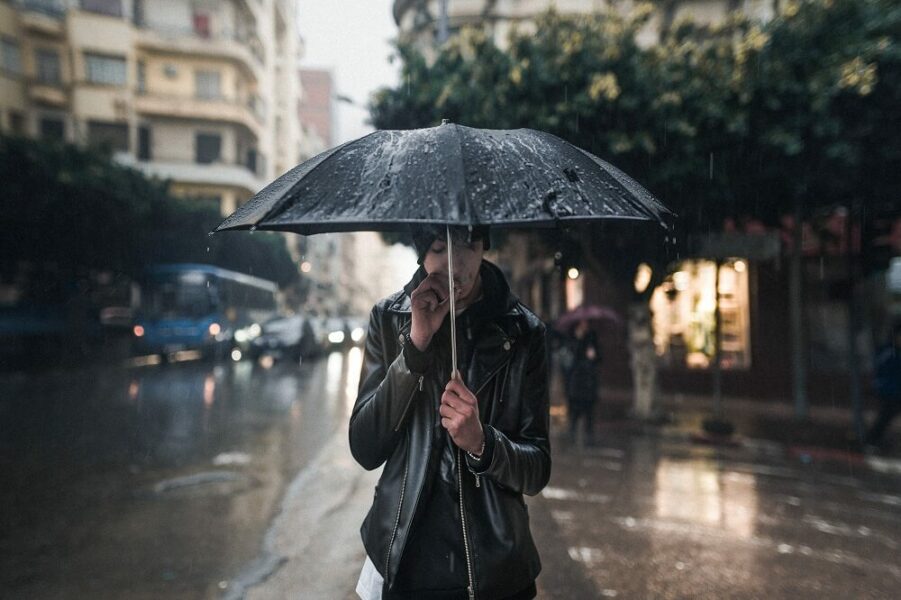 Symbolism & Style
The black color is a symbol of solemnity, stability, and majesty. This is a suitable color for many occasions, making it the most common color ever worn. Black signifies the classic and stylish existence that transcends time.
What Can I Use Instead Of An Umbrella?
If you're someone who doesn't like umbrellas but doesn't want to walk in the rain and get wet, here are some alternatives that you can find very useful:
Rain Poncho
As the most popular alternative, rain ponchos are perfect for any occasion that includes rain. They can be used multiple times, even if they say they are disposable and are the cheapest available option. Not only are they affordable, but they dry off quickly and can fit any size person.
Attachable Hood
This is an awesome option that provides you with a 100% water-resistant hood that is incredibly lightweight and portable, which you can carry in your bag at all times. All you have to do is get it out of your bag and pop it on if an unpredicted storm occurs.
Raincoat
If you're looking for a permanent decision getting a raincoat will be your best option. Typically they are lightweight and will shield you from spontaneous summer rainstorms. They will protect your clothes from getting soaked while letting the water droplets float on top of the fabric.
Umbrella Hat
This is an option that isn't very flattering, but it will undoubtedly get the job done. It will keep you dry when it starts raining and protect you from UV rays when the sun is shining bright.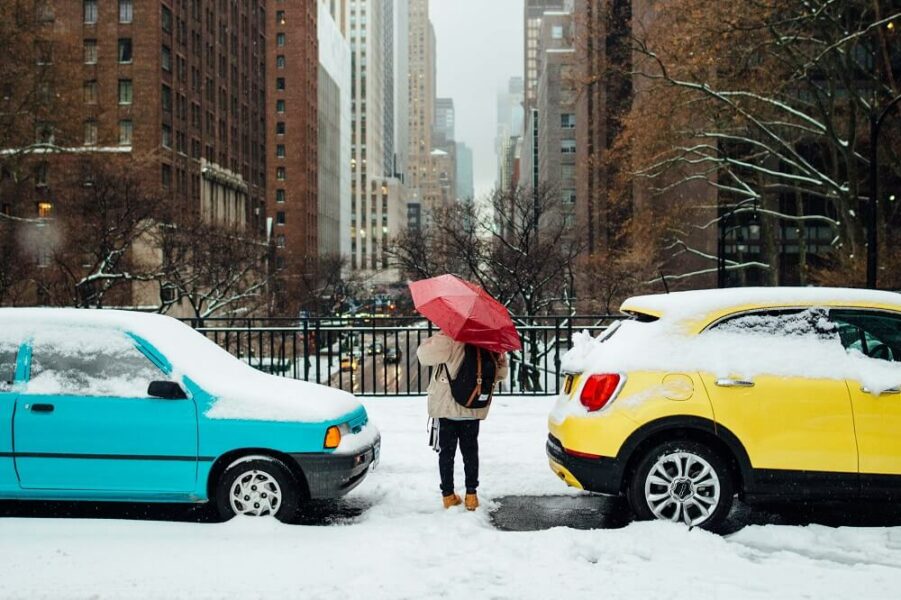 Why Are Umbrellas Curved?
These are products with a massive global market that continuously develops. The primary purpose of the curve on every umbrella is to protect you from wind and keep you dry. What we mean by that is the fact that a flat disk so a lot harder to handle in the wind and can break a lot easier.
Also, it won't contain wind as efficiently as a hemisphere. Another reason why they are made curved is that the canopy shape reduces a load of water, which can accumulate over time. No one wants a heavy and hard-to-manage everyday carry that can break quickly or blow you off balance. Lastly, a flat one won't be able to prevent you from getting wet from rain that isn't vertical.
How Do I Keep My Umbrella From Rusting?
First, we will talk about how you can prevent your item from rusting, and the simplest thing you have to do is leave it open to dry thoroughly, inside and out. This way, your canopy, and the moving parts can breathe. You should always avoid leaving your everyday carry closed and wet since the fabric is most likely to get spoiled.
Eventually, if you continue leaving it wet, the steel frame will start to rust, and mildew will grow on the fabric, damaging its coatings. Taking care is as simple as leaving it do completely dry off.
However, if it ends up rusting, you have two options with which you can save it. Your first option is to take it to a professional cleaner, which might end up being a pricey option. The second alternative is fixing it yourself with little to no charge. What you have to do is combine salt and lemon juice (the mixture needs to be thick) and apply it to the problematic areas. Continue applying coats of the mixture until the stain disappears and brush off the residual.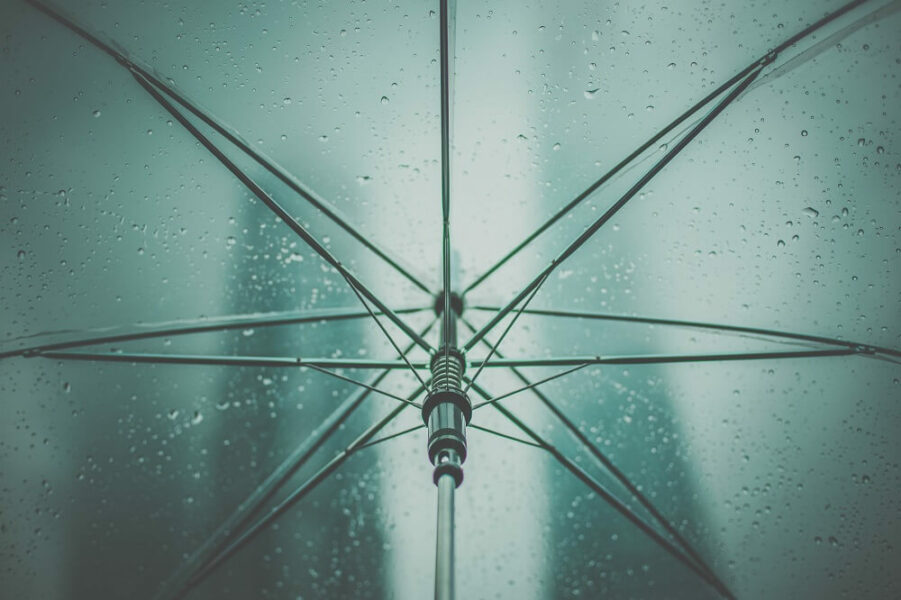 If it ends up dirty, you want to clean it properly before potential damages occur. Here are the steps we recommend when you want to clean your everyday carry:
How To Clean My Umbrella?
Pick a container – Use a large container (one that can fit your item) and fill it with warm water.
Add laundry detergent – Next, add some liquid laundry detergent (a capful will be enough) and mix it up in the water until it is evenly distributed.
Open the umbrella – The reason for this step is that when you open it, the laundry detergent will be able to soak through the material a lot better than when it's closed. Makes sure all surfaces are wet.
Let it sit- After you've done the previous three steps, it's time to let it soak in the warm water for at least 15 minutes.
Use a sponge – After you've let it sit for a few minutes, you have to wash it with a sponge. We don't recommend applying detergent directly to the everyday carry.
Rinse – Once you've thoroughly cleaned the product, you must rinse it. Make sure to wash off all the soap or detergent you've used to avoid rust and corrosion.
Let it dry – Last but not least, once you've completely washed the umbrella, all you have to do is let it dry. Don't close it before it has dried off completely because you want to prevent mold and mildew.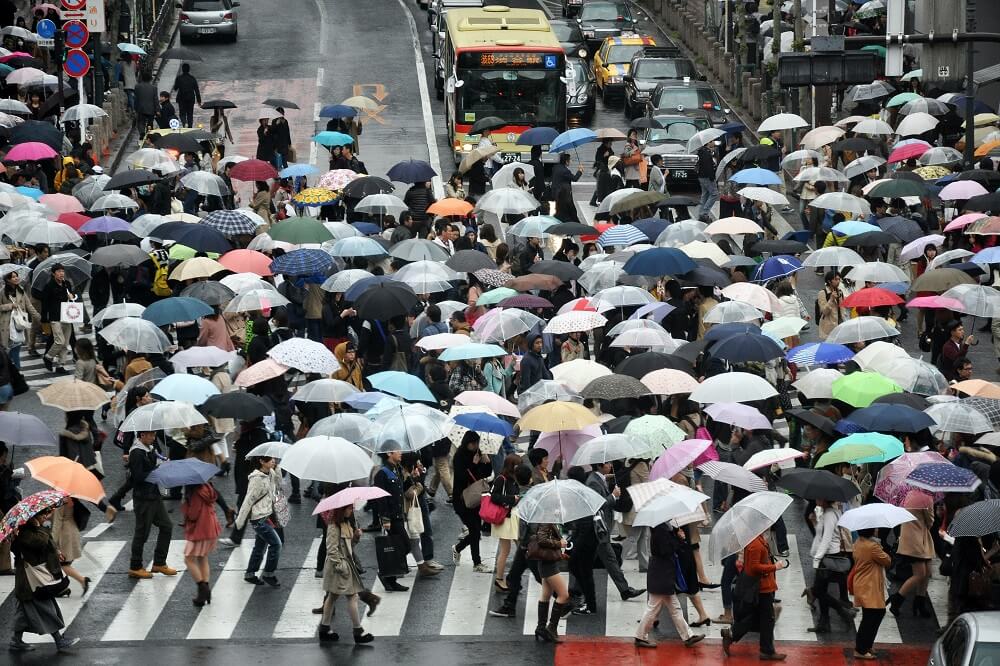 Final Words
A lot of people might think that picking out an umbrella is a simple process, but if you put some thought into it and do some research, the results of your purchase will be significantly better. Knowing what to look for and determining your preferences for size and design are just as important as their properties. Depending on your personal needs, you might want a larger one or a compact foldable one. Both have their advantages and disadvantages, and it's up to you to figure out what your musts are and what you are willing to compromise on.
Don't try to fit an umbrella into your EDC lifestyle, choose one that already will. We hope that we could give you the correct tips and advice with which you won't have any problems with picking the best EDC one. However, if there are any unanswered questions, we would happily answer them in the comments below.