How often do you guys use candles in your everyday life? Some of us love candles and our houses are stacked with twelve different sizes, a rainbow of colors and a fairytale of scents. And as lovely as that may be, that's just a percentage of the population. Have you ever imagined living in a world without electricity? A lot of people across the globe live and survive without the use of electricity and if you want to be prepared for everything that might come your way, you should consider such a scenario.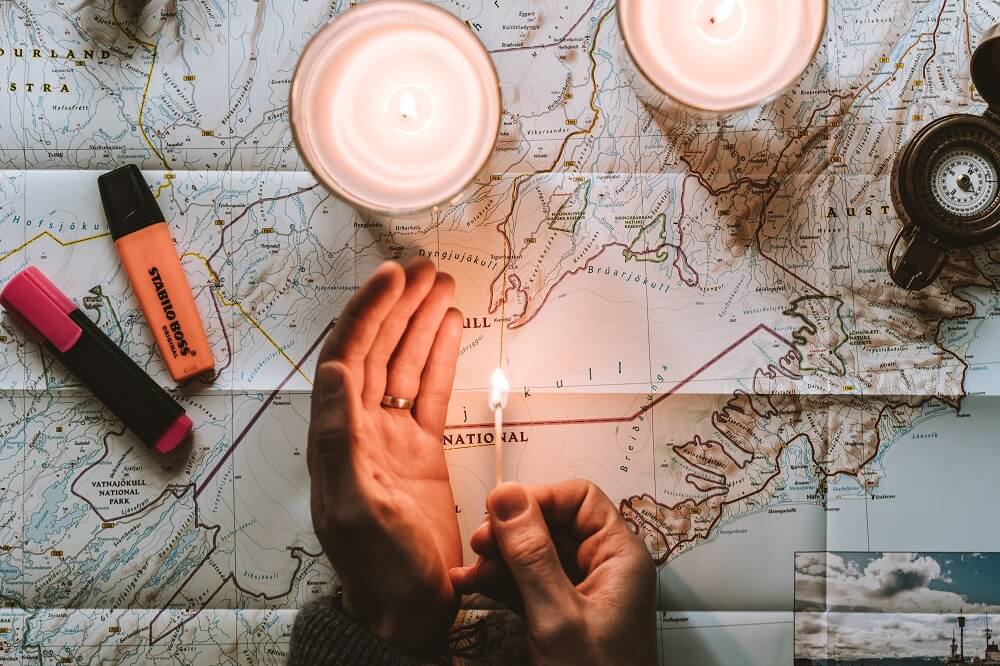 Living without electrical power isn't as difficult as you may think, however being surprised by the lack of electricity could case one or two hiccups in the household. Therefore, in order for you to never come to the point where you have no light, heat or food in your own house, you should stay prepared. One way in which you can be prepared is by sourcing some candles and leaving them aside for emergencies such as a power outing.
If the electricity stops and you don't know when it will be back on you should be prepared with enough candles to keep you calm for at least a week. It's never too much, especially if you source the right kind of candles. Obviously, tea candles are great, however they aren't the most reliable tool if you have no electricity for more than a few hours. That's why we have come up with 10 different candle products, which would be useful in an emergency. But before we get to them, let's talk a little bit about candles.
How To Find The Right Emergency Candle For You
Finding the right emergency candle goes hand in hand with having knowledge about candles. So, let's see what the main candle characteristics are, and how to find a quality product.
Types of Wax
Most candles are made of wax and all of us know this. However, some types of wax may harm you and those around you, if you're in a small, enclosed area. Most candles we use at our houses or the decorative candles we see are made from paraffin wax and they don't have a long-lasting life. Furthermore, some of these paraffin candles can produce toxins and allergens, depending on the blend, which can affect you very badly in a closed room, a tent or any smaller area.
Considering the fact, you should be looking for something reliable and long-lasting, here are a few types which will definitely come in handy:
Soy Wax
Beeswax
Palm Wax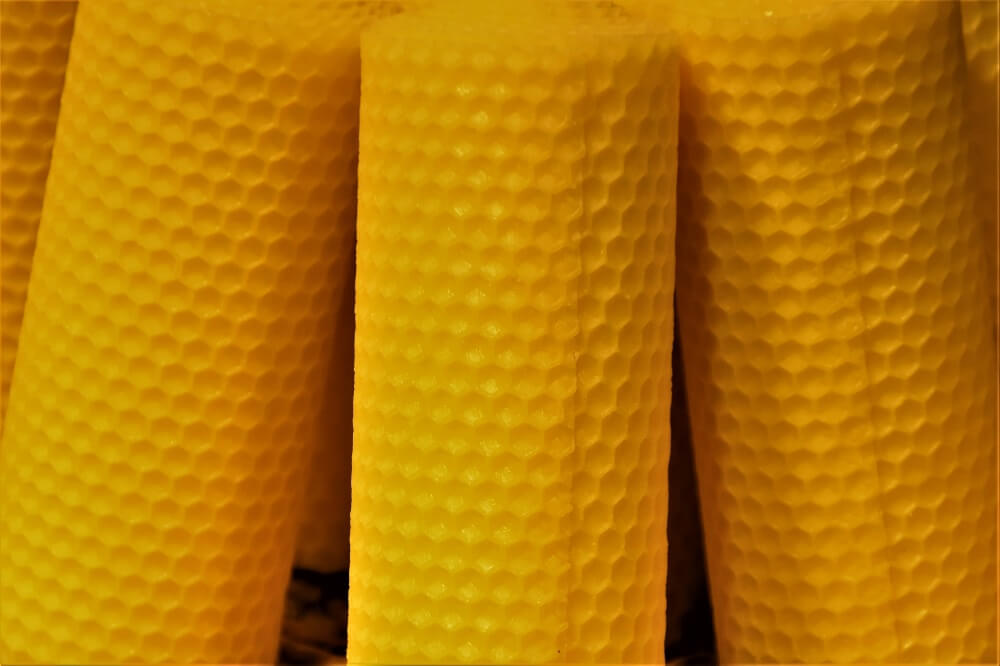 Despite being better for the health, they are not cost effective, therefore don't be surprised if most emergency candles are made of paraffin wax in the end. Not only is it the cheapest, but it also burns cleanly and doesn't leave a lot of mess to clean afterwards.
Types of Wicks
Something most of us don't pay attention to, are the type of wicks used on candles. They are not as important as wax types, however they are what makes the candles burn and the amount of light they produce. Let's see the wicks types:
Flat Wicks – Flat Wicks are the most common type of candle wick. They are either knitted or plaited in order to have a flat profile. The way they are made is what makes them curl in on themselves whilst burning. What's good about them is you don't have to trim the wick to control the burn.
Square Wicks – Similar to flat wicks, square wicks are made from more material. They are durable and sturdy, and they are most used in beeswax candle application. The larger the candle, the easier it is to use square wicks, as this way they don't clog.
Cored Wicks – Cored wicks are usually plaited, or they're designed with a knitted wick surrounding its core. That's why when they burn, they produce an even, upright flame. Cored wicks can incorporate materials like paper, zinc, cotton, tin, etc. Cored wicks are common for emergency candles.
Specialty Wicks – They are wick styles for more specified needs such as liquid paraffin, kerosene or other liquid fuels that make up emergency candles. They are created to burn the oil without burning the wick itself and that's why they are usually larger and more absorbing.
Burn Time
Burn time is one of, if not the most important factor when it comes to emergency candles. Most candles made for this purpose should burn for up to 100 hours. Or you can buy packs of smaller candles which burn between 5 and 20 hours. The difference is larger candles burn for a longer time, however, provide less light. Whilst smaller candles can be lit one by one or all together which allows for a certain amount of flexibility. Both types come at sensible prices allowing you to choose the ones which suit your needs better and never leave you in the dark.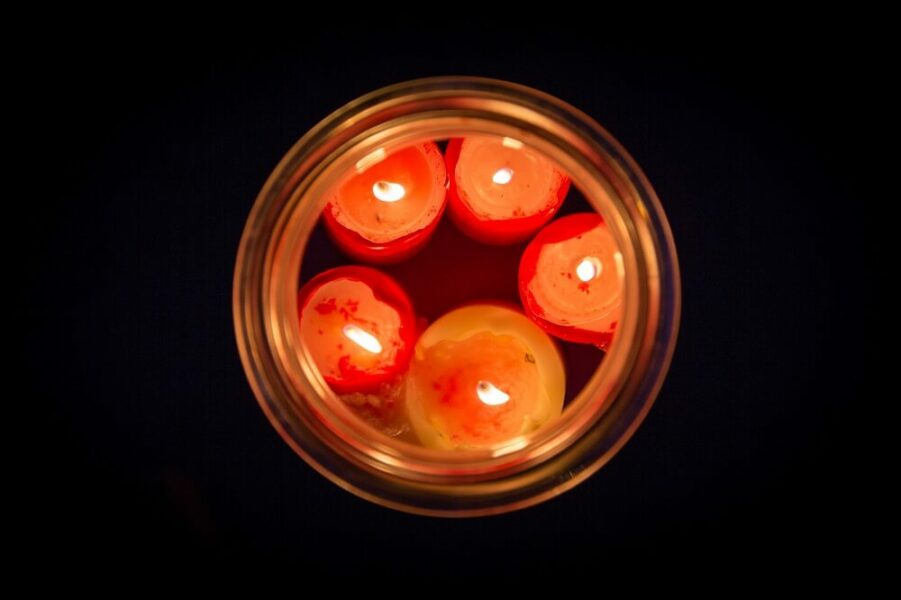 Candle Stability
Well, we all know that even candles made for emergencies hold the risk of causing accidental fires. To avoid this, you should pay more attention to candles which have a broader base. The traditional pillar style candles you see in restaurants or at weddings look lovely, however they are much easier to push over. That's why candles with a larger base are much more stable and less likely to fall over.
If you pay close attention to the seal on liquid wax candles you will notice that some of them are designed to go out if they get knocked over. However, if the highly flammable wax gets spilled on the floor it might ignite things surrounding it.
Scented Candles
Scented candles are great; however, they aren't the top choice for an emergency candle. That's because emergency candles are supposed to provide light and scented candles often come in a colored glass or in other solid jars. That causes for their brightness to be limited. Furthermore, if they have a strong scent it might become nauseating as the smell will amplify with time.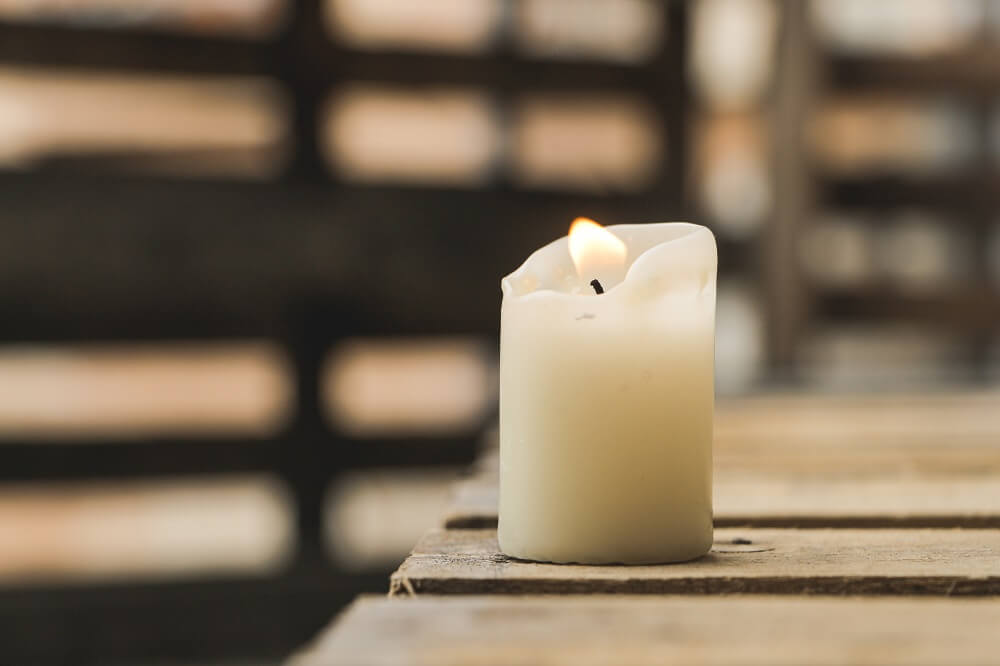 Now that we are more acquainted with the candle build, we can go ahead and take a look at the top 10 list of best emergency candles we have created. Hopefully, on the way down you will find the right ones for you, just like we did.
What Is The Best Emergency Candle On The Market Right Now?
Bolsius is a top choice in our opinion firstly because it's a well-established company which was founded in 1870 and has been a domestic choice ever since. They propose a set of 12 thick white pillar candles which turn the emergency into a luxury experience. They are long-lasting and unscented, and their build prevents from dripping and fast melting. Bolsius candles are made of high-quality wax and pure cotton wick, which further assists the lack of dripping.
The candles have a clean and smoke-free burn. The burn time of this set is 16 hours per candle and the burn is strong enough to light even the darkest of nights. Each candle has dimensions of 3 x 2.5 inches and they come packed securely in a sturdy cardboard box. Their wide base makes them more secure and less likely to fall over.
Pros
High-Quality Wax & Wick
Elegant White Design
Wide Base
Unscented & Long 16-Hour Burn Time (Per Candle)
Cons
The Large Base Make Them Unable To Fit In Candle Holders
The Sterno Candles can be bought separately or in sets. Usually they come in a set of three emergency candles, and each candle lasts over 115 hours. The Sterno candles are made with liquid paraffin, they are odorless and produce no smoke. They are also packaged with a plastic storage cap and its purpose is to avoid any messy spillages.
The liquid fuel is sealed inside and only the wick is showing. Made from survivalists for survivalists, the Sterno emergency candle is a must-have addition to the household.
Pros
Inexpensive
Lasts For Over 115 hours
Liquid Is Sealed To Avoid Spilling
Cons
Potential Fire Hazard
Produces Less Light
With its wide base the UCO candle lantern is a great choice and it's a cheaper option that is also reliable. The UCO comes in packs of three candles which are produced from natural beeswax and last for around 12 to 15 hours of burn time. They are an ideal option for emergency candles as they produce little smoke and produce a pleasant smell due to the beeswax. There is no paraffin in the UCO candle, and it burns in a clean manner without any residue.
The high-melting temperature reduces the dripping of the candle and the cotton wick is sized so that ideal flame height is maintained, and burn time is optimized. The pack includes 3 candles with size of 3.5 inches and they create an economical source of warmth and light.
Pros
Made Of Beeswax They Are Naturally Sourced
Pleasant Smell
Sensible Burning Time
Cheap
Cons
Might Be Difficult To Light As There Is Little Wick on Top of Candle
The SE Emergency candle is an ideal budget alternative not only because of its low price but also because it's an awesome product. The candle is lightweight, and it comes with 3 wicks, as each wick lasts up to 12 hours, which would be perfect for a power outage. The candle is made from soy wax and it's packed in a water-resistant aluminum tin, which is also reusable.
Your best bet in a power outing would be to light all three wicks at the same time to have peace in mind. If you do that however, and you have stocked only one candle, in 36 hours you will be left without light or heat. You can extend the burn time after a point in time, by choosing how many wicks you would like to keep on burning.
Pros
Top Layer is Made of Soy Wax & Bottom of Palm Wax
Reusable Tin Packaging
Cheap
Cons
Three Wicks Can Lead To Uneven Burning
Easily Spilt
A great Bolsius alternative are the straight unscented white candles. They are long candle sticks which come in a pack of 45 allowing you to be calm that you have enough candles in stock. They are made from unscented wax and they are dripless. Furthermore, they produce a clean and even flame which lasts longer than most.
The candles burn continuously and consistently, so you shouldn't have to ignite them repetitively. One candle burns for up to 7 hours, they are 1-inch thick and 7 inches high. The 45-candle pack weighs 5.28 pounds and should last you for a long time.
Pros
A big amount of unscented candles
Dripless
Long Burn Time
Cons
Don't fit in most domestic candle holders
The Sterno white emergency candle is a great alternative to their liquid option, as it lasts for up to 55 hours. It's ideal for emergencies such as lack of lighting as it is unscented and made of wax. It measures at 2.8 inches in diameter and it's 6 inches tall ready for use whenever the need occurs.
Sterno has been on the market for over 100 years, therefore we trust that it delivers quality and performance when necessary. It's cheap and it weighs 1.1 pounds, so it can be carried in a bug out bag without too much worry.
Pros
High-Quality Wicks
No Dripping & Odorless Smoke
Burns Up to 55 Hours
Even Burn & Strong Ligh
Cons
Wicks Are A Little Low
Might Break After Pressure
The Candlelife emergency candle is not only cheap, but it also brings quality into your household. You have the option to buy one, two, or a pack of three or six emergency candles. Each candle lasts 115 hours burn time, so if you buy 6, they will last a total of 690 hours. The Candlelife candle is a great source of light and can be used in the house or in the wilderness.
It's lightweight and easy to carry, furthermore, it's odorless and smoke-free. It's a great candle to use during blackouts. The candle is made of pure liquid high-quality paraffin for long lasting burn and lack of smell. If you are not fully satisfying for you, you can return it within 30 days and receive a 100% refund.
Pros
Great Source of Light
Cheap
Smoke & Odor-Free
Money Back Guarantee
Cons
Isn't Too Bright Because It's Liquid
The Hollowick disposable liquid candle is a great choice if you wish to stock up your storage, considering the fact that they come in packs. The smallest pack is 24 liquid candles. The Hollowick produces up to 3 times more light than usual fuel cells. The burn time of the Hollowick candle is 36 hours and it produces clean candlelight without any candle mess.
It burns cleaner than solid wax candles, as they produce no stains and no melted wax mess. You can use them for lamps and lanterns. There are no hazards with the Hollowick candles. Furthermore, they provide a clean, non-disrupted light for those dark nights. The case weighs 4.6 pounds.
Pros
At Least 24 Candles To Have In Storage
Produces Clean, Non-Disrupted Light
Odorless
Cheap
Cons
Might Leak If Shipped
Produce Fumes
The Coghlan's Survival candle is a compact and lightweight candle with three wicks, as each wick burns up to 12 hours which makes it 36 hours in total. The candle comes in a metal canister with a cover which protects the candle. Furthermore, it comes with a book of standard matches, which is thoughtful and useful if for some reason you have no matches or lighters.
The container is durable and compact and can be easily stored in a drawer. The dimensions of the Coghlan's survival candle are 1.5 x 5.5 x 4.2 inches and it weighs 8 ounces. The candle provides both heat and light in an emergency. It's suitable for the household, as well as for a campsite or cabin.
Pros
Compact Packaging With Convenient Lid
Three Wicks For Variable Heat Disposal
You Can Adjust Burn Time
Odorless
Cons
If its power runs out that's it because the option to power it with double-A batteries isn't even remotely viable, it's just too dim
This candle is a fantastic naturally made product, which offers different colored refills, to your liking. It's made out of 100% beeswax and it burns up to 80 hours. The Candle comes with a metal copper tone stand with an elegant wick holder which allows the candle to self-extinguish when the flame reaches the clip.
The candle has a fantastic, unique design which is perfect for those who would need a little comfort in dark times. With the beeswax candle you will not only have light, but the air inside your home will be kept fresh and clean. It's an innovative product which we would advise you to try. The Candle By The Hour is vertical and extremely easy to use. Its dimensions are 5 x 5 x 10.55 inches and it weighs 1.63 pounds.
Pros
Inspired From The 16th Century Courting Candle
Self-Extinguishes When It Reaches The Clip
100% Beeswax
Cleans Air & Smells Nicely
Colored Refills
Cons
You Can Only Feed Two Inches At A Time
Not Easy To Feed It Through The Clip
Could Lead To Wax Spillages
FAQs
Now that we have seen our list of emergency products, it's time to turn to the most common questions we have had and heard when it comes to emergency candles.
What Is An Emergency Candle?
An emergency candle is a survival product which is meant to assist you whenever there is a power outage or other electricity surrounded issue. If you are in the wilderness and have no light, an emergency candle would assist you. They usually last longer than normal scented candles.
How Long Do Emergency Candles Last?
That is a tricky question, as it depends on the candle you purchase. Emergency Candles can last between 5 and 100 hours.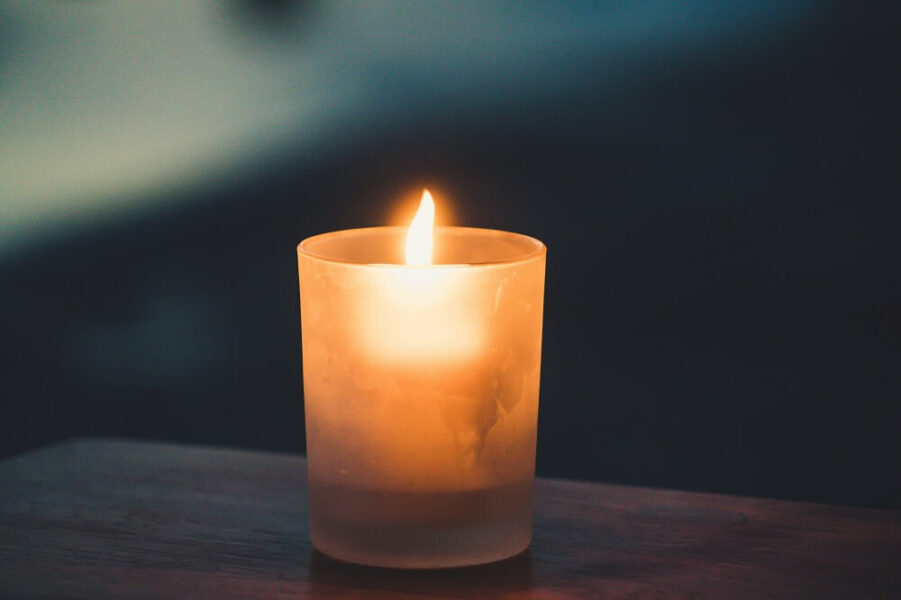 What Are The Best Long Burning Candles?
In our opinion the best long burning candles are the liquid ones, even though they produce less light than hard candles.
What Are Emergency Candles Made Of?
Emergency candles can be made from liquid paraffin wax, paraffin wax, soy wax, beeswax or palm wax.
Can A Candle Heat A Car?
Usually it takes a long time to heat a car with a candle, however a multi-wick candle can keep a car heated for up to 24 hours.
How Do You Light A Room With Candles?
If you place candles in front of mirrors, the light will be illuminated. Furthermore, if you place the candles inside glass holders, the light will be refracted and multiplied. Also, if candles are next to a white wall, there will be more light in the room.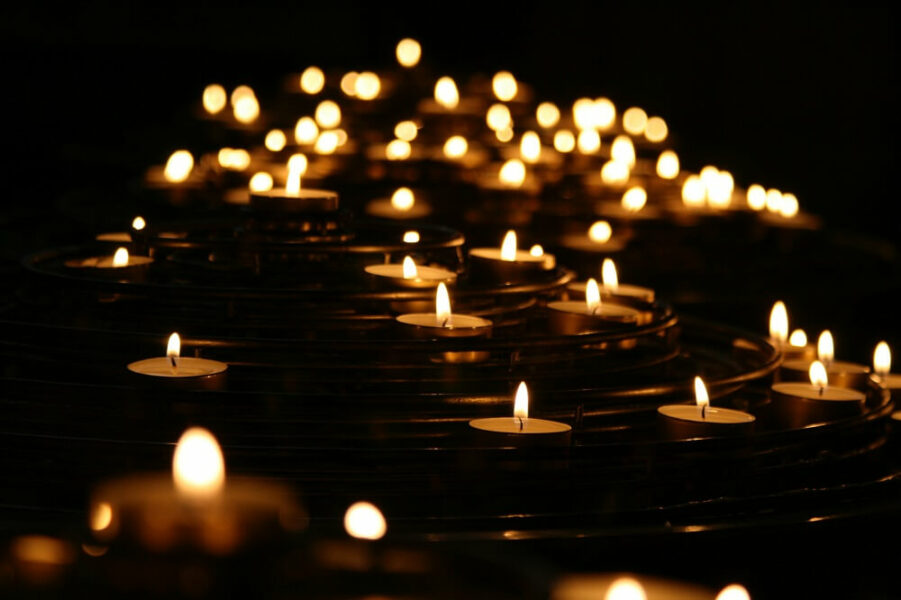 Final Words
There are various candle options available today, and many of them are created with the sole purpose of serving you in an emergency. After you have seen our article, aim for candles which are made from high-quality materials and remember high quality doesn't necessarily mean high prices.
According to experts, the average household can experience at least 2 blackouts per year. Therefore, our advice to you would be to do your research now and stock your house and cabin with a few emergency candles. Try to set them aside for the emergency purpose only and don't use them if you have forgotten to buy your usual scented candles.
Last but not least, rely on the candles that wouldn't cause spillages, therefore there will be lesser chance of fire & emergency during a blackout emergency. We hope this guide has been as useful to you, as it was fun for us to prepare!
Happy Prepping!