There are numerous gear categories for everyday carry, but the most universal one, without a doubt, is a wallet. Everyone needs something to carry cash and cards, but some wallets can be a pain when it comes down to size and weight. No one want's a bulky, heavy wallet they can't fit inside their pocket. Whether you're looking for a stylish slim option or want to minimize your carry, we've got a solution. In today's article, we'll show you the 10 best money clips on the market today.
1. Gerber GDC Pocket Knife Money Clip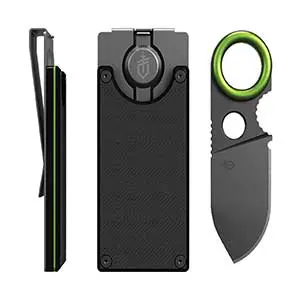 The Gerber GDC money clip perfectly integrates high-tech functions with a need for basics. This sleek Gerber model has a fine-edge stainless steel blade, which can be very practical and useful in your daily routine. Made out of titanium-coated steel, this incredible product is scratch and rust-resistant. Forget about the bulky wallets with this seamless and stylish option. Gerber's multi-tool is slim and discreet, providing an amazing level of quality with its versatile nature. Easily store it in your pocket and complete your EDC gear with the perfect daily companion.
Pros
Slim profile
Solid & safe grip
High-quality materials
Cons
The blade has to be sharpened often
Holds 5 cards
2. M-Clip Black Metal Tightwad Clip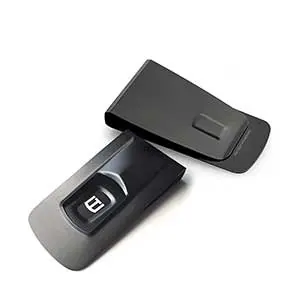 This affordable money clip is made of the highest available quality carbon fiber to create a thin and compact but beautifully designed product. Forget about the bulk and simplify your life with this fantastic EDC clip.
The Tightwad is unlike any other money clip on the market, with a patented design and durable construction. Unlike other options, this greatly crafted product doesn't need a flared-up lip to be pushed over its contents. The M-Clip's large surface area provides RFID and NFC blocking security, so you never have to worry about your card information.
Pros
High-quality materials
Compact & slim design
Super lightweight
Cons
Might stretch with time
Holds 5 cards
3. Swiss Army Victorinox Money Clip Pocket Knife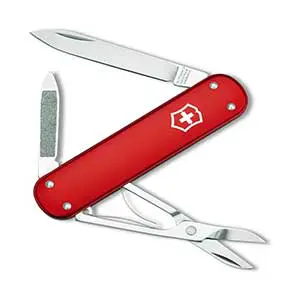 Get the Victorinox money clip and forget about the discomfort of a full pocket with this slim and lightweight product. If you don't like to carry wallets, this excellent multi-tasker will provide you with the familiar Swiss Army pocket knife while keeping your money safely stashed.
The Swiss Army knife offers durable sophistication and practicality with five essential functions that will prepare you for whatever your day brings. With a stainless steel construction and polished alox scales that offer sleek durability and style, this money clip comes with a lifetime guarantee against defects in material and workmanship.
Pros
Features 5 functions
Stainless steel construction
Lifetime guarantee
Cons
Not as slim
No cardholder
4. Montblanc Steel Clip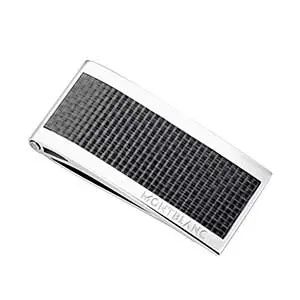 Montblanc is a contemporary money clip made of stainless steel with a black carbon inlay. This premium option will define your overall appearance while providing a durable upscale product. You can see the hard work put into every small detail and the impeccable craftsmanship.
Rise above the crowd with this Montblanc clip that combines essential functionality and modern elegance. A useful and well-chosen accessory makes a huge difference. Enjoy a slim and lightweight wallet with an elegant and stylish design.
Pros
High-quality construction
Compact & slim design
Elegant & lightweight
Cons
The price
No cardholder
5. Shinola Classic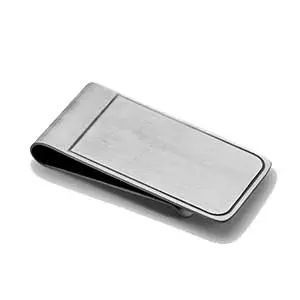 A classic, slim, and sophisticated money clip that will keep your cash and cards organized is everything you need. The Shinola's Classic is a refined, premium option that will showcase class and quality like no other. Beautifully crafted from solid sterling silver, this upscale product is all about style and security. This Shinola Classic clip is designed as a canvas for engraving, which makes this minimalist wallet perfect for an excellent personalized gift for a special someone.
Pros
Durable construction
Designed as a canvas for engraving
Slim profile
Cons
The price
No cardholder
6. Travelambo Carbon Fiber Front Pocket Clip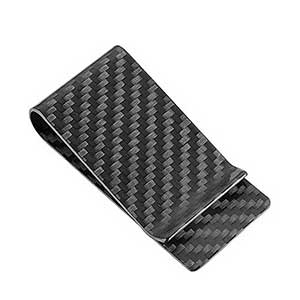 Travelambo money clips are portable and compact while being strong and durable. Made out of carbon fiber, a material with exquisite mechanical properties and fantastic performance capabilities. Don't worry about your money ever falling out with this product, which holds your cards and cash tightly. When you take out a bill or a card, the money clip will always return to its original shape. Premium quality at an affordable price comes along with this wonderful carbon fiber clip.
Pros
Durable & Practical
Lightweight & easy to use
Innovative design
Cons
Might stretch with time
Holds fewer cards
7. M-Clip Ultralight Slide V2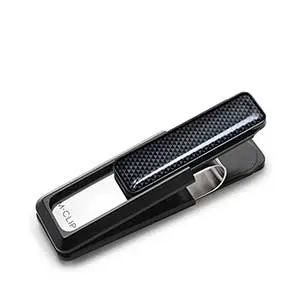 M-Clip builds products for life, which is how the Ultralight Slide V2 was created. Made from top-grade aluminum for maximum strength and low weight. You don't have to think about your clip stretching or breaking since this M-Clip product y is sturdy and lightweight.
With the Slide V2, you can fit everything you need in your pocket without the discomfort that comes with a bulky regular wallet. M-Clip prides itself on products with high-quality and elegant designs so that every customer is satisfied.
Pros
Secure sliding lock mechanism
Unobtrusive design
Non-magnetic
Cons
The price
Its rails collect dust
8. CL CARBON LIFE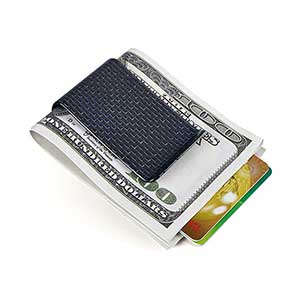 The CL CARBONLIFE Clip uses an amazing carbon fiber technology that prevents radio frequency and magnetic signals from being attained by thieves who want to get your personal information. This EDC clip has a unique texture with smooth lines that make this product elegant and stylish. With a marvelously matte finish, the CL takes no space in your pocket. Surpass your expectations with this wear and scratch-resistant item, which is extremely strong and durable. Feel the life of luxury that comes with this sophisticated and chic money clip.
Pros
Carbon fiber technology
Prevents radio frequency & magnetic signals
Wear-resistant & scratch-resistant
Cons
Hard to get money out
9. Deluxury Locke Money And Tie Clip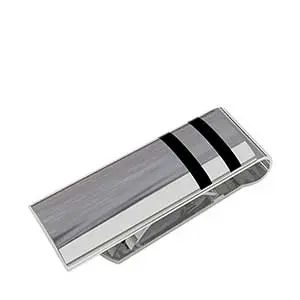 If you're someone who appreciates simple, modern design and elegant style, the Deluxury Locke is the money clip you need. This exquisite item is the perfect men's accessory that can replace the bulky and heavy standard wallet. The premium money holder is made of stainless steel with SS round cuff links. The Locke will protect your assets while maintaining a slim and sleek design with a credit card holder that easily fits into your front pocket.
Pros
Secure & lightweight
Compression spring
Classic & elegant design
Cons
Holds fewer cards
On the longer side
10. ALASKA BEAR Classic Clip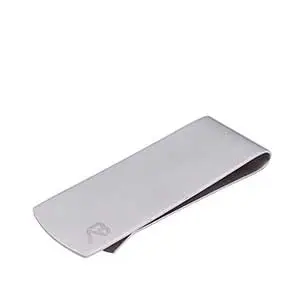 The Alaska Bear Classic is precisely what people expect when they think about a money clip. This is the smart alternative to a bulky and heavy wallet filled with random notes and items. Made from a premium-quality stainless steel body, this Alaska Bear product has a smooth finish and a luxurious feel. It's lightweight and will keep your money secure for years.
Carry your bills and credit cards with style without compromising function, durability, or safety. With a beautifully minimalist design, this money clip is created to be super tight and easy to use. If your idea of an excellent money clip is made of sterling silver and comes with a lifetime warranty, the Alaska Bear is the stylish money holder you need.
Pros
Non-magnetic
Premium quality materials
Sleek & elegant design
Cons
Holds fewer cards
Limited carry of bills
How to choose?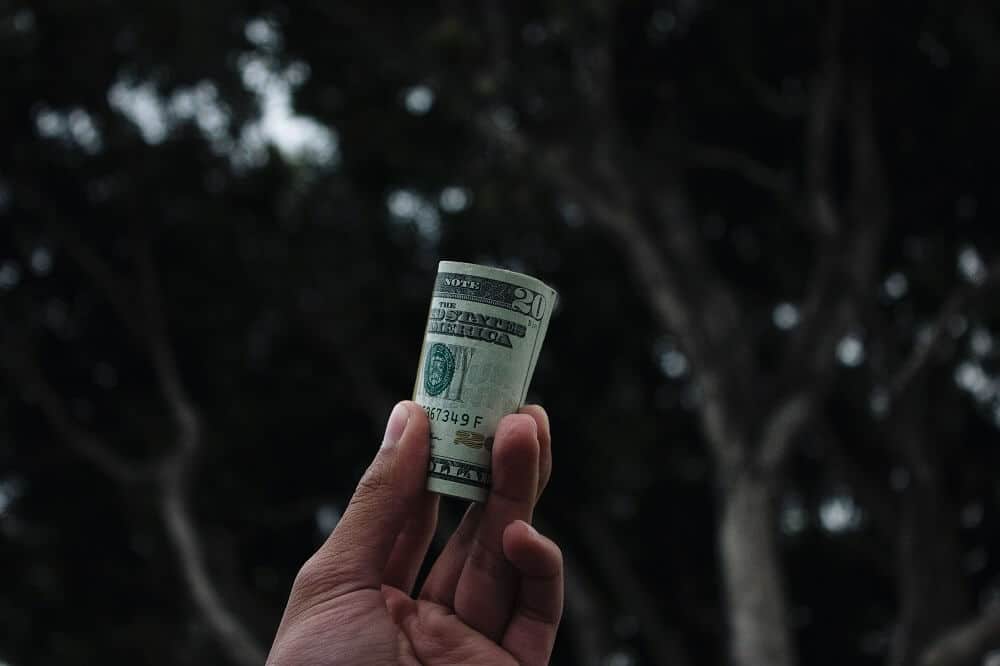 Before making your final decision, we'll talk about all the factors you have to take into consideration before purchasing a money clip. This is our guide to finding high-quality products that are durable and strong. Those features are:
Material
Money clips come in various metal materials, but some are better than others. Choosing metal or composite materials such as carbon fiber is usually the best option since they are extremely strong, thin, and lightweight. Next in line, we can find leather everyday carries. Picking full or top-grain leather is better than genuine leather because the material is more durable. Lastly, we have synthetic and natural alternatives rising to popularity with animal-conscious materials and excellent construction.
Size & Capacity
The holding capacity of a money clip is a personal choice that can differ depending on the person. If you want extra features and full coverage, you'll need a larger clip, but if you're looking for a slim and compact option, you can get an ultra-thin one. However, consider the expense of features when considering the size and think about what you need to fit into yours since larger clips will accommodate more cash and credit cards.
RFID Blocking
If you are someone that wants to add another level of security to your belongings, RFID blocking will protect you from thieves stealing your credit card information. Looking for an EDC money clip with RFID protection is always a plus.
Style
Depending on how you dress and where you use your wallet, there are multiple styles to consider. If you want a classy-looking clip, you should check out options of sterling silver, gold, or platinum. Presenting yourself well in a business surrounding is always positive. But if you want something more casual that will do the job and still take minimal space, opting for a more substantial clip will do the job.
Price
Like everything else, the cost can vary depending on the materials used. Spend what you are comfortable with, but don't forget that a few extra bucks can benefit your purchase. Precious metals aren't as cheap as stainless steel and genuine leather. Make sure that whichever clip you end up with will hold all the things you need to carry.
Frequently Asked Questions
How to use a money clip?
If you've purchased a money clip but you're wondering how to use it properly, you might find this very helpful. For more efficiency, you have to have some strategy. Firstly, fold your cash in neatly in half. Remember that the smaller the bills you put on the outside, the better chances you get with people trying to steal from you.
After you've folded your money, slide them into the money clip, fold side first, and then place your cards on top of your cash. However, if you end up getting a magnetic clip, we don't recommend carrying your cards because there is a possibility of them getting damaged.
How many bills can a money clip hold?
Considering that the holding capacity of a money clip depends on the person and the choice they've made, the number of cash can cards can differ. Usually, most clips can hold ten to twenty bills, but if you pick a larger clip, you might be able to fit up to fifty bills in it. As we all know, cards are way thicker than cash, which is why we can fit as much.
Some clips only provide space for bills, but the ones that offer a cardholder typically fit five to seven credit cards. When purchasing a money clip, consider its size since the larger the item, the more cash and cards it will accommodate.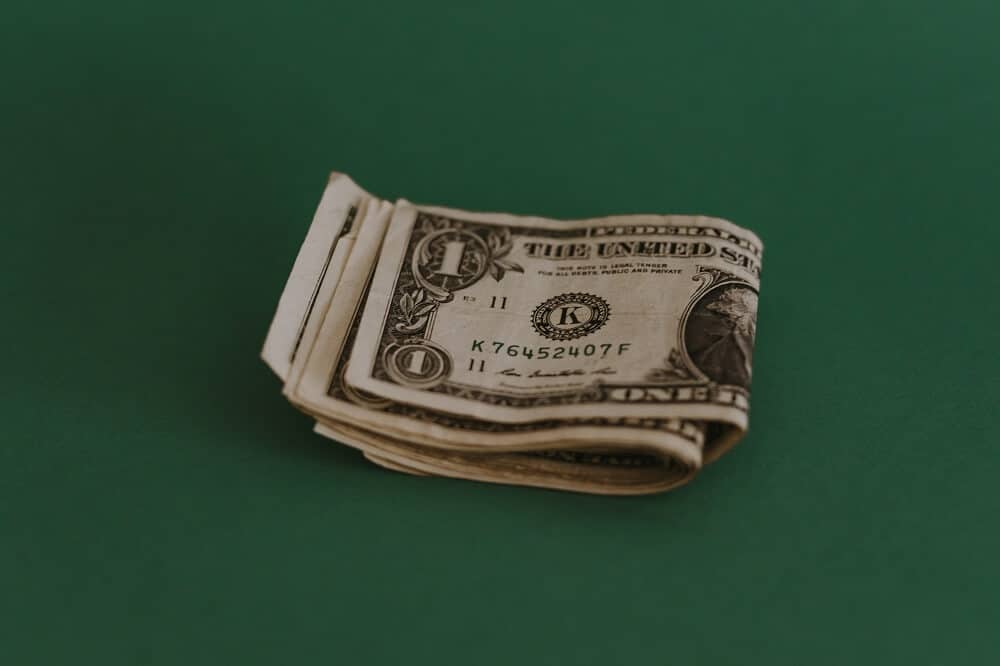 How to tighten a money clip?
After some time, there are money clips that might get loose, and if that happens, you need to tighten them so that your bills and cards are safe and secure. You need to find some pliers or vice grips and clamp down on the outside of the metal. You aim to make some space between the metal in the bend thinner. We advise you to put some elbow grease on it and bend further and curve tighter, which will make the entire clip tighter than it was before. This is a quick and easy trick that will get the job done until you replace it with a new one.
Where to buy money clips?
When you purchase a money clip, you should consider some factors that will help you make the appropriate decision. Check the materials used for the clip, its size and weight, the capacity it provides, and extra features are a plus as well. Finding a money holder with RFID blocking is always positive. However, if you look at all the essential elements and find your preferences, you must make sure you choose the right place to buy it from. Don't blindly trust everything you see on the internet, and take a look at our providers since they've been checked and are 100% reliable and secure.
What is the best material for money clips?
Money clips are made from various materials, and the clip's style can influence the material. The choice of material can change the look and feel of the product. But at the end of the day, the most important factor for a money holder is security and durability. This is why the best material that can be used is carbon fiber since it's strong and lightweight at the same time. Composite materials are an excellent choice.
However, they tend to be on the higher side for prices, and that's why you should think about what you want to compromise on. Is quality or price more important? In our opinion, a few extra bucks will provide you with a higher-grade money clip that will save you money in the long run.
Final words
When searching for the perfect money clip for everyday carry, you want compatibility, function, and style – everything that EDC items stand for. All clips' primary purpose is to carry your money daily, so you need a product that can hold time after time. Having a sleek piece to keep your bills and cards is always a must. Pick the money clip that will offer you excellent support and security while providing a robust construction with an elegant and slim design. Never settle for less than the best!