Walking is the best medicine! All outdoor enthusiasts and men in uniform need a good pair of tactical boots while they are in the wilderness or the field. Footwear should be durable, comfortable, and offer adequate support. Tactical boots are beneficial and have numerous good qualities, which is why they can be used for hiking, standing, running, and many other activities.
A quality pair of footwear can save you from many injuries, so everyone needs to know what to look for and where to find them. Check if the boots you have selected are waterproof since keeping your feet dry is essential. Make sure your ankles and feet get the support they need, and pick sloes with a shock-absorbing feature. If you choose the proper pair of footwear, you can minimize fatigue and the constant pressures from walking. We've put a list together with the 10 best tactical combat boots, so you don't have to search for ages to find the perfect piece of tactical gear for yourself.   
1. 5.11 ATAC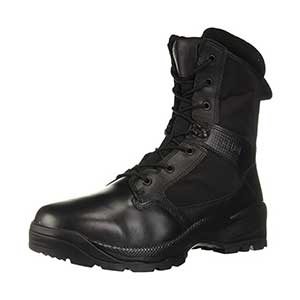 The appropriate gear separates those who are ready from those who aren't. That's where the 5.11 ATAC comes in and shows how quality products can withstand the most demanding of situations and always keep you ready for what's to come. This excellent pair of shoes is comfortable and light, yet tough and durable.
They are made of high-class grain leather and nylon for better breathability and endurance. With innovative fabrics and thoughtful design, these boots have amazing functionality and impeccable construction for real-world applications.
5.11 offers a new breathable tongue construction and Ortholite foam cushioning for maximum airflow. They also feature the Achilles heel flex zone, which provides extra support while giving a critical part of your foot more range of motion. These tactical boots will significantly improve your comfort and performance, and the soles with a Shock mitigation system will protect your feet
The ATAC boots have a hidden knife pocket with easy access and YKK side zippers. Be brave and bold, get this fantastic pair of tactical boots, and be ready for the challenges that come your way.
Features:
Full-length dual-density insole
Breathable tongue construction
YKK side zipper
Shock mitigation system
High-quality fabrics
2. Merrell Moab 2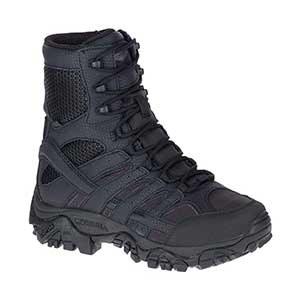 Built for the harshest environments, these premium Merrell tactical boots are made with waterproof PU-coated leather and ripstop textile with M-Select DRY waterproof membrane. This excellent pair of boots has stability arms with spray rubber, which adds more security and durability. With an impeccable closure that will keep out debris, this footwear has a protective abrasion-resistant rubber toe cap and molded internal heel counter cups that add stability and support to your feet.
The Moab 2 feature a footbed with added zonal arch support and air cushion, which absorb shock and provide comfort and flexibility. These boots have a substantial side zipper for easy on and off as well as a breathable mesh lining and great outsole that delivers traction on any surface.
Features:
Waterproof leather
Virbac TC5+ outsole
Durable side zipper
Merrell air cushion
Abrasion-resistant toe cap
3. Bates Side Zip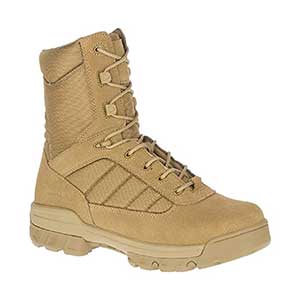 Founded in 1885, Bates Footwear is a company that is dedicated to the development and manufacturing of uniform footwear for civilian police forces and all branches of the military. As one of the company's most popular products, the Bates Side Zip is a classic 8" tactical boot with DRYGuard™ waterproof technology. This affordable pair of boots will provide you with comfort all day with its cushioned removable insert and lightweight EVA midsole.
Made out of genuine full-grain leather and performance nylon, the Bates tactical boots offer your feet a cool and dry environment that comes with the moisture-wicking mesh lining. Built to last, this shoe has the ultimate traction with slip and oil-resistant rubber outsole and composite toe for extra protection. This reasonably priced item is lightweight and breathable while being tough and supportive.
Features:
Slip & oil-resistant outsole
Leather & nylon fabric
Moisture-wicking mesh lining
Side zipper
Cushioned EVA midsole
4. Under Armour Stellar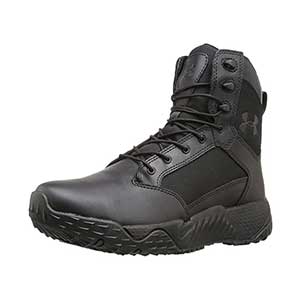 This excellent pair of tactical boots are exceptionally flexible and very easy to run in, which means you won't have to worry about breaking them in whatsoever. The Stellar boots dry super quick, and if you end up getting wet, that won't be the case for too long. Made with DWR-treated leather and nylon textile, the footwear offers an anti-odor technology that prevents any nasty smells, no matter how long you wear them.
That's not all, these shoes come with a molded EVD midsole with a reinforced TPU shank for extra protection and support. With a low-profile rubber lug sole and a polishable toe, these boots have a minimalist design and come in multiple colors, which makes them suitable for most conditions and situations.
Features:
DWR-treated leather & nylon textile
Molded EVA midsole
Reinforced TPU shank
Anti-odor technology
Rubber sole
5. NORTIV8 Motorcycle Combat Bootie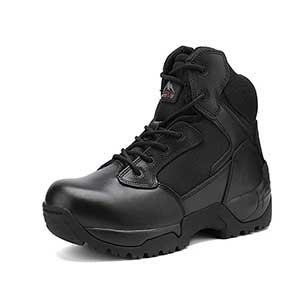 The Motorcycle boots are made out of breathable and high-quality genuine leather for long-lasting support, which provides long-lasting comfort and is water-resistant. NORTIV8 prides itself in the attention to put into each and every detail without forgetting about performance.
You get a durable rubber outsole with multi-directional lugs for traction as well as a protective toe so that we will feel comfortable on varied terrain. If you want extra support, the cushioned EVA footbed will offer you that, and the YKK side zipper will allow easy on/off strap closure. These boots can handle different terrains, and they have been specially made to keep stability in mind so that your foot and ankle get the much-needed assistance.
Features:
Genuine leather
YKK side zipper
Cushioned EVA sole
Sweat absorption & non-slip
Multi-directional lugs
6. NORTIV8 Tactical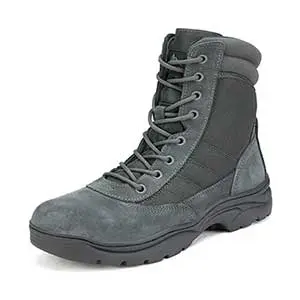 These NORTIV8 Hiking Boots are made of high-quality genuine leather and mesh fabric, which provides our feet with long-lasting support while remaining breathable and comfortable. The YKK side zipper and lace-up closure allow us to put them on and take them off quite easily.
Getting a pair of tactical boots like this means receiving a hade-grade product for an affordable price, which is sweat absorbent and has a non-slip linen insole. However, what makes these shoes even better is the durable anti-slip rubber outsole with advanced traction and cushioning. You can use this footwear in any weather condition, but since they are quite lightweight, they are incredibly suitable for the summer season.
Features:
Genuine leather & mesh
YKK side zipper
Lace-up closure
Non-slip linen insole
Sweat-absorbent
7. Oakley SI Light Patrol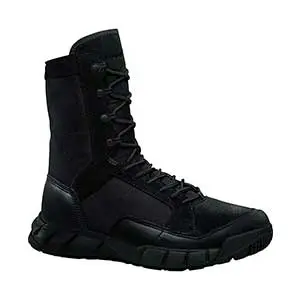 The Oakley SI Boots are the epitome of durability and functionality. They feel great and are built to stand up to challenging terrain without slowing you down or hurting your feet in any way. These tactical boots have a classic detailing made from leather and suede, which helps protect your feet from dirt. Featuring a sturdy rubber non-slip outsole, you can now travel with confidence and not worry about uneven or slippery terrains.
For extra comfort, this footwear has an injection-molded EVA midsole with a secondary cushioning insole board that gives you fantastic stress and impact-resistance. You get a tough, yet light canvas with nylon coated, fast lace loops that offer a secure fit and stability while eliminating scratching.
Features:
Molded EVA midsole
Secondary cushioning insole
Secure-lace design
Rubber non-slip outsole
Impact resistance
8. Smith & Wesson Breach 2.0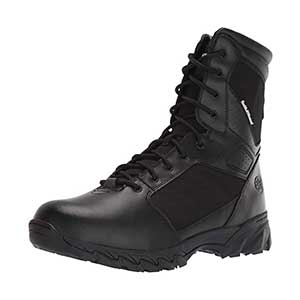 Just like every other Smith & Wesson product, the Breach 2.0 boot offers both durability and reliability. No matter what your daily battles entail, these tactical boots will provide you with the necessary support and comfort. Made out of leather and nylon fabric, this footwear has a foam-padded collar for added protection and increased breathability.
With a board-lasted construction for torsional rigidity that reduces feet fatigue, these shoes have an EVA midsole for cradled support and lightweight comfort. The slip-resistant, non-marking rubber outsole makes this pair even better. Breach 2.0 comes with a gusseted tongue that keeps dirt and debris out, and the durable polyester laces hold your feet in place.
Features:
Leather & nylon fabric
Foam-padded collar & tongue
Molded EVA Midsole
Slip-resistant
Board-lasted construction
9. Maelstrom TAC Force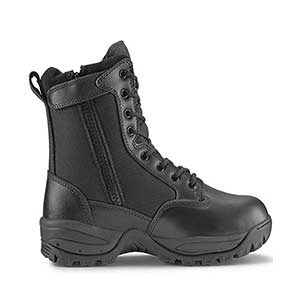 If you're searching for boots that can perform in diverse environments, the Maelstrom tactical boots are what you need. Designed with law enforcement and security professionals in mind, these shoes are made from full-grain leather with a nylon upper that offers a professional look while still being comfortable and durable.
Keep your feet nice and dry with these water-resistant boots with padded collar and tongue. You also get a removable shock-absorbent cushion insert, which provides superior re-bounce and cushioning to your feet. For extended durability, you receive an athletic cemented construction and a YKK brand side zipper for easy and fast on and off. The Maelstrom tactical boots are the smart choice for any outdoor enthusiast with its lightweight and flexible structure.
Features:
Water-resistant leather & nylon
Moisture-wicking liner
Padded collar & tongue
Shock-absorbing synthetic compound
YKK side zipper
10. RYNO GEAR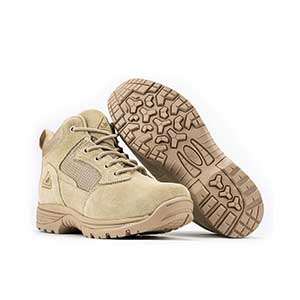 The RYNO Tactical Combat Boots offer a blend of durability and comfort by featuring a combination of leather and ballistic nylon. This footwear makes sure to draw sweat away from the skin with the CoolMax lining that will keep you dry and cool.
Forget about the need to break your boots in before you start your adventure and get these soft and breathable shoes with mesh lining. Since they have a slip-resistant rubber outsole, you can wear them through most terrains and have an excellent grip. These water-resistant boots come with a removable shock absorbent insole for extra comfort and safety, while the side zippers with Velcro straps keep your feet secure.
Features:
Genuine leather & ballistic nylon
Water-resistant lining
Padded collar
Breathable mesh lining
Shock absorbent insoles
How To Choose Your Tactical Boots?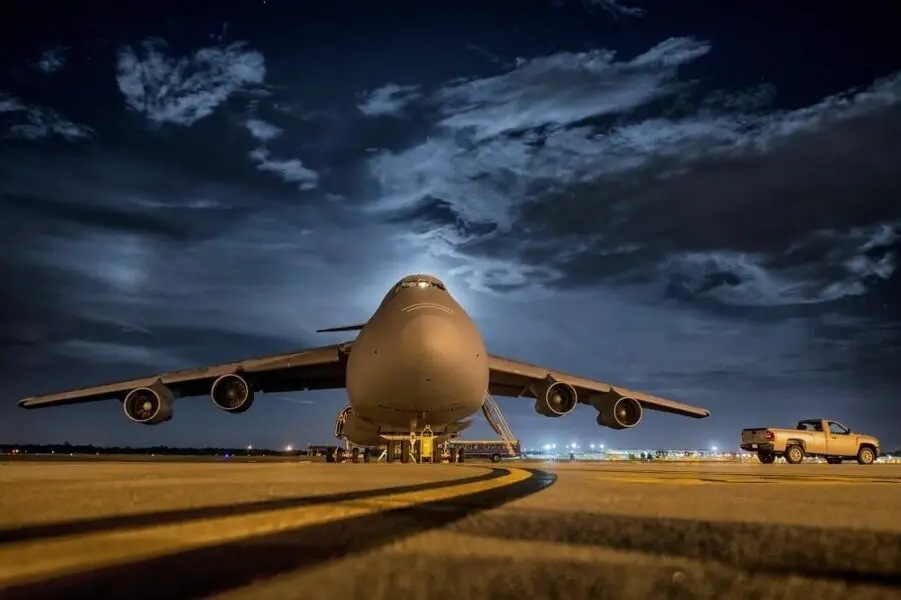 Even though most tactical boots seem like they have similar features, there is a severe number of variations in each pair. Yes, most combat boots have a high-traction sole, lace-up, and support for your ankle, but that's not everything you need to find the proper pair. That's why you should check out this guide and look at the features you should consider before shopping for tactical footwear.
Material
Usually, tactical boots are made from leather and nylon because leather is a material that handles wear well and conforms to the shape of your feet, but it's not the most breathable fabric out there, which is why nylon steps in. The fabric is tough yet lightweight, but it can't maintain the footwear's shape on its own. All tactical boots will have nylon. Some will have genuine leather and other synthetic leather. Which one you choose depends on the durability or weight of the set pair since synthetic leather is lighter, but the genuine one is tougher.
Breathability & Water Resistance
Another essential factor for suitable footwear will be the placement of the materials since if there is more nylon in the foot section, the shoe will be more breathable but less weather-resistant. However, you can always add a waterproof lining to keep your feet dry throughout your journey. Keep in mind that even though modern waterproof membranes are a lot more breathable, they still have a limited amount of moisture that can escape at a time. If you're using your tactical boots for walking in the snow, you don't have to add additional layers to your footwear because your feet will breathe better, and your shoes will dry quicker.
Height
Typically height is a personal preference, but most tactical boots are 6" – 8" tall. It all comes down to personal preference since 6" footwear is lighter and easier to put on, which people might find more comfortable. However, 8" boots will provide your ankles with more support and handle deeper water better. We recommend trying both heights to see what works best for you individually.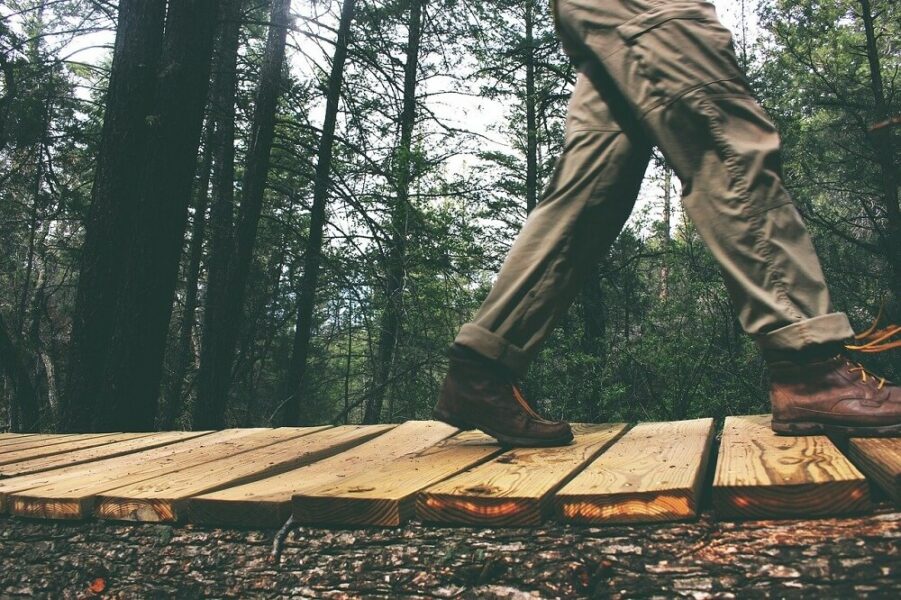 Fit
The proper fit is one of the most crucial features of tactical boots since poorly fitted ones will be uncomfortable to walk in and might even cause an injury. Allow your feet to be happy and avoid the most common issues, such as your heel slipping in the back or your toes touching the front. Adding pressure against the sides of your feet or Achilles tendon is never a good thing, either. Get a pair that will provide you the much-needed support and comfort and generally avoid all these problems.
Weight
Weight is also significant because it will determine how quickly your feet will get tired. After all, the lighter the boot, the longer you will be able to walk without getting exhausted. Choose a durable pair, but don't forget that you need it to be lightweight as well.
Cushioning is beneficial to your feet. The more cushioning you have in your footwear, the better. When you're in the great outdoors or the field, your feet need all the support they can get, which is why cushioning is important. However, don't forget that you still need a breathable pair of tactical boots.
Cushion
Laces
All tactical boots have laces, but a speed-lacing system is always a plus. You don't want a standard eyelet that offers more friction and will slow you down when tying your tactical boots. Choose vertical eyelets so that you can pull the laces quickly or hooks to catch them.
Zippers
Another common feature of combat boots is zippers along the inside of the shoe. Some zippers will even help you with your laces and hold them in place, but they aren't necessarily very comfortable or beneficial for your feet. If you are someone who wants to have them, choose footwear with YKK zippers since the quality that comes with them is better than most.
Flexibility
When it comes down to flexibility, people worry about durability and safety. However, one doesn't eliminate the other. If you choose a pair with a more flexible design, you will make it easier for your feet to move around. Pick tactical boots that will be tough and reliable but also flexible so that your feet are comfortable in any environment.
Anti-Slip Outsole
If you require tactical boots, the conditions in which you might be walking or running will probably not be the best. That's why having an anti-slip outsole on your footwear is essential. Be on the lookout for boots with Vibram or rubber soles since they provide the best combination of support and slip resistance.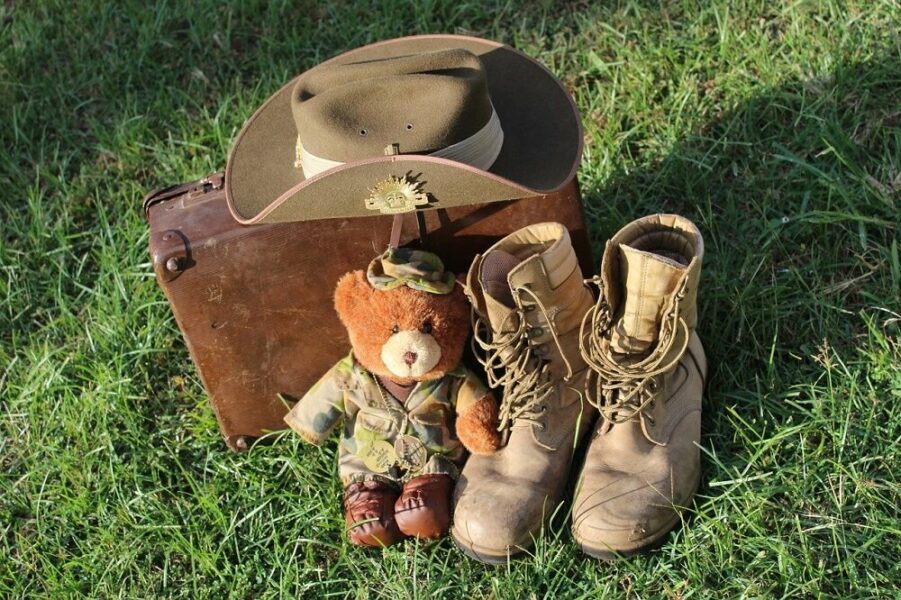 Warranty
Since tactical boots are a crucial element of your gear, most people will make sure to find an excellent pair and be willing to pay a little extra to make sure they have the proper shoe. Buying an expensive pair of tactical boots without a warranty can be risky since they can fall apart. No one wants to spend money on something they will use for a short amount of time, that's why you need to get yourself a pair with a good boot warranty to protect you against poor quality or bad craftsmanship.
Frequently Asked Questions
What Are The Most Comfortable Tactical Boots?
Tactical boots have many great qualities and can be very useful on a daily basis. A good pair of boots will protect your feet and provide support, which on its own, means comfort. Footwear can save you from a lot of injuries, so you should always be prepared. There is a clear winner when we talk about comfortable and durable tactical boots, and that is 5.11 Tactical Men's ATAC.
This fantastic shoe has been worn by the world's leading public safety personnel for a reason. Get yourself a pair of these amazing light and comfy boots that are also tough and breathable.
How Many Types Of Tactical Boots Are There?
Tactical boots are a subgroup of combat boots, which have different types themselves. There are four groups in which you can separate this group of footwear: cold weather boots, standard, jungle, and desert ones.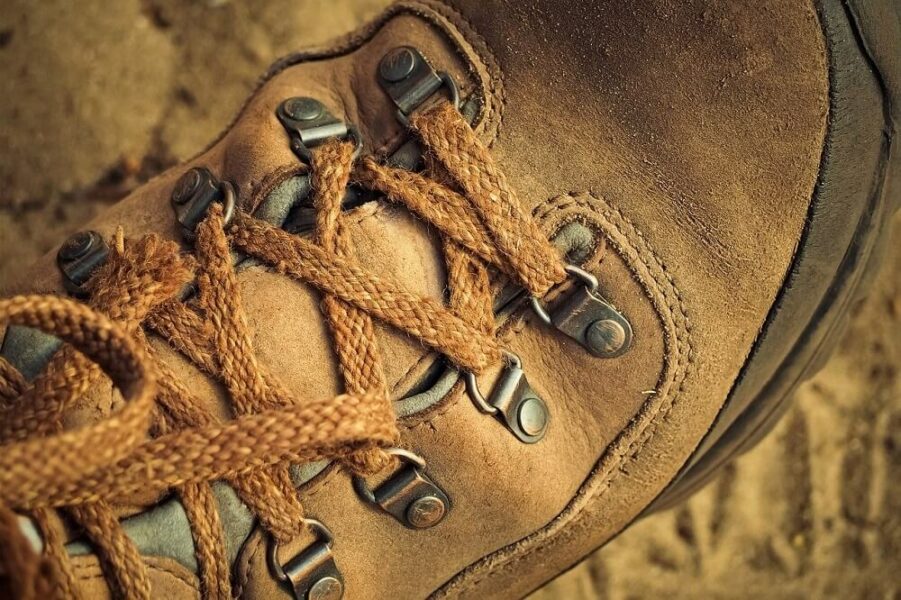 Cold Weather Boots
When you end up in an area with cold weather, surrounded by ice and snow, you need to have the appropriate footwear to keep your feet dry and warm. That's where this type of boots come with improved traction and waterproof lining. Tactical boots of this sort usually have more padding and insulation so that when the temperature drops, you don't have anything to worry about.
Standard Boots
Standard tactical boots are typically durable, supportive, lightweight, and have good traction. Normally they come in dark colors so that they don't catch the light. Most are made from leather and nylon with a sturdy rubber sole, which is excellent for protection and traction. You will find this footwear to be at least 6" tall and with laces since they are easy to replace or repair.
Jungle Boots
Jungle boots are the ones that have to deal with a lot of moisture and heat, which is why they should be made out of nylon to maximize breathability and comfort in warm weather conditions. Often this type of footwear will have drainage holes that will allow water to escape from your shoe instead of being waterproof.
Desert Boots
The main purpose of dessert boots is to be able to keep sand out of your shoes while allowing for sweat for hot weather to escape. Most times, dessert boots will be on the lighter color side and will be breathable so that your feet don't sweat as much in the hot sun.
What Is The Best Type Of Sole For Tactical Use?
If you are spending money on tactical boots, you want to make sure that every part of them will be of high quality. Before we share our opinion on the best, here are the six types of soles you can check out: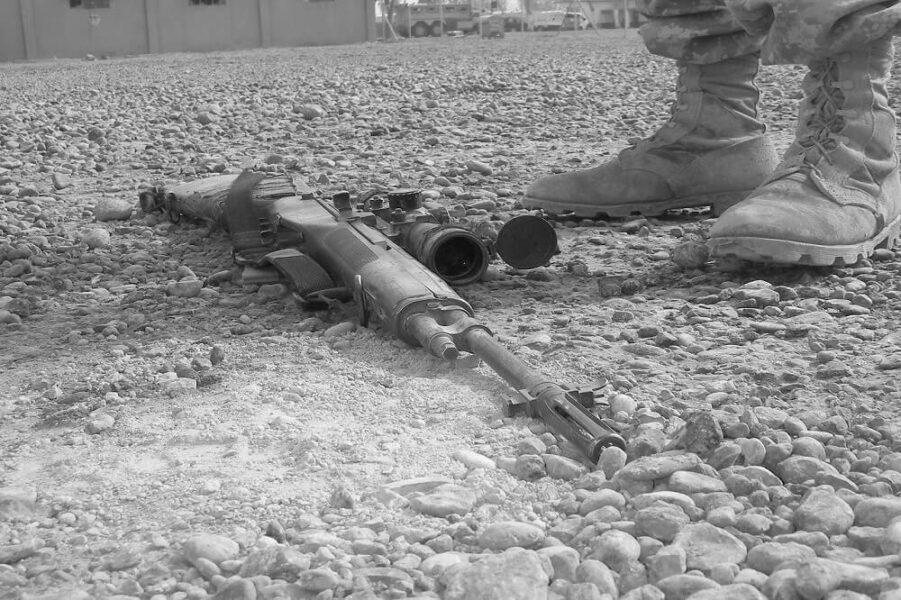 Leather
Leather soles are typically considered as the dressiest of soles with one of the slimmest profiles. They provide lots of breathability, but they aren't good withstanding a lot of walking and can be easily damaged. Leather can scratch and beat up pretty fast, which is why this type of soles isn't the best option for tactical boots.
Commando
Commando soles are usually, hardwearing, and weather-resistant rubber soles, which are chunkier and thicker than most. This type of sole can crack over time and tends to stiffen, which can be a downside, as well as the fact that it might be considered substantial.
Wedge
Wedge soles are soft and shock-absorbing. However, they aren't very durable, which can be a problem when we talk about tactical boots. But they provide us with the perfect balance between soft and sturdy soles, making them quite comfortable.
Crepe
Usually, crepe soles are made from a cheap form of natural rubber that is very soft but not durable. We don't recommend plantation crepe soles since they might melt on hot asphalt, which can cause damage to your feet and turn out to be a considerable inconvenience.
Dainite
Dainite is a high-end rubber sole that offers excellent aesthetics, flexibility, and durability. It is considered one of the best materials to use for a quality sole in a tactical boot. Best known for the "studded" sole, this type is one to consider.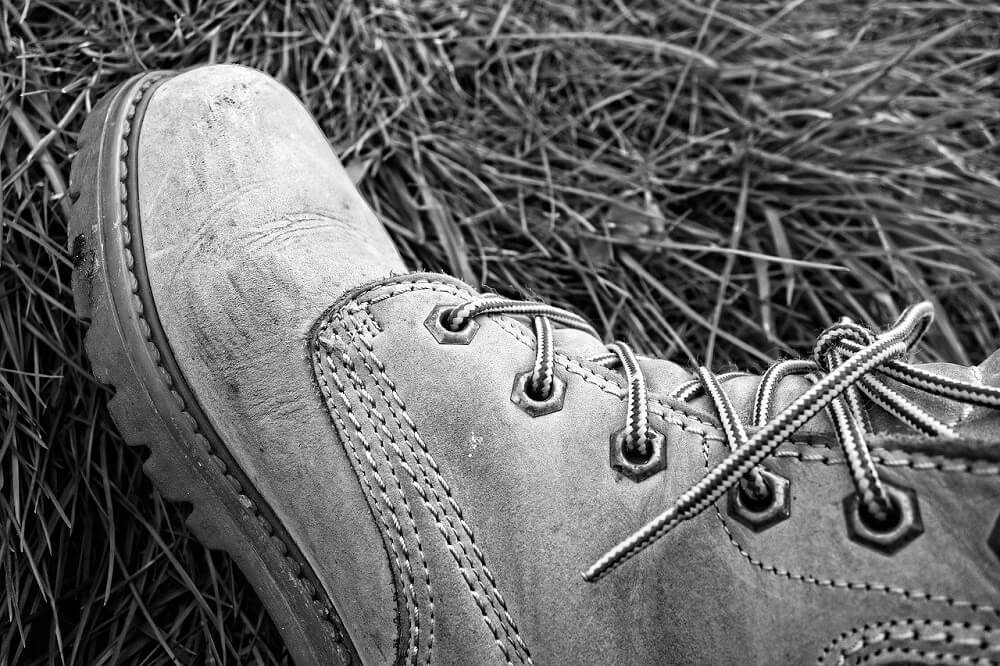 Cork Nitrile
Cork nitrile is just as tough as rubber soles, but a lot more lightweight, which can be a huge positive when you have to walk or run for an extended period. Nitrile is a synthetic rubber that is oil-resistant and weather-resistant. They are something to consider but keep in mind that they aren't the best when walking on ice.
What Boots Do Navy Seals Wear?
Every Navy Seal will need a high-performance shoe that will survive different obstacles and missions. Seals need to be well equipped to handle certain situations, which is why they need a pair of shoes that are the correct size with a well-fastened tread pattern.
Since they will be exposed to different weather conditions, they'll need to pay attention to the insoles and breathability of the boot and if it is weather-resistant. Last but not least, Navy Seals should pick a boot on the heavier side so that it can withstand hard-to-travel surfaces and last longer.
What Boots Do Cops Wear?
Law enforcement officers encounter various challenges along the way, and if they want to accomplish their duties effectively, they will need a proper pair of tactical boots. Typically the footwear will have to answer to specific regulations for features and color. Police officers need a pair of boots that will be well-fitting and will provide them with the necessary support throughout the day.
Normally cops would choose boots from leather and nylon between 6" and 8" in black with a good lace system and some form of foam padding for extra comfort.
What Boots Do Army Rangers Use?
Military boots have been widely equipped and have become a considerable part of the configuration of combat personnel. Army Rangers are exposed to different operational environments, which is why army boots are designed for urban settings. Their missions are mostly hidden and high-risk, and that's why they need a pair of tactical boots made out of soft and comfortable materials, yet sturdy and durable.
What Boots Do Special Forces wear?
To ask what boots do Special Forces wear is one thing, but to know what's essential in their choices is another. People working in the Special Forces always look for excellent materials and specific features that will provide premium comfort and performance.
They wear boots that are made out of breathable materials and have a waterproof construction. Also, they look for shock-absorption, as well as oil and slip-resistant soles. Usually, they will wear shoes with laces systems and vent holes for extra durability and breathability for the long hours of duty.
How Important Is Waterproofing?
Everyone with experience in different tactical situations knows how important it is to have a waterproof pair of boots, which will help in your future adventures. Having the wrong shoe can hold you back immensely in many situations or unfavorable weather conditions. No one wants to get caught in a storm with shoes that aren't weather-resistant. That's why having a durable pair of waterproof tactical boots is a valuable asset which you need to be prepared in adverse climates.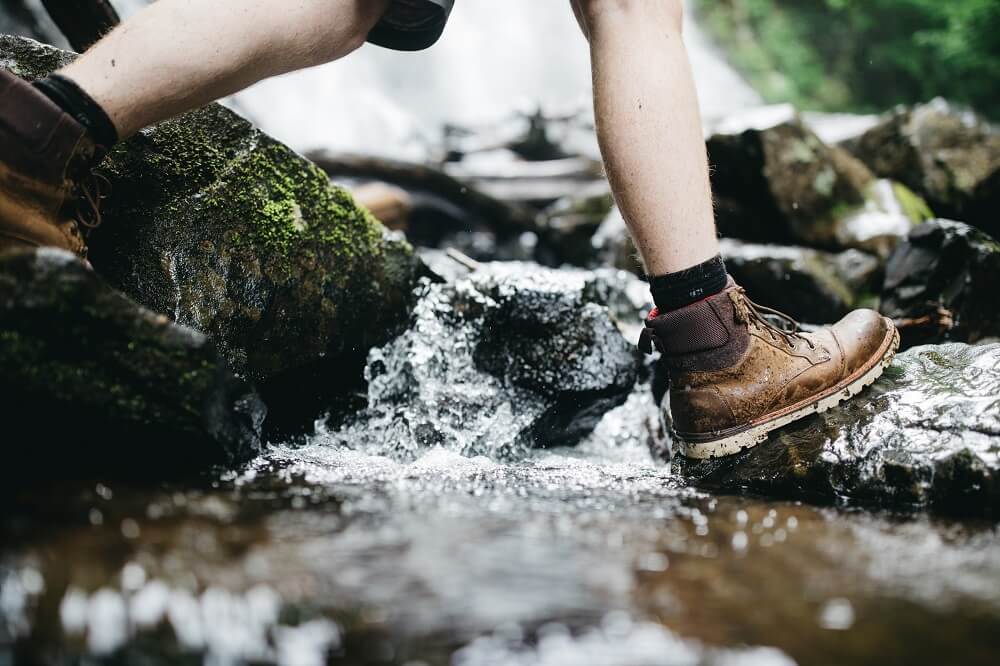 Wet feet can cause a lot of problems such as trench foot and frostbite, which can be very dangerous. Most tactical situations will be very demanding, and having the proper pair of tactical boots can be beneficial for your survival. Get yourself a good pair of boots that can prevent water from coming in, while allowing your feet to breathe and stay dry.
Final Words
Everyone who needs to engage in serious activity outdoors, no matter the reason, needs a good pair of tactical boots. This type of footwear accomplishes many qualities that are necessary when you are in the field or the great outdoors. Tactical boots will protect and support your feet while preventing your feet from getting wet without forgetting about breathability and durability. Never let yourself be unprepared for a situation and get yourself an excellent pair of footwear. We hope that we've narrowed it down and helped you decide what will be best for you.
If any more questions need to be answered, drop them at the comments below.