Choosing a concealed carry holster should be a great concern for any handgun owner, in the same way you spent hours researching the various options you had while purchasing your handgun. Even savvy shooters often underestimate the importance of a carry holster, which is very detrimental.
The incessant argument behind our emphasis is the fact that the holster serves as an interface between your body and gun, this is mainly why it's a crucial gear that you ought to have. From this argument, you can now imagine the detrimental implications of having an ill-suited holster or one that's designed poorly, the result being lots of discomfort, gun loss, or even compromised draw stroke.
On the same note, we're not insisting that you spend a fortune trying to purchase a holster, no, that's not the point. We're just calling to your attention the life-saving importance of choosing the right holster.
A Few Tips To Help You Choosing The Right CCW Holster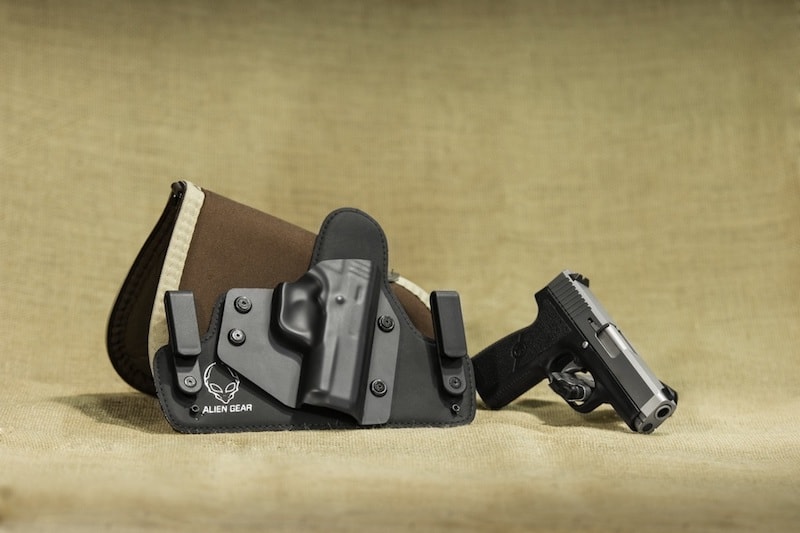 It's with this in mind that we intend to guide you in the purchase of your next holster by taking a closer look at the important features in the design and functionality of your next holster. The first thing to keep in mind is the fact that a carry holster has to strike a balance between access and concealment while at the same time it must be comfortable enough.
We've conducted research to see what the market offers, and we have some holsters that are well worth your consideration. The first offering we have is from Uncle Mike's and Blackhawk, these two will surely serve you irrespective of the mode of carrying or gun type.
Material
The material with which your holster is made plays a big role, this is due to the comfort and durability that different materials offer. It's also important to remember that your gun must be comfortable to wear, failure to which you'll find it hard to carry consistently.
The most popular options are leather and Kydex. The benefits of Leather include being tough but also molding to the shape of your gun and your body, thus adding to the comfort. With time, it can stretch; however, you need to perform a bit of maintenance periodically for proper retention.
Kydex is incredibly sturdy because it is thermoplastic and will never stretch or lose retention. Also, its shape does not change when your weapon is drawn. When choosing a material, consider that softer materials like leather or textiles will change shape when your weapon is drawn, which can make reholstering a challenge.
Consider Your Lifestyle
The idea behind concealed carry weapon is for the gun to remain concealed and unnoticed until it is needed. This is why you need to evaluate the kind of lifestyle you have. In most cases, a simple open-top holster with friction retention will do.
But if you're active or will be carrying in unusual situations, test out holsters that feature some retention device to keep your weapon secure.
Don't be afraid to try different types of CCW holsters
Most of the holsters that are intended to be worn inside the waistband can be positioned in several ways. If you're choosing an inside waistband or IWB holster, you must select one compatible with your strong side.
Remember that the best holsters come in left-handed or right-handed options. Right-handed folks prefer the 3 o'clock or 5 o'clock carry option, while lefties go for 7 o'clock or 9 o'clock. Your natural draw stroke and accessibility should dictate how you position your gun.
Remember that you need to go up a pant size with an IWB holster to allow for comfortable carrying. Choosing the right gun holster is just as personal and just as important as choosing the right gun.
Get The Right Fit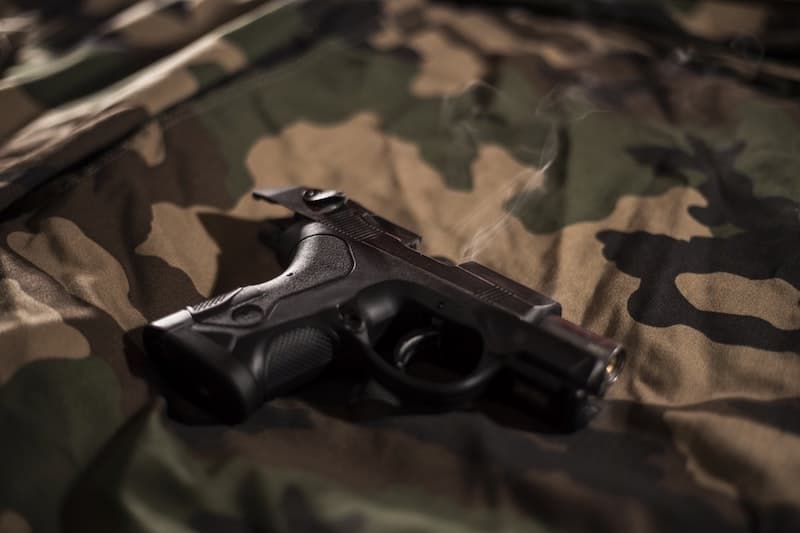 Remember that "One size fits all" will not work well. In any case, the holster should be made for the specific gun that you have. It's important to have a holster and belt that fit each other exactly, so there's no slop.
Ask Yourself If You Can Draw while seated and belted into your car
How much time will you spend in your car trying to draw? Most people never practice a defensive draw while seated and belted in. Ask yourself if you should carry two guns. Or have another handgun concealed in the car? You have options, it's up to you.
Is the holster devoid of thumb snaps, safety straps, or push-button releases?
The best holsters shouldn't have any of the above, and they don't need any of the above. Simply because they slow down the defensive draw, and the fact is, you will probably be dealing with thugs who already have weapons.
Of course, with the exception being the retention-screw devices in the body of holsters, which create just a bit more friction.
Remember – you usually get exactly what you pay for
If it's cheap, it probably won't fit, won't work right, and won't last long. You're the one to decide what your own safety, and that of your family, is worth.
If you're new to defensive carry, you're now getting an idea why the rest of us have a box of holsters in the gun room. The idea is to search for a gun rig that works quicker, better, and more reliably.
The Most Common Holsters and Carrying Methods
There's an equation known (Where x When x How x Dress = X Holster). On this note, we're going to break down each of the popular holster types, their benefits, and drawbacks:
Inside-the-waistband (IWB) holsters
These are very common holsters for concealed carrying based on their ability to provide plenty of concealment. If you have an un-tucked and un-fitted shirt and you'll have a quick draw. The problem is that they can be the least comfortable based on the handgun you're carrying and your pant choice. The IWB holsters work well on the side of your hip if you're running a smaller handgun.
Outside-the-waistband (OWB) holsters
OWBs provide more comfort because they sit outside your waistband. They offer the least concealment if you wear a simple, fitted t-shirt. If you're concerned about comfort, this is the way to go. OWBs also work well with larger-frame handguns. They also have the quickest draw of any concealed carry holster. For folks who are not concerned about concealment, their hinted presence is a deterrent. Remember that OWB holsters require a reliable gun belt for safer performance.
Chest Rigs
These chest rigs and underarm holsters provide a good balance of comfort and concealment. However, the drawing takes time, more so if you're clad in business casual attire or layers of clothes.
A low-profile chest rig will conceal a single-stack handgun, even if you're wearing a plain tee. These holsters often come with two pouches. This is a great option if you're in a public environment or an environment requiring a business dress and a quick draw isn't so much a concern.
Ankle/Leg Holsters
Ankle and leg holsters arguably offer the most concealment and comfort possible. Not many people will size up someone's lower half as long as you're not wearing anything too revealing. These holsters tend to work best with single-stack handguns or subcompacts. Sometimes, it can become a race to draw, so consider the environment you'll be carrying in and the speed and physical movement required.
Hidden in Plain Sight
This involves carrying your weapon hidden in plain sight, you might carry it in a purse, backpack, waist pouch, or large pocketbook.
This is a great solution for a lady, hiker, or runner hitting an isolated trail. It will provide guaranteed concealment and comfort. If an aggressor singles you out, you can bluff to their demands due to the easy retrieval of your weapon.
Make sure you're ready to go the distance once you've committed to drawing. This will likely surprise the aggressor, and their response to your weapon draw can never be guaranteed.
Pocket Carry
I don't recommend pocket carrying unless you're wearing clothing that can keep your handgun snug. This is difficult to accomplish, so pocket-carrying is a hasty and improvised option. The handgun will shift and flip in your pocket, making retrieval weird.
Using a snug pocket may keep your handgun positioned well, but its shape will be apparent, and concealment will be minimal.
BLACKHAWK SERPA Holster
Blackhawk's reputation as a premier provider of tactical equipment has greatly been championed by the SERPA holster.  The SERPA holster is both durable and lightweight, it's made from high-performance engineered thermoplastic. The distinguishing factor with this holster is the Auto-Lock feature, this mechanism engages the trigger guard upon holstering, and this strategically locks the gun in position.
Apart from safeguarding your gun if you encounter an assailant, the Auto-Lock feature also enables you to draw the gun by simply achieving the proper shooting grip.
The SERPA is also equipped with paddle platforms and a belt loop, thus presenting you with options whenever you attach to the belt. The holster also offers you a secure mount due to the belt loop platform.
The other feature is the paddle design which renders it faster to deploy. You can now see why it's a very popular holster at the shooting range. Whichever handgun you own, there's a high probability that you'll find a holster to serve your needs.
Uncle Mike's Inside-the-Pant Holster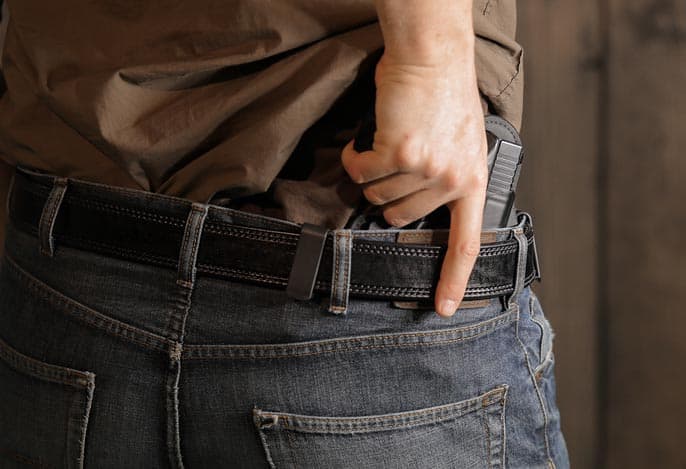 This holster is made from a four-layer laminate that's super ultra-thin, being an inside-the-pants holster, it offers the kind of comfort that you really need without sacrificing the concealment aspect. It also has some internal moisture barrier that safeguards your gun from damage whenever there's perspiration as you carry the gun.
The holster's exterior is made of a suede-like exterior that helps the holster adhere to the inside of your pants. The other aspect has to do with the retention clip, this anchors the holster on your belt in a square manner that will hardly bother you as you move or run.
The holster also has a nylon lining which facilitates a smooth and efficient draw, mind you, the inside-the-pant holster can also be purchased with a fold-over Velcro retention strap or an open top. The idea behind the inside-the-pant holster is its ability to accommodate various handguns.
However, although the nylon holster is designed to facilitate a majority of handguns, it's not designed to function as a stand-alone holster. You need to use it with the Blackhawk's diversion line packs.
The hook-back adjust holster follows a hook and loop section within the packs, the great thing about this holster is that it can be mounted at any angle to facilitate an easy draw stroke. The adjustability of this holster accommodates the majority of handguns that have lasers and lights.
Remember that every time you carry a gun in your pocket, it's important to have a holster that will mask the gun's outline while keeping its grip oriented vertically for easy access whenever you need it. This is why we've scrutinized Uncle Mike's Inside-the-Pocket holster because it serves both purposes.
The holster has a non-slip band that ensures the holster stays in the pocket whenever you draw your gun. You can purchase the inside-the-pocket holster to handle subcompact pistols or even small autos. The Blackhawk's Detachable Slide Leather Concealment Holster can allow you to remove or place the holster without having to remove the belt.
BLACKHAWK! Detachable Slide Leather Concealment Holster
This holster is unlike the traditional slide-style holsters, which are designed with the loop belt functionality, this one is secured to your belt by angle-cut belt loops with some non-reflective black snap covers. The idea here is to ensure that you strap your holster without removing the belt, which is a great convenience.
It also has an adjustable thumb break, so your gun stays put until you're ready to use it. The streamlined profile enhances the concealment feature, although the holster's forward cant facilitates a proper shooting grip when worn on. The holster has detachable slide leather in several models to facilitate many popular handguns.
Uncle Mike's Sidekick Ambidextrous Hip Holster
This one can be worn inside or outside the waistband, it has a reversible belt loop that allows you to wear it either inside or outside the waistband. Most importantly, it's convertible for right or left-handed use. It also comes with a hook and loop retention strap and molded thumb break so that you can have superior retention to open-top holsters without obstructing your draw stroke.
The other features include the paddling, a waterproof interior that provides considerable corrosion resistance to your gun, and the steel belt clip, which keeps this holster anchored. I bet you'll also like the integral magazine pouch that allows you to have extra ammunition.
Final Words
I really hope the points made above helped you in choosing your next CCW holster. It is very important to choose the one that is right for you and you only. Whether you prefer an ankle, waist, or over-the-shoulder holster, think hard about your needs and keep in mind that, as is usually the case, you get exactly what you pay.